Exploring Voyageurs National Park
Voyageurs National Park is headquartered near International Falls, Minnesota. With over 218,000 acres of boreal forest and more than 30 lakes dotted with roughly 1,000 islands, the park offers many opportunities for boating, canoeing, fishing, hiking, and much more. It is an area of natural beauty, with pristine waters and undisturbed forests, and is accessible mainly by boat.
The park takes its name from the French-Canadian voyageurs who travelled through the area by canoe nearly two hundred years ago. This area has been inhabited by humans for some 10,000 years. It became an important area in the fur trade industry as far back as the late 1600s. The French voyageurs travelled this area in large canoes carrying fur pelts and the native Ojibwe people were important allies in the trade.
Today many canoeing enthusiasts come to this area to paddle the same waterways. Outfitters offer transport into the park, as well as equipment and information. Houseboats are also a popular way of seeing the park. Canoe or boat in only campsite are maintained around the lakes. Recreational fishing is a popular activity in the park, which is home to walley, bass, northern pike, and muskies. Hiking trails can be found throughout the park, some of which need to be accessed by water. In winter snowmobiling is a major pastime.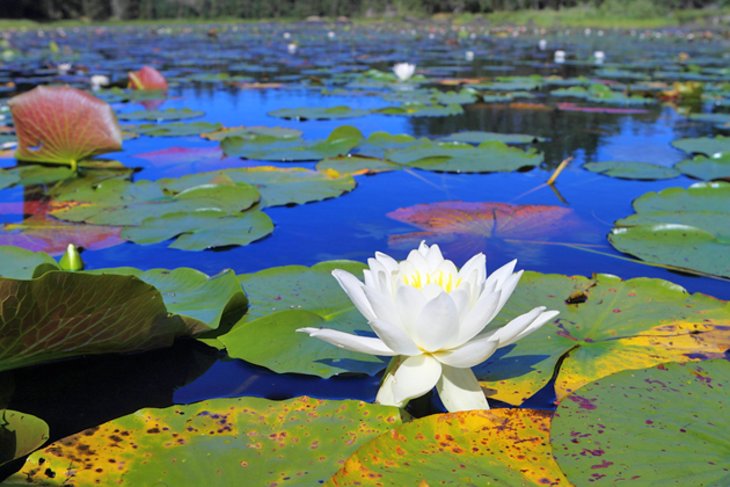 Voyageurs National Park
Also located in the park is the historic Kettle Falls Hotel, listed on the National Register of Historic Places. The hotel, built in the early 1900s, still operates, both as a hotel and restaurant, and maintains much of its old time character. Access is by boat only and many boaters make day trips to the hotel to enjoy a lunch. Also located at this site is a mechanical portage, which will transport boats around the dam.
Visitors can obtain information on Voyageurs National Park at the Rainy Lake Visitors Center near International Falls, the Kabetogama Lake Visitors Center, or the Ash River Visitors Center. The best time of year to visit is from June until August.
More on Minnesota