11 Best Ski Resorts in Minnesota, 2023
Minnesota skiers are lucky to have decent-sized ski hills within striking distance of many of the major cities. Several of the largest ski resorts are clustered around Duluth, making it easy to base yourself here and visit several in a ski vacation. Other resorts are clustered around Minneapolis-Saint Paul, which make them accessible for easy day trips or to do some night skiing after work.
Many of the ski hills offer free skiing to children in the 4th grade as part of the 4th Grade Passport program. Preregistration is required, and the cost is $34.95. Passes are available until February 2023.
For all the details on where to find great skiing, see our list of the best ski resorts in Minnesota.
1. Lutsen Mountains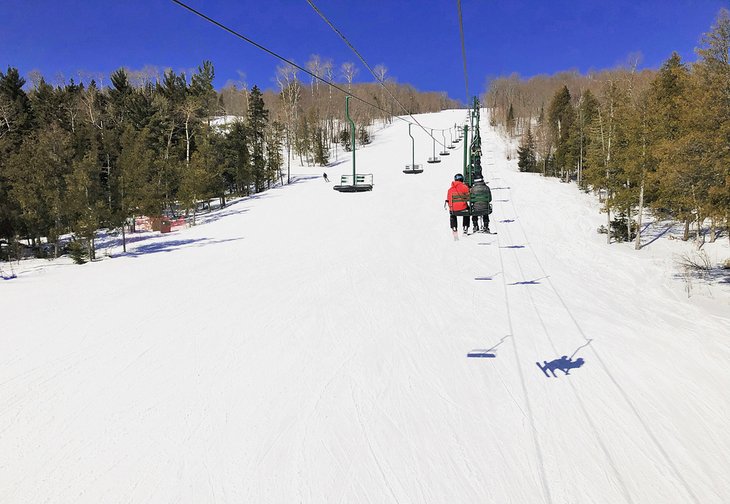 Lutsen Mountains will surprise you with its sheer size for a Midwest ski resort. Here, you'll find not just one, but four interconnected mountains providing a wide array of skiing and boarding options. You may also be surprised to learn that Lusten Mountains has a gondola, a rarity in this part of the United States. This six-passenger lift rises over 1,000 vertical feet to the upper reaches of Moose Mountain.
Lutsen Mountains receives an average of 10 feet of snow each season and has a state-of-the-art snowmaking system, recently improved by a nine-million-dollar injection of capital investment. The ski hill has 95 named runs that are predominantly intermediate in nature. If you like long blue cruisers, ride the six-person Caribou Express; if steep and difficult is more your thing, head over to the Iron Mountain chair for some double black diamond runs.
The vertical drop is 825 feet, and this is serviced by eight lifts, including a six-passenger gondola. Boarders and freestylers will love the two terrain parks: Timberjack Progression Park and Mystery Mountain Boarder X. Timberjack has all kinds of bumps, humps, and other things to ride on or along. The Mystery Mountain Boarder X is full of banked corners, steep sections, and rollers.
Lusten Mountains is part of the Indy Pass program
Official site: https://www.lutsen.com/
Accommodation: Where to Stay in Lutsen
2. Spirit Mountain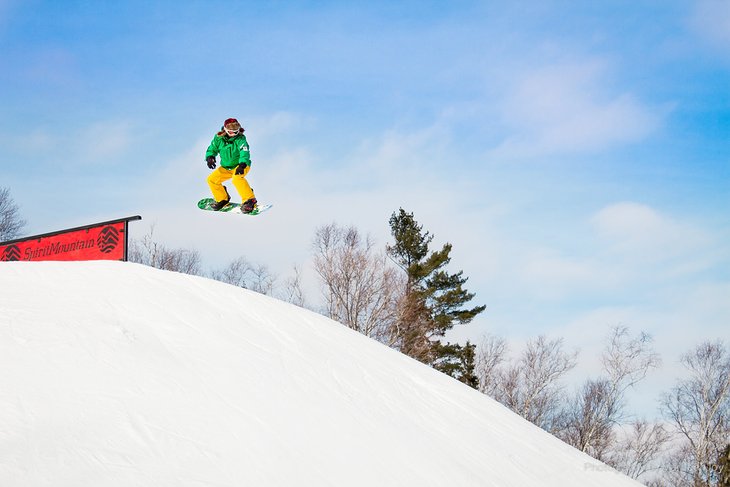 Spirit Mountain is unlike many other ski hills because instead of being off in the wilderness somewhere, it's basically in the suburbs of Duluth. This handy location makes it perfect if you want to sneak off for an afternoon or morning of skiing.
Spirit Mountain has seven lifts that service a vertical drop of 700 feet, the second highest in the Midwest. The 22 runs here are serviced by seven lifts and are generally intermediate to beginner trails, just perfect for skiers of all abilities. The impressive lodge offers a place to warm up on a cold day, and the large windows provide wonderful views out over Spirit Lake. Five different dining options are available, from cafeteria style to table service to grab and go.
In addition to skiing, this hill is a hot spot for snowboarding and freestyling. Spirit has four different freestyle areas namely: Spirit Park, Lone Oak Tow Park, 18-Line, and Shark Park.
For non-skiers, an Alpine Coaster races down a twisty set of rails. You control the brakes, so you can be as brave or as timid as you want. A tubing hill is also available as are cross-country ski trails.
One of the most unique things to do at Spirit Mountain is lift-serviced fat biking. Through the season on Sundays, or other prime days where the weather allows, take your bike to the top and ride down specially created courses.
Need more skiing? Night skiing is available Wednesday through Sunday until 8pm.
Spirit Mountain is part of the Indy Pass program.
Official site: https://www.spiritmt.com/
Accommodation: Where to Stay in Duluth
3. Giants Ridge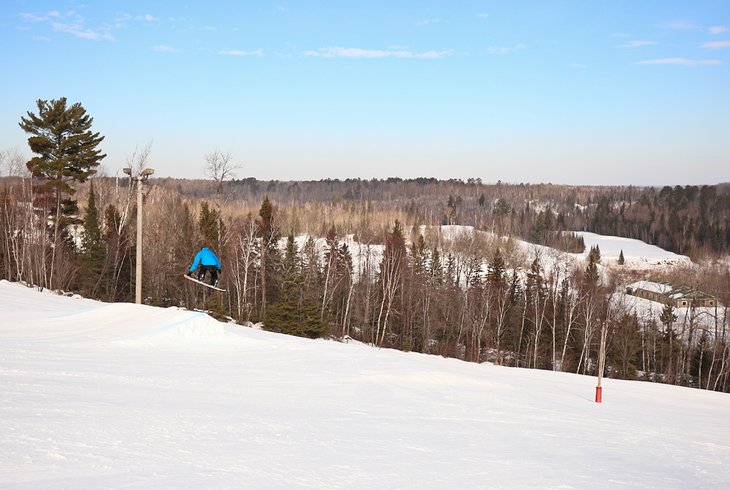 Just over an hour north of Duluth near the town of Biwabik is the Giants Ridge ski area. This ski hill has 35 named runs spread out across the mountain, along with an impressive base lodge.
The ski hill is located in an area known as the Iron Ridge. This ancient mountain range juts up from the surrounding countryside and catches just over seven feet of snow each season. In addition to the relatively abundant natural snow, the resort also has an extensive snowmaking system to make up any shortfalls.
Nearly three quarters of the runs are classified as beginner or intermediate, but you can still find plenty of challenging terrain here. Giants Ridge also has an excellent snow and snowboarding school with committed and patient instructors who will almost certainly get you upright and confident on the slopes and ensure you stay that way.
The vertical drop here is a respectable 500 feet and is serviced by five chairlifts. If you prefer snowboarding or freestyling to skiing, Giants Ridge has two terrain parks. The first is Placid Terrain Park, and it's targeted towards beginners; the second is Garmisch, which has larger jumps and includes extensive rails and boxes.
Night skiing is available on most of the mountain as is snow tubing with three lanes and a dedicated rope tow. A separate ticket is required to use the snow tube run.
Fat biking is also an option. Bring your bike up on the high-speed chairlift and take any one of three designated runs down. If you'd rather ride on level ground, fat biking is allowed on the 37 miles of cross-country ski trails located in the base area.
If all that activity isn't enough, you can also go snowshoeing on three miles of forested trails.
Official site: https://www.giantsridge.com/
Accommodation: Where to Stay in Biwabik
4. Coffee Mill Ski Area
You'll never lose a group member when you ski at Coffee Mill Ski area, as all the runs funnel down to one point at the bottom. Collect all your ski buddies and head back up to the top on one of the two main chairs.
Skiing in Minnesota can be bone-chillingly cold at times, and coupled with brisk winds, it can be downright unpleasant. Fortunately, Coffee Mill is situated in a way that protects you from the wind and at the same time collects as much snow as possible from passing storms.
The 14 runs at Coffee Mill are well separated from one another. The vertical drop is 425 feet, which is blanketed by four feet of snow each year, backed up by 100 percent snowmaking coverage.
The runs at Coffee Mill are diverse, and you'll find something for everyone in your group. Looking to do some blue cruising with the family? Head over to Chippewa. Need an adrenaline rush? Point your tips down O'Chute, and hope for the best on this incredibly steep trail.
A dedicated snowboarding/freestyling area is set aside for those looking to ride the rails or grab some big air.
The resort has one snowboard park, and the entire hill is open for night skiing.
Official site: http://www.coffeemillski.com/
Accommodation: Where to Stay in Wabasha
5. Welch Village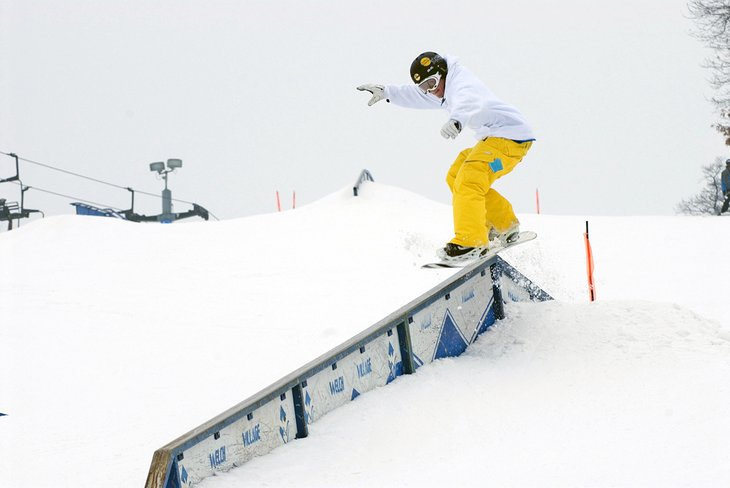 Located less than an hour from Minneapolis-Saint Paul, Welch Village offers up great family skiing. This surprisingly large ski hill has 50 named trails with a vertical drop of 360 feet. With 11 lifts, you'll rarely wait in line and can get back up to the top quickly.
The ski hill is divided up into three areas: East Slopes, West Slopes, and The Back Bowl. The East Slopes have the greatest concentration of beginner and intermediate runs, the West Slopes skew a bit more towards intermediate and advanced, and the Back Bowl is expert territory only.
The resort has recently installed a brand new fixed-grip quad chair. This new chair is one of the largest investments the resort has made in quite some time and will go a long way towards ensuring you can crank out more vertical in a shorter period of time. The new lift replaces the old Hall #4 double chair and is strategically placed to open up the Harley's Hollow area. Skiers will also now be able to easily transit between the new chair and the triple chair.
In addition to the new lift, Welch Village has undertaken repairs to the parking lot area. A significant amount of gravel will now (hopefully!) smooth out some of the potholes and eliminate the sometimes muddy conditions.
Welch Village is an ideal place to head to after work, as they offer night skiing on all the runs. Boarders and freestylers will want to check out the terrain park, which features, among other things, a giant log perfect for sliding along.
Official site: https://www.welchvillage.com/
Accommodation: Where to Stay in Welch
6. Afton Alps Resort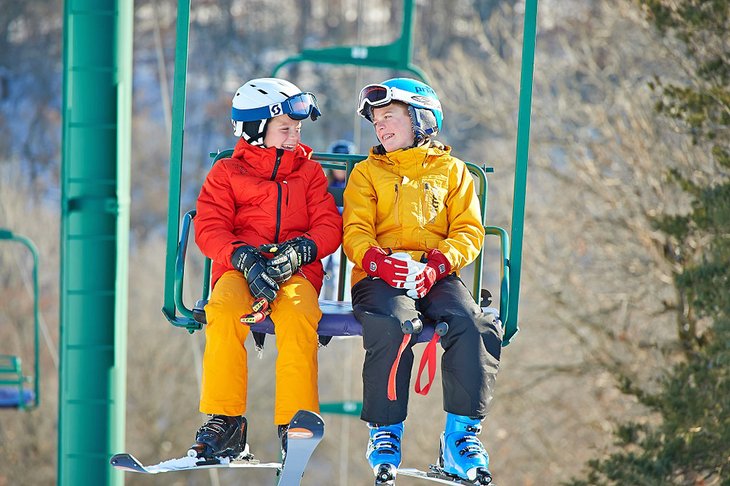 The resort has a 350-foot drop and 300 skiable acres serviced by 18 chairlifts. With so many lifts, you'll rarely need to wait in line. The 48 named runs are generally intermediate in nature with a few short, steep black diamonds for added fun.
The state of the art snowmaking system covers a majority of the hill, and with the colder northern temperatures, the hill can open early in the season.
Afton Alps has an extensive terrain park for snowboarders and freestylers with boxes, rails, and jumps for all abilities.
The resort is less than 30 minutes from Minneapolis, making it a perfect place for night skiing.
Afton Alps is owned by Vail Resorts, and as a result will be limiting the number of day lift tickets sold this season. This measure is in place to avoid overcrowding on the hill. EPIC season pass and EPIC day pass holders are exempt from this restriction, as are patrons of the ski school. The number of passes available each day will be posted on the resort's website.
Official site: https://www.aftonalps.com/
Accommodation: Where to Stay in Hastings
7. Wild Mountain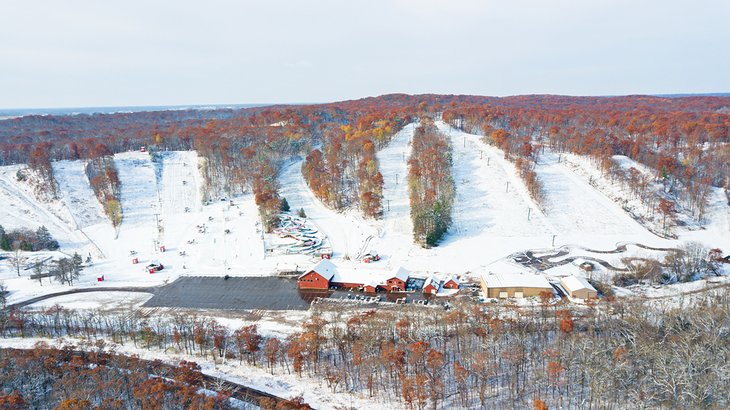 Wild Mountain is just over an hour northeast of Minneapolis-Saint Paul along the shores of the St. Croix River. You'll find 26 runs descending down a 300-foot vertical drop. The runs are serviced by four chairlifts. Night skiing across all runs is available until 9pm each night.
Four terrain parks provide endless laps over rails, jumps, boxes, and all kinds of other interesting features. Parents looking to get their children involved in skiing but concerned about the cost of gear will be pleased to learn about Wild Mountain's gear lease program. They'll outfit your child in the latest gear for a year, and all you do is then return it at the end of the season. No need to buy new equipment every season as your children grow.
Off the ski hill, snow tubing is an option in the Wild Chutes tube park.
Wild Mountain strives to have as long a season as possible. In fact, one year they opened on October 7th, but they generally try to get the place up and running by the 1st or 2nd week of November.
Official site: https://www.wildmountain.com/
Accommodation: Where to Stay in Taylors Falls
8. Buck Hill Ski Area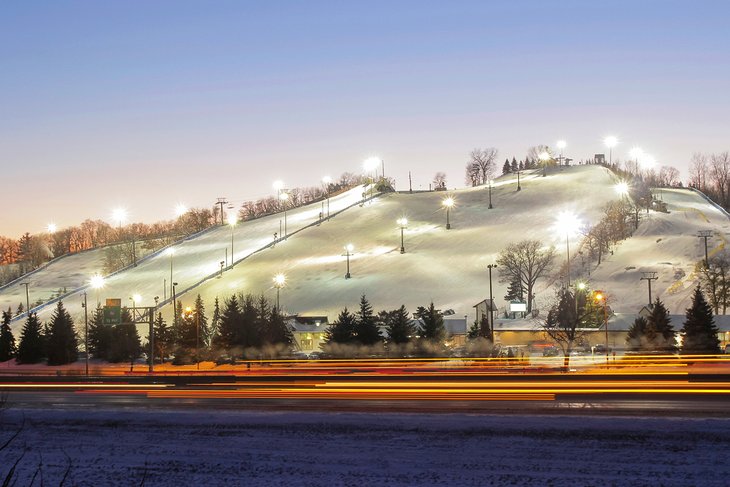 Buck Hill is located in the suburbs of Minneapolis-Saint Paul, only 20 minutes from downtown. This is a small ski hill with 10 lifts and a decent 309 feet of vertical, and it's been the training ground of famous skiers like Lindsay Vonn. In fact, the resort has named a lift in her honor.
Buck Hill is also a snowboarding and freestyle hot spot, with an amazing terrain park along with a tubing hill.
The resort has extensive snowmaking capabilities, and the place is lit up like a Christmas tree at night. It's a good place to learn how to ski, with gentle beginner areas and a great ski school. Children under five years of age ski free with a paid adult lift ticket.
One of the true highlights of a visit to Buck Hill is the expansive outdoor deck. Be sure to spend some time here soaking up the sun and watching the show as skiers descend the slopes.
Buck Hill is part of the Indy Pass program.
Official site: https://buckhill.com/
Accommodation: Where to Stay in Burnsville
9. Powder Ridge
Powder Ridge is about 1.5 hours northwest of Minneapolis-Saint Paul in the town of Kimball. Comparable in vertical drop to many of the other smaller hills closer to the city at 300 feet, this ski hill has five lifts and 15 runs.
The three terrain parks at Powder Ridge are North Park, suitable for advance riders; Cedar Park, suitable for beginners and intermediates; and South Park, geared towards higher level intermediates and advanced riders. Each of the parks have rails, boxes, tubes, ledges, pole jams, and jump lines of varying levels of difficulty.
Powder Ridge is part of the Indy Pass program.
Official site: https://www.powderridge.com/
Accommodation: Where to Stay in Kimball
10. Mount Kato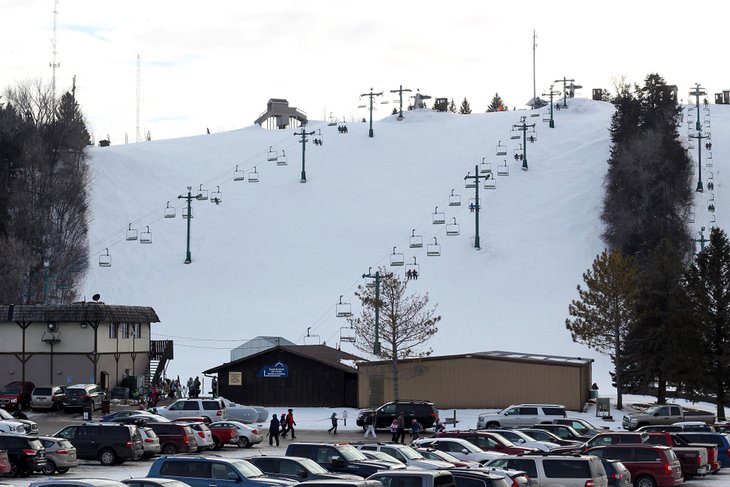 Mount Kato is a 1.5-hour drive south of Minneapolis-Saint Paul in Mankato. Nineteen runs are spread across the front and back side of Mount Kato and are serviced by eight chairlifts along with two surface lifts. The vertical drop is 240 feet.
Mount Kato is well known for its four excellent terrain parks: Sleepy Hollow, Little Forest, Sleepy Creek, and Sundance. You'll also find a tubing park for those non-skiers.
As with most resorts in Minnesota, night skiing is offered most nights of the week.
Official site: https://www.mountkato.com/#gsc.tab=0
11. Andes Tower Hills
Andes Tower Hills is a small, family-run hill about 2.5 hours northwest of Minneapolis-Saint Paul. The hill has six lifts and 16 named runs, and the vertical drop is 290 feet. Snowboarders and freestylers will find a small but enjoyable terrain park with an assortment of rails, humps, and bumps.
The 35 acres of the ski hill is covered by snowmaking and lights for night skiing. The tubing chutes have a designated tow line for tubing, which takes place only on the weekends, and a separate ticket is required.
Official site: https://www.andestowerhills.com/
Accommodation: Where to Stay in Kensington