9 Top-Rated Attractions & Things to Do in Fargo, ND
We may earn a commission from affiliate links ()
In the Red River Valley Region of North Dakota, Fargo is the largest city in the state. Along with Fargo's neighboring city of Moorhead, Minnesota, the two make up one of the fastest growing metropolitan areas in the upper Midwest. Plenty of tourist attractions entertain visitors in Fargo, as well as cultural and recreational activities.
The Red River Zoo in Fargo offers a look at some of the local wildlife and makes for a fun family outing. Located in a restored warehouse in Fargo's historic district, the Plains Art Museum will be sure to please art lovers. The Celebrity Walk of Fame is located outside the Fargo-Moorhead Convention and Visitors Bureau.
Plan your sightseeing with our list of the top things to do in Fargo.
1. Plains Art Museum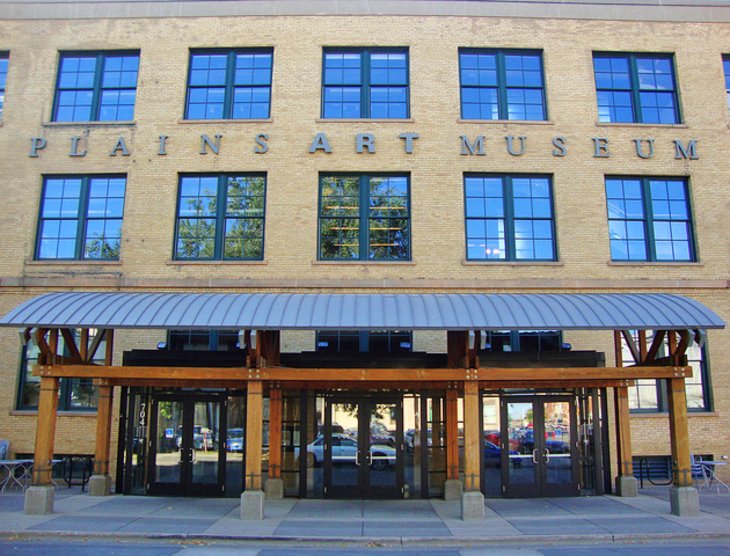 The Plains Art Museum features a permanent collection, as well as temporary exhibitions. In the permanent collection are works by Andy Warhol, David Bradley, Edward S. Curtis, and George Morrison. Works by local artists are also highlighted, allowing visitors to see some of North Dakota's own talent.
Be sure to check the Plains Art Museum calendar to see what is currently on display and what exhibits are planned. Admission is free to the Art Museum, and various after-school programs and Artist Talk series give extra value to this non-profit institution.
Address: 704 First Avenue North, Fargo, North Dakota
Official site: http://plainsart.org/
Accommodation: Where to Stay in Fargo
2. Roger Maris Museum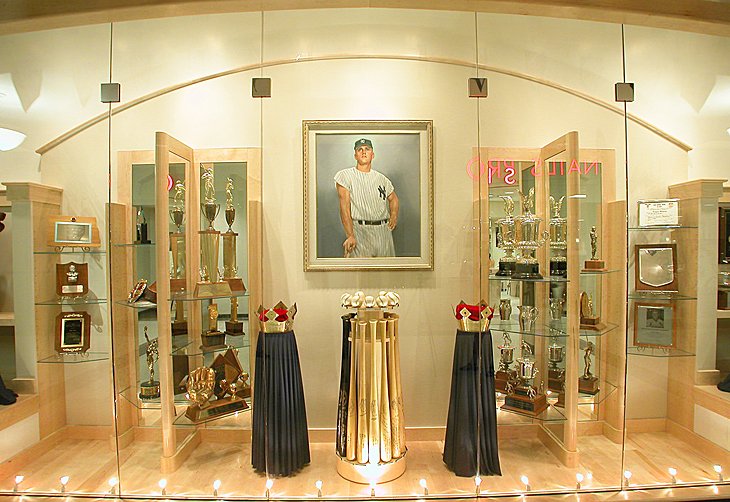 The Roger Maris Museum is dedicated to this hero of modern-day baseball. The museum contains all manner of memorabilia related to Maris and is a wonderful place to reminisce about baseball's greatest players.
Roger Maris, a former outfielder for the New York Yankees, grew up in Fargo and Grand Forks. In the 1961 season, Maris hit a record 61 home runs, the first to surpass Babe Ruth's 60 home runs in 1927. The museum highlights the skyrocketing career and many achievements of one of the area's most revered athletes.
The museum is situated within West Acres Mall and is open seven days a week. The surrounding mall provides several stores for an afternoon of window shopping.
Address: 3902 13th Avenue South (West Acres Shopping Center), Fargo, North Dakota
Official site: http://www.rogermarismuseum.com/
3. Catch a Movie or Event at the Fargo Theatre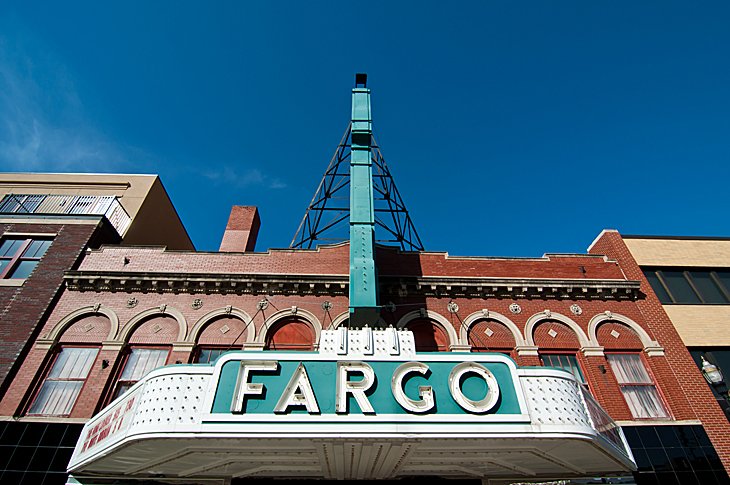 Built as a vaudeville theater and cinema in the 1920s, this Art Deco theater presents independent and foreign films. This historic space is also a venue for plays and other live entertainment. The restored building is now listed on the National Register of Historic Places.
Since 2001, the theater has hosted the Fargo Film Festival in March, which currently includes five days of screenings and community fun. Other regularly scheduled events include tribute bands, magicians, and comedian performances. Large groups and private parties can book the theater for special events.
Address: 314 Broadway N, Fargo, North Dakota
Official site: http://www.fargotheatre.org/
4. Fargo Air Museum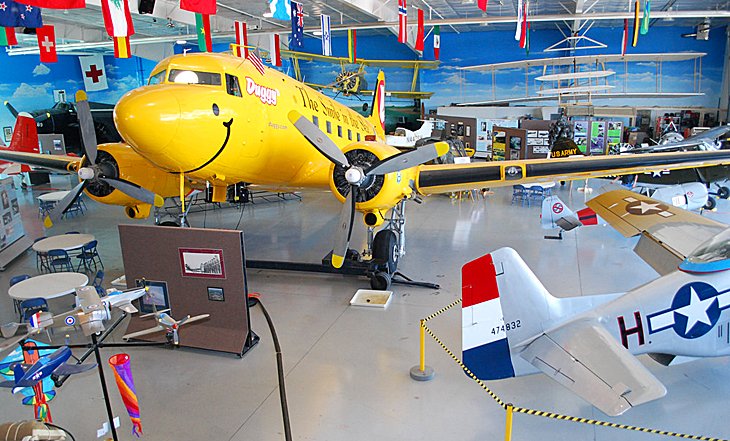 Since 2001, the Fargo Air Museum has piqued the community's interest with all things aviation. Comprised of two colorful hangars filled with aircraft from throughout the ages, the museum features many planes in its collection that can still fly, as is occasionally demonstrated on the runway outside.
One of the main focuses of the museum is education and cultivating interest in the aviation industry, and popular Aviation Camps help achieve this goal. Also at the museum is an extensive aviation library, a gift shop, and military memorabilia.
The Fargo Air Museum is open Tuesday through Sunday. Children under five receive free admission. Military veterans also receive discounted entry.
Address: 1609 19th Ave N, Fargo, North Dakota
Official site: http://www.fargoairmuseum.org/
5. Fargo-Moorhead Visitors Center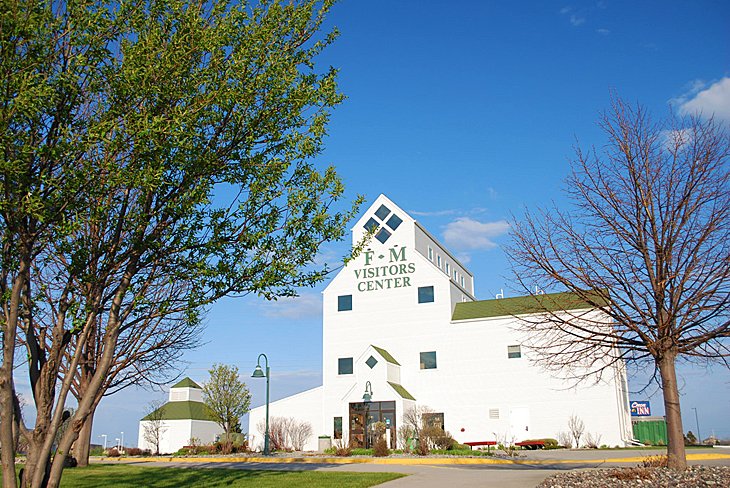 A good first stop in the Fargo area, the Fargo-Moorhead Visitors Center was constructed just off the interstate to look like a grain elevator. Inside, visitors will find an array of information on things to do around the area, as well as cultural attractions that help define Fargo's "North of Normal" campaign.
One of those attractions includes a photo opportunity with the famous woodchipper prop from the movie Fargo. Outside on the grounds, installations like a colorful bison statue attract some attention, as well as the Celebrity Walk of Fame, which includes more than 100 different celebrity signatures and handprints.
Outside of the visitor center, patrons will also find one of the many painted bison statues that are strewn about through town. The surrounding Fargo region has 20 of these painted bisons, which are fun to bump into on a visit. They are often sought out by aspiring and professional photographers.
Address: 2001 44th Street S, Fargo, North Dakota
Official site: https://www.fargomoorhead.org/plan-a-trip/fargo-moorhead-visitors-center/
6. Red River Zoo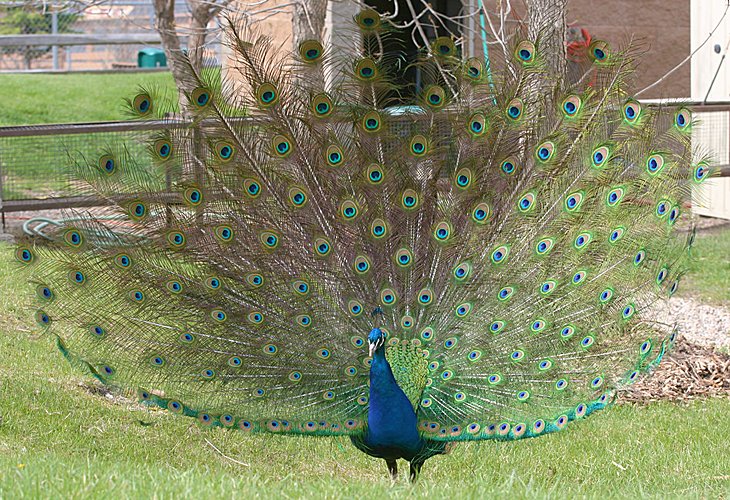 The Red River Zoo is a great place to visit on a summer day. The zoo was opened in 1999 and continues to grow every year. Currently encompassing more than 22 acres and a long list of conservation accolades, the zoo specializes in native wildlife and exotic species that live in similar climates to the Red River Valley.
Animals that call the Red River Zoo home include amphibians, birds, fish, reptiles, and mammals. Special encounters facilitated by the zoo allow guests to interact with either a porcupine, red panda, or baby camel. The zoo also has an active education program for adults and children.
Address: 4255 23rd Avenue South, Fargo, North Dakota
Official site: http://redriverzoo.org/
7. Take the Kids to the Children's Museum at Yunker Farm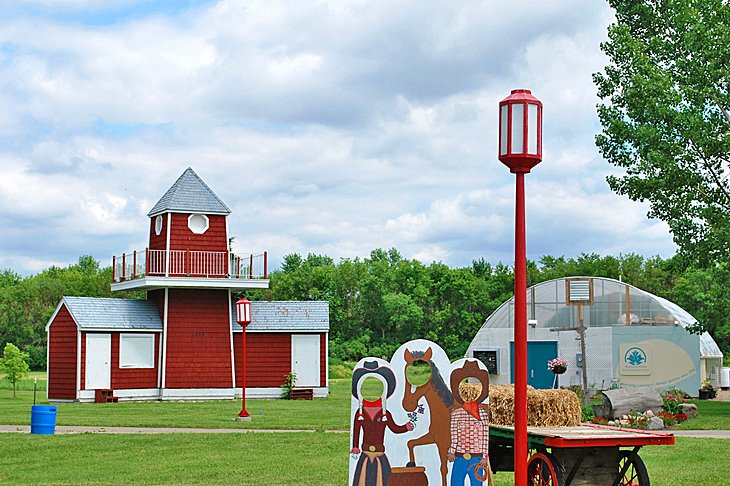 The Children's Museum at Yunker Farm is a great place for a family outing. The museum features hands-on exhibits designed to entertain and educate children of all ages. The museum has 55 acres offering both indoor and outdoor space. On the grounds are a miniature train, outdoor play equipment, nature trails, and educational gardens.
The museum maintains an active event calendar so be sure to check in to see what is going on when you are visiting.
Address: 1201 28th Avenue North, Fargo, North Dakota
Official site: http://www.childrensmuseum-yunker.org/
8. Bonanzaville, USA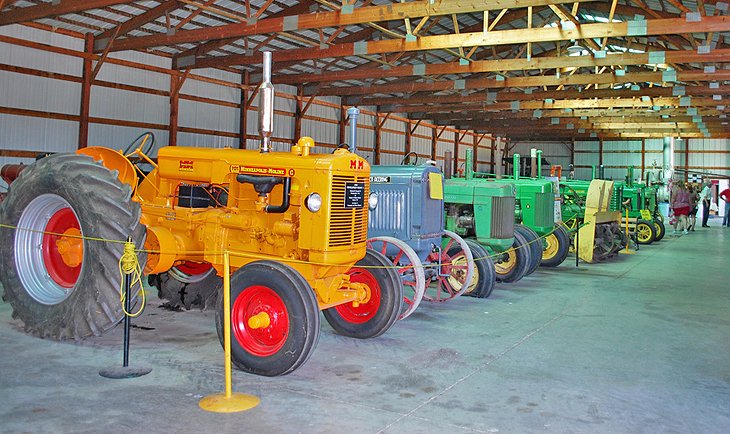 Operated by the Cass County Historical Society, Bonanzaville encompasses 12 acres of land and includes more than 40 historical buildings with thousands of artifacts. One of the region's largest historical attractions, both the Cass County Museum and the "Pioneer Village" of Bonanzaville dive deep into the culture, history, and people of the Red River Valley.
Among the historic buildings, other museums, like the Dahl Car Museum and Telephone Museum, appeal to special interests. Regular programming and events at the complex give even more reason to visit.
Bonanzaville is open seven days a week between May and September. The outdoor village doesn't operate throughout the winter, but the museum is open on the weekends between October and April.
Address: 1351 Main Ave W, West Fargo, North Dakota
Official site: http://www.bonanzaville.org/
9. Hjemkomst Center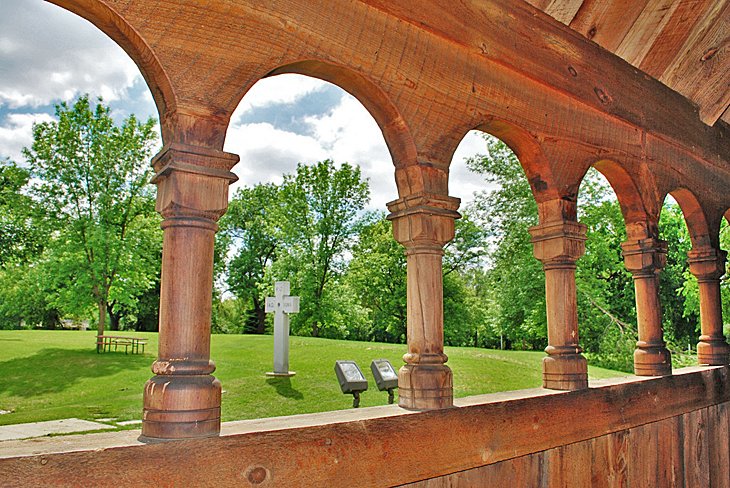 Across state lines in Moorhead, Minnesota, and a mile walk from downtown Fargo, the Hjemkomst Center is home to the Historical and Cultural Society of Clay County. At the facility, the Hopperstad Stave Church replica and the sailable Hjemkomst Viking Ship attract the most visits and are both tangible icons of the Norwegian history of the area.
Several permanent and rotating exhibits pertaining to the county are maintained by the historical society. The Hjemkomst Center also hosts various special events throughout the year, including a German Kulturfest and the Scandinavian Hjemkomst & Midwest Viking Festival.
Address: 202 1st Ave N, Moorhead, Minnesota