13 Top-Rated Attractions & Things to Do in Minnesota
We may earn a commission from affiliate links ()
From the lake-laden North Country to the marble exterior of the State Capitol in St. Paul, Minnesota is brimming with natural and cultural beauty. Plan to explore the wilderness areas of Minnesota, including Superior National Forest and the North Shore of Lake Superior, or cultural attractions, like the Minneapolis Institute of Art or the outstanding Munsinger Clemens Gardens in St. Cloud.
Whether it's wandering down the hiking trails, paddling the waterways, gliding down the ski hills, or shopping at Mall of America, Minnesota is more than a land of 10,000 lakes, it's a state with unlimited things to do. Discover more places to visit with our list of top tourist attractions.
1. Superior National Forest & Boundary Waters Canoe Area Wilderness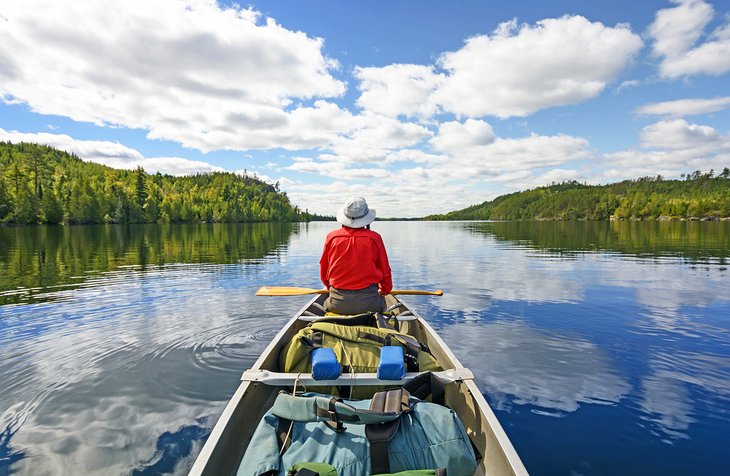 Superior National Forest, with pristine lakes and rivers, covers large areas of northeast Minnesota. The town of Ely, home to the International Wolf Center, is an excellent base from which to explore the unspoiled landscape. The Boundary Waters Canoe Area Wilderness, which lies within the forest, is well known among paddlers in the United States and Canada.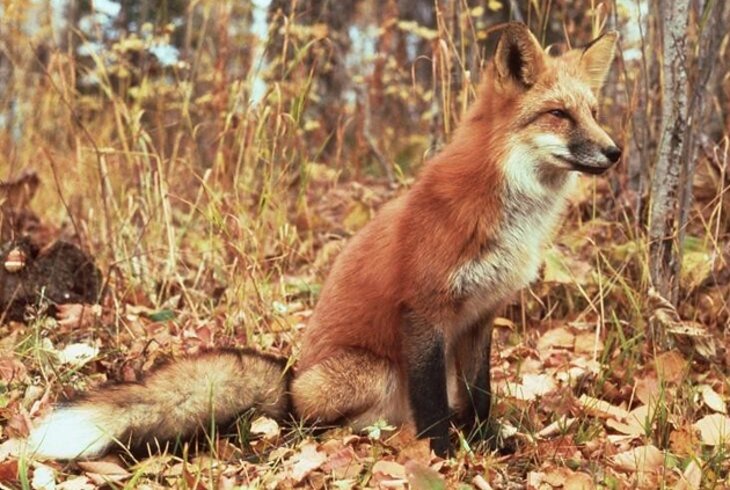 It is located along the boundary between the two countries and is a great area for backcountry canoe and kayaking trips, as well as fishing. This area is remote and supports a great deal of wildlife, including bears, moose, and wolves. Superior National Forest covers more than three million acres, of which 445,000 acres or almost 700 square miles are made up of water.
Official site: http://www.fs.usda.gov/superior
Accommodation: Where to Stay near Superior National Forest
2. See the Sights along the North Shore Scenic Drive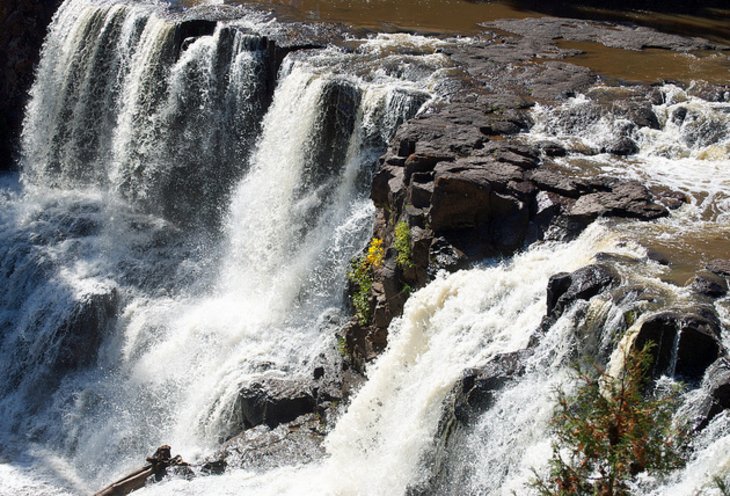 The North Shore Scenic Drive near Duluth follows the north shore of Lake Superior from Duluth to Thunder Bay, Ontario, Canada. Along this route are many of the top state parks in Minnesota, including Split Rock Lighthouse, Tettegouche, and Grand Portage State Park. Waterfalls, rocky cliffs, and great views of the seemingly never-ending Lake Superior accompany the long drive.
Recreational activities like boating, fishing, and mountain biking are easily accessed along the route, including skiing, snowshoeing, and ice-fishing throughout the long winters. For those not interested in automobile travel, the 300-plus-mile Superior Hiking Trail extends along the Minnesota shoreline and can only be traveled by foot.
Official site: https://www.fs.usda.gov/recarea/superior/recarea/?recid=75003
3. Paddle Voyageurs National Park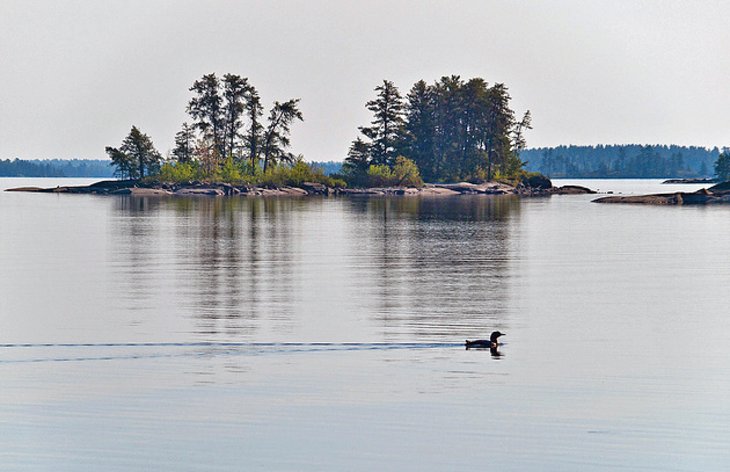 Voyageurs National Park is a pristine wilderness area that combines natural beauty with history. This mainly backcountry park, accessed primarily by water or air, is a wonderful place for canoeing, boating, fishing, and other outdoor pursuits.
The park is remote and offers great opportunities to see wildlife, such as bears, moose, loons, and much more. Historically, this area was important during the fur trade, when the French-Canadian Voyageurs traveled these waters in huge birch bark canoes.
4. International Wolf Center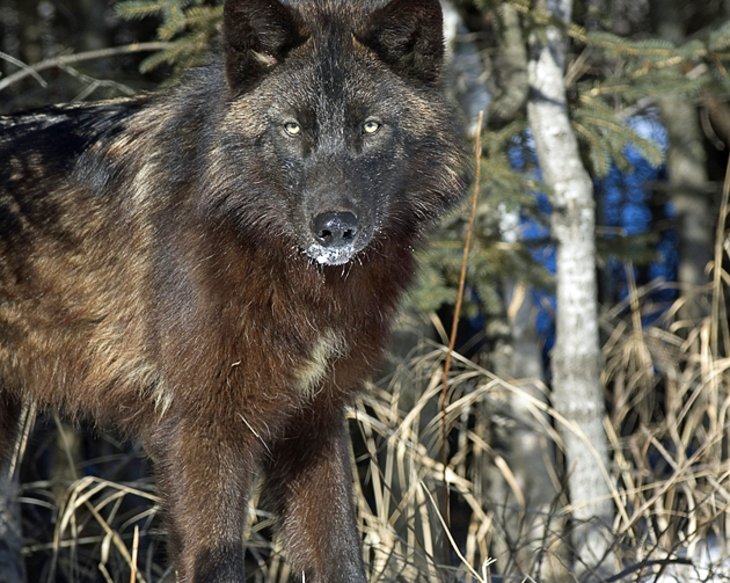 The International Wolf Center near Ely is an educational center that supports and promotes the survival of wolves. Hands-on exhibits, demonstrations of wolf tracking methods, and all kinds of information on wolves is presented.
Visitors learn about the natural history of wolves by observing the resident wolf pack. The center also offers a wide variety of programs and other visitor experiences, including Wolf Photography Workshops, Geocache Adventures, and overnight visits for groups of eight or more (call ahead to schedule).
Address: 1396 Hwy 169, Ely, Minnesota
Official site: http://www.wolf.org/
5. Minnesota State Capitol Building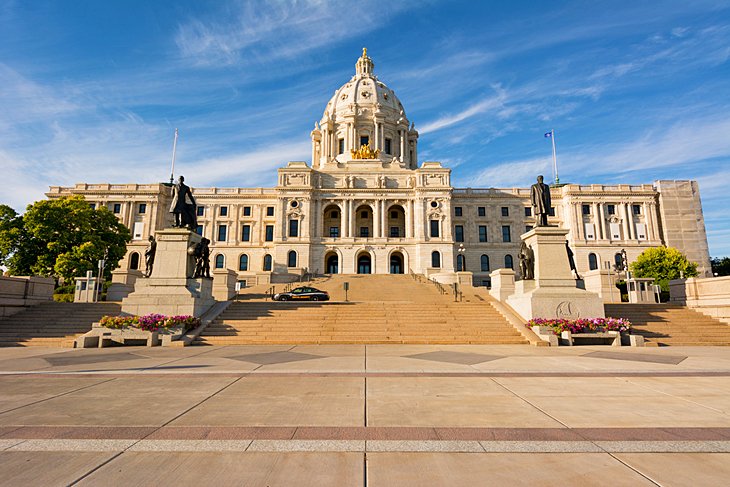 Constructed between 1896 and 1905, the Minnesota State Capitol building recently underwent renovations to restore this historic structure back to its original glamour. Besides repairs to the exterior marble and restored furnishings of the interior, the 2013 to 2017 renovations also added more public space and accessibility for visitors.
Guided tours are available every day of the week, and self-guided tours of areas like the Rotunda, the second "Grand" floor, and the Governor's Reception Room are always encouraged. On the exterior main entrance of the Capitol, The Quadriga is a golden four-horse chariot statue and always a visitor favorite.
Address: 75 Rev. Dr. Martin Luther King Jr Boulevard, St. Paul, Minnesota
Official site: http://www.mnhs.org/capitol
6. Go Shopping at the Mall of America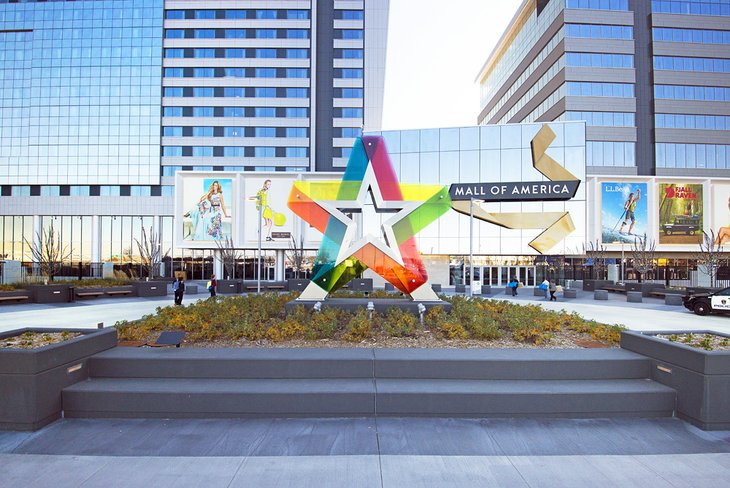 Located on the outskirts of St. Paul, in the suburb of Bloomington, is the Mall of America. When it opened in 1992, it was one of the largest malls in the United States. In addition to more than 500 shops and dozens of restaurants, the facility includes theaters, hotel accommodation, and other amusements.
7. Como Park Zoo & Conservatory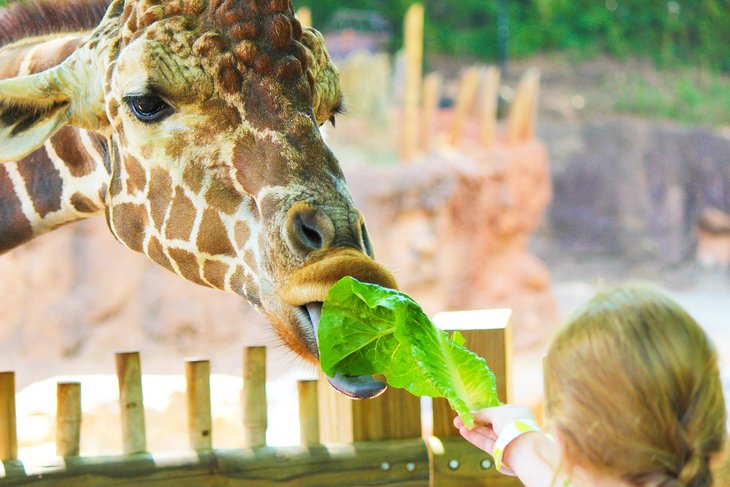 The Como Park Zoo & Conservatory is one of the best family attractions in Minnesota. Here, you'll find everything for a complete day of fun for all ages. It's also budget friendly; both are free to enter but donations are encouraged.
The zoo has a variety of animals from around the world, ranging from monkeys through to polar bears. One of the most enjoyable animal interactions is feeding the giraffes. Available to visitors of all ages, these gentle giants eat Romaine lettuce right out of your hand.
The zoo is near completion of a $20-million-dollar expansion, with the addition of the new Como Harbor exhibit. This will be the new home for penguins, otters, and two giant octopuses.
There is more to the park than the zoo. Be sure to swing by the conservatory to see a riot of heat-loving plants. A visit to this beautiful glass building makes you feel like you've stepped into the tropics. The Sunken Garden is a colorful area full of fragrant and beautiful plants that change throughout the seasons, and is an ideal place to snap a picture or two.
Official site: https://comozooconservatory.org/
8. Minneapolis Institute of Art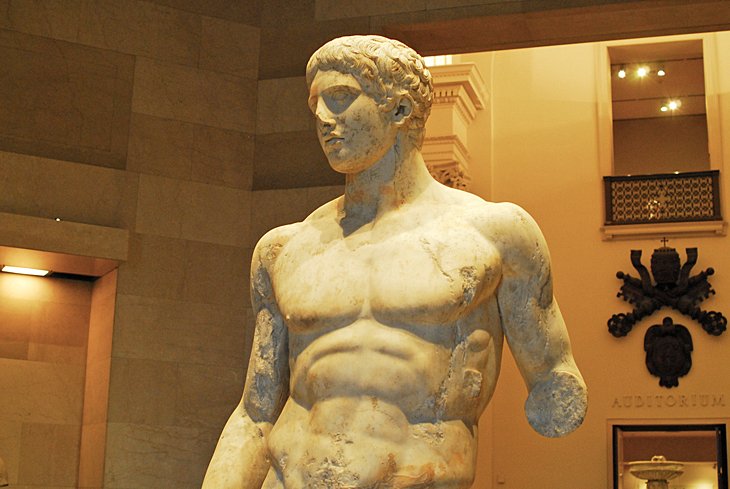 Hosting more than 700,000 visitors a year, the Minneapolis Institute of Art (Mia) has a wide range of art and attractions, all with free admission to explore. The collection at Mia features more than 89,000 artworks, and the permanent and temporary exhibits span everything from American modernism to ancient artifacts from around the world.
Among many other installations, visitors can check out Japanese and Korean art, decorative art and textiles, and the Doryphoros - one of four surviving Roman copies of an ancient Greek sculpture. Mia also hosts free daily public tours, family programs, and a four-day Art in Bloom festival each year in the spring.
Address: 2400 3rd Ave S, Minneapolis, Minnesota
Official site: https://new.artsmia.org/
9. Split Rock Lighthouse State Park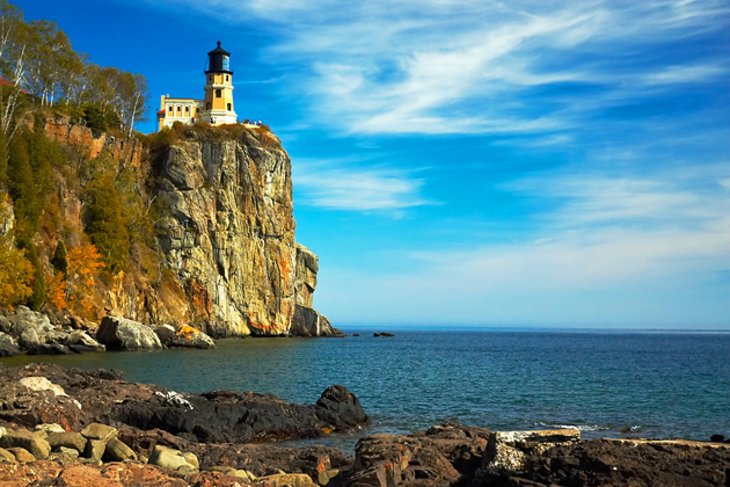 Split Rock Lighthouse State Park is located 20 miles northeast of Two Harbors on the North Shore of Lake Superior. It is home to Split Rock Lighthouse, which was built in 1910 to protect Lake Superior shipping. Visitors can tour the lighthouse, foghorn building, keeper's house, tower, and light.
Numerous hiking options line the park, which lead through forest, pebble beaches, and great viewpoints of the shoreline. Come winter, the trails at Split Rock become designated for fat tire biking. A cart-in campground is also available, with a few sites offering personal views of the lighthouse.
Address: 3755 Split Rock Lighthouse Road, Two Harbors, Minnesota
Official site: http://www.dnr.state.mn.us/state_parks/split_rock_lighthouse/index.html
10. Stroll through Munsinger Clemens Gardens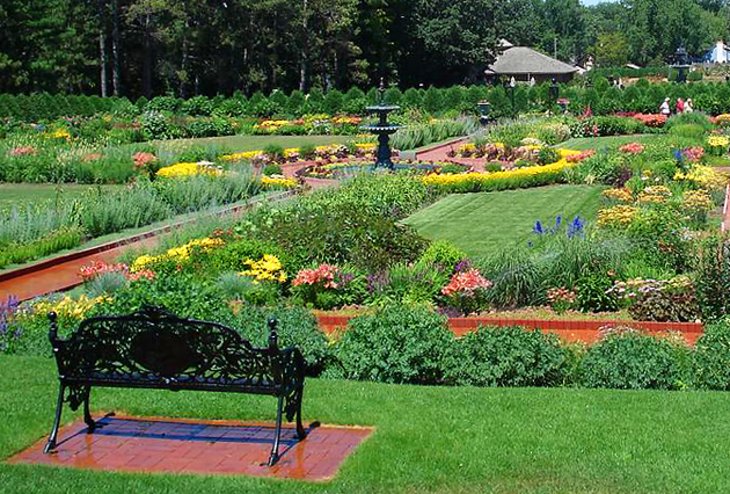 The Munsinger Clemens Gardens in St. Cloud are some of the summertime delights of the city. The Munsinger Gardens feature approximately 80,000 annual plants within a setting of trees, benches, swings, fountains, and ponds. The Clemens Gardens are known for having more than 1,100 rose bushes, and an all-white garden devoted to white flowers and flowering shrubs.
Music in the Gardens on every other Sunday in the summer is a fun way to enhance the experience, and the annual Art Fair in the Gardens is a popular event featuring artists and musicians from across the state.
Address: 1515 Riverside Drive SE, St. Cloud, Minnesota
Official site: http://www.munsingerclemens.com/
11. Duluth Aerial Lift Bridge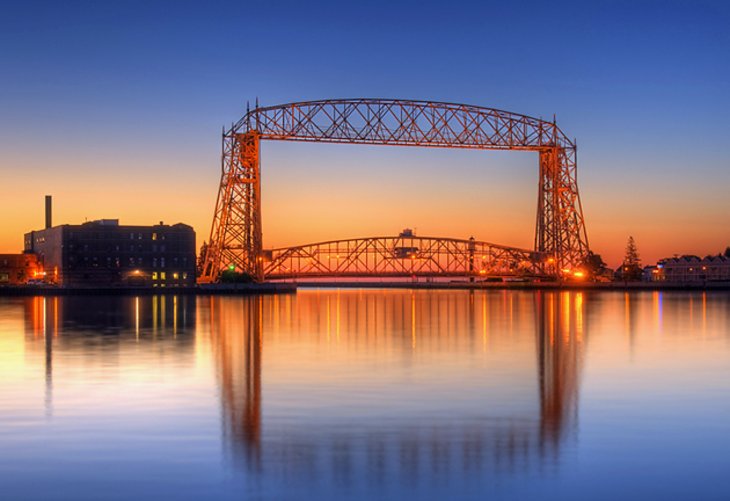 Originally constructed between 1901 and 1905 as an aerial transfer bridge with a cable car, the bridge expanded into an entire roadway in 1929 and has been a prominent icon of Duluth ever since.
The bridge allows residents of Minnesota Point to reach the mainland and it's listed on the National Register of Historic Places. The Duluth Aerial Lift Bridge is operated 24 hours of the day, and watching it raise and lower for freight ships, sailboats, and tour boats is part of the spectacle.
Address: 601 S Lake Ave, Duluth, Minnesota
Read More: Top Things to Do in Duluth
12. Go Camping at Itasca State Park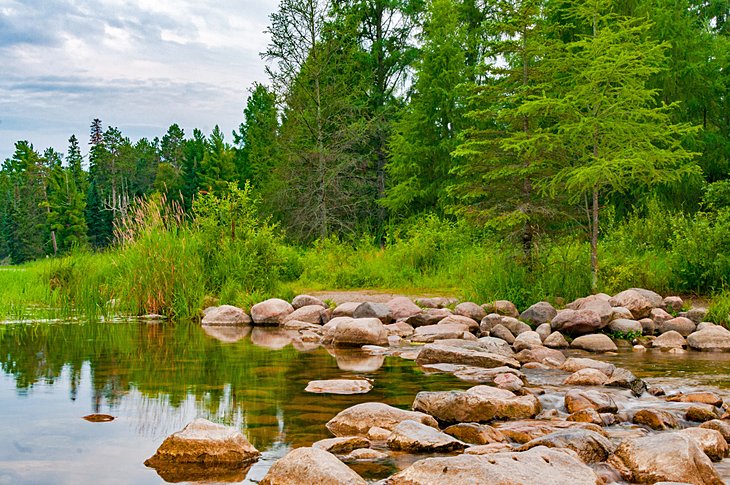 As Minnesota's oldest state park, Itasca encompasses more than 32,000 acres of wildlands and lakes, including the headwaters of the Mississippi River. Outdoor recreation opportunities are easily found at this northern Minnesota state park, and visitor favorites include hiking trails, fire towers, and old-growth Red Pine forests.
The one-way Wilderness Drive and Bike Route makes a loop through the mainstay of the park, providing plenty of parking areas and trailheads along the way. Overnight accommodations at Itasca include developed and backpack-only campsites, various lodges, cabins, and the year-round Mississippi Headwaters Hostel.
13. Cathedral of St. Paul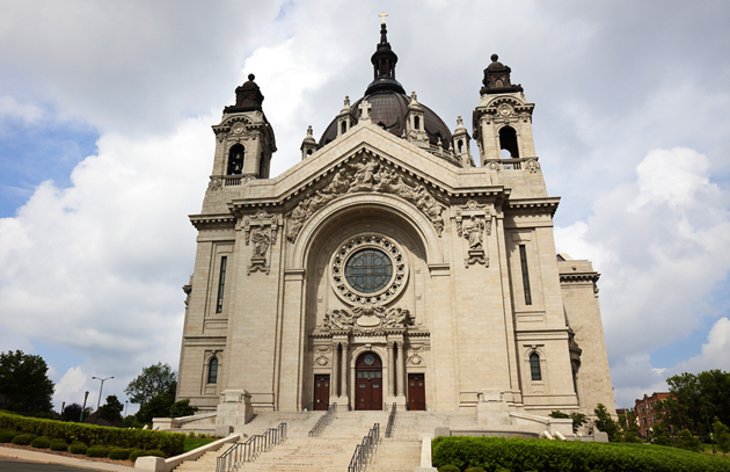 The imposing St. Paul Cathedral in St. Paul was built in the early 1900s and is today the National Shrine of the Apostle Paul and a pilgrimage site. The design is Classical Renaissance, and the large interior can hold up to 3,000 people.
An active place of worship, the cathedral is open to the public for much of the day, though tourist visits are discouraged during Masses and other holy services. One-hour guided tours are available at 1pm, Tuesday through Friday, and are a good way to gain some historical perspective on the cathedral.
Address: 239 Selby Avenue, St. Paul, Minnesota
Official site: http://www.cathedralsaintpaul.org/
Accommodation: Where to Stay in St. Paul