9 Top-Rated Mountain Bike Trails in Minnesota
With plenty of glaciated ridges and lush forests, Minnesota offers fantastic mountain biking trails. Trails range from the adventure-rich region of Duluth to the numerous trail systems surrounding the Twin Cities.
Whether you are looking for downhill, cross-country, or a leisurely ride after work, you'll find plenty of mountain biking trails to choose from.
Different nonprofit and volunteer organizations, such as Minnesota Off-Road Cyclists and the Cyclist of Gitchee Gumee Shores, help support the trail systems and effectively create a voice for the community. Through these public interest groups and agency partnerships, places like Lebanon Hills and Elm Creek Park offer miles of singletrack and unique features to explore.
Whatever style of ride you are looking for, the state's many trails provide a fast-flying and fun way for riders of all skill levels to explore Minnesota. Plan your outdoor adventures with our list of the top mountain bike trails in Minnesota.
1. Lebanon Hills Regional Park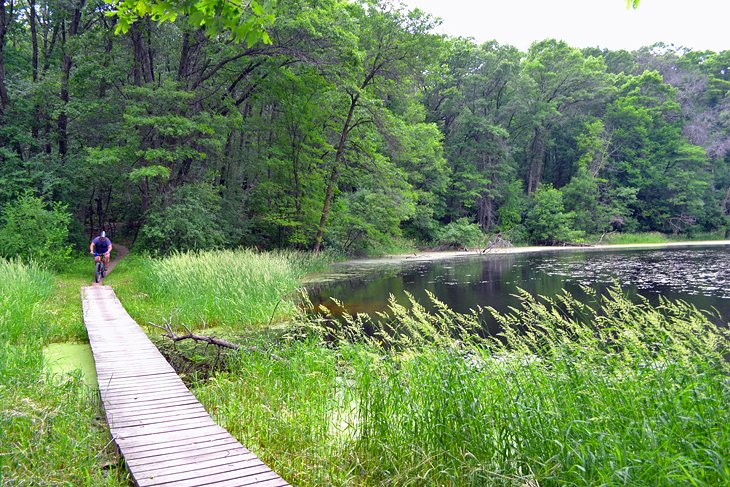 Split between East and West sections, and comprising more than 2,000 acres, Lebanon Hills Regional Park caters towards many different types of recreational activities. On the east end, visitors can rent canoes, kayaks, or paddleboards to explore O'Brian Lake or many of the other named bodies of water that dot Lebanon Hills.
If you are looking for mountain biking, though, and some of the best mountain biking in Minnesota, it's the west side that's worth a visit.
Built and maintained by the nonprofit Minnesota Off-Road Cyclists (MORC), Lebanon Hills features 12 miles of well-manicured singletrack. Routes range from beginner-friendly to black diamond sections full of logs, drops, and rock gardens.
Whatever your skill level, a recommended route is the Lake Loop, which follows the hilly contour of the land on a well-engineered trail, all the while touring a lakeside landscape that's worth stopping to appreciate.
The trails at Lebanon Hills are well marked. This makes for easy navigation of the one-way routes and many intersections that make up the trail system, even if it's your first time visiting.
With a newly built shelter and restroom near the parking area, Lebanon Hills also provides the perfect place to relax and refuel during a full day of riding.
Address: 860 Cliff Road, Eagan, Minnesota
Official site: http://www.lebanonhills.com/
2. Cuyuna Lakes Mountain Biking Trail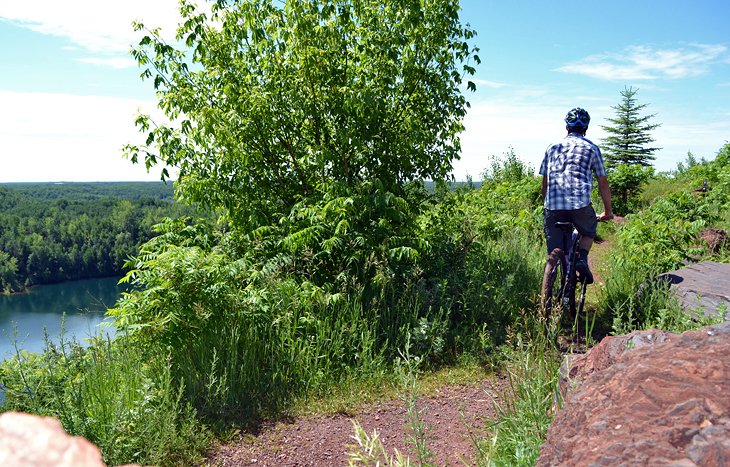 Riders who visit the Cuyuna Lakes are encouraged to shred the red on the first-class mountain biking trails found throughout the area. Created on the grounds of an abandoned iron mine, the mineral-rich soil of Cuyuna Lakes leaves a notorious red tinge on any tire that ventures onto the 25-plus miles of trail. The red tread marks aren't the only color on the Cuyuna Lakes pallet.
The mountain bike trails at Cuyuna Lakes are lined with the overlooks of turquoise mining lakes and interspersed plots of aspen and birch trees. The Cuyuna Lakes Mountain Biking Trail is part of the larger and newly adopted Cuyuna Country State Recreation Area, which provides abundant opportunities for other activities. The area is also popular for fat biking during the winter.
The State Recreation Area oversees three different campgrounds within Cuyuna Country.
Address: 307 3rd Street, Ironton, Minnesota
Official site: http://www.cuyunalakesmtb.com/
3. Piedmont Bike Trails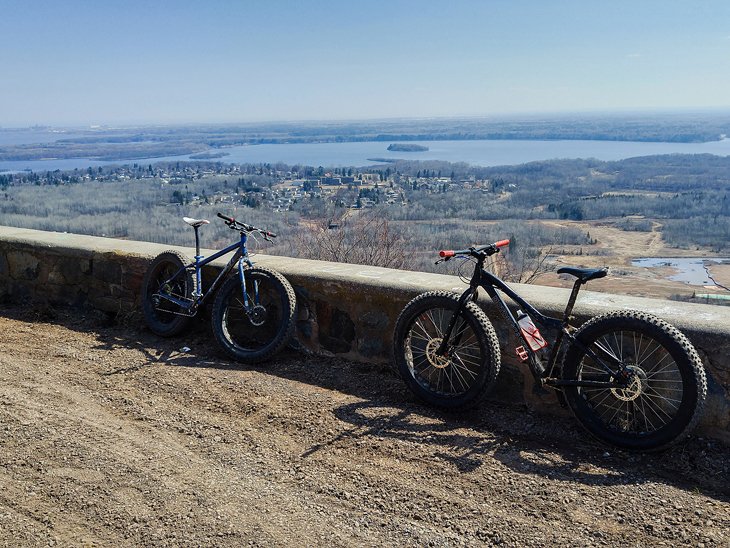 Serving as a launching point for Minnesota's rugged North Shore, Duluth is a recreational capital of the state. This outdoorsy city is known for cross-country hikes, agate hunting, Grandma's Marathons, skiing, sailing, and dog-sled races. With all the things to do in Duluth, mountain biking is still one of the most popular. Thanks to the Cyclist of Gitchee Gumee Shores (COGGS), there are plenty of trails to explore.
Serving the Twin Ports area, including Duluth, Minnesota and Superior, Wisconsin, COGGS has generated seven-plus trail systems in the area. One of their crowning trail systems, and one with the best views, is the Piedmont Bike Trails, accessed by the Skyline Parkway above the Zenith City (Duluth).
The Piedmont Trail system winds for nine miles with changing views of Lake Superior and the St. Louis River. The trails range in difficulty from easy-riding intermediate loops to handlebar- jostling descents. Connecting to the adjacent Brewer Park across Haines Road, this extra extension to the trail adds some flow to the ride. Brewer Park also contains a heart-pounding section known as the "kissing booth," which features rock drops, switchbacks, and plenty of possible crash landings.
For those looking to make the long haul, COGGS is also developing the Duluth Traverse. This cross-country trail will connect the Piedmont & Brewer Park bike trail system with many others in the area, creating a non-stop, 40-mile mountain bike trek to really test the legs.
Address: 2588 Haines Road, Duluth, Minnesota
Official site: http://www.coggs.com/piedmont-trails
4. Elm Creek Park Reserve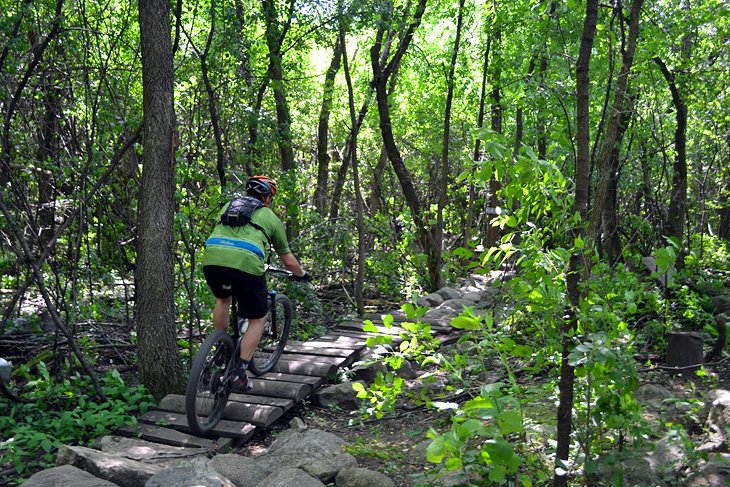 At 4,000 acres, the Elm Creek Park Reserve is the largest unit within the Three Rivers Park District of the northwest Minneapolis/St. Paul metro area. While there are many things to do at this sprawling space within the Twin Cities metro, the mountain biking trails always draw a crowd, especially on the weekends. But with 12 miles of singletrack to explore, ranging from beginner berms to technical features, there is plenty of space to share.
The mountain bike trails at Elm Creek Park Reserve follow a woody path before touring a vast, open prairie field complete with a lake. Several scenic views of woodlands and prairie grass are encountered along the way. The trails are maintained through a partnership with Minnesota Off-Road Cyclists (MORC).
The trailhead for the mountain biking is in the northeast section of the park, and with its popularity among bikers, hikers, and trail runners, the lot can be crowded. It's about a 30-minute drive from downtown Minneapolis to reach the trailhead, or an hour-long bus ride. Carpooling is encouraged.
Address: 951 W. Hayden Lake Road, Champlin, Minnesota
Official site: https://www.threeriversparks.org/location/elm-creek-park-reserve
5. Murphy-Hanrehan Park Reserve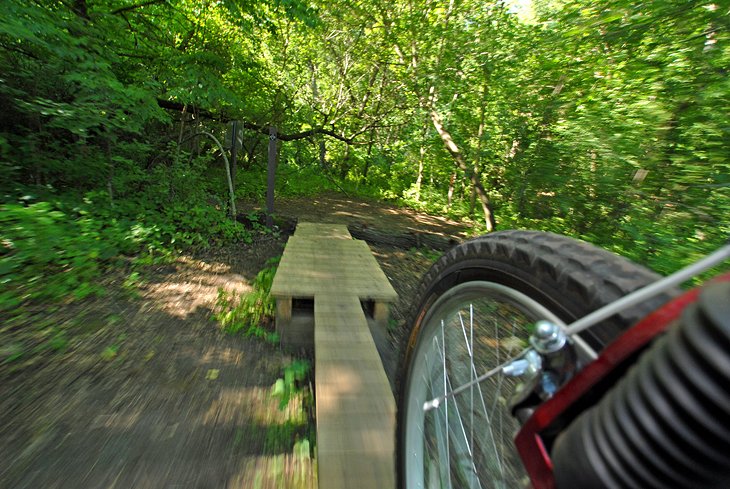 Located 20 miles south of the Twin Cities, the Murphy-Hanrehan Park Reserve offers a quick escape within city limits. Thanks to the range of trails available, the reserve is a popular mountain biking destination for all types of riders.
Besides the maintained mountain biking singletrack and winter cross-country skiing trails, Murphy-Hanrehan remains undeveloped, making it also a popular place for bird-watchers, hikers, and nature lovers to explore.
The 10 miles of trails at Murphy-Hanrehan will test the legs of even the most experienced riders, with long, steady uphill climbs. Feel the burn, though, and be rewarded with the lush forest, scenic prairies, and many fun obstacles for practicing your mountain biking skills.
The Murphy-Hanrehan Singletrack Trail features 6.9 miles of advanced trails and over two miles of easy and intermediate trails.
Under the umbrella of the Three Rivers Park District, this path is a local favorite, and the trailhead on the weekends proves it. Hit the trail in the early morning or throughout the week, though, and you can enjoy the nature in solitude.
All trails at Murphy-Hanrehan follow a single direction, and signs on the trails should lead you the right way.
Address: 15501 Murphy Lake Blvd, Savage, Minnesota
Official site: https://www.threeriversparks.org/location/murphy-hanrehan-park-reserve
6. Spirit Mountain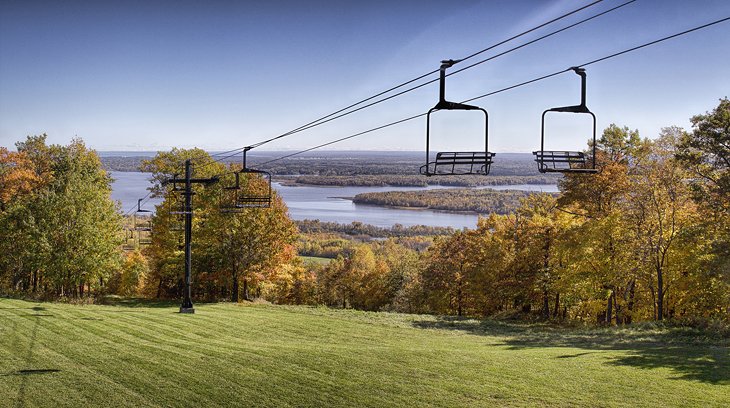 Spirit Mountain operates as a ski resort for four months of the year and encompasses 175 acres of skiable terrain. The ski hill provides chairlift-enabled downhill mountain biking outside of the ski season that keeps riders on the edge of their seats.
Propelled by gravity, visitors with a lift pass can cruise down a wide variety of trails here, some of which stretch for more than 4,700 feet of downhill fun.
Ranging from easier trails, like the Happy Camper, to the brake-line testing Wrecking Ball route, the mountain caters to all types of riders. Regardless of skill level, helmets are always required.
With rentals available, and workshops and season passes offered, Spirit Mountain is a top destination for downhill mountain biking in Minnesota. Spirit Mountain offers a mountain bike season pass for riding the chairlifts, as well as daily lift tickets.
Address: 9500 Spirit Mountain Pl, Duluth, Minnesota
Official site: http://spiritmt.com/mountain-biking
7. Memorial Park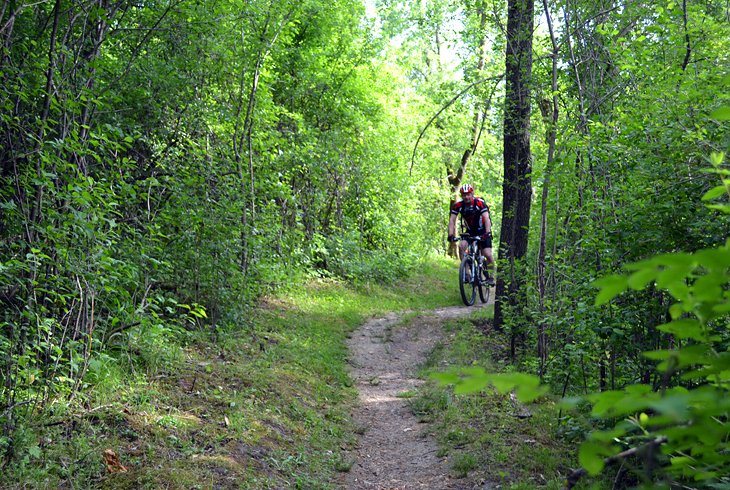 Located in the southeastern corner of Minnesota on the banks of the Mississippi River, the city of Red Wing's Memorial Park sits atop Sorin's Bluff. This high vantage point provides many avenues for adventure and a great view as well.
Parking your vehicle at the top of Sorin's Bluff, you can partake in nature walks, a nine-hole frisbee golf course, and picnics, but what really draws a crowd to the scenic space above the city is the sprawling mountain bike trails found throughout the area.
Split between intermediate and advanced, the one-way singletrack trails of Memorial Park weave in and out of the forest and adjacent prairie spaces. This provides a roller-coaster feeling of a good time as you complete the various loops. The mountain bike trail system at Memorial Park is created and maintained entirely by volunteers.
For more information, including trail maps or how you can help keep Memorial Park a mountain biking destination, be sure to check out the Red Wing Area Mountain Bike Organization.
Address: 315 W 4th Street, Red Wing, Minnesota
8. Hillside City Park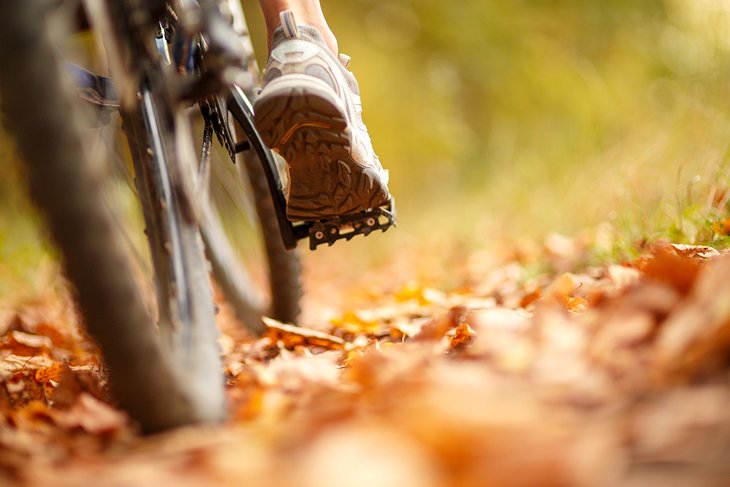 Featuring six miles of winding, curving singletrack, Hillside City Park provides visitors with a pure mountain biking experience just a half-hour from downtown Minneapolis.
Lacking extraneous spur trails and misleading junctions, Hillside City Park begins its flow at the parking lot and doesn't finish until the loop is done. Along the way, riders encounter a variety of optional and not-optional obstacles, including log bridges, rock gardens, and banked turns.
These obstacles provide plenty of challenges for seasoned mountain bike riders or dismount locations for those new to the sport. This popular mountain biking trail at Hillside City Park has been around for the better part of two decades. Renewed management interests by the nonprofit Minnesota Off-Road Cyclist (MORC) have been improving trail conditions and signage for this serpentine trail system.
Address: 10801 181st Ave NW, Elk River, Minnesota
9. Theodore Wirth Regional Park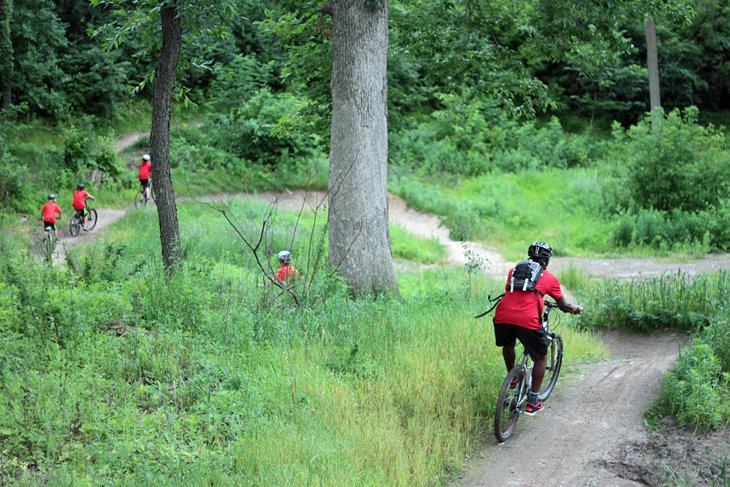 Located just two miles west of Target Stadium, home of the Minnesota Twins, Theodore Wirth is the largest open space in the Minneapolis park system. This sprawling public park provides a natural respite for thousands of Twin Cities urbanites.
Amid its 750 acres, popular activities include teeing off on the 18-hole golf course, swimming on the shore of Wirth Lake, and mountain biking the sprawling trail system.
In conjunction with the Minneapolis Park and Recreation department and the Minnesota Off-Road Cyclist, five different mountain biking loops are available within Theodore Wirth Regional Park. Each provides a different degree of difficulty and scenery to enjoy. The trail system at Theodore Wirth is subject to closures when the trails are wet.
A recommended route for your first time, or the umpteenth time, is the Back 40 Loop. This 3.5-mile loop is accessible near the Wirth Par 3 Club House and provides flowy and fast riding in the heart of Minneapolis.
The most challenging mountain bike trail at Theodore Wirth, the 1.5-mile Brownie Lake Loop, features technical elements like logs, drops, and plenty of rocks.
Address: 1301 Theodore Wirth Pkwy, Golden Valley, Minneapolis, Minnesota
Official site: https://www.minneapolisparks.org/parks__destinations/trails__parkways/off-road_cycling_trails/#group_0_240592
More Outdoor Opportunities in Minnesota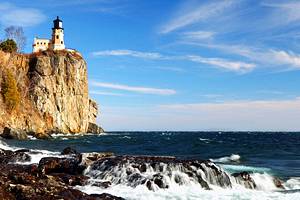 If you are looking for more adventure in Minnesota, the state also hosts a wide array of other outdoor activities to enjoy. For information on some of the best hikes in the state, be sure to check out our article on the Best Hiking Trails in Minnesota and for overnight options, our Best Campgrounds in Minnesota article includes some great places to pitch a tent.
Much of the outdoor fun in the state can be found throughout Minnesota's extensive state and national park system. See our Best National and State Parks in Minnesota article for details. For the perfect base camp on a Minnesota mountain biking adventure, both Minneapolis and Duluth provide quick access to many different trails in the area.