14 Top-Rated Attractions & Things to Do in Duluth, MN
For adventure lovers seeking outdoor fun, it's hard to beat the natural beauty and diverse four-season attractions of Duluth, Minnesota. Perched along the northern shore of Lake Superior, Duluth revels in its harborside locale and is known as the land where the water meets the sky. This seaport city enjoys a long maritime history visitors love to explore, and freighters still head out to sea from here bound for transatlantic crossings.
Sitting upon the westernmost point of the Great Lakes, Duluth captivates with panoramic vistas; an expansive public park system; sophisticated dining, shopping, and museums; and plenty of opportunities to enjoy the water.
Duluth is also proud to lay claim to being the birthplace of iconic folk singer and national treasure, Bob Dylan. Born in 1941, Dylan lived here for the first six years of his life – a connection that's celebrated each May at the week-long Duluth Dylan Fest, as well as on the nearly two-mile-long Bob Dylan Way, a fun walking route that takes in landmarks linked to the star, as well as top cultural attractions. To learn more about other upcoming events and things to do here, be sure to peruse our list of the top attractions in Duluth.
1. North Shore Scenic Drive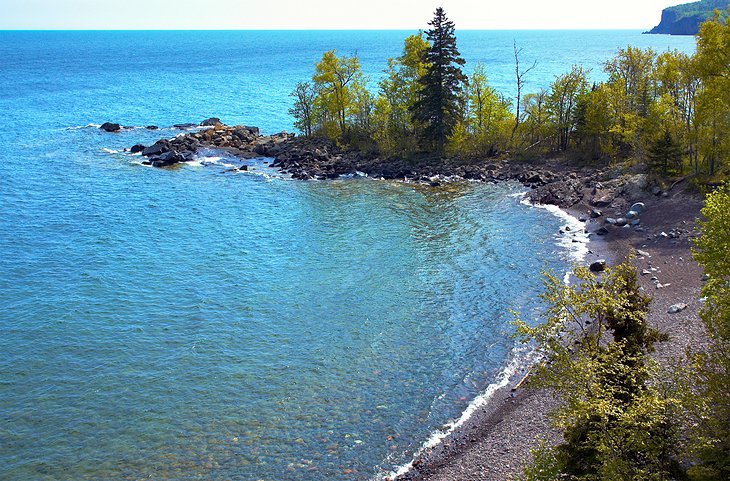 With dramatic vistas and the stunning beauty of Lake Superior at every turn, the 148-mile drive along Highway 61 provides tourists with wonderful opportunities to experience life along the lake.
Begin at Duluth's waterfront Canal Park and amble northeast. Views along the way captivate as acres of aspens, the majestic Sawtooth Mountains, waterfalls, cliffs, and beaches compete for attention.
The real fun comes from stopping at charming, small northern shore towns along the way. One-of-a-kind shops, restaurants, and local flavors make each a special gem.
Two Harbors is worth exploring, just 27 miles north of Duluth. Two Harbors Lighthouse is lovingly restored to its original 1891 splendor and offers visitors up close views of the various lanterns, lenses, and artifacts from Minnesota's oldest continuously operated lighthouse. Nearby, Split Rock Lighthouse sits majestically off Highway 61 and is a must-see.
Gooseberry Falls State Park is a true all-season playground with hiking (winter-touring) trails, picnic areas, splendid scenery, and a spectacular waterfall. Continuing north along the route, Lutsen is home to the Superior Hiking Trail, otherwise known as the "Appalachian Trail of the Midwest." Skiing and snowboarding are the main things to do here in winter, with chairlift rides and BMX biking available spring through fall at the largest ski area in the Midwest.
The artist colony of Grand Marais is at the northernmost end of the drive, where funky galleries, inspired dining, and boutique shopping await. Here, canoe and kayak enthusiasts experience crystal-clear glacier-formed lakes just along the famed Boundary Waters Canoe Area.
2. Canal Park & The Lakewalk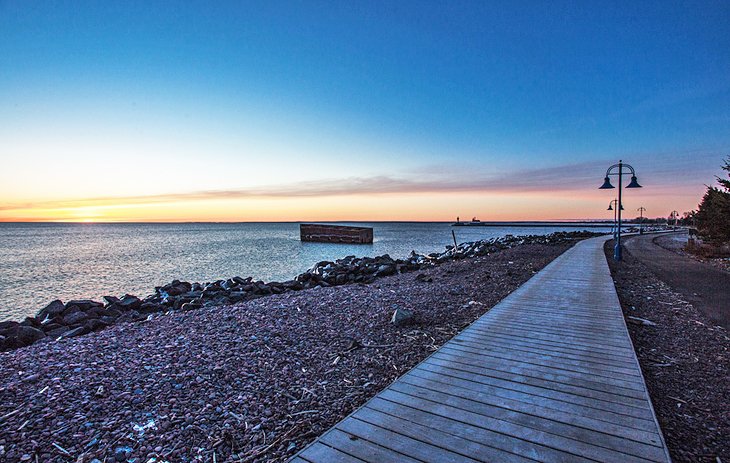 Hugging the shoreline of Lake Superior, Canal Park is the epicenter of Duluth downtown family fun. More than a conventional park, this popular Duluth recreation area is home to Lakewalk, a promenade with walking and biking trails meandering through the waterfront area past shops and restaurants.
Sit and watch the ships sail the harbor or stroll along the water for some great people watching. Lake Walk's eastern end connects to Leif Erickson Park and Duluth Rose Garden, a magnificent place to visit to enjoy a harbor view and a picnic. Note that the replica of Erikson's Viking ship, a wooden sailing vessel that made the journey from Norway to Boston before ending up in Duluth in 1927, is currently off-site undergoing restoration.
Kids of all ages will enjoy Playfront Park, the city's largest playground, built as a community project in 1989. Water sports of all varieties are accessible in Canal Park including rentals of electric boats, Seadoos, paddle boards, canoes, and kayaks. Bike rental and carriage rides are also easily arranged.
While you're in the area, check out the Karpeles Manuscript Library Museum. Just a few minutes walk from Canal Park at 902 East 1st Street, this former 1912 church (the original organ is still there) houses an impressive collection old books and important historical documents.
3. Lake Superior Zoo & Zoological Society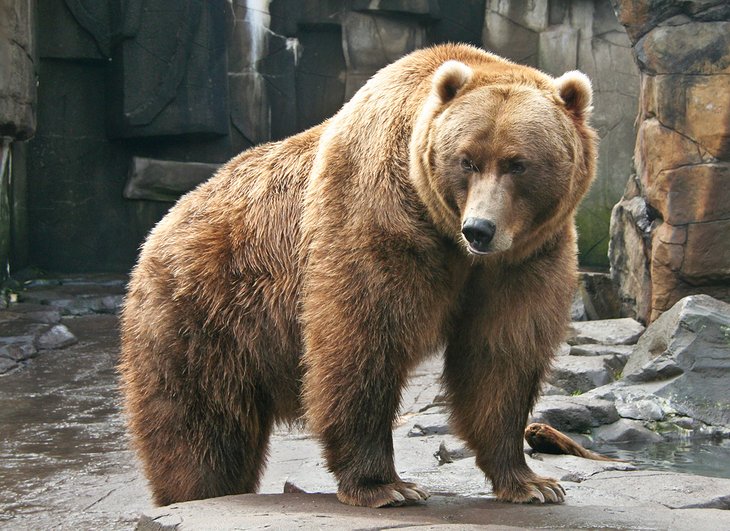 Open year-round, the Lake Superior Zoo gives visitors the chance to see over 140 species of animals from around the world. Among its most popular residents are the two-toed sloths in the Nocturnal Building, which is also home to several unique species, including the large-spotted genet and kinkajou. The Primate Conservation Center is one of the zoo's most visited exhibits. This rainforest habitat is home to colobus monkeys, Callimico monkeys, cotton-top tamarins, and ring-tailed lemurs.
The Australia & Oceania area is another top destination, with exotic animals form Down Under, including kangaroos and wallabies. At the Asian Caravan, zoo guests can see endangered Amur tigers and snow leopards, as well as endangered Asian birds. Visitors can also see a family of African lions in their own habitat. The zoo is also home to a population of brown bears who live peacefully with North American river otters, as well as a range of reptiles, amphibians, and other birds and mammals.
Visitors can book behind-the-scenes tours to learn even more about their favorite animals, including opportunities to watch carnivore and nocturnal animal feedings and get up close to bears and otters. One of the most popular special activities is Primate Painting, where visitors watch Callimico monkeys create works of art on an iPad; prints of the final artwork are included in the price. All these tours must be booked at least one week in advance.
Address: 7210 Fremont Street, Duluth, Minnesota
Official site: https://lszooduluth.org
4. Aerial Lift Bridge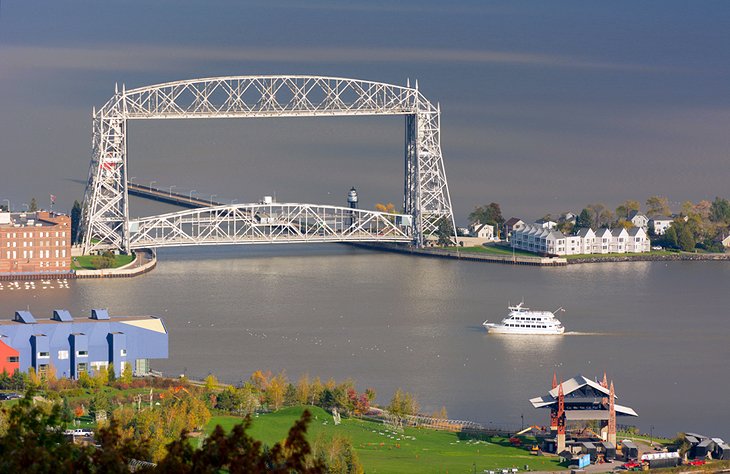 More than 115 years old, Duluth's Aerial Lift Bridge enthralls visitors daily as an engineering and architectural marvel. Spanning a narrow opening connecting Park Point to Duluth's mainland, the most photographed structure in Duluth operates 24/7, rising and lowering to accommodate freighters, cargo ships, sailboats, and tour excursions from the harbor into the main lake passageway. Photographers get favored shots just before sunset.
The action is not over when the sun goes down, however, as the bridge is particularly beautiful at night, with hundreds of LED lights illuminating the structure. Take in the view from nearby Canal Park and along the Lake Walk.
Address: 601 S. Lake Ave, Duluth, Minnesota
5. Glensheen, the Historic Congdon Estate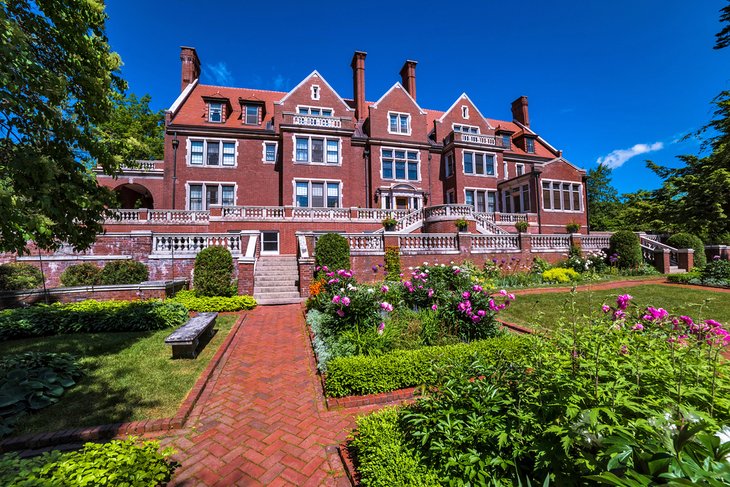 The 39-room Glensheen mansion, sitting high atop the bluffs overlooking the city and the lake, is the most visited historic home in the state of Minnesota. The early 20th-century manse, with more than 20,000 square feet of living space, once housed Chester Congdon, a noted Duluth industrialist and philanthropist. Together with his wife Clara, Congdon equipped the home with the ultimate in modern amenities, which were remarkable for the time.
Plan extra time to walk the meticulously landscaped 12-acre estate; the gardens were created by noted landscape architect Charles Wellford Leavitt Jr. Guided tours are available and feature actual furnishings, clothing, photographs, well-preserved letters, and ephemera from the Congdons, providing a glimpse at turn-of-the-century living. A variety of tour options are available, including fun Christmas-themed options.
Address: 300 London Road, Duluth, Minnesota
Official site: http://glensheen.org/
6. Great Lakes Aquarium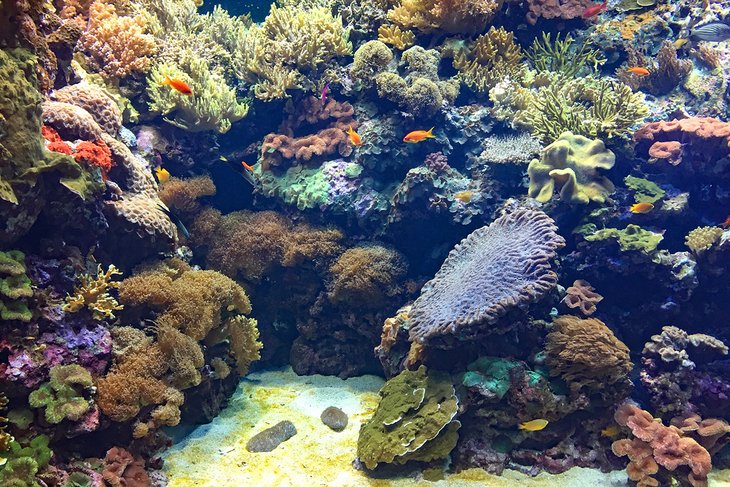 Alongside Duluth's harbor, adjacent Bayfront Festival Park, is the spectacular Great Lakes Aquarium, inspiring visitors as a center of discovery featuring habitats, animals, and sea creatures representing the regional Great Lakes Basin and beyond. Guests learn about the centuries of geological forces that shaped the mysteries of this area.
Amphibians, reptiles, mammals, and invertebrates are displayed – some in touch pools allowing the tiny tot set to handle the friendlier species. The special two-story aquarium is particularly active at feeding times, so keep close watch on the schedule in order to witness fish such as bullheads, black crappies, and porcupine fish in habitats that mirror what's found in the wild.
For those traveling with younger kids and toddlers, the Duluth Children's Museum offers a few hour's entertainment with its hands-on exhibits and activities.
Address: 353 Harbor Drive, Duluth, Minnesota
Official site: http://glaquarium.org/
7. Lake Superior Maritime Visitors Center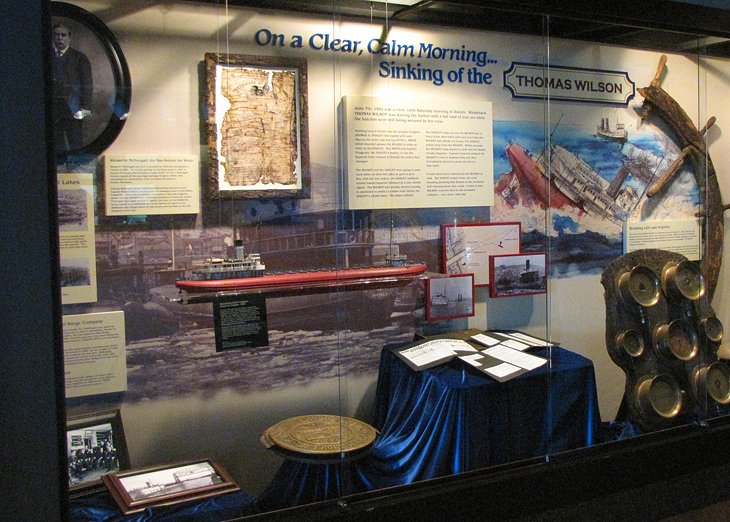 Lake Superior Maritime Visitors Center is one of the most visited tourist attractions in Duluth. One of the top things to do for free in Duluth, this informative museum in Canal Park gives the nod to the storied maritime history of the lake and the important role Duluth Harbor played in shaping the early American steel industry, as well as Midwestern cargo transport across the globe. There's also a fascinating exhibit relating to the fate of doomed freighter, the Edmund Fitzgerald.
Artifacts to discover here include the original 1905 Fresnel lens that lit the Inner Range Light over the Duluth Ship Canal's south pier, cabin displays of early transport vessels, and detailed route charts and maps. The museum's gift shop has one-of-a-kind Lake Superior inspired memorabilia and historical books at budget-friendly prices.
Address: 600 Canal Park Drive, Duluth, Minnesota
Official site: www.lsmma.com
8. Enger Park & Enger Tower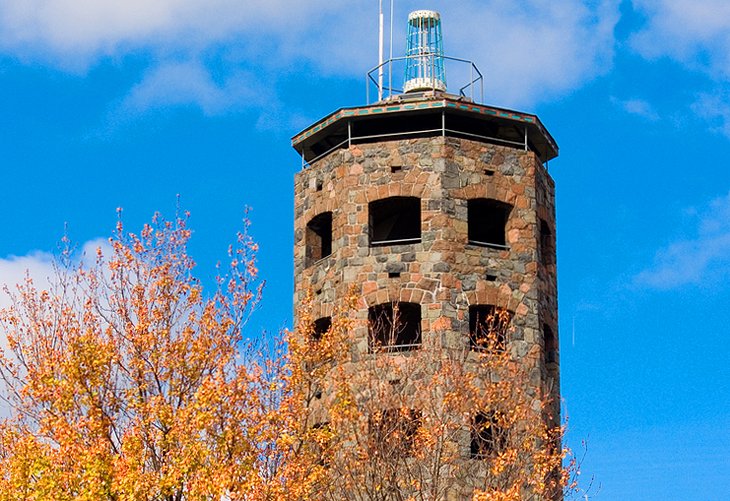 Built in 1939 of native blue stone as a tribute to Norwegian-American businessman and philanthropist Bert Enger, the 80-foot Enger Tower sits high atop Duluth's bluffs. Situated in Enger Park and adorned with a green beacon, Enger Tower looms 531 feet above the lake, providing prime views of the city and Duluth Harbor. Visitors can ascend the narrow stairway to the very top, where stiff breezes blow and spectacular 360-degree vistas offer unparalleled photo opportunities.
Immaculate perennial gardens greet visitors who stroll the grounds. Be sure to admire and ring the Japanese Peace Bell, which was installed as a gift from Ohara, Japan, Duluth's sister city.
Take time to hike the section of the Superior Hiking Trail running along the edge of the gardens. It parallels the ridgeline above Skyline Drive and has plenty of great photo opportunities overlooking the lake and the city. Rock climbers and bouldering enthusiasts enjoy the craggy short boulders just off the trails adjacent to the Twin Ponds parking lot (Hank Jensen Drive) in the park. Climb with the locals at Slab Boulder at the east end of the park and the Upper and Lower Walls on the west side.
Address: 16th Avenue West & Skyline Parkway, Duluth, Minnesota
Official site: www.engertowerduluth.com
9. Lake Superior Railroad Museum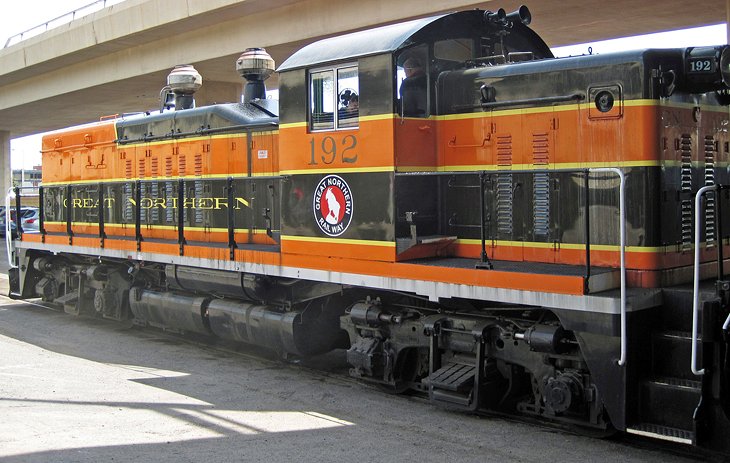 Near Duluth's bustling downtown waterfront is the Lake Superior Railroad Museum. Housed in the historic 1892 French chateau-style Union Station, the museum offers visitors close-up views of the rolling stock and trains that helped forge the region's colorful past.
Steam, diesel, and electric trains are all on display here as is a three-quarter scale replica of downtown Duluth in 1910, the heyday of the city's industrial boom. Particularly noteworthy is a rare example of the diesel powered Great Northern 92 Engine, one of only 10 such built between 1946 and 1947.
If you're planning a visit in the summer or fall months, you're in for an even better experience. During these months, a regular schedule of rail rides are available on these vintage trains from historic Duluth Union Depot. Traveling along the old lakefront line, the North Shore Scenic Railroad passes downtown Duluth and Canal Park before heading along the shoreline of Lake Superior. Adding to the adventure are the great commentaries from local historians about area history.
Address: Historic Union Depot, 506 W. Michigan Street, Duluth, Minnesota
Official site: http://lsrm.org
10. Spirit Mountain Adventure Park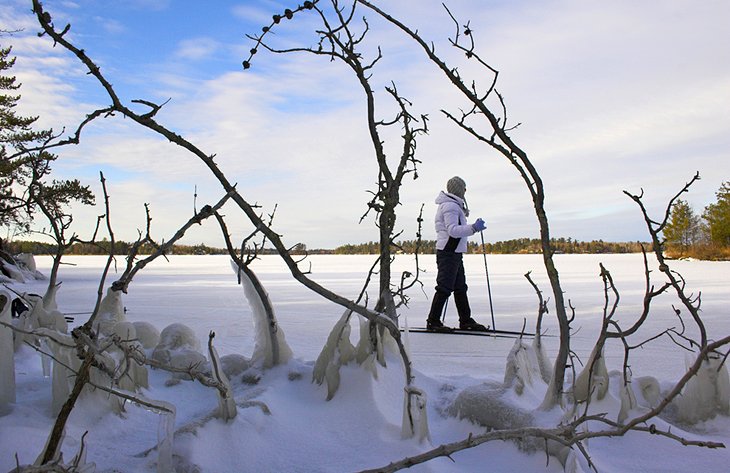 A true four-season adventure park, Spirit Mountain is only 15 miles north of Duluth. Winter fun includes skiing, snowboarding, tubing, Nordic trails, and snowmobiling. Spring through fall offers adventures in downhill mountain biking, an alpine coaster, ziplines, chairlift rides, disc golf, and an enormous "jump pillow" for the kids.
Plan a weekday visit to the park for best access and start early in the day for the shortest ride lines. Also, take advantage of the "automatic photos" taken on the Alpine Slide. Riders have the option to purchase individual photos or an entire disc of the family in action for sharing when you get back home.
Bird-watchers are also in for a treat when visiting Duluth. Regarded as one of the top such facilities in the US, the Hawk Ridge Bird Observatory is set in some 365 acres of nature reserve, and features more than four miles of hiking trails. The best time to visit for nature lovers is from mid-August through November, when many thousands of broad-winged hawks migrate past the site, with the "big days" for bird-watchers taking place for a week or so mid-September.
Address: 9500 Spirit Mountain Place, Duluth, Minnesota
Official site: http://spiritmt.com/adventure-park
11. Split Rock Lighthouse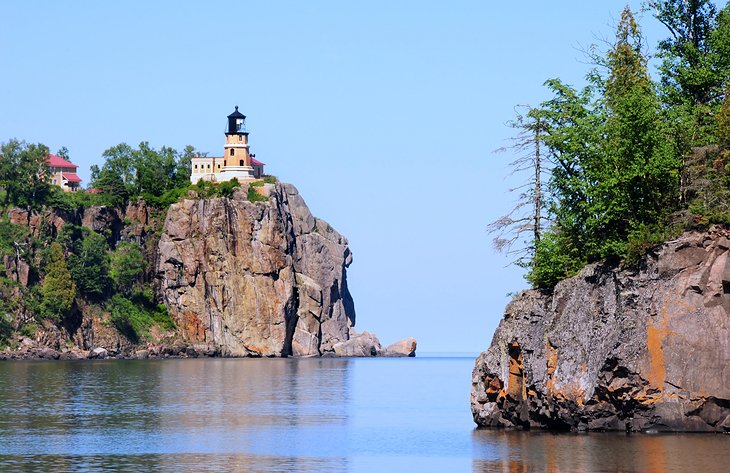 Less than an hour's drive north of Duluth along the scenic northern shore of Lake Superior, the famed Split Rock Lighthouse in Two Harbors stands as one of Minnesota's best known landmarks. Visitors learn about the 1910 origins of the lighthouse and gain a peek into lighthouse life. They can explore four original buildings on the grounds, including the keeper's house, oil house, signal building, and the lighthouse (guided tours are available).
Perched high atop the cliffs, Split Rock is the most photographed lighthouse in Minnesota. A unique long-shot perspective is found from the wayside rest stop on Highway 61, just south of the lighthouse. Photographers wishing to shoot from the north find the best vantage point at the northernmost end of the hiking trail running along the cliffs just in front of the lighthouse. Excursion boats on Beaver Bay are available for those looking to get out on the water for yet another perspective.
Address: 3713 Split Rock Lighthouse Road, Two Harbors, Minnesota
Official site: www.mnhs.org/splitrock
12. Positive Energy Outdoors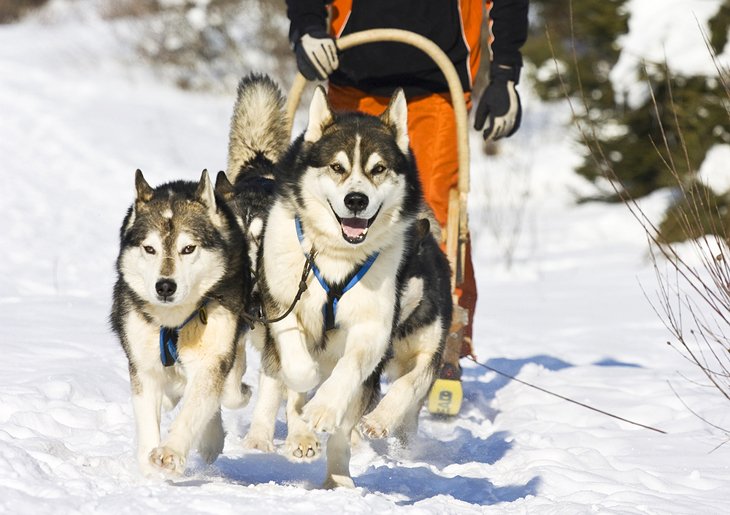 Kayaking, dog sledding, rock climbing, sleigh rides – it's all here at Positive Energy Outdoors (PEO), a unique nonprofit education center that encourages people and animal-powered outdoor exploration. Advance planning is required to take advantage of the offerings of this small tour operator, as their day trip excursions can book weeks in advance. Great for families or couples, the small group sizes ensure everyone receives personalized instruction from PEO's trained volunteers.
Winter dogsled tours are their most popular offering. Prepare for the elements as the tours are scheduled for two hours but often run longer. Guests learn how to harness the dogs, place them on the line, and even visit them in their kennels. Spring through fall adventures of kayaking or rock climbing offer the same hands-on learning experience and are appropriate for all skill levels.
Address: 4757 Datka Road, Duluth, Minnesota
Official site: www.outdooredventures.org
13. Vista Fleet Cruises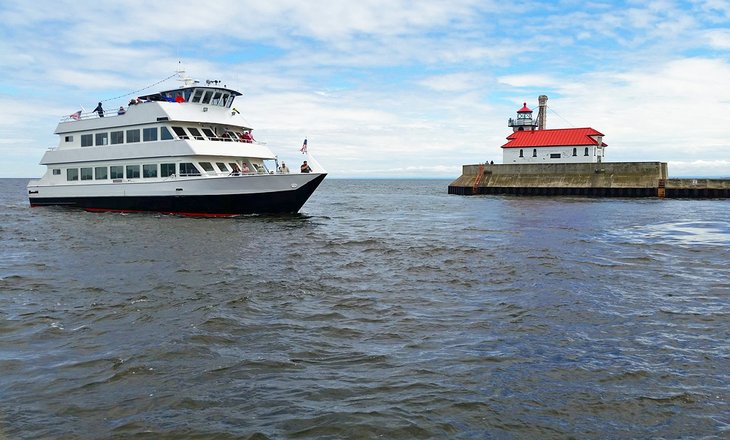 Cruising around Lake Superior provides a different perspective of the city. A number of cruise options are available, including sightseeing cruises, dinner cruises, and even a pizza cruise. Tours range from 45 minutes to 105 minutes in length.
Vista has two vessels that operate year-round: The Vista Star accommodates 220 passengers, and the Vista Queen sails with a maximum of 50 passengers. Avoid long lines on the dock by making reservations online or by using their mobile app for tickets, which allow guests to board directly without stopping at their dockside ticket office.
The cruises offer indoor and outdoor seating. Be sure to arrive 30 minutes before departure as they run a tight ship, sailing right on schedule.
Address: 323 Harbor Drive, Duluth, Minnesota
Official site: www.vistafleet.com/daily-cruises-tickets
14. The Town of Superior, Wisconsin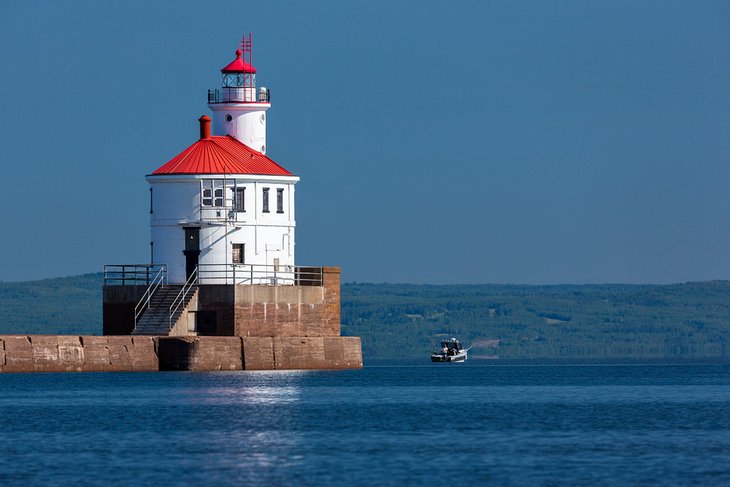 Located across the Saint Louis River, the city of Superior, Wisconsin, is worth popping over for a visit. Your first stop should be to the Wisconsin Point Light. Perched at the shipping entrance to Lake Superior, this makes for a stunning backdrop for photos pretty much any time of day (though of course sunsets are particularly spectacular here). Built in the 1890s, it's actually perched on what's reputedly the longest freshwater sandbar in the world, stretching from here some 10 miles all the way to Duluth.
Also worth visiting is the Fairlawn Mansion and Museum. Constructed in 1891, this exquisitely furnished historic home is remarkably well preserved and features displays of period furniture in rooms that can be enjoyed during its informative tours.
Other highlights include its four-story turret, along with superb gilded ceiling murals, ornate fireplaces, and the original stained-glass windows. Be sure to also spend time exploring its charming gardens.
Those interested in the history of warfare should also pay a visit to the Richard I. Bong Veterans Historical Center, which features a variety of well-preserved military vehicles, a fully-restored P-38 Lightning fighter plane, plus plenty of interesting artifacts.
Duluth, MN - Climate Chart
Average minimum and maximum temperatures for Duluth, MN in °C
J
F
M
A
M
J
J
A
S
O
N
D

-7

-17

-3

-13

2

-8

8

-1

14

4

20

9

24

14

23

14

18

9

12

3

3

-4

-4

-13

PlanetWare.com
Average monthly precipitation totals for Duluth, MN in mm.

24

14

35

40

57

94

95

94

94

48

35

20

Average monthly snowfall totals for Duluth, MN in cm.

24

14

23

6

1

0

0

0

0

1

12

28
Average minimum and maximum temperatures for Duluth, MN in °F
J
F
M
A
M
J
J
A
S
O
N
D

20

1

26

8

35

18

47

31

57

39

68

48

75

57

73

58

65

48

53

38

37

24

25

9

PlanetWare.com
Average monthly precipitation totals for Duluth, MN in inches.

1.0

0.5

1.4

1.6

2.3

3.7

3.7

3.7

3.7

1.9

1.4

0.8

Average monthly snowfall totals for Duluth, MN in inches.

9.6

5.5

9.0

2.2

0.2

0

0

0

0

0.2

4.6

11
More Related Articles on PlanetWare.com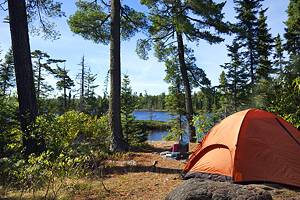 Minnesota Adventures: Not only has Minnesota made a name for itself as a top-US mountain biking destination, it's also home to a superb network of hiking trails, including the popular Superior Hiking Trail, which takes in most of the lake's northern shore. Enjoy camping? Then be sure to consider checking out the many excellent camping opportunities in Minnesota.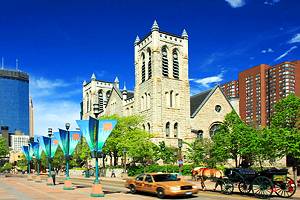 Minnesota's Cities: Other great Minnesotan cities in which to do some sightseeing include the state's third biggest city of Rochester, famous as the home of the Mayo Clinic and popular for its many pleasant urban bike trails. The state's biggest urban area comprises the city of Minneapolis and the capital of St. Paul, aka the Twin Cities, which together make for a great cultural getaway thanks to their first-rate museums, galleries, and theaters. Grand Rapids is another popular Minnesota place to visit, especially for those who enjoy outdoor activities such as hiking and biking.