12 Top-Rated Tourist Attractions & Things to Do in Rochester, MN
Home to the world-renowned Mayo Clinic, Rochester is Minnesota's third largest city behind Saint Paul and Minneapolis. Offering many of the same urban amenities as the Twin Cities, Rochester also provides a small town feel in the form of city-wide celebrations and a welcoming community.
Mixing natural spaces with a bustling downtown district, the city has a rich history that can still be seen today. Popular things to do in Rochester include touring the historic Mayowood Mansion, admiring multicultural art at the Rochester Art Center, and exploring the environment at the Quarry Hill Nature Center.
Whether you are looking for a city experience or a respite in nature not far from the urban landscape, Rochester has a wide range of attractions worth visiting and a sprawling network of bike trails that leads you right to them.
For more ideas on the best places to visit, read our list of the top things to do in Rochester, Minnesota.
Note: Some businesses may be temporarily closed due to recent global health and safety issues.
1. Rochester Art Center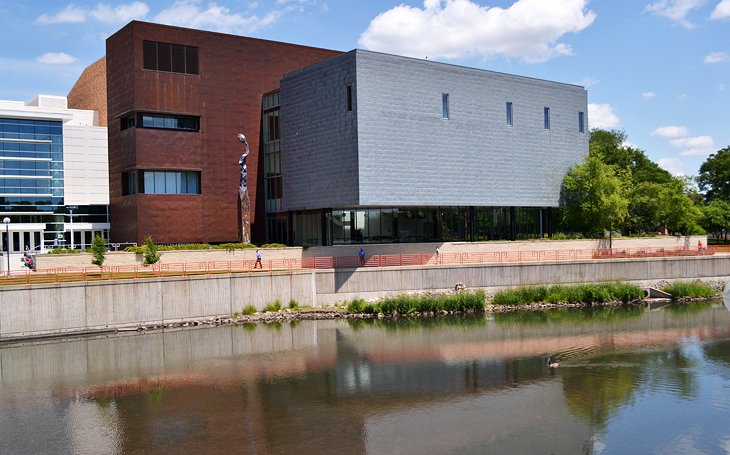 Situated along the banks of the Zumbro River, the Rochester Art Center contains a vast collection of multicultural, multimedia artworks that connects visitors to the world around them. Operating since 1946, the Rochester Art Center has occupied its eye-catching riverside location since 2004. While it is impressive enough to view from the outside, the true cultural insights are found within.
Featuring an ever-rotating display of various media and artworks from emerging and nationally recognized artists, the center makes it easy to engage with something new on each visit. It also offers many community programs, such as kid's dance parties, adult Creative Development Series, and summer youth camps, giving everyone in Rochester a chance to discover themselves through art.
Address: 40 Civic Center Dr SE, Rochester, Minnesota
Official site: http://rochesterartcenter.org/
2. Downtown Peace Plaza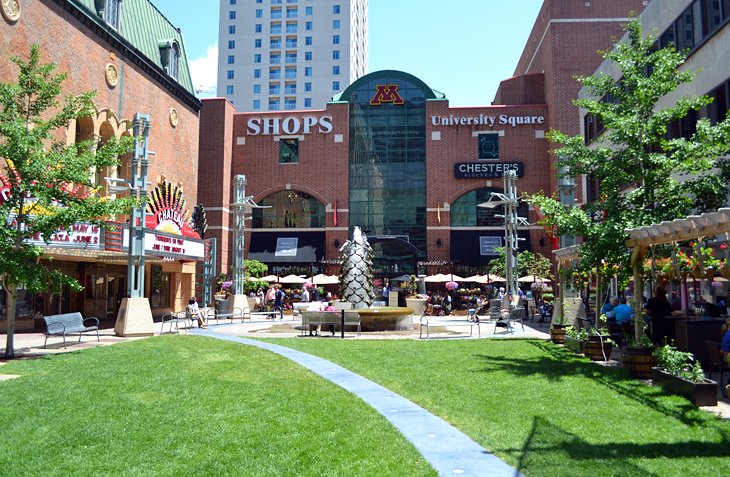 If you are looking for a shopping and dining experience in Rochester, the Peace Plaza is a great place to start. Neighboring the Mayo Clinic, the Peace Plaza is a pedestrian friendly public space that lends quick access to everything the downtown area has to offer. With fashionable boutiques, first-class restaurants, and a great civic assembly space, the plaza emanates the welcoming atmosphere found throughout Rochester.
A sprawling network of skywalks and underground walkways stems from the Peace Plaza and spreads throughout the downtown area. This provides a climate-controlled way to travel as you peruse the various shops and restaurants, which is especially nice in winter. The Peace Plaza can be rented out for truly memorable events among the scenic streets of downtown Rochester.
Address: 111 S Broadway, Rochester, Minnesota
3. Bike Trails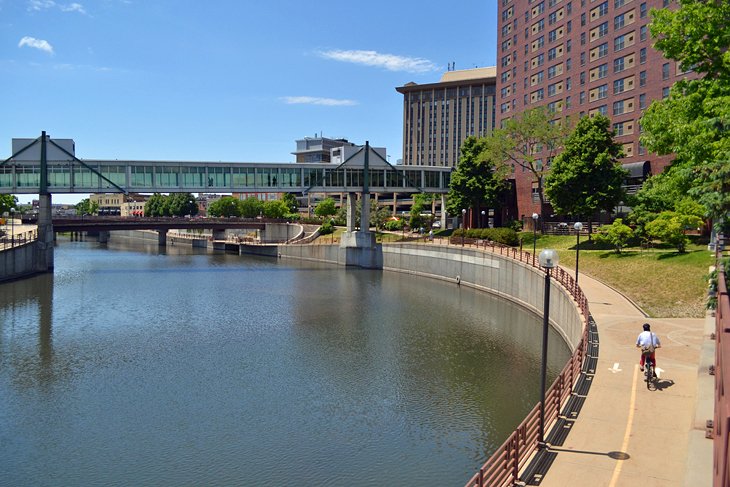 A fuel-efficient and friendly way to see the city, the many different bike trails found throughout Rochester provide endless avenues of enjoyment. Bike trails connect users to natural spaces like Silver Lake and the Soldiers Field Veterans Memorial, and the scenic downtown waterfront route puts pedestrians in proximity to the Rochester Art Center and various shopping outlets. Bike trails in Rochester allow a choose-your-own-adventure kind of day.
While most of the trails are separate from the roadways, a few use bike lanes and sidewalks to arrive at different destinations. Along the way, you can expect to pass by commuters heading to work, wildlife that shares the urban landscape, and many other members of the community who enjoy the pace of muscle-powered transportation. Most bike trails are not plowed in the winter, but that doesn't stop the community from making tracks throughout the colder seasons.
4. Thursdays on First & 3rd
While any day of the week is a good time to check out Rochester's thriving shopping and dining scene, Thursdays during the summer are even more lively than usual. That's because throughout the months of June, July, and August, the city of Rochester hosts the Thursdays on First & 3rd Summer Market and Music Festival. Featuring more than 100 craft and food vendors plus a soundtrack of live music, Thursdays on First & 3rd can accurately be described as a weekly celebration of fine weather and a welcoming community. Celebrations occur throughout the day, and every week is different thanks to the ever-changing lineup of live performances and special events.
Another awesome outdoor cultural event, Rochester Farmers Market, operates every Saturday throughout the year. Recently relocated to the lovely Graham Park, the outdoor market purveys local produce rain or shine between May and October. An indoor market at Graham Park occurs on Saturdays during the rest of the year. Vendors at the Rochester Farmers Market range from baked goods to fresh eggs and include specialty products like soaps, honey, and hot sauces.
Official site: https://www.downtownrochestermn.com/events/tof
5. Quarry Hill Nature Center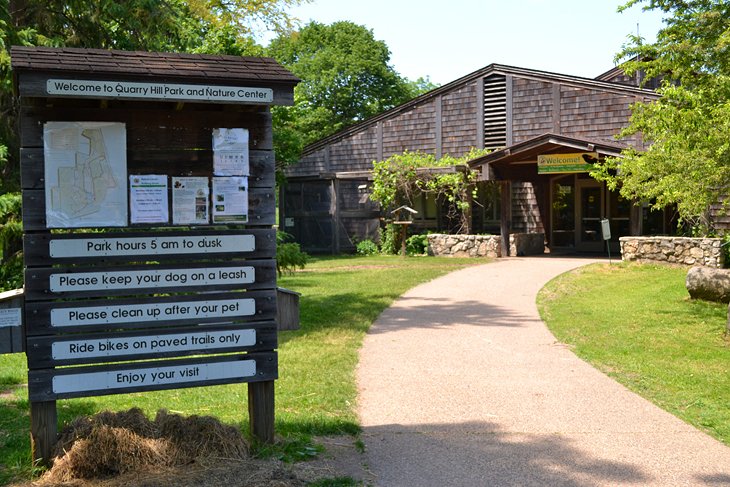 Within the 329 acres of the Quarry Hill Nature Center, you can expect to find eight miles of hiking trails, a children's pond, a limestone fossil quarry, and historic sandstone caves to explore. The Quarry Hill Nature Center doesn't just provide a backdrop to connect with these natural features, it also provides education about the environment. Within the actual brick and mortar nature center itself are informational exhibits and live animals, and the center also offers naturalist programs.
Quarry Hill Nature Center is open throughout the year. During the winter months, the hiking trails convert to snowshoe and cross-country ski routes that are fun to explore. The nature center has cross-country skis and snowshoes available to rent. The nature center also rents out binoculars, discovery packs, and GPS units to find one of four geocaches hidden at the facility.
Address: 701 Silver Creek Rd NE, Rochester, Minnesota
Official site: http://www.qhnc.org/
6. Plummer House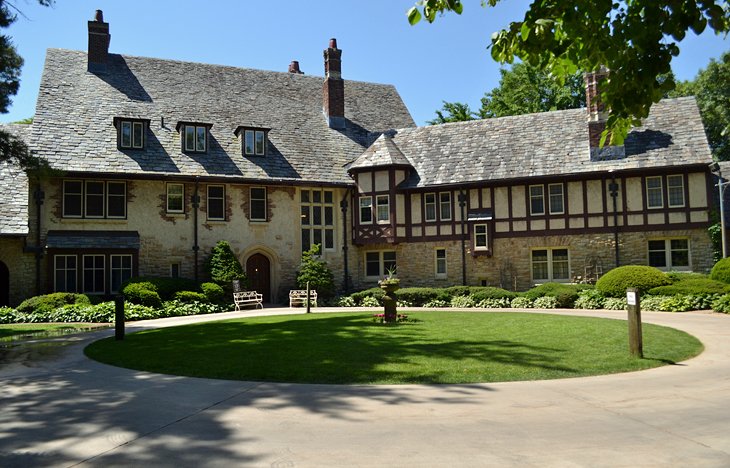 Originally home to Dr. Stanley Plummer and his wife Daisy, the Plummer House is another cultural attraction of Rochester that can be directly tied to the nearby Mayo Clinic. Serving as a founder and innovator of the Mayo Clinic, Dr. Plummer worked closely with the architects who began construction of his home in 1917.
A full century later, this historic home and estate has been meticulously preserved and is open for the public to get a glimpse of the past. Visitors to the Plummer House are free to explore the manicured grounds and gardens during sunlight hours, and guided tours of the Tudor mansion take place on Wednesdays throughout June, July, and August.
Address: 1091 Plummer Ln SW, Rochester, Minnesota
7. Soldiers Field Veterans Memorial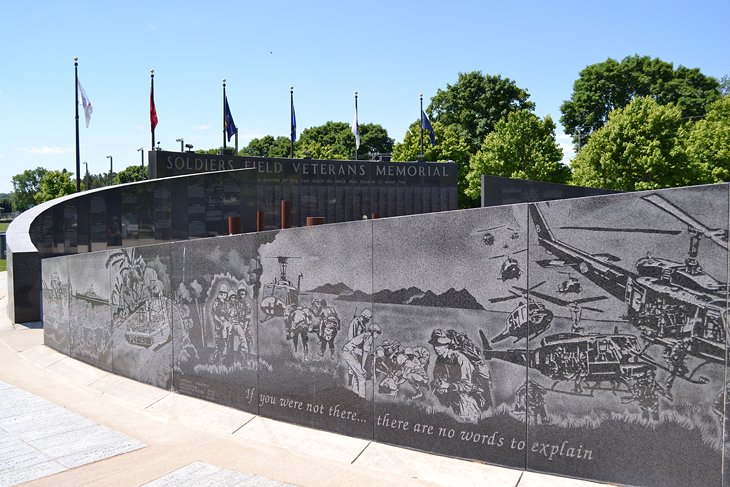 Constructed to honor all southeast Minnesotans who gave their life in battle, the Soldiers Field Veterans Memorial also stands as a tribute to all citizens who have stepped up to support their country. The memorial features visual illustrations of every military combat from the Revolutionary to the Gulf War. Its centerpiece is the Wall of Remembrance, a large granite monolith inscribed with the names of more than 3,000 patriots who lost their life in battle.
You can visit the memorial any time, including at night, when the names and figures depicted glow under the lights.
Address: 300 7th St SW, Rochester, Minnesota
Official site: http://www.soldiersfieldmemorial.org/
8. Mayo Civic Center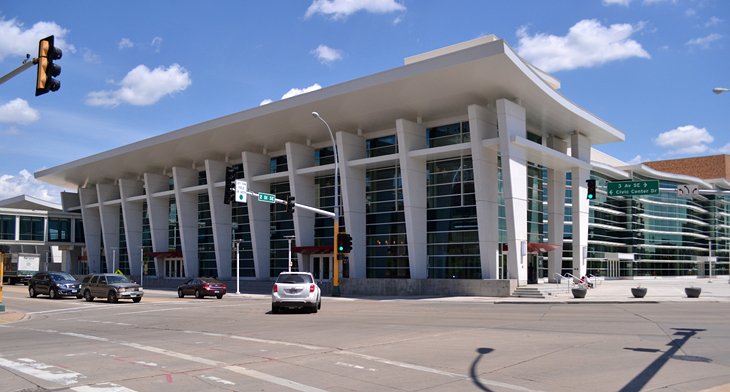 Offering more than 200,000 square feet of space to enjoy, the Mayo Civic Center is one of the largest event centers in southern Minnesota. Hosting local and international musical acts, semi-pro and exhibition sporting events, as well as numerous conferences, business meetings, and conventions, the Mayo Civic Center has established itself as a vital part of the Rochester community.
A 2017 expansion added a second-floor grand ballroom and an architecturally pleasing facade on Civic Street. While there is a long list of shows and performances to choose from, a simple way to enjoy this venue is just sitting on its riverfront terrace that overlooks the scenic Zumbro River.
Address: 30 Civic Center Drive SE, Rochester, Minnesota
Official site: https://mayociviccenter.com/
9. Douglas State Trail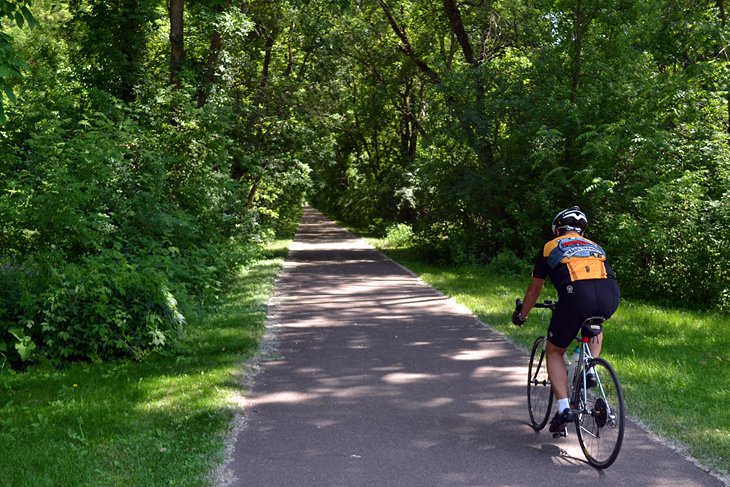 Operated by the Minnesota DNR, the Douglas State Trail is a 12.5-mile pathway that connects Rochester with the northern city of Pine Island and takes users through the small town of Douglas, for which the trail is named. It features both a paved trail and an adjacent natural surface trail reserved for horseback riders. Except for snowmobiles in winter, the Douglas State Trail prohibits motorized vehicles, allowing plenty of room for hikers, bikers, and inline skaters to explore the scenic environment.
Serving once as the passageway for the Chicago Great Western Railway, the Douglas State Trail not only provides an accessible, even grade that everyone can explore, but it is a great example of how Rail to Trail conversions greatly benefit the community. Three trailheads access the state trail in the corresponding communities the route passes through. Restrooms and parking are available at all trailheads. The trail is not groomed for cross-country skiing in the winter.
10. History Center of Olmsted County & Mayowood Mansion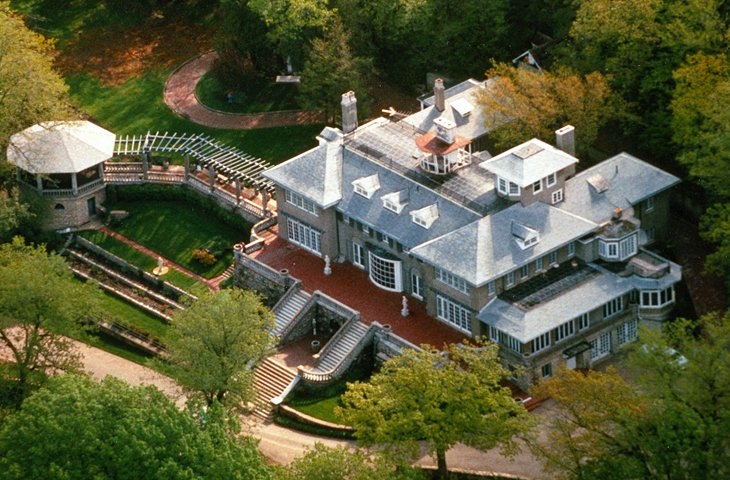 Serving as a non-profit organization dedicated to preserving the people, places, and stories that have made Olmsted County what it is today, the History Center of Olmsted County provides opportunities for locals and tourists to learn about the community's progress over the years. Featuring rotating exhibits and a handful of preserved historic buildings, the center also hosts youth camps, lecture series, and the family-friendly "Movies Under the Stars" throughout the summer.
No history lesson on Rochester and the surrounding Olmsted County would be complete, however, without mentioning the Mayo Clinic, which was founded in Rochester and has developed a reputation as one of the best hospitals in the nation.
In conjunction with the Mayo Clinic, the History Center of Olmsted County helps provide access to the historic Mayowood Mansion, the former residence of the Mayo Clinic co-founder, Charles H. Mayo. Members of the public can take a guided tour through the preserved and restored grounds of Mayowood. Tours navigate through the luxurious interior of the 38-room mansion and expertly manicured gardens that surround the estate. During the holiday season, special Christmas Tours are available and generally sell out quickly.
History Center of Olmsted County
Address: 1195 West Circle Drive SW, Rochester, Minnesota
Mayowood Mansion
Address: 3720 Mayowood Drive SW, Rochester, Minnesota
Official site: http://www.olmstedhistory.com/
11. Rochesterfest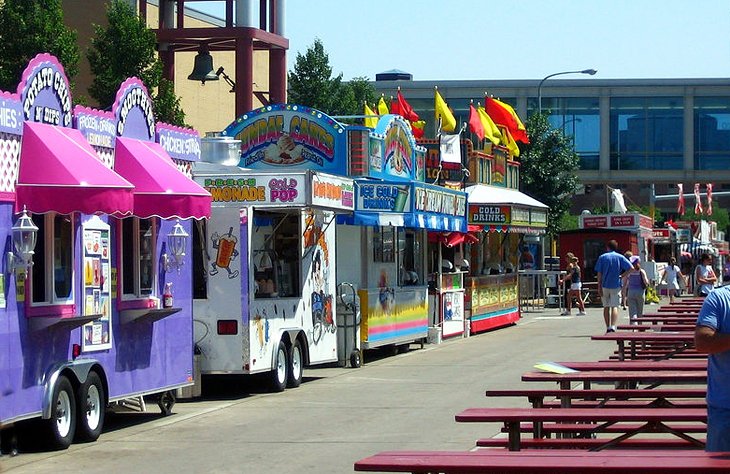 Celebrating summer fun for more than 35 years, Rochesterfest is a week-long festival that takes place every June and brings the community together for a wide range of family-friendly activities. From triathlons to treasure hunts, as well as live music, food vendors, and a Grand Parade, Rochesterfest offers plenty of attractions and is a great way to kick off the summer season. A true celebration of the city, Rochesterfest encourages new visitors to attend and enjoy all the fun.
Rochesterfest takes place for nine days in June, bookended by two weekends. A free midday trolley service operates during the festival to make it easy to attend without driving a car. Much of the central activity takes place in Soldiers Field Park, adjacent to the Soldiers Field Veterans Memorial.
Official site: http://www.rochesterfest.com
12. Silver Lake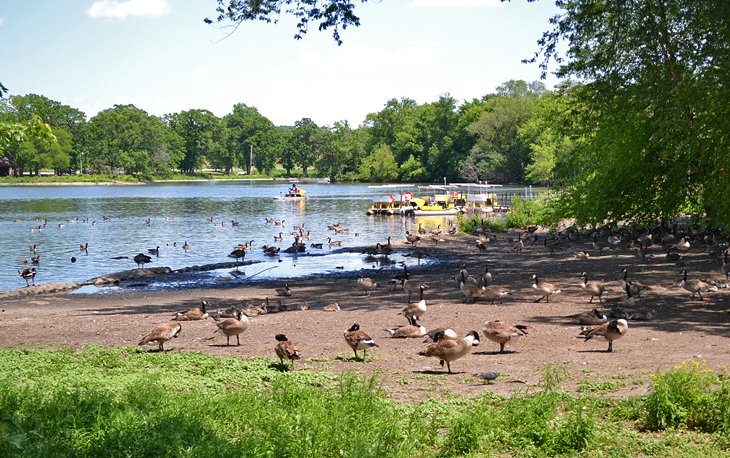 North of downtown, Silver Lake City Park is a popular urban respite for citizens of Rochester and beyond, including a gaggle of Canadian geese that likes to hang out by the water. Consisting of more than 50 acres of water, Silver Lake is a man-made reservoir fed by the Zumbro River and includes a paved pathway where you can stroll along the shore or stand and cast a fishing line.
The park also provides boat rentals in the summer, enabling visitors to explore the waters in canoes, kayaks, or deluxe electric paddleboats. Whatever reason brings you to the shores of Silver Lake, whether it's a morning run, afternoon visit, or evening paddle, you and the geese will enjoy this natural environment. Popular fish to pull out of the water include crappie, sunfish, and largemouth bass.
Address: 840 7th St. NE, Rochester, Minnesota
More Related Articles on PlanetWare.com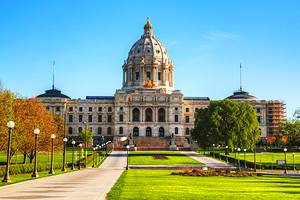 Other Minnesota Cities to Explore: The Twin Cities, encompassing Minneapolis and St. Paul, offer some of the best cultural finds in the state. Separated by the Mississippi River, the combined metropolitan area of the Twin Cities is home to over three million residents and counting. These dense populations create a vibrant place to visit filled with fun things to do. For some fun on the North Shore of Lake Superior, the city of Duluth is a great home base for diving deep into this scenic part of the state.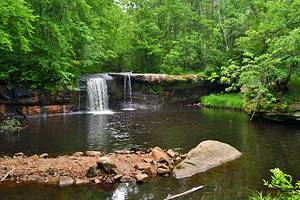 Exploring the Outdoors in Minnesota: The best national and state parks in Minnesota will have you falling in the love with Minnesota. For a spot to pitch a tent or park an RV on your next adventure, our guide to camping in Minnesota puts you close to all the natural attractions. The best hiking trails in Minnesota offer even more landscapes to explore, and the top mountain bike trails in the state offer a more fast-paced adventure.