12 Top-Rated Tourist Attractions in Iowa
We may earn a commission from affiliate links ()
Iowa has many things to be proud of. It is the nation's top corn producer but is probably best known for its distinct Midwestern charm. From the state capital of Des Moines to the second largest city, Cedar Rapids, Iowa welcomes visitors.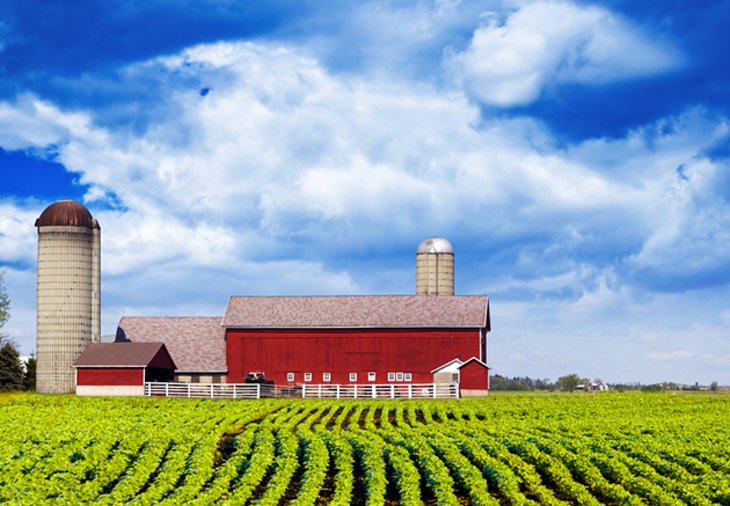 While exploring Iowa, you can find attractions like the National Mississippi River Museum and Aquarium to enrich your knowledge; numerous state parks, like Maquoketa Caves, for an adventure; and plenty of scenic landscapes, such as the Bridges of Madison County, to inspire your more creative side. Those who visit Iowa, and those who call it home, agree that there is something special about the state that keeps people coming back.
Discover more places to visit with our list of the top attractions in Iowa.
Note: Some businesses may be temporarily closed due to recent global health and safety issues.
1. National Mississippi River Museum and Aquarium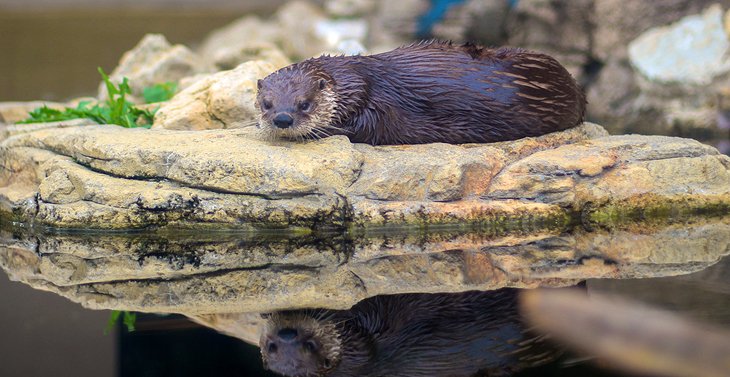 Operated by the Dubuque Historical Society, the National Mississippi River Museum and Aquarium features collections, exhibits, and live animals that reflect the cultural and geological importance of the mighty Mississippi River and all national rivers that define the country.
The Mississippi River makes up the eastern border of the state of Iowa and defines much of the livelihood of surrounding communities. The National Mississippi River Museum and Aquarium strives to showcase the important role this river and its watershed plays on the environment and people.
Featuring permanent exhibits like the Mississippi River Discovery Center and an immersive 4D Theater, the museum also features constantly rotating displays that are bound to catch the attention of adults and children alike.
The museum and aquarium also houses several live animals that represent the wildlife found in and around river banks, including alligators, otters, and sturgeon. Other exhibits at the museum include a blacksmith shop, a stringray touch pool, and the historic Logsdon Sand & Gravel Barge.
If you want to stay overnight in Dubuque, the historic Hotel Julien Dubuque is only a few blocks away from the museum. The city also has some of the best resorts in Iowa.
Address: 350 E 3rd Street, Dubuque, Iowa
Official site: http://www.rivermuseum.com
2. National Czech & Slovak Museum & Library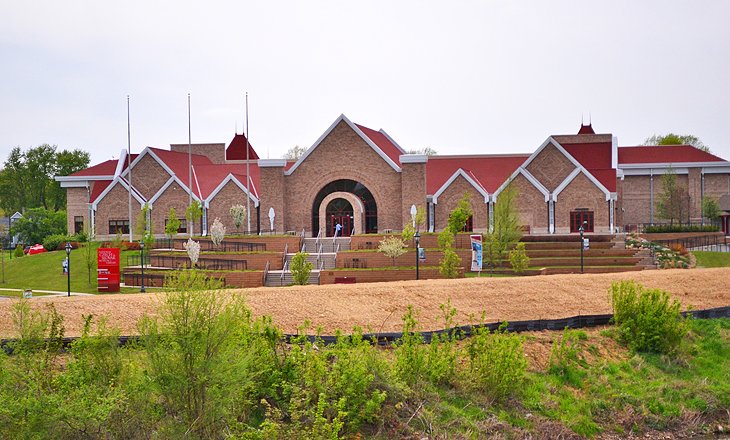 The National Czech & Slovak Museum and Library in Cedar Rapids is a large institute dedicated to sharing the stories and culture of Czech & Slovak people. It also strives to help the public better understand their own freedoms and how history has led to our present point as a society.
The National Czech & Slovak Museum and Library meets these goals through its permanent exhibits, educational traveling displays, and plenty of special events for the whole family.
Across the 12th Avenue bridge, the African American Museum of Iowa offers more cultural intrigue. The downtown district of Cedar Rapids is less than a mile to the north, featuring other attractions like the Paramount Theater to round out a day trip. South of the city, The Hotel at Kirkwood Center offers the best place to stay for weekend visits.
Address: 1400 Inspiration Place SW, Cedar Rapids, Iowa
Official site: http://www.ncsml.org
Accommodation: Top-Rated Hotels in Cedar Rapids
3. State Capitol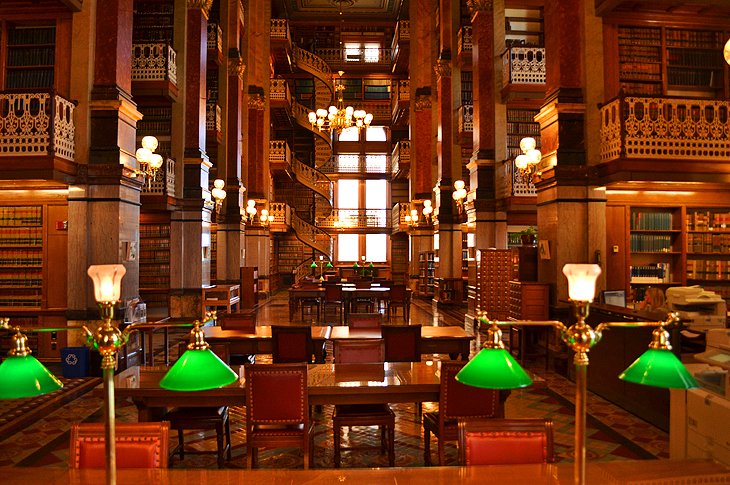 The Iowa State Capitol building in Des Moines is much more than just a gold-domed symbol of the city, it's a portal into Iowa's history. Located on Grand Avenue atop a hill, the State Capitol has an excellent view of downtown Des Moines and houses the Iowa Senate; the Iowa House of Representatives; the Iowa Supreme Court; and many offices of the state's top elected officials, including the governor.
Besides being the central location for much of Iowa's government, the State Capitol also stands as an impressive display of architecture and design and features many historical artifacts and interesting Iowa exhibits that you can explore on a self-guided tour.
Address: 1007 E Grand Ave, Des Moines, Iowa
Official site: https://www.legis.iowa.gov/resources/tourCapitol
Accommodation: Where to Stay in Des Moines
4. Maquoketa Caves State Park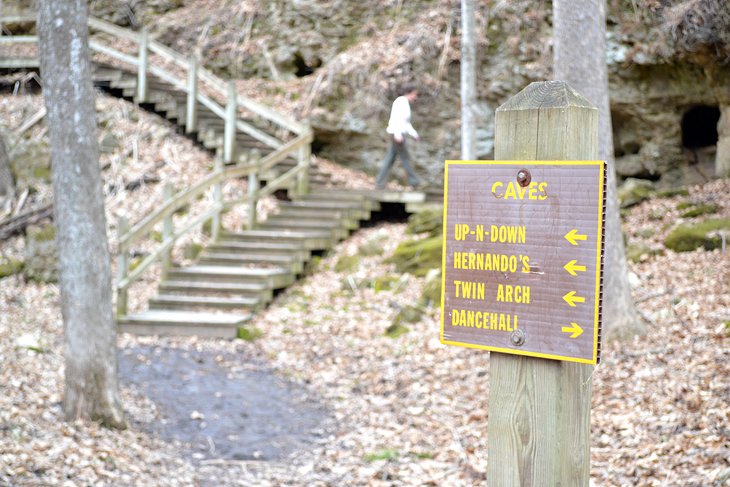 For a unique natural side of Iowa, Maquoketa Caves State Park offers a look into the world beneath your feet. This popular state park has numerous above-ground hiking trails that explore bluffs, woodlands, and an interesting natural wonder known as Balanced Rock. But the main reason to explore this park in Eastern Iowa is the caves.
For claustrophobes, the Dancehall Cave is a lighted cave with high ceilings and a walkway. And for those that don't mind squeezing into tight spaces, Maquoketa Caves State Park also lends access to more than a dozen other caves that require a flashlight to explore and probably a change of clothes. A large campsite in the park is set up for RVs and tents.
Address: 10970 98th Street, Maquoketa, Iowa
Official site: http://www.iowadnr.gov/Places-to-Go/State-Parks/Iowa-State-Parks/ParkDetails/ParkID/610127
Accommodation: Where to Stay in Maquoketa
5. Amana Colonies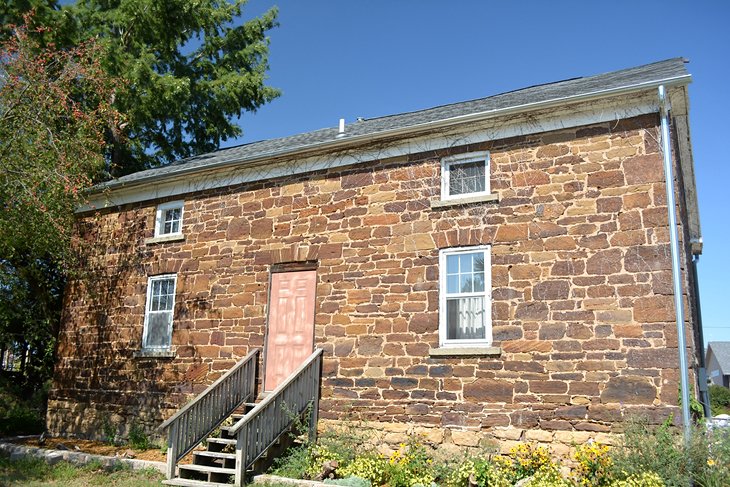 The Amana Colonies of Eastern Iowa comprises seven villages that take visitors into the past and away from the hustle and bustle. The history of the Amana Colonies dates to the mid-19th century, when German Pietists first broke soil in this isolated Iowa location. For many years, no outside influences interfered with their communal lifestyle.
Today, the Amana Colonies is listed as a National Historical Landmark, and the community encourages tourists to experience this slower pace of life by visiting their historical structures, shopping and dining in their local establishments, and exploring the scenic surroundings on bike paths and walkways.
Annual festivals at Amana Colonies also beckon tourists from across the state. From the sausage-making Wurstfest to the springtime Maifest, it's fun to explore the German traditions at Amana Colonies.
For a full experience of the Amana Colonies, it's worth spending a night or two in the area. Zuber's Homestead Hotel is one of numerous bed-and-breakfast options nearby.
Address: 622 46th Ave, Amana, Iowa
Official site: http://www.amanacolonies.com/
6. RAGBRAI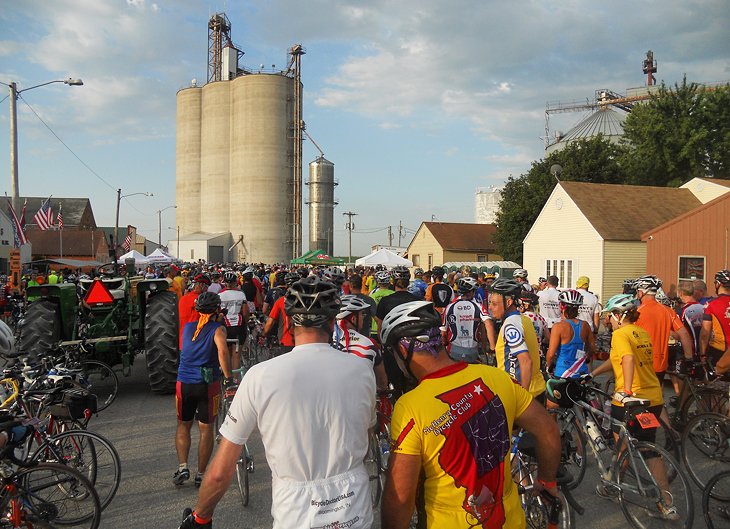 Perhaps one of the most quintessential things to do in Iowa, RAGBRAI is a week-long bike race that spans the entire state. The route travels from east to west, and showcases Midwestern culture through friendly people, small towns, and open landscapes.
An acronym for the Register's Annual Bike Race Across Iowa, RAGBRAI has been taking place for more than 60 years, and this annual summer event attracts thousands of cyclists, support vehicle drivers, and racing enthusiasts every year.
Competitiveness isn't the factor pushing cyclists across the state during RAGBRAI. Instead, it's much about the journey along the way and the community celebrations that line the entire route. Small towns blossom with roadside attractions, including live music and fresh watermelon slices. Costumes and customized bicycles are also a big part of the event.
The route changes every year, and the cities and small towns selected for overnight stops transform into a major block party. The entire RAGBRAI route and experience are fun for the whole family, with younger kids (and adults) often opting to ride less than then the average 60 miles the route covers every day.
Official site: http://ragbrai.com/
7. The Bridges of Madison County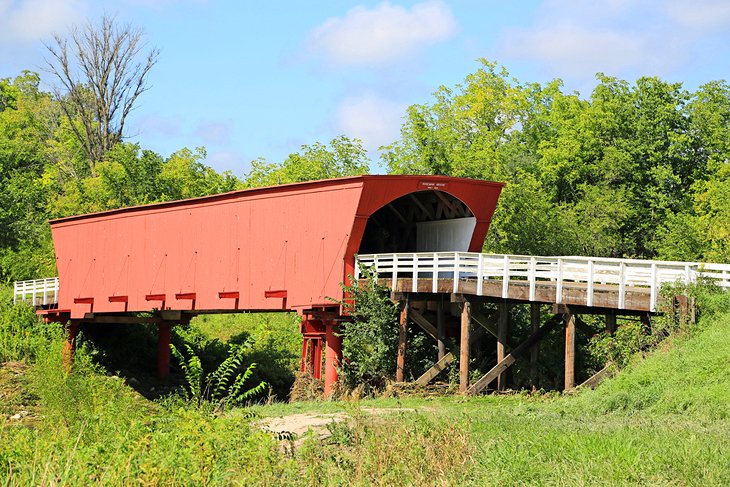 The bridges of Madison County provide the opportunity for a scenic adventure in Winterset, approximately 30 miles southwest of Des Moines. These beautiful bridges have inspired countless photographs, numerous visits, and even a best-selling novel turned movie.
Before The Bridges of Madison County became a blockbuster, the bridges were simply a part of life for people living in this area in the late 19th century. Today, six of the original 19 covered bridges that once stood here remain, five of which are on the National Historic Register.
The 82-mile-plus Covered Bridges Scenic Byway is a great way to tour the bridges, as well as the stunning natural scenery. Three of the bridges require travel on a gravel road.
Group and personal tours of the covered bridges are offered by the Madison County Chamber of Commerce (by reservation only). A culminating cultural experience takes place every year with the Madison County Covered Bridge Festival in October.
Even without the scenic covered bridges, Madison County and the city of Winterset are worth a visit. After you've spent a sunny afternoon exploring and photographing the covered bridges, it's well worth your time to check out Winterset's Historic Town Square.
Winterset is also home to the birthplace of John Wayne and an adjoining museum dedicated to America's most recognized cowboy, The Duke.
8. Des Moines Art Center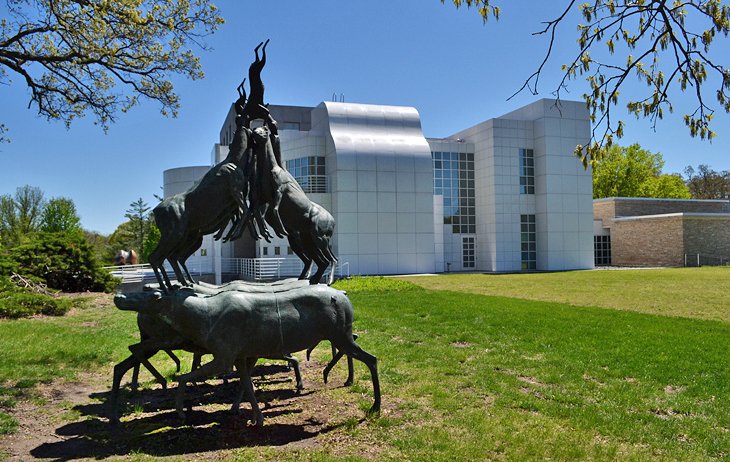 The Des Moines Art Center has been providing a venue for locals and visitors to enjoy art since 1948. It features rotating works of photography, sculpture, and painting. The museum also includes mixed-media displays and permanent collections ranging from Georgia O'Keefe to Edward Hopper. Entry to the Des Moines Art Center is free.
The Des Moines Art Center also oversees an eye-catching collection of sculptures in the heart of downtown. The John and Mary Pappajohn Sculpture Park in downtown is hard to miss. Between Grand and Locust, near the Des Moines Public Library, this well-manicured sculpture park features rotating works and a few permanent installations that have come to symbolize the city.
Address: 4700 Grand Ave, Des Moines, Iowa
Official site: http://www.desmoinesartcenter.org/
9. Herbert Hoover National Historic Site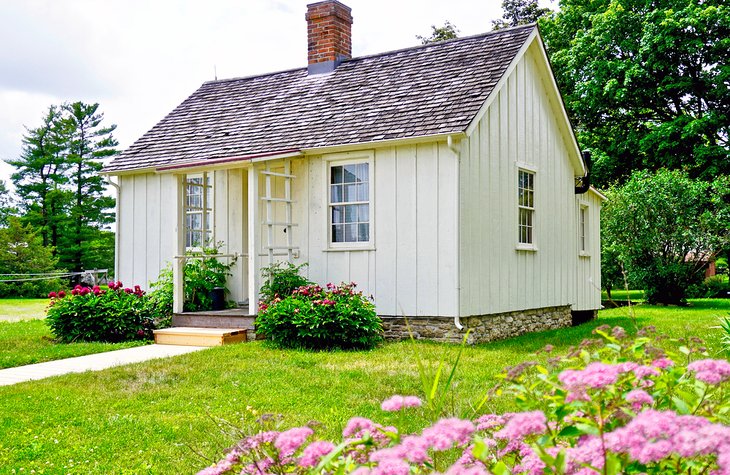 The 31st President of the United States, Herbert Hoover, is currently the only president to come from Iowa. Surrounding his birthplace in the small town of West Branch, a commemorative National Historic Site celebrates his life, history, and influence on the nation and beyond.
During your visit to West Branch, it's worth checking out his humble beginnings and the birthplace of Herbert Hoover, as well as other preserved landscapes and buildings that helped shape the young president-to-be.
The park is also home to the gravesite of Herbert Hoover and First Lady Lou Henry Hoover. While it's fascinating to see these buildings seemingly stuck in time, most of your visit to the Herbert Hoover National Historic Site will be taken up by the Presidential Library and Museum. This impressive curated collection features rotating exhibits and a permanent exhibit focusing on Hoover's life and legacy.
Address: 210 Parkside Drive, West Branch, Iowa
Official site: https://www.nps.gov/heho/index.htm
10. American Gothic House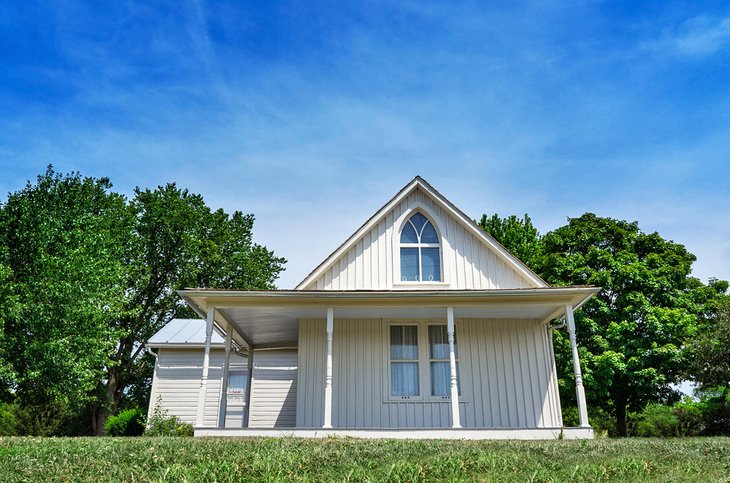 Grant Wood, an Iowa native, is arguably one of the most culturally significant artists of the 20th century. Many of his most significant works incorporate his Midwest roots as inspiration.
Of particular note, Wood's American Gothic, which depicts a farmer and his wife outside their single-story white home, is recognizable to nearly every American and international art enthusiast.
The house that serves as the backdrop of this masterpiece is open for anyone to see for themselves in real life. Visitors often pose for a picture as the frowning farmer or his wife in front of the house.
The adjacent American Gothic House Center offers details on the life of Grant Wood and the history of the house he famously painted.
Address: 300 American Gothic Street, Eldon, Iowa
Official site: http://www.americangothichouse.net/
11. Field of Dreams Movie Site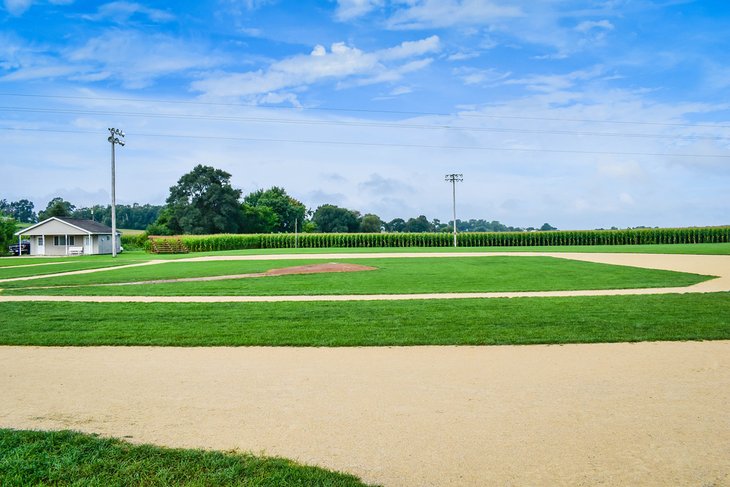 Field of Dreams, starring Kevin Costner, was filmed here in 1989. While visiting this Movie Site in Dyersville, you may find yourself asking, "Is this heaven?" Rest assured though, it's Iowa, and with all movie quotes aside, the Field of Dreams Movie Site is a fun location for fans of the film. The site features interactive exhibits, plenty of photo opportunities, and a scenic backdrop.
On select Sundays throughout the year, the Field of Dreams also hosts a Ghost Sunday Show. These movie reenactment events feature costumed baseball players from the past stepping out of the cornstalks to put on a family-fun show.
For a full weekend visit, Field of Dreams is located 30 minutes outside Dubuque, where other attractions like the National Mississippi River Museum and Aquarium beckon for other adventures.
Address: 28995 Lansing Road, Dyersville, Iowa
Official site: http://fieldofdreamsmoviesite.com/
12. Grotto of the Redemption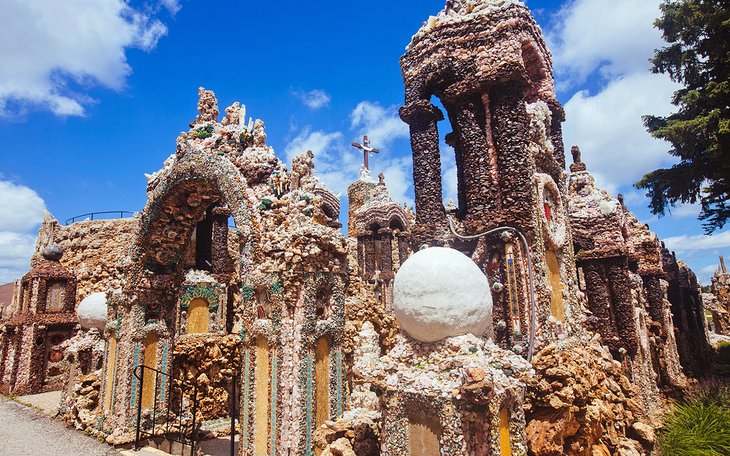 The Grotto of the Redemption in West Bend is truly a unique attraction in Iowa. Also called the West Bend Grotto, it is comprised of nine separate grottos all built from precious stones and gems and handcrafted by a local pastor and a few other helping hands.
No matter your denomination or religion, the West Bend Grotto is an impressive example of what one man with a mission can accomplish in a lifetime.
The grotto is open to the public every day of the year.
Address: 300 N Broadway Ave, West Bend, Iowa
Official site: http://www.westbendgrotto.com/
More Related Articles on PlanetWare.com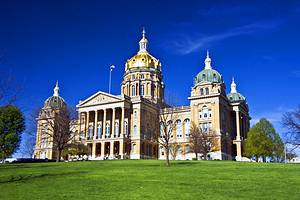 More Places to Visit in Iowa: The capital city of Des Moines is the cultural epicenter of the state. The next biggest city in Iowa, Cedar Rapids, is also filled with fun things to do and unique cultural events. For the ultimate way to relax in Iowa and see the state's natural side, our guide to the top weekend getaways in Iowa will have you falling in love with the state in no time.