14 Best Small Towns in Iowa
Author Brad Lane was born and raised in the great state of Iowa.
Small towns in Iowa deliver with a Midwest charm. Filled with friendly faces and annual Corn Belt traditions, some towns have become popular places to visit. Whether it's for a weekend getaway or looking for one of the best small towns to live in, Iowa has plenty of hidden gems worth uncovering.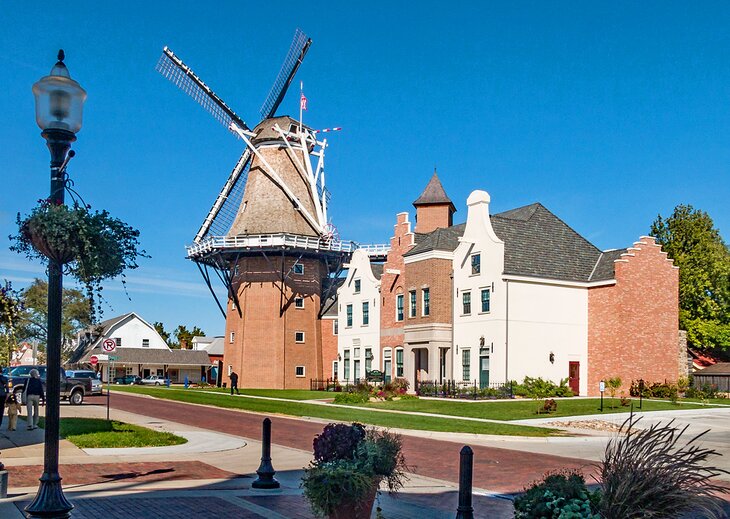 Like Dyserville and Winterset, some small towns gained prominence as film sites for major motion pictures. Other communities, including the Amana Colonies and Elk Horn, grew from European immigrants settling in Iowa shortly after its statehood. And, every small town in Iowa offers a unique slice of character and history.
With many other reasons to visit, all the best small towns also offer access to the Iowa great outdoors. Blooming tulips, ice caves, and the Iowa Great Lakes are a few of the outdoor attractions near Iowa's small towns. Other seasonal things to do include river fishing, state park camping, and cross-country skiing.
For a true getaway from the hustle and bustle, check out our list of the best small towns in Iowa.
1. Pella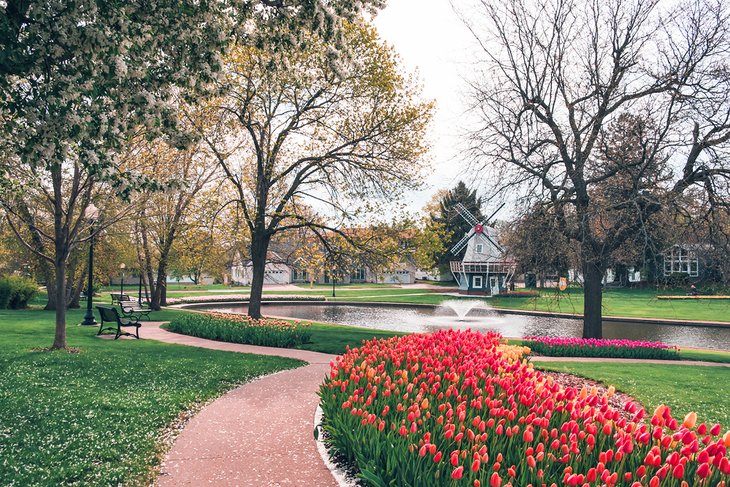 This unique small town has a distinct Dutch appeal less than an hour's drive southeast from Des Moines. Founded by immigrants from Holland in 1847, Pella remains today infused with Netherlands culture. Evidence of this is easy to see in Pella, with Dutch windmills and tulips (in season) garnishing the streets.
The Pella Historical Society maintains several attractions to enjoy Dutch traditions. The Vermeer Windmill is one of these centerpiece attractions and is the tallest working windmill in North America. The historical society also maintains 22 buildings within the Historic Village of Pella.
To see the city in full bloom, visit during Pella's Tulip Time Festival. The city maintains over 200 tulip beds, many of which are in full color during this three-day event at the beginning of May. Thousands of visitors from across Iowa come to enjoy the flowering spectacles of this spring festival.
A visit to Pella isn't complete without a taste of Dutch flavors. Places like Jaarsma Bakery and Vander Ploeg Bakery offer savory treats like cream horns, puff pillows, and Dutch letters. And other meat shops and cafés in Pella serve unique menu items true to their heritage.
Read More: Top-Rated Weekend Getaways in Iowa
2. Decorah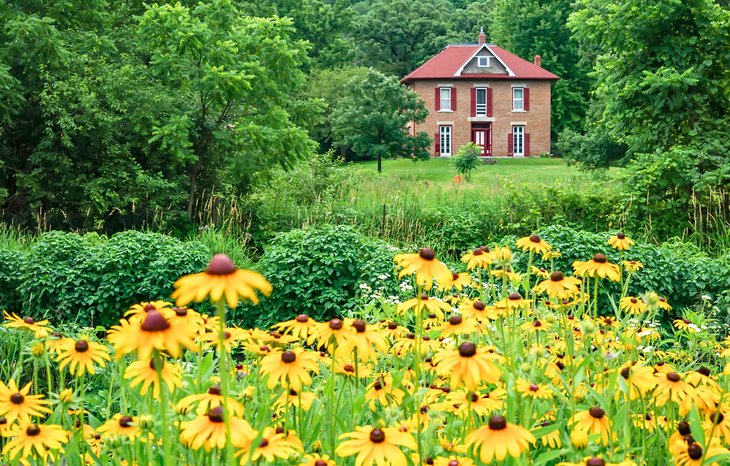 Northeast Iowa offers some of the most scenic landscapes in the state. The region's rolling woodlands and bluff-lined rivers defy Iowa's usual farmland image. And the small town of Decorah offers one of the best basecamps to explore and indulge in the culture.
Outdoor activities near downtown Decorah include waterfall hiking and ice cave exploring. Hiking, jogging, and bicycling are also popular, especially along the newly installed Trout Run Trail. This 11-mile paved loop is next to the Decorah Trout Hatchery — one of the state's largest fisheries.
Other outdoor things to do in Decorah include viewing bald eagles, mountain biking at Palisades Park, and paddling the Upper Iowa River. In the winter season, several groomed cross-country ski trails crisscross throughout the town.
Decorah's lovely downtown district offers plenty of things to do between adventures. Alongside several local shops and restaurants, downtown also has a small collection of music venues and museums.
The area also has a wide range of places to stay, including the historic Hotel Winneshiek with boutique offerings.
3. Winterset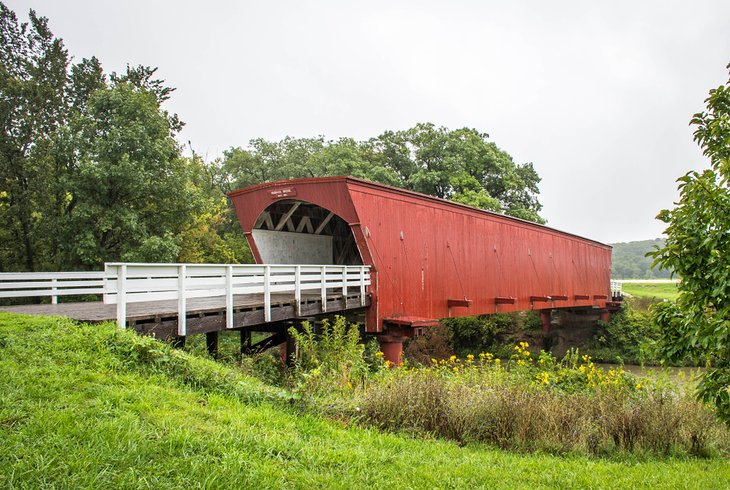 Winterset is a charming small town in the historic Madison County of South-Central Iowa, surrounded by covered bridges. That's because Madison County is the Covered Bridge Capital of Iowa. The reason behind this moniker was the inspiration for the novel and subsequent film, Bridges of Madison County.
Six covered bridges are easy to access from Winterset. Paved public roads lead the way to three covered bridges, while the other half are accessible by dirt roads. These scenic spots are great for picnics and day trips or a romantic place to bring a date.
Winterset is also the birthplace of Hollywood's most iconic cowboy, John Wayne. Visitors to Winterset can commemorate the Duke's legacy at the non-profit John Wayne Birthplace and Museum. Other attractions to check out on a weekend trip include the Iowa Quilt Museum and the Madison County Historical Society.
Read More: Top-Rated Midwestern Weekend Getaways
4. Spirit Lake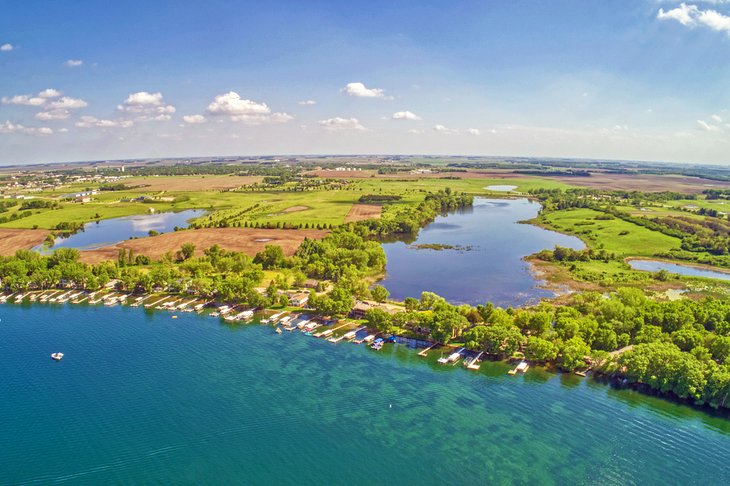 Spirit Lake is the largest city at the center of the Iowa Great Lakes in northwest Iowa near the Minnesota border. This water-rich region has long been a hot spot for vacations and summer getaways. Large bodies of water surround all sides of Spirit Lake, including the largest natural lake in Iowa, Big Spirit Lake.
East and West Okoboji Lakes also border this small city of under 5,000 residents. The water is the focus of many summer vacations in this region, with activities like fishing, boating, and swimming the most prevalent. Several lakeside overnight accommodations line the shores of the Iowa Great Lakes.
Other attractions in the region serve as traditions for some family vacations. The nearby Arnolds Park is a sprawling amusement park that is a popular place to visit for all ages. This family park has a long history of entertaining tourists in Iowa. Today, it is brimming with rides, museums, and midway games.
Read More: Best Lakes in Iowa
5. Le Claire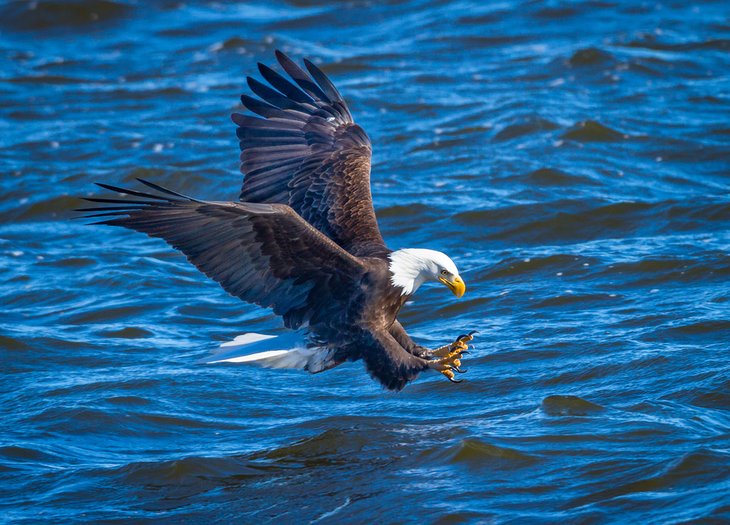 Le Claire is a river town in eastern Iowa, across the Mississippi River from Illinois. This small community of under 4,000 residents is anything but sleepy. With scenic spots to appreciate the landscape, and enough local eateries for every meal of the week, Le Claire is a bit of a secret getaway in Iowa.
The "Big Muddy" provides many scenic views in Le Claire. Visitors can better appreciate the water with river cruises offered by Riverboat Twilight. In the winter, the Mississippi's free-flowing waters attract an assemblage of eagles that are fun to watch from the banks.
Another point of interest in Le Claire is the Buffalo Bill Museum. This fascinating museum tells the story of the surrounding Mississippi River region. Exhibits include information about its most famous frontiersman, William Frederick, better known as Buffalo Bill. William Frederick was born in Le Claire in 1846.
6. Amana Colonies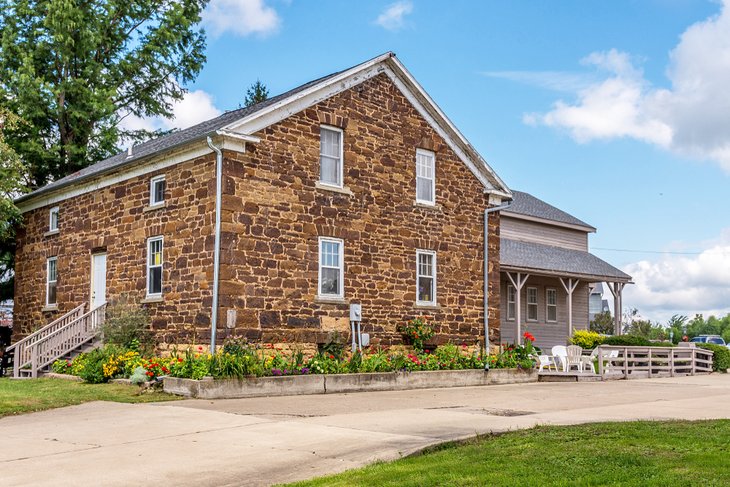 The Amana Colonies comprise seven scenic villages in eastern Iowa, 30 minutes from Iowa City. Founded in 1855 by German immigrants fleeing religious persecution, the villages are one of America's longest-lived communal societies. The communal-style living thrived in Amana until the Great Depression when societal needs shifted towards privatization.
The Amana Colonies still thrive today and attract hundreds of thousands of visitors each year. An excellent place to start any visit is the Amana Heritage Museum to learn more about the history seen throughout the streets. Guided tours led by locals are also available and provide in-depth narration about the heritage all around.
The Amana Colonies are also well known for their artisan wares across the villages. From handmade furniture to locally sourced entrees, the culture of Amana Colonies prides itself on handcrafted quality.
The Amana Colonies are also known to throw festive events. Winterfest celebrates the snowy season in the Amana Colonies, and Maifest welcomes warmer weather with springtime events. Wurst Festival is another celebrated annual event featuring sausage specials and a Dachshund Derby.
7. Waverly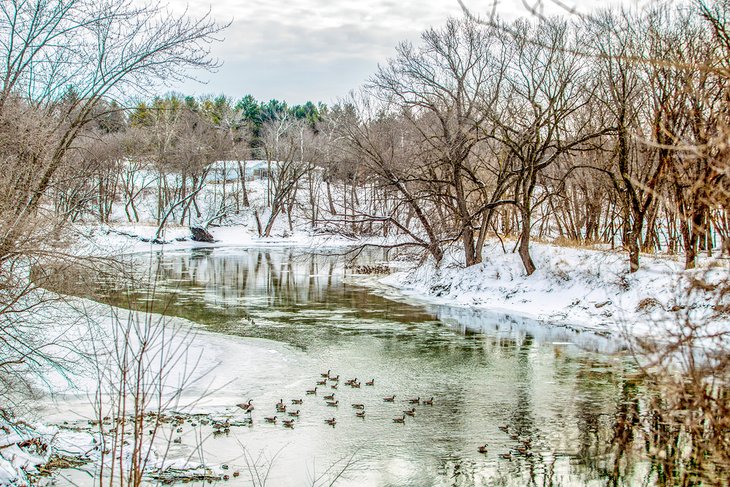 In northeast Iowa and home to Wartburg College, Waverly is a quaint collegiate town on the Cedar River. This city of 10,000 residents is notable for its outdoor attractions and friendly downtown district. Whether at one of many city parks, golf courses, or outdoor patios in Waverly, a smiling face is never far from sight.
Waverly Main Street is the first place to head when visiting. The charming storefronts near the Cedar River offer a wide range of local eateries, shops, and places to stay the night. For some of the best bites in town, the Wild Carrot and The Other Place rank high as local favorites.
Outdoor activities span Waverly. The town has two 18-hole golf courses that are popular throughout the warmer seasons. Hiking and biking are also popular in the spring, summer, and fall. The nearby Waverley Rail Trail is a popular seven-mile route that passes over eight scenic bridges.
8. Bentonsport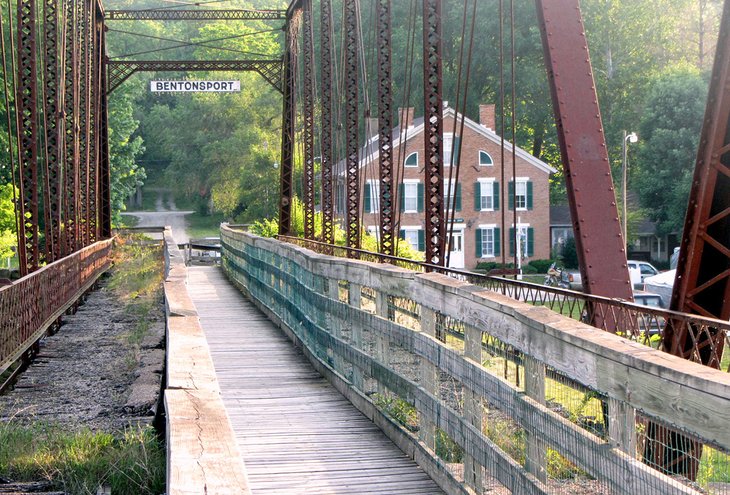 This small town is a village, and one of many in Van Buren County of southeast Iowa. Bentonsport's history begins back in the 1840s when the town grew into a prominent port city on the Des Moines River. Today, this cozy hamlet houses less than 50 residents and welcomes thousands of tourists each year.
It's the serene small-town charm of Bentonsport that draws so many visitors. And it's the array of local stores and restaurants housed in original 1840s architecture that adds to the Pleasantville charm — that, and the scenic Des Moines River landscape surrounding the town. For these reasons and more, the entire village is designated a National Historic District.
A historic truss bridge spanning the Des Moines River has been converted into a pedestrian path for tourists to enjoy. Alongside great views of the surrounding area, this one-lane iron bridge leads to a beautiful rose garden at a former mill site.
Bentonsport is one of a dozen "Villages of Van Buren." Each of these quaint settlements offers small-town southern Iowa charm.
9. McGregor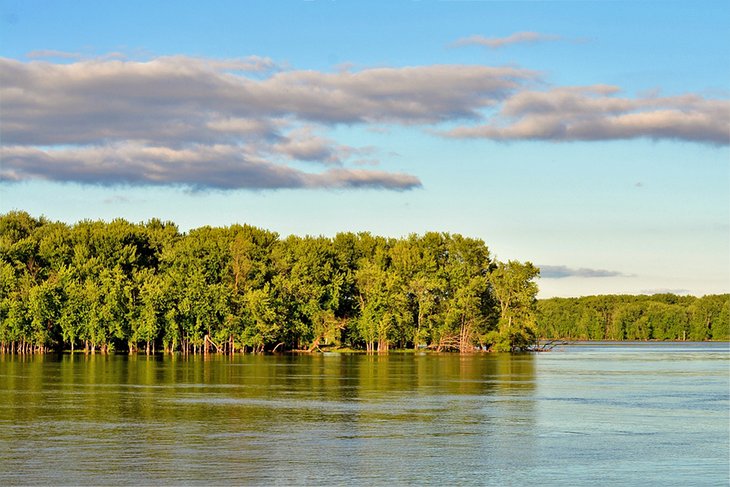 This charming small town in northeast Iowa offers a great view of the Mississippi River. McGregor abuts the river across state lines from Illinois. Alongside access to this treasured Iowa landscape, the town also provides excellent community flavor.
The best place to visit to enjoy the big bluffs and wide banks of the Mississippi from McGregor is the nearby Pikes Peak State Park. This popular natural getaway has over 10 miles of trails winding throughout the woodland landscape. The path leading to Point Ann offers the most panoramic view of the river.
It's the great outdoors that drives people to McGregor. But it's the fun community and cozy downtown district that gets them to stay longer. Several local shops and restaurants line the downtown area. Summer weekends often feature crowds of people sharing the sidewalks.
10. Elk Horn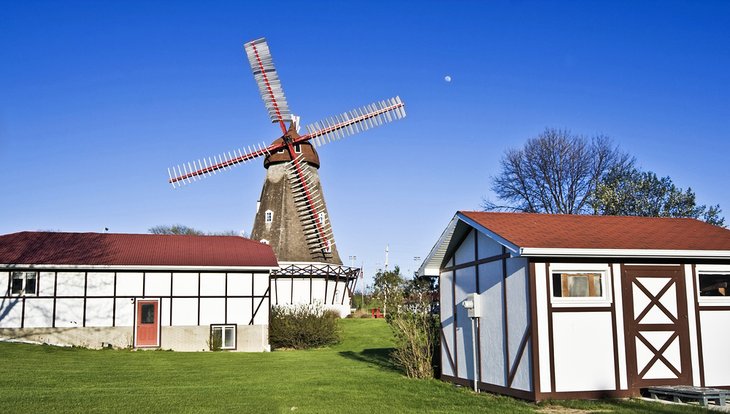 In west central Iowa, Elk Horn and the neighboring Kimballton are two of the largest rural Danish settlements in the United States. This unique title has a long history dating back to the mid-1800s. The centerpiece Danish attraction of these two small towns is a historic Danish Windmill at the center of Elk Horn.
Tivoli Fest is the most significant annual tradition in Elk Horn. This Danish celebration takes place on Memorial Day Weekend and features authentic food, music, and dancing. Thousands of visitors from across the world attend this event that has taken place for over 40 years. Other fun attractions of Tivoli Fest include a street market, parade, and aebleskiver eating contest.
The other big event to check out in Elk Horn is Julefest, which takes place in December. Danish Christmas traditions adorn this wintertime festival, with warm pastries and elaborate decorations. The town also puts on a special Christmas concert and the "Naughty or Nisse" 5K fun-run during the festival.
11. Eldora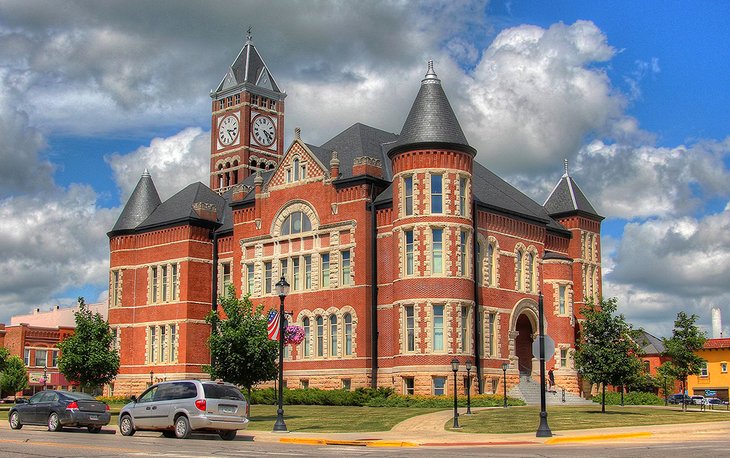 This small town in northeast Iowa has a big outdoor appeal. Eldora is the nearest town to the sprawling acres of Pine Lake State Park. Within the state park, one of the first in Iowa, visitors have easy access to rolling woodlands and bodies of water. Alongside access to Pine Lake, the state park is also next to the Iowa River.
Cabins and campgrounds at Pine Lake facilitate overnight trips. Alternatively, visitors find cozy hotels and accommodations in Eldora. Alongside a good selection of places to stay, Eldora also delivers with a friendly community. Several other attractions like the Eldora Grand Theater, provide things to do between adventures.
Other attractions near Eldora include the Hardin County Farm Museum and the Eldora Aquatic Center. For places to have a picnic, Memorial Park and Twister Park offer abundant green space to spread out a blanket.
12. Dyersville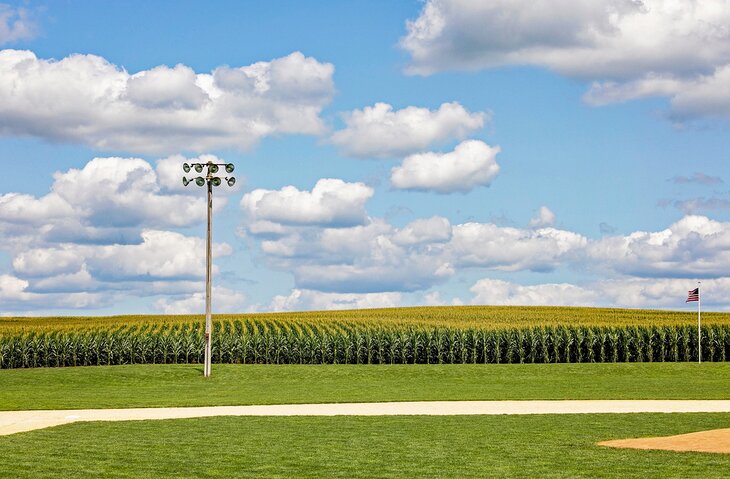 Historic buildings and legendary baseball fields comprise some of the fun things to do in this small town on the eastern Iowa border. Dyersville is home to the movie set for the iconic Iowa-based film, Field of Dreams, starring Kevin Costner. Visitors to Dyersville get the chance to tour the set and take part in the "greatest show on dirt."
The Field of Dreams movie set is open to the public every day, where all ages of baseball fans can step onto the diamond and feel the magic. Guided tours of the iconic white-picket homestead are also available for a small fee.
The real event not to miss at the Field of Dreams is "Ghost Sundays." This weekly summer event includes baseball players emerging from the cornfield to put on a family-friendly and free show.
Other attractions of Dyersville include the National Farm Toy Museum and the Dyer-Botsford Doll Museum. Historic homes and architecture lines much of the town. Perhaps most notably, the Basilica of St. Francis Xavier in Dyersville is a landmark church with eye-catching appeal.
13. Clear Lake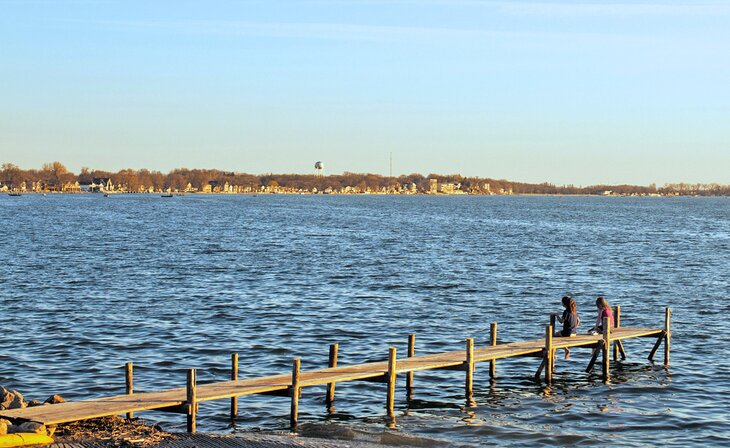 Clear Lake is a beautiful small town in northern Iowa on Interstate 35, accessible from Des Moines with a 115-mile drive. The small town is on the shores of its namesake lake, and the overall vibe is Lake Town, USA.
Fishing, swimming, sailing, and other water sports are prevalent weekend activities in Clear Lake. Several boat launches, slips, and rentals are near the lakeshore, catering to the crowds that tend to show up throughout the summer.
Clear Lake also provides plenty of things to do outside of enjoying the water. The town is actually perhaps most known in pop culture as the site of the 1959 plane crash, killing musicians Buddy Holly, Ritchie Valens, and J.P. Richardson — also known as The Day The Music Died. Visitors to Clear Lake often take a moment to visit the crash site and erected "Glasses" memorial.
14. Fort Madison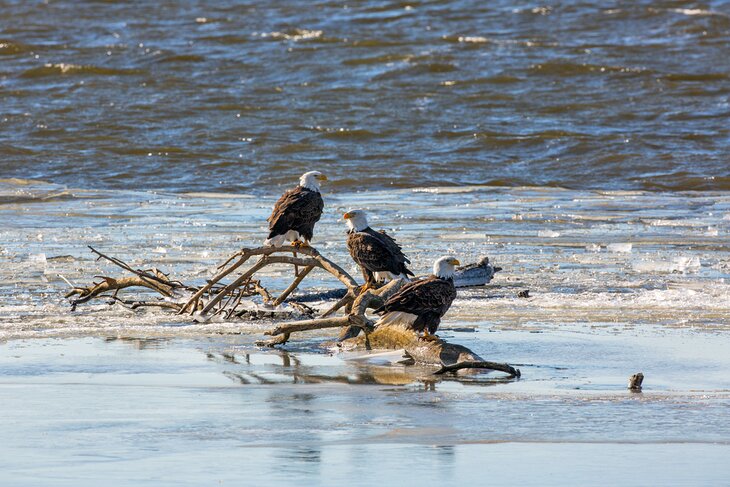 Fort Madison is a storied and scenic city in southeast Iowa on the Mississippi River. The town's history spans over 200 years to the original Fort Madison, established on the Mississippi in 1809. This fort was the first military garrison established by the U.S. government in the Upper Mississippi Region.
Today, the reconstructed Old Fort Madison, constructed a few blocks away from the original, is a top tourist attraction when visiting. Plan to visit this interactive museum in the summer months, June through August, when costumed characters add some historical drama.
Current Fort Madison is also famous for the Tri-State Rodeo, occurring over four nights in early September. This big-name rodeo has attracted cowboys and spectators for over 70 years and has grown into one of the nation's most notable outdoor rodeos. Live music and other community celebrations accompany the rodeo action.
Map of Small Towns in Iowa