12 Top-Rated Tourist Attractions in Des Moines, IA
We may earn a commission from affiliate links ()
Des Moines has taken many steps in the last few decades to become a vibrant cultural mecca of the Midwest. Home to major insurance companies and a significant political landscape, Des Moines is also infused with sculpture parks, botanical gardens, and a thriving shopping and dining scene. Native Iowans are proud of their capital city, and this shows itself with the friendly faces you'll meet on the street.
Iowa history is still in the making and on full display in Des Moines. Places like the gold-domed State Capitol building shimmer with the state's 170-plus-year history. Other spots like the Salisbury House and Gardens and the Hoyt Sherman Theater display the rich cultural heritage of the city, as do downtown storefronts and historic landmarks.
Other top things to do in Des Moines include catching an evening baseball game under lights or touring an impressive art collection. Science is also easy to interact with at the Science Center of Iowa, and the Greater Des Moines Botanical Garden offers something new in bloom each season.
For the trendiest neighborhood in Des Moines, walk no farther than the East Village. Discover more sightseeing ideas with our list of the top attractions in Des Moines.
See also: Where to Stay in Des Moines
1. State Capitol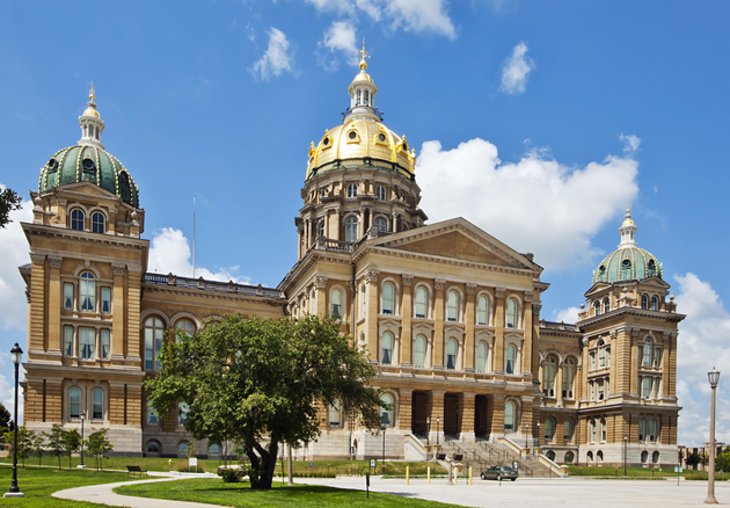 The gold dome of the State Capitol can be clearly seen from many vantage points across Des Moines. While it's a postcard-worthy image from the outside, exploring the history inside is a great way to spend an Iowa day.
Home to the governor's office and many sectors of the Iowa government, including the Iowa Senate and the Iowa House of Representatives, the interior of the State Capitol is also adorned with large works of art and a hand-carved design that radiates the prestige of the history made within its walls.
Free guided tours are available throughout the week for groups of 10 or more. Every visitor can roam the halls and tour the open rooms on their own, including standing atop the glass floor that gives a great view of the gold dome interior.
The regal Law Library on the second floor is also open to the public and offers perhaps the most ornate book collection in the entire state.
Address: 1007 E Grand Ave, Des Moines, Iowa
2. Science Center of Iowa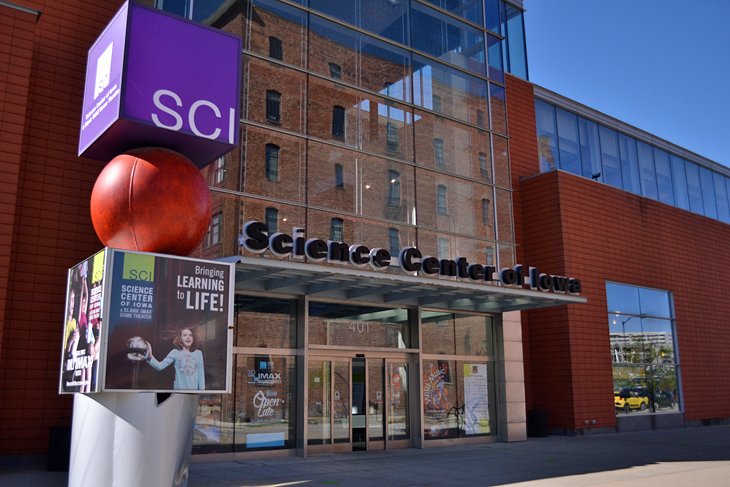 While it's particularly entertaining for children of all ages, don't be surprised to find adults also having fun at the Science Center of Iowa. This award-winning space features permanent and rotating hands-on exhibits that promote experiential learning. The Science Center is also home to a planetarium to gaze upon the stars, plus an IMAX Theater to give a better picture of the world around us.
In addition to the designated children's exhibits, the Science Center of Iowa also offers adult-orientated programs that stimulate socializing through science. The facility also hosts a variety of children's camps, workshops, and after-school programming. SCI Summer Camps are particularly popular and range from STEM explorations to renewable technology intensives.
Address: 401 W Martin Luther King Jr Pkwy, Des Moines, Iowa
Official site: http://www.sciowa.org/
3. John and Mary Pappajohn Sculpture Park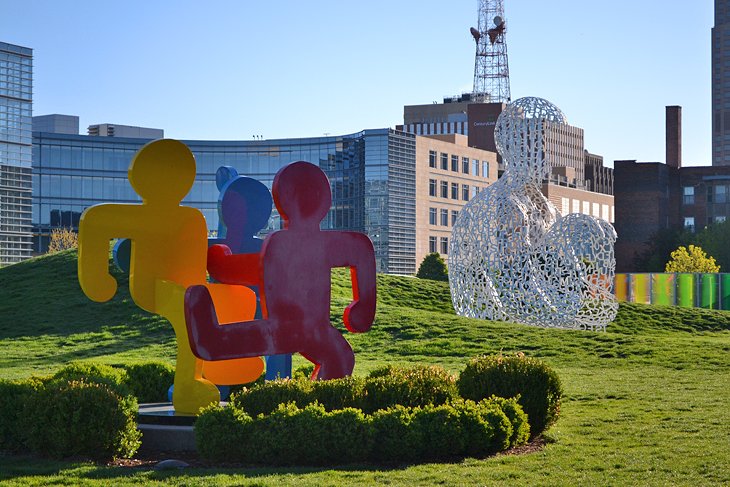 Centrally located in downtown Des Moines within Western Gateway Park, the John and Mary Pappajohn Sculpture Park is a 4.4-acre landscaped space featuring more than 20 works of sculptured art. The park has been entertaining Des Moines urbanites with wonderful sculptures since 2009 and is a great place for families, tourists, and anyone on their lunch break.
The Sculpture Garden and surrounding Gateway Park are fun places to visit at any time of year, but come summertime, these celebrated spaces serve as venues for various community gatherings, including the Des Moines Arts Festival.
The Des Moines Arts Festival takes place every year in June and is a true celebration of summer in Des Moines. The Art Festival features hundreds of artists, vendors, and friendly faces filling the greenspace and sidewalks.
Western Gateway Park is also home to the largest music gathering in Des Moines, the annual 80/35 Music Festival. This quickly growing music festival is named after the two prominent roadways that cross paths in Iowa: Interstate 80 and Interstate 35.
Address: 1330 Grand Ave, Des Moines, Iowa
Official site: http://www.desmoinesartcenter.org/visit/pappajohn-sculpture-park
4. Salisbury House & Gardens
Editor's Choice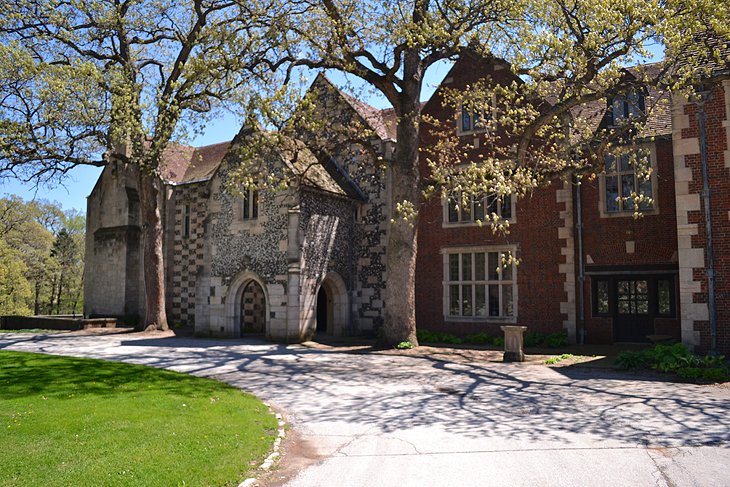 Built in the 1920s by businessman Carl Weeks and his wife Edith, the Salisbury House and Gardens sits quietly in the neighborhoods south of Grand Avenue. While no one has officially occupied this 42-room estate in more than six decades, there is still plenty of life and culture to explore.
Whether you consider yourself a history buff or antique admirer, even just a casual explorer, the Salisbury House and Gardens and the history it holds can interest every member of your family.
For a small admission fee that goes towards the Salisbury House Foundation, you can explore the preserved parts of the home and gardens on a self-guided tour.
However, it is well worth your time to take part in a guided tour, which allows patrons to visit areas that are otherwise off limits to the public. This includes a decadent library and study, and the guided tour provides much of the story of how this house, resembling a royal manor, came to be in Des Moines.
Address: 4025 Tonawanda Dr, Des Moines, Iowa
Official site: http://salisburyhouse.org/
5. Des Moines Art Center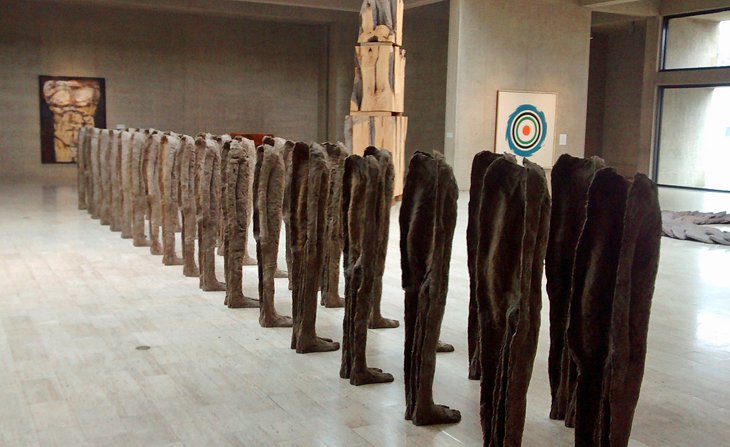 The Des Moines Art Center has been exhibiting fine arts since 1948. During this time, this critical cultural attraction has seen some expansion in floor space, exhibits, and the community that surrounds it.
Featuring constantly rotating exhibits from local and nationally renowned artists, plus permanent pieces from artists like Matisse, Monet, and O'Keeffe (just to name a few), the Des Moines Arts Center offers plenty to see. The Des Moines Art Center also proudly offers free admission.
For an enriched experience of all the center has to offer, taking part in one of the many educational programs or guided tours offered by the facility sheds light on the artists behind the work.
The grounds of the Des Moines Art Center are also beautifully manicured and perfect for a stroll. The neighboring Greenwood/Ashworth Park offers even more space to play outside. For lunchtime appetites, the Art Center Café caters to artistic tastes.
Address: 4700 Grand Ave, Des Moines, Iowa
Official site: http://www.desmoinesartcenter.org/
6. Principal Park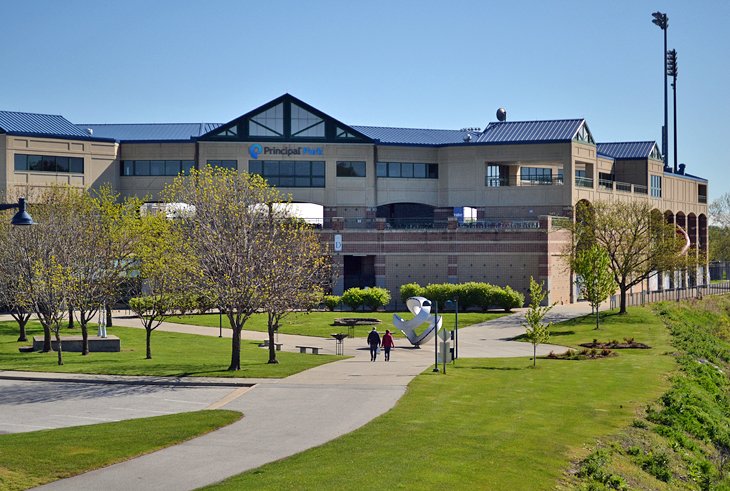 Once known as Sec Taylor Stadium, Principal Park is located at the scenic confluence of the Iowa and Racoon River in downtown Des Moines. Home to Iowa's own Triple-A minor league baseball team, the Iowa Cubs, Principal Park was remodeled in 1992 and has since been noted as one of the best minor league stadiums in the nation.
It's not just the scenic stadium that fills the bleachers at Principal Park though, it's something less tangible that attracts all the attention. It could be the summertime smells of fresh-cut grass and hot dogs, or the sound of a stadium cheering on their home team, perhaps even the sharp crack of a bat from a well-timed swing. Whatever it is, Principal Park has all the right ingredients for America's favorite pastime.
Add in the extra-inning and special events found at Principal Park, including fireworks on the Fourth of July and community events like car shows throughout the season, and you don't even have to be a fan of baseball to see why Principal Park is a premiere Des Moines attraction.
Address: 50 309, 1 Line Drive, Des Moines, Iowa
Official site: http://www.milb.com/index.jsp?sid=t451
7. East Village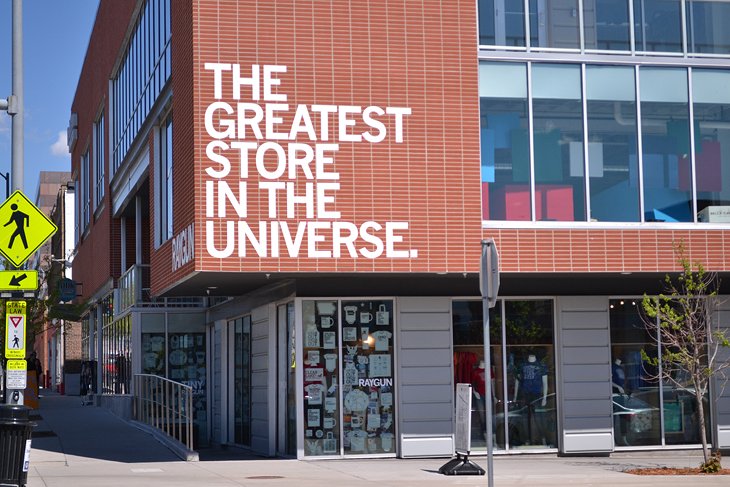 Over the last few decades, Des Moines has been growing into a cultural hub and capital of new tastes and styles. No better example of this cultural emergence can be found than on the streets of the commercial and residential neighborhood of the East Village.
Located east of the Des Moines river in downtown, this burgeoning neighborhood is lined with local restaurants, shops, and lively spots to enjoy at night.
Unique eateries in the East Village, like Tacopocalypse, feature one of the best burritos you'll find in Iowa. Forever trendy stores like RAYGUN really set the tone for the East Village, and the entire neighborhood is lined with several galleries and art displays. For a unique twist of an American classic, Zombie Burger in the East Village is known for its monstrous patties and concoctions.
Official site: https://eastvillagedesmoines.com/
8. Greater Des Moines Botanical Garden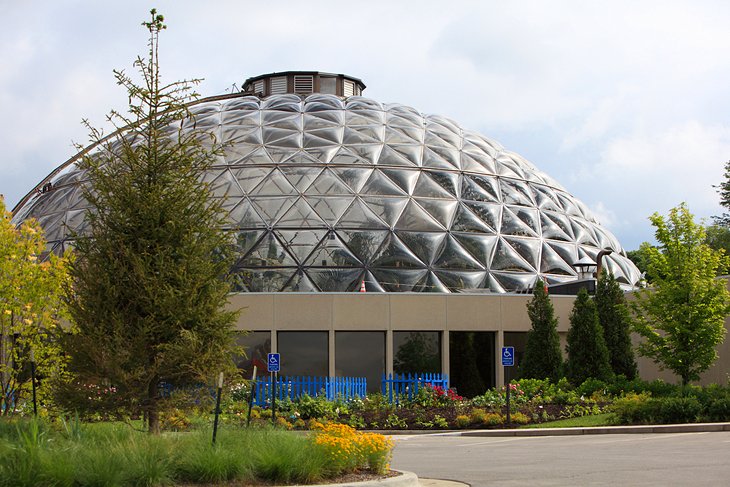 With plants ranging from temperate to tropical, the Greater Des Moines Botanical Garden takes you indoors and out while you tour the carefully planted collections. Something is always in bloom at this urban botanic center.
Whether your visit is part of an adult-education class on gardening, or you're attending a tastefully decorated event in the rentable venue space, you can admire the garden's beauty.
A popular way to visit is getting lost in the gardens on a self-guided tour. If you happen to be visiting the Greater Des Moines Botanical Garden during the lunch hour, the Trellis Café located within the gardens can make your visit here extra special.
Special events at the botanical garden include "Botanical Blues" throughout the winter and a four-day Spring Garden Festival.
Address: 909 Robert D. Ray Drive, Des Moines, Iowa
Official site: http://www.dmbotanicalgarden.com/
9. Water Works Park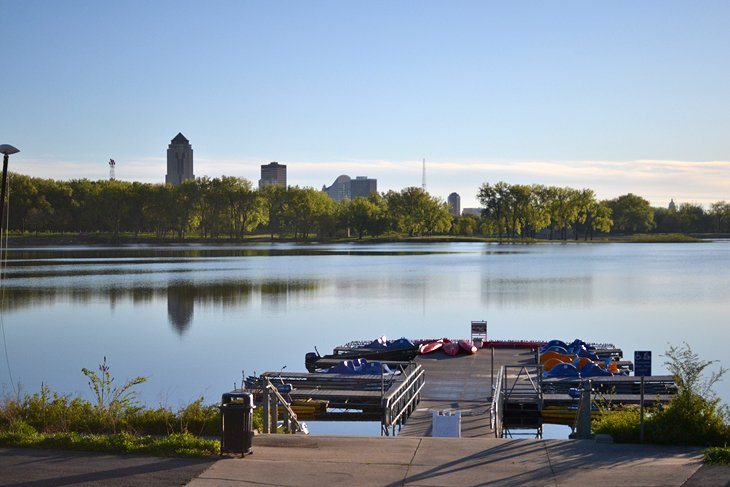 Water Works Park contains nearly 15,000 acres of green space close to the streets of downtown Des Moines. This manicured green space is popular with activities like running, biking, bird-watching, fishing, and intramural athletics.
Among the many ways to enjoy everything Water Works Park has to offer is simply setting down a blanket to relax in the sunshine. To extend your adventure from the park, a bike trail leads beneath Fleur Drive to connect with the waters of Gray's Lake and its scenic pedestrian pathway. Boat rentals are also available to access the water.
During the winter months, you can drive through the dazzling display of Jolly Holidays Lights in the park between holiday festivities. Water Works Park is also a popular place to cross-country ski or snowshoe.
Address: 2201 George Flagg Pkwy, Des Moines, Iowa
Official site: http://www.dmww.com/parks-events/water-works-park/
10. Iowa State Fair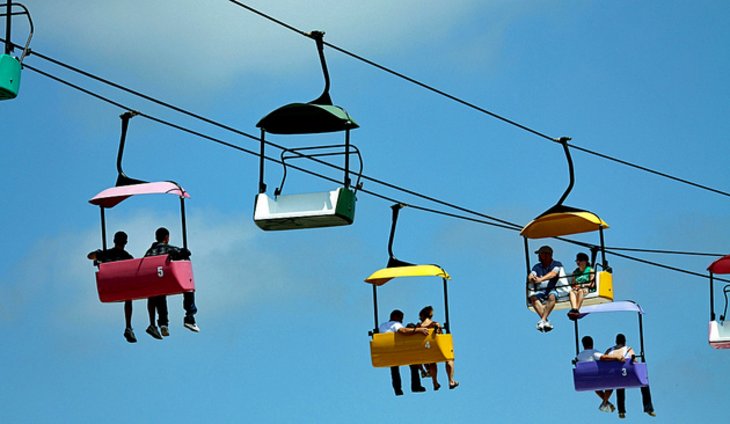 A tribute to the agricultural spirit that supports the state of Iowa, the Iowa State Fair is a nearly two-week celebration that happens every August at the fairgrounds in Des Moines. It provides community members and tourists alike the opportunity to experience the many facets of the industry that defines the state. You don't have to be a farmer or active in the agricultural industry to enjoy the Iowa State Fair, not in the least bit.
Some of the many ways to experience the Iowa State Fair include trade shows, exhibits, art galleries, amusement rides, live music, and more food stands than one can shake a stick at. The eleven days of the Iowa State Fair is packed with entertainment and things to do. Several local and big-name concerts take place at the fair each year.
Address: E University Ave & E 30th Street, Des Moines, Iowa
Official site: http://www.iowastatefair.org/
11. Hoyt Sherman Place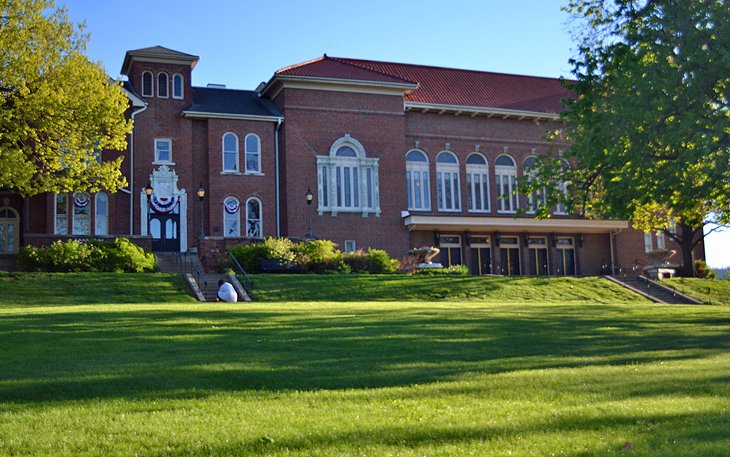 Originally constructed in 1877, Hoyt Sherman Place has remained a cultural icon for well over a century in Iowa. It's not just a sense of nostalgia that has kept this once family home an important aspect of the Des Moines community for so long. Rather, it's the stunning auditorium and first-class talent found on the stage that keeps the seats packed and tickets sold out quickly.
Hoyt Sherman Place has had its share of renovations and upkeep over the last century, including a notable upgrade in 2003 that restored the space to its original grandeur. Nowadays, you can expect a long list of shows, performances, and special events to choose from when visiting this historic venue. Minutes from several notable downtown eateries, Hoyt Sherman is often a popular option for dinner and show.
Address: 1501 Woodland Ave, Des Moines, Iowa
Official site: http://hoytsherman.org/
12. Robert D. Ray Asian Gardens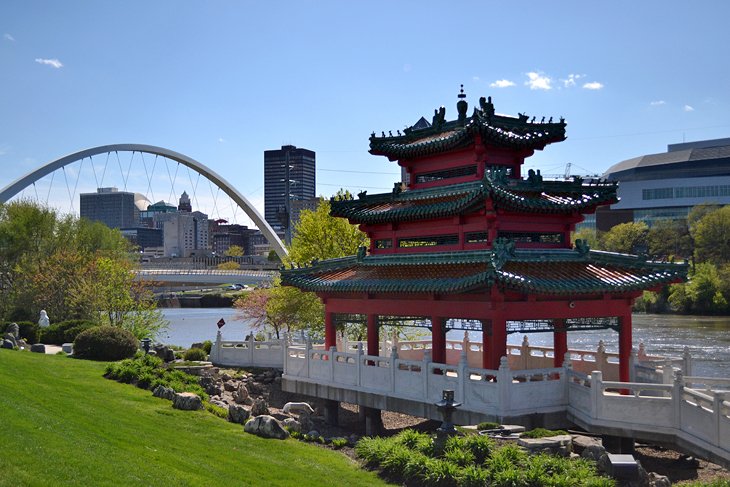 This picturesque pavilion is on the east bank of the Des Moines River, only a few blocks from the Greater Des Moines Botanical Center. The Robert D. Ray Asian Gardens provides a uniquely landscaped outdoor space to explore and take in the rich diversity that helps shape the city of Des Moines.
Featuring an eye-catching Asian pavilion atop a cascading stream and decorative garden, the 1.4 acres here are punctuated by stone pagodas and sculptural rock formations.
Address: Robert D. Ray Drive, Des Moines, Iowa
Official site: http://www.cccaiowa.org/files/riverfront.htm
Where to Stay in Des Moines for Sightseeing
To be close to some of the major attractions, including the State Capitol and the Science Center, it's best to stay in downtown Des Moines. The city center is compact, with a variety of good restaurants and interesting shops in the Court Avenue District. Those with children may want to consider staying in the southern part of downtown near the Blank Park Zoo. Below are some highly-rated hotels in central locations:
Luxury Hotels: The recently renovated Hyatt Place Des Moines

Downtown

features rooms with beautiful city views and is conveniently located near some of the city's key attractions. Embassy Suites by

Hilton

is an all-suite option in the East Village area, close to the State Capitol. Room rates include a cooked-to-order breakfast and an evening reception with appetizers. Des Moines' newest hotel, the Residence

Inn

, features a lovely courtyard area with a fire pit and is just a short stroll from restaurants in the Court Avenue District.
Mid-Range Hotels: The Hampton Inn and

Suites

is a great choice for families, with rooms offering microwaves and mini fridges and an indoor pool. It is also just steps away from some of the city's trendiest restaurants. The recently renovated Des Lux

Hotel

offers oversized rooms in a building dating from 1912, within walking distance of nearby attractions. Connected via skyway to the Iowa Events Center and Wells Fargo Area is the Renaissance Des Moines Savery

Hotel

.
Budget Hotels: The Quality Inn & Suites Event

Center

is a pet-friendly property right next to the Wells Fargo Arena. Other decent budget options can be found near the airport, a 10-minute drive away, and include the Days Inn &

Suites

, featuring an indoor pool, and the Baymont Des Moines - Airport Conference

Center

also with an indoor pool and rooms at an attractive price.
More Related Articles on PlanetWare.com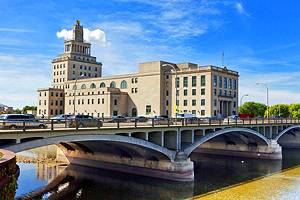 More to Explore in Iowa: Outside the capital city, the best places to visit in Iowa span every direction in the state. To explore Iowa's second-largest city, our guide to Cedar Rapids provides plenty to do for a fun day trip. For the ultimate way to indulge in Iowa, the top weekend getaways in the state feature stunning landscapes and world-class hospitality.