10 Top-Rated Attractions & Things to Do in Sioux Falls, SD
Sitting on the eastern border of South Dakota, and as the largest city in the state, Sioux Falls provides big-city attractions with a small-town feel. From the city's namesake at Falls Park, where thousands of gallons of water cascade over Sioux Quartzite every second, to the SculptureWalk spread throughout the downtown shopping district, Sioux Falls delivers on both natural and cultural things to do.
Whether it's learning something new at the Washington Pavilion or hiking the trails at the Big Sioux Recreation Area, Sioux Falls easily provides the entertainment; you just have to provide the time to explore.
Discover more places to visit in this South Dakota city with our list of the top attractions in Sioux Falls.
See also: Where to Stay in Sioux Falls
1. Falls Park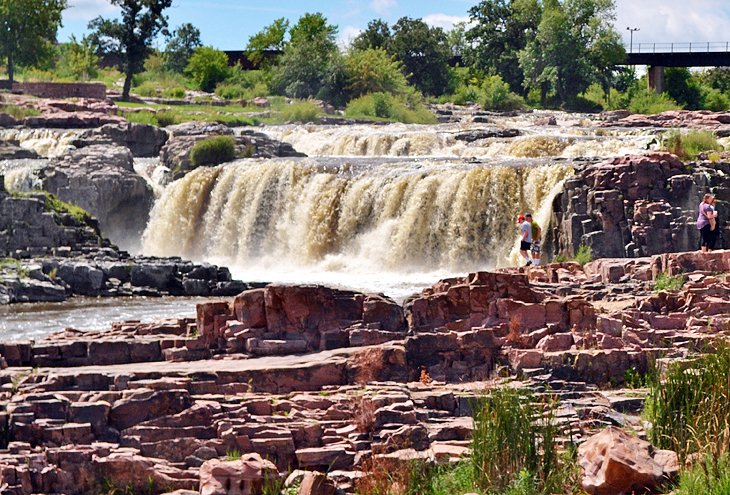 Serving as the namesake and number one attraction of Sioux Falls, the triple waterfall at Falls Park has been a centerpiece here since the city's inception in 1856.
Much like the fast-moving water of the Big Sioux River that creates this impressive natural display, Falls Park receives a steady flow of visitors throughout the year. While the summer months tend to draw the biggest crowds, during the colder months, this city-owned attraction transforms into a true winter wonderland worth exploring.
Besides admiring the steady movement of water up close, other popular things to see at Falls Park include the remains of the historic Queen Bee Mill and a visitor information center with an attached five-story observation tower.
To refuel at Falls Park, the Overlook Cafe serves lunch, dinner, and live music on Friday nights. The 19-mile Big Sioux River and Recreation Greenway also stretches in both directions from Falls Park, allowing this namesake attraction to be a pitstop on a full day of adventure in Sioux Falls.
The park also features ample sculptures and historical displays, as well as traditional park amenities including playgrounds, benches, and water fountains.
On each Saturday between May and October, Falls Park is also home to a lively farmers market that entices visitors with fresh produce and artisan crafts. One of the best reasons to visit Falls Park, however, is to simply stroll along and watch the dynamic landscape.
Address: 131 E. Falls Park Drive, Sioux Falls, South Dakota
2. Washington Pavilion of Arts & Science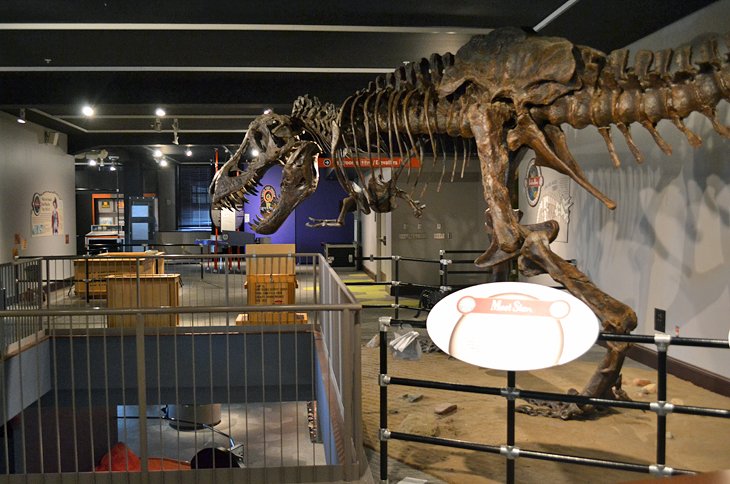 Serving as the hub of science, art, and culture for the region, the Washington Pavilion provides key cultural opportunities for Sioux Falls residents and visitors. The Washington Pavilion features two performing arts centers, where Broadway shows, live concerts, and an array of recitals are always on the line-up. The pavilion is also home to the Wells Fargo CineDome, which sets the stage for an excellent movie-watching experience.
Visitors to the Washington Pavilion can also admire the exhibits on display in the Visual Arts Center. This growing art collection features work from local, national, and international artists, spread throughout seven different galleries. Though some permanent pieces are always on display, much of the Visual Arts Center's collection rotates every month or two, giving patrons something new to appreciate with each visit.
Perhaps the most engaging of all the attractions at the Washington Pavilion is the lofty three-story Kirby Science Discovery Center. This interactive education space harnesses the power of imagination and hands-on displays to create a fun place for every member of the family to enjoy.
A few of the fun things to discover at the Kirby Science Center include outer space, dinosaurs, and underground mines.
Address: 301 S Main Avenue, Sioux Falls, South Dakota
Official site: https://www.washingtonpavilion.org/online/default.asp
3. SculptureWalk Sioux Falls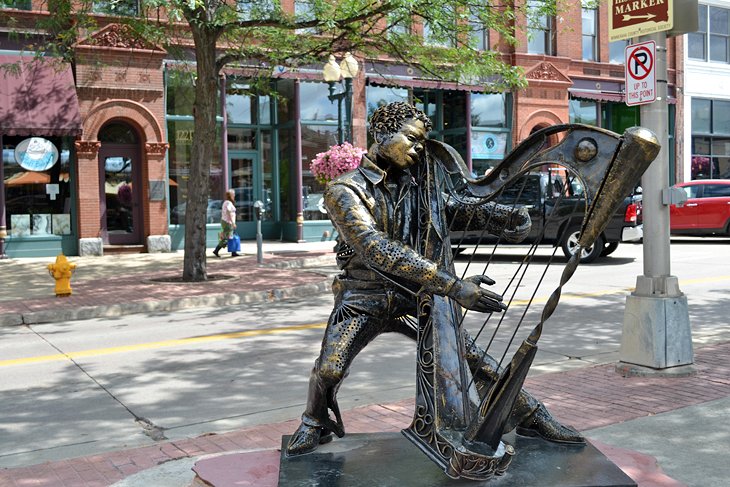 Spread throughout downtown Sioux Falls, SculptureWalk adds another touch of fun while you explore the shops, restaurants, and hotels in the heart of the city.
These public installations continually rotate and can consist of more than 50 new sculptures each year. Whether you seek out as many sculptures as you can, or a certain work of art happens to catch your eye as you're making your way down the sidewalk, everyone is encouraged to cast a vote for their favorite each year.
During any downtown sculpture tour, a recommended place to stop is the original Minervas restaurant for fine eats. Other great restaurants in downtown Sioux Falls include Khorasan Kabob House and Phillips Avenue Diner. Downtown shopping in Sioux Falls ranges from sunny boutiques to specialty outdoor stores, and includes art galleries, antique shops, and home décor.
Address: 300 S Phillips Avenue L104, Sioux Falls, South Dakota
Official site: https://sculpturewalksiouxfalls.com/
4. Butterfly House & Aquarium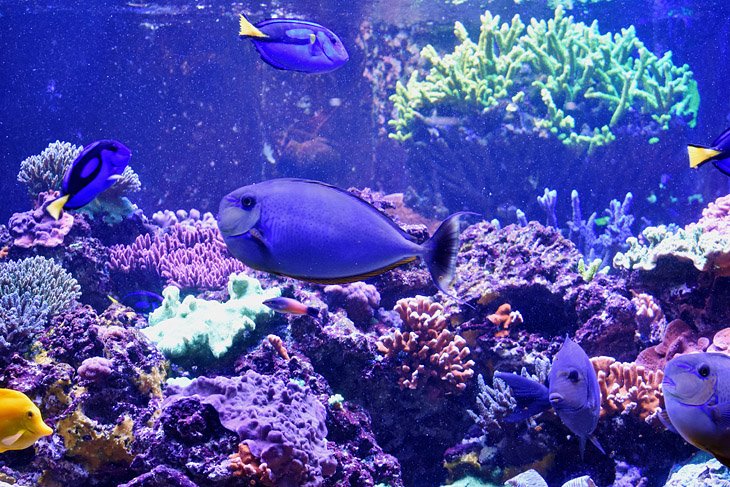 Located in Sertoma City Park on the southwest side of Sioux Falls, the Butterfly House & Aquarium provides a hands-on experience with an abundance of butterflies and variety of marine life.
Operating as a nonprofit organization, the Butterfly House & Aquarium strives to nurture opportunities for learning, healing, and celebrating nature. Through exhibits like the Butterfly House or the Shark and Stingray Touch Pool, they seem to reach their goal.
In addition to simply stopping by to see the exhibits, visitors to the Butterfly House & Aquarium are encouraged to partake in weekly classes and events for all ages. These programs range from young explorer camps to tai chi and yoga sessions in the gardens.
Special tours are also available at the facility, including Behind the Scenes Butterfly Tours that dive into the process of running a butterfly house.
Address: 4320 S Oxbow Avenue, Sioux Falls, South Dakota
Official site: https://butterflyhousemarinecove.org/
5. Old Courthouse Museum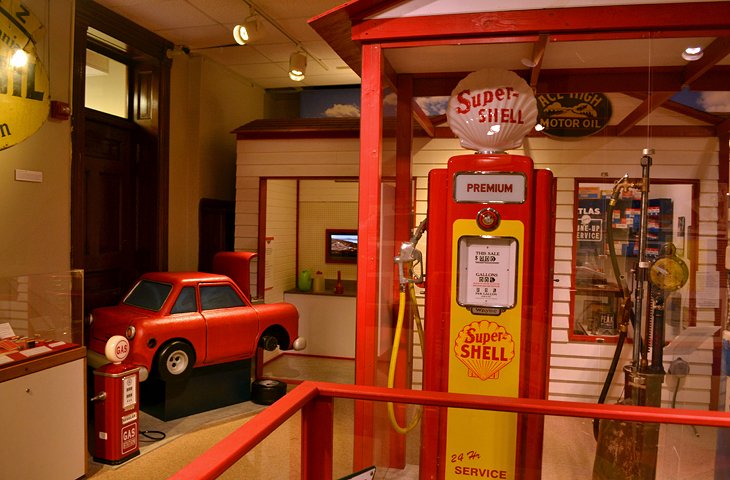 Housed in a 19th-century courthouse building, the Old Courthouse Museum contains three stories of permanent and rotating exhibits. Every display at the museum helps paint a brighter picture of the history of the region. Admission is free, and donations are accepted. With the larger-than-life murals on the wall and numerous historical artifacts, the Old Courthouse Museum makes it easy to remember the past.
For some live-action history, visitors to the Old Courthouse Museum can take part in any one of the many community events hosted by the museum. These include concert series, Halloween parties, and Victorian tea lectures and servings.
Less than a half-mile away, the Pettigrew Home and Museum offers other cultural immersion into the city's past.
Address: 200 W 6th Street, Sioux Falls, South Dakota
Official site: http://www.siouxlandmuseums.com/home-page/old-courthouse-museum-exhibits/
6. Good Earth State Park at Blood Run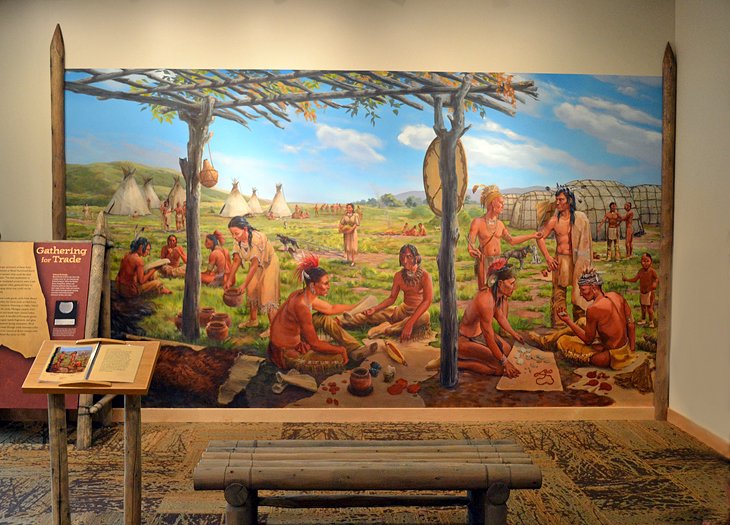 Located 10 miles southeast of downtown Sioux Falls, Good Earth State Park is part of the larger Blood Run National Landmark. The location is one of the oldest sites of human occupancy in the country. Well before any state parks were ever established, or states themselves for that matter, Blood Run served as an important gathering space and trading center for many local tribes and indigenous cultures for hundreds of years.
Today, Good Earth State Park ranks as one of the best state parks in South Dakota and pays homage to this culturally rich area. The state park features interpretive trails through native prairie systems and engaging cultural content about indigenous communities.
Attractions include an 11,000-square-foot visitor center brimming with information about the Oneota traditional people and six miles of scenic hiking trails that ultimately lead to a great view of Big Sioux River.
Address: 26924 480th Avenue, Sioux Falls, South Dakota
Official site: https://gfp.sd.gov/parks/detail/good-earth-state-park/
7. Great Plains Zoo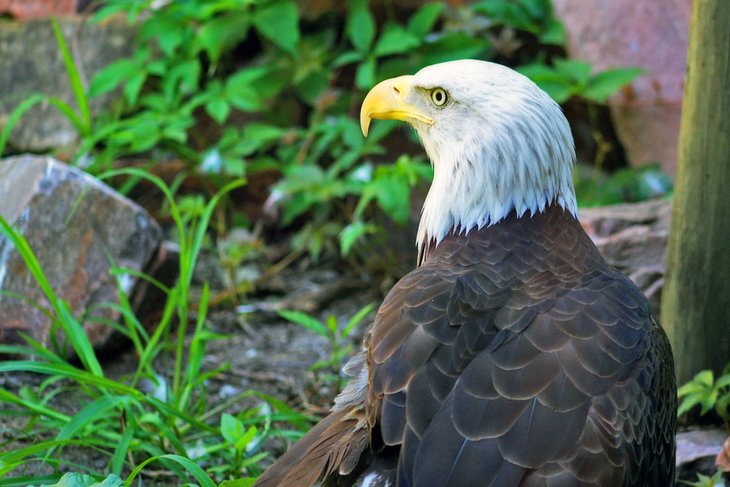 Encompassing 45 acres on the west side of the city, the Great Plains Zoo offers up-close views of more than 1,000 animals. Residents at the zoo range from snow monkeys to Amur tigers and eastern black rhinos.
Alongside the many animals to see here, other popular things to do include chatting with the zookeepers, catching a ride on the Sanford Carrousel, and visiting the exhibits at the Delbridge Museum of Natural History.
The Great Plains Zoo is open year-round, with different activities to do each season. The zoo also features daily events, including animal encounters and unique opportunities like feeding a giraffe. The Maasai Market Café at the zoo features casual fare like cheeseburgers, pizza, and ice-cream.
Address: 805 S Kiwanis Avenue, Sioux Falls, South Dakota
Official site: https://greatzoo.org/
8. Big Sioux Recreation Area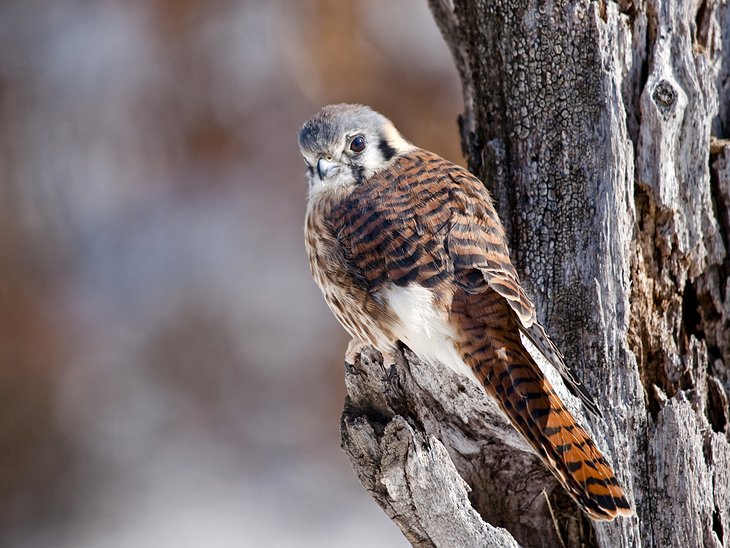 Ten miles east of Sioux Falls, on the banks of the Big Sioux River, the Big Sioux Recreation Area exemplifies the rolling prairie landscape and woodlands of the region. Popular activities to enjoy at the Big Sioux Recreation Area include accessing the Big Sioux River, navigating the dense five miles of woodland trails, and playing a round on the 18-hole disc golf course that meanders throughout the prairie.
For an overnight adventure, Big Sioux Recreation Area features 50 campsites and three cabins. Alongside these well-manicured spots to pitch a tent or park an RV, the surrounding adventure outlets make Big Sioux Recreation Area one of the best campgrounds in South Dakota. All campsites at Big Sioux feature easy access to flushing restroom facilities and hot showers.
Address: 410 W Park Street, Brandon, South Dakota
Official site: https://gfp.sd.gov/parks/detail/big-sioux-recreation-area/
9. U.S.S. South Dakota Battleship Memorial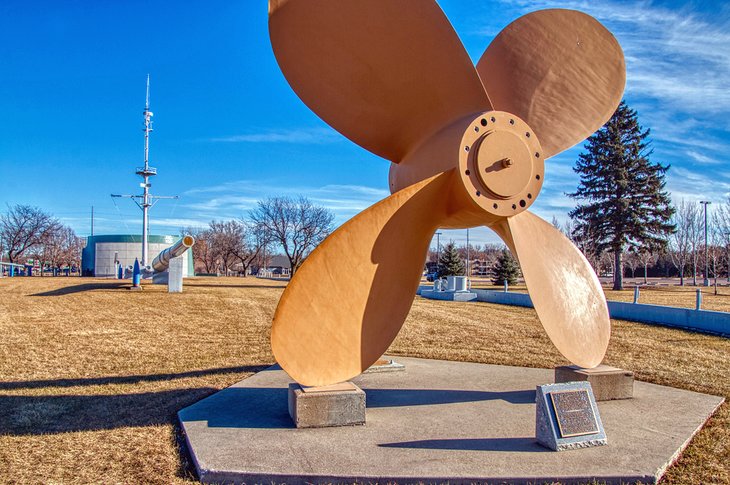 Within Sherman Park and near the Great Plains Zoo, this unique battleship memorial commemorates the U.S.S South Dakota battleship, which was widely decorated throughout the Second World War. Visitors will find several exhibits filled with artifacts and interpretive information regarding World War II and what life was like on a battleship.
The grounds of the memorial are fun to visit themselves, with landscaping and features made to resemble a naval vessel. The memorial is open seven days a week between May and September. Admission is free, and donations are accepted.
Address: 2705 W 12th Street, Sioux Falls, South Dakota
Official site: http://www.usssouthdakota.com/
10. Cathedral of Saint Joseph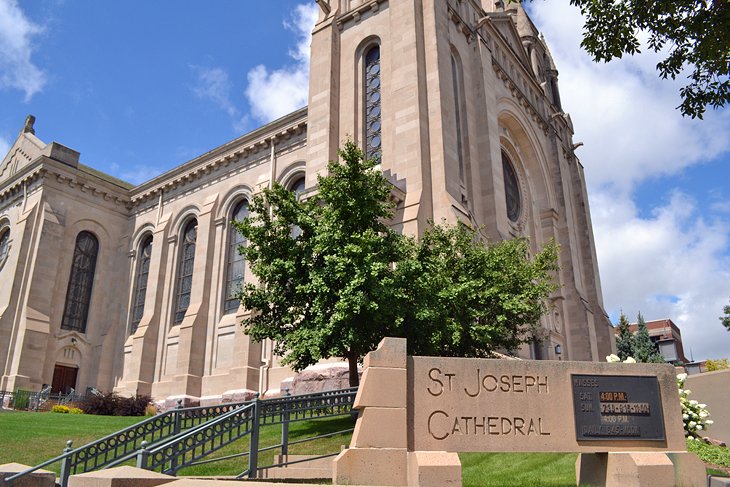 Towering above the skyline of Sioux Falls, the Cathedral of Saint Joseph stands proudly as a century-old, eye-catching attraction. Throughout the last 100 years, it has contributed to the surrounding neighborhood and community. After a multi-million-dollar renovation in 2011, restoring it back to its original grandeur, it has since attracted visitors from around the world.
Self-guided and guided tours are available at the Cathedral of Saint Joseph throughout the week, and anyone is welcome to attend Mass during the scheduled times. Regardless of the reason you go, whether it be spiritual or architecturally inquisitive, the magnificence of the Cathedral of Saint Joseph will meet you at the front door.
Address: 523 N Duluth Avenue, Sioux Falls, South Dakota
Official site: http://www.stjosephcathedral.net/
Where to Stay in Sioux Falls for Sightseeing
Whether your visit to Sioux Falls is for work, or preferably play, there is a high number of excellent hotel options. To find yourself at the center of the action, the downtown area boasts the top hotels and lends access to the densest collection of attractions in Sioux Falls. Surrounding the city, many other highly trusted hotel options wait to be discovered. No matter where you stay, you're never far away from something worth exploring.
Luxury Hotel: To stay the night in the heart of downtown, the most upscale accommodation can be found at the Hilton Garden Inn Sioux Falls

Downtown

on 8th street. It offers free underground parking, the in-house CRAVE American Kitchen & Sushi Bar, and modern guest rooms that won't disappoint when it comes to comfort and ambience. This hotel is a short walk from many of the city's top attractions.
Budget Hotels: To get the most value out of your trip to Sioux Falls, the Comfort Inn &

Suites

is often noted for its well-maintained facilities and abundant breakfast included with their affordable nightly rates.

The Super 8 Sioux

Falls

, found on the western side of the city, also ranks high on affordability and quality, providing overnight travelers with a convenient location, hot tub, and international breakfast.
More Related Articles on PlanetWare.com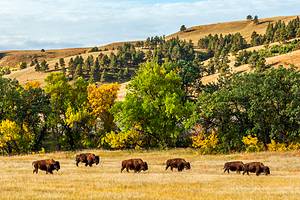 Other Cities in South Dakota: While Sioux Falls is a staple for visiting the eastern part of the state, the region surrounding the Black Hills on the western side of the state draws the most tourist activity to South Dakota. Prominent cities like Rapid City and Custer are great base camps for exploring the wild surroundings, including memorials like Mount Rushmore and Crazy Horse. For some Wild West reminiscence in South Dakota, the town of Deadwood still keeps the culture alive.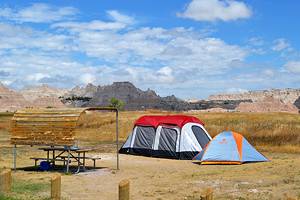 Camping in South Dakota: One of the best ways to experience South Dakota is to pitch a tent or park an RV somewhere in the state. Our guide to the best campgrounds in South Dakota lays out the best spots to connect with nature. For a more specific look at a popular camping destination, check out our guide to campgrounds near Mount Rushmore. Similarly, the top places to camp in Badlands National Park covers another top spot to get away.