11 Best Lakes in Iowa
Author Brad Lane was born and raised in the great state of Iowa.
Agriculture defines much of Iowa, but the state is also rich in lake culture. Every direction in Iowa is a new body of water to explore. From strategic reservoirs to glacier remnants, Iowa's lakes offer a great adventure.
The Iowa Great Lakes region is always a popular destination for family travels. This area in northwest Iowa features the state's largest freshwater lake and a chain of lakes that entice visitors for summer vacations. All the classic lake activities occur in this region, including boating, fishing, and watching the sunset sparkle off the water.
It's not just the Iowa Great Lakes that has great lakes, though. Other popular lakes are close to significant communities like Des Moines and Iowa City. These other lakes in Iowa also offer a surplus of land-based activities, including hiking, camping, and disc golfing.
Find your next favorite summer getaway with our list of the best lakes in Iowa.
1. East Lake Okoboji & West Lake Okoboji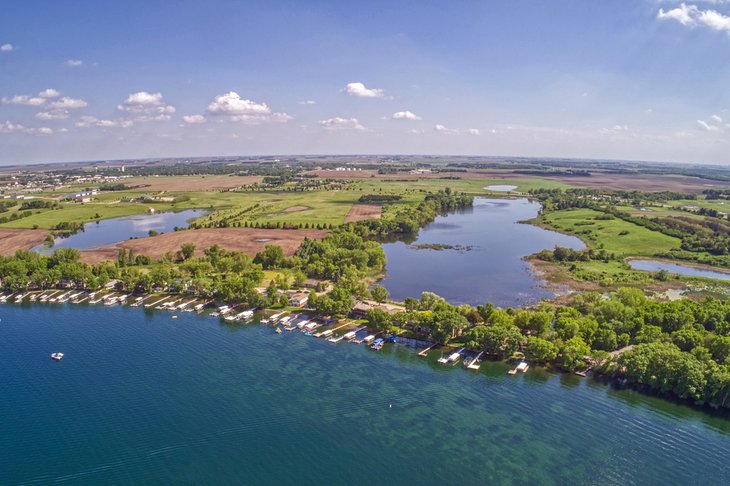 A retreating glacier from more than 14,000 years ago created the Iowa Great Lakes region in the northwest part of the state. Today, a series of lakes define the area, including Big Spirit Lake, the largest freshwater lake in Iowa. These bodies of water define the area as a vacation destination and sprout many surrounding tourist attractions.
The word "Okoboji" is synonymous with this region. That's because East Lake Okoboji and West Lake Okoboji are two of the most popular waters to access. And these two lakes provide a wide variety of vacation memories and longstanding family traditions.
West Lake Okoboji is where most vacationing families spend the day. Access points and state parks line the shoreline. Places like Pikes Point State Park, on the northern shoreline, are particularly popular for activities like picnicking and swimming. And the family-friendly Arnold's Park Amusement Park has operated near the eastern shore for over 100 years.
East Lake Okoboji is a long body of water that almost resembles a river. It has more private development than its western counterpart, with less public access to the water. However, the lake does feature more than one beautiful hotel and resort near the water's edge.
Accommodation: Top-Rated Resorts in Iowa
Read More: Top-Rated Weekend Getaways in Iowa
2. Saylorville Lake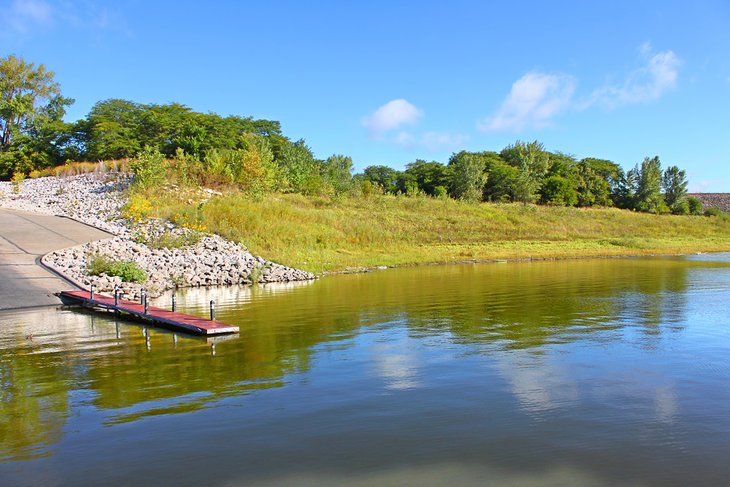 Saylorville Lake is a massive reservoir on the Des Moines River. It provides flood control and drought prevention for the communities below the Saylorville Dam. One such community is the city of Des Moines, less than 10 miles away.
The lake is also a vital recreation outlet for the capital city. Weekend visits to the lake include boating, fishing, hiking, camping, and disc golf. Several recreation areas surrounding the lake lend to these activities and more.
Jester Park, on the western shore, is a popular area to visit from Des Moines. Picnicking might be one of Jester's most popular activities, with several tables spread throughout the park. The golf course at Jester is also well used throughout the summer and shoulder seasons. Hiking and biking trails also weave throughout the site, and boat ramps and fishing docks lend access to the water.
Read More: Things to Do in Des Moines, Iowa
3. Rathbun Lake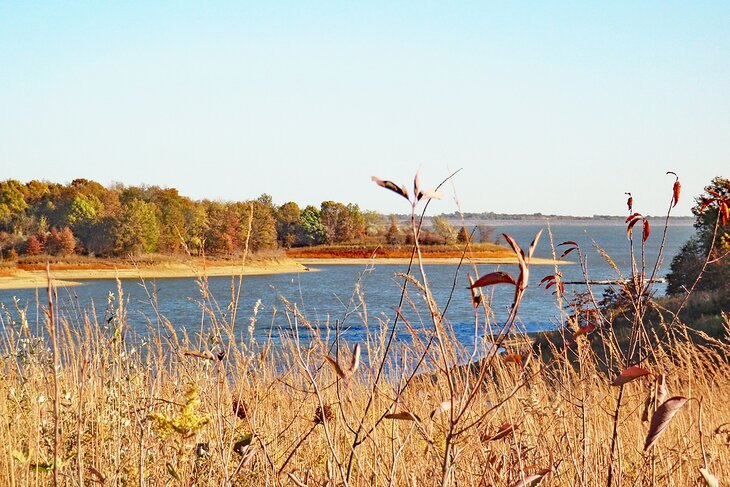 This popular reservoir is sixty miles southeast of Des Moines in south-central Iowa. Recreation units ranging from campgrounds to full-blown resorts line this 11,000-acre lake. Everyday activities on the water include boating, fishing, swimming, and soaking in the Iowa summer sun.
The Iowa DNR operates its only resort state park on the northeast Ham Branch of the lake: Honey Creek Resort. Alongside the adjacent Honey Creek State Park, the resort caters to every lakeside activity imaginable. Hiking and biking, golfing and dining, and splashing around at the indoor water park are all popular ways to spend the day.
The resort also features a marina, fishing dock, and boat launch. Guests staying within the lodge or at the RV campground have free access to various watercraft, like stand up paddleboards and kayaks. Fishing gear rental is also available. Other complimentary shoreline rentals include volleyball nets and bicycles.
Despite its surplus of activity, Honey Creek is within one small cove of the massive lake. Several other recreation opportunities line the shoreline. The Army Corps of Engineers operates five different campgrounds around the lake, with nearly 500 campsites total.
4. Lake Red Rock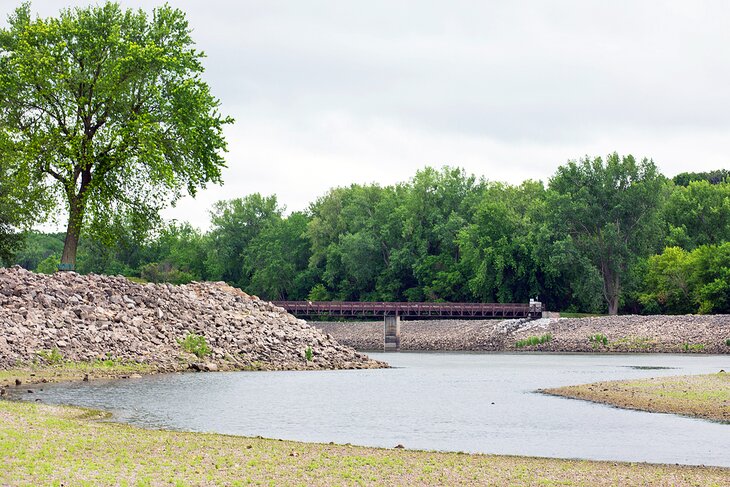 Lake Red Rock is Iowa's largest lake and a 40-mile drive from Des Moines. This massive reservoir is close to the Dutch-inspired city of Pella — one of Iowa's best small towns. Lake Red Rock is a popular place to visit for recreation with more than 15,000 acres of water and even more public land to explore.
Several developed state and county parks lend the easiest access to the water. Places like Elk Rock State Park, on the southern shore, has campgrounds, hiking trails, and boat launches. On the opposite banks, Roberts Creek and Cordova Park offer opportunities for fishing and picnicking. And Red Rock Marina, easily accessible from Pella, is an excellent spot for boat rentals.
Land activities surrounding the lake gravitate towards hiking and biking. The paved Volksweg Bike Trail extends for nearly 11 miles from Pella along the lake's northern shore. This National Recreation Trail offers one of the best bicycle rides in the state and is also popular for leisurely strolls. Like the Elk Rock Equestrian Trail, other nature trails around the lake cater to horse riders and hikers alike.
5. Big Spirit Lake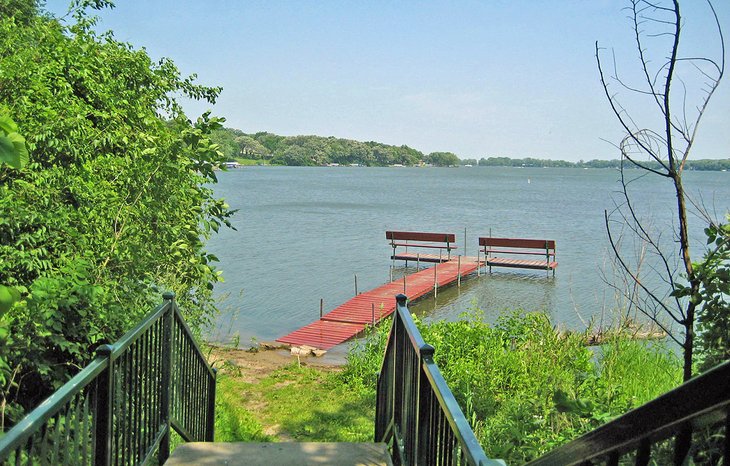 In northwest Iowa, near the Minnesota border, Big Spirit Lake is the largest lake of the Iowa Great Lakes. It is also the largest freshwater lake in the state. To no surprise, Big Spirit drives a lot of tourism and recreation to the Iowa Great Lakes region.
State parks and recreation areas lend access to all sides of Big Spirit. Marble Beach is one such popular spot on the western shore, home to the region's largest campground. On the north shore, Mini-Wakan State Park dates to the Civilian Conservation Corps era. This lakeside state park still has many beautiful log structures dating back to that era.
Iowa's greatest Great Lake caters to every type of water activity. Motorized boats on the water often include pleasure boats, pontoon boats, and fishing rigs. Boats are available to rent at places like Great Lakes Marine Company in Spirit Lake. And many of the public parks along the shore are dotted with boat ramps.
6. Lake MacBride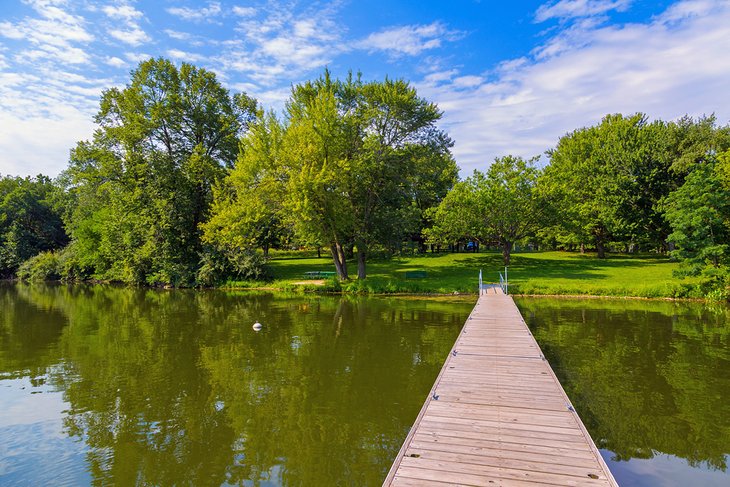 Lake MacBride is a 900-acre reservoir that is 10 miles north of Iowa City. The lake is home to the biggest state park in Iowa, Lake MacBride State Park, and is next to the much larger Coralville Reservoir. These outdoor areas combined add to a long list of Iowa City attractions.
Lake MacBride State Park is a 30-minute drive from Iowa City. The state park is split into two units and features two large campgrounds accommodating tents and RVs. Several multi-use trails at the park entice hikers, bicyclists, and horse riders throughout much of the year. And cross-country skiers and snowshoers tend to flock to the state park during the winter.
Getting on the water is easy at Lake MacBride State Park. A boat-rental service is available at the park between Memorial Day and Labor Day. And public boat ramps encourage visitors to bring their own vessels. Any size boat is welcome on the lake, but motorists must keep it under five miles per hour.
Lake MacBride State Park is only the tip of public space to enjoy near Lake MacBride and the Coralville Reservoir. South of the state park, Sugar Bottom is an excellent day-use area popular for mountain biking and disc golf. Sugar Bottom also has an extensive campground that's well-used throughout the summer.
7. Clear Lake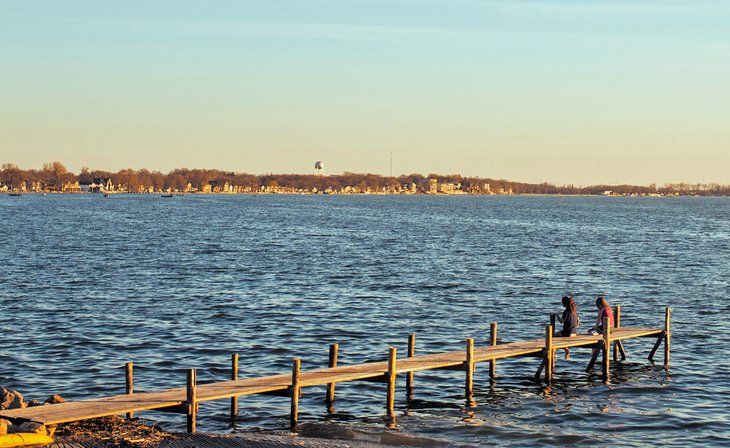 It's the water and the lake town that makes Clear Lake fun to visit. With a population of approximately 7,500 residents, the city of Clear Lake offers several complements to the water's eastern shore. For history buffs and music fans, the town is most widely known as the location of Buddy Holly's last performance and the site of his fatal plane crash.
The town has a definite lake vibe, especially during summer. City Park and City Beach are the main access points to the water from the town. These open-to-the-public areas feature sandy swimming beaches, grassy lawns, and boat launches. The city also supplies everything needed for a lake vacation, including fishing guides, bait shops, and boat rentals.
With consistent winds even on calm days, Clear Lake is one of the most popular Iowa lakes for sailing. Races are held every weekend between Memorial Day and Labor Day. The Clear Lake Yacht Club is the sport's definitive voice at the lake and helps maintain a large fleet of sailing vessels.
8. Big Creek Lake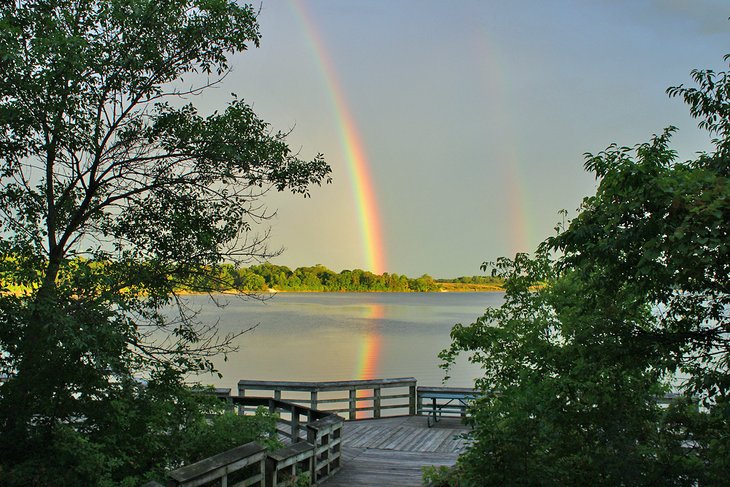 Big Creek Lake is a popular recreation lake north of Saylorville Lake. The main access point for water and other land-based activities is Big Creek Lake State Park. This popular state park covers nearly the entire shoreline and offers several outlets to spend the day.
The Big Creek Marina area of the park, on the eastern shore, is a popular place for family outings. Here, amenities like a wide sandy beach, abundant lawn space, and one of the most incredible wooden playgrounds occupies much of the area. And a concessionaire in this part of the park rents out pontoon boats, kayaks, and stand up paddleboards.
Fishing and boating are prevalent at the lake. The waters are known to produce record-breaking walleye that are a challenge to hold in two arms. The east and west shorelines each have modern public boat ramps. Alongside fishing, other popular boat activities include water skiing and sailing.
There's no camping at this day-use state park, but 13 picnic shelters are spread throughout the area and are available for reservations. The state park also features a notable 18-hole disc golf course used by professionals and novice disc golfers alike.
9. Lake Darling
Lake Darling, named after a famous Des Moines Register editorialist and cartoonist, is in eastern Iowa, 13 miles northeast of Fairfield. Lake Darling State Park surrounds this 300-acre lake. Lake Darling offers a popular weekend getaway with camping, cabins, hiking trails, and many ways to enjoy the water.
A sprawling sandy beach on the southern shore is the center of activity at Lake Darling State Park. Here, several other amenities like boat ramps, fishing piers, and picnic areas draw further interest. The Lake Darling Lodge, a reservable space for up to 200 people, is also on this side of the lake.
The Friends of Lake Darling offer boat rentals between Memorial Day and Labor Day. Among their selection are paddleboats, stand up paddleboards, kayaks, and canoes. Both motorized and non-motorized vessels are welcome at Lake Darling, although it's a no-wake lake, meaning speeds need to be kept to a minimum.
Lake Darling has several ways to spend the night. The park's campground features 80 campsites, many featuring standard hookups. The park also has six cabins available for nightly rental. These comfortable cabins all feature modern conveniences and wrap-around porches.
10. Swan Lake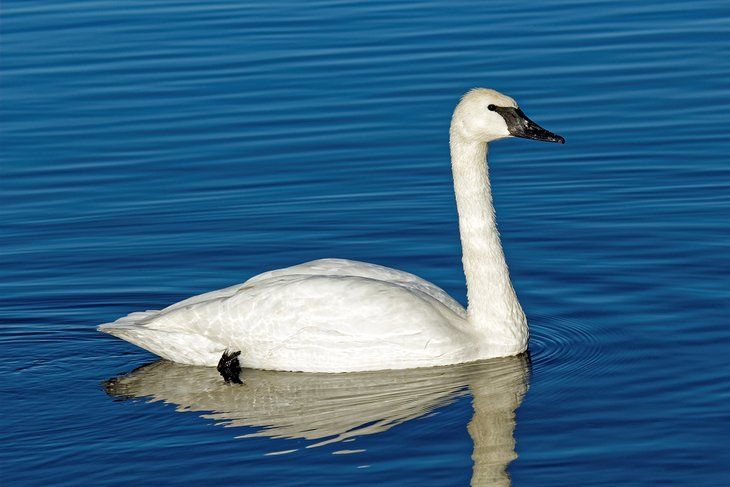 This 100-acre lake is in west-central Iowa near the city of Carroll. Despite its relatively small size, the lake is popular for day trips and overnight outings. The frequency of visits has much to do with Swan Lake State Park, which circles the entire shoreline.
Carroll County Conservation Board operates the 500-acre Swan Lake State Park. The state park has a campground catering to RVs and tents alike. Other developed areas include picnic sites, playgrounds, and a Conservation Education Center.
Fishing is one of the most popular things to do at Swan Lake. The waters are continuously stocked with crappies, bluegills, and largemouth bass. A fish house on the south shore offers a cleaning station for those anglers successful in their endeavors. Boating is welcome at Lake Darling, with a no-wake regulation strictly enforced. Boat rentals are available at the park.
Other activities at Swan Lake include disc golf, hiking, and bicycling. The 33-mile Sauk Rail Trail connects the park with Black Hawk State Park to the north. Swan Lake is also home to unique animal exhibits that give visitors the chance to see free-roaming bison, trumpeter swans, and bald eagles.
11. DeSoto Lake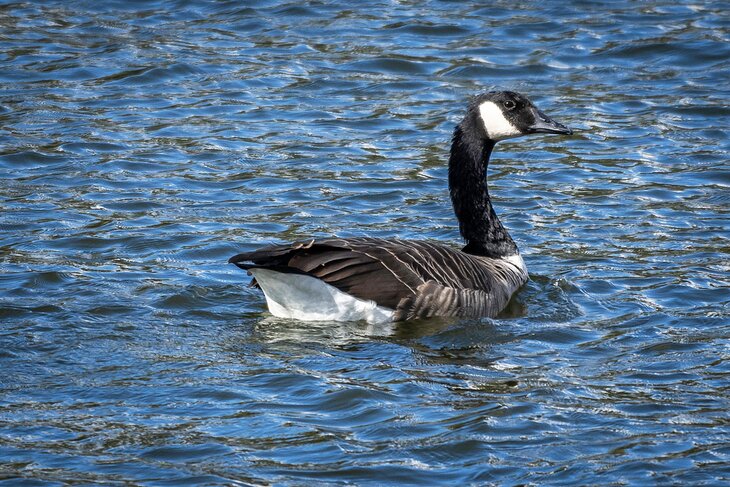 DeSoto Lake is a magnet for wildlife and wildlife enthusiasts in far western Iowa, near the Nebraska border. The lake itself is a unique shape, as it once was an oxbow bend of the Missouri River. The Army Corps of Engineers built a two-mile channel that skipped the oxbow bend, and that remaining oxbow is the scenic DeSoto Lake.
DeSoto Lake is part of the larger DeSoto National Wildlife Refuge. Thousands of birds flock to the riparian wetlands of this refuge and the surrounding lake come spring and summer. Bring some binoculars, and perhaps the latest birds of Iowa field guide, when visiting. And, despite its migratory popularity, DeSoto Lake offers a relatively uncrowded escape into nature.
Popular activities at DeSoto Lake include bird watching, hiking, and fishing. No-wake boats are allowed on the water during the public season between April 15th and October 14th. Anglers cast for bass, crappie, bluegill, and catfish. And don't forget to keep an eye overhead, as bald eagles often swoop across the landscape.
Map of Lakes in Iowa