13 Top-Rated Tourist Attractions in Nebraska
Often overlooked as a travel destination, Nebraska is a state of warm-hearted people, interesting natural attractions, and inviting cities. Lincoln, the state capitol, and Omaha are the two main population centers. Each of these are worth a visit, with old historic areas to wander through and vibrant cultural scenes to enjoy.
The Nebraska landscape also holds some unique sights for those who take the time to explore it, from Chimney Rock to the beautiful scenery of the Sandhills.
Don't just pass it by as you travel across Interstate 80, stop for a while and explore the state with our list of the top attractions in Nebraska.
1. Omaha's Henry Doorly Zoo and Aquarium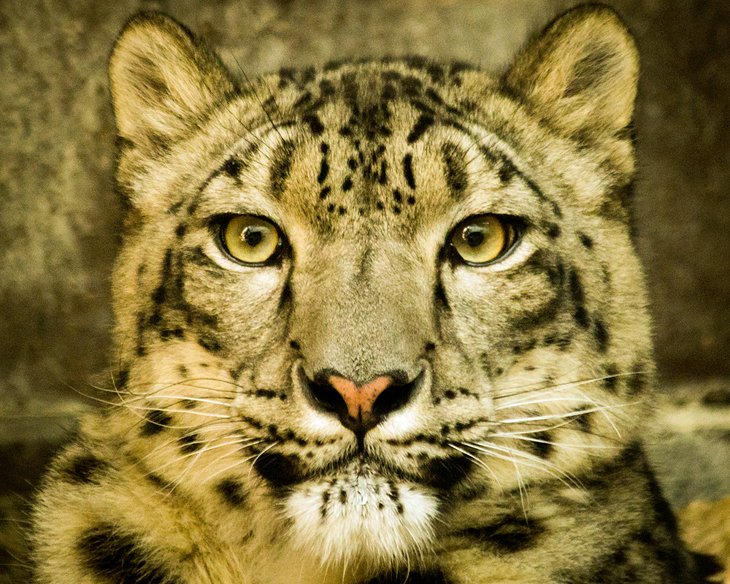 Although zoos are rarely the most exciting thing to see or do in a state, the Henry Doorly Zoo and Aquarium in Omaha is an exception. This unique 160-acre facility is home to the world's largest indoor desert, the largest indoor jungle, and the largest nocturnal exhibit.
The aquarium exhibits are engaging and offer opportunities to touch stingrays as they swim by. If you are looking for something completely different, take a ride on a camel.
After a long day of walking, the Lozier IMAX 3D theater is a great place to enjoy a feature, with a constantly changing line-up of movies. You can also grab a bite to eat, and let the kids play on the lighthouse at the replica Alaska seaport area called Glacier Bay Landing.
Address: 3701 S 10th Street, Omaha, Nebraska
Official site: http://www.omahazoo.com
2. Old Market in Omaha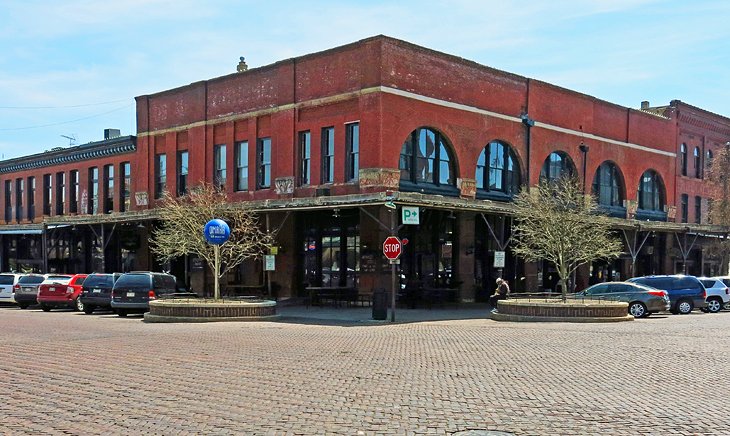 The Old Market is a terrific spot to shop, dine, and experience a glimpse of what Omaha would have looked like in its early days. Cobblestone streets and renovated old buildings from the early part of the 19th century give the area a quaint and historical feel. Housed in these interesting buildings are a diverse set of retail establishments ranging from galleries to coffee shops and fine dining establishments.
The Old Market is right downtown and is within easy walking distance to many of Omaha's other tourist attractions and top things to do, including the Durham Museum and the Bob Kerrey Pedestrian Bridge.
Accommodation: Top-Rated Hotels in Omaha
3. Strategic Air and Space Museum, Ashland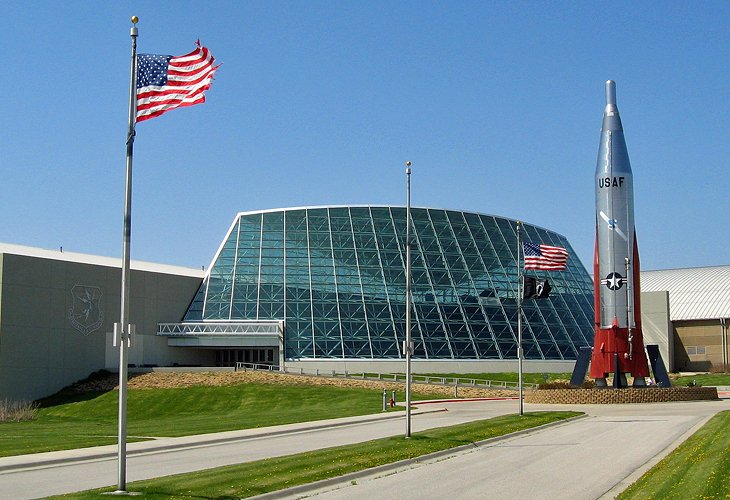 Fans of aircraft and aviation technology will be impressed by the extensive collections on display at this museum in Ashland, midway between Omaha and Lincoln. First opened in 1959 as the Strategic Air Command, the museum grew over the years and in 1998 moved to its current location in a modern facility. A few years later, the name was changed to the Strategic Air and Space Museum.
The museum is spread over 300,000 square feet and showcases all manner of airplanes, spacecraft, and special exhibits that change on a regular basis. Some of the aircraft highlights include the massive B-17G "Flying Fortress," the B-25N "Mitchell," and the MIG-21F "Fishbed-C." Outside the main building are several ICBMs (Inter Continental Ballistic Missiles). These missiles were designed to deliver nuclear warheads and fortunately for mankind were never used.
Also on-site is a planetarium that features seasonal astronomy shows and motion rides (for an additional fee) that simulate the feeling of being in a helicopter and riding a roller coaster.
A visit here can be combined with a trip to see the Lee G. Simmons Conservation Park & Wildlife Safari.
Address: 28210 West Park Highway, Ashland, Nebraska
Official site: http://sasmuseum.com/
4. Chimney Rock National Historic Site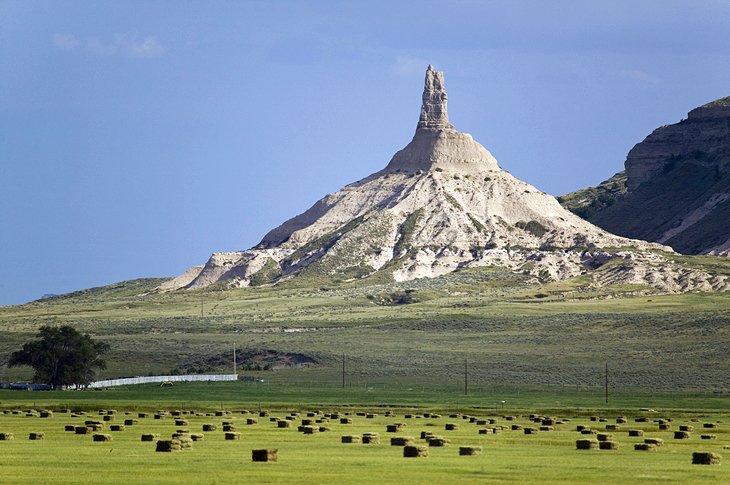 Dating from 25 to 24 million years ago, the Chimney Rock formation rises 480 feet above the surrounding countryside. This dramatic rock spire was a noted landmark for pioneers heading westward in the early to mid-19th century.
The landscape today looks much as it did when wagon trains crossed this way during the great western migration. Visitors can get a sense of what it must have felt like for the pioneers when they arrived here.
A visitor center on site provides information on the geology of the formation and the history of the Overland Trail.
Location: Chimney Rock Road, 1.5 miles off of Highway 92
Accommodation: Where to Stay near Chimney Rock National Historic Site
5. Haymarket District in Lincoln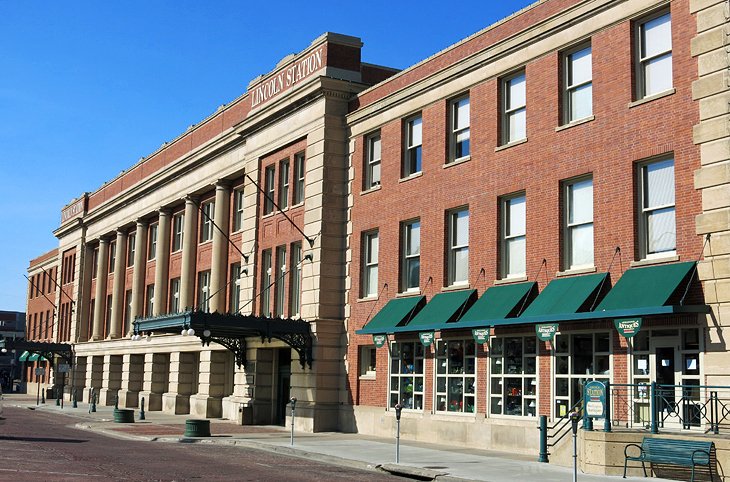 A lively atmosphere, great restaurants, and restored historical buildings all combine to make the Haymarket area a fun place to visit at any time of year. Visitors can wander the inlaid brick streets and peer in windows of eclectic shops, or stop in for coffee and snacks at any of the numerous cafés and restaurants. The restored water tower and town clock are a couple of the sightseeing attractions in this area.
While there is always something going on in the Haymarket District, it can be particularly busy on days when the local university sports teams have games scheduled.
Accommodation: Where to Stay in Lincoln
6. Scotts Bluff National Monument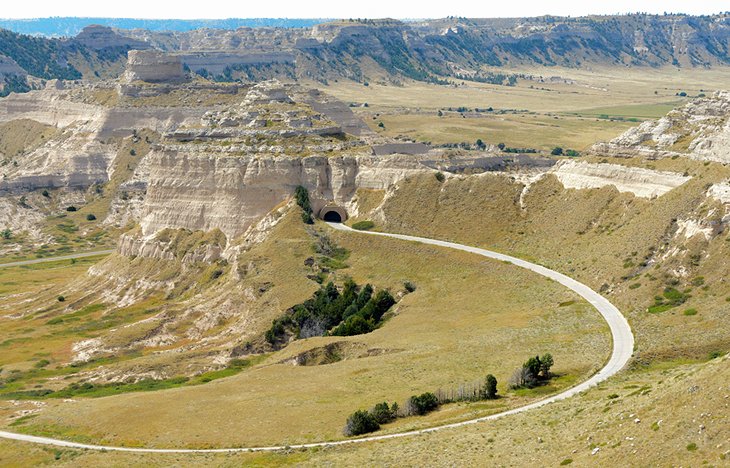 This imposing natural structure can be seen from far and wide across the Nebraska prairies. It was used as a landmark by Native Americans who inhabited the area, and later by travelers who passed by here in the mid-19th century, including pioneers making their way west on the California, Oregon, and Mormon Trails. On the weekends, rangers dress in period costume and roam various areas of the park providing insights and stories from the past.
This 3,000-acre national monument was first founded in 1919, and many improvements to the area have been made over the years. A winding road leads up to the higher elevations and features three tunnels.
Hiking trails lead to great viewpoints out over the surrounding countryside. A popular option is to take the summit shuttle to the top and then hike back down.
Scotts Bluff National Monument is free to enter.
Official site: https://www.nps.gov/scbl/index.htm
7. Golden Spike Tower in North Platte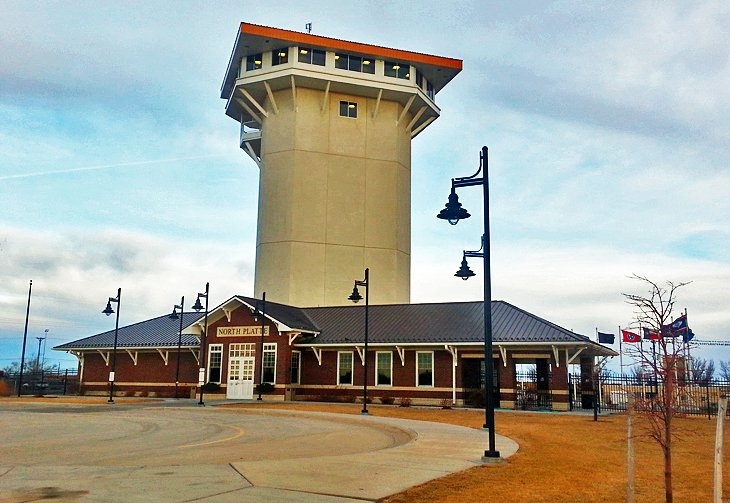 The Golden Spike Tower offers a bird's-eye view out over the Bailey Yard, officially certified as the world's largest railroad yard. More than 150 trains and 10,000 rail cars a day enter this yard.
The tower rises eight stories and is fully enclosed in glass. Beyond the Bailey Yard, the full expanse of the Platte river valley unfolds as visitors look out from the viewing area.
At the base of the tower is the visitor center where all manner of Union Pacific memorabilia is showcased. The Golden Spike Tower is just on the outer edge of North Platte.
Address: 1249 North Homestead Road, North Platte
Official site: http://goldenspiketower.com/
Accommodation: Where to Stay in North Platte
8. Indian Cave State Park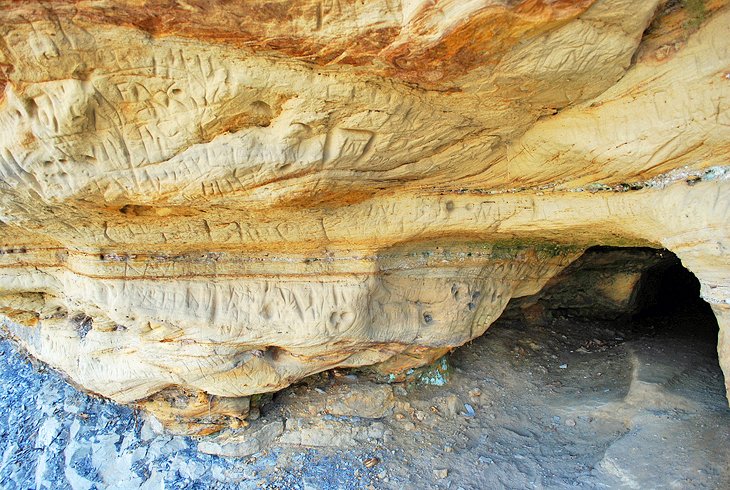 Beautiful and intriguing petroglyphs showing nature scenes and wildlife line the walls of the cave at this state park. The picturesque setting of the park on the banks of the Missouri River also makes it a popular destination for camping and hiking.
Twenty-two miles of diverse and interesting hiking trails wind their way around the park and take in some of the highlights, including a ridge and the Lincoln Bend Wetlands. Indian Cave State Park is just a short drive southeast of Brownville.
Within the park, two campgrounds, Hackberry Hollow and Ash Grove, have 134 RV sites with electrical service (most are 30 amp; 22 sites are 50 amp) and water. Sites can be reserved online.
Accommodation: Where to Stay in Shubert, near Indian Cave State Park
9. Carhenge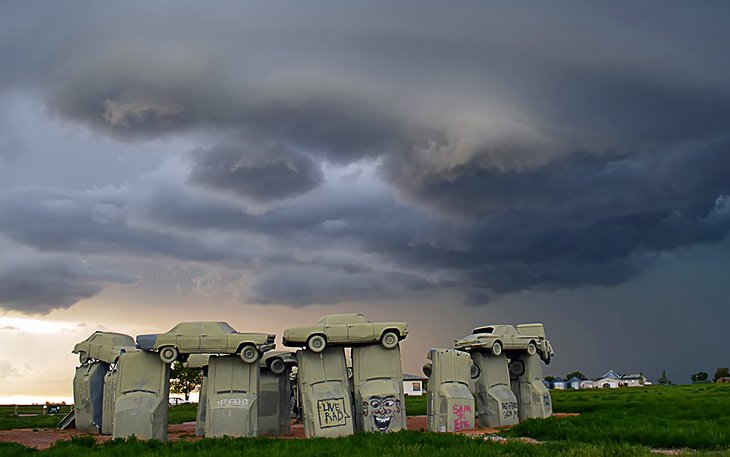 Certainly one of Nebraska's quirkier attractions, Carhenge duplicates the more familiar Stonehenge, but is constructed with automobiles. Thirty-nine cars arranged in all different positions jut out of the prairie grasslands and so perfectly replicate the real Stonehenge that the summer solstice event happens here in the same manner as it does in England.
Although Carhenge is the main attraction, there are also a number of other unique works on-site. In one area, a metal fish is shown emerging from the ground. Carhenge is a free attraction. Should you wish to take home a souvenir, a gift shop called the Pit Stop sells all manner of unique items.
Location: 3 miles north of Alliance, on Highway 87
10. A Scenic Driving Tour of the Sandhills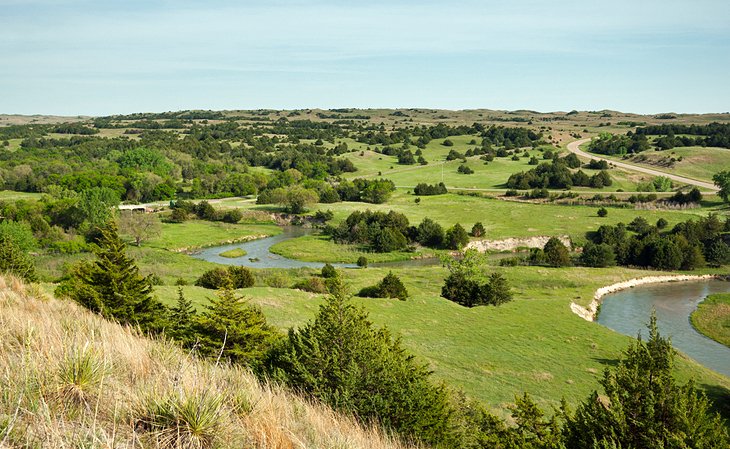 The Sandhills region of Nebraska is a paradise for nature lovers. Covering one quarter of the state, it consists of dunes, some reaching 300 feet high, along with grasslands and shallow lakes.
A driving tour through the Sandhills, often described as one of the most scenic in the USA, is a great way to explore the area. Highway 2 winds its way through the landscape, taking visitors on a 272-mile route past an array of interesting natural and man-made sights, including the quirky Carhenge. Most visitors start the drive in Grand Island and end in Alliance.
Outdoor enthusiasts, especially bird lovers, will want to make sure they plan a visit to Valentine National Wildlife Preserve. This spectacular refuge located within the Sandhills region is home to thousands of waterfowl who make their homes in the shallow lakes spread across the area.
11. Ride the Cowboy Trail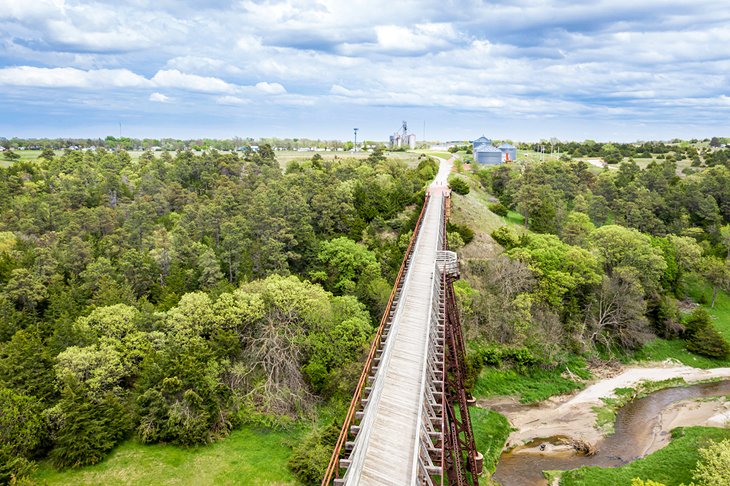 If you have an inner desire to become the lonely cowboy making his way across the Great Plains, then the Cowboy Trail is for you. This 195-mile trail follows an old Chicago & Northwestern railway line as it traverses the northern part of the state.
You'll likely have the trail and the wide open skies all to yourself - the trail is lightly used. Small towns are located along the way, so you can restock on basic supplies or get a room for the night.
The trail is open to walkers, mountain bikers, and horseback riders. It's best to travel from west to east to ensure you have the prevailing winds at your back. Be sure to check the website for trail conditions before heading out.
Official site: https://bikecowboytrail.com/
12. The Archway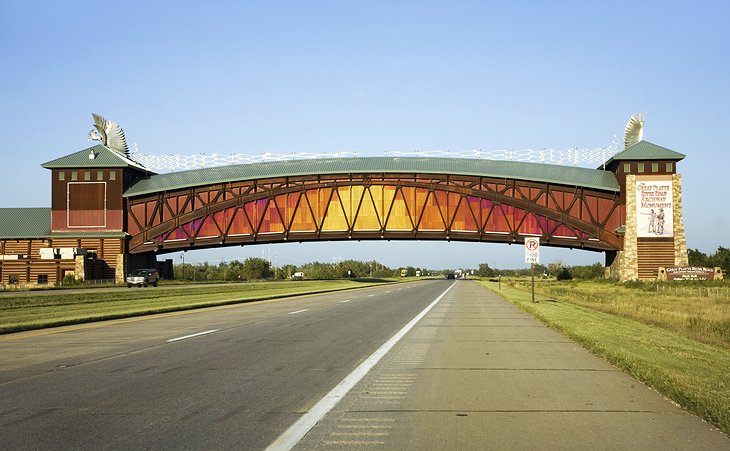 As you drive along Interstate 80 near Kearny, you'll soon see something stretching over the highway. This unique structure is appropriately called The Archway and is a museum dedicated to travelers who have passed this way before you.
You'll find interactive displays related to the local Native Americans, fur trappers, pioneers, and railroaders among many others. In addition to the displays in the Archway, you'll find a replica sod house, a fun TrailBlaze Maze for the kids, and a pleasant lake with picnic facilities.
A Nebraska Tourism office is also on site to help with trip planning throughout the state.
Location: Exit 275, I-80, Kearney, Nebraska
Official site: https://archway.org
13. Sandhill Crane Migration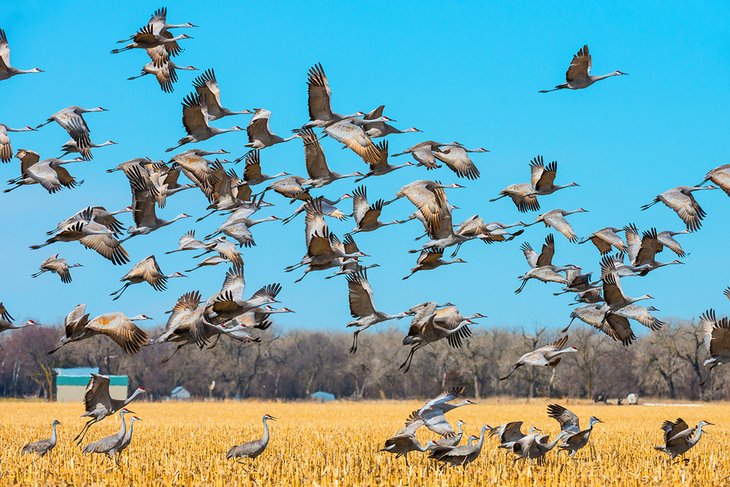 One of nature's most impressive avian migrations takes place in the plains of Nebraska. Each March and the first week or so of April, thousands and thousands of sandhill cranes stop in the cornfields for a bit of rest and to gorge themselves on leftover corn kernels. The best place to see this spectacle is in the area east and west of Kearney.
As you drive along Interstate 80, keep a close eye out for tall, gangly birds standing in farmers' fields, or circling above looking for places to land. They won't be hard to spot, the number of birds is astounding.
It's worth taking a detour in Kearney and getting the local map showing the most ideal viewing locations. The town and local area has done a good job of providing lookout platforms and highway pull-offs for visitors. For a more in-depth experience, head to the Iain Nicolson Audubon Center at Rowe Sanctuary, approximately 20 minutes from Kearney.