12 Top-Rated Campgrounds in South Dakota
With scenic lakes, beautiful buttes, colorful woodlands, and swaying prairies, South Dakota provides plenty of landscapes to explore. Many beautiful South Dakota campgrounds are also in abundance throughout the state. Choosing between places to camp in a state park, national park, forest, or private campground in South Dakota depends on the experience you're seeking.
For an RV adventure, electric campgrounds like Horse Thief Lake Campground and RV Resort can get you fully plugged into the Black Hills. For a more primitive tent-camping experience, the Sage Creek Campground in Badlands National Park has you setting up camp near the native bison herd.
Whatever adventure you're looking for, from the rolling prairies in the east to the mountainous west, find a great place to sleep after a full day's adventure with our list of the best campgrounds in South Dakota.
Note: Some businesses may be temporarily closed due to recent global health and safety issues.
1. Sylvan Lake Campground, Custer State Park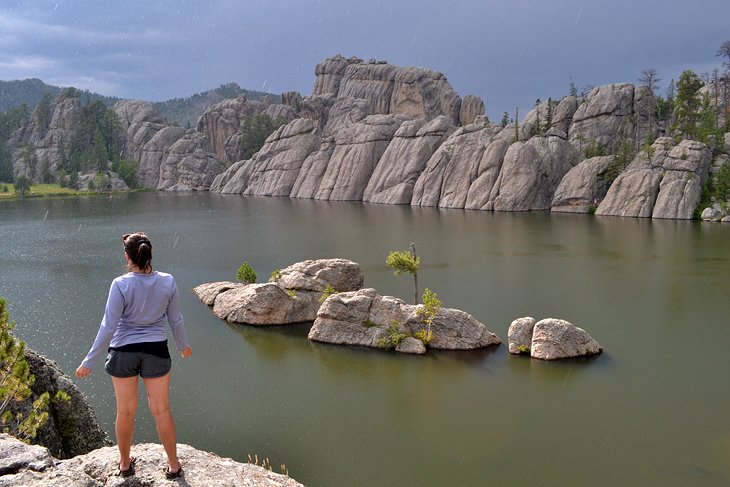 As one of the largest state parks in the country and one of the best state parks in South Dakota, Custer State Park has a wide array of overnight options to choose from. One of the most popular and sought-after camping spots in Custer is on the north end of the park in the Sylvan Lake Campground.
The campground is located near the shores of Sylvan Lake, also known as the "Crown Jewel" of Custer State Park.
Alongside the lake, the campground is also has close to the Sylvan Lake Lodge, which features a restaurant, cafeteria, and gift store. The campground has access to flushing toilets and showers. Thirty-nine sites are available at Sylvan Lake Campground and are only suitable for tent camping or small recreation vehicles less than 27 feet.
The campground operates between the middle of May and the end of September, and reservations can be made a year in advance.
Address: 13329 U.S. 16A, Custer, South Dakota
Official Site: https://gfp.sd.gov/parks/detail/custer-state-park/
2. Sage Creek Campground, Badlands National Park
Editor's Choice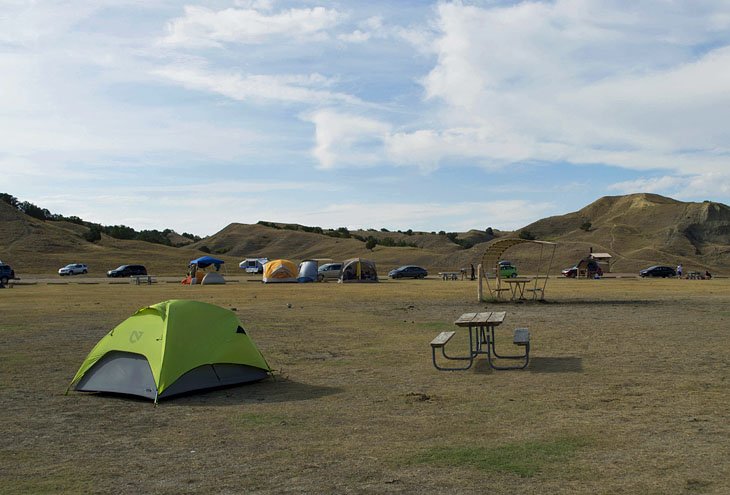 While there are plenty of great campgrounds in Badlands National Park to choose from, the best overnight experience is found at the Sage Creek Campground on the west side of the park's North Unit.
The Sage Creek Campground resembles a cul-de-sac, with the primitive camping island encircled by the road and parking area. This is best suited for tent camping and small camper units, as the unpaved Sage Creek Rim Road is difficult for larger recreation vehicles to navigate.
Camping is free at Sage Creek. Very few amenities besides a small number of semi-covered picnic tables and vault toilets are at the campground. That means campers looking to spend the night at Sage Creek need to pack in everything they need, including water, and are welcome to pitch a tent anywhere in the large space available. That also means it's important for campers to pack out everything they bring, including garbage.
Sage Creek is also a popular place for the park's resident bison to roam. These beautiful creatures add to the stark and eye-catching surroundings of the campground. No one should ever approach a bison, and it's highly advised to give these wild animals their space.
Official Site: https://www.nps.gov/badl/index.htm
3. Spearfish City Campground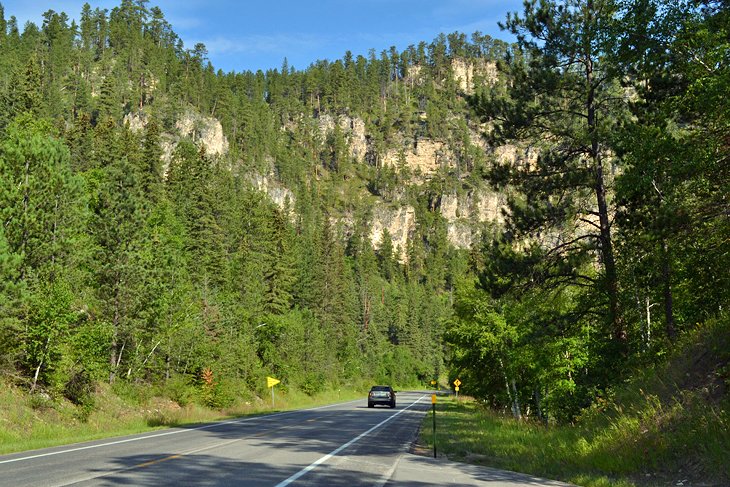 The city of Spearfish is just north of the Black Hills National Forest and home to Black Hills State University. The city is a laid-back, outdoor oriented town full of adventurous people. With a culturally aware community and abundant natural space surrounding the city, including the always impressive Spearfish Canyon Scenic Byway, the best way to experience all that Spearfish has to offer is to hunker down at the Spearfish City Campground.
Located within walking distance of downtown Spearfish, the Spearfish City Campground also lends access to Spearfish City Park and the bordering Spearfish Creek. This city waterway is noted to have some of the best trout fishing in the state.
The campground itself contains 61 electric sites that can be reserved, and more than 100 primitive campsites on a first-come, first-served basis for tent camping. All overnight users share restroom and shower facilities and quick access to either the city or the great outdoors.
Address: 404 S Canyon Street, Spearfish, South Dakota
4. Pactola Campground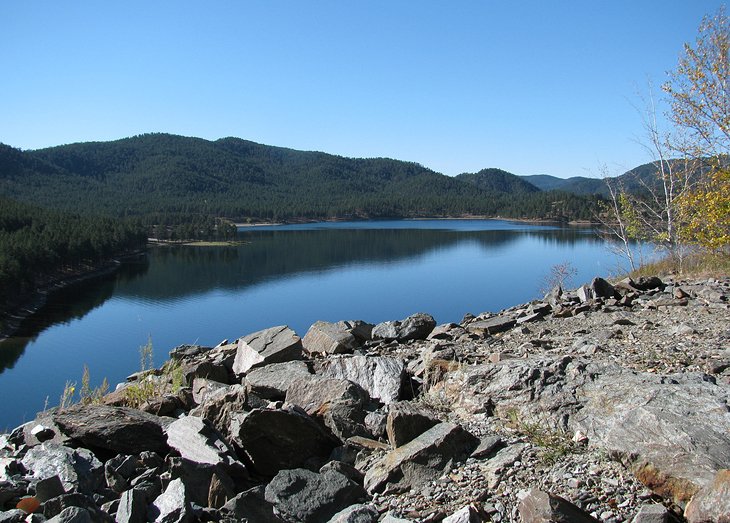 Owned and operated by the U.S. Forest Service, the Pactola Campground sits alongside the shores of the massive Pactola Lake within the Black Hills National Forest. With 14 miles of shoreline to explore, it is the largest reservoir in the Black Hills.
Water and land activities are abundant at the Pactola Campground and surrounding reservoir complex, with popular activities including boating, scuba diving, and hiking the two-mile Osprey Trail.
Not far from the shores, the campground also lends access to many nearby Black Hills attractions — it's within quick driving distance of iconic spots like Mount Rushmore, the Crazy Horse Memorial, and Custer State Park. This proximity to everything bolsters Pactola's status as one of the best campgrounds near Mount Rushmore.
With their prime location and many things to do nearby, the 80 plus non-electric sites of Pactola Campground tend to fill up quickly during the summer. The sites can accommodate vehicles up to 35 feet in length. All overnight users and day visitors have access to vault toilets and potable water, as well as a full-service marina, where you can rent boats, grab a bite to eat, or simply enjoy the water set against the Black Hills.
Location: Rapid City, South Dakota
Official site: https://www.fs.usda.gov/recarea/blackhills/recreation/camping-cabins/recarea/?recid=26129&actid=29
5. Gavin's Point Campground, Lewis and Clark Recreation Area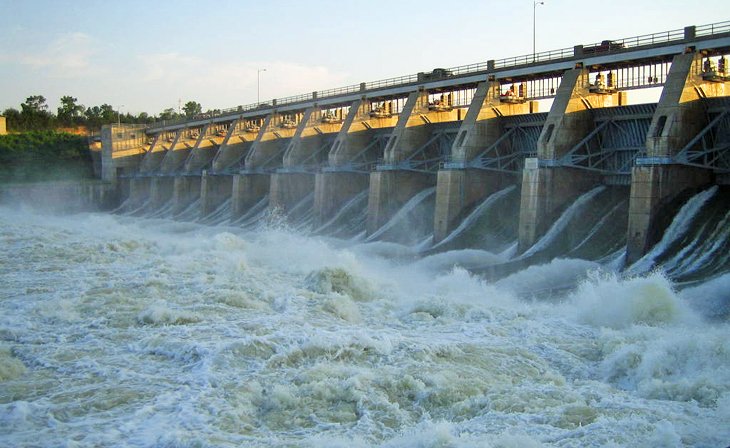 Separating the states of South Dakota and Nebraska, the impoundment of the Missouri River, known as Lewis and Clark Lake, is a popular spot for people all over the Midwest to enjoy.
Comprised of three different campground areas and more than 400 sites, the Lewis and Clark Recreation Area is also a popular place to spend the night. While there are no bad camping spots at this recreation area, the Gavin's Point section on the area's west end is worth noting.
Comprising nearly 90 RV sites and 10 cabins, Gavin's Point Campground also features running-water restroom facilities, playgrounds, and a bike path that spans the scenic area.
The biggest draw is the Gavin's Point Dam, which holds back the entire Missouri River to create this massive reservoir and recreation area. The campground is open year-round, though water facilities like restrooms and showers may be limited between October and April.
Address: 43349 SD-52, Yankton, South Dakota
Official site: https://gfp.sd.gov/state-parks/directory/lewis-and-clark/
6. Horse Thief Campground and RV Resort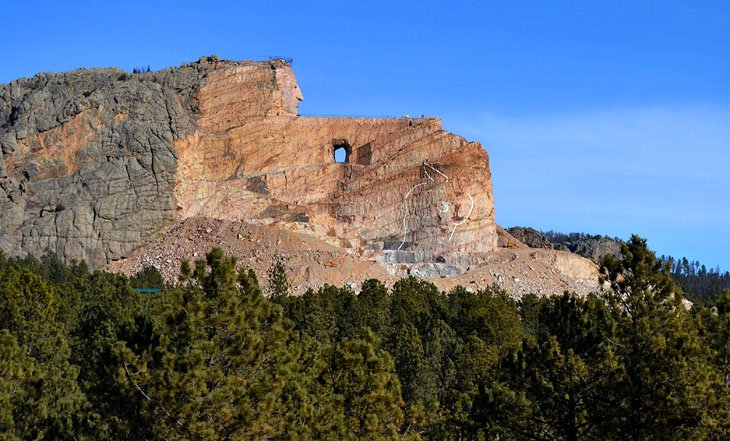 Nestled between Mount Rushmore and the Crazy Horse Memorial, the Horse Thief Campground and RV Resort provides plenty of overnight options to enjoy camping in the Black Hills.
Ranging from non-electric tent sites to fully furnished cottages, including a plethora of RV sites, the privately-owned Horse Thief Campground also delivers on a prime location. With proximity to other Black Hills' best attractions, including Custer State Park and Jewel Cave National Monument, Horse Thief Lake Campground is the perfect home base for exploring.
A tiled bathhouse is available for anyone staying at the Horse Thief Campground. Campers also have access to wireless internet and a small store that sells snacks, firewood, and ice. The campground is a popular family camping destination, and is family-owned itself. The sleeping cabins at Horse Thief Campground sleep three, five, or eight people.
Address: 24391 SD-87, Hill City, South Dakota
Official site: http://www.horsethief.com/
7. Lake Vermillion Recreation Area Campgrounds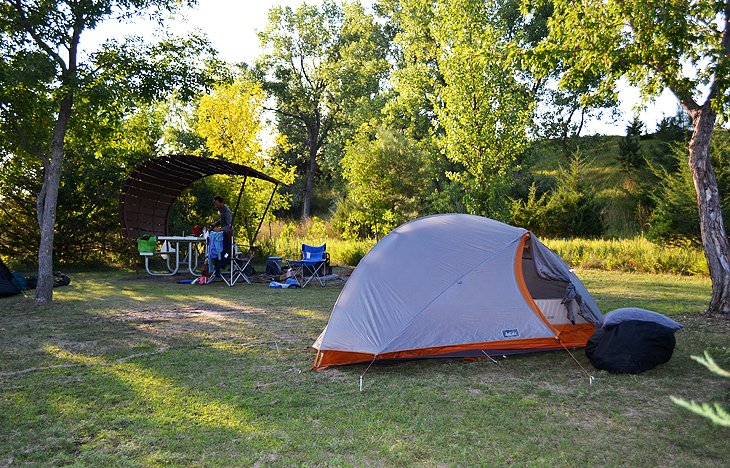 Comprised of more than 500 acres of water, Lake Vermillion in eastern South Dakota is popular for fishing, boating, and swimming in the summer. With 94 electric campsites spread between three different campgrounds, Lake Vermillion Recreation Area is also a popular place to spend the night.
Visitors to Lake Vermillion are encouraged to bring their own vessel and use the boat ramp to access the water, and those without watercraft can rent canoes, kayaks, and paddleboards from a concessionaire.
All campsites at Lake Vermillion can accommodate any camping unit, and each campground contains a restroom and shower facility. For perhaps the best outlook, the camping cabins in the West Campground offer waterfront views from their front porches.
The only designated hiking trail in the recreation area, the Otter Stream Trail, is a scenic 1.25-mile hike that's easy for the whole family to enjoy.
Address: 26140 451st Avenue, Canistota, South Dakota
Official Site: https://gfp.sd.gov/parks/detail/lake-vermillion-recreation-area/
8. Blue Bell Campground, Custer State Park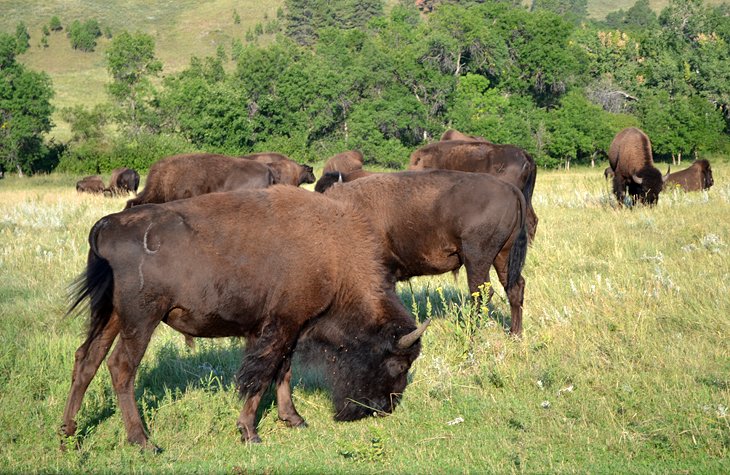 With nine different campgrounds throughout the 71,000 acres of Custer State Park, it can be hard to decide where to stay at if you only have a few nights. While all the campgrounds in Custer could top the list, the key is not choosing where to stay, but what you want to do with your visit.
If wildlife spotting is high on your list, the Blue Bell Campground is a great choice, as it lends quick access to the 18-mile Wildlife Loop Road at the southern end of the park.
Featuring 31 campsites for tents or RVs, as well as 23 camping cabins, the Blue Bell Campground is situated among a tranquil pinewood setting. The campground comes complete with shared restroom facilities that include warm showers.
All overnight options at Blue Bell Campground make it easy to get an early morning start on the Wilderness Loop Road, which is the best time to see the native bison, bighorn sheep, and prairie dogs.
Address: 13329 U.S. 16A, Custer, South Dakota
Official Site: https://gfp.sd.gov/parks/detail/custer-state-park/
9. Roubaix Lake Campground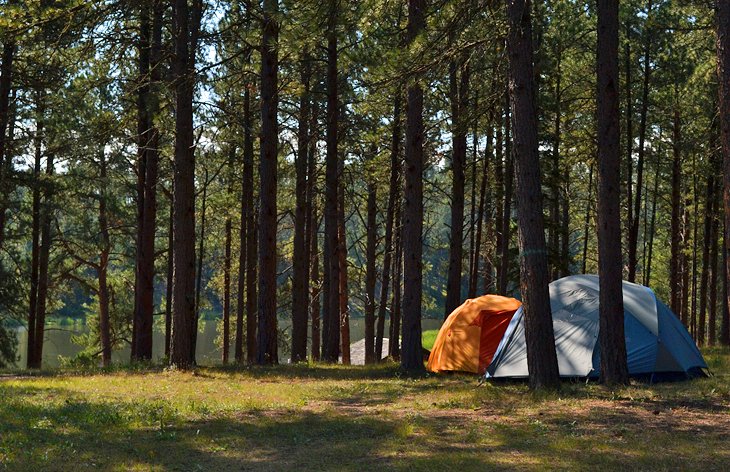 Located in the heart of the Black Hills National Forest, approximately 13 miles south of the Wild West city of Deadwood, Roubaix Lake Campground is operated by the U.S. Forest Service and offers 56 sites to choose from.
Featuring one of the best swimming and fishing holes found in the Black Hills, the four loops of the Roubaix Lake Campground tend to fill up quickly during the summer. Other popular activities at Roubaix Lake include non-motorized boating, hiking, and exploring the vast Black Hills National Forest that surrounds the campgrounds.
Fresh drinking water is available at Roubaix Lake, and all campers and visitors share communal vault toilets. All sites at the campground are nonelectric, and range in capacity from tent-only to RV-capable. Reservations for campsites can be made six months ahead of time.
The Roubaix Lake Campground is at an elevation of 5,500 feet, which means summer temperatures rarely reach uncomfortably warm. The campground operates between mid-May and early September.
Location: Deadwood, South Dakota
Official site: https://www.recreation.gov/camping/roubaix-lake/r/campgroundDetails.do?contractCode=NRSO&parkId=70756
10. Palisades State Park Campground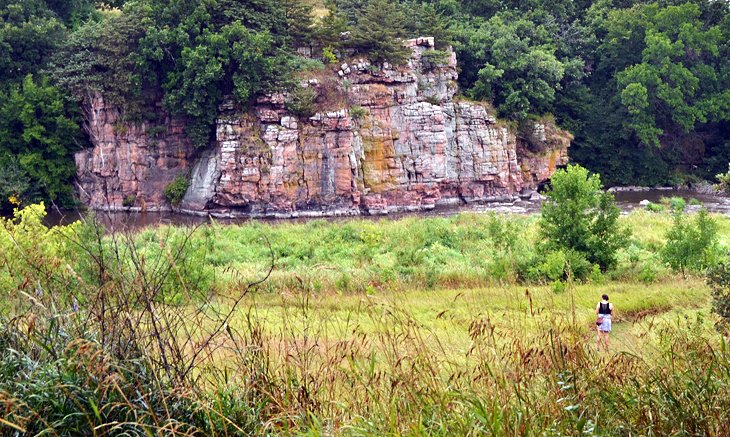 Defined by the towering pink Sioux Quartzite jutting along the shores of Split Rock Creek, Palisades State Park provides a unique environment to explore in eastern South Dakota. Visitors to Palisades State Park enjoy hiking the creekside trails that expose the rocky environment, and for those with the right gear and experience, participating in some of the best rock climbing in the state.
For those looking to spend the night, Palisades offers 37 campsites split between non-electric and electric and ranging from tent-only to RV-accessible.
All campsites, as well as the six cabins available to rent, have communal access to flushing toilets and running water. The real appeal of the campground is its proximity to the state park's many natural attractions. Campers at Palisades State Park can reach the creek with a short walk, and spend the whole day exploring not far from their tent or RV.
Address: 25495 485th Avenue, Garretson, South Dakota
Official site: https://gfp.sd.gov/parks/detail/palisades-state-park/
11. Lake Park Campground & Cottages
Located four miles southwest of Rapid City, and serving as a gateway into the Black Hills National Forest, the Lake Park Campground and Cottages offer every level of camping experience you could ask for, whether it's a tent site or place to park an RV. Every overnight space at the campground features access to fresh drinking water and full-service restroom facilities.
Lake Park also features fantastic cottages ranging from studios to deluxe two-bedrooms.
Wherever you stay at Lake Park, overnight users are encouraged to partake in one of the campground's many on-location activities. These include exploring the seven-mile bike path, fishing in Rapid Creek, or renting a non-motorized boat to enjoy the adjoining Canyon Lake.
The campground is four miles from downtown Rapid City, where several restaurants and grocery stores are available to restock camping supplies.
Address: 2850 Chapel Lane, Rapid City, South Dakota
Official site: http://www.lakeparkcampground.com/
12. Big Sioux Recreation Area Campground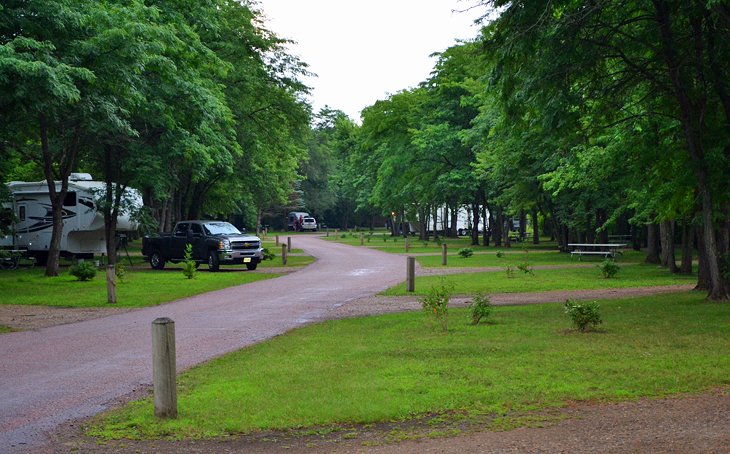 Located 10 miles east of Sioux Falls on the banks of the Big Sioux River, the Big Sioux Recreation Area gives residents of South Dakota's biggest city a quick outlet for adventure.
The recreation area features an 18-hole disc golf course, five miles of woodland trails, and an environment unique to southeastern South Dakota. Big Sioux Recreation Area also lends easy access to the Big Sioux River, including the Jay Heath Canoe & Kayak Trail.
The majority of the 50 campsites in the Big Sioux Campground can accommodate RVs, with 50-amp service, while a few campsites are designated as non-electric and tent-only. All campsites have access to potable-water spigots and share a comfort station complete with flushing toilets and warm showers.
Individual campsites are closed from October to May, though the camper cabins at the campground are open throughout the winter.
Address: 410 W Park Street, Brandon, South Dakota
Official site: https://gfp.sd.gov/parks/detail/big-sioux-recreation-area/
More Related Articles on PlanetWare.com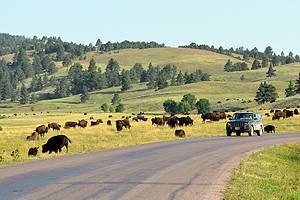 More Places to Visit in South Dakota: Where you want to stay in South Dakota really depends on what you want to do. For a look at the culture of South Dakota, the state's largest city, Sioux Falls, offers a charming downtown neighborhood and a namesake water feature. In the enchanting Black Hills of South Dakota, the city of Custer makes a great home base for adventure. Likewise, the Wild West town of Deadwood offers an authentic Black Hills experience.