10 Top-Rated Tourist Attractions in Custer, South Dakota
We may earn a commission from affiliate links ()
The small town of Custer makes a great base for exploring the surrounding Black Hills National Forest. This postcard forestland holds some of the state's best attractions and things to do. From giant memorials carved in mountainsides to some of the largest underground labyrinths known to humans, Custer offers unforgettable adventures. The city is also a main access point for Custer State Park - the largest state park in South Dakota.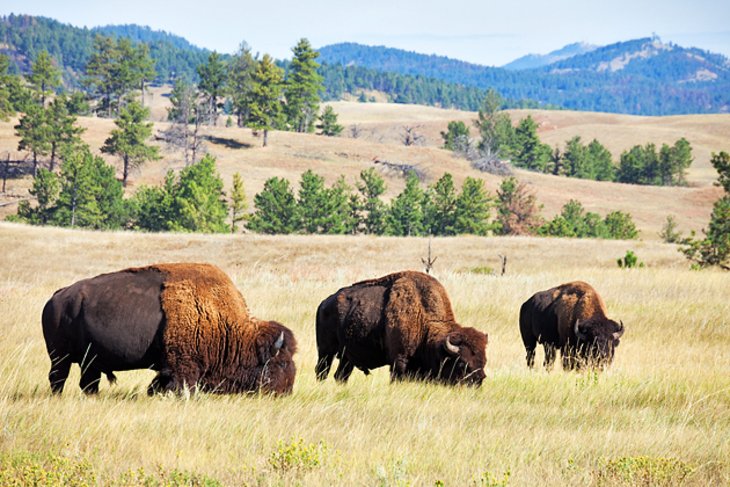 One of the Black Hills' most notable attractions, Mount Rushmore is less than a 30-minute drive from Custer. Visitors don't have to drive that far, however, for entertaining things to do within the city. Less well-known are the 1881 Courthouse Museum and the Four Mile Old West Town. And with several hotels and campgrounds to host summer visitors, Custer makes for a great place to visit after adventuring in the surrounding area.
Need more sightseeing ideas? Learn about the best places to visit with our list of the top attractions in Custer, South Dakota.
Note: Some businesses may be temporarily closed due to recent global health and safety issues.
1. Custer State Park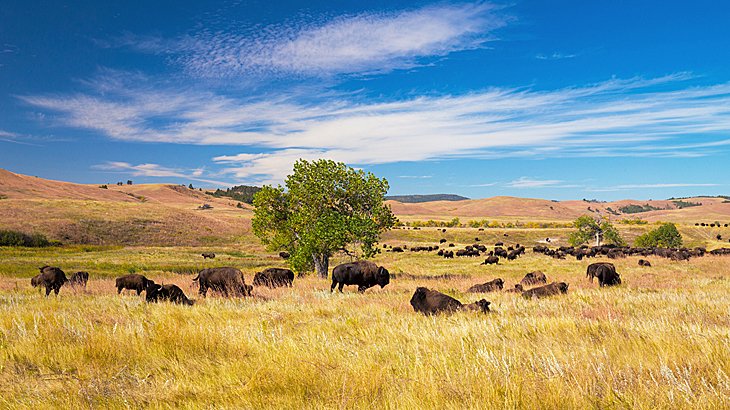 Custer State Park, located north of Wind Cave National Park, is richly stocked with wild game. An early morning or late afternoon drive on the Wildlife Loop Road is a rewarding experience. The highlight of the wildlife viewing is the free-roaming bison herd that numbers about 1,300.
Needles Highway, Wildlife Loop, and Iron Mountain Road traverse the area, allowing for scenic drives. The Needles Highway is famous thanks to its corkscrew design and inspiring views of the Black Hills.
Mountain streams and man-made lakes provide fishing, swimming, and boating opportunities. Sylvan Lake in Custer State Park is surrounded by huge rock formations that rise from the water's edge. Many of the park's campgrounds, including Sylvan Lake Campground, rank high as some of the best campgrounds in South Dakota.
Black Elk Peak, formerly Harney Peak, is another one of the park's impressive features. This 7,244-foot mountain is the tallest peak in South Dakota and a popular day trip that starts from within the park.
Official site: https://gfp.sd.gov/parks/detail/custer-state-park/
Accommodation: Where to Stay in Custer
2. Crazy Horse Memorial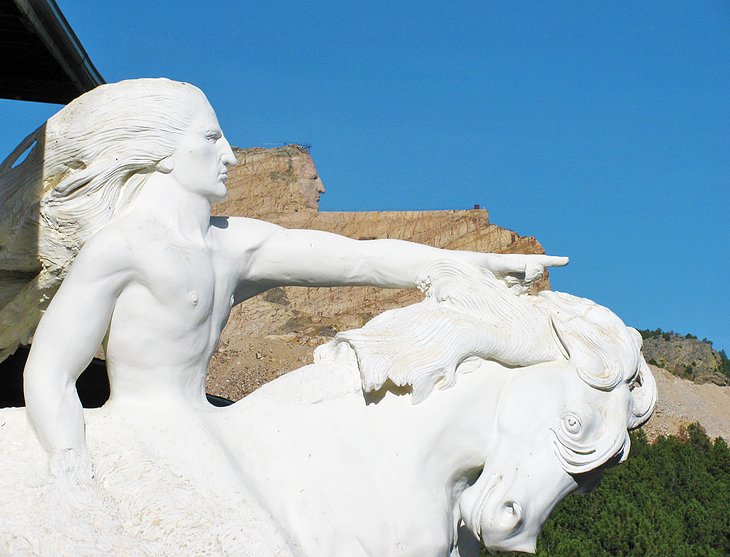 A few miles north of Custer is the Crazy Horse Memorial, a Mount-Rushmore-style mountain carving. The initiative for this other gigantic, 606-foot piece of rock sculpture came from a Lakota chief named Standing Bear, who sought to remind the world that the Indians, too, had produced great heroes like Crazy Horse, the real victor in the battle on the Little Bighorn River.
Work on the monument was begun in 1947 by Korczak Ziolkowski (1908-82), a sculptor of Polish origin, and continued after his death by members of his family. It is still not completed, but as the head and upper body are finished, the memorial was officially dedicated in 1998.
Visitors to Crazy Horse enjoy the view of the memorial from a sweeping outdoor veranda. Also on campus are three museums included with the cost of admission to the memorial, including the Indian Museum of North America. Several other visitor resources like a Cultural Center and a Wall-of-Windows add to a full-day experience at Crazy Horse.
Address: 12151 Avenue of the Chiefs, Crazy Horse, South Dakota
Official site: https://crazyhorsememorial.org/
3. Jewel Cave National Monument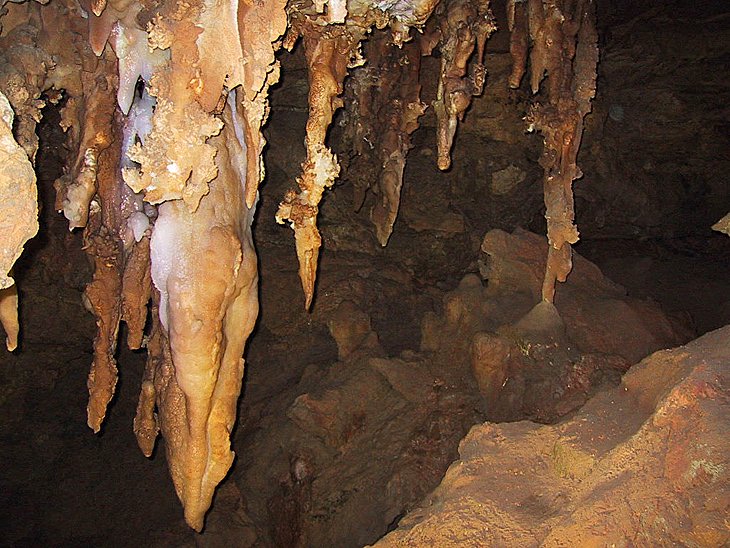 Just 13 miles west of Custer is Jewel Cave National Monument, a karstic cave in which crystals sparkle like jewels. Currently with more than 195 miles of mapped passages, Jewel Cave is one of the longest cave systems in the world. It features sparkling calcite crystals, delicate strands of gypsum, and other cave formations. The large rooms are strewn with boulders, tight crawl spaces, and dark fissures leading into the unknown.
The only way to explore underground at Jewel Cave is on a regularly scheduled tour led by a park ranger. Guided tours range from 20-minute Discovery Talks to all-day Wild Cave Tours. The most popular option, the 80-minute Scenic Tour, features concrete floors with a moderate number of steps.
Address: 11149 US-16 B-12, Custer, South Dakota
Official site: http://www.nps.gov/jeca/index.htm
4. Needles Highway Scenic Drive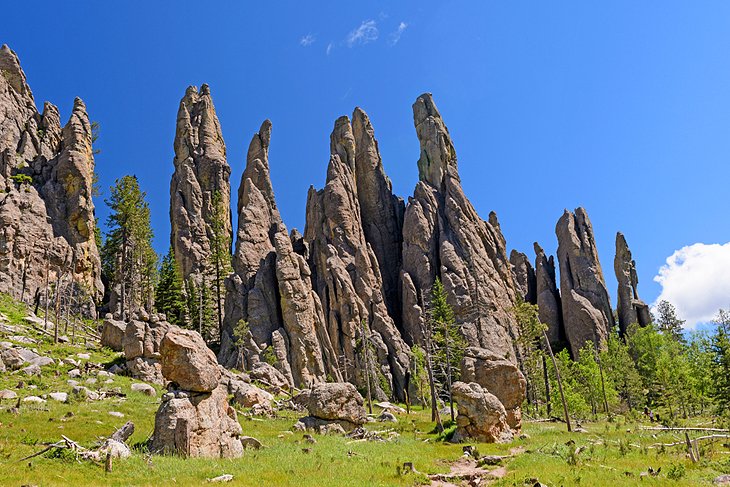 Running through Custer State Park, the Needles Highway is a magnificent scenic mountain road (SR 87). Easily accessed from Custer, it winds its way through the imposing landscapes of the central Black Hills. Along the 14-mile stretch of curving road, visitors pass by magnificent rock pinnacles and granite spires, such as the iconic Needle's Eye.
The road also comprises tunnels, narrow shoulders, and corkscrew construction. As a great introduction to Custer State Park, a prominent stop along the Needle's Highway is the almost fairy-tale-like Sylvan Lake.
The highway is part of the larger Peter Norbeck National Scenic Byway, which also includes other inspiring drives on Iron Mountain Road and Wildlife Loop State Scenic Byway.
5. Mount Rushmore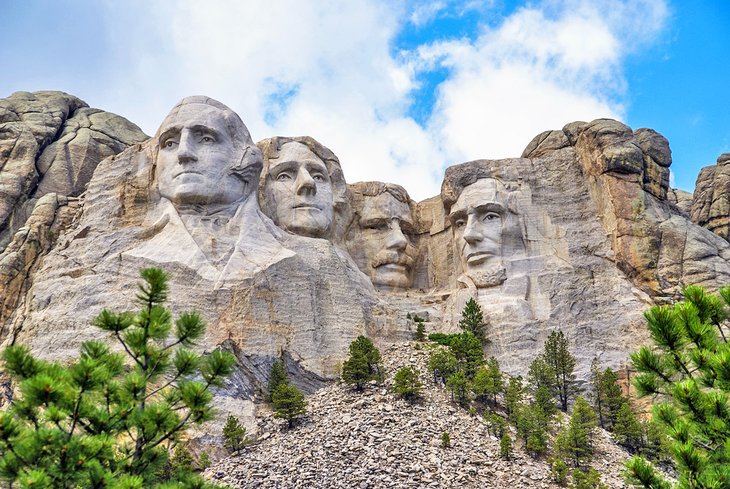 Mount Rushmore is often the first thing that attracts vacationers to the Black Hills near Custer. This inspiring mountain memorial has brought tourists to the area since its completion in 1927.
The Grand View Terrace at the memorial delivers exactly what it was named for. Visitors can get a closer look at the carvings on the 0.6-mile Presidential Trail that departs from the terrace.
For extra insight on the memorial and constructors, the on-site Lincoln Borglum Visitor Center and Sculptor's Studio are free to visit with the price of admission to the memorial.
It might be Mount Rushmore that brings tourists to the Black Hills, but it's so much more that keeps visitors coming back year after year. The immediate area surrounding Mount Rushmore features lush woodland lakes and tall craggy peaks.
For places to pitch a tent and explore the surrounding forest, check out our best campgrounds near Mount Rushmore article.
6. 1881 Courthouse Museum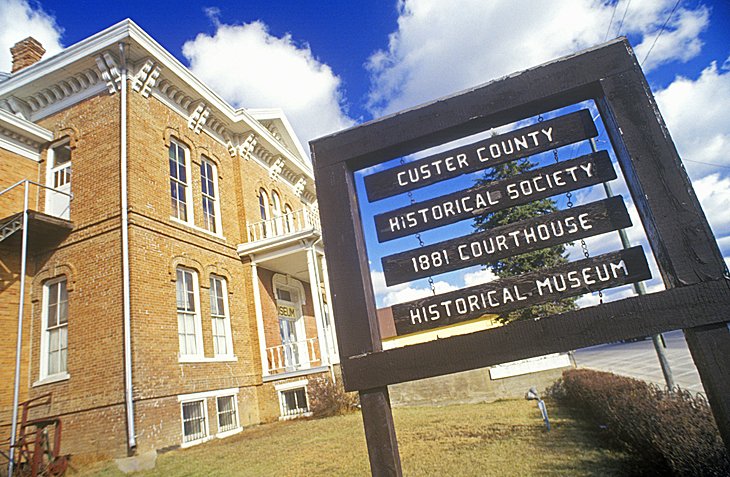 Located in the center of the city and operating as a museum since 1976, this historical institution is a repository of Southern Black Hills history. Operated by the Custer County Historical Society, this once-functioning courthouse displays a wide range of exhibits replicating life in the Custer area for the last 150 years and beyond.
An original jail cell, a one-room schoolhouse, and a Carriage House complete with antique cars can be found within the building and on the grounds. Guided tours are available, and visitors are encouraged to explore the different rooms on their own.
The museum hosts regular events throughout the year. The Old Country Fair is a cherished tradition that takes place over the 4th of July holiday at the museum. Other summer events include car shows, archery competitions, and a Gold Discovery Days carnival.
Address: 411 Mt Rushmore Road, Custer, South Dakota
Official site: http://www.1881courthousemuseum.com/
7. Sylvan Lake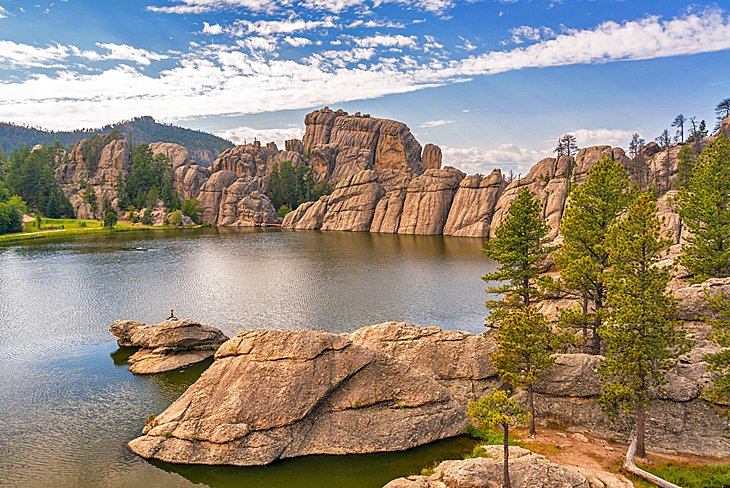 A 15-minute drive from Custer, and accessed along the Needles Highway, Sylvan Lake is the Crown Jewel of Custer State Park. Surrounded by immense rock formations, this lake provides a picturesque landscape and an abundance of hiking, swimming, and boating opportunities.
The Sunday Gulch Trail is a popular hike at Sylvan Lake, and for those looking to try Black Elk Peak (formally known as Harney Peak), the lake is a good place to start, too. Fishing is allowed in Sylvan Lake with a valid South Dakota fishing license. Near the lake, the Sylvan Lake Lodge provides a comfortable overnight stay, as does the tent-only Sylvan Lake Campground.
8. Wind Cave National Park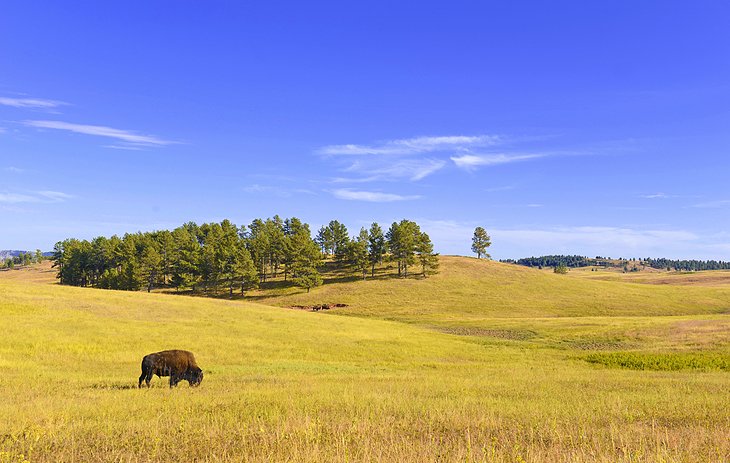 Twenty minutes south of Custer, Wind Cave National Park is another underground adventure full of eye-catching formations. Above ground at Wind Cave National Park is a quiet Black Hills prairie environment, but beneath the soil is one of the nation's most complex cave systems.
Named after the barometric pressure change at the small opening of this massive cave, Wind Cave displays a dense collection of Boxwork formations, which can be found few other places in the world.
Guided tours are offered nearly every day of the year and are the only way to see the cave. Tours vary in length in which rooms of the cave they explore. Typical tours last around 60 minutes and include concrete illuminated walkways and a moderate number of stairs.
Official site: https://www.nps.gov/wica/index.htm
9. Wildlife Loop Road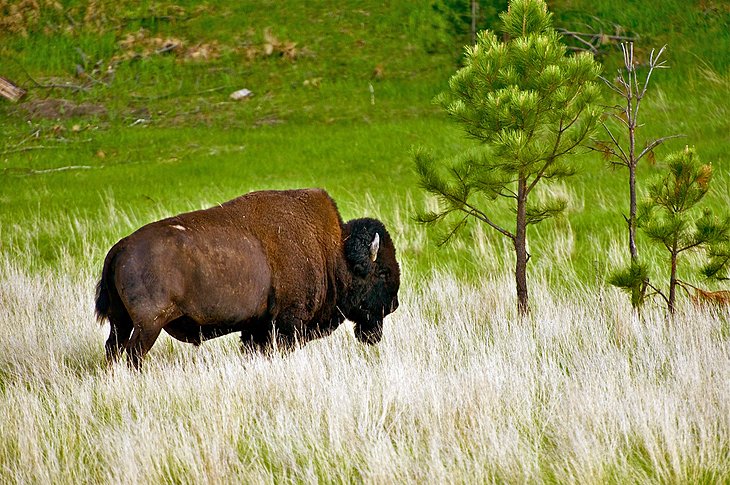 Easily accessed from Custer, the 18-mile Wildlife Loop Road in the southwest region of Custer State Park is a near guarantee to see some wildlife. In addition to the many opportunities to see bighorn sheep, antelope, and prairie dogs, the park's resident bison frequently make an appearance.
This scenic byway also displays a range of Black Hills landscapes that are worth the drive alone. Hiking opportunities can be found next to parking areas along the drive, and guided tours are available through the state park. The best time to see bison and other wildlife is early morning or around dusk.
10. Four Mile Old West Town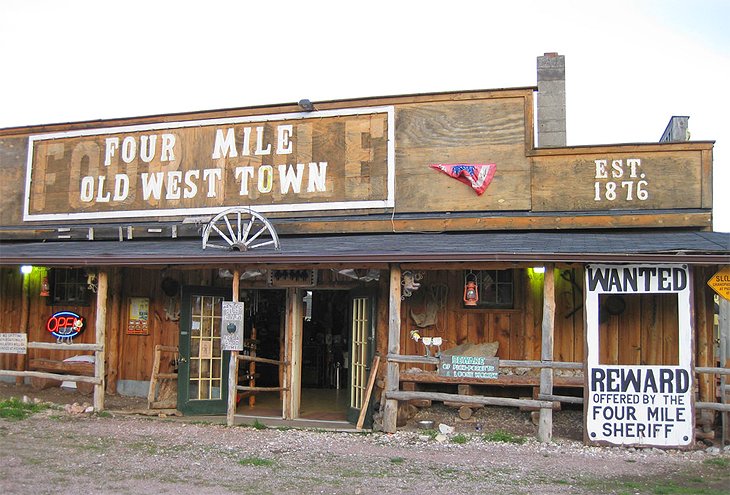 Accessed via Mt. Rushmore Road, Four Mile Old West Town is a living-history museum with numerous structures to explore. Stepping back in time to the days of the Black Hills Gold Rush and beyond, this roadside attraction can be a quick stop or full afternoon thing to do.
Admission to Four Mile comes with a recorded self-guided tour detailing the history of the town. Strewn throughout the historic buildings, hundreds of artifacts can be admired, making it easier to imagine what life was like in the Black Hills prior to the 20th century.
Address: 11921 US-16, Custer, South Dakota