6 Best Campgrounds in Badlands National Park, SD
We may earn a commission from affiliate links ()
Located one hour east of the Black Hills National Forest, Badlands National Park in South Dakota provides a jaw-dropping geological display you can drive through. Featuring big buttes, colorful spires, and plenty of overlooks, Badlands National Park stands brightly among its prairie surroundings.
To experience as much of this rugged environment as you can, it's recommended to stay more than a few nights at any one of the nearby campgrounds in Badlands National Park.
Whether you want to feel the solitude at the Sage Creek Campground or enjoy the swimming pool of the Badlands/White River KOA, you can experience for yourself the wonders of camping in South Dakota with our list of the top campgrounds in Badlands National Park.
Note: Some businesses may be temporarily closed due to recent global health and safety issues.
1. Cedar Pass Campground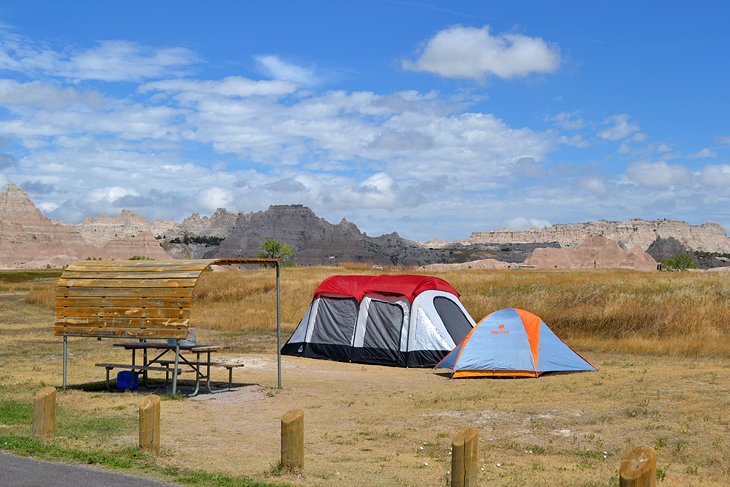 Cedar Pass Campground and Sage Creek Campground are the two campgrounds in the Badlands operated by the National Park Service.
While Sage Creek is primitive and quite the drive to get to, Cedar Pass Campground has more amenities and provides easier access to the parks many features. From all 96 campsites at the Cedar Pass Campground, Badlands buttes and spires are on full display.
Alongside the great views from the campground, Cedar Pass is near the Ben Reifel Visitor Center and the eastern edge of the Badlands Loop State Scenic Highway.
Accommodating both tent campers and RV drivers, the Cedar Pass Campground features pay showers, flushing toilets, shaded picnic tables, and potable water. Within walking distance of the campground, the Cedar Pass Lodge and Restaurant welcomes all visitors, and can provide a hot meal, extra camping supplies, and some handmade memorabilia.
The Cedar Pass Campground is open seasonally, with only the four group sites available during the winter off-season. No matter what time of year you visit, the sunset over the neighboring Badlands formations is breathtaking.
Many other attractions of the park are within a short driving distance of Cedar Pass Campground. With less than a 10-minute drive, campers at Cedar Pass can reach iconic trailheads like the Notch, Window, and Castle Trails.
Official site: https://www.nps.gov/badl/planyourvisit/camping.htm
2. Sage Creek Campground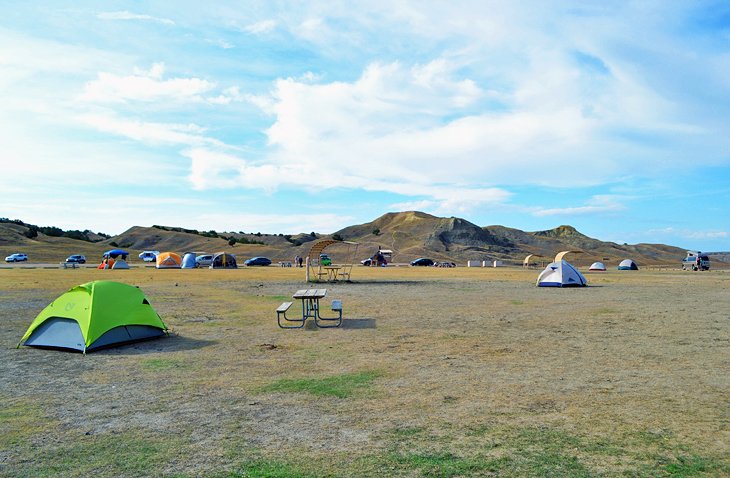 On the west side of Badlands National Park's North Unit, the Sage Creek Campground is a primitive campground that is free to use and can provide the most authentic Badlands camping experience. Not only are the park's resident bison likely to stop by the campground, but without any nearby amenities, it's easy to get a true sense of the rugged environment that defines the area.
With the vibrant beauty and communal aspect of the primitive camping, the Sage Creek Campground is not only the best camping option in the Badlands, it is one of the best campgrounds in South Dakota.
Overnight visitors to Sage Creek will need to pack in potable water, food, and camping equipment. The campground is only equipped with vault toilets, a few shaded picnic tables, and plenty of space to pitch a tent.
Best suited for tent camping and small camper units, the Sage Creek Campground offers plenty of outlets for hiking, exploring, and appreciating the wide-open Badlands environment.
Sage Creek is located off Sage Creek Road, a dirt road that prohibits motor homes and larger camper vehicles from accessing the campground. The park service will temporarily close the road after wet weather.
As of 2020, the park service is reconsidering management systems for the Sage Creek Campground due to overcrowding. It's important to pack out everything you bring into the campground.
Official site: https://www.nps.gov/badl/planyourvisit/camping.htm
3. Badlands Interior Motel and Campground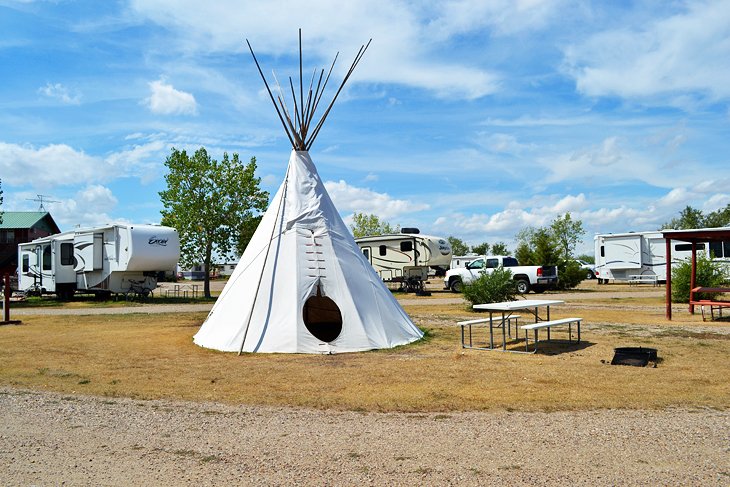 Found one mile outside the southern Interior Entrance of Badlands National Park, the Badlands Interior Motel and Campground offers a convenient place to stay right outside the entrance gates. The campground features tent sites, RV pull-through parking spots, camping cabins, and a 22-unit motel. Badlands Interior also features established teepees.
All guests at the Badlands Interior Motel and Campground have access to the restaurant, store, swimming pool, and full-service restroom facilities. While all the overnight options at the Badlands Interior Motel come with a great view, the tent sites are located on the outer edge of the campground, offering more expansive views of the jagged horizon in the distance.
The nearby small town of Interior offers basic amenities, like camping supplies and a couple of restaurants.
Address: 900 SD-377, Interior, South Dakota
Official site: http://www.badlandsinteriorcampground.com/
4. Badlands/White River KOA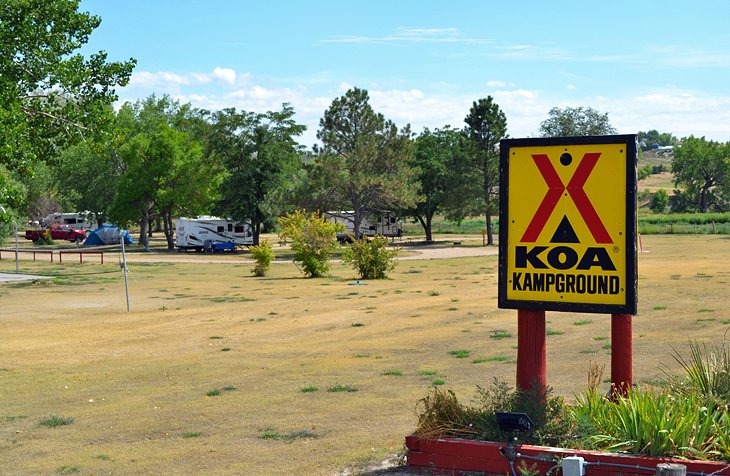 Filled with activities, amenities, and plenty of shaded camping spots, the Badlands/White River KOA is the perfect home base for exploring the rugged Badlands environment. Visitor favorites at the Badlands KOA include nature walks, mini-golf, and taking a dip in the pool during the hot summer days. The Badlands/White River KOA can even do the cooking for you, with full-time cooks in the kitchen from Memorial Day through Labor Day Weekend.
With more than 100 sites available, ranging from non-electric tent sites to full-service RV hookups, all campers are welcome here. Overnight visitors share access to a restroom and laundry facilities, as well as a convenience store that sells camping goods.
Campers at the Badlands/White River KOA are less than a five-mile drive from the Interior Entrance of Badlands National Park, and just a short drive to the Ben Reifel Visitor Center from here.
Address: 20720 SD Highway 44, Interior, South Dakota
Official site: http://koa.com/campgrounds/badlands/
5. Sleepy Hollow Campground & RV Park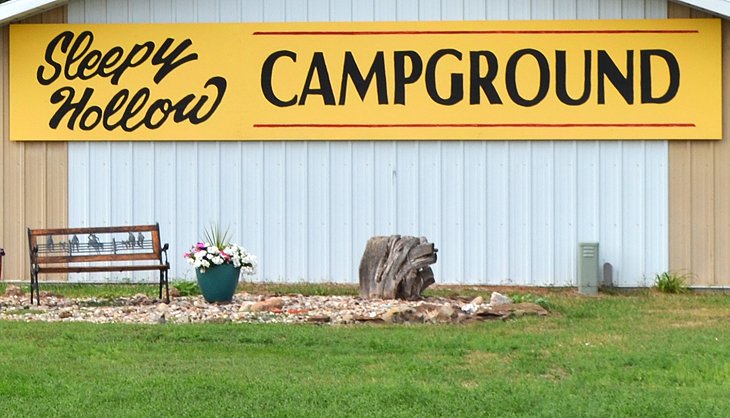 Located within the city of Wall next to the world-famous Wall Drug, Sleepy Hollow Campground & RV Park lends easy access to the area's top attractions. The campground also provides a plethora of comfortable overnight options. The park features a dedicated tenting area and nearly 60 pull-through sites for RVs. All overnight visitors to Sleepy Hollow share access to showers, laundry facilities, and the quiet surroundings.
In operation since 1931 and drawing millions of tourists to the area each year, the souvenir destination known as Wall Drug is a traditional roadside stop when traveling in this area. Other attractions near Sleepy Hollow Campground include the Wounded Knee Museum and the Minuteman Missile National Historic Site.
The Pinnacles Entrance to Badlands National Park is accessible from Sleepy Hollow in less than a 10-mile drive.
Address: 118 W 4th Avenue, Wall, South Dakota
Official site: https://www.sleepyhollowcampgroundsd.com/
6. Lake Park Campground & Cottages
Lake Park Campgrounds & Cottages is in Rapid City, one hour west of the Pinnacles Entrance of Badlands National Park. Depending on which direction you are traveling, this family-friendly campground is either the perfect end to a Badlands adventure, or just the beginning. Featuring tent sites and RV pull-through parking spots, Lake Park Campground also provides cozy cottages that range from studios to three-bedrooms.
Defining much of the campground and space, the adjacent Canyon Lake and Rapid Creek provide excellent trout fishing and scenic views. All overnight users at Lake Park Campground share access to flushing toilets, hot showers, and 24-hour laundry facilities. The campground also provides complimentary bike rentals, and the staff is always happy to point people in the right direction for some adventure.
Address: 2850 Chapel Ln, Rapid City, South Dakota
Official site: http://www.lakeparkcampground.com/
Hotels near Badlands National Park
Most of the overnight accommodations are in the neighboring town of Wall, located just north of the Pinnacles Entrance of the park. Including the few options found in the towns of Interior and Kadoka, almost all hotel options near Badlands National Park fall in the mid-range category, meaning you'll get a comfortable stay for a great price.
Hotels in Wall: All the hotels and inns in Wall can be found within blocks of each other, resulting in competitive prices no matter where you go. The Best Western Plains

Motel

on Glen Street provides clean and comfortable rooms, as well as free breakfast and access to the indoor and outdoor pools.

The Days Inn by Wyndham

Wall

is also a popular choice that provides affordable rates, spacious rooms, and quick access to the neighborhood restaurants.

A little farther south in town, America's Best Value

Inn

provides free parking, a comfortable cafeteria, and a large pool to help you cool off during the day.
Other Hotel Options: For other options outside the town of Wall, the Budget Host

Sundowner

in Kadoka, located 20 miles east of Badlands National Park's northeast entrance, can provide an enjoyable stay. In every spacious room, the hotel provides comfortable beds, air conditioning, and free high-speed internet.

In the town of Interior, the Badlands Interior Motel and

Campground

features 22 spacious motel rooms, in addition to its camping options, with access to a swimming pool, convenience store, and wide-open surroundings.
More Related Articles on PlanetWare.com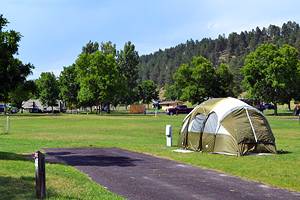 More Camping in South Dakota: For an addition to a Badlands National Park adventure, the Black Hills National Forest beckons nearby. The Black Hills are filled with stunning natural and man-made attractions, including Jewel Cave, Custer State Park, and Mount Rushmore. Our best campgrounds around Mount Rushmore article can help you find the perfect camping spot here. For a broader look at places to pitch a tent or park an RV in south Dakota, our guide to places to camp in South Dakota will have you roasting marshmallows over the fire in no time.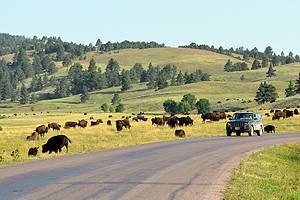 More Places to Visit in South Dakota: In addition to the Badlands and Black Hills, South Dakota is home to many other rich environments worth exploring. Our best state and national parks in South Dakota article can point you in the direction of some new places to add to your travel bucket list. If it's city life you are seeking for your next South Dakota vacation, see our articles on Deadwood and Sioux Falls. Both cities draw inspiration from their natural surroundings, and each one has unique lodging options, ranging from campgrounds to luxurious overnight stays.