13 Best Campgrounds near Mount Rushmore, SD
Author Brad Lane has visited Mount Rushmore on a few occasions and always camps nearby.
Mount Rushmore is South Dakota's most iconic attraction, sculpted to creation in 1941 and drawing more than three million visitors a year. It's not just the monument itself that earns such popularity or the unique history behind the stoic faces and those who carved them; it's the surrounding Black Hills National Forest that makes Mount Rushmore a fun place to visit.
Covering more than 1.2 million acres, Black Hills National Forest is widely regarded for its luscious woodlands, elevated scenery, and golden opportunities for adventure. With a plethora of natural spaces to explore, the Black Hills surrounding Mount Rushmore also provide plenty of campgrounds.
The U.S. Forest Service operates over 25 non-electric campgrounds near Mount Rushmore alone, including the coveted Horsethief Lake Campground, which is the closest campground to Mount Rushmore. Where applicable, reservations for these forest service campgrounds are recommended throughout the summer months.
Private campgrounds surround Mount Rushmore as well, like the Buffalo Ridge Camp Resort. These commercial facilities tend to provide a few more amenities than primitive Forest Service campgrounds, like laundry facilities and swimming pools.
For more ideas on the best places to stay, see our list of the top campgrounds near Mount Rushmore.
1. Horsethief Lake Campground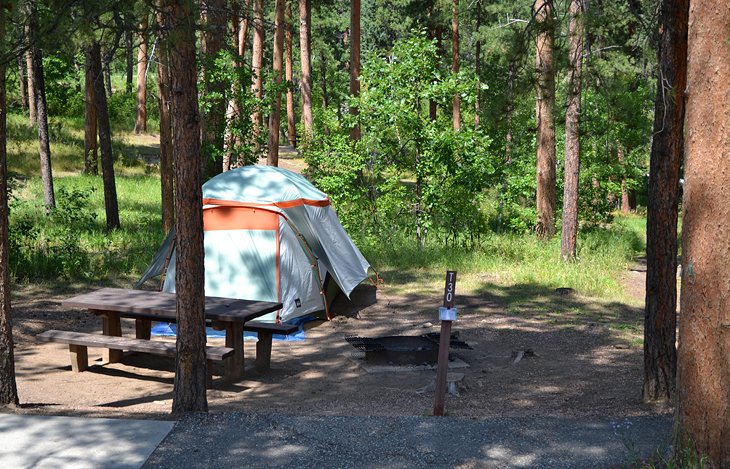 The U.S Forest Service operates Horsethief Lake Campground, less than two miles away from the stoic faces of Mount Rushmore and nestled among postcard-worthy Black Hills scenery. It's the closest campground to Mount Rushmore and accommodates tents, trailers, and RVs.
For summer visits, reserving a site ahead of time is the only way to guarantee a spot. All 36 sites at Horsethief Lake are reservable six months ahead of a visit and are typically a hot commodity well-booked in advance. All campsites have access to vault toilets and potable water.
Beyond the heavily scented pines surrounding the campground, Horsethief Lake itself beckons an afternoon swim. Other adventures in the immediate area include hopping on the long-distance George S. Mickelson Trail, or day hiking the nearby Black Elk Peak, which is the state's highest point at over 7,000 feet.
Don't confuse Horsethief Lake Campground with Horse Thief Campground & Resort, which also operates in the immediate area. The Campground & Resort is a privately owned facility and has an abundance of RV spots, as well as tent sites and cabins.
Address: Route 244, Mount Rushmore UT, South Dakota
2. Buffalo Ridge Camp Resort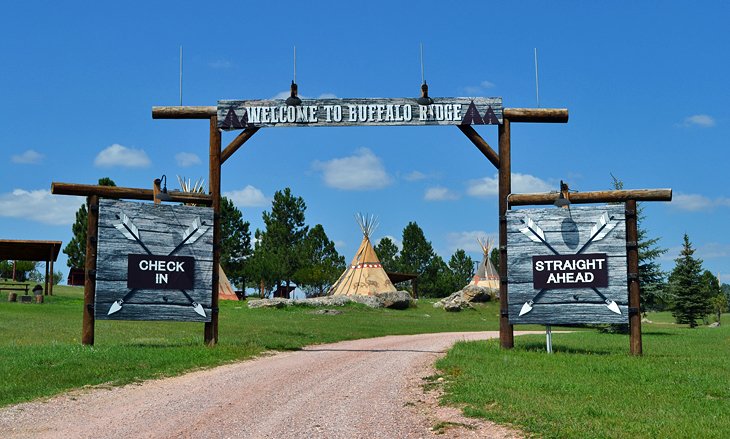 Buffalo Ridge Camp Resort provides a comfortable camping option in the Black Hills on the outskirts of the amenity-filled city of Custer. It has over 125 sites spread across 30 acres and is only a 30-minute drive to Mount Rushmore.
The campsites at Buffalo Ridge are split between pull-through hookups and non-electric tent sites, including a few hand-painted teepees that accommodate up to seven people. The campground also has modern shower facilities and laundry services, and the grounds also include a basketball court, mini-golf course, and playground.
Alongside the scenic views of the Needles and Black Elk Peak that can be seen from each campsite, Buffalo Ridge also serves up live shows ranging from Grand Magic to Family Jamboree at the Buffalo Ridge Theater found on-site.
Address: 245 Centennial Drive, Custer, South Dakota
3. Sylvan Lake Campground, Custer State Park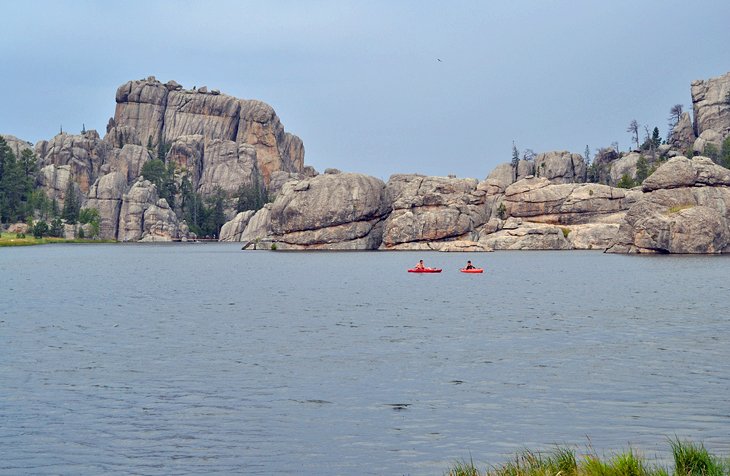 Custer State Park is one of the largest state parks in the country, and one of the best state parks in South Dakota. It's also home to seven established campgrounds.
While all the campgrounds provide an exciting camping experience, the most sought-after is the Sylvan Lake Campground on the park's northern end. It's found next to the banks of the shimmering, mile-long shore of Sylvan Lake, accurately nicknamed the Crown Jewel of Custer State Park.
Sylvan Lake Campground has 39 campsites that accommodate tents and small camping vehicles, with no RVs allowed. The campground also has well-maintained restroom and shower facilities. Reservations are nearly required throughout the summer season. And unique to Custer State Park, reservations are available a year in advance.
Mount Rushmore is accessible from Sylvan Lake Campground with a short and scenic drive along the Needles Highway. Adjacent to the campsites, the Sylvan Lake Lodge offers a lounge, general store, and restaurant for hot meals.
Address: 13329 U.S. 16A, Custer, South Dakota
4. Mount Rushmore KOA at Palmer Gulch Resort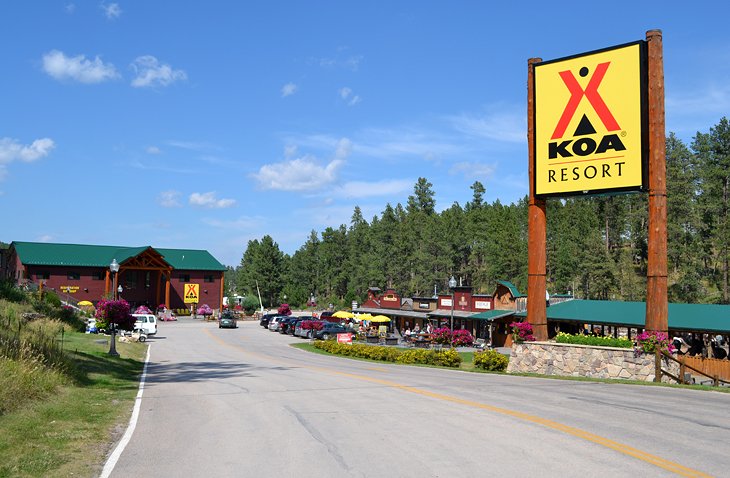 Mount Rushmore KOA at Palmer Gulch Resort is minutes from Mount Rushmore and combines all the comforts of home with a good dose of vacation spirit. It has hundreds of campsites, ranging from non-electric tent sites to Deluxe Camper Cabins, and comes complete with modern restrooms, laundry facilities, and camp kitchens to help with mealtimes.
Mount Rushmore KOA provides bicycle rentals, live music, and a variety of dining options, including a Chuck-Wagon Dinner Show. And surrounded by luscious Black Hills scenery, Mount Rushmore KOA also provides easy access to adventure.
It's less than a 15-minute drive to Mount Rushmore and the Crazy Horse Memorial from the KOA, and Custer State Park is in the same radius. The KOA also operates the Mount Rushmore Lodge, which features spacious suites and an impressive two-story fireplace.
Address: 12620 SD-244, Hill City, South Dakota
5. Pactola Campground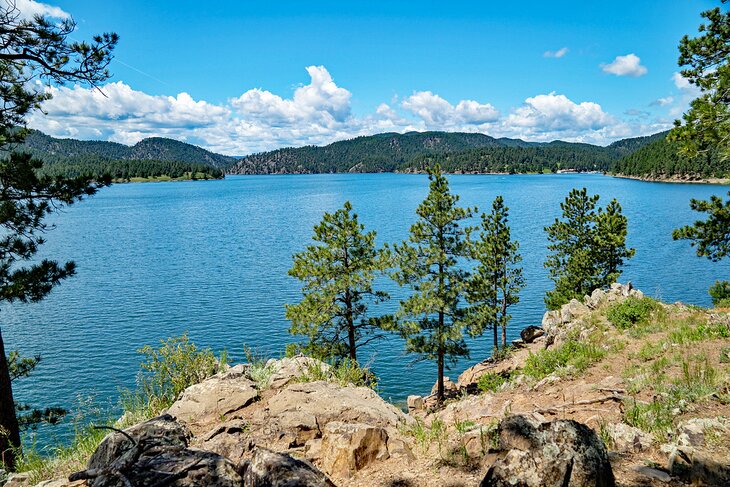 Pactola Lake is the deepest and largest reservoir in the Black Hills, with more than 14 miles of shoreline and 800 acres of water. It is also home to one of the largest forest service campgrounds in the area. Pactola Campground is on the south shore of this massive lake and has 86 non-electric campsites that can accommodate tents, trailers, and RVs.
Adventure activities are easy to find at Pactola Lake, both in the water and out. Whether renting a boat, scuba diving in the clear waters, or hiking the two-mile Osprey Trail to spot some wildlife; you'll see for yourself why Pactola is one of the best campgrounds in South Dakota.
Potable water and pit toilets are available, and despite the plentiful space, reservations are recommended for this popular campground located 20 miles from Mount Rushmore.
Location: Pactola Road, Rapid City, South Dakota
6. Game Lodge Campground, Custer State Park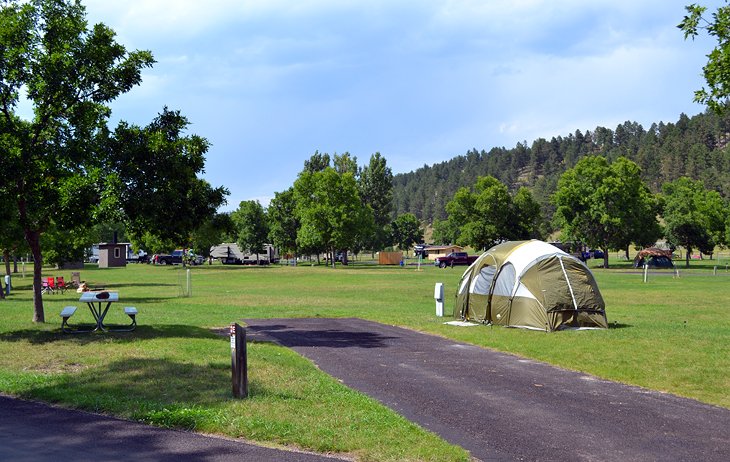 The Game Lodge Campground is at the heart of Custer State Park, nestled alongside the moving waters of Grace Coolidge Creek. The campground provides easy access to the park's astonishing 71,000 acres to explore. The majority of the 56 campsites at the Game Lodge Campground accommodate large RVs with electric hookups, while a few are designated for non-electric tent camping only.
A shared restroom facility with showers is within the campground, as well as several freshwater spigots. The neighboring State Game Lodge features a gift shop, convenience store, and a Buffalo Safari Jeep Rides outfitter.
Many of Custer State Park's attractions are within a short commute from the Game Lodge Campgrounds, and visitors interested in seeing Mount Rushmore can travel on the scenic Iron Mountain Road to lay eyes on the massive granite memorial with a 20-mile, slow-going drive.
Address: 13329 U.S. 16A, Custer, South Dakota
7. Roubaix Lake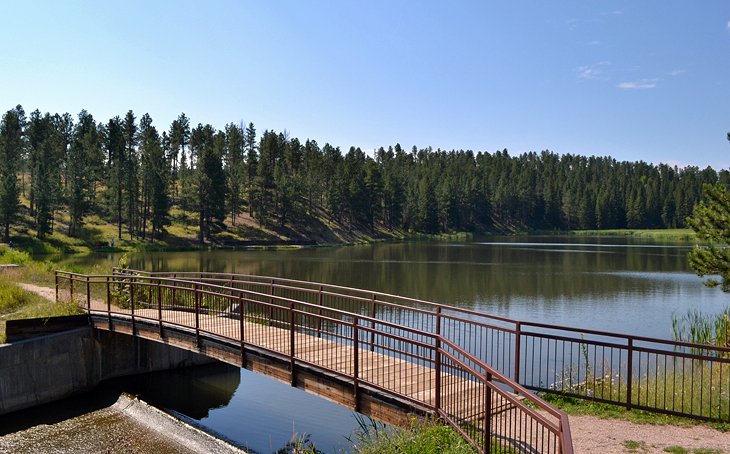 Roubaix Lake Campground is a Forest Service campground with 30 non-electric camping sites spread between four different loops. Every campsite lends access to one of the best fishing and swimming holes in the Black Hills. Roubaix Lake isn't big enough for motorized boats, which makes it easy to avoid any wake as you cast a line or practice your backstroke.
Each campsite at Roubaix Lake provides a picnic table and fire ring, and each campground loop has access to vault toilets and potable water. This campground supports a variety of camping types, including RVS, though no hookups are available. All sites are reservable six months in advance.
Beyond the shores of Roubaix Lake, the Black Hills have plenty of attractions to explore, including Mount Rushmore, which is an hour away. The Wild West city of Deadwood is another top spot to visit nearby, approximately 13 miles to the north.
Location: Forest Road 255, Deadwood, South Dakota
8. Elk Mountain Campground, Wind Cave National Park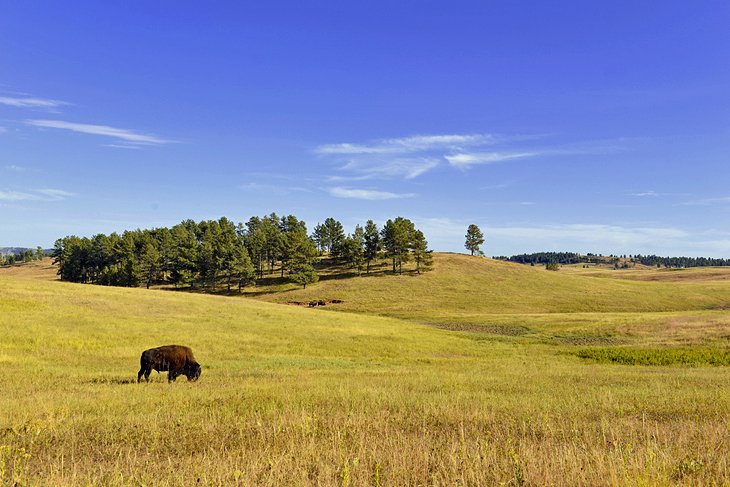 Wind Cave is one of the longest and most complex caves in the country, located in the southern Black Hills. Guided tours offered by the Park Service are the only way to explore underground at Wind Cave. And, the best way to take advantage of the daily tours is to stay a few nights at the Elk Mountain Campground in the National Park.
Elk Mountain has 25 non-electric campsites atop the rolling prairie environment that defines the aboveground portion of Wind Cave National Park. All campsites at Elk Mountain share access to vault toilets and potable water during the summer and shoulder seasons. Reservations are available six months in advance.
Elk Mountain Campground tends to remain quieter than surrounding spots in the Black Hills, making it popular for those who like to lose themselves in the natural scene. A real appeal of the campground, besides its quieter surroundings, is the immediate access to the daily guided tours.
The campground sits within an hour's drive of some of the best Black Hills attractions, including Custer State Park, the city of Hot Springs, and the Mount Rushmore National Memorial, all within an hour's drive.
Address: 26611 Hwy 385, Hot Springs, South Dakota
9. Oreville Campground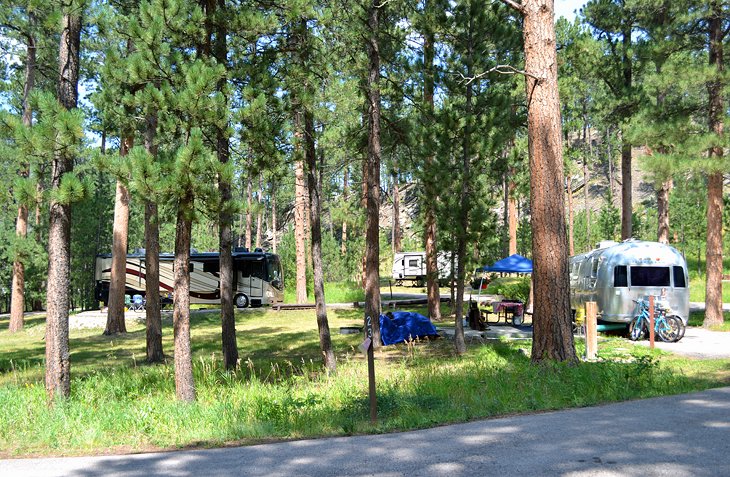 The Oreville Campground is popular among the hikers and bikers of the Black Hills area. It's operated by the US Forest Service and features 26 campsites accommodating tents, trailers, and RVs.
Oreville Campground is only 10 minutes away from Mount Rushmore and other area attractions, including the Crazy Horse Memorial and Jewel Cave National Monument. The campground also provides immediate access to a wide range of multi-use trails, including the 100-mile George S. Mickelson Trail.
Oreville Campground also provides vault toilets and potable water for all overnight users. Thanks to its key location in the Black Hills and its spacious woodland campsites, the campground tends to stay busy throughout the extended summer months.
Address: 24462 US-385, Custer, South Dakota
10. Echo Valley Park Campground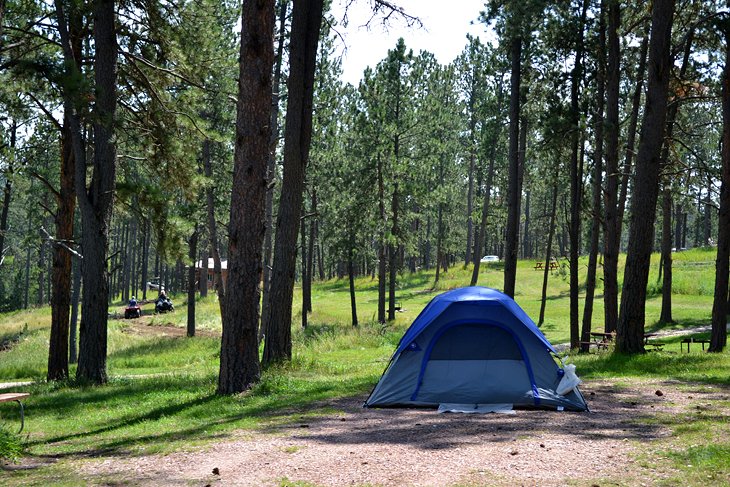 Inspiring granite pillars of the Black Hills backdrop the commercial Echo Valley Park Campground, less than 15 miles from Mount Rushmore. The Crazy Horse Memorial can also be seen from the driveway, and once inside the campgrounds, visitors have easy access to the Buckhorn Wilderness Area, where you won't run into any crowds.
This private campground is split between RV capabilities and tent-only sites. Every camper has access to potable water, a shower house, a laundry facility, and scenic grounds to explore on their own.
The campground also features camping cabins that sleep up to five people for those looking for indoor accommodation. It's also known for its quiet hours come evening, making it a great family campground for those that prefer the noise of nature.
Address: 12129 Echo Valley Road, Custer, South Dakota
11. Blue Bell Campground, Custer State Park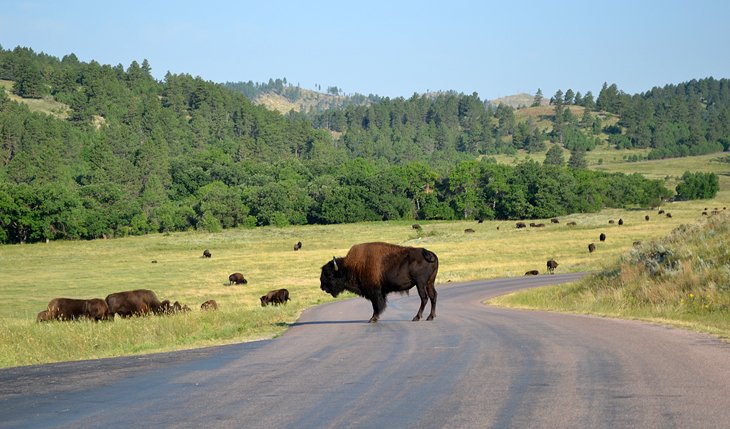 If you only have one night to stay in Custer State Park, you have seven different campgrounds to choose from. Opt for the Blue Bell Campground if you're looking to spot some of the park's roaming wildlife. This campground is on the southwest side of the park and near the entrance of the 18-Mile Wildlife Loop Road, where bison outnumber automobiles.
This campground features 31 campsites, including flush toilets, potable water, and large trailer capabilities. The campground also lends access to the nearby French Creek Natural Area, where hiking is abundant. The campground is also within walking distance of the Blue Bell Lodge, with a distinctly Western theme.
It's approximately an hour-long drive to Mount Rushmore from the Blue Bell Campground.
Address: 13329 U.S. 16A, Custer, South Dakota
12. Big Pine Campground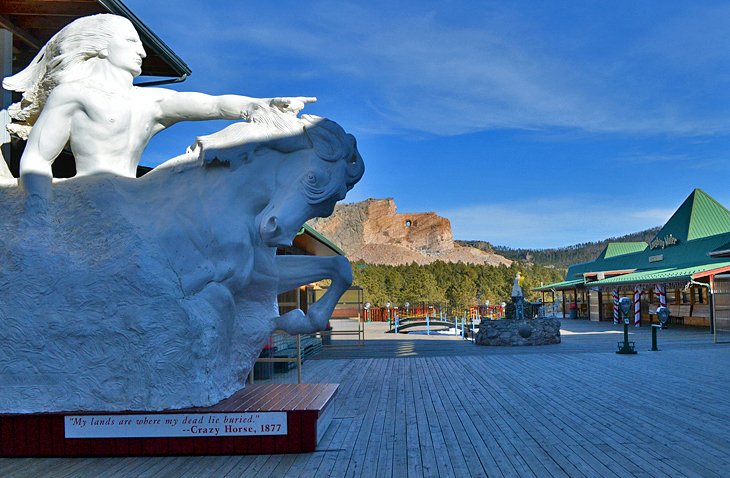 Big Pine Campground is a privately-owned campground just south of Mount Rushmore and the Crazy Horse Memorial. It has primitive tent sites, 50-amp plug-ins for RVs, and spacious camper cabins. The campground nestles comfortably in pinewood surroundings, complete with bathhouses, laundry services, and a playground. Several hiking, biking, and equestrian trails also surround the campground.
To check out Mount Rushmore from Big Pine, visitors can traverse the Black Hills Parkway, with spectacular views the entire 30-minute drive. The Crazy Horse Memorial is even closer to the campground and is accessible with a 12-minute drive.
Address: 12084 Big Pine Road, Custer, South Dakota
13. Black Hills Trailside Park Resort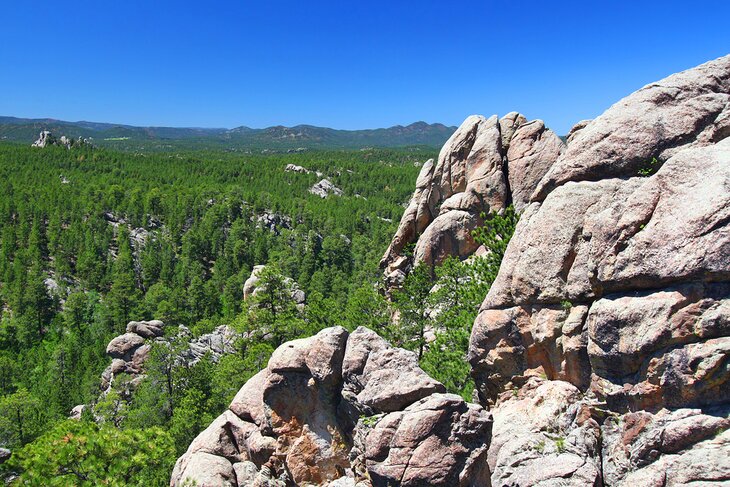 Black Hills Trailside Park Resort is a commercial campground right on the outskirts of Hill City in the heart of the Black Hills. This popular private facility has a variety of overnight options, including tent spaces, RV spots, and camping cabins. It's also home to a special 8-person suite.
Downtown Hill City and its modest collection of restaurants and shops are within walking distance from the campground. The George Mickelson Trail is also nearby. And when it comes time to visit Mount Rushmore, the Memorial is accessible within a 20-minute drive.
This resort also specializes in on-site attractions and activities. Campers can access bike rentals, river tubes, and gold-panning equipment for sifting the river. Trout fishing is also a popular thing to do throughout the warmer seasons. Other amenities at the campground include a shower house and free Wi-Fi and cable.
Address: 24024 US-385, Hill City, South Dakota
Map of Campgrounds near Mount Rushmore, SD
More Related Articles on PlanetWare.com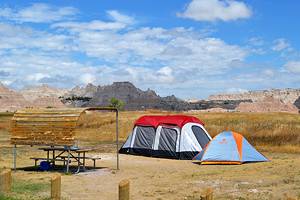 More Campgrounds in South Dakota: After you've finished exploring Mount Rushmore and the surrounding Black Hills, South Dakota continues to deliver on amazing places to pitch a tent. For an overview, see our Best Campgrounds in South Dakota article. To narrow down the choices a little more, our Best Campgrounds in Badlands National Park article can point you in the right direction in this adventure-rich area.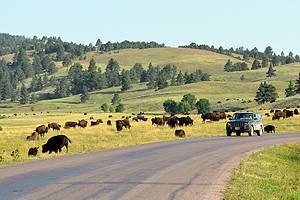 More Places to Visit in South Dakota: There is more to South Dakota than just Mount Rushmore. To explore a little more culture on your next South Dakota visit, the cities of Sioux Falls and Deadwood both offer natural and modern attractions.