11 Best National & State Parks in South Dakota
Standing proudly as the gateway to the American West, the state of South Dakota is filled with history, adventure, and a wide range of astounding landscapes. From the glacial lakes and prairies in the northeast to the Black Hills and Badlands in the west, South Dakota proudly displays these scenic areas through a vast system of state and national parks.
Whatever kind of outdoor experience you're looking for, whether it's exploring underground at Wind Cave National Park, or learning about native cultures at Good Earth State Park, every experience is always backdropped by a rugged beauty unique to the state of South Dakota.
For ideas on the best places to visit for your next outdoor adventure, see our list of the top national and state parks in South Dakota.
Note: Some businesses may be temporarily closed due to recent global health and safety issues.
1. Badlands National Park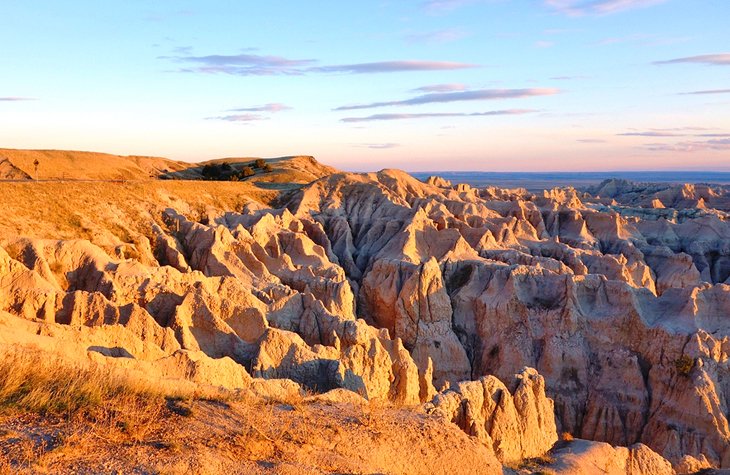 Boasting beautiful buttes, pinnacles, and spires, Badlands National Park stands brightly against the prairies of western South Dakota. Created by ancient deposits of sediments and minerals, followed by 500,000 years of erosion, the layered rocks of different color lend to a stunning landscape.
Some of the best ways to experience the beauty of Badlands National Park include roadside attractions, short hikes, and a full list of campgrounds to extend your stay.
The Ben Reifel Visitor Center, on the southeastern edge of the park, is a great place to start your visit. After collecting information and getting questions answered from park rangers at the visitor center, heading west on Highway 240 takes you through the heart of the park, with plenty of places to pull-off and enjoy the environment.
Of the many places to stop, a visitor favorite tends to be the Door, Window, and Notch trailheads, which all share the same parking lot, and provide accessible hikes into the desolated beauty that is Badlands National Park.
June, July, and August are the most popular months to visit the park, but late August and September is regarded as the best time to visit the Badlands. The late summer season into the fall offers less crowds and cooler temperatures.
If you do visit in the summer, planning your trip early in the day will help avoid congestion and the extreme heat of midday. The golden hours of dawn and dusk provide the most stunning photographs of this enchanting area.
Official site: https://www.nps.gov/badl/index.htm
2. Custer State Park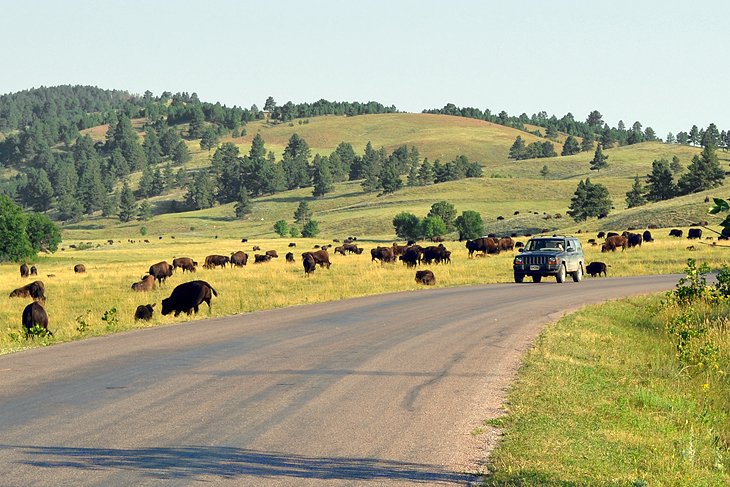 Encompassing more than 71,000 acres within Black Hills National Forest, Custer State Park ranks as one of the largest state parks in the nation. Alongside the scenic drives, abundant wildlife, and eye-popping geological beauty, Custer State Park ranks high as one of the top tourist attractions in the state.
Any visit to Custer State Park can go in many directions, and whether you're interested in hiking trails, fishing spots, or some of the best campgrounds in South Dakota, the park deserves multiple days on your itinerary.
With so many things to do and acreage to explore at Custer State Park, a first visit can seem overwhelming. A recommended course for adventure includes accessing the impressive Sylvan Lake via the scenic Needles Highway. Visitors also enjoy taking part in a naturalist program at the Peter Norbeck Outdoor Education Center or keeping an eye out for buffalo on the 18-mile Wildlife Loop Road.
Climbing granite spires with a harness and rope is another popular activity at the park. Custer also features many interpretive programs, including chuckwagon cookouts hosted by professional guides.
Winter in Custer State Park is a bit quieter, but still offers plenty of things to do, like wildlife viewing, cross-country skiing, and staying at the Creekside Lodge.
Address: 13329 U.S. 16A, Custer, South Dakota
Official Site: https://gfp.sd.gov/parks/detail/custer-state-park/
3. Wind Cave National Park
Editor's Pick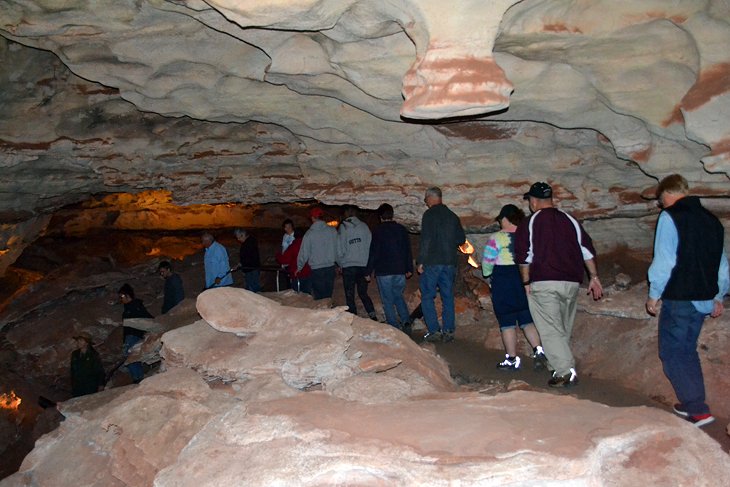 Located in the Blacks Hills National Forest just south of Custer State Park, Wind Cave is home to a dichotomy of environments. Above ground, swaying prairie grass and forested hills define the landscape, concealing the complex cave system found beneath the soil. With more than 140 miles of its passageways mapped, Wind Cave is one of the longest cave systems in the country.
This national park receives its name from the change in barometric pressure found at the small, natural entrance to the cave.
If you want to explore this underground labyrinth yourself, the only way to check out the impressive passageways is through one of many guided tours led by park ranger staff. They offer tours nearly every day of the year.
Most guided tours begin with an elevator ride 12 stories underground and proceed through the cave using a cement pathway and electric lights installed by the Civilian Conservation Corps in the 1930s. The variety of tours offered caters to a wide range of ages and abilities.
Along any route, visitors can expect to see a unique geological world filled with dark corners, large ceilings, and a plethora of cave speleothems (cave formations). The most unique speleothem in Wind Cave is the Boxwork formation, which while abundant in Wind Cave, exists in few other caves in the world.
Official site: https://www.nps.gov/wica/index.htm
4. Mount Rushmore National Memorial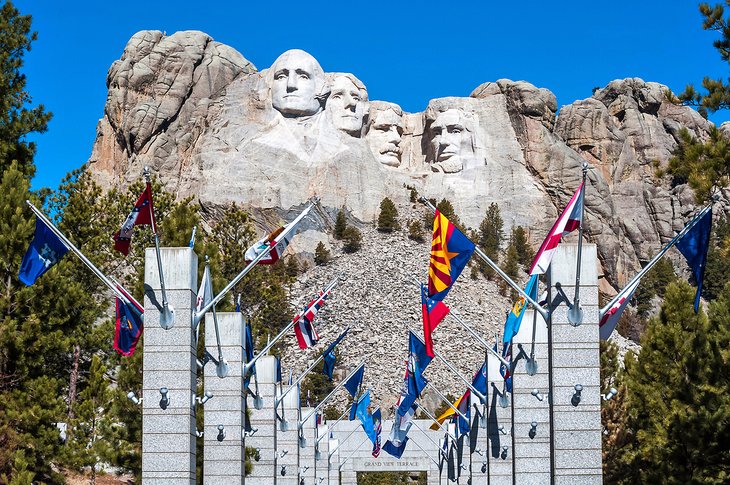 Mount Rushmore is one of the most recognized natural features in South Dakota. Operated as a National Memorial by the National Park Service, this iconic portrait of presidents warrants the millions of visitors it receives each year.
Alongside the enormous carving into the Black Hills mountainside, the National Memorial features other visitor attractions, including a Sculptor's Studio and half-mile interpretive trail.
Mount Rushmore is a day-use-only destination. The surrounding Black Hills offers several outlets for adventure to tack onto a Mount Rushmore vacation, including the best campgrounds near Mount Rushmore.
The crown jewel of South Dakota's state parks, Custer State Park, is located less than 12 miles to the south.
Address: 13000 SD-244, Keystone, South Dakota
Official site: https://www.nps.gov/moru/index.htm
5. Palisades State Park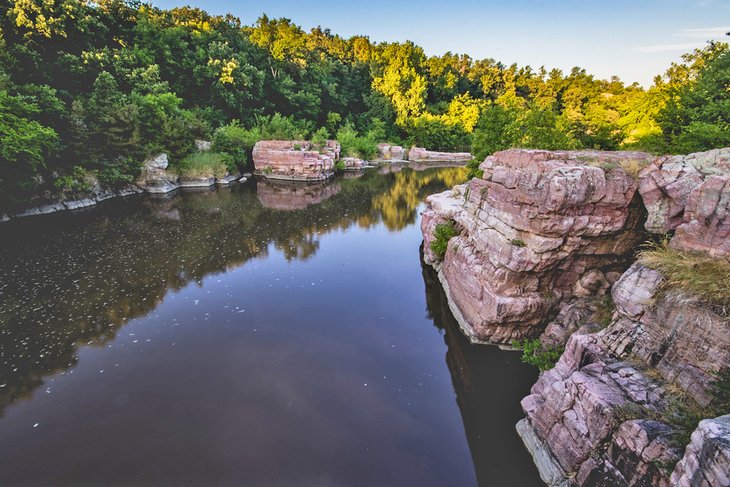 Located on the southeast corner of South Dakota, Palisades State Park is a hot spot for hiking, camping, photographing, and rock climbing. At the center of all this action is Split Rock Creek, which has dramatically carved its way into the environment for thousands of years. Jutting out from either bank of Split Rock Creek, jagged pink Sioux Quartzite dominates the landscape and provides the eye-catching appeal that makes Palisades so popular.
Visitors to Palisades can hike along the shore to appreciate the scenery. The South Wall Trail is an easy half-mile hike that leads to an impressive scenic overlook of Split Rock Creek. Visitors with the proper gear and experience also enjoying scaling the rock formations.
The campground at Palisades State Park is one of the best campgrounds in South Dakota and features over 30 sites, as well as camper cabins. The Palisades Lodge is also available for overnight use and can sleep up to 12 people.
Address: 25495 485th Avenue, Garretson, South Dakota
Official site: https://gfp.sd.gov/parks/detail/palisades-state-park/
6. Hartford Beach State Park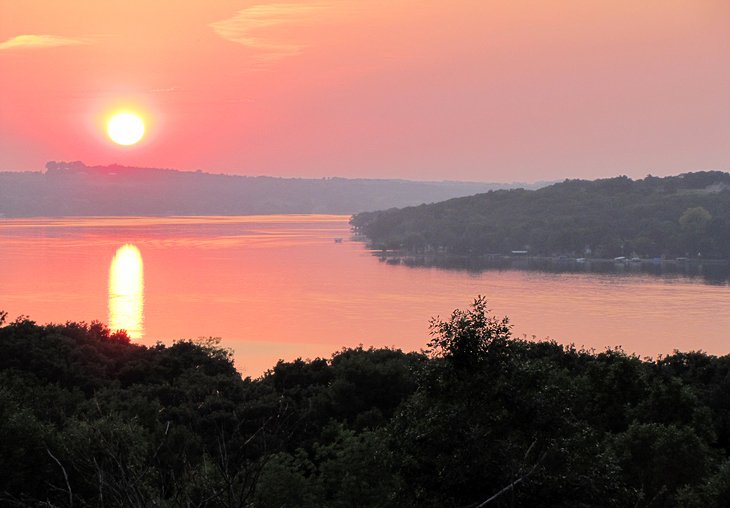 In the glacial lake region of northeast South Dakota, Hartford Beach State Park is defined by the impressive section of the Warren River known as Big Stone Lake. Water activities are abundant at Hartford Beach State Park including fishing, boating, and swimming at a sandy beach. Five different hiking trails and a nine-hole disc golf course also entice land lovers to the park.
A particularly interesting and accessible hike for all ages to do while visiting Hartford Beach State Park is the Village View Trail. This interpretive trail provides a glimpse of American Indian Mounds and a way of life that dates back much further than our own.
The campground at Hartford Beach features over 80 electric campsites, and the state park also has camper cabins available for overnight use.
Address: 13672 Hartford Beach Road, Corona, South Dakota
Official Site: https://gfp.sd.gov/parks/detail/hartford-beach-state-park/
7. Good Earth State Park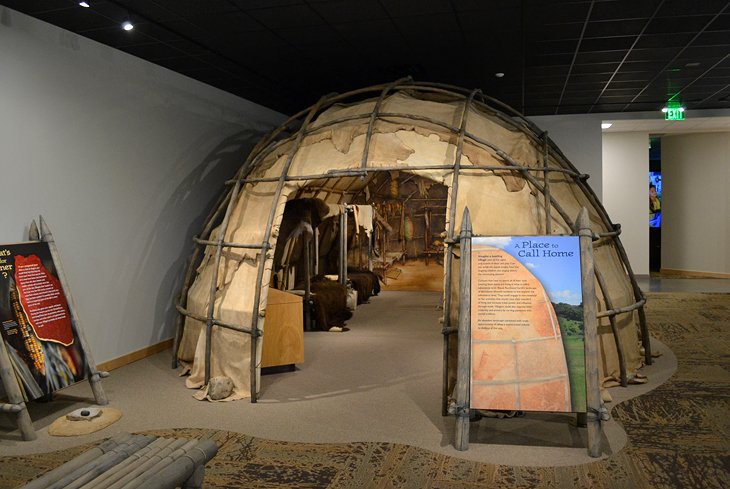 While Good Earth State Park is relatively new to the South Dakota State Park system, the area that it encompasses is no stranger to civilization. As part of the larger Blood Run National Historic Landmark, Good Earth State Park pays tribute to one of the oldest areas of human history in the country.
Dating back to pre-colonial times, the land that comprises Good Earth State Park at Blood Run was once a thriving trading center and gathering place for the Oneota peoples, including Omaha, Ponca, Ioway tribes.
Today, you can learn more about these indigenous cultures through the 11,000-square foot Visitor Center at the park. This state-of-the-art Visitor Center features engaging exhibits with historic artifacts and lifelike reproductions of the Oneota culture.
Six miles of woodland and prairie hiking trails span from the Visitor Center, with interpretative information lining the entire way. Trails at Good Earth State Park ultimately lead to great views of the Big Sioux River.
Address: 26924 480th Avenue, Sioux Falls, South Dakota
Official site: https://gfp.sd.gov/parks/detail/good-earth-state-park/
8. Bear Butte State Park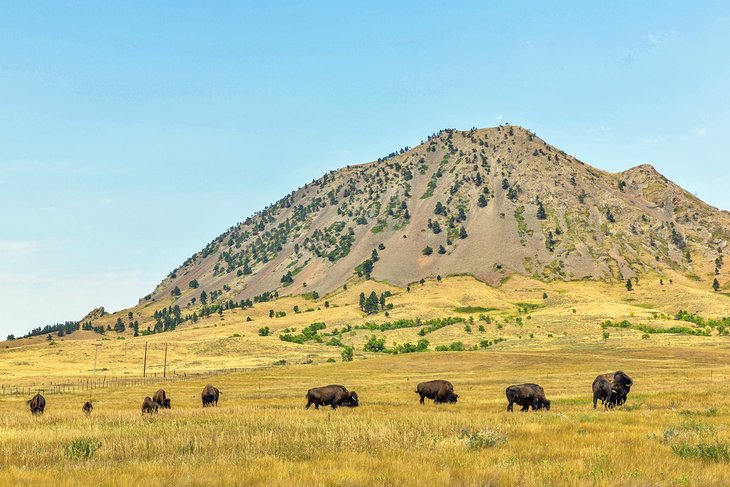 Located north of the Black Hills National Forest, just outside the motorcycle-friendly city of Sturgis, Bear Butte State Park and its namesake feature still hold cultural significance for the native peoples of South Dakota. Known as Mato Pahu or "Bear Mountain," Bear Butte stands well over 1,000 feet above the surrounding landscape. A 1.85-mile summit trail offers impressive views and unparalleled outlooks from the top of the sacred mountain.
Alongside roaming buffalo herds, Bear Butte is home to current American Indian ceremonies and spirituality. Respect for the space and for the acts of worship are an important aspect of any visit to this unique state park of South Dakota.
The state park operates a primitive campground, with 15 sites available near the shores of Bear Butte Lake, across Highway 79 from the mountain.
Address: N Highway 79, Sturgis, South Dakota
Official site: https://gfp.sd.gov/parks/detail/bear-butte-state-park/
9. Sica Hollow State Park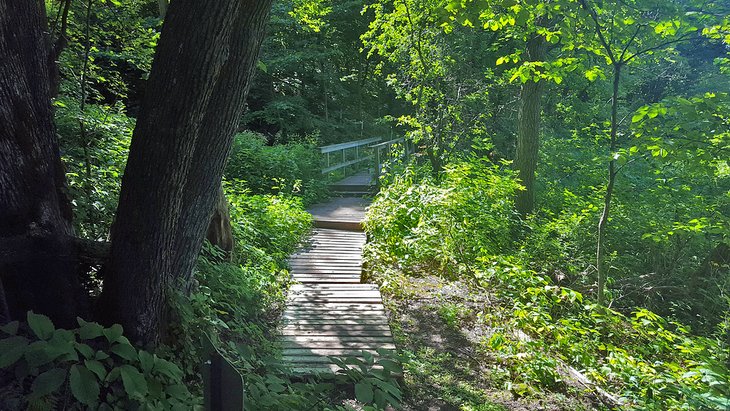 In northeast South Dakota, less than 30 minutes from Fort Sisseton Historic State Park, this scenic state park has a spooky past. The park has a longstanding reputation among indigenous cultures for mysterious happenings. Visitors to the park today can learn more about this on the Trail of the Spirits, a National Recreation Trail.
The park is popular for all types of trail users. A total of eight miles of multi-use trails wander through the verdant countryside at Sica Hollow, and the park has grown in popularity with horse riders over the years. A horse camp at the park features eight available sites and community corrals.
The autumn season is a beautiful time to visit the park, when the foliage begins to change color.
Address: 44950 Park Road, Sisseton, South Dakota
Official site: https://gfp.sd.gov/parks/detail/sica-hollow-state-park/
10. Newton Hills State Park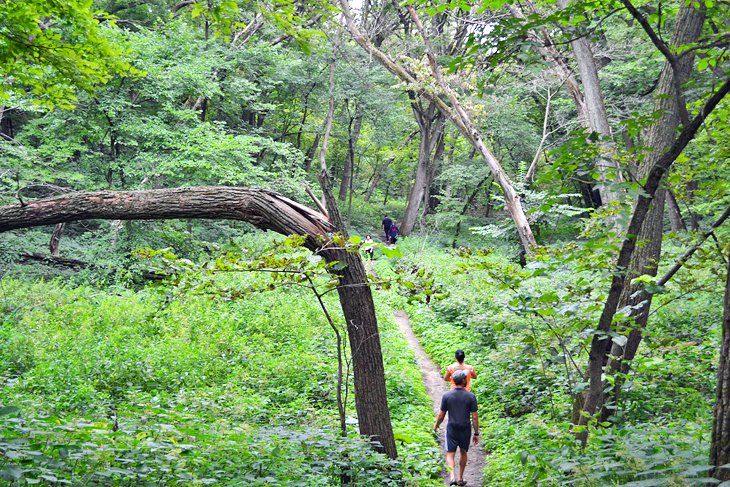 In the southeast corner of the state, 30 miles south of Sioux Falls, Newton Hills State Park encompasses a little more than 1,000 acres of rolling hills and dense forest. The park draws visitors throughout the year to explore its scenic woodland environment. Hikers, bikers, and horse riders can enjoy most of the trails at Newton Hills through the six miles of Blue Diamond multi-use trails found sprawling throughout the area.
Come wintertime, the unique prairie plateau that is Newton Hills becomes an exciting place to explore on cross-country skis and snowshoes. The fun doesn't have to be limited to a day visit at Newton Hills State Park, and with more than 100 campsites available, this eastern South Dakota state park is the perfect place to pitch a tent and stay awhile.
Address: 28767 482nd Ave, Canton, South Dakota
Official site: https://gfp.sd.gov/parks/detail/newton-hills-state-park/
11. Fort Sisseton Historic State Park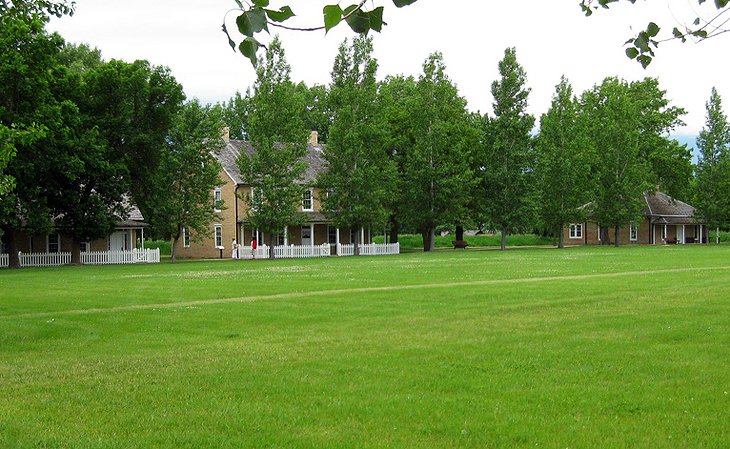 Located atop the Coteau des Prairies in the northeast region of South Dakota, 70 miles west of Hartford Beach State Park, Fort Sisseton was first established in the eastern Dakota Territory in the 1860s.
Today, 14 of the original buildings of this frontier army post remain, including officer's quarters, stone barracks, and guard houses. Visitors to Fort Sisseton Historical State Park are encouraged to explore the different historic sites on their own or with a group walking tour.
Parts of the park are available to rent for special events, including weddings and family reunions. It's worth checking out the annual Fort Sisseton Historical Festival that takes place each June, which includes a cast of characters and all sorts of activities the whole family can enjoy. A visitor center with further interpretive information is open daily between May and September.
Location: Lake City, South Dakota
Official site: https://gfp.sd.gov/parks/detail/fort-sisseton-historic-state-park/
More Related Articles on PlanetWare.com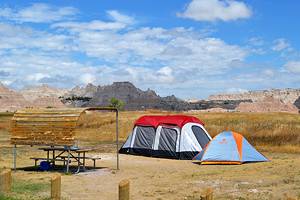 South Dakota Adventures: If you are looking to extend your outdoor adventures in South Dakota, there are many great campgrounds to discover. For an overview of the entire state, our best campgrounds in South Dakota article can inspire some new vacation ideas, and for a more specific look at a couple of recommended areas, our best campgrounds in Badlands National Park and best campgrounds around Mt. Rushmore articles can help narrow it down.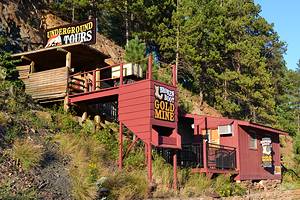 Cities in South Dakota: Several cities in South Dakota represent the best of what the state has to offer. For some of the best Black Hills attractions and scenery, the cities of Deadwood and Rapid City are well worth the visit. The east side of the state is on full display in Sioux Falls, complete with a namesake tumbling water feature.