8 Top-Rated Attractions & Things to Do in Deadwood, SD
We may earn a commission from affiliate links ()
Located on the northern edge of the Black Hills National Forest, the city of Deadwood is defined by both its scenic surroundings and Wild West history. This combination makes for an exciting place to visit and stay awhile.
Visitors can walk in the steps of "Wild Bill" Hickok and Calamity Jane on Historic Main Street in downtown Deadwood and even stumble upon the spot where the legendary folk hero was laid to rest.
The city retains much of its Old West charm, including historic storefronts and a rustic style on the streets. The live reenactments on Historic Main Street during the summer add to this Wild West theme.
Outdoor things to do are abundant in Deadwood. The Whistler Gulch Campground on the edge of town is consistently busy during the summer, and the northern terminus of the 109-mile George S. Mickelson Trail is near the old railroad depot in Deadwood.
To combine the history and scenic beauty of the region visit the Mount Theodore Roosevelt Monument or learning about native wildlife at Tatanka: Story of The Bison.
For more ideas on the best places to visit, see our list of the top attractions in Deadwood.
See also: Where to Stay in Deadwood
Note: Some businesses may be temporarily closed due to recent global health and safety issues.
1. Historic Main Street
Editor's Pick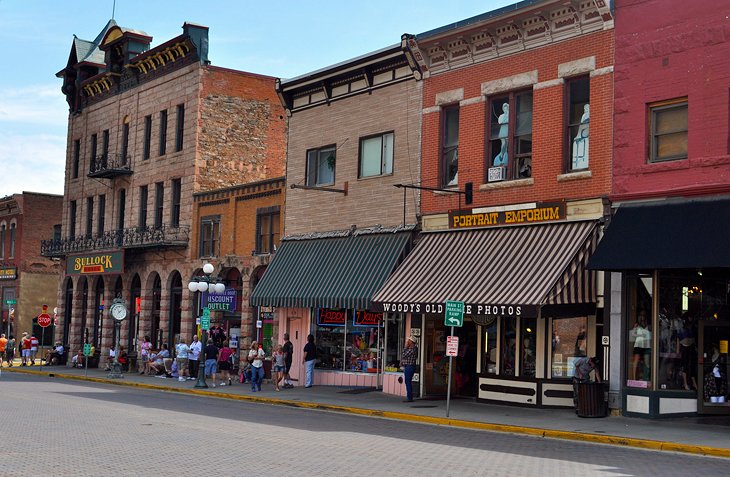 Lined with shops, signs, and historical points of interest, Historic Main Street brings the colorful history of Deadwood back to life, including some of the city's most celebrated characters.
Throughout the summer on Historic Main Street, professional actors recreate significant moments in Deadwood's past, creating a live show that will surely grab your attention. Whether you check out the famous Trial of Jack McCall, or any of the three Main Street Shootouts that occur each day, all members of the family can enjoy the costumed show and historically accurate exhibition.
In addition to the gunslingers found walking down the sidewalks, Historic Main Street in Deadwood is lined with tourists checking out the local establishments. Several local restaurants and shops on Main Street match the western motif.
Historical landmarks and plaques also punctuate Main Street, including a signpost indicating the spot where "Wild Bill" Hickok was assassinated by Jack "Crooked Nose" McCall.
2. George S. Mickelson Trail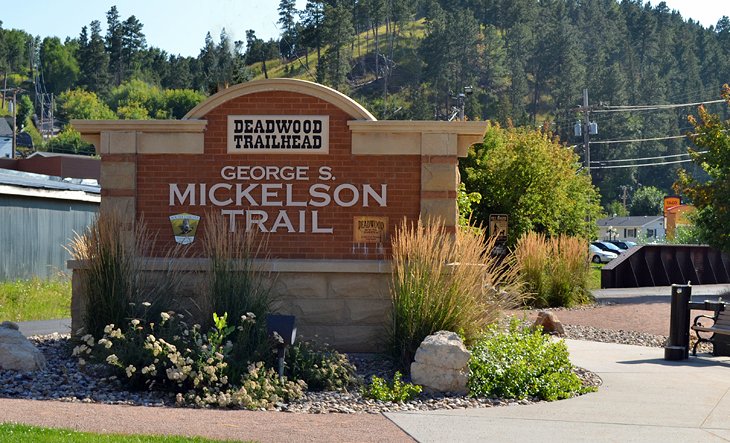 Stretching for more than 100 miles north and south through western South Dakota, the George S. Mickelson Trail provides bikers, hikers, and horseback riders an invaluable way to experience the Black Hills National Forest.
Formerly a Burlington Northern Railroad line, the George S. Mickelson Trail spans bridges, passes through rock tunnels, and maintains an even grade as it traverses some of South Dakota's most scenic areas. Deadwood has special significance for the George S. Mickelson Trail, serving as the route's northern terminus and trailhead.
Local bike shops in Deadwood offer rentals to explore the George S. Mickelson Trail. The most popular way to navigate the trail is with an out-and-back journey, with places like Nevada Gulch Road in Lead, South Dakota as a good turnaround point. Another option is setting a shuttle farther down the trail in places like Rochford, 30 miles away.
3. The Adams Museum and Historic Adams House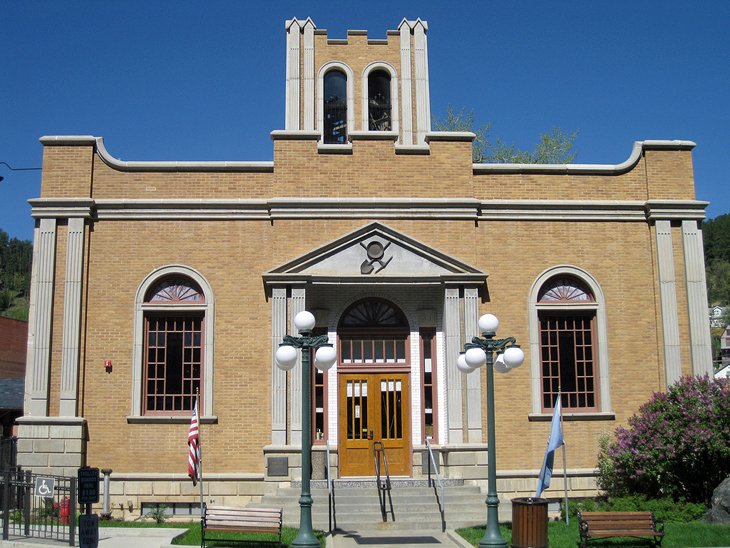 To get a firsthand look at the city's Wild West origins, the Adams Museum and Historic Adams House provide a clear window into Deadwood's territorial beginnings. The facility features artifacts, exhibits, and information about Deadwood's most notorious characters, including "Wild Bill" Hickok and Calamity Jane.
The Adams Museum also dives into the nefarious side of life in Deadwood that occurred during the days of the Black Hills Gold Rush.
A few blocks away, the Historic Adams House provides an even deeper look into lifestyles of this late 1800s era. Built in 1892, this historic home has remained virtually untouched since 1934.
Visitors today can take a guided tour of the property and literally step back into Deadwood's past. The Historic Adams House operates between May and September, with limited hours in October and April. No tours are offered during the winter.
Adams Museum
Address: 54 Sherman Street, Deadwood, South Dakota
Historic Adams House
Address: 22 Van Buren Street, Deadwood, South Dakota
4. Broken Boot Gold Mine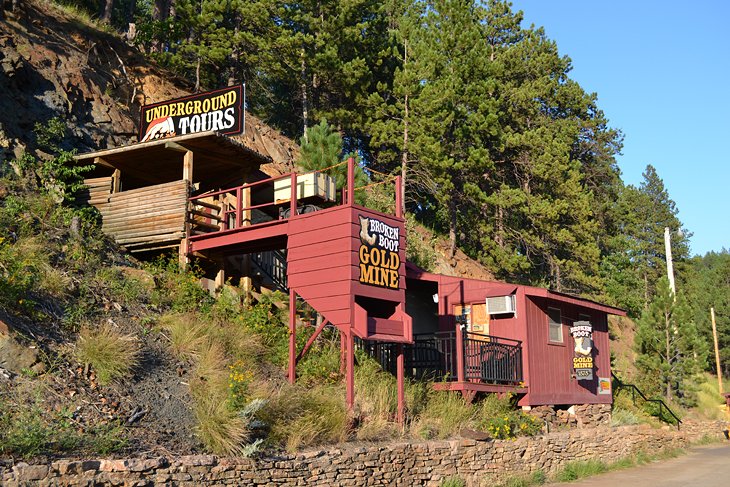 Operating as an authentic gold mine from 1876 to 1904, and providing a fun tourist experience for the last 70 years, the Broken Boot Gold Mine takes visitors underground to explore Deadwood's historic gold rush past.
Tours are available every 30 minutes at the Broken Boot Gold Mine. By exploring the ore car paths, visitors witness the once-working areas of countless miners looking to strike gold in the Black Hills.
Each visitor to Broken Boot Gold Mine earns a souvenir stock certificate from the mine. For a small additional price, young explorers are encouraged to pan for their own gold with a high chance of finding something worth bringing back home.
Broken Boot also offers special tours, including a Candlelight Experience Tour and a Miner's Morning Experience.
Address: 1200 Pioneer Way, Deadwood, South Dakota
Official site: http://brokenbootgoldmine.com/
5. Days of 76 Museum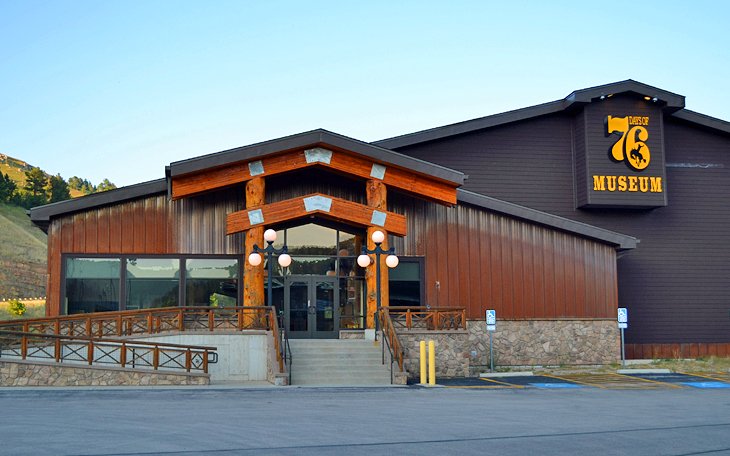 Commemorating the collection of miners, prospectors, and gold panners that flooded into Deadwood during the 1876 Gold Rush, the Days of 76 Museum first began, and continues, as a cultural celebration of the area.
The brick and mortar museum stems from needing storage space for the horse-drawn wagons from the Days of '76 parade that first took place in 1924. Through additions to the inventory plus a brand-new building in 2004, the current Days of 76 Museum was born and now offers 32,000-square feet of exhibits and artifacts to explore.
The near century-old Days of '76 parade still takes place every year and is coupled with the nationally recognized Days of '76 Rodeo. These two crowd-drawing events take place in July, which also happens to be one of the most beautiful months to explore the Black Hills. Hotels, campsites, and all places to stay become very competitive during this time of year.
Address: 18 Seventy-Six Drive, Deadwood, South Dakota
Official site: http://daysof76.com/days-of-76-museum
6. Mount Moriah Cemetery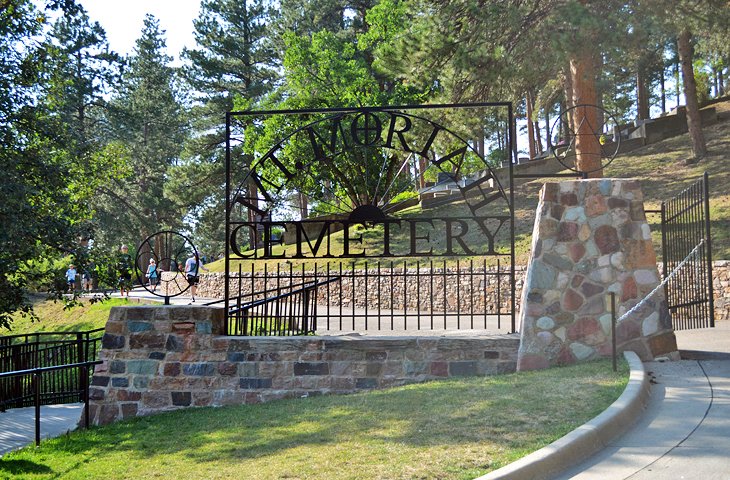 Sitting high above the city and nestled deep into the Black Hills, Mount Moriah Cemetery is the final resting place for some of Deadwood's most notable characters. Not only can you find the gravesites of people like "Wild Bill" Hickock, Calamity Jane, Preacher Smith, and Potato Creek Johnny, but through informational exhibits and handouts, you can learn more about the people behind these now iconic names.
Above all else, This historic cemetery offers a great chance to walk through and soak in some scenic Black Hills landscapes.
Address: 10 Mount Moriah Drive, Deadwood, South Dakota
7. Tatanka: Story of The Bison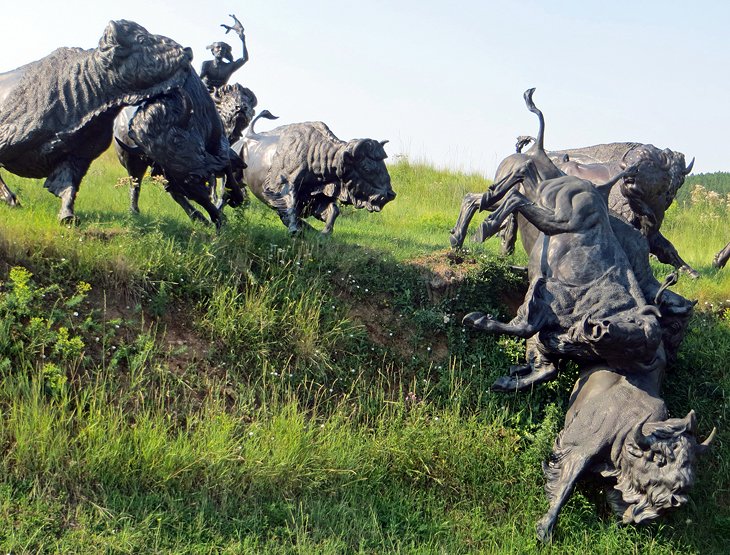 Located at the north end of Deadwood, Tatanka: Story of The Bison is a larger-than-life exhibit paying tribute to the millions of bison that once roamed the Great Plains of the area. The exhibit also commemorates the native cultures that thrived alongside the bison.
Founded and operated by the Hollywood actor, Kevin Costner, Tatanka features bronze sculptures depicting a group of bison being pursued by American Indians on horseback, all at a 125-percent scale.
As well as admiring the stunning artwork that captures the motion of a bison hunt, visitors to Tatanka also enjoy the exhibits at the Northern Plains Peoples Educational Interpretive Center.
The Interpretive Center features detailed information about bison and the culture that depended on them. Authentic Lakota interpretive presentations occur daily at Tatanka, offering further insight into the history of the region.
Address: 100 Tatanka Drive, Deadwood, South Dakota
Official site: http://storyofthebison.com/
8. Mount Theodore Roosevelt Monument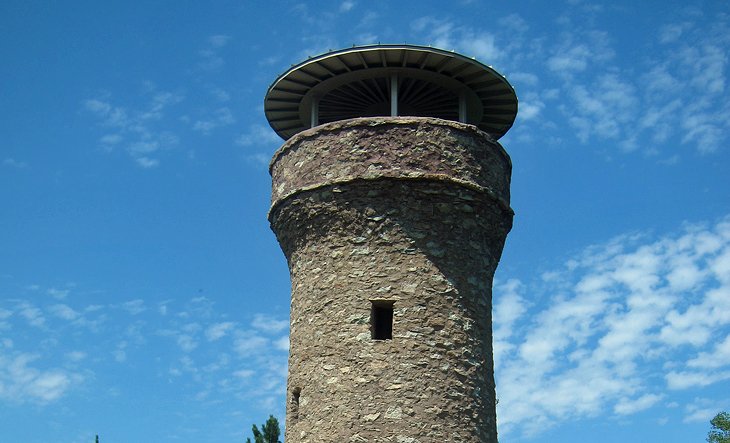 Also known as the "Friendship Tower," the Mount Theodore Roosevelt Monument stands just under three miles north of downtown Deadwood. It was spurred to completion in 1919 by Deadwood's first mayor, Seth Bullock. Stemming from a close relationship with Theodore Roosevelt, Bullock wanted to commemorate the president and one-time Medora, North Dakota sheriff, and so he commissioned this 30-foot stone tower.
Not only is the history behind the monument fun and unique, but every step of the short hike up to the monument exposes a rich look at the Black Hills and surrounding scenery.
This day-use monument is operated by the U.S. Forest Service and features five different picnic sites to extend a visit. There's no admission fee required to visit the Friendship Tower, making this monument a popular free thing to do in Deadwood.
Official site: https://www.fs.usda.gov/recarea/blackhills/recarea/?recid=25879
Where to Stay in Deadwood for Sightseeing
Alongside its abundance of history and entertainment, Deadwood has a wide variety of hotels to choose from. Nearly all hotel accommodations in Deadwood lend quick access to the city's many attractions, including the Historic Main Street. Because of the many overnight options, it can be easy to find a competitive price in Deadwood, making for many luxurious accommodations at affordable rates.
Mid-Range Hotels: To spend the night in style when visiting Deadwood, the SpringHill Suites

Deadwood

offers rooms and suites close to downtown and features amenities like infinity pools and fire pits to really cap off your stay nicely.

North of town, near Tatanka: Story of the Bison, The Lodge at

Deadwood

offers well-furnished rooms at affordable rates, as well as an elaborate indoor water park and the first-class Deadwood Grille.

Atop the city on Deadwood Mountain, the Deadwood Mountain Grand Hotel, a Holiday Inn

Resort

is in a historic building close to downtown and provides a fitness center, indoor pool, and banquet room.
Budget Hotels: For one of the best values around town, as well as some of the most fun you can have, the Celebrity

Hotel

is located in the heart of downtown and features costumed characters, movie memorabilia, and an attentive staff.

Located just down the street from the Celebrity Hotel, The Hotel by Gold

Dust

also offers affordable rates for their spacious rooms and a stylish lobby where you can enjoy breakfast.

Just south of downtown, both the Super 8

Deadwood

and the Best Western Hickok

House

deliver on the dependability you'd expect from a national brand, as well as spacious, affordable rooms and an attached restaurant.
More Related Articles on PlanetWare.com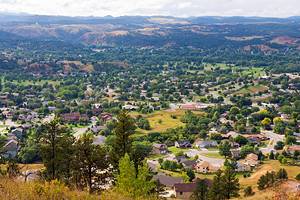 Other Cities in South Dakota: The Black Hills of South Dakota are also on full display in the city of Custer. This modern city lends the quickest access to iconic attractions like Mount Rushmore National Memorial and the Crazy Horse Memorial. Likewise, Rapid City also features quick access to the Black Hills and is a great launching point for adventures in Badlands National Park. On the eastern side of the state, Sioux Falls offers a plethora of natural and modern attractions.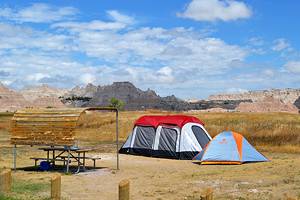 Camping in South Dakota: With such an abundance of natural spaces to explore, it should come as no surprise that there are plenty of places to camp in South Dakota, and our Best Campgrounds in South Dakota article highlights some of the most scenic. For a more in-depth look at campsites in two recommended adventure destinations, see our articles on the Best Campgrounds around Mount Rushmore and Best Campgrounds in Badlands National Park.