12 Top-Rated Things to Do in Gravenhurst, Ontario
Author Bryan Dearsley lives in Gravenhurst, Ontario, and enjoys sharing the many fun things to do in this popular Cottage Country community with visitors from across the globe.
Popularly known as the "Gateway to Muskoka," Gravenhurst, Ontario, is the closest of Muskoka's big three towns to Toronto and its international airport. An easy two-hour day trip due north of Canada's largest city, Gravenhurst has for well over a century been the first town travelers would see as they made their way to the historic lodges and resorts that drew the first tourists to this area of beautiful lakes, thick woods, and that iconic exposed rock known as the Canadian Shield.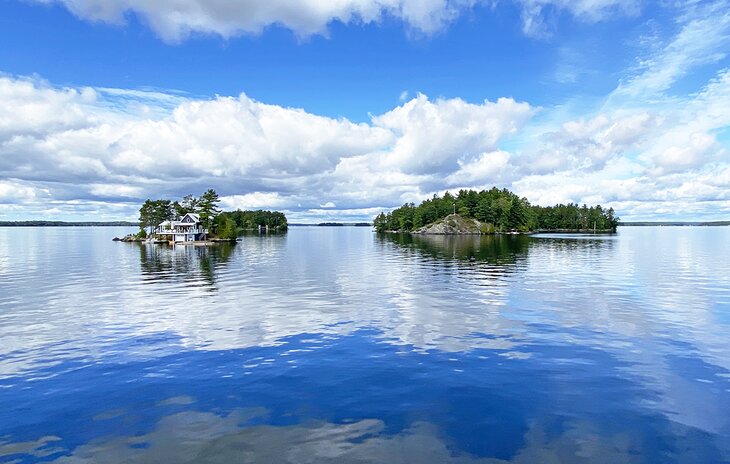 Gravenhurst's role as the entrance to "cottage country," one of the top places to visit in Ontario, continues to be of importance to this day. Visitors can still get a taste of the lifestyles of these first cottagers aboard the RMS Segwun. This historic steamship, built in 1887, still ferries tourists the length of Lake Muskoka, the blast of her iconic steam whistle reverberating around the Muskoka Wharf where she docks.
Now a four-season destination, Gravenhurst offers fun things to do for all ages whatever time of year you visit. While shoppers can enjoy the locally inspired products at its art and craft galleries in the downtown area and at the wharf on Muskoka Bay, those who enjoy great cultural activities can take in professional theatrical shows and concerts at its various venues across town, or even watch a drive-in movie.
To find out more about the many great sightseeing opportunities in this beautiful part of Muskoka, read through our list of the best things to do in Gravenhurst, Ontario.
1. Visit the Muskoka Wharf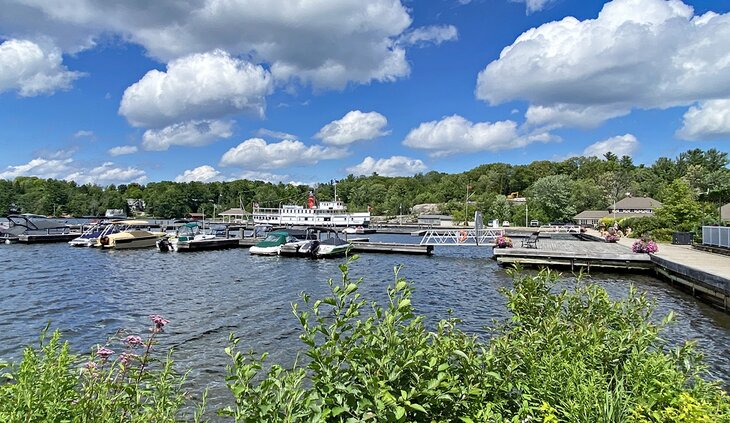 Since it opened in 2005, The Muskoka Wharf on Muskoka Bay has been one of the big must-see draws for visitors to Gravenhurst. This impressive multi-million-dollar project offers a mix of great accommodations, excellent dining (stop for afternoon tea at the Blue Willow Tea Shop), and wold-class attractions such as the famous RMS Segwun, North America's oldest still-operating steamship.
As the development's anchor attraction, the influence of the town's marine history can be seen pretty much everywhere along the Wharf. It in fact influences everything from the architecture to the themes of the many events and festivals held here each year, most notably the popular Vintage Boat Show. Held each summer, this popular one-day boat festival draws elegant wooden watercraft from across North America, with most of them put through their paces in Muskoka Bay.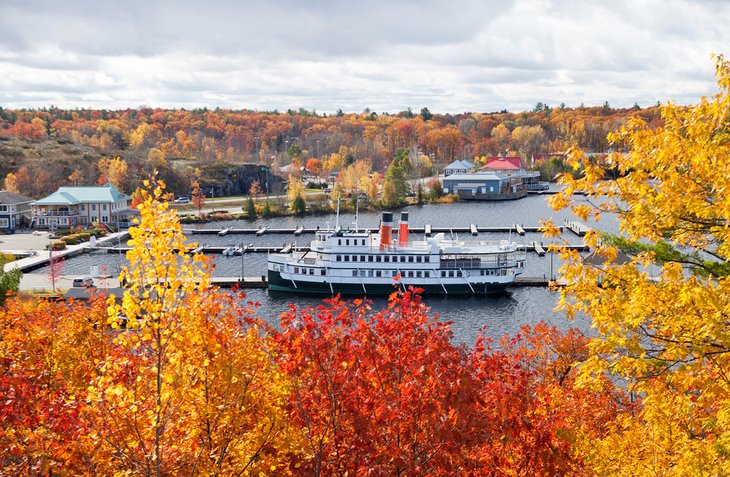 From the steamships, wander along the 609-meter-long boardwalk, which connects them to a public boat launch at the far end of the Wharf. Here, you'll also find the Muskoka Discovery Centre. This excellent interactive museum features displays and exhibits relating to Gravenhurst's rich boat building history, with restored antique classic boats and numerous period artifacts.
Add to this mix numerous lookout points offering panoramic views of Lake Muskoka, as well as nature trails, fishing, and boating activities, and it's easy to see why the wharf has become such an integral part of Muskoka's rich tapestry of fun things to do.
Where to Stay: If you want to stay in this area, the Residence Inn by Marriott Gravenhurst Muskoka Wharf is a great option and one of the best hotels in Gravenhurst. Another great place to stay is the Muskoka Bay Resort, with its luxurious accommodations, numerous outdoor activities, and free shuttle service to the Muskoka Wharf, just a few minutes away.
Address: Muskoka Bay, Hwy 169, Gravenhurst, Ontario
2. Sail aboard the Muskoka Steamships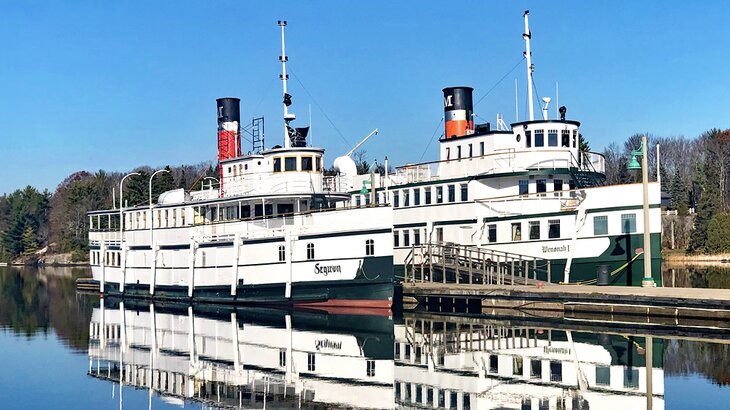 Moving with a grace that belies her age and still captivating the crowds gathered along Muskoka Wharf to catch a glimpse of her, Muskoka's majestic RMS Segwun is the main draw for Gravenhurst's Muskoka Steamships attraction.
Known affectionately as the "lady of the lakes," the Segwun is the sole survivor of a class of ship that was once quite common in Muskoka. Launched in 1887, this historic vessel still carries over 50,000 passengers each summer.
It's an impressive load, and one she now shares with her sister ship, Wenonah II. Though a very modern ship that was launched in 2002, the Wenonah II was designed to look like she, too, comes from another century.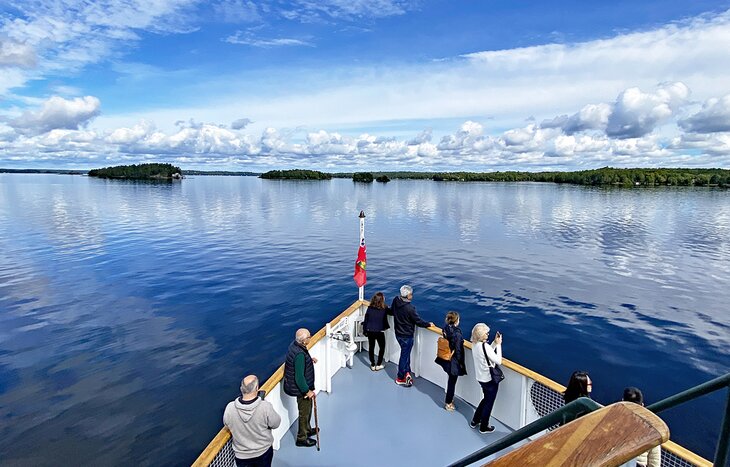 Sightseeing cruises run from May to October, with options that include sailing the length of Lake Muskoka as far as Lakes Joseph and Rosseau. Along the way, you'll see such sights as Millionaire's Row, where many of the world's elites own mansion-like "cottages." Some of the longer trips taking in charming Port Carling at the top end of Lake Muskoka.
Special "Fall Colour" cruises are also worth looking into. A variety of lunch and dinner options, including an elegant afternoon tea experience, are available on both ships.
Address: 185 Cherokee Lane, Gravenhurst, Ontario
3. Explore Lake Muskoka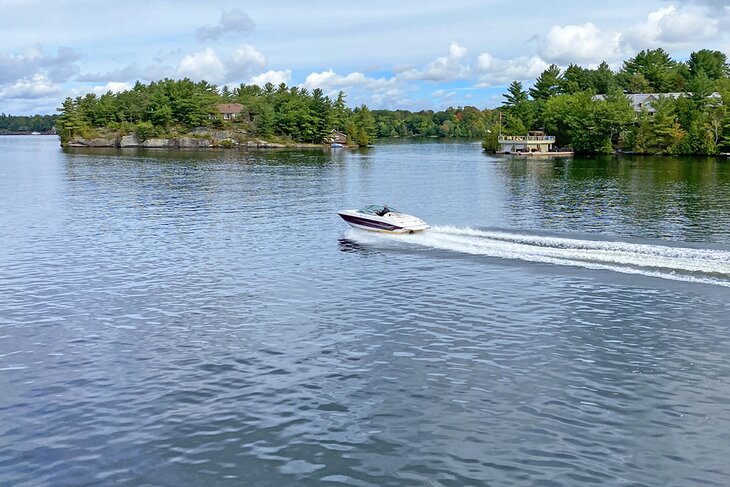 Gravenhurst has the distinction of being located on the southern tip of Lake Muskoka, cottage country's largest body of water and one of Ontario's most popular lakes. Stretching from the town's wharf project on the shores of Muskoka Bay all the way north to the attractive small community of Port Carling, a journey of around 20 miles by boat, Lake Muskoka offers plenty of fun things to do for tourists and cottagers alike.
Boating tops the list for many and is an experience that's made all the better thanks to the Port Carling Locks. This fun-to-visit hub allows boats to pass from Lake Muskoka into Lakes Rosseau and Joseph, thereby extending the accessible navigable waterways substantially. The same route is also taken by the Muskoka Steamships, which, along with other tourist vessels, provide fun excursions along such landmarks as Millionaire's Row.
For those who don't own a boat of their own, everything from Jet Skis to wakeboards and pontoon boats are available for rent from the lake's many marinas. You can also rent them from Gravenhurst-based Muskoka Boat Rentals and Matchless Adventures, both headquartered at Muskoka Wharf.
Other fun things to do on Lake Muskoka include kayaking and canoeing, as well as fishing. For those who enjoy winter, try your hand at ice fishing on Lake Muskoka, a fun adventure that can also be arranged through some local marinas and charter providers, as well as some of the leading Muskoka resorts.
Accommodation: Top-Rated Fishing Lodges in Ontario
4. Explore the Region's Past at the Muskoka Discovery Centre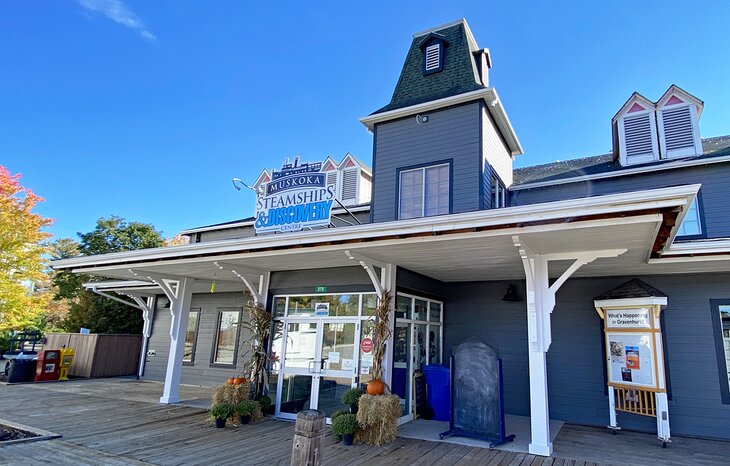 For those wanting to learn more about Gravenhurst's steamships along with the town's role in the region's development, be sure to also visit the Muskoka Discovery Centre. Also located on Muskoka Wharf, the center houses a number of classic vintage wood boats, along with displays relating to the town's early years as a boat-building and lumber center.
There are also numerous fun hands-on experiences and activities for the kids. In addition to the learning experiences, the Kid Zone features fun things to do including a 3D augmented reality sandbox, board games, as well as LEGO building blocks to fire the imagination.
A new addition is the Wanda III Boathouse. This attractive modern building houses the historic vessel after which it's named, an impressive steam yacht once owned by Canada's wealthy Eaton family. Along with displays and exhibits related to the history of the region's once prolific fleet of steamships, you can get an up-close look at this one-of-a-kind historic vessel.
Address: 275 Steamship Bay Road, Gravenhurst, Ontario
5. Enjoy a Show at the Gravenhurst Opera House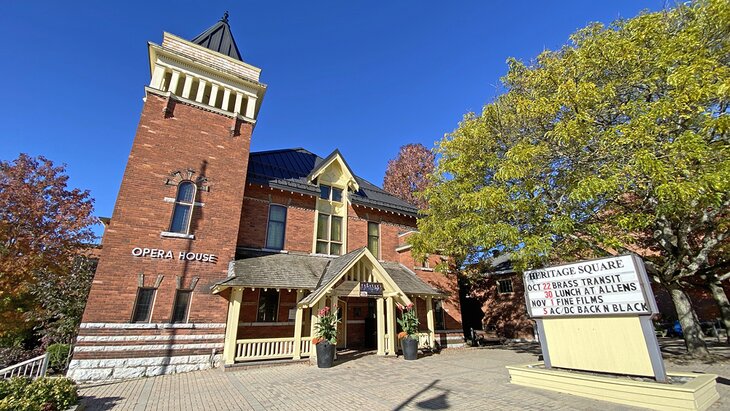 Muskoka's cottage season truly arrives when the historic Gravenhurst Opera House throws opens its historic doors for its always awesome Summer Theatre program.
Known among professional actors as the birthplace of Canada's tradition of summer theater, it was here in 1934 that actor John Holden decided to create what is known as "summer stock," an opportunity for actors to keep busy in the traditionally quieter summer seasons.
Built in 1901 and already well established, the Opera House became home to the John Holden Players. This group eventually morphed into the legendary Straw Hat Players, before winding up as the home of the long-running Muskoka Festival. Many of Canada's best-known actors graced its stage, including Donald Sutherland, who got his start here in the late 1950s.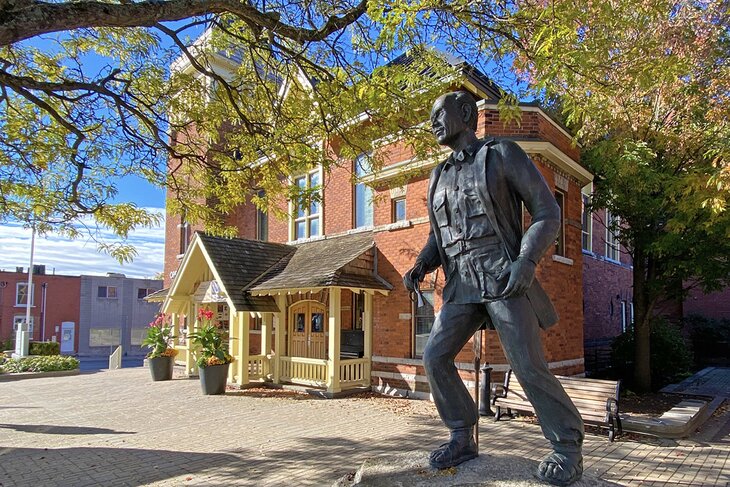 The Gravenhurst Opera House continues to be an important part of the local, and cottager, community, hosting concerts and entertainment year-round. Indeed, a highlight of taking in a show here is enjoying the building's beautiful wood interior, which also just so happens to boast some of the best acoustics in Canada.
Visiting Gravenhurst in the winter months? Check the "Ops" website for news of concerts and festivals, as well as its "Fine Films" movie and documentary offerings. Past musicians to have visited include the great Jim Cuddy of Blue Rodeo fame, The Cowboy Junkies, Ron Sexsmith, Ashley MacIssac, Colin James, and Kiefer Sutherland.
Address: 295 Muskoka Road South, Gravenhurst, Ontario
6. Learn about Canada's Chinese Hero at Bethune House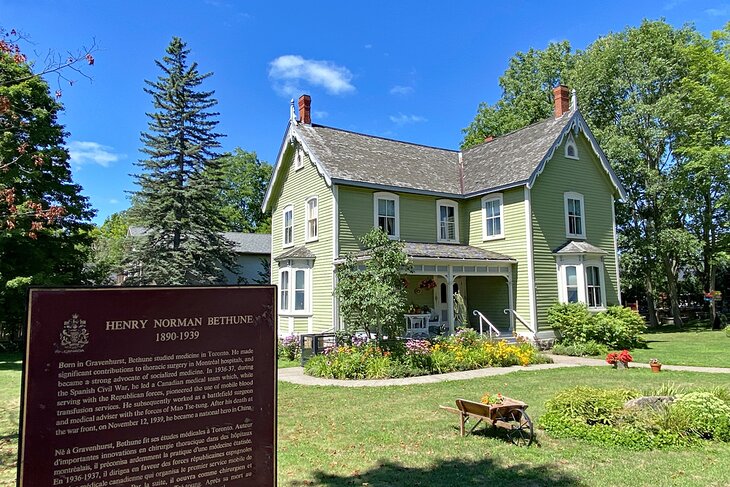 It often comes as a surprise to visiting Canadians that Gravenhurst is well known internationally as the birthplace of one of the world's most famous humanitarians. Now a fascinating museum and national historic site, Bethune Memorial House was where Dr. Norman Bethune spent the first three years of his life after being born in 1890 in what was, at the time, the manse of Gravenhurst's Knox Presbyterian Church.
Now home to the museum, this historic green wood-clad Victorian-era home and the adjacent visitor center are one of Muskoka's most-visited attractions. Exhibits and artifacts commemorate Bethune's impressive achievements, with a particular emphasis on his time serving as a pioneering doctor on the frontlines in China during its war with Japan in the 1930s. Bethune died a national hero in China in 1939 at age 39.
Today, a visit to Bethune House includes numerous exhibits and artifacts showcasing his achievements. While admission includes a self-guided tour of the historic home, private guided tours can be arranged in advance of your visit.
Address: 297 John Street North, Gravenhurst, Ontario
7. Stargazing in Torrance Barrens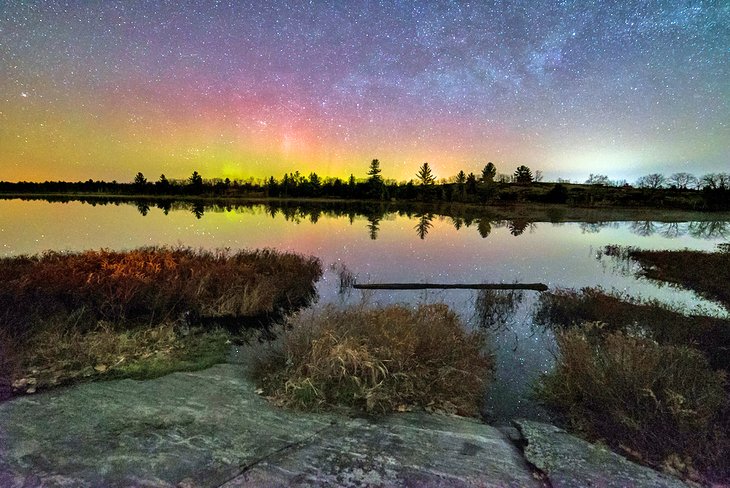 Less than a 30-minute drive west of downtown Gravenhurst by car along the road to Bala, the Torrance Barrens Dark-Sky Preserve is one of the best places to visit in Ontario for stargazing. The preserve was established in 1999 and is one of only a handful of such locations across Canada that's considered free from light pollution, ensuring uninterrupted views of the star-filled Muskoka sky.
While the location is itself easily accessible with ample parking, be sure to take a flashlight, as there's no lighting at all. If you can, try to arrive a few hours before nightfall in order to explore the attraction's more than 5,000 acres of Crown land, much of it accessible by well-marked trails.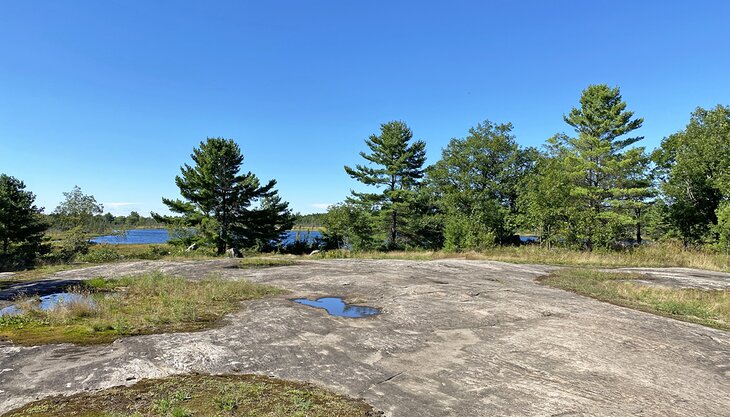 Along the way, you might be lucky enough to spot wildlife, including rare birds and reptiles. And, if you visit in winter, you might even catch a glimpse of the northern lights. One of the top free things to do in Muskoka, it's especially popular with backpackers who can camp here for a night or two in one of six designated campsites.
Address: Southwood Road, Gravenhurst, Ontario
8. Hike the Hardy Lake Trail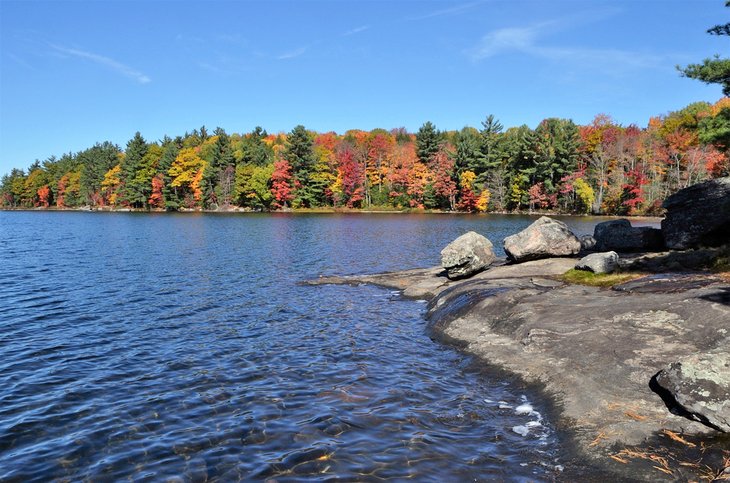 On the way to Torrance, you'll pass one of Muskoka's most popular nature preserves: Hardy Lake Provincial Park. The big draw is the park's hiking trail network. There are three to choose from, ranging in length from an easy-to-walk paved surface from the car park, to the longer circular route that circumnavigates the picturesque lake.
In addition to the typical Muskoka vegetation, you'll see plenty of examples of Atlantic coastal plain species of plants. Something of a rarity in Ontario, these species were left here after the ancient Lake Algonquin receded after the last Ice Age. Sharp-eyed hikers will also see a section that resembles the rugged shorelines of Georgian Bay, displaced over millennia and still intact here.
Address: Highway 169, Torrance, Ontario
Read More: Top-Rated Ontario Parks: Exploring Ontario's Great Outdoors
9. Rock On at a Muskoka Music Event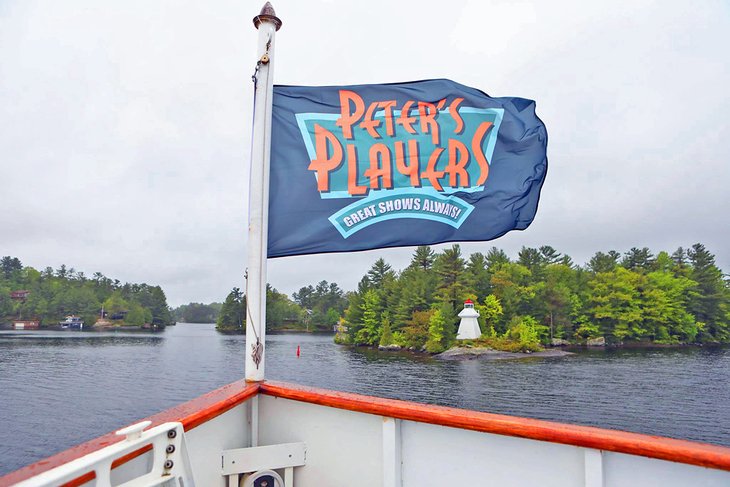 Mention Gravenhurst to a professional musician, and they'll more than likely wax lyrical about Peter's Players. One of the leading concert promoters in Ontario, this local business made the transition in recent years from its iconic venue in downtown Gravenhurst to attracting leading professional music talent to a variety of popular venues including Gravenhurst Opera House and the Muskoka Discovery Centre.
A highlight of Peter's Players summer season are its music cruises. These always-fun four-hour-long Muskoka Lake music cruises depart Muskoka Wharf aboard the Wenonah II, and in addition to fantastic sightseeing opportunities, also feature live music and a buffet dinner. These popular cruises tend to sell out well in advance, particularly its fall color cruise options, so book your spot early.
Gravenhurst is also home to the excellent Muskoka Music Festival. Held in August, this weekend event is spread across a variety of Gravenhurst venues, including the Opera House and the outdoor stage at Gull Lake Rotary Park. Special VIP packages are also available that include unique, intimate cottage concerts with some of the festival headliners.
The event organizers also operate the Dockside Festival, one of the region's most popular art and craft shows, and which is held at Muskoka Wharf. Gravenhurst is also something of a hotbed for budding musicians, too. Two of the region's best music equipment stores, Long & McQuade Gravenhurst and the eclectic Currie's Music, sell everything from instruments to sheet music, and can also arrange for lessons.
Location: The Opera House, Gravenhurst, Ontario
10. Unwind in Gull Lake Rotary Park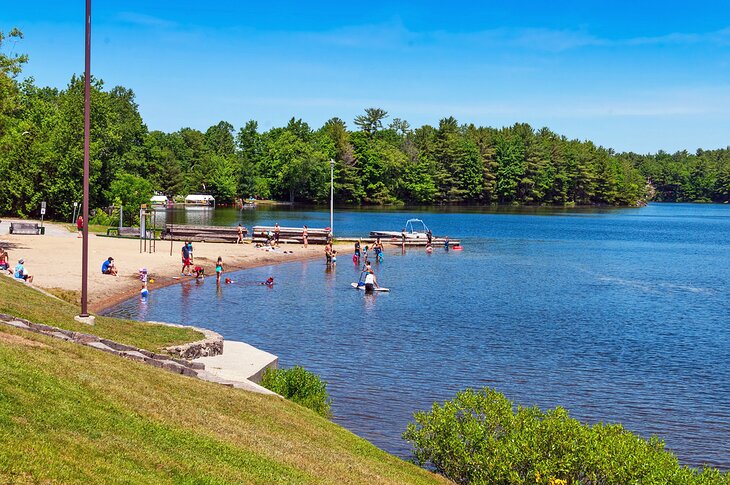 One of a number of attractive public green spaces in Gravenhurst, Gull Lake Rotary Park is probably the best known. In addition to being the site of one of the top beaches in Muskoka, it boasts a variety of other amenities including tennis courts, a baseball diamond, and plenty of bench seating and picnic tables.
Gull Lake Park, however, is best known for its summer long Music on the Barge series of concerts. Held most Sundays throughout the summer (weather permitting), the park's on-water stage, aka "the barge," hosts numerous bands providing toe-tapping entertainment suitable for all ages.
Arrive early, bring a folding chair, and have as much fun as the late Queen Elizabeth II did when she visited the park for its first ever concert in 1959.
Address: Third Street, Gravenhurst, Ontario
11. Play Some Golf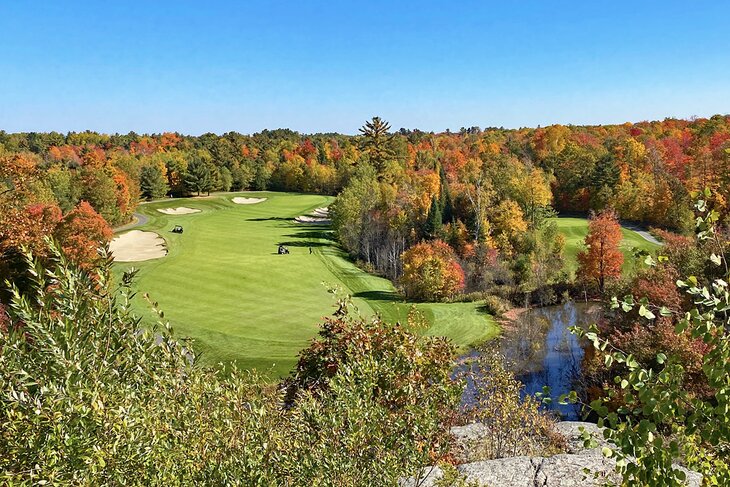 Muskoka is blessed with somewhere around 30-plus championship golf courses, and Gravenhurst has two of the very best of them. Topping people's list of must-play Muskoka golf courses is Taboo Golf Course. Located across the road from the Taboo Muskoka Resort, the course features 18 holes, each of them defined by that rugged Muskoka rock.
This par-72, 7,200-yard-long course is simply a delight to play. With no two holes alike, it's a fun mix of manicured greens and nature in all its splendor, taking you past everything from dense pine forests to marshland.
Gravenhurst's other top course, Muskoka Bay, is equally stunning. Set on 280 acres of beautiful Muskoka countryside and consistently ranking as one of Canada's top golf courses, its mix of mature forests and wetlands make for a beautiful backdrop to this lengthy 7,367-yard, par-72 course.
And be sure to visit the club's spectacular Clifftop Clubhouse. Perched on a clifftop overlooking the course, this 14,000-square-foot recreational center features a great restaurant with patio seating, a lounge, a pro shop, plus a fully equipped fitness room.
Address: 1209 Muskoka Beach Road, Gravenhurst, Ontario
12. Visit Gravenhurst in Winter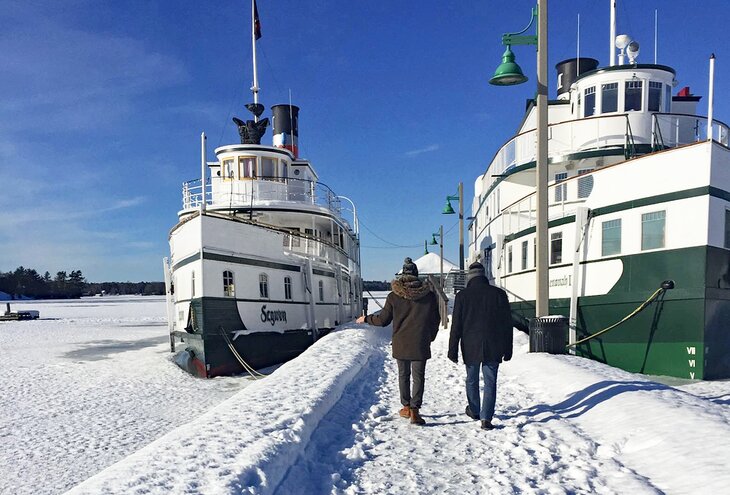 When the snow flies, Gravenhurst becomes a whole other place to explore. Boasting around 400 kilometers of well-groomed snowmobile trails and connected to Ontario's extensive trail network, Gravenhurst attracts enthusiasts from far and wide, all wanting to take their sleds out for a spin across Lake Muskoka.
Don't have a sled of your own? Don't worry. Many Muskoka marinas have rentals and can deliver them to your resort or cottage rental. Packages generally include gear and permits.
Quieter winter pursuits include cross-country skiing and snowshoeing at places like Gravenhurst KOA's Nordic Trails, which offers over 117 kilometers of groomed trails to explore. Muskoka Bay Resort, too, features an extensive trail network, with the added benefit of free hot drinks on weekends.
The ever-popular Gravenhurst Winter Carnival is another great excuse to visit Muskoka in winter. Held each February at locations across town, the carnival includes fun family activities like skating, pond hockey, ice sculpting, dogsledding, and even a polar dip.
Gravenhurst - Climate Chart
Average minimum and maximum temperatures for Gravenhurst, Canada in °C
J
F
M
A
M
J
J
A
S
O
N
D

-5

-16

-4

-16

2

-9

10

-2

18

4

22

9

25

12

24

11

19

7

13

2

5

-3

-2

-12

PlanetWare.com
Average monthly precipitation totals for Gravenhurst, Canada in mm.

89

64

69

74

84

86

76

91

109

97

112

107

Average monthly snowfall totals for Gravenhurst, Canada in cm.

86

53

38

14

3

0

0

0

0

4

43

85
Average minimum and maximum temperatures for Gravenhurst, Canada in °F
J
F
M
A
M
J
J
A
S
O
N
D

22

2

25

3

35

15

50

29

63

39

72

48

77

53

74

52

66

44

54

35

40

26

27

10

PlanetWare.com
Average monthly precipitation totals for Gravenhurst, Canada in inches.

3.5

2.5

2.7

2.9

3.3

3.4

3.0

3.6

4.3

3.8

4.4

4.2

Average monthly snowfall totals for Gravenhurst, Canada in inches.

34

21

15

5.6

1.1

0

0

0

0

1.5

17

33