16 Best Drives to See Fall Foliage in New York
Fall is arguably the most beautiful season in New York. The deep and light greens blanketing the state's remarkable landscape through late spring and summer burst forth with brilliant and rich hues of red, orange, and yellow. Add refreshingly crisp winds to this natural palette, and you've found a fail-safe stress-busting recipe. The best way to witness Mother Nature's fantastical autumn gifts is by embarking on a drive to see New York's flamboyant fall foliage up close.
With so many gorgeous places to visit in New York, it's best to plan your trip carefully when it comes to leaf peeping. Luckily, there are a bevy of beautiful drives to take you through the state's most inspiring fall settings. Whether you're hoping to catch sight of the dazzling landscape atop the Adirondack or Catskill mountains, or you hope to cruise alongside the Hudson or Genesee River to spy dramatic gorges, glowing forests, and thundering waterfalls, a drive through New York state during fall won't disappoint.
Before you go, be sure to plan the best time for leaf peeping. Hit the road in early October to see the most vibrant colors at higher elevations, like the Adirondack and Bear mountains. Head out a little later (in mid-October) to enjoy the best hues the Catskills have to offer, and opt for a late-month visit (around October 19th) to see New York City at its most brilliant.
Not sure where to start your journey? Choose the best route with our list of the top drives to see fall foliage in New York.
1. Whiteface Veteran's Memorial Highway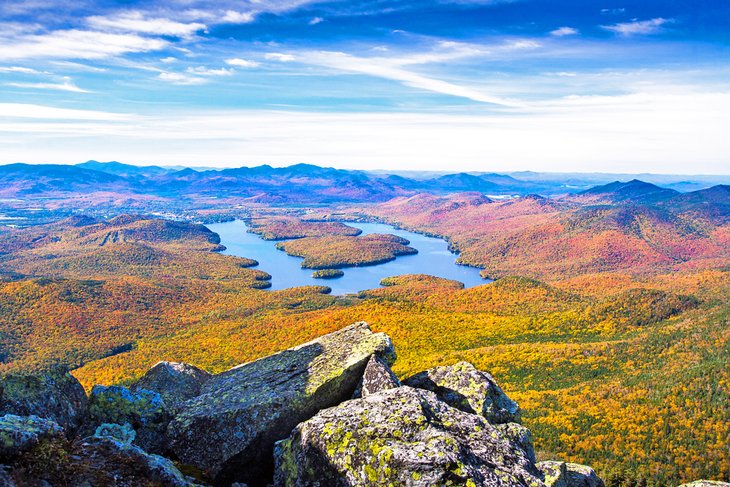 The best autumn view can be found at the summit of Whiteface Mountain, which sits nearly 5,000 feet high. It's the fifth-highest summit in the state, and if you time it right, you'll be rewarded with the most flamboyant show of fall colors from thousands of trees below. From this extreme vantage point, visitors can literally have their heads in the clouds while gazing at Vermont and Canada in the distance.
The road starts at the Toll House. From here, it runs five miles and climbs over 2,000 feet. Expect to pony up about $40 for one car with one driver and four passengers on this toll road. Once you set your sights on the phenomenal scenery, you won't mind shelling out the extra cash.
Before revving your engine towards the summit, take time to walk around the pristine Lake Stevens. It will only take about 10 minutes, but it's worth every step. Plus, you'll win a chance to be up close and personal with some of the area's real stars - and the main reason you've embarked on this drive - the remarkable trees. Hop on an Old Forge Lake Cruise for another spectacular view of autumn's captivating show.
2. Park Road, Letchworth State Park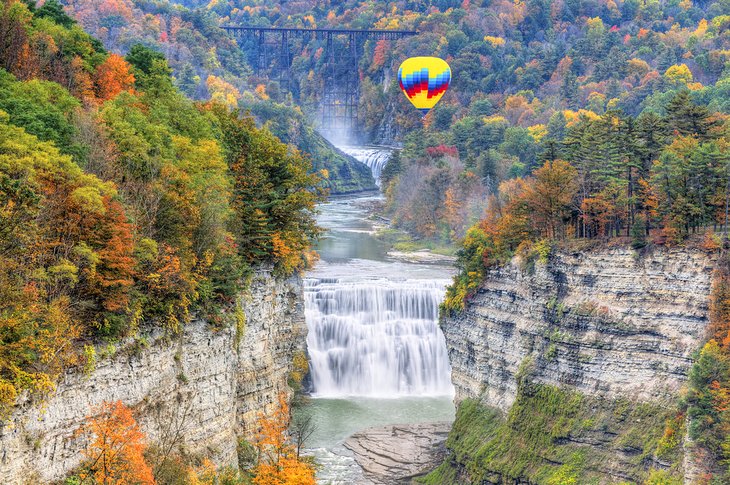 Dubbed the Grand Canyon of the East, Letchworth State Park is one of the most beautiful state parks in New York.
Home to three of New York's best waterfalls (Lower, Middle, and Upper Falls) ranging from 70 to 107 feet tall, Letchworth also features a massive gorge (it's almost 600 feet deep) lined during fall by the most eye-catching multicolored foliage.
Park Road cuts through the middle of this 14,350-acre scenic wonderland, running about 17 miles in length along the Genesee River. It features many lookout spots that highlight the area's best features (including the Mt. Morris Dam, the gorge, and multiple waterfalls).
Don't miss Inspiration Point, which offers the best view of the falls and the surrounding fall color show. The park, which is situated about an hour and a half southeast of Buffalo, boasts numerous entrances: four on its west side and two on the east. Entry is $10 per car.
3. US Route 9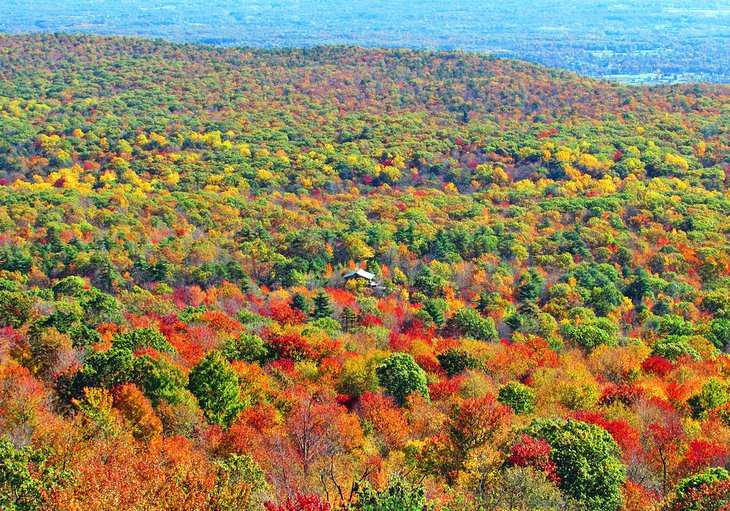 US Route 9 spans over 520 miles through Delaware, New Jersey, and New York. The most picturesque section runs north-south through the Hudson Valley, passing some of New York's most adorable small towns, like Highland Falls, Cold Spring, Hyde Park, and Saratoga Springs.
If you're looking to cover a lot of colorful ground in one day, this is the route to choose. You'll zip by miles of bucolic countryside painted in a kaleidoscope of fall's most spectacular hues.
Along the route, you'll find Storm King Art Center, an outdoor museum boasting 500 acres of luscious landscape, including Schunnemunk Mountain, rolling hills, vast meadows, and verdant forests. The center's mission is to pepper these phenomenal natural features with artistic creations (i.e. giant sculptures) that enhance or compliment the impressive scenery.
4. Route 9D, Hudson Highlands State Park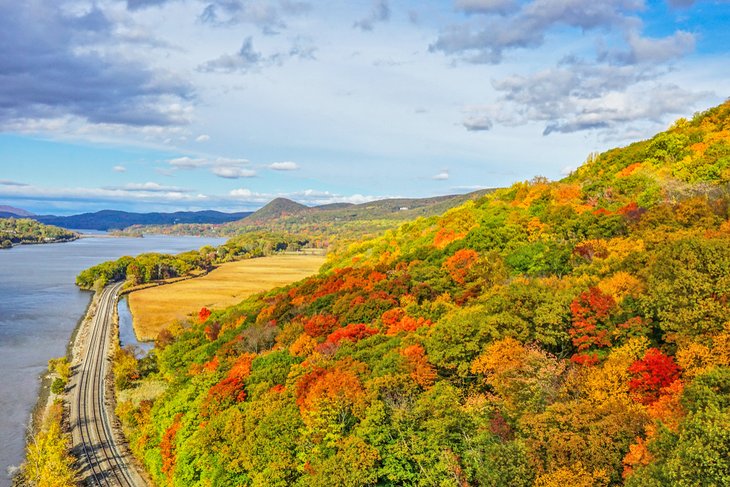 On the east side of the Hudson River, across from Storm King State Park, you'll find the glorious Hudson Highlands State Park, another Hudson Valley highlight and one of the best places to visit in New York.
The easiest way to see it all in one day is by driving along Route 9D. This park is non-contiguous, with one particularly impressive section found on an island in the middle of the river.
The park spans an area of 270 acres, running about four miles from Westchester County's Peekskill to Dutchess County's Beacon, passing through Putnam County on the way.
Take a break from driving at one of the scenic lookouts, or better yet, tighten the laces on your hiking boots and climb Breakneck Ridge for the most glorious leaf peeping views. Storm King's lusciously vibrant girth is particularly rewarding.
5. Palisades Interstate Parkway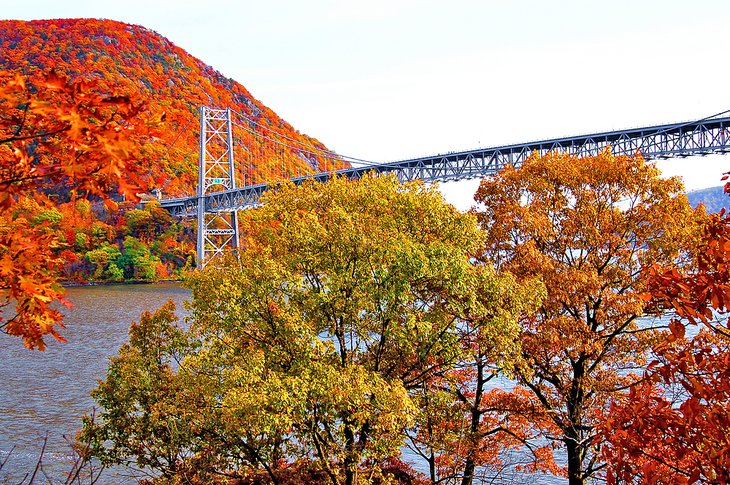 Bear Mountain State Park sits serenely on the west bank of the Hudson River, just over 11 miles southwest of Hudson Highlands State Park. It is unmissable for leaf-peepers and photographers looking for the perfect backdrop. Perkins Memorial Tower awards visitors with jaw-dropping views of scintillating trees rich in many hues.
The most captivating way to get here is a journey along the Palisades Interstate Parkway, which spans nearly 42 miles from the George Washington Bridge in Fort Lee, New Jersey to Bear Mountain Bridge in New York. Designated a State Scenic Byway, this historic corridor is spotted with arched stone bridges, and lined with dramatic forests. Talk about gorgeous! It's also been listed on the National Register of Historic Places.
In New York, the scenic parkway runs nearly 27 miles along the Hudson River and through Orange and Rockland Counties in the south.
6. Mohawk Towpath Byway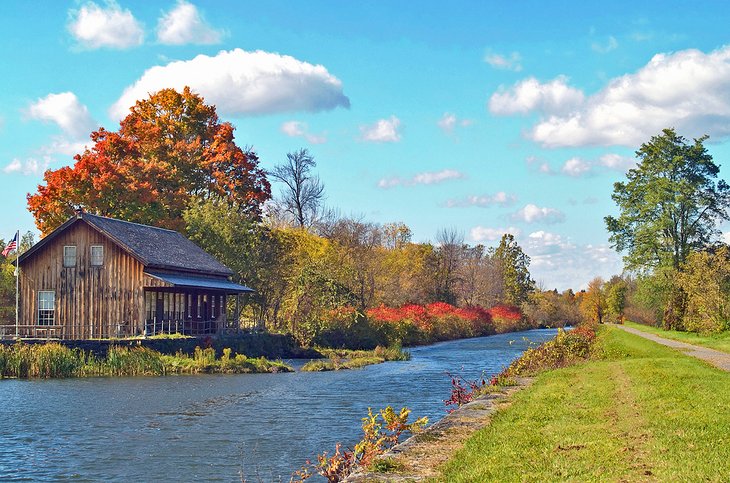 Follow the historic path of the Erie Canal from upstate New York's Schenectady to Waterford and Cohoes on the Mohawk Towpath Byway. This series of scenic local, county, state, and federal highways passes eye-catching views of the Canal; the Mohawk River; and towering forests speckled with bright oranges, yellows, greens, and reds.
The byway's path depicts the area's historic westward expansion and teaches visitors about the important roles played by the region during the Industrial Revolution. Insider's tip: download a copy of the "Discovery Guide to the Mohawk Towpath Byway" online to learn more about the history, and garner tips on the most important places to stop along the route.
One place you shouldn't miss? Cohoes Falls. Stop to admire the peaceful beauty of this massive attraction as it thunders across 1,000 feet of the Mohawk River before dropping 90 feet to the rushing water below.
7. Great Lakes Seaway Trail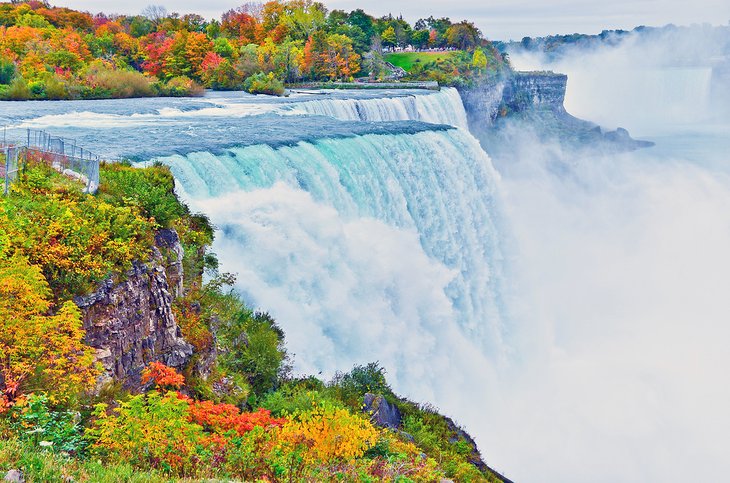 You'll be happy you chose to ride along the Great Lakes Seaway Trail - an expansive driving route peppered with stunning vistas, historic towns, and sparkling lakes. This popular (and picturesque) route, which has been deemed a National Scenic Byway, follows 518 miles along the shores of the state's most impressive waterways: Lake Erie, Lake Ontario, the Niagara River, and the St. Lawrence River.
It's along this gorgeous path that you'll find striking fall scenery that highlights the already exquisite waterfront villages like Cape Vincent and Port Ontario.
Other, larger regions like Niagara Falls, the Thousand Islands, Presque Isle, and bigger cities like Buffalo, Syracuse, and Rochester are also made more glorious at this time of year.
8. Cayuga Lake Scenic Byway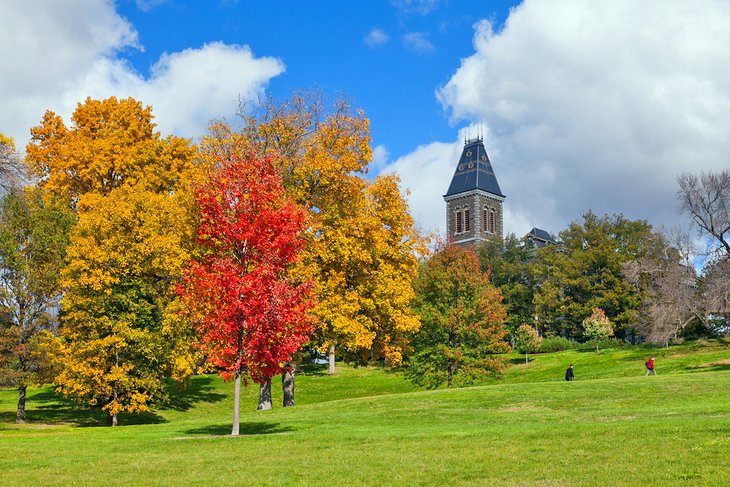 One of the best lakes in New York, Cayuga Lake is a watery wonder worth visiting, especially when its shores are brightly lit by the richly hued trees of fall. The best way to see it by car is by traveling along the Cayuga Lake Scenic Byway, an 87-mile loop that transports visitors through deep gorges, sprawling wetlands, lush fields, tumbling waterfalls, and adorable towns.
At 40 miles in length, Cayuga Lake is the longest of New York's Finger Lakes. It's a great place to canoe, kayak, and fish while being dwarfed by the impressive natural scenery.
Explore nearby Ithaca, a tranquil city flanked by phenomenal natural wonders and filled with visit-worthy museums, eclectic shops, and fab restaurants.
Accommodation: Best Resorts in the Finger Lakes Region, NY
9. Upper Delaware Scenic Byway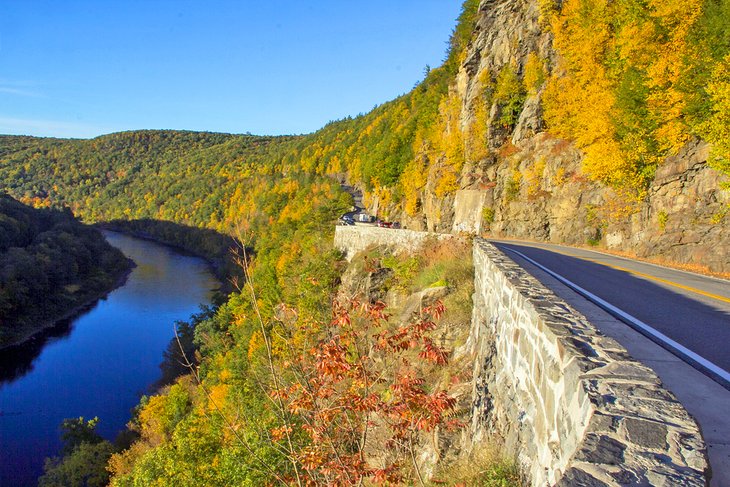 Also known as Route 97, the Upper Delaware Scenic Byway runs along 70 miles of some of the most gorgeous scenery in the state. This lovely roadway follows the route of the Delaware River, winding around mountain ranges, whizzing past rolling hills, and passing through pastoral farmland. What sets this beauty apart from some of the other drives on this list is its thrilling path.
Yes, you'll be able to enjoy straightaways flanked by the impressive landscape, but its windy, adventurous turns make this a road you'll enjoy driving for the sake of driving. With more than 100 curves, this is a spot popular with car afficionados who despise boring, conventional roads.
Don't worry, it's a relatively easy, beautiful drive for those fond of a slower pace, although be prepared to take it slow on the Hawk's Nest portion of the drive, which is the most exciting and windiest section, with few shoulders.
Insider's tip: Don't miss stopping at the fabulous lookouts and historic towns peppered throughout Delaware, Sullivan, and Orange Counties.
10. Seven Lakes Drive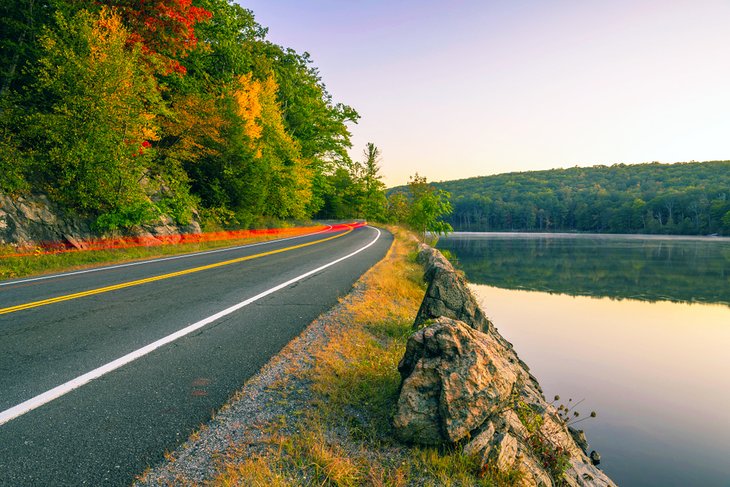 There's little to dislike about the Seven Lakes Drive. The twisty road of this popular route begins in the tiny village of Sloatsburg in New York's Rockland County and travels through Harriman State Park, passing shimmering lakes along the way. It ends at Bear Mountain State Park, so you can be assured of some pretty stunning views.
At less than 16 miles long, the route isn't long enough to occupy hours. In fact, you could reach Bear Mountain State Park in just over 20 minutes. That said, this road is one of the most beautiful fall drives in New York State. It is beautiful enough to warrant a return trip, so you can enjoy the spectacular vistas from the other side of the car.
Our best tip: Keep to the speed limit. First, that's the safest way to drive, and second, the view along this route is captivating, so you won't want it to whoosh by. If no one's behind you, we'd suggest going even more slowly so you can soak it all in.
11. The Amish Trail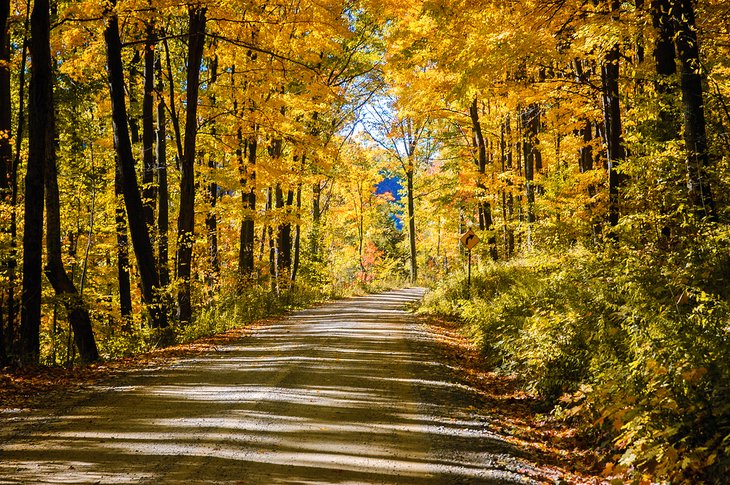 Roll back through time with a drive along the Amish Trail in western New York, but don't expect to do it quickly. While steering your way along bumpy country roads, you may find yourself behind an Amish wagon or two. Just sit back, relax, and enjoy the scenery as you follow at a safe pace.
The Amish Trail winds through craggy peaks dubbed the Enchanted Mountains of Cattarugus County. This is where you'll also find Allegany State Park. Towering masses pregnant with rust-, orange-, and golden-hued trees, the Enchanted Mountains are aptly named and so lovely, you'll want to spend hours admiring their innate autumn beauty.
Along the Amish Trail, you'll find hand-painted signs leading to low key shops selling intricate crafts created by Amish locals (quilts, wooden toys, and fudge are popular wares). Leon is the town to visit if you're looking for hand-made furniture and uber-friendly locals.
12. Allegany State Park Routes 2 and 3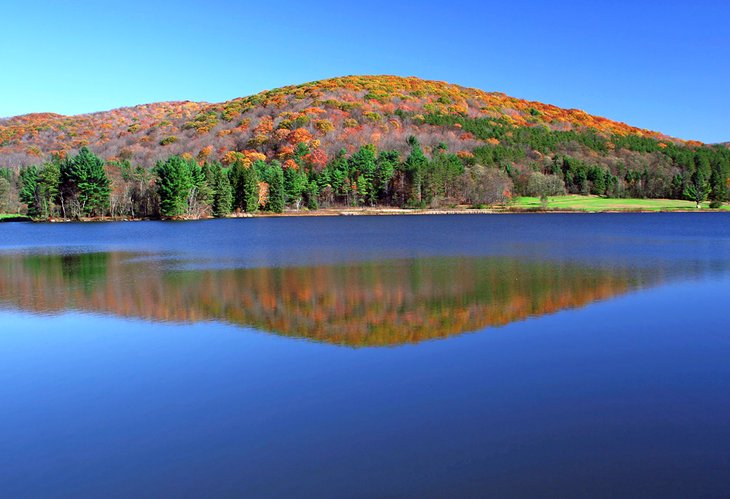 Over 65,000 acres of dense forest await visitors to Allegany State Park in Western New York (right next to Cold Spring). Driving along its two main roads, Allegany State Park Routes 2 and 3, allow visitors an up close and personal leaf-peeping experience. Pop open the sunroof and gaze at the towering trees as they whiz past. Or, better yet, stop at a lookout to immerse yourself in the verdant woods for a while.
Enjoy a picnic surrounded by nature's most flamboyant display, hike one of the many forest trails, or gawk at the flawless multicolor show as it's reflected in the park's two main lakes: Red House Lake to the east and Quaker Lake on the west.
When you're not gaping at the leaves, head out in a boat to fish, cruise, or kayak. The park boasts two campgrounds and 230 cabins, making it easy to spend more quality time in this gorgeous spot.
Insider's tip: Late October (i.e. the third week of the month) is usually best for optimal leaf viewing.
13. Adirondack Loj Road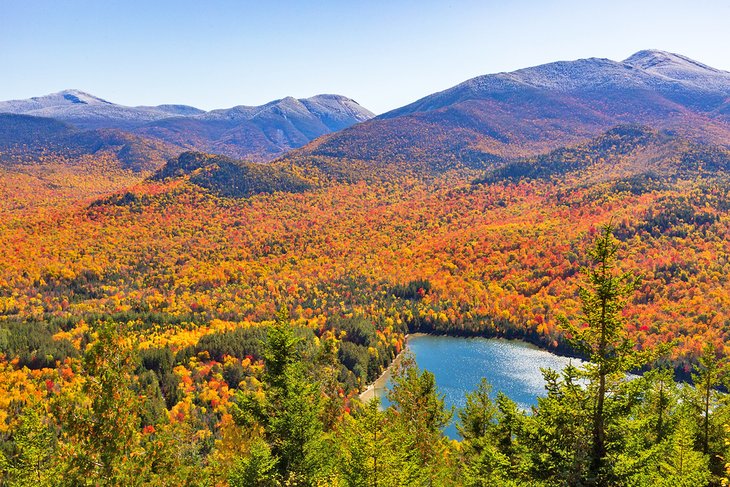 What's not to love about the Adirondack Mountains, especially during the fall? The crisp weather, glowing leaves, and glittering lakes are enough to cause even the most steadfast curmudgeon to relax.
The best way to witness these spectacular views is by driving along the Adirondak Loj Road, located in North Elba, just over six miles south of Lake Placid. The road is over 4.5 miles long and spans from Heart Lake in the south to Cascade Road in the north.
The road itself is one of the most scenic in the region. Look up, and you'll feel dwarfed by the towering peaks of Adirondack Park. Nature trails abound in this region, beckoning adventurers to hike through (and up) the captivating landscape.
Insider's tip: Great news for those looking to hike to nearby Marcy Dam, Mount Jo, or Van Hoevenberg Mountain: free parking is available on South Meadow Road.
14. New York State Route 4 and NY-22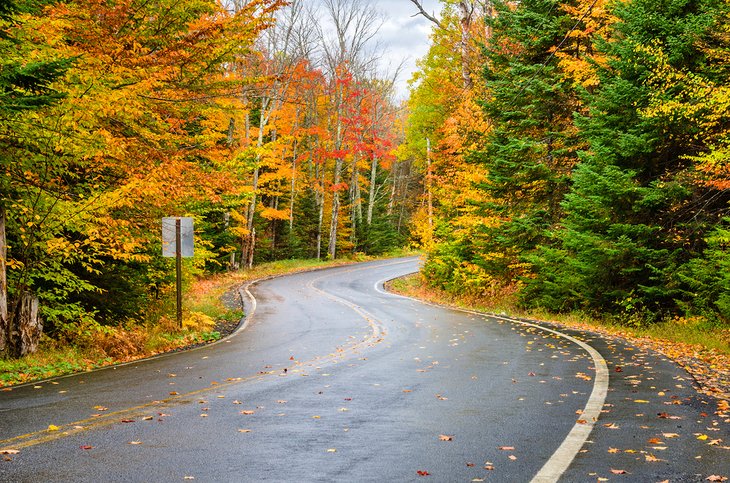 Colorful trees and lakes and small towns, oh my! There's a lot of beauty to experience on Route 4 in the fall. It's one of the most picturesque drives in New York. Your most scenic option is to follow Route 4 (and later, NY-22) from Hudson Falls in the south to Putnam Station. This should take about an hour; longer if you slow your pace to ogle the beauty.
The route passes through deep forests like Clemons and Dresden, offering direct views of the Adirondack Mountains. That means there's no lack of foliage to experience. This route also traverses the border between New York and Vermont, so you'll see the bright foliage of both states as you embark on your journey.
Along the picturesque route, you'll pass the cute town of Comstock, where you can stop to refuel your body and car, or have a little wander. Whitehall is another pretty village with plenty of nearby attractions and fun things to do, like ATV tours and historic farm visits.
Putnam Station will appear before you know it, a charming blip on the banks of Lake Champlain. Another sweet small town in New York, this lakeside beauty boasts fun attractions for the whole family.
15. Park Road and Route 89 in Taughannock Falls State Park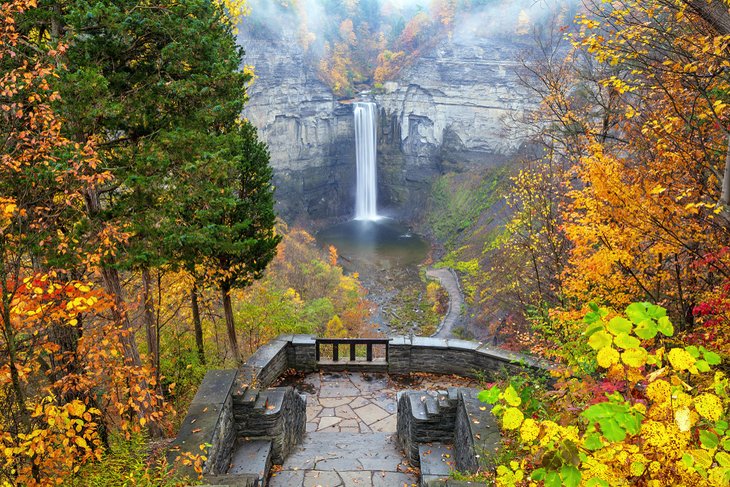 Taughannock Falls lies at the southern edge of Cayuga Lake, deep in the heart of the Finger Lakes region of New York. Park Road is your best bet if you're hoping to see the park's main attraction, Taughannock Falls.
As one of the best waterfalls in New York, this giant cascade is a must-see, and you'll likely hear it when you're close, especially if you drive with the windows down.
Luckily, following Park Road will get you to an overlook with unbeatable views of the falls, so you won't have far to go to appreciate the impeccable beauty. The walk from the parking area is mere minutes.
As always, be sure to drive slowly, both for safety and incredible views. The park's main roads wind their way through the most magnificent forests; don't be surprised if you're left speechless.
Those hoping to stretch their legs on a hike should follow Route 89, which cuts through the park, leaving the gorge on its southwestern side and the sparkling lake on its northeast side.
The gorge is accessible from a small parking lot off Route 89. There's not a lot of room for cars to park here, so we'd suggest arriving early. The gorge trail will take about an hour to complete, so plan accordingly.
If you can't tear yourself away from the scenery, book a campsite. The park's campground boasts 68 sites and 16 cabins. Be sure to arrive before mid-October, though, when the campground closes for the season.
16. Adirondack Scenic Railroad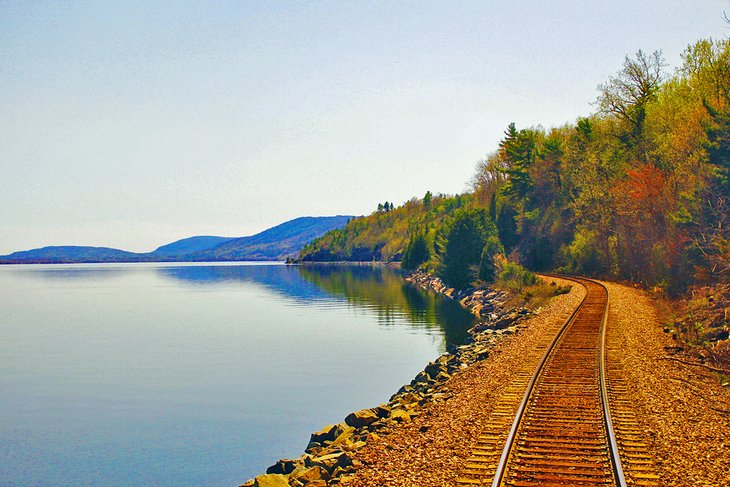 While this isn't technically a "drive," a trip on the Adirondack Scenic Railroad proffers incredible views of glowing forests, shimmering rivers, and winding streams while granting visitors a chance to sit back, relax, and enjoy the scenery.
Traveling north from Utica to Theandra or a bit farther to Big Moose (depending which trip you choose), your face will involuntarily stick itself to the window to gape at the immense beauty that flies by. We're talking vibrant hues of yellow and orange and rolling mountains reaching for an iridescent blue sky.
The train stops close to Old Forge, where visitors can disembark for an afternoon visit to hike nearby nature trails, enjoy lunch at a local restaurant, or shop at one of the tiny hamlet's eclectic shops.
Map of Drives to See Fall Foliage in New York
More Related Articles on PlanetWare.com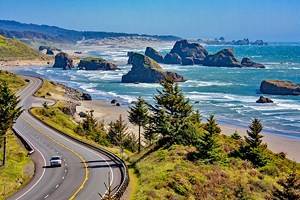 More Fun Places to Hit the Road: While driving though New York can be spectacular, there are a ton of other road trip destinations you won't want to miss. From weaving through mountains on the West Coast to driving along the crashing shores of the East Coast, the United States boasts a bevy of don't-miss road trips!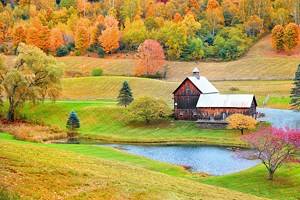 Catch More Fall Foliage at its Peak: New York isn't the only state bursting with impressively colorful hues each autumn. If you're looking to give your camera a workout, visit one of the charming small towns in Connecticut, hike through Maine's Acadia National Park, or head to one of these best places to visit in October.