16 Top-Rated Tourist Attractions in Buffalo, NY
Set on the east end of Lake Erie, Buffalo is the second most populated city in New York and a wonderful destination for sightseeing, shopping, and enjoying some leisure time. The city is well known for its lovely historical buildings, including the Art Deco-style City Hall.
In recent years, Buffalo has undergone a billion-dollar revitalization and now offers some wonderful public spaces in the city center and along the waterfront. Getting around is easy on the Buffalo Metro Rail, an above-ground train that offers free service for stops in the downtown and Canalside area.
If you have time to explore areas outside downtown, the attractions in and around Delaware Park are well worth seeing. Buffalo also makes a good base for visiting nearby Niagara Falls, New York and Niagara Falls, Ontario.
To help plan your visit, see our list of the top things to do in Buffalo.
1. Darwin D. Martin House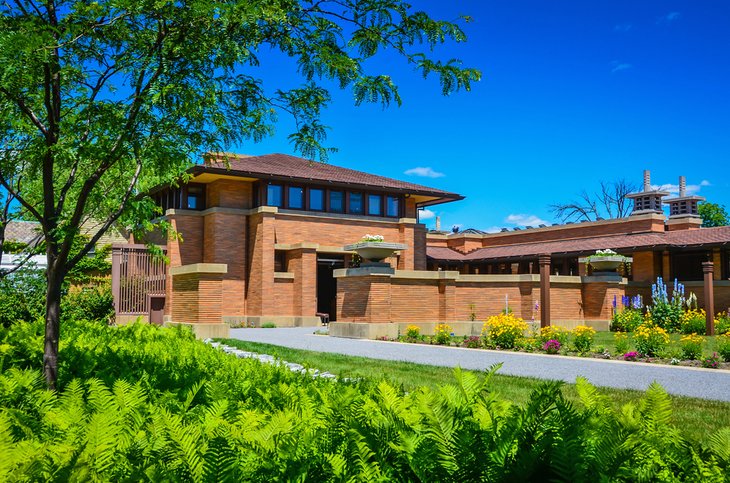 Designed by Frank Lloyd Wright, Darwin D. Martin House is one of the must-see attractions in Buffalo. Located in a lovely residential area on the edge of Delaware Park, this house is considered one of Wright's finest prairie houses and one of his greatest accomplishments from the first half of his career.
The complex, which includes six interconnected buildings, was designed and built between 1903 and 1905. Today, it is a National Historic Landmark. Some of the complex was demolished, but over the past two decades extensive restoration and reconstruction has brought the property back to life, and the efforts are still ongoing.
All visitors are required to tour the house in a group lead by a knowledgeable docent.
Address: 125 Jewett Parkway, Buffalo, New York
Official site: http://www.darwinmartinhouse.org/
2. Canalside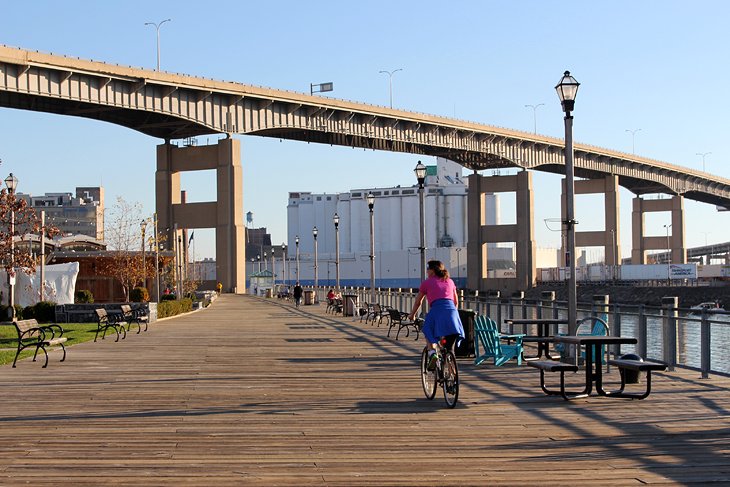 Canalside is a revitalized area of downtown Buffalo running along the canal, where locals and tourists can come to enjoy some green space, relax, and take in some occasional entertainment.
The area, the former terminus of the 1825 Erie Canada, includes a lovely park, with Adirondack chairs and benches looking out over the canal, and a walkway along the water's edge. In summer, a number of events are held here, and the schedule is posted in advance online, so you can see what's coming. Each winter, a huge outdoor skating rink is built nearby.
Along one side of this area is Harborcenter, with shops and a few restaurants, and in behind is the KeyBank Center hockey arena. If you are arriving by boat, you can dock at Canalside on a first-come, first-served basis.
3. Buffalo and Erie County Botanical Gardens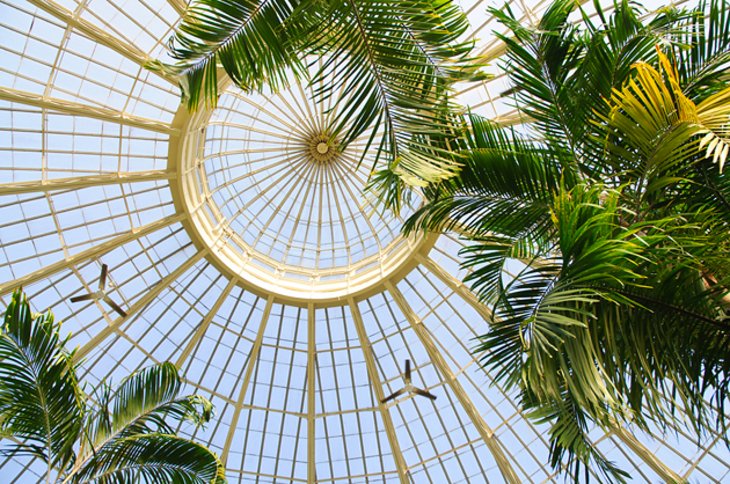 Olmsted's 155-acre South Park, created in the late 1800s, is home to more than 2,000 plants and trees. Within the park is the 1894 Victorian-style, tri-domed glass conservatory building, originally opened for the 1900 Pan American Exposition, which is the centerpiece of the Buffalo and Erie County Botanical Gardens. The unique glass, wood, and steel design was based on the famous Crystal Palace and Kew Gardens Palm House in England.
The indoor gardens include a fully restored palm dome and an impressive fern house. Year-round highlights include the orchid house, bromeliad house, herb collection, and waterfall. Some of the plants are native to the area, but most are native to tropical and subtropical regions of the world.
Address: 2655 South Park Avenue, Buffalo, New York
Official site: http://www.buffalogardens.com/
4. Pierce-Arrow Museum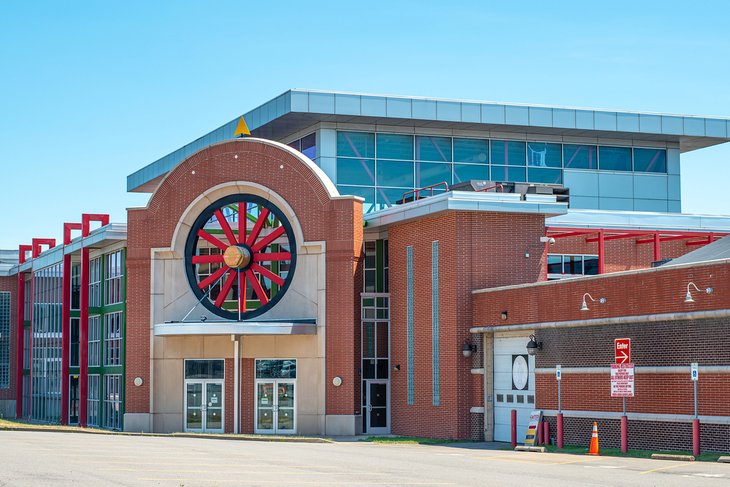 Fans of cars and various forms of transport will enjoy a visit to the unique and somewhat eclectic Pierce-Arrow Museum. The museum is named after the original Pierce-Arrow motorcar company that at one time had its manufacturing facility in Buffalo.
Inside you'll find a wide variety of cars, all shining beautifully under spotlights, along with motorcycles, trucks, traditional bicycles, and even a Jello wagon.
A highlight of any visit here is the Frank-Lloyd-Wright-designed gas station, dating from 1927. The station was never built by the famous architect, but the museum obtained the plans and built it from the ground up.
Official site: https://www.pierce-arrow.com/
5. Forest Lawn Cemetery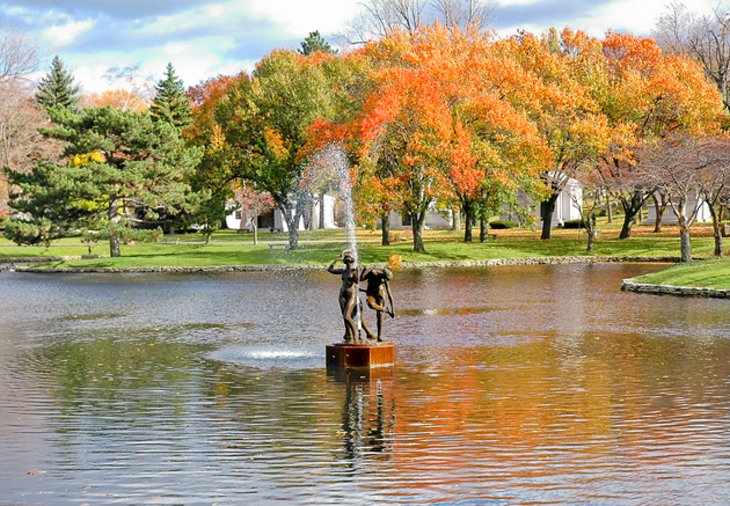 Forest Lawn, founded in 1849, is a large and scenic cemetery, covering 250 acres. The area feels more like a park and is visually stunning, with mature trees, water features, and walking paths. In the fall, the cemetery is particularly beautiful. This is also the final resting place of many famous people. Noteworthy sites include the Blocher Memorial and the President Fillmore grave site.
Plan an afternoon stroll here in the fall, when the large hardwood trees burst into a wonderful display of orange, red, and yellow.
Address: 1411 Delaware Avenue, Buffalo, New York
6. Buffalo and Erie County Naval and Military Park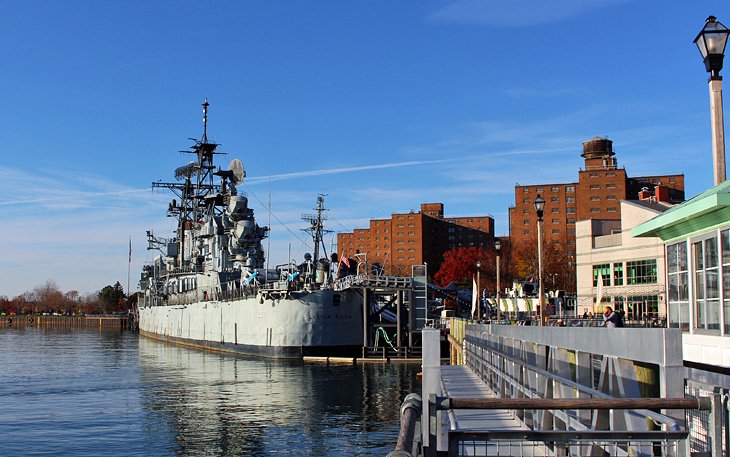 Along the canal in downtown Buffalo, beside the revitalized Canalside area, Buffalo and Erie County Naval & Military Park is home to guided missile cruiser USS Little Rock (CLG-4), destroyer USS The Sullivans (DD-537), and submarine USS Croaker (SSK-246).
You can experience how mariners and submariners lived and carried out their patriotic duties. In addition to the ships, the museum also displays aircraft, a variety of models, and other artifacts.
One particularly interesting exhibit is the Maritime Simulator. In this hands-on exhibit, you'll get to feel what it's like to be at the helm of a massive ship.
Address: One Naval Park Cove, Buffalo, New York
Official site: http://buffalonavalpark.org/
7. Albright-Knox Art Gallery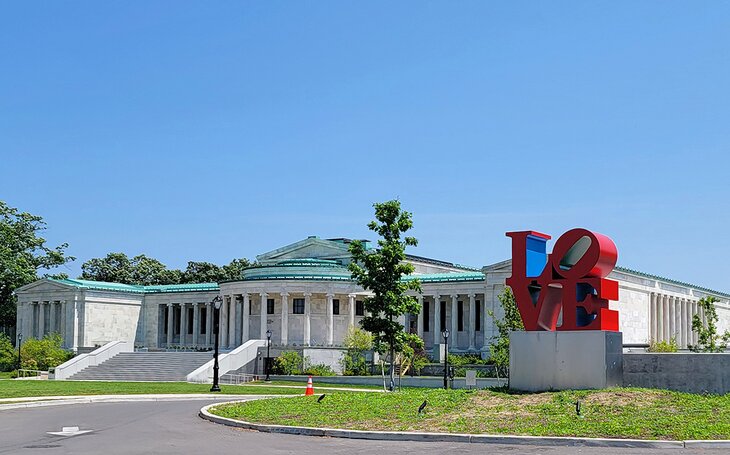 In Delaware Park, the Albright-Knox Art Gallery is housed in an impressive Greek Revival building and features a strong collection of modern and contemporary art. Post-war American and European art is especially notable, with such names as Gorky, Pollock, Warhol, and Johns.
Also of note are works by 19th-century Impressionists and Post-Impressionists, including Renoir, van Gogh, Degas, and Monet. Other movements represented here are Cubism, Surrealism, Constructivism, and the collection includes works by artists such as Picasso, Matisse, and O'Keeffe to name just a few.
Address: 1285 Elmwood Avenue, Buffalo, New York
Official site: http://www.albrightknox.org/
8. Delaware Park & the Buffalo Zoo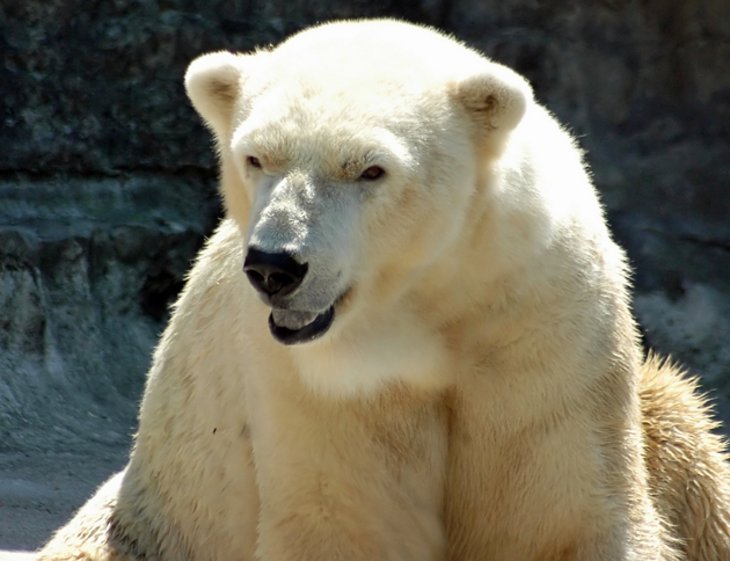 Delaware Park is an incredible asset to the city of Buffalo, with wide open green spaces, tree-lined walking and jogging paths, and tennis and golf opportunities.
One of the main highlights in the park is the Buffalo Zoo. The zoo features a wide variety of animals from around the globe, including a gorilla troop, Indian rhinoceros, polar bears, tigers, and a whole host of other animals.
The Delta Sonic Heritage Farm is a recreated 1850s farm with heritage breeds, where you can touch animals. The facility also maintains a solid collection of reptiles and amphibians.
With both indoor and outdoor displays, more than 1,000 animals can be seen in their natural habitats. If you are just passing by, you may even be able to see giraffes from the Parkside Avenue sidewalk, outside the park.
Address: 300 Parkside Avenue, Buffalo, New York
9. Theodore Roosevelt Inaugural National Historic Site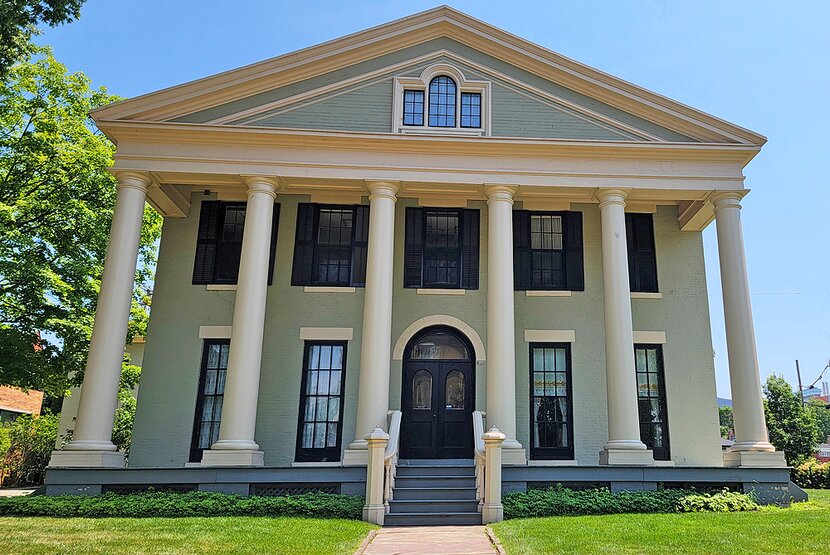 Theodore Roosevelt Inaugural National Historic Site is the spot where Theodore Roosevelt took the oath of office on September 14, 1901. The museum features displays related to the history of this important moment in time. Inside are fascinating exhibits and interactive displays, along with the Issues Theater.
You can visit the museum only on a guided tour, and reservations in advance are recommended.
The site is at the north end of downtown and easily accessible a couple of blocks off the Buffalo Metro Rail.
Address: 641 Delaware Avenue, Buffalo, New York
Official site: http://www.nps.gov/thri/index.htm
10. Burchfield Penney Art Center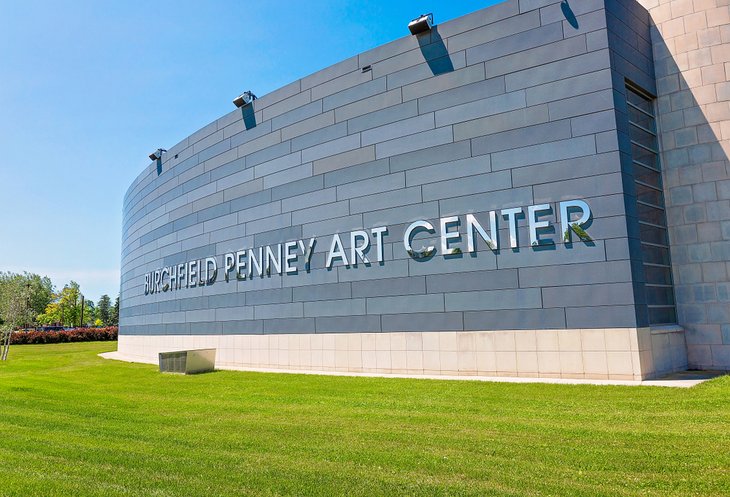 This Buffalo landmark is a top cultural spot in the city and contains the world's largest collection of the works of Charles E. Burchfield. In addition to his works, you'll also find an impressive collection of artwork from the Buffalo/Niagara region.
Artwork in various mediums is spread out across 16 galleries. One of the highlights includes the Charles Cary Rumsey Gallery showcasing 3D works of art.
The Burchfield Penney Art Center is located in Buffalo's museum district near the Albright-Knox Art Gallery.
Official site: https://www.burchfieldpenney.org
11. Buffalo City Hall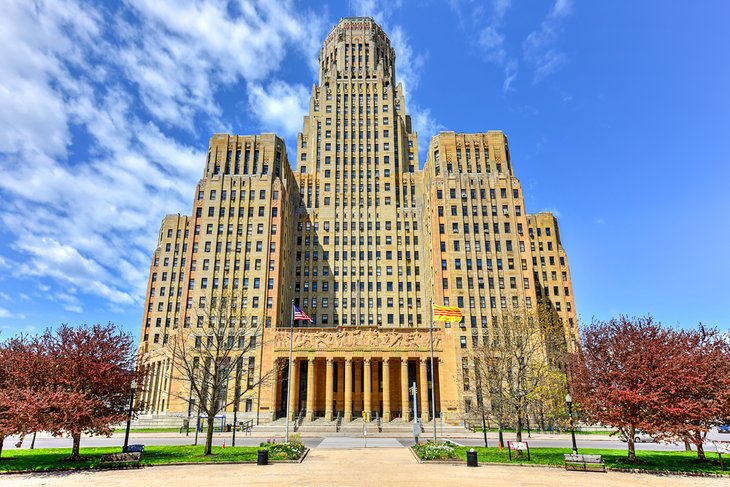 Although a trip to Buffalo City Hall may not be on most people's list of things to do in Buffalo, it really should be. This exceptional example of Art Deco architecture is a must-see for fans of historic buildings. Built in 1932, the building is a proud testament to the wealth and power that Buffalo had at that point in history.
One of the best things to do when visiting Buffalo City Hall is to visit the observation deck. Located on the 25th floor at the top of three flights of stairs, this perch in the sky offers incredible views out over the city, the lake, and the surrounding countryside.
While visiting the building and on your way to the elevators, be sure to check out the impressive murals on the walls. Near the building are statues of several American presidents, including a very large one devoted to William McKinley.
12. Shea's Performing Arts Center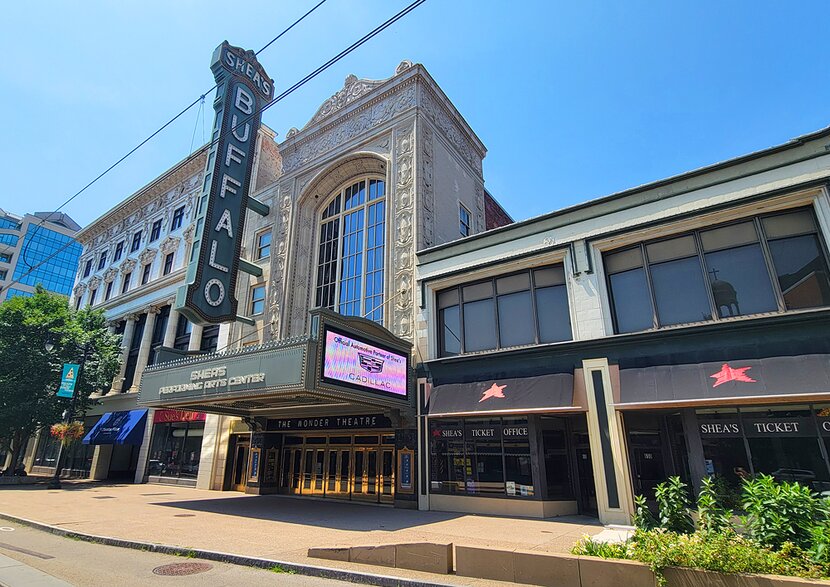 Shea's Performing Arts Center is considered a fine example of the great movie palaces of its era. The center was built in 1926 in the Classic style with a Neo-Spanish Baroque interior. The ornate chandeliers and a marble-lined grand lobby are some of the notable features.
Cornelius and George Rapp designed the Shea Theater. The building is listed as a National Historic Landmark, and tours of the grand facility are open to the public by appointment only. Some of the great performers that have taken to the stage here include Frank Sinatra, the Marx Brothers, and George Burns.
Address: 646 Main Street, Buffalo, New York
Official site: http://www.sheas.org/
13. Ski Resorts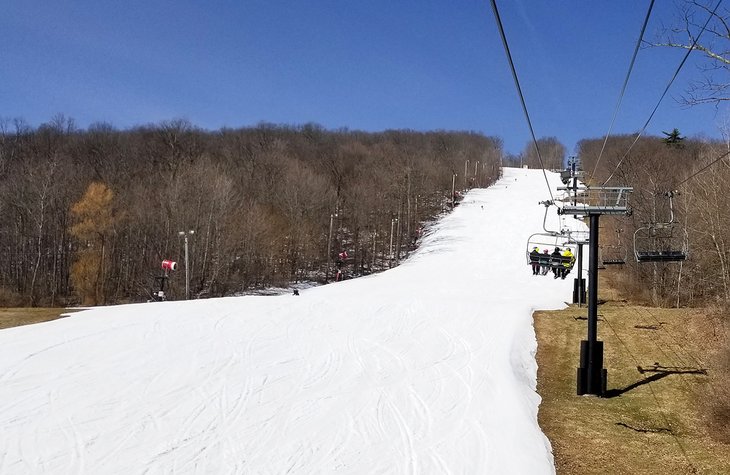 Buffalo is surprisingly well positioned to ensure easy access to some of New York's best ski resorts. Just a short drive away in the cute town of Ellicottville is the wonderful Holiday Valley Ski Resort. Boasting an excellent assortment of green, blue, and black diamond level runs, the ski hill is an excellent family ski destination. Holiday Valley has recently installed new lift infrastructure, making the trip to the top even faster.
Just under two hours east of Buffalo is Bristol Mountain, noted for its impressive vertical, the highest point between the Adirondacks and the Rocky Mountains. A bit closer is Swain Ski Hill, only 1.5 hours away to the southeast, this old school resort is fun and funky. Near Erie is Peek n Peak, a hot spot for snowboarders with its five terrain parks.
14. St. Joseph's Cathedral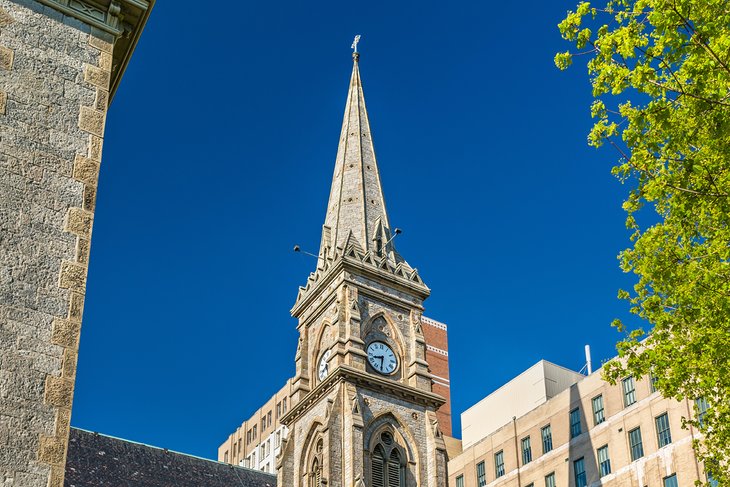 Located in downtown Buffalo, this Gothic-Revival-style cathedral was built in the mid-1800s at the direction of Bishop John Timon, the first bishop of Buffalo. Over the years, this religious institution has played a key role in the community.
The cathedral is home to a Hook and Hastings Organ, which found residence here in 1877. If you are interested in architecture, it's worth stopping by to see the interior of this lovely building, with its spectacular stained-glass windows along both sides and the large rose, also known as a wheel window, located high above the altar.
Address: 50 Franklin Street, Buffalo, New York
15. Sahlen Field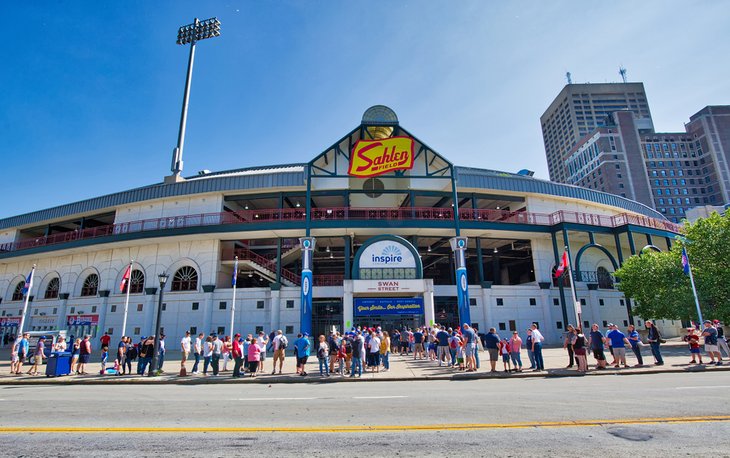 Sahlen Field, is home to the Buffalo Bisons minor league baseball team. Built in 1988, the baseball stadium is one of the largest in the minor league, with a maximum capacity of 19,500. A cheap and fun family outing can be easily enjoyed here. The team frequently offers incredible deals to encourage fans to come out and see the team play.
Sahlen Field is located in the heart of downtown and is easily accessible via Metro Rail; just get off at the Erie Canal Harbor stop.
Official site: http://www.milb.com/index.jsp?sid=t422
16. Liberty Building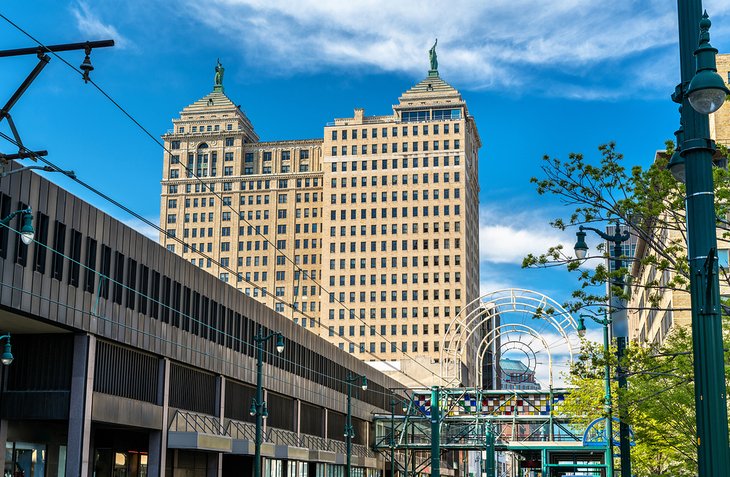 The Liberty Building in downtown Buffalo was built in 1925 and designed by Alfred Bossom. The Neoclassical office tower was the largest of its kind in Buffalo when it was built and is still a standout building today.
The building is especially noted for the two huge statues on the rooftop, both based on the Statue of Liberty. Each statue stands an impressive 36 feet high.
The Liberty Building is 23 stories tall and owned by the Main Place Liberty Group; it is located near Lafayette Square.
Map of Tourist Attractions in Buffalo, NY
Buffalo, NY - Climate Chart
Average minimum and maximum temperatures for Buffalo, NY in °C
J
F
M
A
M
J
J
A
S
O
N
D

-1

-8

1

-7

6

-3

12

2

19

9

24

14

27

17

26

16

21

12

15

6

8

1

2

-4

PlanetWare.com
Average monthly precipitation totals for Buffalo, NY in mm.

80

62

76

77

85

97

80

98

98

81

100

97

Average monthly snowfall totals for Buffalo, NY in cm.

65

46

26

10

1

0

0

0

0

1

25

60
Average minimum and maximum temperatures for Buffalo, NY in °F
J
F
M
A
M
J
J
A
S
O
N
D

31

18

33

19

42

26

54

36

66

48

75

57

80

62

78

60

70

53

59

43

47

34

36

24

PlanetWare.com
Average monthly precipitation totals for Buffalo, NY in inches.

3.2

2.4

3.0

3.0

3.4

3.8

3.1

3.9

3.8

3.2

3.9

3.8

Average monthly snowfall totals for Buffalo, NY in inches.

26

18

10

3.8

0.3

0

0

0

0

0.2

9.9

24