15 Top-Rated Small Towns in Connecticut
We may earn a commission from affiliate links ()
While it may be the third smallest state, Connecticut packs a ton of natural beauty and adorable small towns within its captivating borders. From sparkling lakes to crashing waterfalls to sandy beaches to verdant forests, a visit to the Nutmeg State will fill your lungs with fresh air and your heart with joy.
Feel your shoulders relax as you wind your way through tree-lined streets leading from one small town to the next, ogling nature's gifts, which are made even more magnificent with a kaleidoscope of fall's brightest colors.
Soak up the maritime feel of tiny coastal towns, stop in for a treat at a mom and pop restaurant, shop in a local boutique, or kayak down the river of a quaint, historic village. Traditions from New England and sophistication from New York combine for an interesting assortment of small towns with all the modern conveniences a visitor could need.
Plan your travels with our list of the best small towns in Connecticut.
Note: Some businesses may be temporarily closed due to recent global health and safety issues.
1. Mystic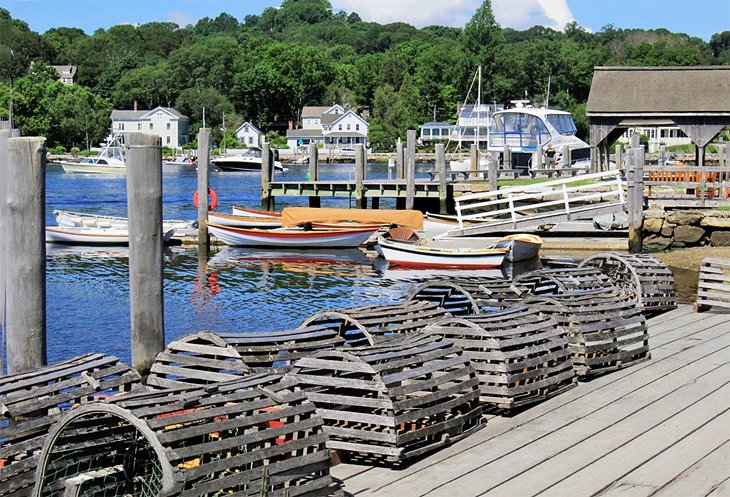 There are few small towns in Connecticut as charming as Mystic. Established in 1684, Mystic's maritime history is evident at every turn in this former shipbuilding seaport. Throughout the year, annual events celebrate boats, pirates, schooners, and more. With over a dozen ways to get out on the water, every type of adventurer will find his or her groove.
The Seaport Museum is worthy of at least a few hours of your time. It's packed with interesting things to see — like a recreated 19th-century fishing village, children's museum, and an old wooden whaling ship. You can also board a cruise from here.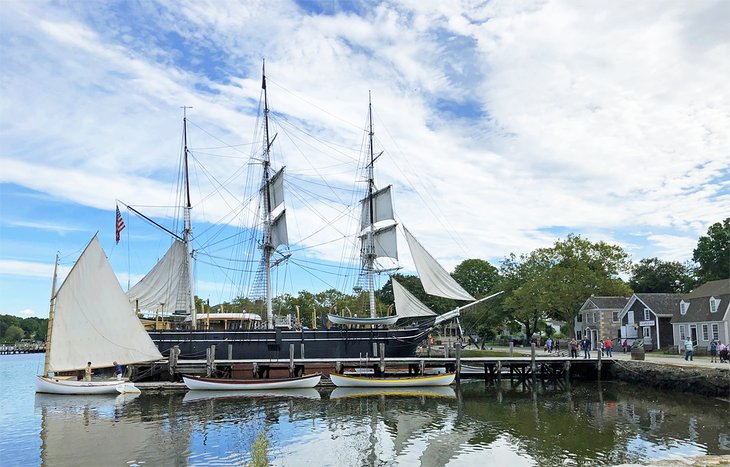 The Mystic Aquarium is another must-see, with beluga whales, seals, and a bevy of other creatures (hello, penguins) who will wave a fin at your kids in greeting. Across the street lies the lovely Olde Mistick VIllage, an open-air mall set in a recreated 18th-century village.
Board the world's first nuclear-powered submarine at the Historic Ship Nautilus & Submarine Force Museum. Parents will appreciate the free admission, and kids will love the working periscopes. Finally, make sure to have a slice at the restaurant Julia Roberts made famous in Mystic Pizza.
Accommodation: Where to Stay in Mystic
Read More: Top-Rated Things to Do in Mystic, CT
2. Chester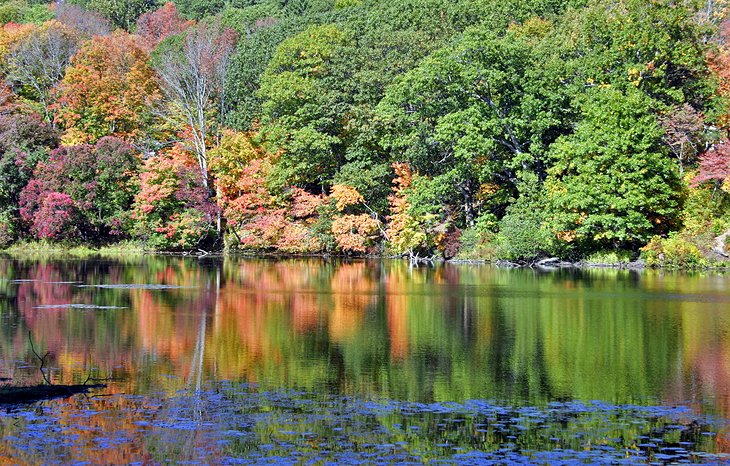 Chester's industrial roots in shipbuilding and milling are still evident in the downtown area. The town places a high priority on preserving its historical heritage, and many antique houses and buildings have been thoughtfully preserved for future generations. A strong cultural scene often goes hand in hand with historical priorities, and Chester's budding arts scene is no exception.
Numerous galleries, boutiques, and theater add another layer of interest for visitors. The surrounding topography, in addition to being scenic, provides great hiking and walking areas accessible directly from town. Chester is the perfect destination for a romantic getaway.
Accommodation: Where to Stay in Chester
3. Greenwich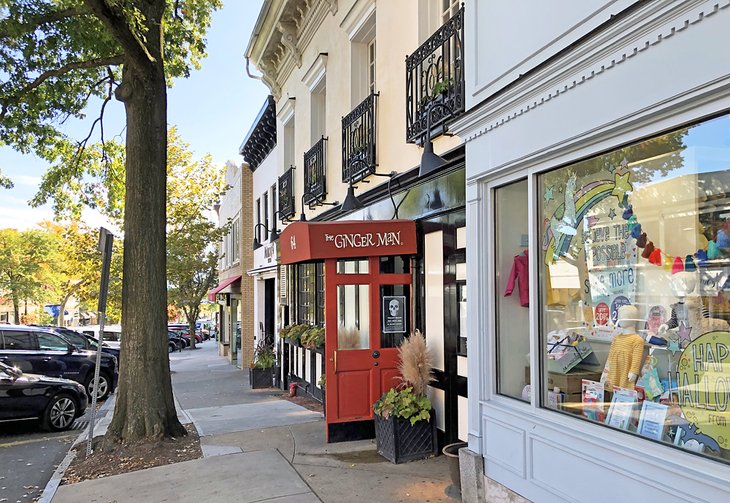 Located on Connecticut's Gold Coast, Greenwich is a financial powerhouse and also an exciting place to visit. As one of the Nutmeg state's oldest towns, it also represents one of the richest.
Less than an hour train ride from New York City, Greenwich gives the feel of a small town with all the amenities of the big city. Restaurants are world-class, as is the shopping. You'll find the usual high-end brands, but also a hip selection of one-of-a-kind boutiques and galleries.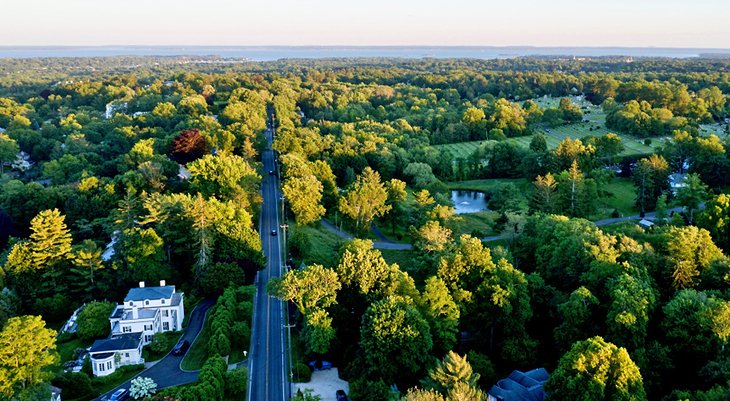 For the nature-lover, be sure to stop at the Audubon Center. This 300-acre sanctuary will have you feeling like you are a world away. You can also walk the town exploring the bustling Greenwich Avenue or visit attractions like the Flinn Gallery or Bruce Museum, an eclectic place where artifacts and exhibits are carefully curated for every visitor. The Philip Johnson Glass House is an architect lover's dream.
Accommodation: Where to Stay in Greenwich
Read More: Top-Rated Attractions & Things to Do in Greenwich, CT
4. Colebrook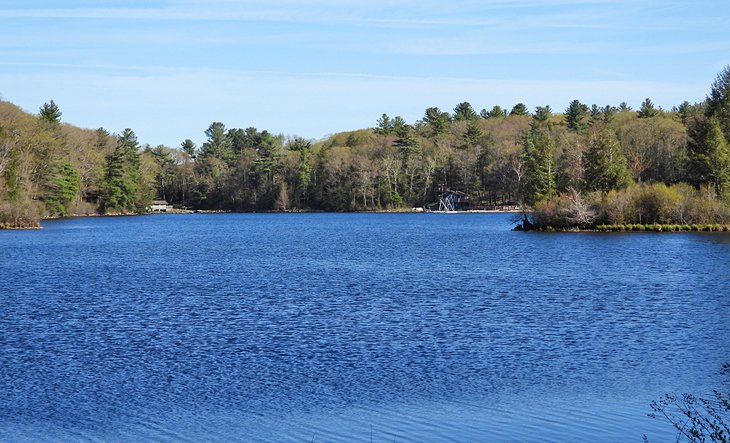 This sleepy town nestled in the Connecticut countryside is perfect for a restful and relaxing weekend. Located north of Hartford, it's oozing with rural, small-town charm. This area's location in the hills makes it particularly stunning in the fall, when the countryside lights up with shades of red, yellow, and orange fall foliage. Check out the views at the Gaylord Pond Dam or Lake Triangle Dam.
For an amazing scenic panorama of Long Island Sound and the tri-state area, head to the Haystack Mountain Observation Tower. The state park with the same name provides trails and a rugged path to the top.
5. Kent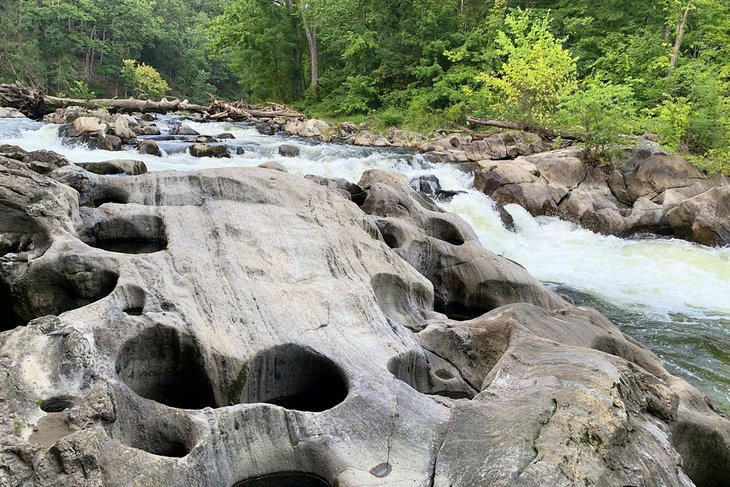 Kent is a quiet respite in the busy tri-state area. Although the population of this small town is less than 3,000, it offers panoramic views with its ruggedly beautiful landscape. It's a great place to visit year-round, but in fall, this area lights up with vibrant colors as the leaves begin to turn.
Take advantage of all the natural beauty of Kent at Kent Falls State Park, where you can explore one of the state's best waterfalls, covered bridges, and miles of trails.
You can also get unparalleled views at the Western New England Greenway or East Kent Hamlet Land Trust. Learn more about the history of this area at the Kent Historical Society or Sloane Stanley Museum and Kent Furnace.
6. Westport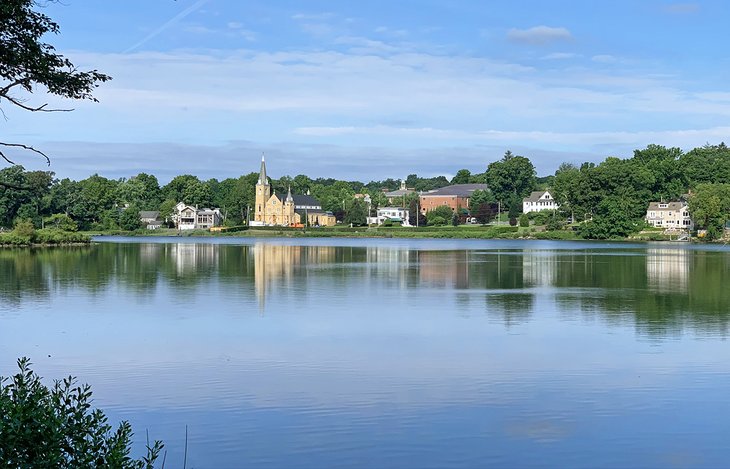 Scenic Westport is located just 50 miles outside of New York City on a prime piece of waterfront real estate known as Connecticut's Gold Coast. The vibrant downtown area along the Saugatuck river has world-class shopping and top-notch restaurants, as well as a newly renovated library and the outdoor, Levitt Pavilion, which boasts free (and some paid) concerts in the summer. Main Street is about as quaint and small town as it gets, yet it's graced by big names like Lululemon, Tiffany's, and J.Crew.
MOCA Westport is the town's impressive contemporary art museum that can rival any NYC-based venue. It boasts programing in both the visual and performing arts. You won't want to miss a play at the Westport Country Playhouse, where the likes of Paul Newman, James Earl Jones, Robert Redford, and Eartha Kitt have graced its stage.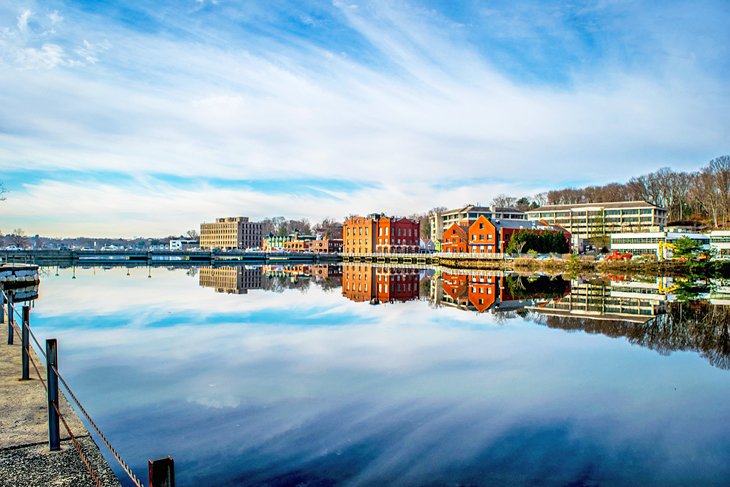 Active travelers will find a multitude of water sports to indulge in, especially if they plan on spending time at the pristine Compo Beach. Sailing, kayaking, stand up paddleboarding, fishing, and surfing are all part of the athletic scene. Old Mill Beach and Sherwood Island are also popular spots to lounge on the sand.
For a scenic late afternoon stroll, find the river walk (part of which runs around the library's peninsula) and time it to watch the sun set over the sparkling water.
Westport and the surrounding area is part of the Connecticut Antiques Trail, which snakes its way through scenic small towns of the area.
Accommodation: Where to Stay in Westport
Read More: Top-Rated Things to Do in Westport, CT
7. West Cornwall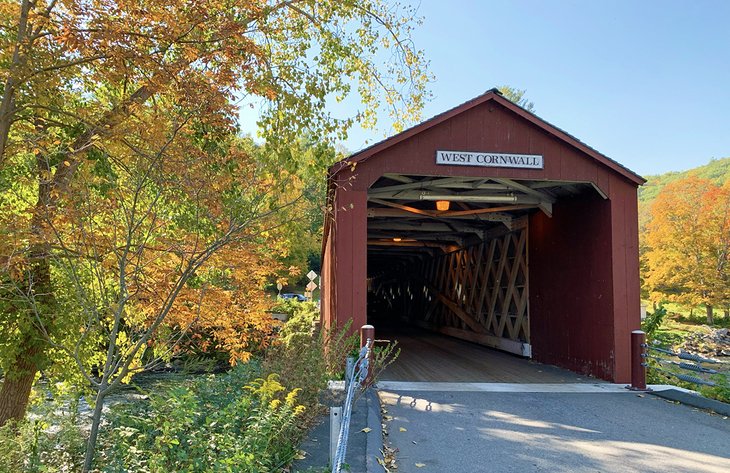 What Cornwall lacks in size, it more than makes up for with New England beauty, especially in the height of fall. Home to one of the few covered bridges in the state, this 1762 attraction is a must for the Instagram set. Visitors will also be smitten by the decorative gingerbread- house buildings, which seem to have stepped right out of a holiday setting.
The surrounding trees make the town especially picturesque during leaf-peeping season, but to avoid the crowds, visit this small town charmer during the other three. Located on the Housatonic River, visitors will find plenty of outdoor activity, including river rafting, fly fishing, canoeing, and hiking in Mohawk State Forest.
Accommodation: Where to Stay near West Cornwall
8. Essex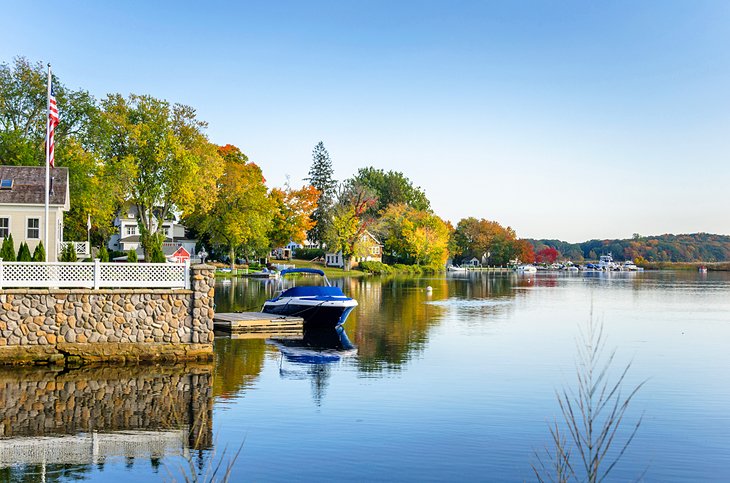 If you're a fan of The Gilmore Girls, you'll feel right at home in Essex. After all, the show's location, Stars Hollow, was based on this charming Connecticut town. Many of the historic buildings remain, and the surrounding area is filled with authentic farm structures dating back as far as the Revolutionary War. Especially notable is the First Baptist Church of Essex. Built in the Egyptian Revival style, it is one of only three in the United States.
Visitors of all ages will enjoy a spin on the Essex Steam Train for an old-fashioned tour of several towns in the area. While you are soaking up the nostalgic feel of Essex, make sure to take advantage of the waterfront of this welcoming port. Both the Connecticut river and Long Island sound offer a plethora of water activities for adventure.
Accommodation: Where to Stay near Essex
9. Madison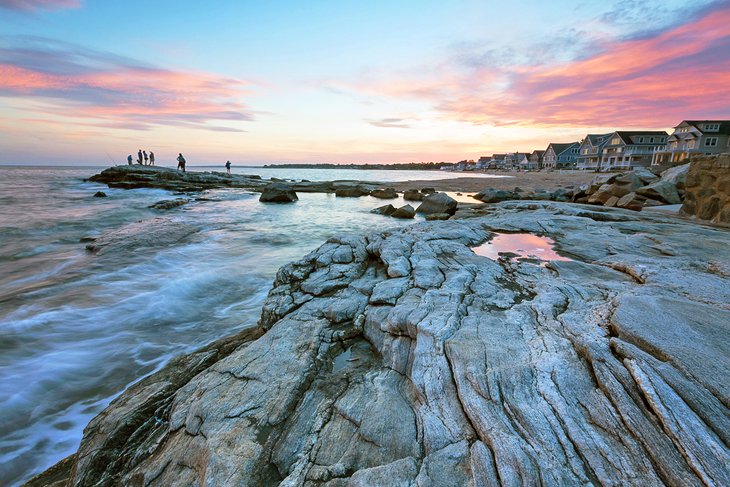 Situated on the idyllic Long Island Sound, Madison is a seaside retreat. Take in panoramic views from one of the many outdoor spaces, like Hammonasset Beach State Park or Meigs Point Nature Center, or take a bike ride or stroll at The Shoreline Greenway Trail.
While the big draw of this area is its coastal beauty, there is still plenty to do if you aren't a nature-lover. Take a walk downtown and stop to browse through the unique shops, like the Audubon Shop or R.J. Julia Booksellers. Visitors can also take in a one-of-a-kind independent film at Madison Art Cinema.
10. Litchfield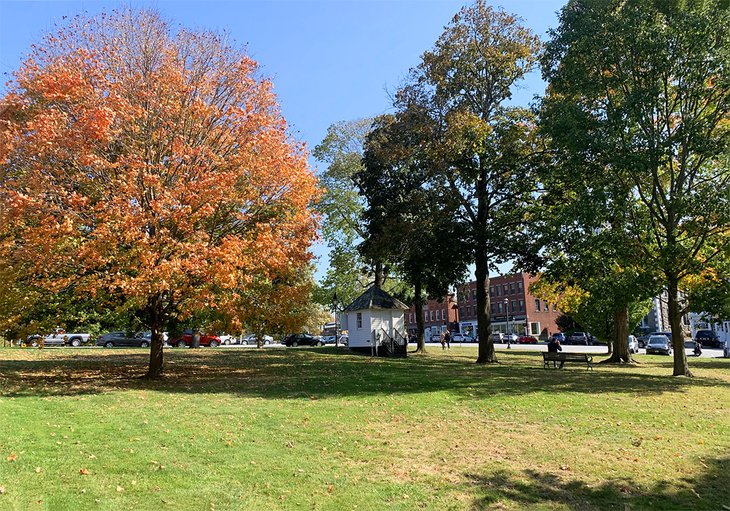 It's easy to fall in love with Litchfield, especially if you visit when the trees are alight in all their bright yellow, orange, and red glory. A sweet small town located about 50 minutes east of Hartford, this charming village is about as quintessentially New England as it gets in Connecticut.
American flags unfurl from historic buildings in this storybook town, which is dotted by white-spired churches, 18th-century homes, and white picket fences a plenty. Stop in for a bite at one of the local restaurants, but book a reservation if you're planning to visit on a summer or fall weekend.
Nature abounds at White Memorial Conservation Center and Topsmead State Forest, both of which are worthy of hours-long hikes and romantic picnics.
Accommodation: Where to Stay in Litchfield
Read More: Top-Rated Things to Do in Litchfield, CT
11. Milford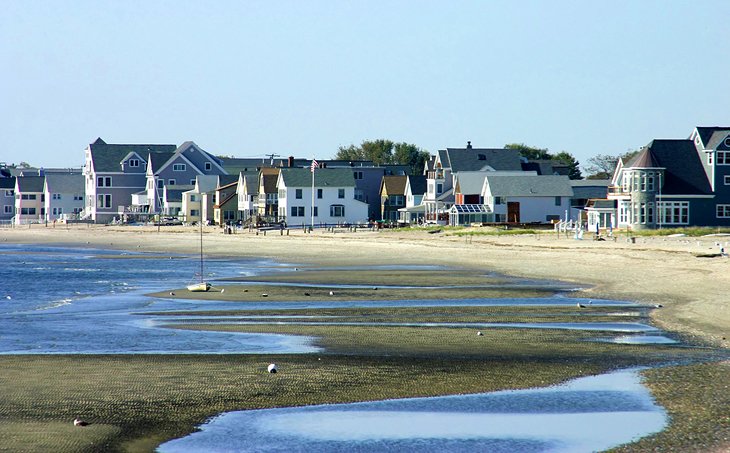 Tourists looking for an authentic Connecticut town by the shore should give Milford a look. Less crowded and touristy than many of the other beach towns in the southern region of the state, the charming character is hard to match.
Many historical buildings remain in the old town and have been repurposed into cafés, boutiques, and shops. The enticing town green is one of the largest in the state and a perfect spot to picnic or enjoy a book.
The beachfront offers rentals for enjoying the sand and surf, and Walnut Beach has one of the longest boardwalks in the state, which also offers disabled access. Silver Sands State Park is a popular 297-acre spot filled with dunes and marshes on the Sound.
Accommodation: Where to Stay in Milford
12. Niantic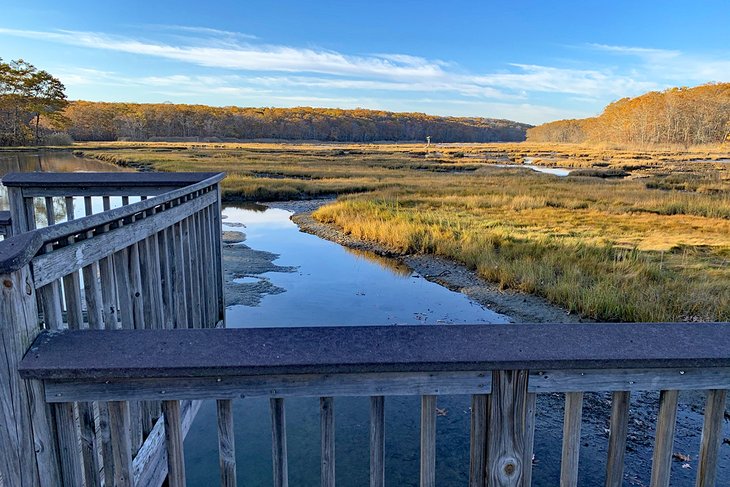 Also located on the Long Island Sound, Niantic is exactly what you would expect for a seaside village. Enjoy nature at Rocky Neck State Park or Niantic Bay Boardwalk, or take advantage of one of the many fishing adventures. There are quite a few from which to choose: Striper Snax or the Black Hawk can give you a full or half-day adventure on the deep sea.
If you are traveling with kids (or are a kid at heart) stop into the Children's Museum of Southeastern Connecticut, where you can beat the heat (or a rainy day) in their 5,000-square-foot facility geared towards interactive fun.
Niantic also has a selection of unique and funky shops. Visit The Book Barn, a bookstore boasting over 350,000 titles including rare and out of print books, or Three Belles Outfitters, the largest hobby kayak store on the east coast.
Accommodation: Where to Stay in Niantic
13. Old Saybrook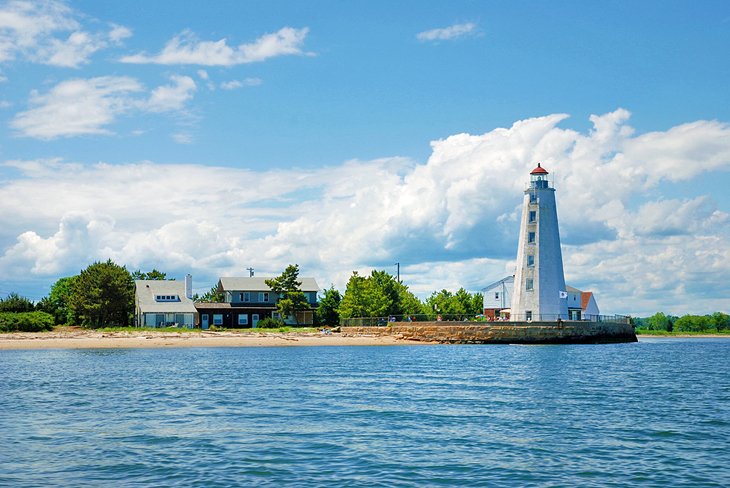 Old Saybrook is one of Connecticut's oldest, and arguably most beautiful, towns. It's known to many as the once-home of actress, Katherine Hepburn. The Cultural Arts Center named after this Oscar-winning (dubbed "the Kate" by locals) legend is the area's top attraction.
Hepburn's former mansion sits overlooking Long Island Sound on a peninsula surrounded by other high-end real estate and the cutest private golf course visitors will ever lay eyes on. The area is great for a scenic walk out to the lighthouse, also known as Lynde Point.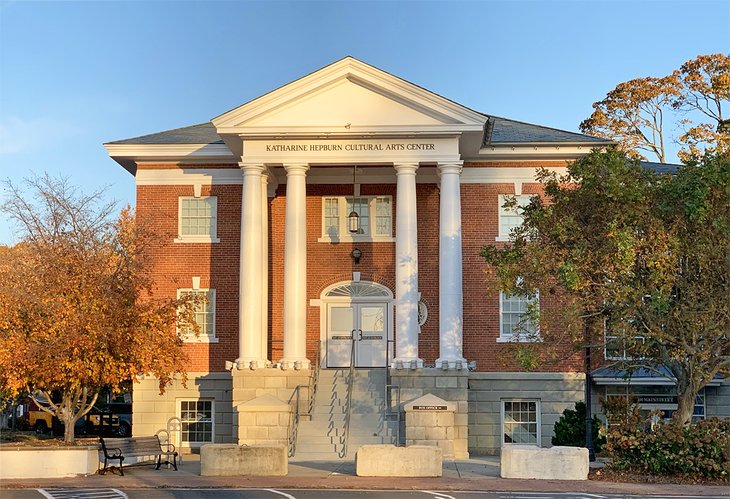 The historic Florence Griswold House has been turned into a museum that overlooks the sparkling Lieutenant River, behind it lies the modern, and inspiring, Robert and Nancy Krieble Gallery.
In town there are some great restaurants, several offering local seafood. Small shops feature vintage finds and antiques, many of which line the charming Main Street.
Get back to nature on a hike through Rocky Neck State Park. A treasured gem, you'll want to bring plenty of snacks and water along as this is a place worthy of hours of your time. Harvey's Beach is another visitor fave, well loved for its calm, shallow water and clean, soft sand.
Accommodation: Where to Stay in Old Saybrook
Read More: Top-Rated Things to Do in Old Saybrook, CT
14. Putnam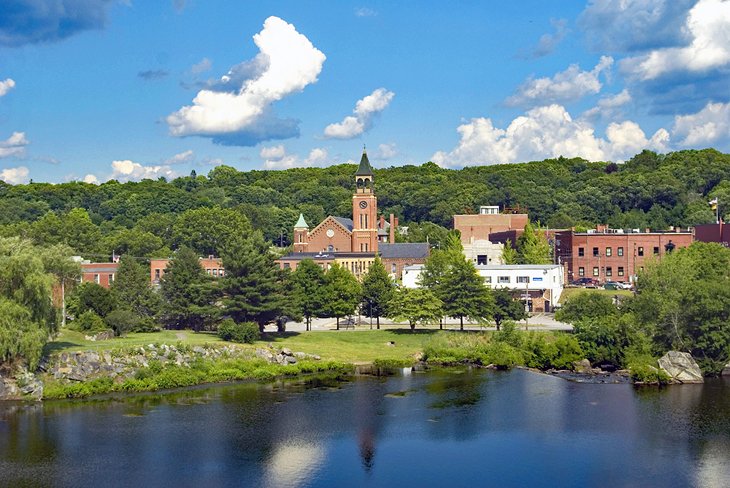 The banks of the Quinebaug River are home to the picturesque town of Putnam. Located in the northeast corner of the state, it represents a quintessential New England small town. Centered around arts festivals, the downtown area offers an assortment of galleries, boutiques, and restaurants. Antique Malls are well represented in the town and have an impressive selection of vintage goods.
The Bradley Theatre is well known for the quality talent it attracts to its community program. The Gertrude Chandler Warner Boxcar Children's Museum is a great stop for families. Fans of the book series will find signed originals, children's activities, and artifacts all housed in an original boxcar.
15. Washington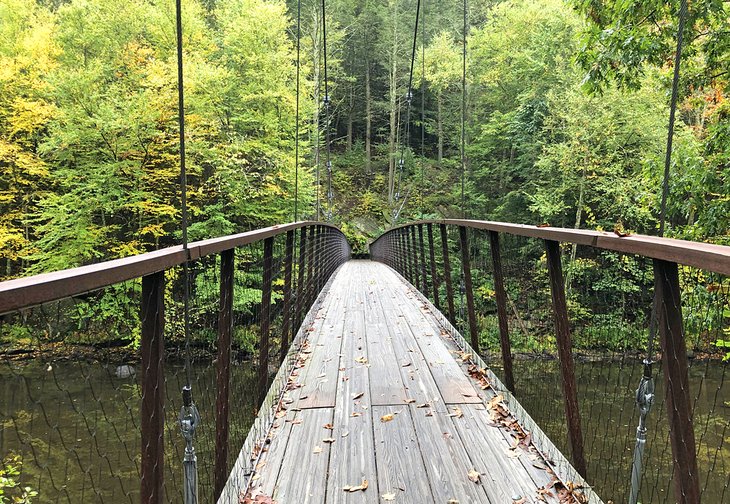 The rural town of Washington is known for not only its beauty but a host of historic architecture and cultural amenities as well. Close to New York City, its influence is evident in many of the attractions this area has to offer. You can visit the caves of Steep Rock Reservation or learn more about the Native American influence in the area at the Institute for American Indian Studies.
Head to the majestic Hidden Valley Preserve in Washington Depot to walk across the impressive Henry David Thoreau suspension bridge, a true marvel of engineering. The view from atop this bridge is worthy of at least a few photos. The bridge isn't too far from the parking lot, so don't worry if you're not a fan of hiking! For those who don't mind a walk through the woods, this is a magnificent place bursting with beauty in the form of river views, babbling brooks, and towering trees.
If culture is what you crave, you can find it at the Gunn Historical Museum, preserving American artifacts and stories from the area, or the Washington Art Association and Gallery. Before leaving Washington, don't forget to stop at Hollister House. Occupying 25 acres, this private garden is filled with whimsy, unique water features, and Japanese accents. It's well worth the visit.
More Related Articles on PlanetWare.com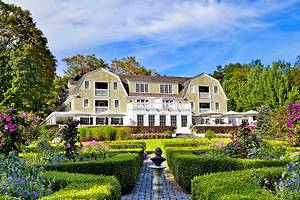 The Best of Connecticut: Begin your travels to this state with a read through our Top Tourist Attractions in Connecticut to find out where to go and what to see. If you are coming in summer, don't miss our article on the Best Beaches in Connecticut. Lastly, for a wonderful stay, have a read through our picks for the Top Resorts in Connecticut.