20 Best Small Towns in New York
We may earn a commission from affiliate links ()
The Empire State is best known for its shining star: New York City, but its real gems are found outside the dazzle of the Big Apple's bright lights. Overflowing with charm and natural beauty, New York's small towns are its heart and, though small, are packed with interesting attractions.
From pristine lake villages to cute hamlets set within magnificent mountain ranges, New York's quaint towns offer visitors a place to unwind, recharge, and become one with the region's natural beauty.
They boast incredible restaurants, eclectic shops, and locals so friendly you'll swear you've been friends forever. Even better, they offer incredible access to outdoor adventure, including some of New York's best ski resorts.
With so many fun things to do, these small towns make perfect destinations for a weekend getaway in New York State. So, plan to pack an overnight back for your journey because you'll definitely want to stay the night (or two or three).
What are you waiting for? Plan your Empire State travels today with help from our list of the best small towns in New York.
1. Saratoga Springs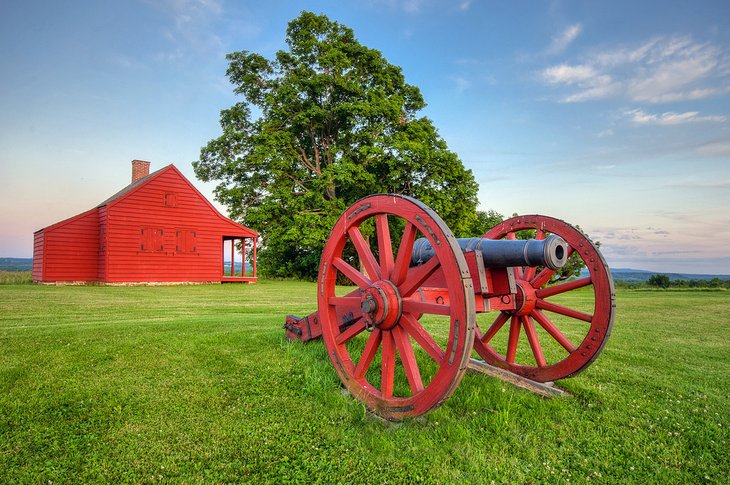 Talk about a picturesque place to visit. Saratoga Springs is one of the loveliest small towns, and one of the best getaways, in upstate New York.
Walking through this quaint town is akin to traipsing through a postcard. Lovely porch swings adorn the verandas of grandiose Victorian homes. Tall, lush trees line the streets, and brightly colored blossoms burst from perfectly pruned gardens. This pretty place is a treat for each of your senses.
Looking for serenity now? You'll find it by the banks of the bubbling spring for which the town is named. Pack a picnic for a lovely afternoon out or stop by one of the charming local cafés or restaurants for a bite to eat.
Then, visit one of the area's many museums. From the Saratoga Automobile Museum to the National Museum of Racing and Hall of Fame to the National Museum of Dance and Hall of Fame, you're bound to find one that interests you.
Looking to up the romance? Stay at the Union Gables Inn, where each room comes complete with a fireplace.
2. Skaneateles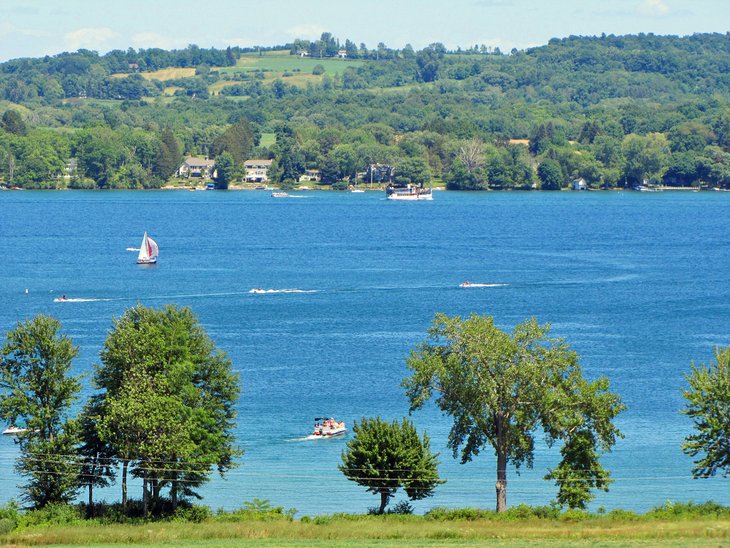 Skaneateles village lies on the shores of the beautiful Finger Lake of the same name. A mere 30 minutes from Syracuse, this lake is the source of the big city's drinking water. Pronounced as either "skinny-atlas" or "skanny-atlas," it's hard to find fault with this pristine town, which offers guests a variety of fun things to do.
Sweet rocking chairs adorn the front porches of historic Victorian and Greek Revival homes, upping the charm factor. East Genesee Street is a perfect place to visit for some retail therapy. Unique local shops dot this area, as do funky galleries and tasty eateries, making this one of the best small towns in New York.
Skaneateles Lake is the town's most popular attraction. It provides a mesmerizing view throughout the year and is an unbeatable venue for water sports during the warmer months.
3. Greenport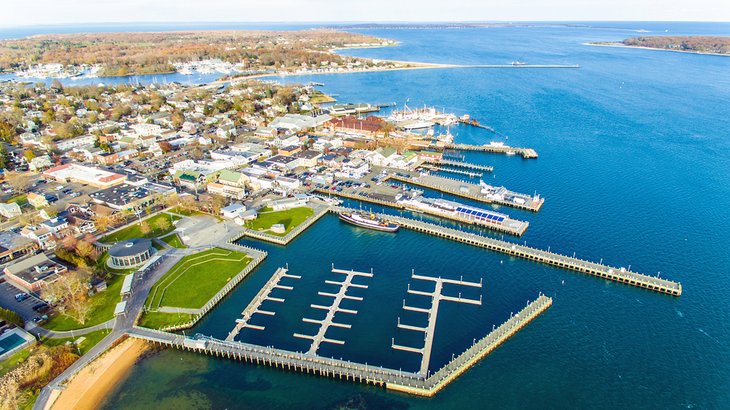 You'll smell the sea before you catch sight of it in this sweet fishing village. Located on Long Island's North Fork, Greenport knows how to treat its visitors. Fresh, local food is featured at many of its charming restaurants, and the locals are helpful and kind.
Sailboats bob serenely upon the horizon of this small New York town, evoking a sense of calm. Small farm stands dot the countryside, selling healthy snacks to enjoy while driving along the long, winding, and picturesque roads.
In stark contrast to its more glamorous and elitist neighbor (we're talking about you, Hamptons), Greenport presents a more laid-back and natural country vibe. You'll find clean, sandy beaches, eclectic galleries, vintage shops, and lovely houses lined up in perfect rows.
4. Ithaca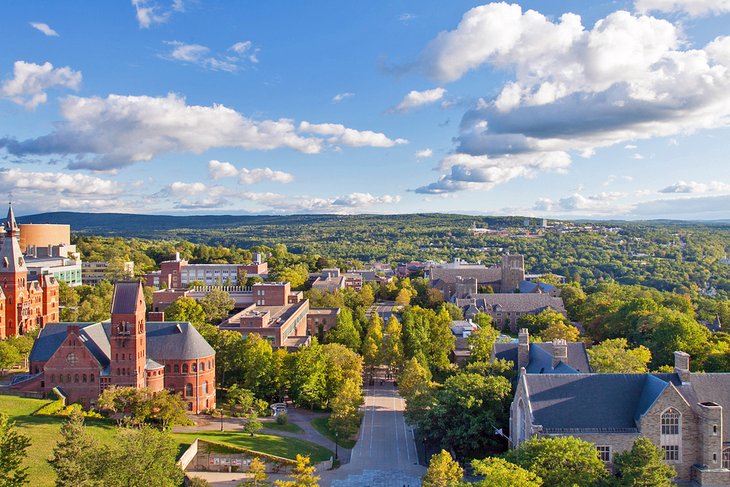 Home to Cornell University, Ithaca is so much more than a pretty college town. That said, you won't want to miss touring around the Ivy League campus. Historical buildings lend a magical aura to this well-loved small town in New York state.
In the main section of town, you'll find Ithaca Commons, home to a wide array of shops, eateries, and other forms of entertainment. And there's no shortage of museums to tickle your academic fancy.
The area's immense natural beauty is a real tourist draw. Outdoor adventurists come here to enjoy hikes through the magnificent gorges lining the village. These are spotted with crashing waterfalls so beautiful your camera will beg you to take photos. Don't miss the town's most famous (and gorgeous) waterfall: Ithaca Falls. It's one of the best waterfalls in New York State.
5. Woodstock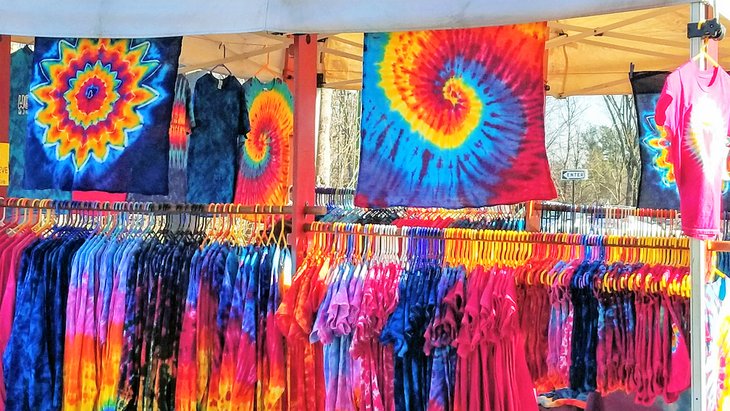 Despite not being the true home of the famous music festival circa 1969 (it was held over 60 miles away, in Bethel), Woodstock has become a haven for music lovers. This cute town boasts just over 6,000 people and lies within the beautiful Catskill Park in Ulster County.
Among its many attractions and unique things to do, you'll find tie-dye and music galore on Tinker Street, which is lined with unique shops selling everything from vintage postcards to hippie-wear to jewelry. It's easy to forget you're living in the 2020s while walking down this nostalgic strip.
This is also where you'll find some of the town's best restaurants featuring the freshest local food. Vegans are well catered to here.
Have a bit of extra time? Learn how to meditate during a tour at the nearby Karma Triyana Dharmachakra Tibetan Buddhist Monastery.
Accommodation: Top-Rated Resorts in the Catskills
6. Lake George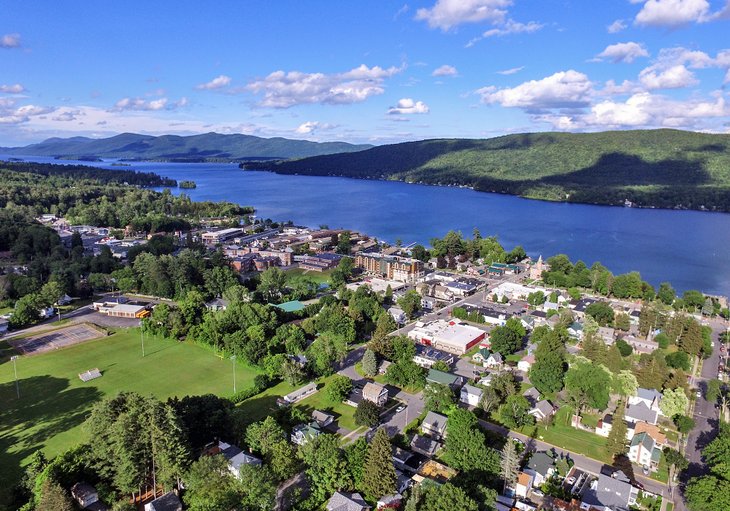 Nestled at the feet of the towering Adirondack mountains, Lake George is a breathtaking village worthy of at least a weekend visit.
Lake George makes the most of its vast and beautiful surroundings. The town itself is peppered with adorable shops, and restaurants to please any palate, while the sparkling lake for which the town was named is a hot spot for water sports during the summer.
In terms of attractions and fun things to do in Lake George, there are plenty! You'll be able to boat, swim, go whitewater rafting, or SUP, among other fun activities. Hiking and horseback riding are practiced year-round.
Insider's tip: The number of visitors dies down after Labor Day, so this is the best time to visit if you're hoping to avoid the crowds.
Accommodation: Top-Rated Resorts on Lake George
7. Cold Spring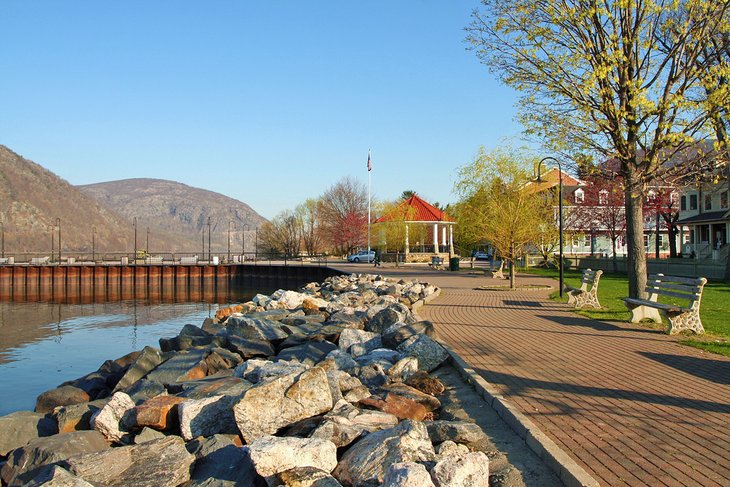 A mere hour on the train from New York's Grand Central Station will get you to Cold Spring, a popular destination for city folk looking to relax. Finding serenity is easy to do in this cute historic town, which is best known for its charming 19th-century buildings perched beside the Hudson River.
In the summer, visitors spend weekends on the water of this top small New York town, kayaking, swimming, fishing, and SUPing to work up an appetite. Then they head to the town's quaint center, which boasts restaurants with personality and the friendliest staff in the region. Those who like to shop will love getting to know the owners of the small boutique stores.
8. Lake Placid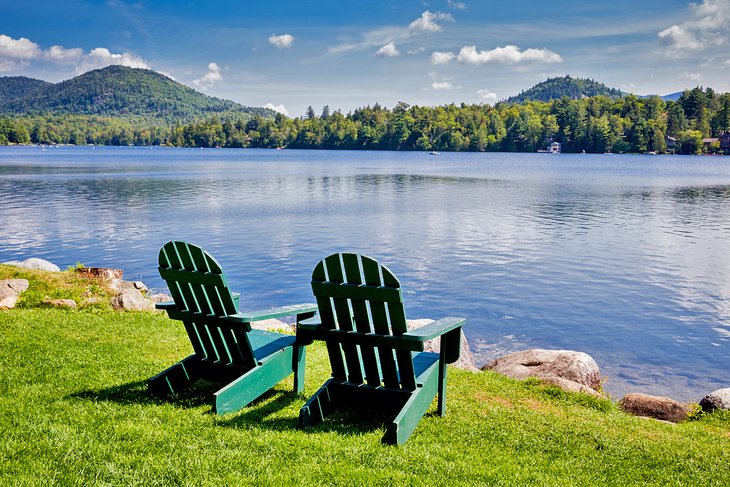 Surrounded by the majestic Adirondack mountains and set upon the sparklingly clear lake of the same name, Lake Placid has an overwhelming beauty that is hard to beat. Mother Nature's presence is strong here. No wonder it was picked to host the winter Olympics - twice (in 1932 and 1980)!
Those who visit this cute resort town tend to lean towards adventure. No matter the season, Lake Placid offers plenty of things to do outside.
Whether you enjoy mountain biking, swimming, fishing, sailing, bobsledding, skating (on downtown's Mirror Lake), or downhill skiing at one of New York's best ski resorts, there's rarely a chance to get bored.
Not a fan of activities? No worries. Spend your day lazing by the lake's shore or shop and dine to your heart's content in the charming downtown.
Accommodation: Top-Rated Resorts in Lake Placid, NY
9. Kingston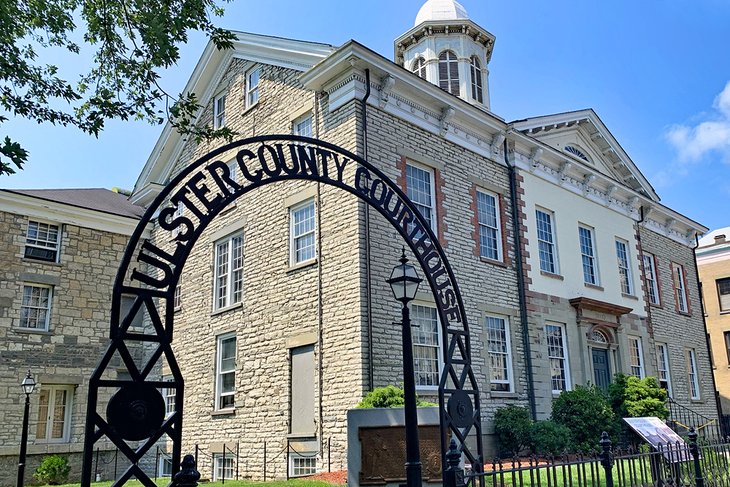 There are many reasons why Kingston is deemed one of the best small towns in New York. Among them are its main attractions and things to do: the vibrant Uptown area peppered with funky shops and historic buildings; the Midtown district featuring more stores and a theater; and the waterfront Downtown core, where you'll find boat tours, museums, and trolley rides.
Set on the Hudson River, this waterfront locale is a must-see during the warm spring and summer months, the high season for visiting Kingston. This is when you'll see the town come to life with live music, weekend visitors, and sightseeing boat cruises.
Have a Teddy Bear Picnic at the Den of Marbletown; enjoy a walk through Kingston Point Park; check out the Hudson River Maritime Museum's extensive exhibits; or spy turtles at the Forsyth Nature Center.
Accommodation: Top-Rated Resorts in the Hudson Valley, NY
10. Ellicottville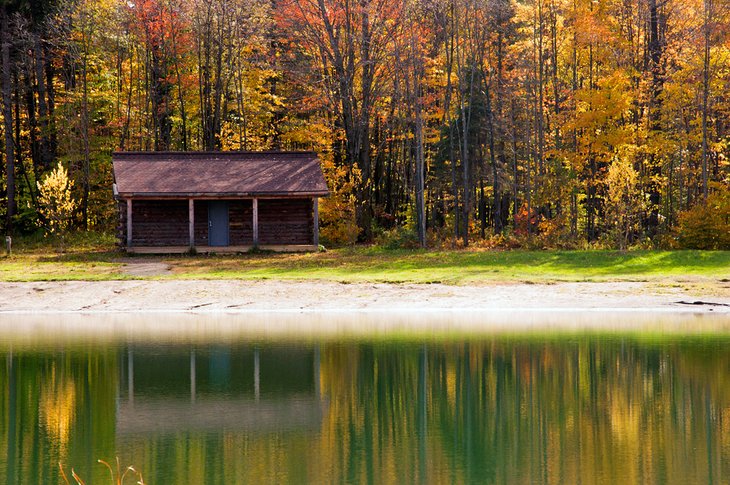 The smaller the town, the easier it is to get around. Ditch your car and explore Ellicottville's charming village by foot. In addition to strolling to numerous quirky shops and restaurants, you'll be able to walk to two ski hills and the super rejuvenating Ellicottville Oasis Spa.
In the winter, visitors flock here to zip down the runs at the private HoliMont Ski Resort and Holiday Valley, where you'll also find horse-drawn sleigh rides to up the romance factor.
During warmer months, hiking and golf are uber popular, as is visiting nearby Griffis Sculpture Park, where visitors can roam around (and sometimes climb) nearly 250 massive and extremely impressive steel sculptures.
Accommodation: Where to Stay in Ellicottville
11. Cooperstown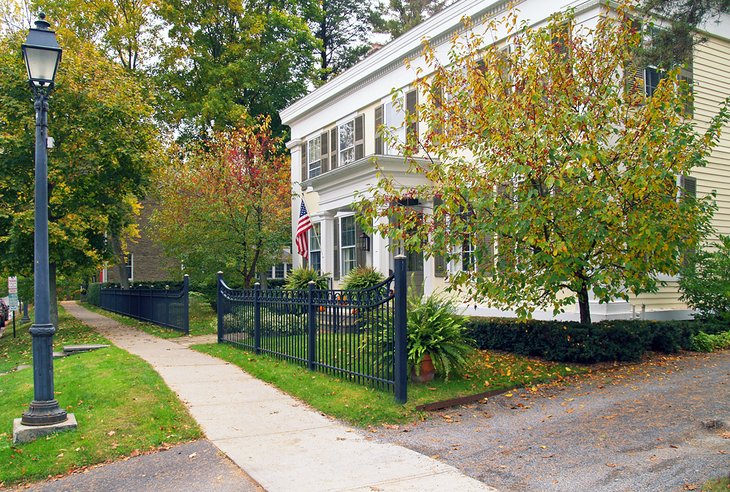 Spending a day in Cooperstown or better yet, a weekend, is like hitting a grand slam. Not only will you find calm-inducing lake and countryside views, but you'll be rewarded with a charm not found in many other places. Add to that the adorable shops, restaurants, and museums, and you've really scored a run in one of the best small towns in New York state.
This tiny town is most famous for being home to the National Baseball Hall of Fame. It's also where you'll find Ostego Lake, a tranquil place to while away a warm day on the water, fishing, swimming, or boating around the pristine area.
Once home to (and named after) The Last of the Mohicans author, James Fennimore Cooper, this sweet town is a magnet for writers and other artsy folk.
Accommodation: Where to Stay in Cooperstown
12. Aurora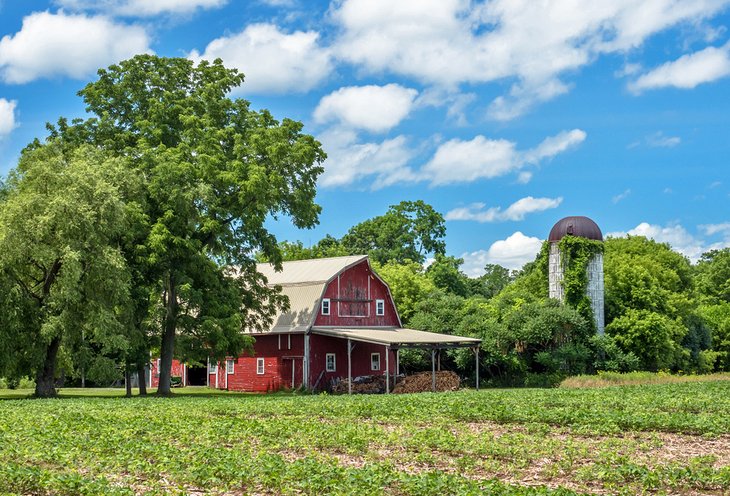 Talk about a tiny town - Aurora is home to less than one thousand people. Situated in the slightly larger town of Ledyard in Western New York, this cute spot will warm your heart and entice your camera to start clicking. A visit here is akin to entering the pages of a fairy tale.
Quietly nuzzled next to Cayuga Lake, Aurora was given a face lift by Pleasant Rowland (a.k.a. the creator of the famed American Girl doll). This small town, which was once known for being home to Wells College is now a destination for those in search of old-town charm and 19th-century shops, restaurants, and inns bursting with character. It's one of the best places to visit in New York state.
13. New Paltz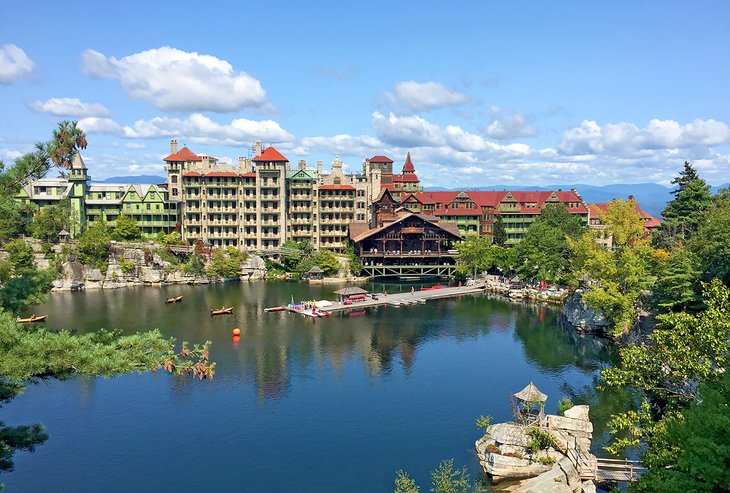 Most famous as the home of the fantastic Mohonk Mountain House, one of the best resorts in the Hudson Valley, New Paltz is a popular vacation spot for New Yorkers looking to ease their worries. Only 83 miles north of Manhattan, this is one of the most beautiful small towns near New York City.
Huguenot Street Historic District is a wonderful place to garner a glimpse back in time. This 10-acre National Landmark Historic District features seven stone houses circa the early 18th century.
The town's Wallkill Valley Rail Trail is a perfect place to while away a morning or afternoon, hiking, horseback riding, or biking through over 21 miles of caves and woodland.
Many choose to use this sweet college town as a base to explore the nearby Shawangunk Ridge, impressive bedrock mountains that beg the young and adventurous to hike or climb its craggy peaks.
Accommodation: Where to Stay in New Platz
14. Sleepy Hollow
You've likely heard of the small town in New York called Sleepy Hollow. Set deep in the Hudson Valley, this picturesque town served as the backdrop for writer Washington Irving's famed book, The Legend of Sleepy Hollow. For centuries, this tale has been enough to entice travelers to visit this tiny town, but once they arrived, it was the town itself that caused them to stay.
A lush landscape and beautiful views of the Hudson River captivate those with a penchant for natural beauty. The historic buildings that dot the town's core give an important nod to notable events that took place both here and in the surrounding region.
Today, visitors spend time browsing the local shops, tasting wares from the farmer's market, gazing at art in the galleries, and touring the Kykuit Estate (once home to the Rockefeller family).
Despite these interesting attractions, visiting the eerie Sleepy Hollow Cemetery still tops the list of things to do in Sleepy Hollow.
15. Saranac Lake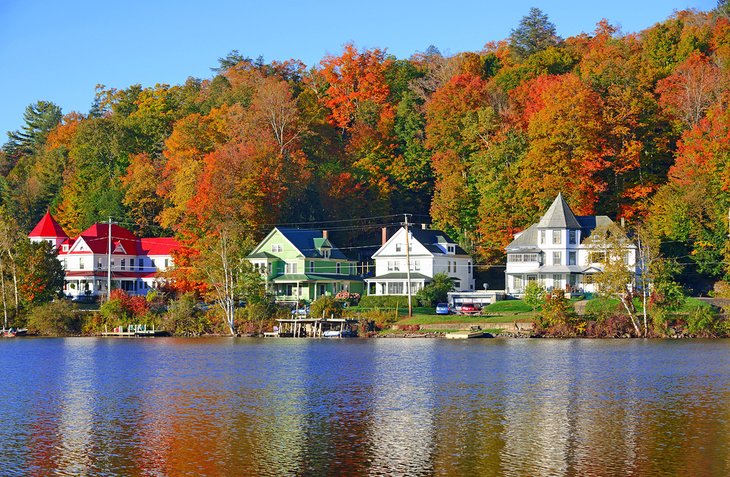 Who wouldn't want to visit an adorable village nestled by the banks of a vast lake and surrounded by the towering Adirondack mountains? In addition to a delightful Main Street, the village boasts easy access to water sports like canoeing, kayaking, and fishing.
This enchanting town really comes to life during its best season - winter. That's when guests can hit the nearby slopes, snowshoe along the trails, and lace up their ice-skates.
In February, tourists flock to Saranac Lake for the town's fabulous Winter Carnival. They come to explore a one-of-a-kind ice palace, compete in ice-skating races, watch fireworks, attend concerts, and munch on tasty treats.
Accommodation: Top-Rated Resorts in the Adirondacks
16. Lewiston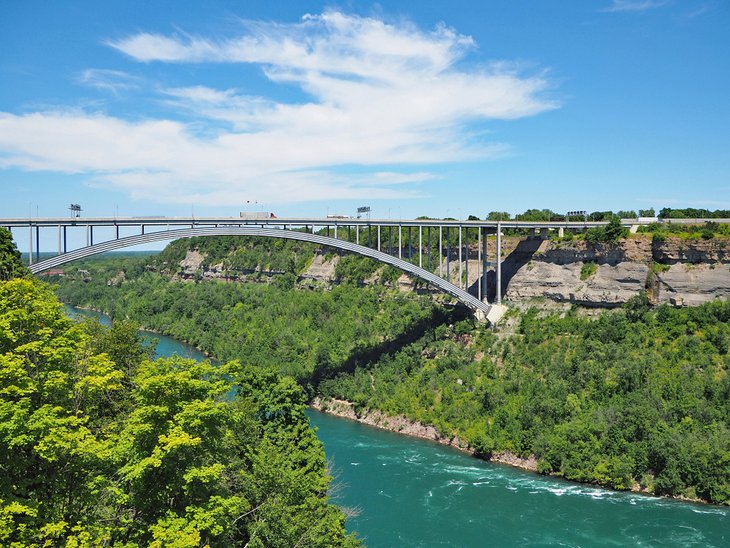 The closest small town to Niagara Falls, Lewiston is so charming, you'll be glad you stayed. A historic town with heart, Lewiston is a haven for the arts.
It's home to the 150-acre Artpark, which boasts the most impressive amphitheater in the region (and is ranked as one of the top 100 in the world). This remarkable venue hosts over 150 events throughout the summer.
Music buffs won't want to miss the Northwest Jazz Festival at the end of August. It's Western New York's largest outdoor jazz festival and features a ton of amazing performers.
Those hoping to catch a glimpse of the falls won't be disappointed. They're so close you won't even need your car. Discover Niagara offers a free shuttle between Niagara Falls and Lewiston, making it easy to explore the falls on foot.
Accommodation: Where to Stay in Lewiston
17. Trumansburg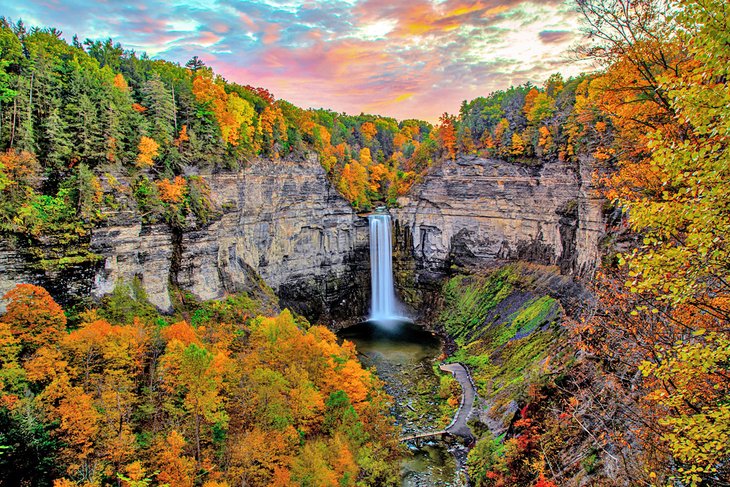 Trumansburg, or T-Burg as it's known to locals, has one of the most beautiful backdrops of all the best small towns in New York. Most visited for its main attraction, the awe-inspiring, 215-foot-tall Taughannock Falls, this sweet little town is a Finger Lakes staple for weekend warriors from NYC looking for a quiet respite.
The Taughannock Visitor Center is found in the park of the same name, and it's here that you'll find an overlook offering the most breathtaking views. Back in town, visitors can stuff their faces on farm fresh fare at local restaurants so divine, you'll think you're in the big city.
Wandering the town's streets is captivating. Gothic and Greek Revival designs are prominent throughout the historic center, and the Main Street is so quaint and wonderful, you'll never tire of window shopping.
18. Beacon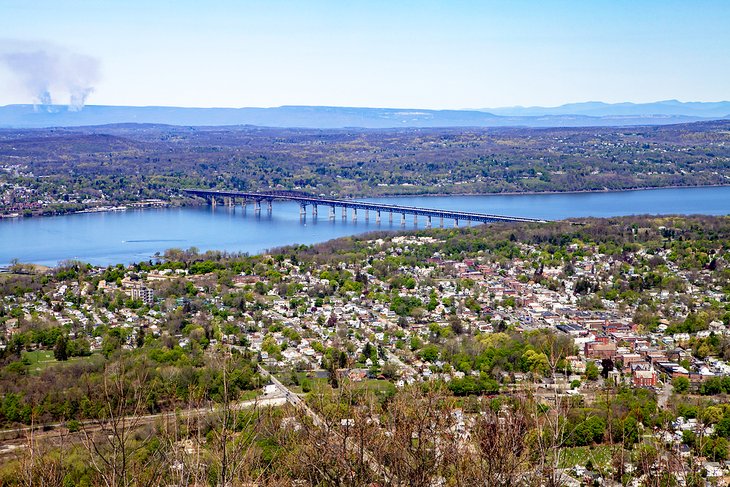 An easy 60 miles north of New York, Beacon has become a popular weekend getaway from the Big Apple. Nestled on the banks of the Hudson River, between Cold Spring in the south and Wappingers Falls in the north, this pleasant small town is a real gem.
While rooted in colonial history – the hilly terrain served as a good fighting ground for soldiers – the Beacon you see today is buzzing with new farm-to-table restaurants, art galleries, and museums favored by expat New Yorkers and Brooklynites.
Whether you prefer to walk nature trails through the parks, ogle the breathtaking hillside surroundings, or catch a contemporary art exhibit at Dia: Beacon, there are enough interesting things to do in Beacon that you'll never get bored.
19. Westfield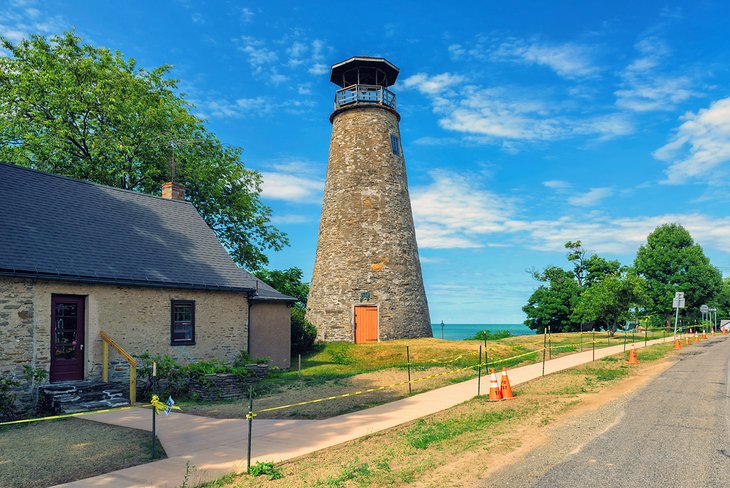 Perched on the shore of Lake Erie, Westfield lies in Chautauqua County. This cute small town in New York is revered for its beauty but best known for its most valuable export: the Concord grape.
Dubbed the "grape juice capital of the world," Westport was home to Dr. Charles Welch, the man responsible for popularizing pasteurized grape juice and building the world's first large grape juice plant in Westfield in 1897. The Lake Erie Grape Discovery Center will teach you everything you never knew you needed to know about this sugary fruit.
History abounds in the Portage Trail and Main Street districts, which are lined with historic homes teeming with charm.
The Barcelona Lighthouse stands stoically in Portland Harbor. It was the country's first natural gas lighthouse (circa 1829), and though you won't be able to climb to the top, it's still worthy of a photo op.
20. Tarrytown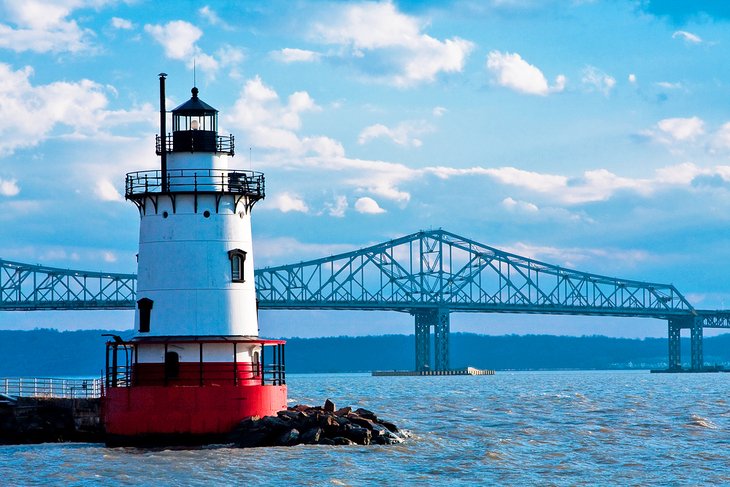 Tarrytown sits quietly on the east bank of the Hudson River, awaiting visitors to traipse through its historic streets in search of treasures from its storied past.
A close neighbor of Sleepy Hollow, this pretty small town in New York is so quaint, you'll wish you could visit in every season to note its picturesque changes.
Visiting Sunnyside is one of the most popular things to do in Tarrytown. Once home to the iconic writer, Washington Irving, this architectural masterpiece (it blends elements from Tudor, Gothic, and Spanish designs) is an attraction worth seeing.
The Tappan Zee Bridge is another unmissable Tarrytown attraction – literally. A New York State Landmark, this three-mile, two-span bridge links Rockland County to Westchester County as it crosses the Hudson River.
Spend time in the local coffee shops to get a feel for the friendly residents, explore the area art galleries, or walk the nature trails. There's no end to the fun you can have at this adorable small town.
More Related Articles on PlanetWare.com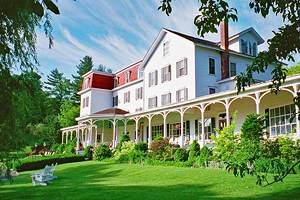 Where to Stay in New York State: If your small town destination revolves around finding a great place to stay, you may want to first look into accommodation options. Check out these awesome resorts in upstate New York. Or, book in at one of these lovely resorts that are peppered throughout the state. Heading to the Catskills region? You'll want to check out these top-rated resorts.