17 Top-Rated Things to Do in Kingston, NY
A waterfront city with deep historic roots and charming shops, Kingston is one of the best places to visit in New York state.
Set about two hours north of Manhattan, this picturesque spot lies on the outskirts of the Catskills, making it an ideal place to spend a weekend. With so many fun things to do, it's impossible to get bored.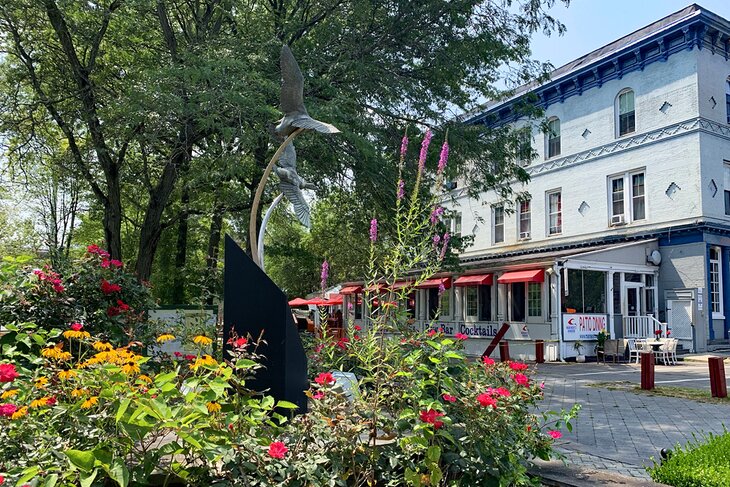 Kingston is divided into three main sections: Uptown (the most vibrant area, featuring historic buildings, boutique shops, and fab restaurants), Midtown (here, you'll find a few more shops and a theater), and Downtown (a.k.a. the Rondout National Historic District, where you'll find the pretty waterfront, boat tours, eateries, and trolley rides.)
Not sure where to start exploring? Use our list of the best things to do in Kingston, NY.
1. Shop the Boutiques of Uptown Kingston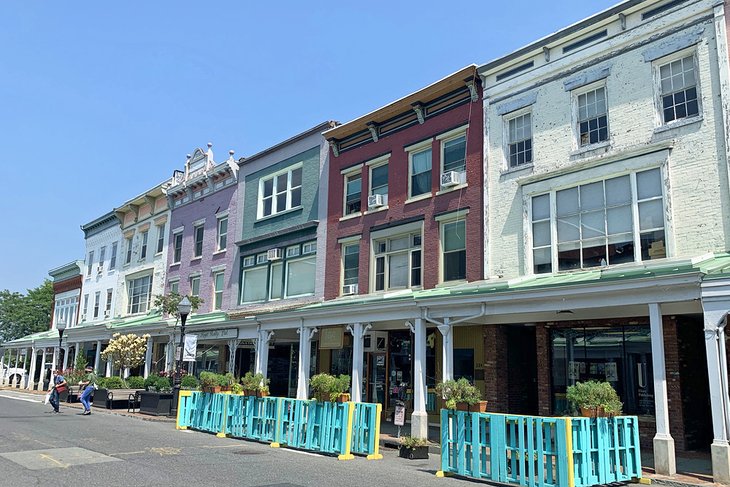 Shopping in the boutiques of Uptown Kingston (a.k.a. the Stockade Historic District) is arguably the best thing to do in Kingston, NY. Whether you're looking for used books, homemade ice cream, a guitar, jewelry, vintage clothes, or a funky piece of art, you'll find it in this attractive locale.
Half Moon Books is a must-stop if you're looking for a preloved read of any genre. This small bookshop is full of charm and rare finds to be cherished for years to come. It's one of the best places to visit for bibliophiles.
Choose an affordable piece of contemporary art from the beautiful Pink Water Gallery on North Front Street, open Thursdays through Sundays from noon to 6pm. Or reward yourself with a sweet treat from the Alice in Wonderland-themed Kingston Candy Bar on Wall Street. You can find homemade ice cream, handmade chocolates, and pretty much any candy you crave.
Sweet Maresa's Bakery, also on Wall Street, boasts all-vegan treats so scrumptious, you'll crave seconds.
No worries if it's raining when you visit. The charming historic buildings are adorned with covered arcades that jut over the sidewalks of this uber-walkable section of town.
2. Be Charmed by the Stockade Historic District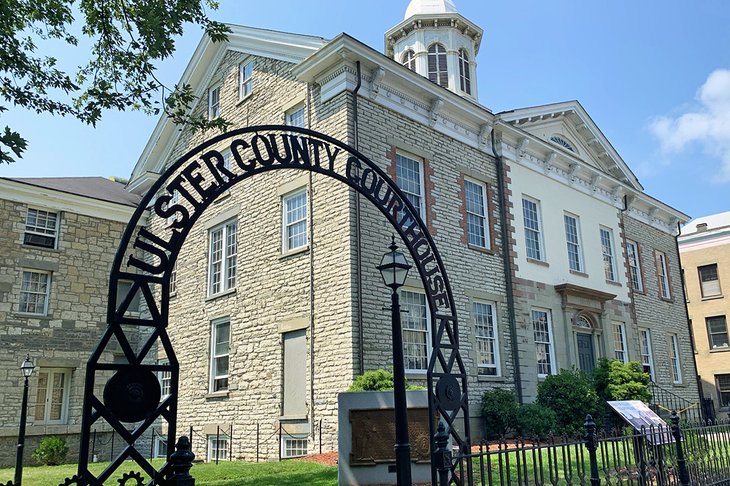 If you're looking for a charming, fairy-tale village, you'll find it while sightseeing in the Stockade Historic District. The region spans eight blocks and plays host to some of Kingston's most beloved buildings.
Blue stone sidewalks are flanked by enchanting stone homes dating to the 17th century. This is where you'll find the 18th-century Four Corners, the intersection at John and Crown streets bordered by houses built prior to the Revolutionary War.
One of these spectacular homes is the much-visited Matthewis Persen House (more on that below), which is open to the public as a museum. Other popular tourist attractions in this area include the Fred J. Johnston Museum, Senate House State Historic Site, Ulster County Courthouse, Old Dutch Church, and Volunteer Fireman's Museum.
From July through October, the Friends of Historic Kingston offers guided walking tours of the area on the first Saturday of each month.
3. Get Nautical at the Hudson River Maritime Museum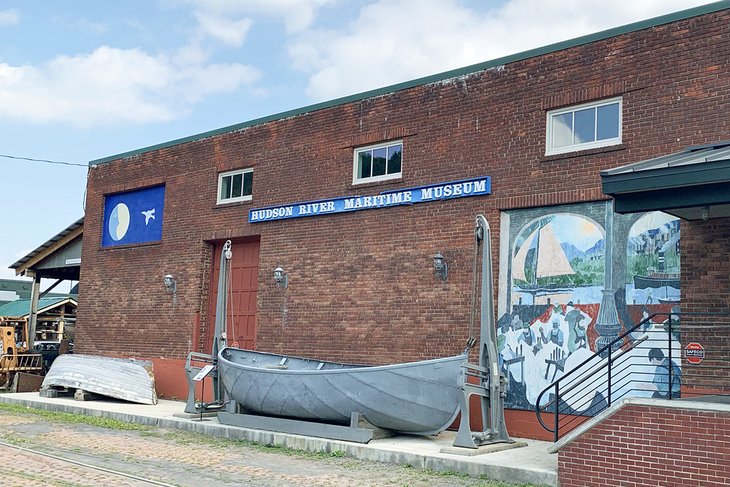 Lovers of all things nautical will find it hard to tear themselves away from the Hudson River Maritime Museum.
Built in 1979, this fun tourist attraction plays host to extensive exhibits that teach visitors about the area's role in maritime history. Inside, you'll find a 100-year-old shad boat, ice yachts, and multiple artifacts, as well as interactive displays.
Booking a boat tour through the museum is the easiest way to get out on the water. You'll be able to cruise by the area's lighthouses and even step foot inside. The Solaris is a solar-powered floating classroom that hosts themed boat tours on both the Rondout Creek and Hudson River.
The museum is also home to the Wooden Boat School and Sailing & Rowing Schools, which means you can learn the art of boating and sailing during your vacay. In addition to getting your sea legs in these schools, why not attend a boatbuilding class or try your hand at rowing?
Address: 50 Rondout Landing, Kingston, New York
Official site: https://www.hrmm.org/
4. Grab a Bite or Board a Boat in the Rondout National Historic District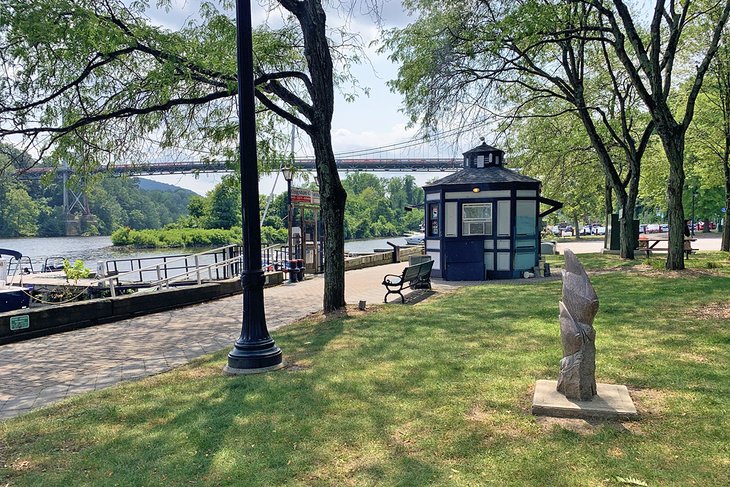 The Rondout National Historic District (a.k.a. West Strand Historic District) is a relaxing, highly photographable area filled with memorable buildings, a waterfront park, fabulous eateries, shops, and museums. Spending a few hours in this picturesque spot, dubbed the "downtown" area of Kingston, is one of the top things to do in Kingston.
Play chess at a waterfront table in T.R. Gallo Park, hop on a boat cruise along the Hudson River, board a trolley from the Trolley Museum of New York, or learn about the area's nautical history in the expansive Hudson River Maritime Museum.
Other popular historic attractions include, the Jacob Forst House, Sampson Opera House, Mansion House, Bluestone Bench, and the Thomas Chambers Marker.
If shopping's your thing, you're in for a treat. Stores selling everything from jewels to antiques to vintage clothes line these ancient streets.
When hunger strikes, head to one of the many restaurants. Ship to Shore offers tasty seafood, as well as heavenly salad and pasta dishes. Enchanted Cakes pretty much sums up its wares in its name, and Mole Mole is a popular Mexican locale.
Monthly tours are offered on the last Saturday of each month by the Friends of Historic Kingston. Insider's tip: Have quarters on hand to feed the parking meters.
5. Spot Turtles at the Forsyth Nature Center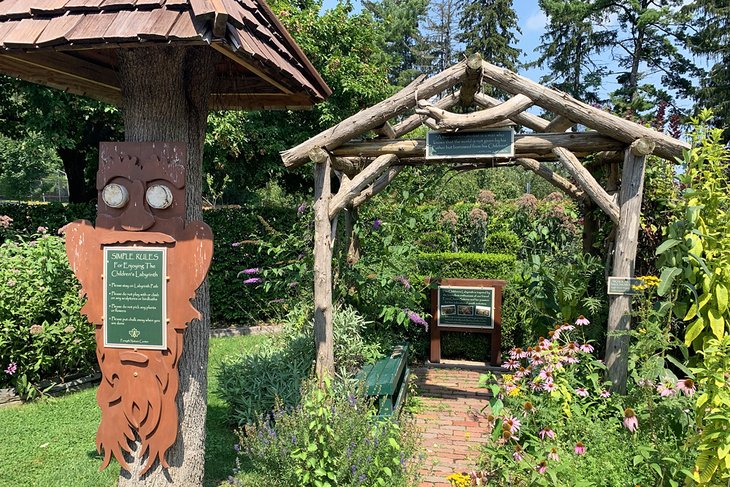 Peacocks and turtles and a pot-bellied pig, oh my! There are so many creatures to meet at the Forsyth Nature Center.
Set deep within Forsyth Park, this sanctuary is so unassuming, you'd miss it if you weren't looking. Once you get close, however, the magic of this natural wonderland ensues and you'll immediately see the appeal of this popular point of interest.
Visiting this free nature center, dedicated to teaching its visitors about the area's flora and fauna, is one of the best things to do in Kingston, especially if you have little kids in tow. Here, they can get face to horns with goats, say hello to an alpaca, and wander the boardwalk in search of frogs.
In addition to its animal residents, the center is also home to a children's labyrinth, butterfly garden, snack bar, and picnic area that comes complete with tables shaded by umbrellas. It's a wonderful, relaxing place to get back to nature and spend an hour or two.
Hoping to learn more about the exhibits? Download the center's audio tour on your phone.
Address: 157 Lucas Avenue, Kingston, New York
Official site: https://www.forsythnaturecenter.org/
6. Step Back in Time at the Matthewis Persen House Museum & Cultural Heritage Center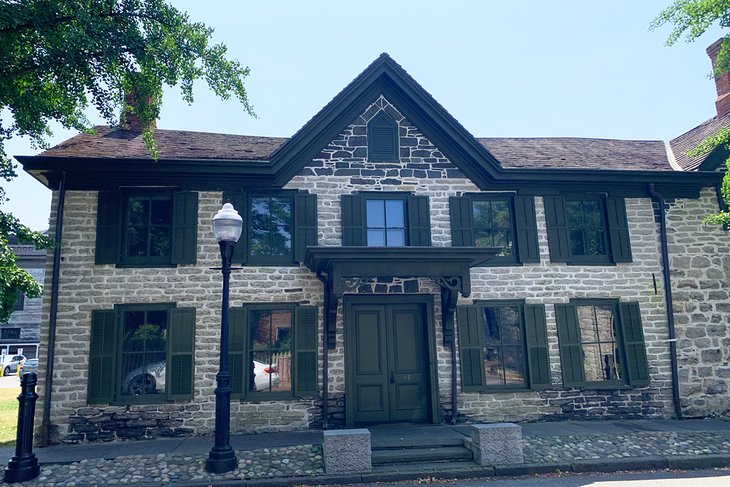 The quaint Matthewis Persen House Museum & Cultural Heritage Center lies at the Four Corners, in the heart of the Stockade Historic District.
This Dutch Colonial home was built in the late 17th century to house Sergeant Matthew Persen and his family. Burned multiple times, it was rebuilt over the years and became a public house in the 1820s.
Since then, the house has been lived in by a doctor and served as a drug and grocery store, among other uses before being turned into the museum you see today. The museum is open Thursdays through Saturdays from late May through early September, and Saturdays from mid-September through October.
Try your luck at the Scavenger Hunt, find clothing stuffed in the walls as insulation, and take in the interesting rotating exhibits. Multiple events are hosted on this site throughout the year.
Address: 74 John Street, Kingston, New York
Official site: https://clerk.ulstercountyny.gov/archives/persen-house
7. Spot the Rondout Lighthouse from Kingston Point Park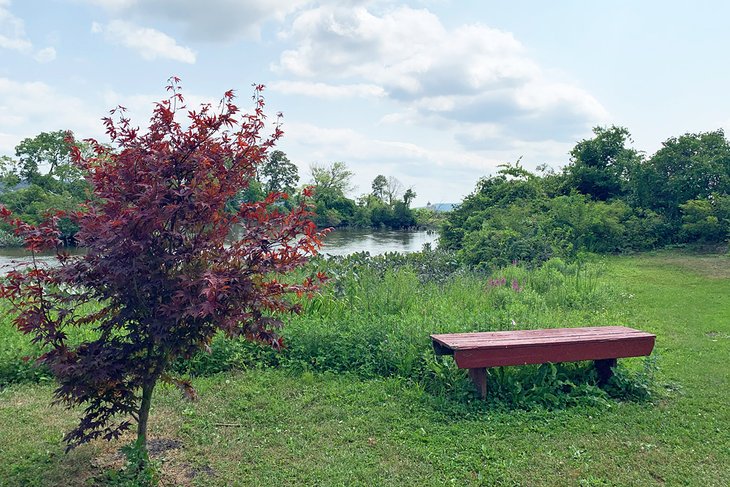 Take a break from all that shopping at the serene Kingston Point Park. Located on the sparkling shore of the Hudson River, this is a wonderful place to lay a towel, unpack a picnic, and marvel in the peaceful vista. Just beyond the waterlily-laden pond, you'll spy one of the area's most recognizable attractions, the Rondout Lighthouse.
With 87 acres at your disposal, there are plenty of areas to spread out. A pavilion and multiple benches make it easy to enjoy a comfortable respite. Just beside the park, you'll find Kingston Point Beach, a perfect spot to build a sandcastle or enjoy a refreshing dip in the Hudson.
As one of the most tranquil places to visit in the city, you may find you'll have to share this pretty spot with a few of the locals looking to get back to nature. Don't worry, they're friendly!
Address: Delaware Avenue, Kingston, New York
8. Have a Teddy Bear Picnic at the Den of Marbletown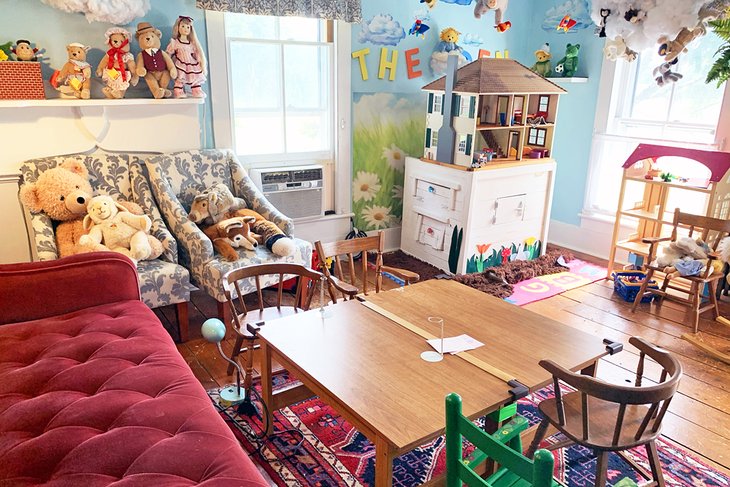 If you go down to the Den of Marbletown today, you're in for a big surprise! A mere 15 minutes from Uptown Kingston, this unique house has been transformed into a toy lover's paradise.
It's run by a teddy bear enthusiast named Steve. Kids of all ages (from 1 to 100) will be wowed by a valuable and eclectic collection of over 5,000 Steiff stuffed animals, including a vintage, extremely rare, Original Rod Bear dating to 1904.
The walls of this historic home are lined with toy creatures, and teddy bear dioramas abound. Upstairs, you'll find rooms devoted to Madame Alexander dolls and Barbie, as well as a Kids Club Cave, where little ones can play while their grownups enjoy a tea in the Mama Bear Lounge.
A secret door leads to wooden doll house furniture, vintage tin toys are on display, and there's a café on-site offering treats, bento box lunches, and bubble tea.
Borrow a basket and blanket to enjoy a teddy bear picnic on the porch, patio, or on the expansive, lush grounds. Didn't bring a bear? No worries, you can buy one (or five) in the adorable on-site shop.
Address: 1 Basten Lane, Kingston, New York
Official site: https://thedenofmarbletown.com/
9. Soak Up the Serenity at the Old Dutch Church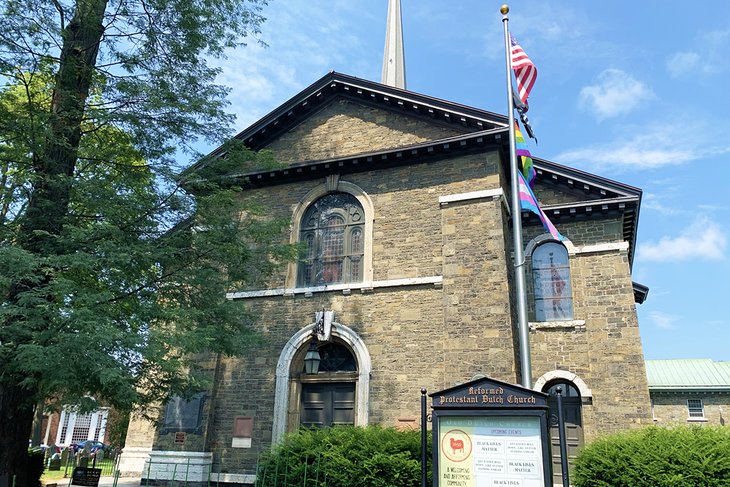 Dubbed the "Cathedral of Kingston," the original Old Dutch Church (a.k.a. The Reformed Protestant Dutch Church) was established on this uptown Kingston site in 1660. Burned twice (in 1663 and 1777), this remarkable landmark has been rebuilt multiple times.
The church you see today was designed by architect Minard LaFever and made of local bluestone in 1852. Its structure is so iconic that no other town building can be made taller than its steeple, which can be seen from miles away.
Inside, you will find a remarkable interior designed in the style of Christopher Wren. Today, this inclusive place of worship welcomes all to "find love, rest, and consolation" within its resplendent walls. Speaking of walls, walk around the perimeter to spot the plaque commemorating the famed visit of then President, George Washington on November 16th, 1782.
Address: 272 Wall Street, Kingston, New York
Official site: https://olddutchchurch.org/
10. Tour the Senate House State Historic Site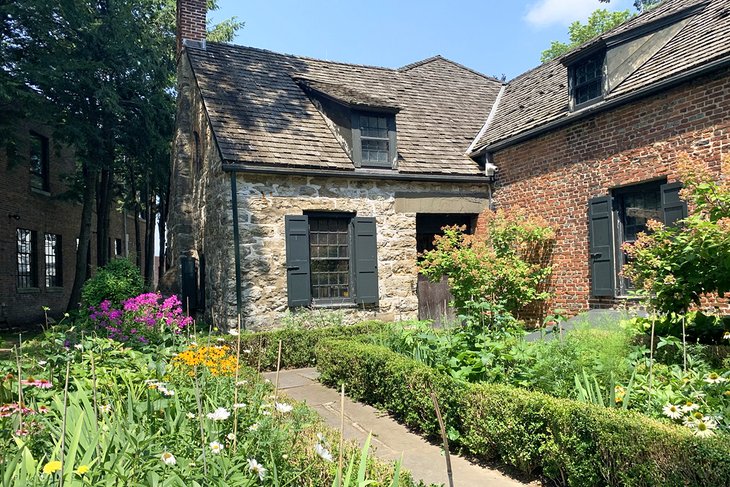 An intriguing slice of history stands well preserved off Fair Street in the Stockade Historic District uptown. One of the top tourist attractions in Kingston, this home was originally built by a Dutch immigrant in 1676.
Over the years, it was repaired numerous times, the most notable of which occurred after an attack by the British. It became the meeting place of the New York State Senate during the 18th century.
Today, the Senate House is owned by the state and run as a historic site, depicting life in the 18th and 19th centuries. The museum building includes a vast collection of historical artifacts including paintings, documents, and other important artifacts.
On the grounds, you'll find the historic Senate House, Senate House Museum, and The Loughran House, which dates to the early 1870s and is used to host special events.
The grounds are open year-round from dawn until dusk. Guided tours are available anytime with an appointment, or from Wednesday through Sunday from mid-April to the end of October.
Address: 296 Fair Street, Kingston, New York
Official site: https://www.senatehousekingston.org/
11. Catch a Ride at the Trolley Museum of New York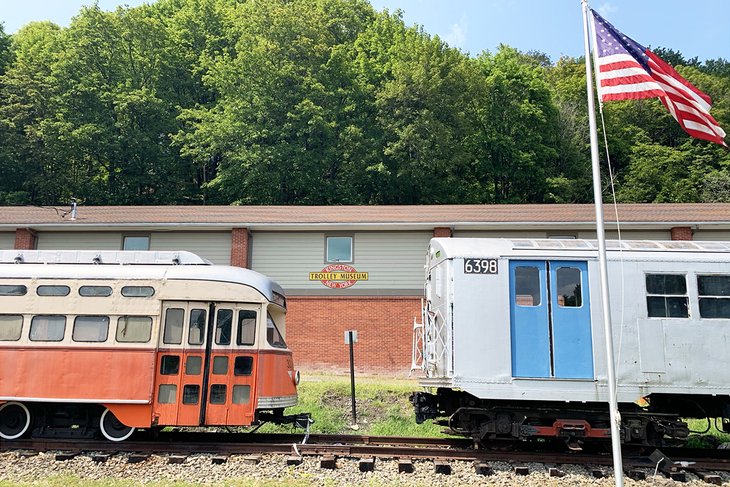 All aboard the historic trolley! Enjoying the 1.5-mile journey organized by the Trolley Museum of New York is one of the best things to do in Kingston. Passengers board at T.R. Gallo Park, which lies at the foot of Broadway, next to the Hudson River Maritime Museum in the East Strand district.
Stops include the picturesque Kingston Point Park and the museum itself, which is set on the original site of the Ulster and Delaware Railroad yards at Mile Post One. Here, you'll take a trip through the history of transportation in the Hudson River Valley and see vintage trolleys and subway cars built in the US and Europe.
A visitor center has permanent and seasonal exhibits and huge windows that showcase the restoration shop featuring eight trolley cars. The museum is open from noon to 5pm on weekends and holidays from late April through October.
Address: 89 East Strand Street, Kingston, New York
Official site: http://tmny.org/
12. See Antique Engines at the Volunteer Firemen's Hall & Museum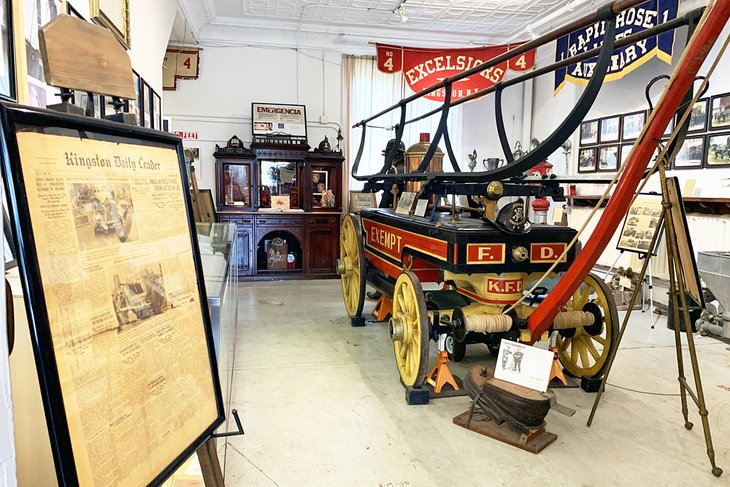 Who doesn't want to visit a fire station? The bright red engines, shiny brass bells, and firemen's poles are exciting to see no matter how old you are. And they can all be found in the Volunteer Firemen's Hall & Museum, an unassuming attraction located on Fair Street.
Housed in the historic Wiltwyck Fire Station, this fun museum is packed with firefighting-related relics from Ulster County. Inside, you'll find an engine dating to the 1930s, another used until the 60s, an original fireman's pole, sleeping quarters, and a lounge, all showcasing important memorabilia.
Admission to the museum is free, although donations are greatly appreciated, as they help to preserve the museum. It is open Fridays and Saturdays from April through November, and Wednesdays through Saturdays from June through Labor Day.
Address: 265 Fair Street, Kingston, New York
Official site: https://kingstonvolunteerfiremensmuseum.weebly.com/
13. Take the Kids to the Playground at Forsyth Park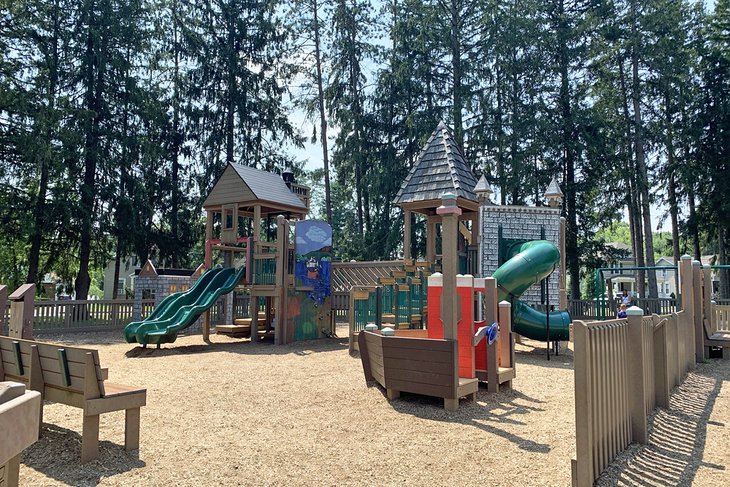 Forsyth Park is the place to be if you're looking to have the kids run off some energy. A large city park, it consists of vast open space that's perfect for ball games, with a baseball diamond, tennis courts, and a huge covered pavilion.
If you're visiting in summer, you'll be one of many. This is one of the best places to visit for families, especially when the weather cooperates.
The most popular attraction is a large playground primed for kids who love to climb, slide, and spin. Designed for kids aged five to 12, there are plenty of fun Willy Wonka- and pirate-themed activities to keep them occupied, and benches for tired parents to take a load off. Traveling with smaller kids? The tot lot is a better, safer spot for those under five.
The park is also home to the Forsyth Nature Center. Visiting this entertaining spot is one of the best things to do in Kingston.
Address: 157 Lucas Avenue, Kingston, New York
14. Catch a Show at the Ulster Performing Arts Center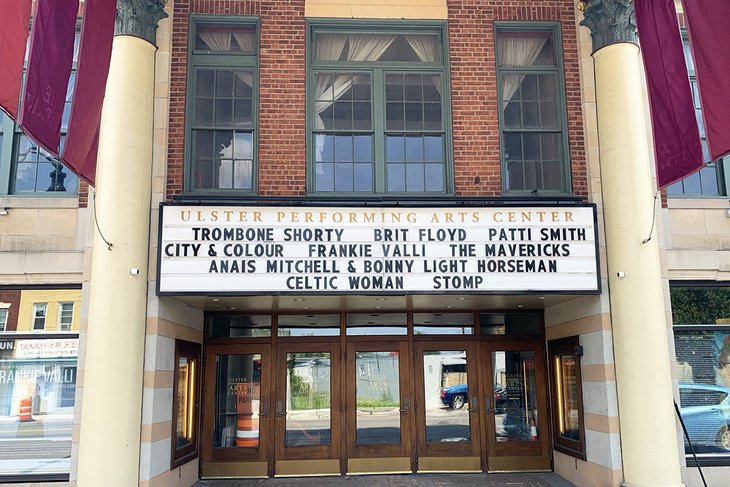 The Ulster Performing Arts Center serves as the hub for events in Kingston. Whether you're looking to laugh at a comedy act, relax to a bit of smooth jazz, or become thrilled by a dance performance, you're sure to find something to love in this historic venue.
Opened as the Broadway Theater in 1927, this iconic, columned building was a vaudeville house and movie palace. Not surprisingly, it was listed on the National Register of Historic Places in 1979. Since then, it has undergone years of revitalization and restoration to become the impressive, air-conditioned 1,510-seat venue it is today.
A quick drive will get you to the restaurants in uptown Kingston or the Rondout National Historic District, making it easy to make a night of it with dinner and a show.
Address: 601 Broadway, Kingston, New York
Official site: https://www.bardavon.org/
15. Reflect at the Ulster County Memorial Roll of Honor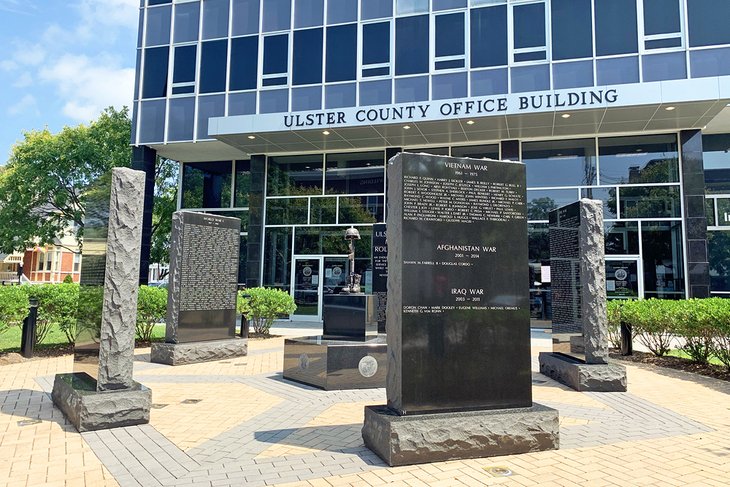 The Ulster County Memorial Roll of Honor consists of five tall granite veterans' monuments placed in a pentagon shape. It is situated near the intersection of Fair and Main Streets, outside the Ulster County Office Building in uptown Kington.
Dedicated in May of 2015, this hallowed place is reminiscent of the larger, Vietnam Veterans War Memorial in Washington, D.C. Here, you'll find a monument listing the names of Ulster County locals killed in combat during the Revolutionary War; the War of 1812; World War I; the Korean War; World War II; and more recent events like the Vietnam War, Afghanistan War, and Iraq War.
A touching sculpture of empty boots and a rifle topped by a helmet stands in the center. Each year, a candlelight ceremony is held here to honor the country's deceased veterans just prior to Memorial Day Weekend. This is a point of interest you really should see, and while you're there, try to make a point of taking time to appreciate what it stands for.
Address: 244 Fair Street, Kingston, New York
16. Get Inspired by Murals in Uptown Kingston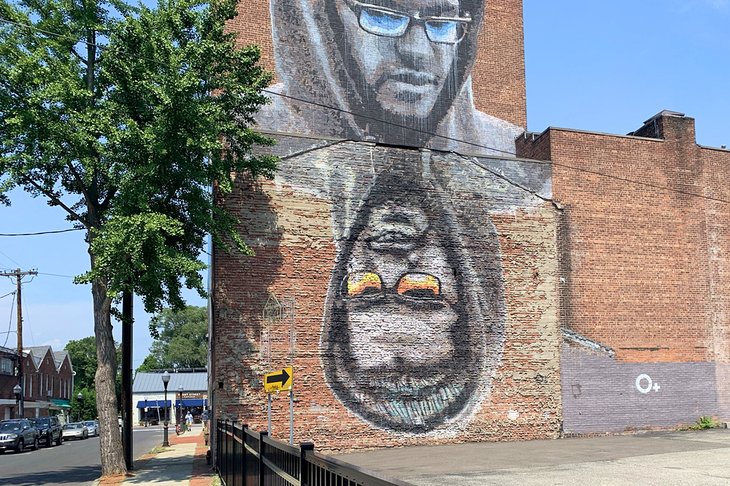 Fans of street art should schedule extra time to wander the streets of mid- and uptown Kingston. Brightly colored murals flank the giant walls of town, their intricate details sprawling across concrete canvases throughout the area.
You never know what you'll find stretching across the exterior of shops, restaurants, and historic buildings. Pronkstilleven, a flowery masterpiece created by Gaia Street Art for the O Positive Festival (O+), can be found near the Senate House on Fair Street, and Bliancia, a pretty pink mural featuring high-flying carnival swing riders by Kimberly Lane is on Front Street.
Matt, a sunglass-clad man created by Nils Westergard on Crown Street and Artemis Emerging from the Quarry by Gaia Street Art are unmissable. Keep your eyes peeled, as you'll find the most amazing street masterpieces around the most unassuming corners. Many are inspiring and political in nature, depicting themes that include diversity.
To find out where to go, you can download a map of the murals in Kingston.
17. Search for Treasures at the Zaborski Emporium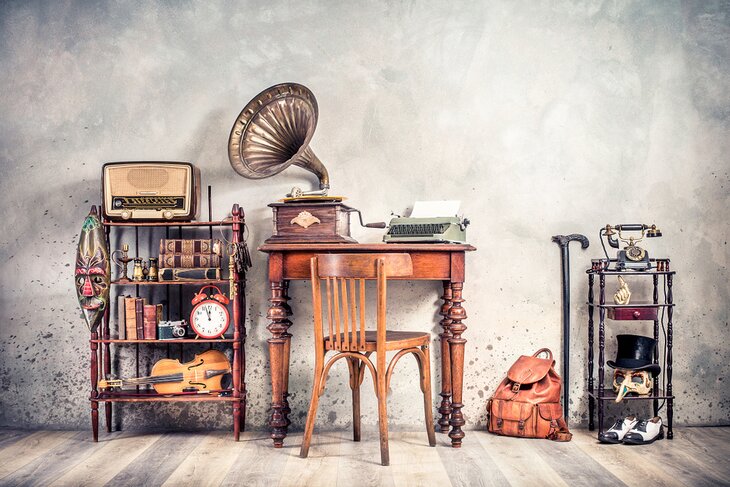 You never know what you're going to find when traipsing through the eclectic Zaborski Emporium. Self-described as an "architectural salvage store," this four-story warehouse is the most chaotic yet exciting retail outlet in the region.
No matter what you're searching for—a new knob for your front door, an antique hutch for your dining room, or a stained-glass window—you'll find it, and so much more, in this unique spot. Come with an empty car because you're sure to leave with something amazing that you never knew you needed.
If you want to make the most of your time in this vintage treasure trove, take time to plan your visit well. The emporium is closed Sunday through Wednesday. And, be sure to dress warm if you're visiting in winter—there's no heating in this vast space.
Address: 27 Hoffman Street, Kingston, New York
Official site: https://zaborski-emporium.edan.io/
Kingston, NY - Climate Chart
Average minimum and maximum temperatures for Kingston, NY in °C
J
F
M
A
M
J
J
A
S
O
N
D

1

-9

3

-9

8

-3

15

2

21

8

26

13

29

16

28

15

23

10

17

3

11

-1

4

-6

PlanetWare.com
Average monthly precipitation totals for Kingston, NY in mm.

81

64

91

96

120

95

120

97

94

90

90

82