13 Best State Parks in Connecticut
As the third smallest state, Connecticut is far from large. What it lacks in size, however, this gorgeous region more than makes up for in natural beauty. From sparkling lakes to crashing waterfalls to sandy beaches, its most captivating wonders can be seen in its best state parks.
Whether you're looking for a coastal retreat, a forested spot for a hike, or a grassy meadow to enjoy a stream-side picnic, you're sure to find it (and so much more) in one of the 110 Connecticut State Parks.
Organic wonders are the main attractions in these parks, but they're also well maintained, and most include facilities (like toilets and concessions) that make it easier to spend a whole day enjoying the natural perks. Not ready to call it a day? No worries; many of Connecticut's state parks offer camping facilities for those who just can't bear to pack up and go home.
With so many parks to choose from, it can be tough to narrow your list. Decide which to visit first with our list of the best state parks in Connecticut.
1. Hammonasset Beach State Park, Madison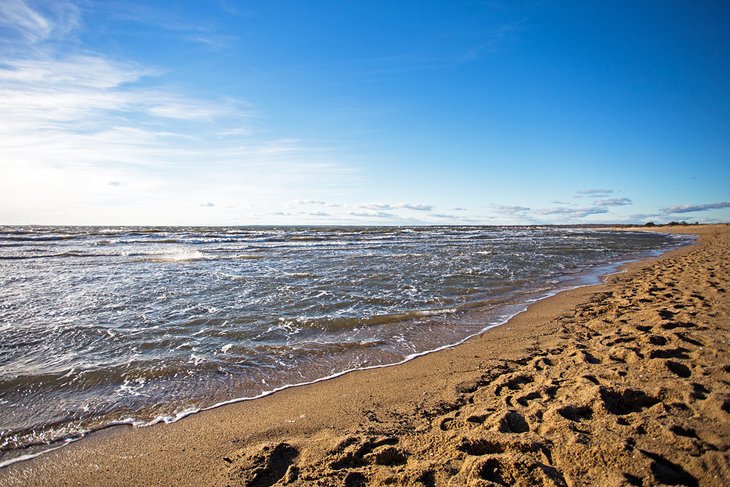 Beach lovers flock to Hammonasset Beach State Park at all times of year, but it's the summer months when you'll find the shores really packed. Don't worry! At two miles in length, you'll find plenty of space to stretch out your towel and luxuriate under a beach umbrella.
The largest beach in the state, this beauty is also one of the best beaches in Connecticut. It's a hot spot for families, and you'll see people of all ages enjoying the calm water of the Long Island Sound. Whether you swim, kayak, paddle an SUP, or boat, you'll love spending a day at this pristine park.
Walk the trails, try your luck at fishing, and enjoy a picnic at one of the many tables provided. There are plenty of concessions available and clean facilities to use when nature calls. Be sure to schedule enough time to visit the park's fascinating Meigs Point Nature Center.
If you're hoping to camp overnight, you're in luck. This vast park is home to a large campground that's open from Memorial Day weekend through mid-October. It has a volleyball court, amphitheater, playground, and other fun activities on offer.
2. Sleeping Giant State Park, Hamden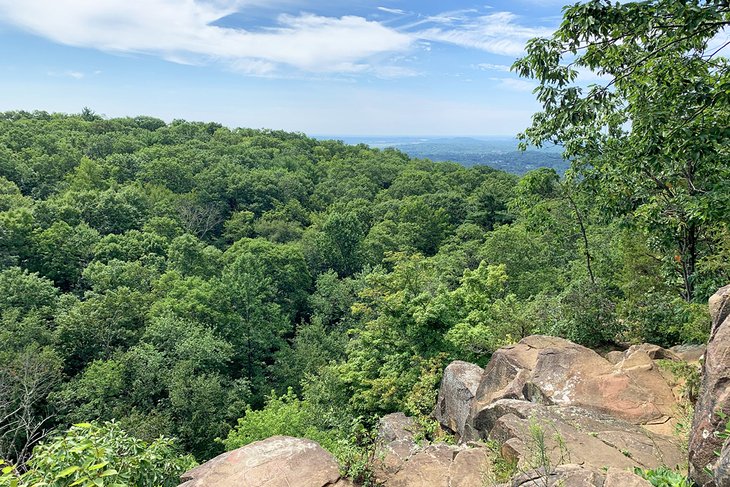 Named after the two miles of mountaintop that resemble a sleeping giant, this remarkable spot is by far one of the best state parks in Connecticut. Located across from Quinnipiac University, about eight miles north of New Haven, this is an optimal place to hike, rock climb, picnic, horseback ride, or cross-country ski.
Tower Trail is the park's most popular (and more moderate) path. It traverses 739 feet to the summit of Mount Carmel. Don't worry, it's set up in a zigzag format, so the climb isn't too taxing. That said, the path is laden with small pebble-like rocks, so it can get a bit slippery, especially upon your descent.
Your reward at the top is a visit to the stone observation tower, a regal spot to enjoy unsurpassed views of the surrounding countryside. This trail is just over three miles round trip, so expect it to take over an hour. Pack water if it's hot, and be prepared to encounter many other hikers if you're visiting on a summer weekend.
The other trails are steeper, so you may want to stick to the Tower path if you're not a fan of tricky hikes. Also, the map and trails aren't well labeled, so if you're worried about getting lost, it's best to stick to the wider Tower Trail.
3. Kent Falls State Park, Kent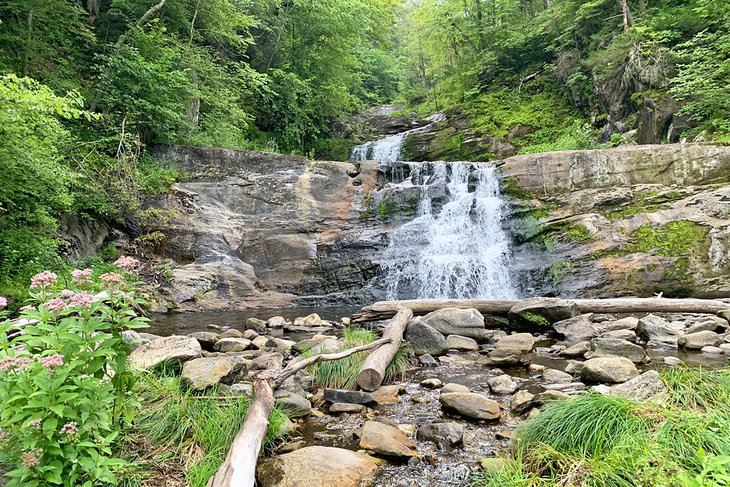 Spending the day at Kent Falls State Park is one of the best things to do in Connecticut. A stress-relieving adventure awaits every visitor, whether they choose to gasp with delight at the covered bridge; feel the spray from the 250-foot Kent Falls; or hike the trails through the deep, dark forest.
Set in the magical Litchfield Hills, this park is particularly spectacular to visit when the trees are abuzz with fall's most glamorous shades of red, yellow, and orange. If you're hoping to view the falls at their best, however, you'll want to arrive in early spring, after the winter snow has melted.
A quarter-mile hike along the Kent Falls Trail offers the best view in the park, so you really shouldn't miss it. Don't worry, it's steep, but easy. Be sure to bring a camera, it's one of the most beautiful places to photograph in Connecticut.
Bathrooms, grills, and picnic tables are available, and many offer optimal views of the falls.
4. Lake Waramaug State Park, New Preston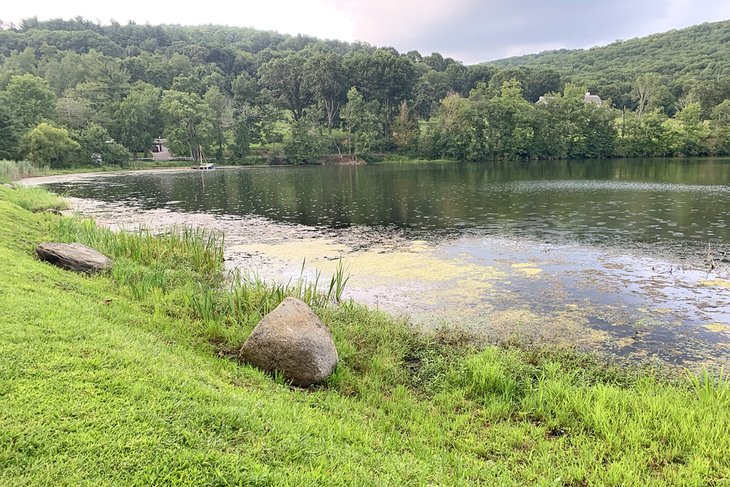 Lake Waramaug State Park is one of the most captivating parks in the state. Located in Kent, it's easy to see why this is one of the best parks in Connecticut. Everything here revolves around its star: the shimmering Lake Waramaug.
A soft, sandy beach stretches along the shoreline near the park's main entrance, winding its way past picnic tables, canoe rentals, and a roped-off swimming area. With no tide and few ripples on the water, this is a perfect place to bring children.
Build a sandcastle, swim a few laps, fish, or paddle your way across the lake's surface. There are so many ways to enjoy this waterfront wonderland that it's impossible to be bored. Bathrooms and concessions are also on-site, which make it easy to spend a whole day enjoying the luscious surroundings. If you're hoping to stay longer, check in to the campground, which boasts 78 campsites, including a few cabin rentals.
Insider's tip: Visit during summer to enjoy the water-based activities and again in fall to gasp with delight at the magnificent display of colorful foliage reflected in the lake's calm surface.
5. Lover's Leap State Park, New Milford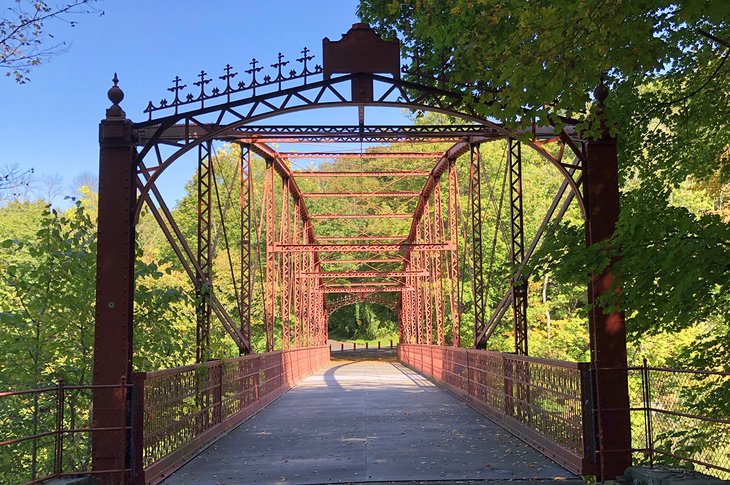 Lover's Leap State Park is packed with 127 acres of scenery so dramatic, it will literally take your breath away. From steep rocky outcroppings to verdant forest to trickling streams, there's a lot to love in this New Milford haven.
Walk high above the Housatonic River on the captivating 1895 Berlin Iron Bridge, one of only five of its kind in Connecticut. Then, take Lover's Leap Trail. This easy walk climbs slightly to offer the most impressive view of Lake Lillinonah, one of the best lakes in Connecticut.
If you're up for a longer trek, the Waramaug Loop leads to the Old Factory Trails, which are home to the historic ruins of the Silex Factory.
The spectacular river gorge was made famous years before through an Indian Legend that inspired the park's name. Chief Waramaug's daughter, Princess Lillinonah apparently canoed into the "Great Falls" when her lover had not returned from a trip away. He arrived in time to see her in the rapids; however, he died when he leaped in the water to save her.
If you're hoping to get on the water, use the carry-in water or kayak access points to launch a boat.
6. Rocky Neck State Park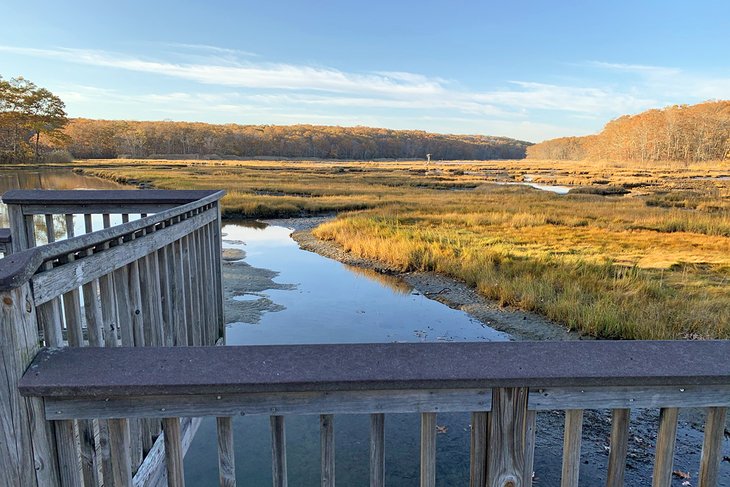 A soft, sandy beach; salt marshes plush with creatures; and easy walking trails make Rocky Neck State Park one of the best parks in Connecticut for families. Pack binoculars, as you'll want to get a closer view of the multiple animals that call this 700-acre wonderland home. Whether you're a fan of birds, crabs, turtles, or coyotes, you're bound to spot something spectacular. Marsh-viewing platforms make it easy to spy unique waterfowl, and they provide easy access for fishing and crabbing.
A half-mile crescent of beach welcomes visitors who walk through a captivating tunnel to reach its pristine shore. Once you settle your toes into this luxurious spot, you won't want to leave, so be sure to pack snacks, water, and beach chairs.
Other popular areas include mountain biking trails and a marine estuary that bisects the park. This is where avid anglers and bird-watchers spend most of their time. If you truly can't tear yourself away, no worries.
Pitch your tent in the park's campground, it's one of the best places to go camping in Connecticut.
7. Devil's Hopyard State Park, East Haddam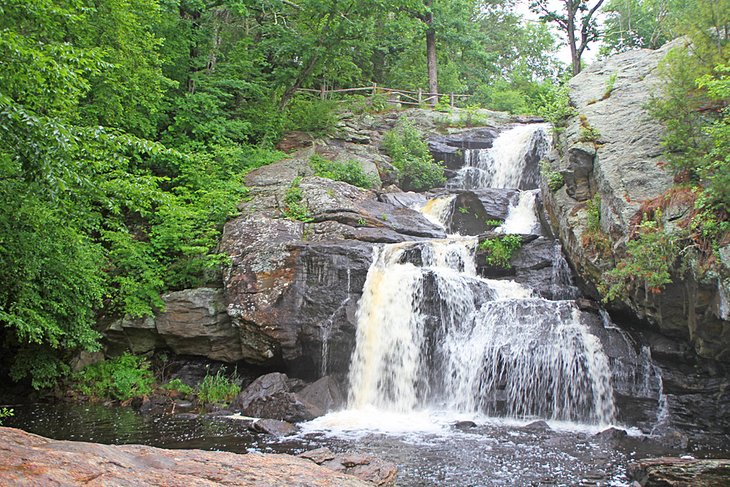 Don't let the name fool you, there's nothing to be feared at Devil's Hopyard State Park. A place of serene beauty highlighted by a spectacular waterfall, this is one of the best state parks in Connecticut for many reasons. First, it boasts multiple hiking trails that traverse the diverse terrain. Second, you'll find a picturesque, covered bridge; exciting bird-watching sites; and many fishing opportunities.
Don't forget about that waterfall we mentioned earlier. This phenomenal cascade (a.k.a. Chapman Falls) is one of the best waterfalls in Connecticut due to its dramatic rocks featuring circular holes. While legends claim these were caused by Satan (he was apparently angry about getting his tail wet and burned the holes), they were actually caused by rubbing due to the constant current.
The falls are easily reachable from the parking lot, although you really should opt for a longer stay that includes taking in some of the other trails and sites. Pack a picnic, polish your binoculars, and get ready to enjoy a peaceful day filled with impeccable scenery.
The park is also home to a campsite for those who'd like to prolong their stay.
8. Macedonia Brook State Park, Kent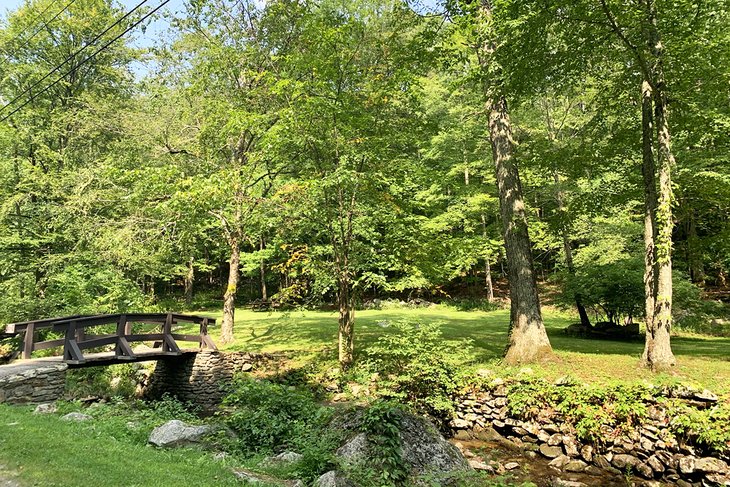 It's easy to unwind in Macedonia Brook State Park. A 2,300-acre natural wonderland set a mere four miles from neighboring Kent, this vast expanse is bursting with forested trails, bubbling streams, and freshwater springs.
Plan to spend multiple hours here, as there is so much to see and do. Whether you're a fan of fishing, hiking, mountain climbing, biking, or cooling off in a refreshing stream, you'll hate to leave this nirvana.
Cook a meal on one of the park's many grills, grab a drink from the water taps, and eat under the shade of a picnic shelter. When it's time to "go," you can make use of one of the wooden outhouses sprinkled around the area.
While many believe summer to be the best time to visit, fall is unbeatable in terms of beauty. The park becomes blanketed in a kaleidoscope of nature's most vibrant colors; it is perfectly primed for stunning photos.
While you're in the neighborhood, be sure to visit nearby Bull's Bridge, a gorgeous, 19th-century wooden covered bridge that crosses the Housatonic River beside a crashing waterfall.
9. Silver Sands State Park, Milford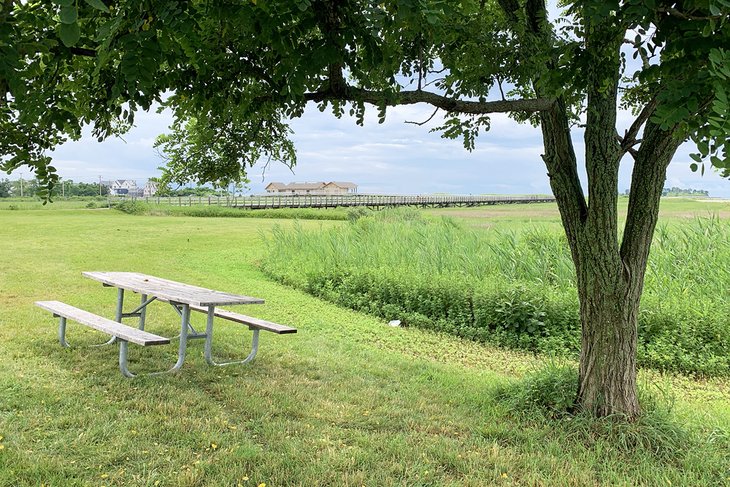 It's easy to feel like a professional photographer when you've got a spectacular background, and Silver Sands State park in Milford offers some pretty fantastic views. A popular spot for locals to stretch their legs, this pretty, half-mile waterfront park is lined with three quarters of a mile of picturesque boardwalk.
While many choose to swim or fish in the Long Island Sound, still more enjoy admiring the view during a quiet stroll along the lengthy boardwalk. A large area known as the "bath house complex" was recently erected on an elevated deck near the beach. This is where you'll find the concessions and bathrooms. It is connected to the main boardwalk by a short walkway that spreads across the tidal wetlands.
If you're planning a beach day, you may want to borrow a friend's buggy to haul your things along the boardwalk to the pebbly sand. It's a bit of a hike, but it's worth it!
Insider's tip: a "secret" path to nearby Charles Island reveals itself at low tide. It's worth a look, but be sure to head back before the tide comes in, as the currents are strong.
10. Harkness Memorial State Park, Waterford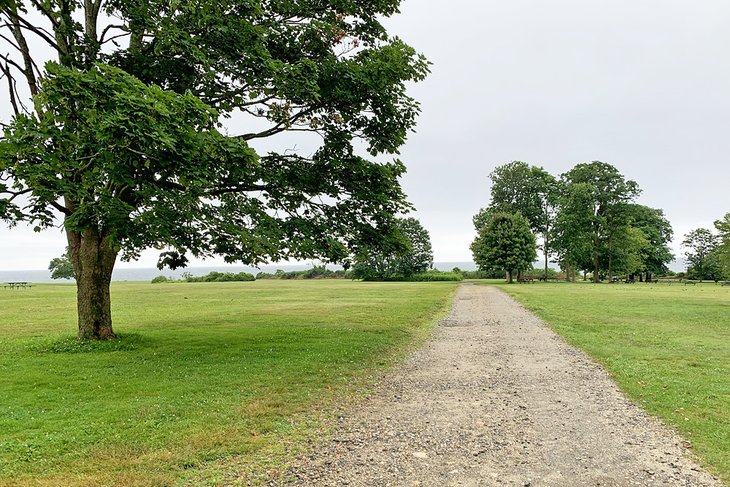 Over 230 acres of sprawling, seaside gardens; vast lawns; and immaculate views greet visitors to Harkness Memorial State Park in Waterford. The park's main attraction is Eolia, a grandiose stately home that once served as the summer residence of the Harkness family. You, too, can get a glimpse at how the other half lived in the mid-1900s by renting it out for an event.
A small beach hugs the Long Island Sound. While swimming isn't permitted here, anglers can feel free to cast a rod and aim for a haul of striped bass, bluefish, or blackfish off the nearby rocky point. That said, some have had luck catching flounder off the beach.
The lawns are lush and expansive, with picnic tables and grills dotted throughout, which means it's easy to have a picnic. The facilities are clean and much appreciated after an hour or more spent exploring the property. A sweet gift shop hut opens to sell sundries and other treats. There's also a campsite dedicated to those with special needs.
11. Bigelow Hollow State Park and Nipmuck State Forest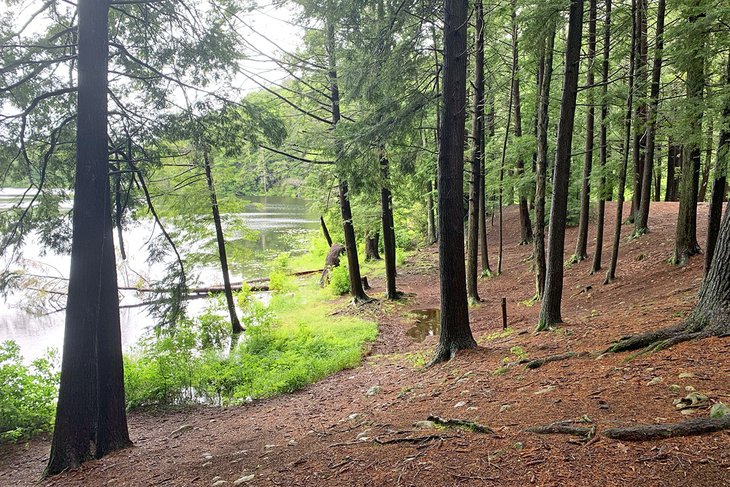 When combined with the neighboring Nipmuck State Forest, Bigelow Hollow State Park sprawls across 9,000 acres. Its hiking trails traverse miles of shady woodlands so dense, you could easily become lost if you veered off the marked pathways. In winter, these are frequented by cross-country skiers and snowmobilers.
Hiking enthusiasts should opt for the Breakneck Pond Loop Trail. It covers six miles of moderate terrain and passes the beautiful Breakneck Pond on its route. Be sure to pack food and water, as this will take most of the day to complete, especially if you take breaks to admire the view.
Anglers will enjoy fishing in the 18-acre Bigelow Hollow Pond and 300-acre Mashapaug Pond. Breakneck Pond is another must-visit located in Nipmuck State Forest. If you like scuba diving, bring your gear and hop in to explore the deep, dark depth of the ponds. Or hop in a kayak for a paddle.
The park and forest have pit toilets, a backpack campsite, multiple picnic shelters, tables, and boat launches.
12. Sherwood Island State Park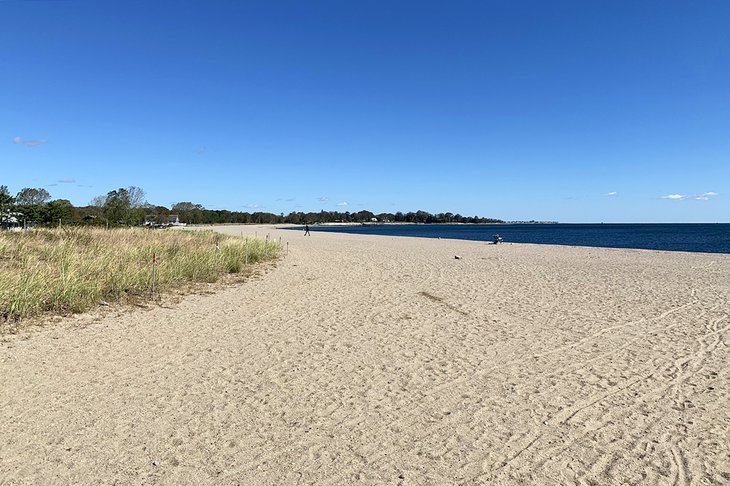 Sherwood Island State Park is conveniently located just off the I-95 in Westport, one of the best beach towns in Connecticut. The first state park in the Nutmeg State, guests are treated to more than 230 acres of mainly beachfront, as well as large, wooded areas and multiple open fields.
Soft, golden sand escorts you to the clear water of the Long Island Sound. On hot summer days, you'll want to wear shoes on this journey. Swimming is encouraged, and the shallow water makes it especially fun for little ones. Many visitors fish off the rock embankments, while some prefer to try their luck just off the sandy shore.
The 9-11 Living Memorial sits at the end of the path outside the main concession area. On a clear day, you can see New York's skyline. The smoke from the tragedy was seen from this spot.
A large bathhouse lies farther along the beach and contains showers and toilets. A smaller concession stand is set up nearby to sell all the tasty beach treats you'd expect, like hot dogs and ice cream.
Other activities include scuba diving; kayaking; SUPing; and playing sports like soccer on the large, open grassy areas. An observation platform allows guests to view the unique life in the marsh, while model plane enthusiasts can fly their creations in a designated spot near the entrance.
Picnicking is a massive draw. On summer weekends, you'll find families setting up camp for the day, cooking on the provided grills, and playing games on the grass.
During summer, the Nature Center (located between East Beach and the salt marsh trail) is open to the public. It offers guided nature walks, activities for the kids, and bird-watching opportunities. There's also a disc golf course just outside its walls.
13. Wadsworth Falls State Park, Middletown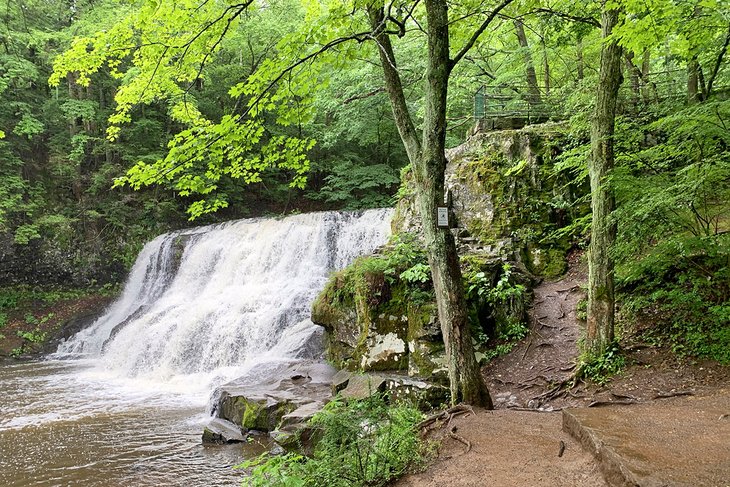 Two breathtaking waterfalls greet visitors to Wadsworth Falls State Park. Aptly named Big Falls and Little Falls, their innate beauty and the calming rush of water is enough to soothe your soul. The Big Falls are one of the best waterfalls in Connecticut. They are easily reached by hiking trails and boast the highest volume of any dam-free waterfall in New England.
While you cannot swim or picnic at Big Falls, their smaller neighbor (Little Falls) comes complete with a natural saucer-shaped "swimming pool" and beach, which entice guests to stay for hours. Looking to fish? Dip your rod into the Coginchaug River, which is well stocked with fish.
Trails meander throughout the park, offering hikers and bikers a path through the dense woods. Designated picnic areas by the stream make it easy to enjoy a quiet picnic with a relaxing view.
Map of State Parks in Connecticut