20 Top-Rated Things to Do in Connecticut
We may earn a commission from affiliate links ()
Despite its small size (it's the 3rd smallest of America's states), Connecticut overflows with fun attractions and exciting things to do. White picket fences, verdant landscapes, sparkling lakes, sandy beaches, and thundering waterfalls blanket the state, wowing visitors with their innate beauty. Bigger cities offer tourists the larger museums, theaters, and fine dining they crave, while smaller towns feature quaint shops and waterfront cafés.
Tying all these together is a natural backdrop so beautiful, you'll never want to leave. Whether it comes in the form of a sprawling park nestled among high-rises, soft waves caressing a shoreline, or trails winding their way through dense forests, the area's splendor is captivating.
While spending time in these natural environments is a favored pastime, Connecticut offers a slew of other attractions to keep visitors entertained – from stepping back in time at the Mystic Seaport to riding a steam train in Essex to soaking up knowledge at the museums of New Haven.
To help you decide where to start your journey in this dazzling New England state, read this list of the best things to do in Connecticut.
1. Spend a Day in Mystic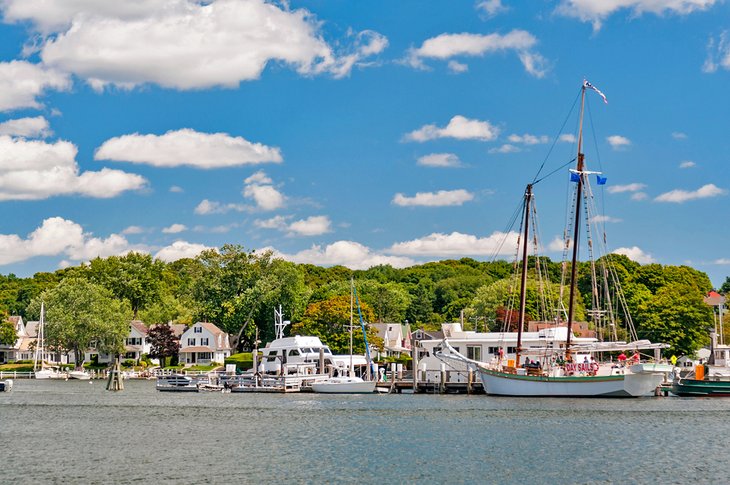 If you're looking for a picturesque spot to soak up some history, sail along a quiet harbor, and fill your belly with tasty treats, you'll find it in Mystic. An adorable coastal town set along the Mystic River, this charming retreat is a perfect place for a weekend getaway.
Spotted with gleaming sailboats, the town thrives on its nautical history. Once serving as a port for whaling vessels, the popular Mystic Seaport is one of the best museums in Connecticut. Boasting everything from a planetarium to a working shipyard to historic wooden ships and a 19th-century seafaring village, you'll need at least a day to fully explore its offerings. Don't worry, there's a restaurant on-site to help quiet those grumbly tummies.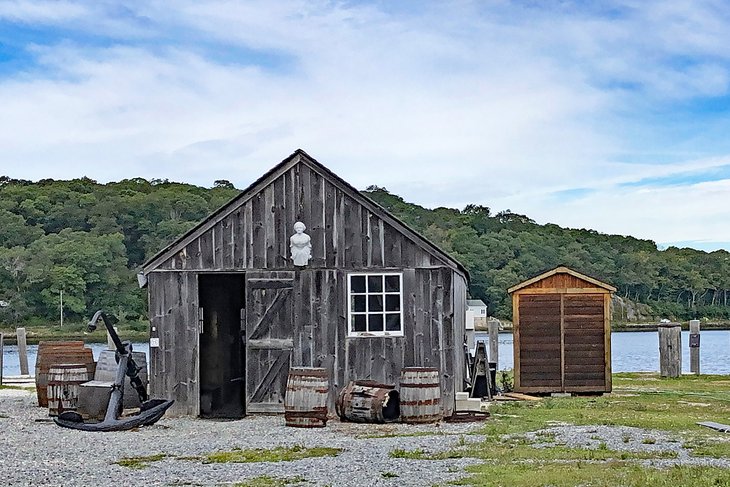 The Mystic Aquarium is also top-notch. In fact, it's been deemed one of the best attractions in Connecticut. People come for the beluga whales but stay for the other impressive creatures and exhibits.
Don't miss a visit to the Olde Mistick Village, and make sure you're hungry when you arrive. An outdoor mall designed to represent a 19th-century New England Village, the charming area is filled with themed stores, most of which offer free samples of their delicious wares. With multiple eateries on site, this is one of the best places in Connecticut to visit for a meal.
Accommodation: Where to Stay in Mystic
2. Take the Ferry to Gillette Castle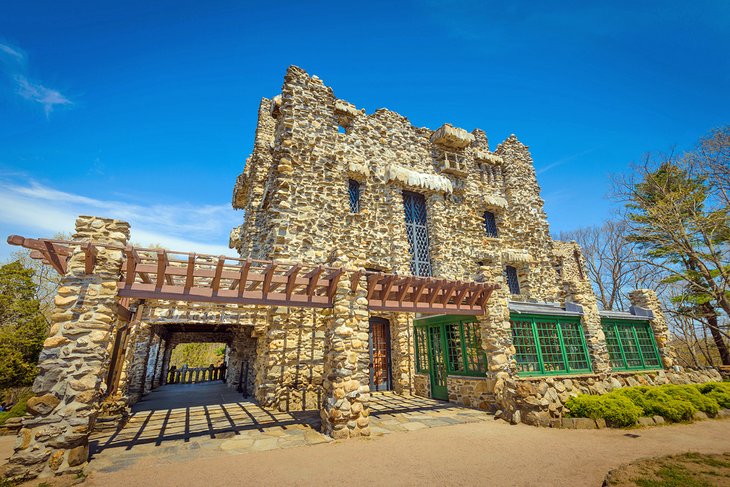 The Chester-Hadlyme Ferry takes visitors (and their cars) from the adorable small town of Chester, across the Connecticut River to Hadlyme, home of the unique Gillette Castle.
While this is a popular route during the warm, summer months, the most beautiful time to book this short, five-minute ride is during fall. Spectacular red, orange, and yellow hues are reflected in the sparkling lake as the trees climb the hilly shores known as the Seven Sisters.
Once back on land, be sure to visit the castle (technically in East Haddam). Built in the early 20th century by stage actor William Gillette, the 184-acre estate offers spectacular views of the river below. The medieval Gothic castle itself contains secret passageways, intricate locking mechanisms, and other whimsical treasures designed by the creative Gillette.
3. Ride the Coasters at Lake Compounce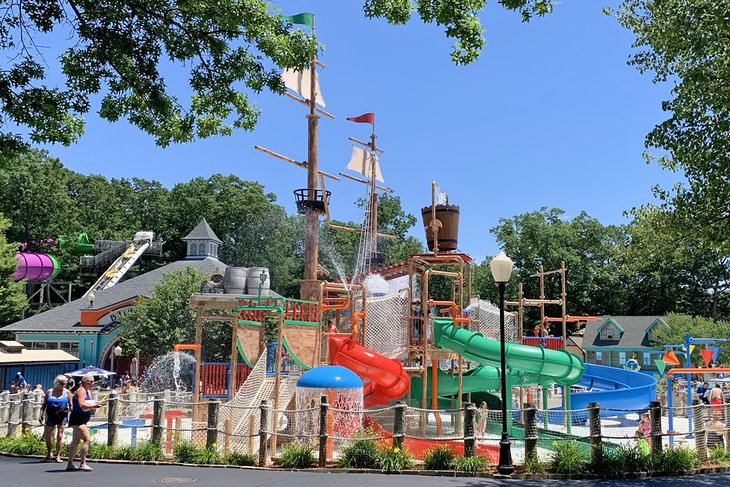 For some, there's nothing like a thrill ride to complement a vacation. Heart-pounding adventures aboard flipping roller coasters encourage squeals of delight along with screams of sheer terror. Boulder Dash, an award-winning wooden coaster is unmissable, while the Phobia Phear Coaster, which gets up to 65 miles an hour, will cause you to tighten your grip. Riding these coasters is one of the best things to do in Connecticut for thrill seekers.
If coasters make you feel more like tossing your lunch than euphoric, there are plenty of other more low-key options to keep you entertained. The classic carousel is an all-time fave, as is the giant Ferris wheel, and Flying Elephant ride.
When the day's too hot to handle, head to the on-site water park. Bayou Bay offers a well appreciated break from the hot summer sun, while the Croc-O-Nile lazy river is the perfect way to relax. Hop in a tube for a fun way to plunge down a waterfall at Mammoth Falls.
4. De-Stress in Chester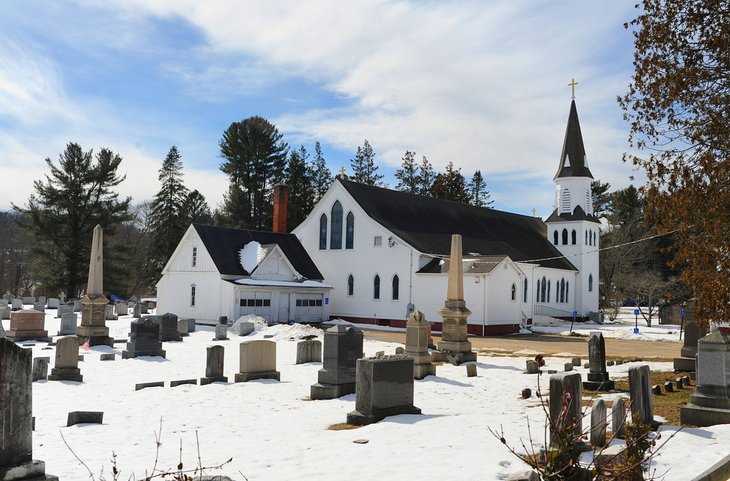 Although small, Chester has an incredible calming effect on even the most stressed of travelers. Wandering though its lovely streets is akin to getting a nice, warm hug. No wonder so many people dub this one of the best places to visit in Connecticut.
Located nearly two hours from both New York and Boston, this quaint hamlet is a popular weekend destination for city dwellers looking to unwind. It's set upon the Connecticut River and is home to kind and welcoming locals who serve up a mean brunch (and dinner) at the town's eateries.
Lovely 19th-century-era buildings line Chester's streets, harkening back to the days when this little village survived through trades like shipbuilding and milling. These downtown buildings have been well kept, preserving the town's history and adding to its allure.
An artsy place, Chester is filled with artisan's studios, gift shops, and galleries. Maple & Main Gallery of Fine Art is one of the area's most popular, with a prime spot in the center of town.
5. Climb aboard the Essex Steam Train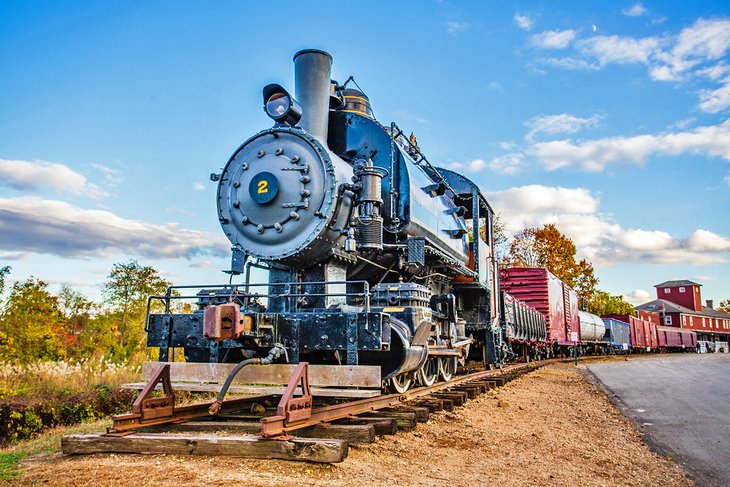 Chugga, chugga, chugga! Find a seat and get comfy on the Essex Steam Train. An antique train featuring vintage coaches, this fun ride allows visitors to roll their way along the splendid Connecticut River Valley.
Guided by an enthusiastic conductor, you'll learn historical facts while traveling from Essex Station (circa 1892) on the 12-mile round-trip journey. Along the way, you'll pass the sweet towns of Chester and Deep River, which up the charm factor.
Add a Riverboat sightseeing tour to your ticket to prolong the scenic adventure. The Becky Thatcher riverboat will take you on an unforgettable cruise highlighted by glimpses of impressive wildlife (i.e. bald eagles and herons), beautiful shoreline, and historic sites like the Gillette Castle and Haddam Swing Bridge.
6. Hike the Trails in Kent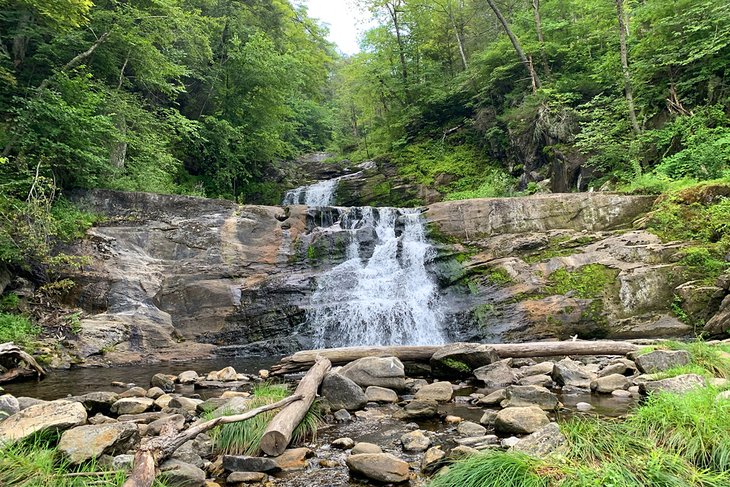 A day spent in Kent Falls State Park is the ultimate cure for stress and anxiety. You'll feel your shoulders relax upon your first inhalation of the area's fresh, clean air.
The park, which is set in the Litchfield Hills, is a magical wonderland filled with the most spectacular beauty. Waterfall? Check. Covered bridge? Check. Verdant forest? Check. Told you it's packed with gorgeousness, and trust us; you'll want to pack a picnic because you won't want to leave.
The breathtaking Kent Falls cascades down 250 feet. Hike to the top (don't worry, it's not too tenuous a walk) for the best views and the reward of a cooling mist upon your face. Watching the water tumble to its temporary resting place, Falls Brook (a tributary leading to the Housatonic River), is incredibly relaxing.
7. Go Fishing in Madison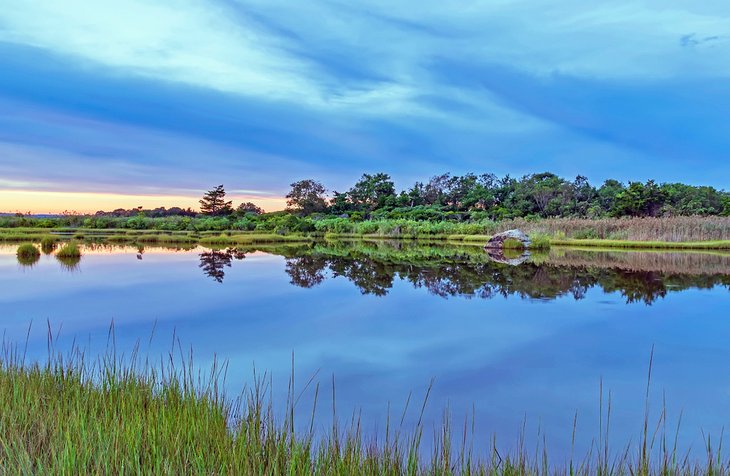 It's easy to miss this adorable spot, a tiny coastal town located about halfway between New York and Boston. Its perfect location, butting into the Long Island Sound, makes this a great jumping-off point for expectant anglers.
Head out to sea on a fishing charter or drop your line at Meig's Point Jetty or West Beach Jetty at Hammonasset Beach State Park. Spanning two miles of coast, this lush spot is the longest shoreline park in the state. Nearby Madison Lake ups the ante that you'll reel in a big one.
When you're sick of casting a line, head into town to soak up the historic charm and grab a bite to eat at one of the family-owned restaurants. Main Street is endearing, lined by preserved historic buildings dating back to the mid-1930s, and often the site of a farmer's market and outdoor concerts when the weather turns warm.
Accommodation: Where to Stay in Madison
8. Get Inspired at the Yale University Art Gallery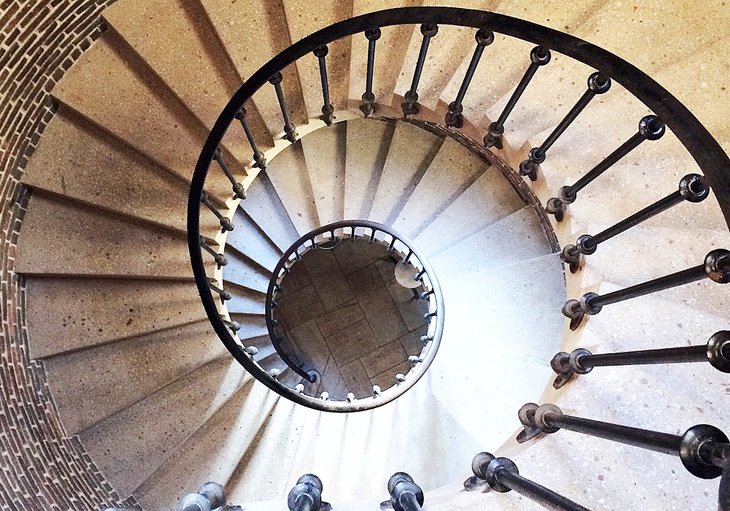 New Haven is home to Yale University, a bevy of impressive museums, and an increasingly popular restaurant scene. While the Yale Peabody Museum of Natural History is a must-see for those jonesing for a dinosaur or sarcophagus sighting, the city boasts another gallery that will take your breath away.
Tucked off the main green, the Yale University Art Gallery features more than 250,000 objects, including masterpieces crafted by, well, masters. You'll find works by the likes of Degas, Monet, and Manet within these spacious walls. The gallery features timeless art and artifacts on display from across the globe. Regions such as Asia, Europe, and the Indo-Pacific are all represented here.
Not a fan of the classics? Not to worry. The gallery boasts an impressive collection of modern and contemporary works to keep you entertained. The best part? Entrance is free!
9. Photograph the Covered Bridge in West Cornwall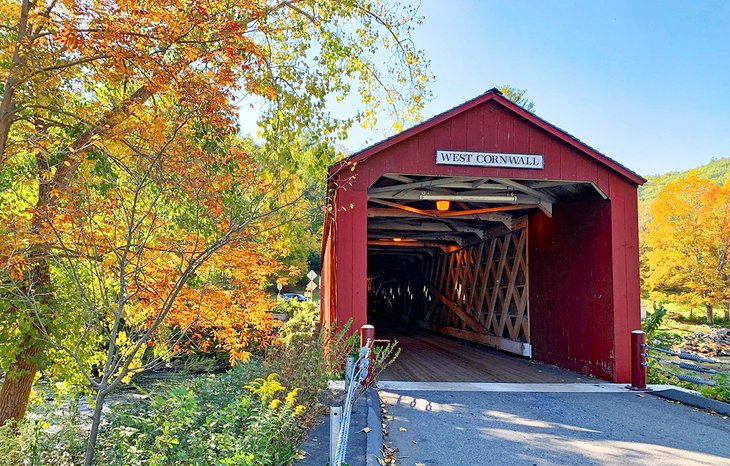 Covered bridges emanated romance long before Clint Eastwood wooed Meryl Streep in The Bridges of Madison County. The pitched rooves and brightly painted wooden walls create a captivating backdrop. Add a flowing river below and established trees along the banks, and your camera will beg to start snapping. This is one of the most beautiful places to photograph in Connecticut.
If you're a fan of these charming structures, don't miss the West Cornwall Covered Bridge. One of the final remaining covered bridges in the state, this 172-foot masterpiece harkens bridge lovers from across the globe. Its warm red siding brightens the surrounding landscape as it spans the rushing Housatonic River.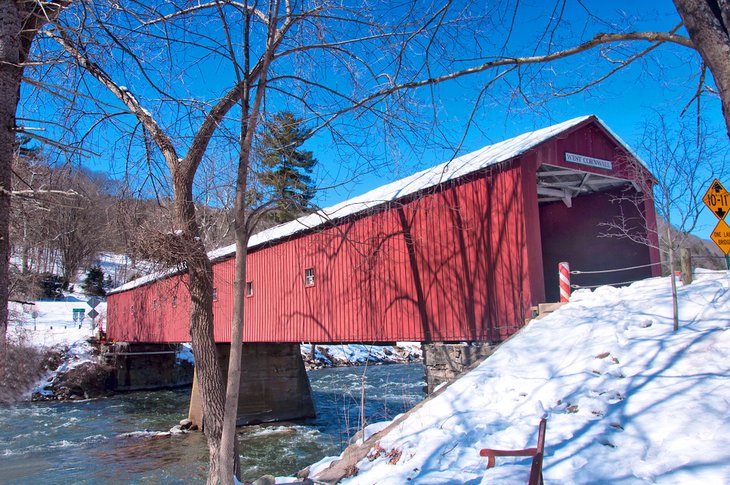 Photographing the bridge is also one of those things you can do in Connecticut in winter. On a sunny day, the snow-covered surroundings make for a beautiful sight.
Insider's tip: Hire a bike from Covered Bridge Electric Bike Rental. Located a mere 100 feet from the bridge, the friendly staff will help you get oriented with your electric powered, zero emissions bike and guide you to the area's best cycling trails.
10. Sunbathe at Hammonasset Beach State Park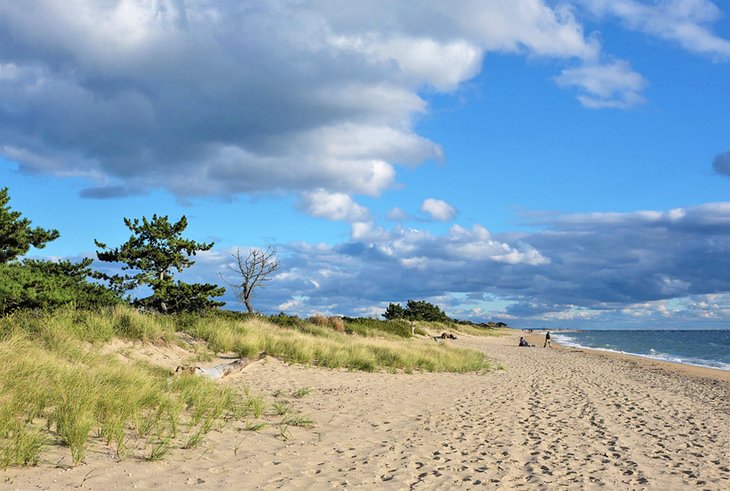 Home to more than two miles of soft, sandy beach, there's plenty of room to spread your towel at Hammonasset Beach State Park. Located along the shores of the Long Island Sound in Madison, this park boasts the largest shoreline in the state. It also tops the list of best beaches in Connecticut.
While the park's most popular pastimes include, sunbathing, boating, fishing, sandcastle-building, and swimming, there are a ton of other activities to occupy your time at this incredible beach. Kayaking, scuba diving, SUPing, and visiting the Meigs Point Nature Center will keep everyone happy.
11. Cruise around the Thimble Islands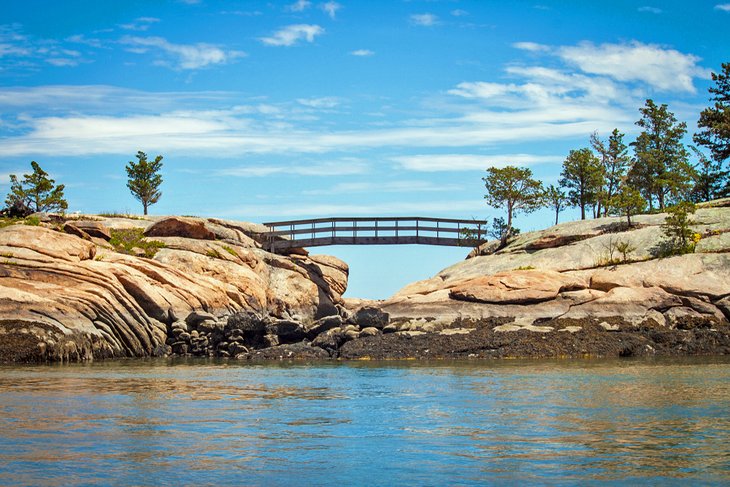 A sliver of paradise exists in the form of an archipelago in Branford. Beautiful homes ranging in size from tiny cottages to sprawling mansions dot the Long Island Sound, spread between 23 of the over 100 islands.
Actually, there's a great debate about how many isles make up the Thimble Islands. Some believe the number to be closer to 365 – it all depends on what you think is a "rock" versus an "island."
The largest, named Horse Island, covers 17 acres and is owned by Yale University, who uses it as an Ecolab for the Yale Peabody Museum of Natural History. The best way to discover this unique locale is by boat.
Insider's Tip: Book a Thimble Islands Cruise aboard the Sea Mist for a fun and informative tour.
12. Ogle Enders Falls in Granby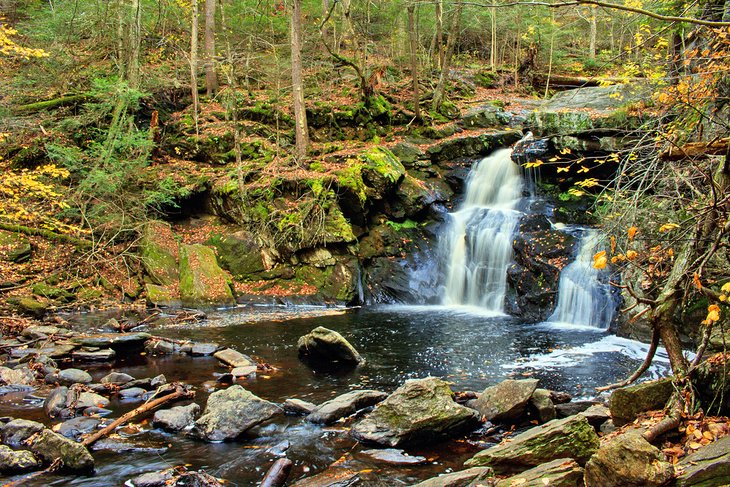 Few activities are as relaxing as watching a waterfall. These impressive cascades often start out large and thunderous, as gallons of water thunder over rocks worn away by their constant presence. By the time the water reaches the pool below, the cascade has thinned and quieted, harmonizing as it joins the catch basin for a ride to its ultimate destination.
If you're truly lucky, you'll find a fall as captivating as Enders Falls in Granby. A natural marvel, this spectacular sight splits into five separate waterfalls. The first is six-feet tall, followed by three shorter, more gentle cascades that evoke a staircase. The final, most calming fall consists of two drops of 15 feet.
It ends in a cool swimming hole popular with summer visitors. No wonder it's deemed one of the best waterfalls in Connecticut.
13. Swim or Scuba Dive in Candlewood Lake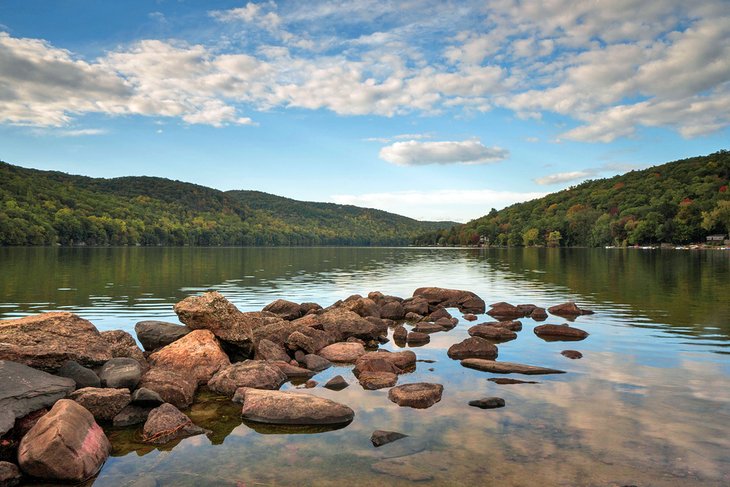 What better way to spend a day than on (or in) the water? Boasting more than 3,000 lakes, ponds, and reservoirs, Connecticut is a great place to practice your cannonball. At 16 miles in length and 8.4 square miles in size, Candlewood Lake is one of the state's largest and arguably most beautiful lakes.
Created by the Connecticut Light & Power company in the late 1920s, this man-made reservoir is a hot spot for summer fun. Swimming, boating, fishing, kayaking, and all types of water sports top the list of things to do in this vast watery world.
Scuba diving is another popular activity. While the visibility is often low, there are a ton of interesting artifacts to be found on the lakebed.
14. Browse the Shops and Grab a Bite in Greenwich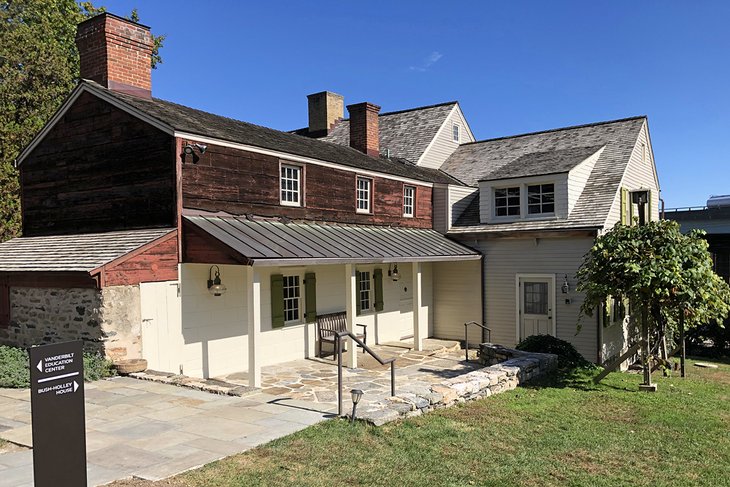 There are so many fun things to do in Greenwich, but most visitors tend to spend time flexing their wallets in this Gold Coast gem. In fact, one of the top attractions in Greenwich is its main street, Greenwich Avenue, which is lined with glitzy stores chock-full of wares that will put a hefty dent in your wallet.
Whether you're a fan of chain luxury shops like Hermès, Lululemon, or Saks Fifth Avenue, or prefer smaller, boutique options, you're sure to find something you really must have on this famed street.
When hunger pangs hit, take a break from your retail therapy to grab a bite in one of the top restaurants in the area. Don't worry if your pocketbook is already feeling worn out, there are plenty of mid-range cafés and eateries here as well.
If you're hoping to soak up some culture, head to the Greenwich Historical Society, Bruce Museum, or Putnam Cottage for a schooling on the area's history.
15. Peep through the Windows of The Glass House in New Canaan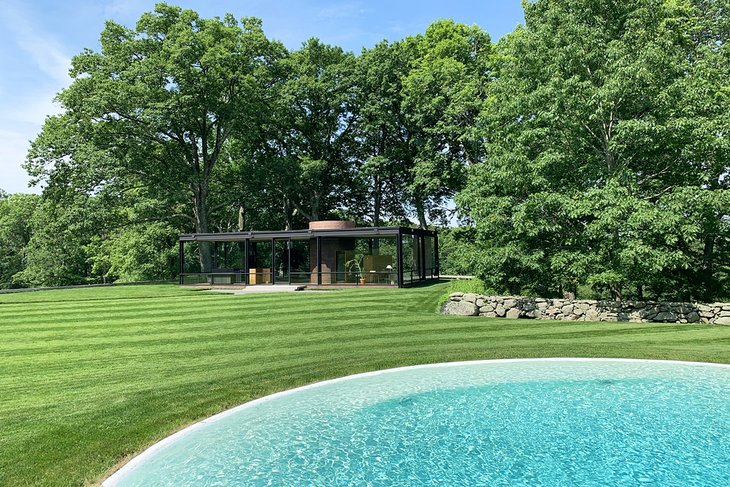 The Glass House is by far one of the most interesting homes you'll ever visit. The brainchild of famed architect Philip Johnson, it was built in 1949. This transparent wonder is a marvel of design so intriguing, you'll wish you could spend the night within its floor-to-ceiling windowed walls.
The 50-acre property surrounding the structure is just as impressive, and peppered with fantastical finds like the underground Painting Gallery, circular pool, uniquely shaped Art Studio, Brick House (a.k.a. the guest house), and the Romanesque stone Pavilion in the pond.
To get to the Glass House, visitors must park at the Visitor Center & Design Store, which lies just steps from the stores and restaurants off Elm Street in New Canaan. From here, you'll be transported by shuttle bus to the house itself (the neighbors don't like having traffic, hence the shuttle).
The house is generally open to the public between mid-April and mid-November. While here, be sure to get the inside scoop on everything from the heated roof to the creative kitchen design from one of the well-informed guides.
16. Eat Local at Westport Farmers' Market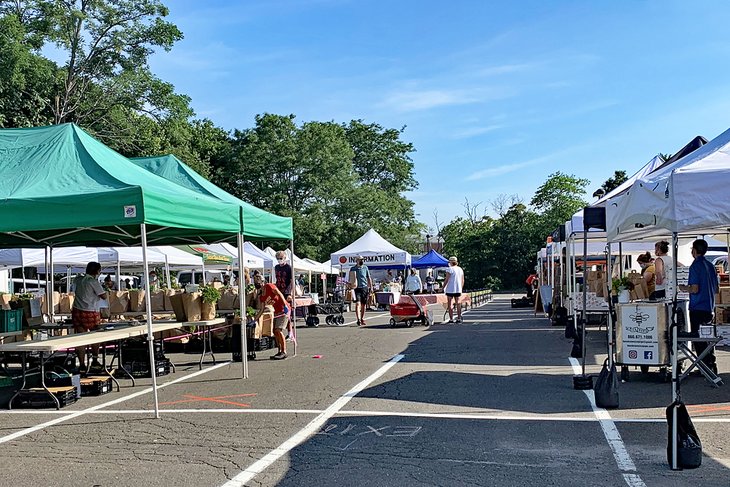 An easy commute from Manhattan (it takes about an hour on the Metro-North from Grand Central), Westport offers locals and visitors a welcome slice of tranquility. Dipping into the Long Island Sound, the town's Compo Beach is a well-loved gem, as is the newly renovated Westport Library, which boasts a lovely path along a peninsula and unbeatable views of the Saugatuck River.
Every Thursday from mid- May to November, you'll find the bustling Westport Farmer's Market, which was conceived by Paul Newman (yes, that Paul Newman) and Michel Nisan in 2006. The market lies tucked away in a parking lot, across a small bridge on the other side of the river from the library. In addition to local fruits, veggies, and kombucha, you'll find freshly made tacos, a pizza truck, live music, art, and so much more.
17. Climb Mount Carmel in Sleeping Giant State Park in Hamden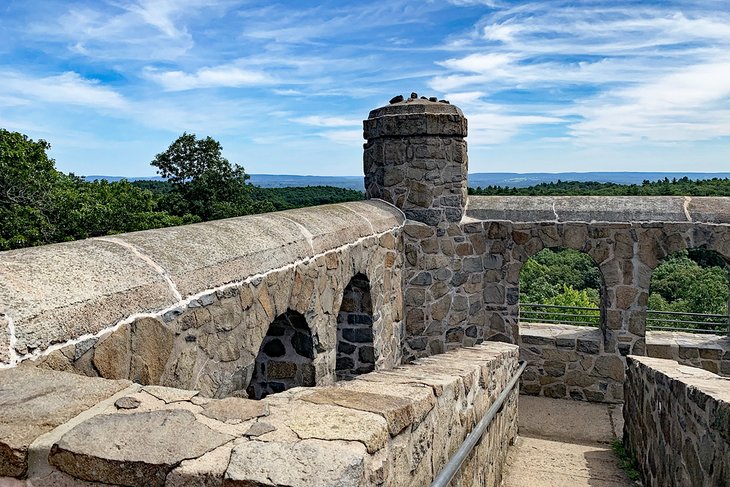 Climbing Mount Carmel is by far one of the best things to do in Connecticut. The highlight of Sleeping Giant State Park, which is one of the best state parks in Connecticut, this spectacular spot is particularly captivating during fall's majestic color show.
Before you panic thinking that a mountain climb isn't your thing, you should know that the trail to the summit of Mount Carmel is flat and winding. Yes, it will take you over an hour to complete, but it's such a pleasant walk that people with dogs and young children hit the Tower Trail regularly.
Named for the stone observation tower that graces the mountain's peak, the Tower Trail traverses 739 feet in a zigzag format. At the top, visitors are granted unsurpassable views of the countryside and New Haven in the distance.
18. Wander around Litchfield's Historic District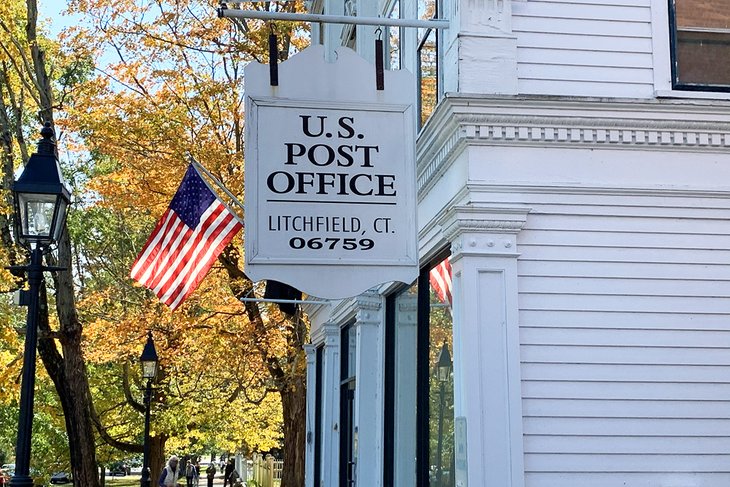 Located just 50 miles east of Hartford, Litchfield is a charming town steeped in history. Walking along the streets of this storybook village transports guests back in time–a lush town green, 18th-century mansions, and a white-spired church are just a few of the adorable reminders of the days of old.
In addition to soaking up the town's innate charm, a visit to both White Memorial Conservation Center and Topsmead State Forest top the list of the best things to do in Litchfield. An adorable blip among the picturesque backdrop of the verdant Litchfield Hills, this is a romantic place to spend a weekend getaway in Connecticut.
19. Build a Sandcastle at Fairfield's Penfield Beach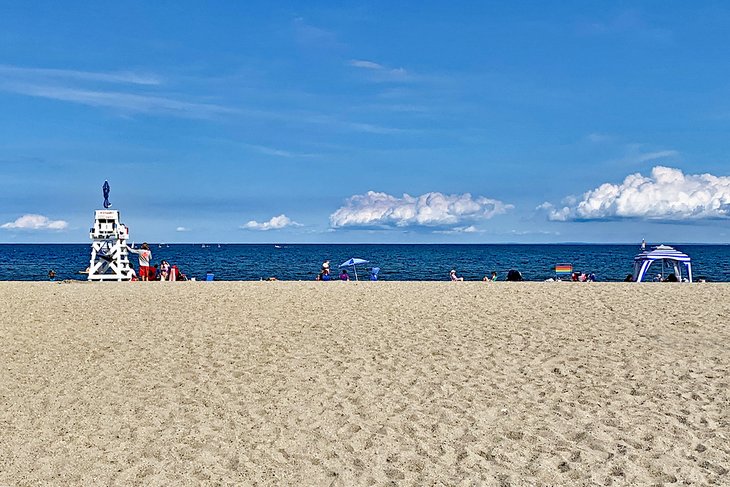 With a beach so soft and clean, it's no wonder visiting Penfield Beach is one of the top things to do in Fairfield for families. Three and a half acres of sand stretch beside the Long Island Sound at this Fairfield hot spot. During summer, the beach is peppered with white wooden lifeguard platform chairs and enough colorful towels that you'll be tempted to play hopscotch.
A large playground, pavilion, concession stand, and rental lockers are also on-site, as well as restrooms, picnic tables, and charcoal grills.
When you've had enough of the sun, sand, and (very calm) surf, head into town for an ice cream, tasty lunch, or a little retail therapy at the fun shops dotted along Post Road.
20. Explore Hamden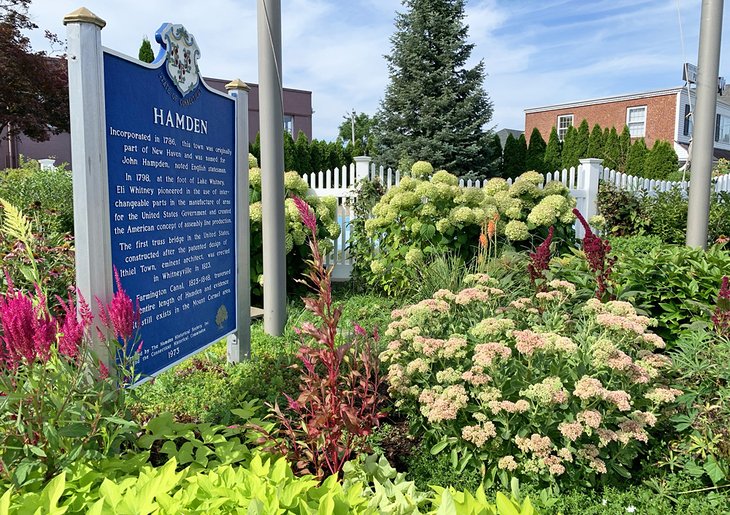 A tiny suburb of New Haven, Hamden is the perfect place to spend a lazy afternoon, especially if the weather is nice. Spend some time seeing the best tourist attractions in Hamden, like the Frederick Oberlin bridge, the waterfall at the dam on Lake Whitney, East and West Rock Parks, or the Jonathan Dickerman II House.
Hit the weekly farmers market or take the kids to the playground in Hamden Town Park. One of the most popular things to do for families, this park boasts live concerts during the summer and provides enough green space for kids to run or roll around in for hours.
The waterfall at the Lake Whitney Water Filtration Plant offers a spectacular display as the cascade crashes over Lake Whitney Dam. Follow the sounds of rushing water from Edgerton Park, and you'll find it.