New Haven in Pictures: 20 Beautiful Places to Photograph
New Haven may be best known as the home of the attractive Yale University, but its charming green spaces, historic buildings, and picturesque coast make this a city worth photographing.
At the city's center lies the well-manicured New Haven Green, around which sprawls Yale's eclectic mix of faux-Gothic, Victorian, and modern campus buildings. It's these architectural gems and the area's many natural treasures that make it a beauty worth visiting.
Look closely, and you'll see the splendor found around every corner of this bustling town. The Ivy League influence has improved the city's reputation, introducing impressive museums, lively restaurants, and a vibrant arts and entertainment scene.
1. New Haven Green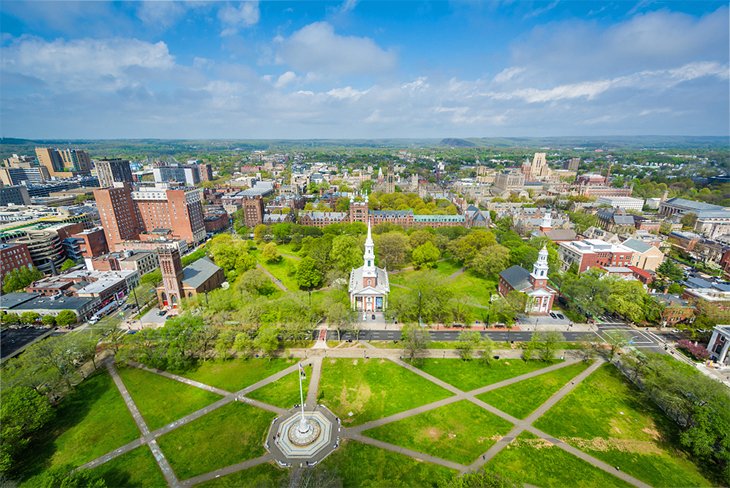 The epicenter of this university town, New Haven Green is a 16-acre breath of fresh air populated by lush and giant trees. Bordered by Church, Elm, College, and Chapel streets, the green boasts paved walkways and historic churches. Concerts, festivals, and other events often take place in this central park.
2. Wooster Square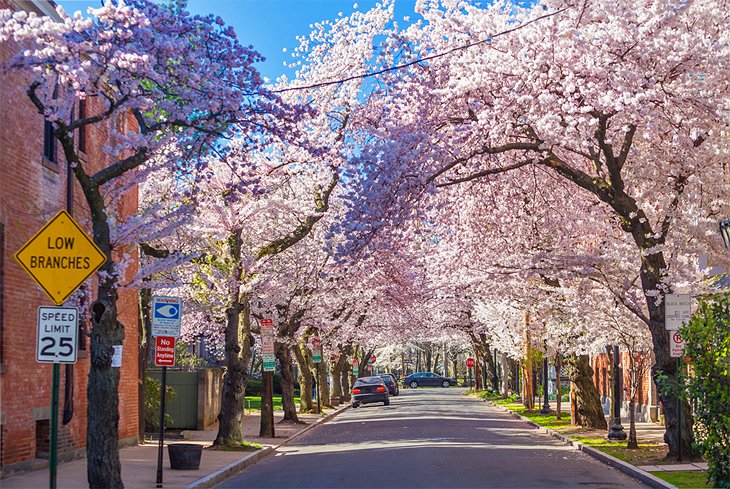 Spring is the best time to visit Wooster Square on New Haven's east side. Named after American Revolutionary war hero David Wooster, the square surrounds beautiful Wooster Memorial Park. In late April, breathtakingly gorgeous cherry blossoms burst onto the scene. The fluffy pink blossoms are well celebrated at the annual Wooster Square Cherry Blossom Festival.
3. New Haven Lighthouse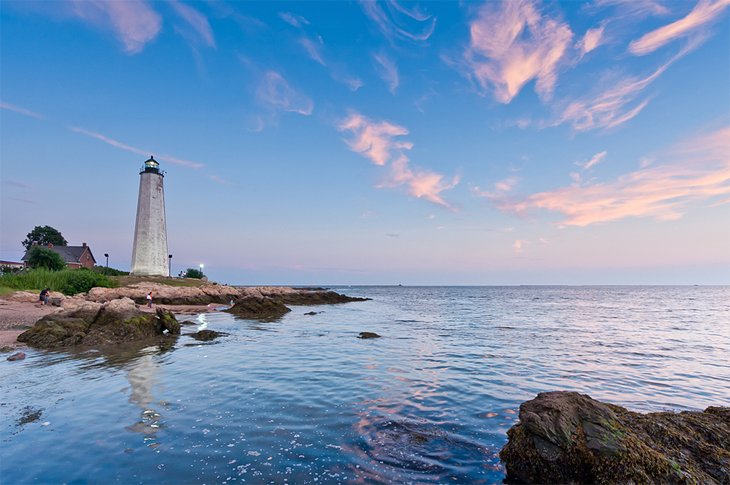 Despite being built to welcome and protect ships from the eastern point of New Haven Harbor, the New Haven Light House only lighted its beacon for 73 years. Its light was apparently too weak and too low to effectively warn sailors of the approaching rocky shore.
Today, the tower remains as an iconic emblem of years past and a wonderful backdrop for a picnic. It's sometimes referred to as Five Mile Point Light due to its proximity (five miles) from New Haven Green.
4. Berkeley College, Yale University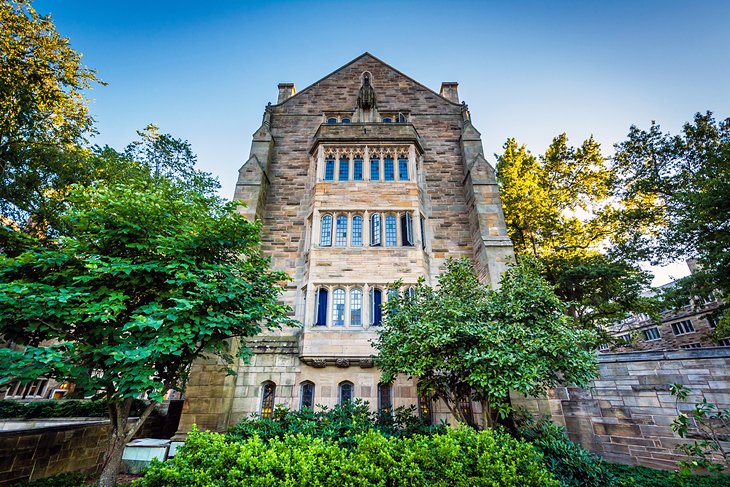 The remarkable Gothic buildings peppered throughout Yale make it one of the most beautiful campuses in the state. Berkeley College was named after Reverend George Berkeley, an 18th century benefactor of the university and the Dean of Derry. This is one of Yale's 14 residential colleges.
5. Pearl Harbor Memorial Bridge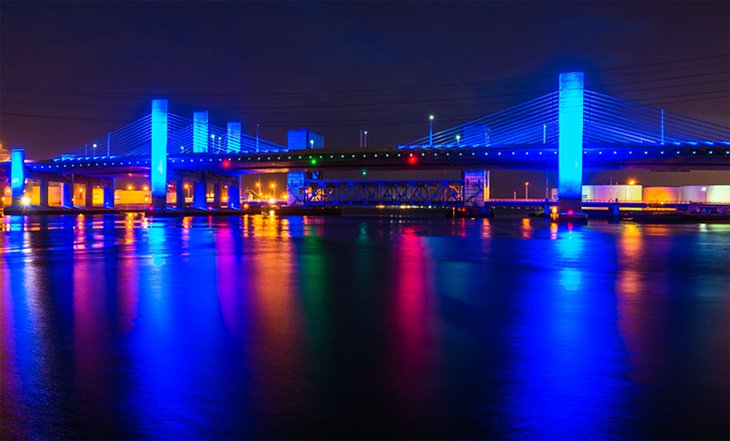 Known by locals as Q Bridge, the Pearl Harbor Memorial Bridge safely carries the I-95 across the Quinnipiac River. A relatively new construction (building finished in 2015), its remarkable nighttime lights make this a spectacular sight to enjoy long after the sun has set.
6. Duck Pond, Edgewood Park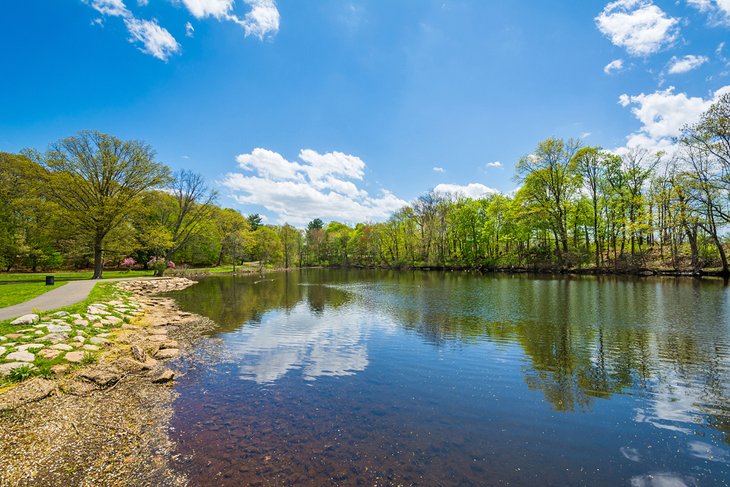 Edgewood Park is beloved by locals for its serene surroundings hidden within the busy city. The Duck Pond is one of six ponds within the 60-acre grounds, and the only one in which fishing is permitted. The West River is also open for fishing (if you have a fishing license) and canoeing.
7. New Haven County Courthouse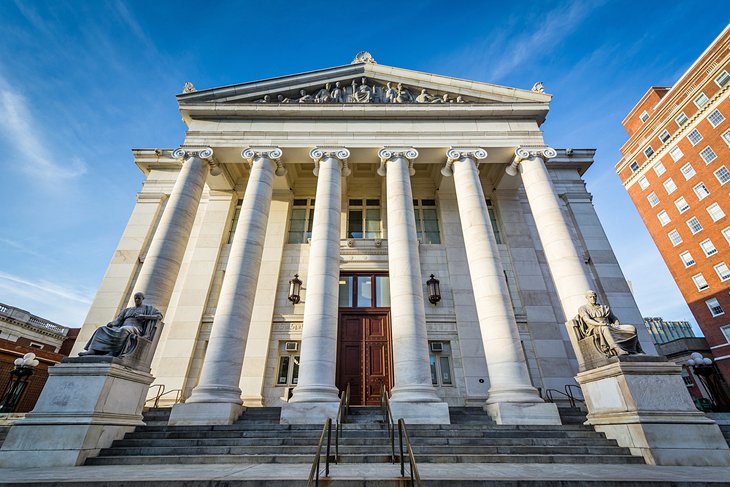 Opened in 1914, the New Haven County Courthouse adds a boost of historic charm to the New Haven Green. A stately, columned building, the courthouse was designed after St. George's Hall in Liverpool, England. Inside, you'll find murals painted by T. Thomas Gilbert, a famous 20th-century painter.
8. Yale University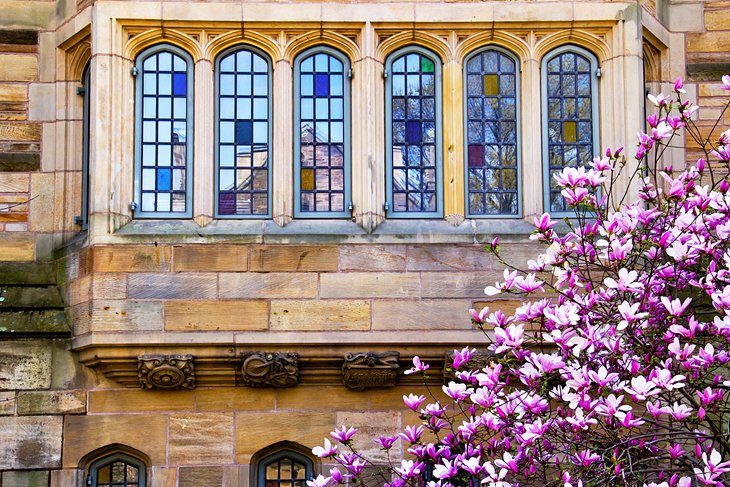 A spring magnolia tree bursts into bloom outside one of Yale's many striking buildings. The Gothic Branford and Saybrook Colleges, designed between the first two World Wars, stand in stark contrast to the modern Rudolph Hall, home to Yale's School of Architecture. This newer addition exemplifies the Brutalist form of architecture with its vast open spaces and rough walls.
9. Lighthouse Point Park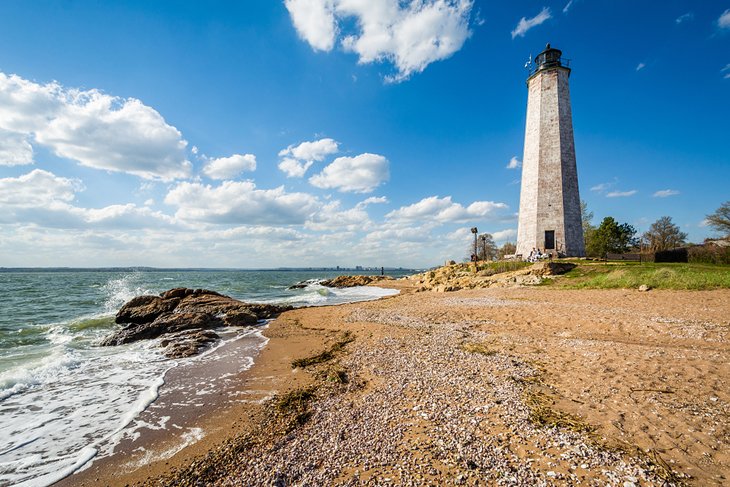 Most visit Lighthouse Point Park to catch a glimpse of the prominent whitewashed New Haven Lighthouse. It's also an impressive spot to enjoy the sunset over the Atlantic Ocean. Lying five miles from the center of New Haven, Lighthouse Point was known as Morris Point during colonial times. Today, it plays host to a 1920s carousel, splash pad, concession stands, picnic tables, a playground, multiple pavilions, and a clean and beautiful public beach.
10. Mill River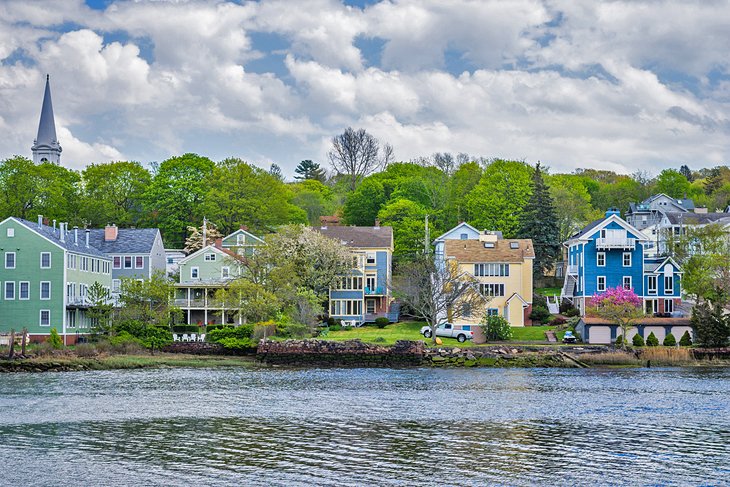 Colorful homes line the winding Mill River in New Haven County. The newly opened Mill River Trail has helped to clean up the waterfront, encouraging the New Haven community to spend more time in (and appreciate) the area. The expansive trail connects East Rock Park to Crisculolo Park.
11. Elm Street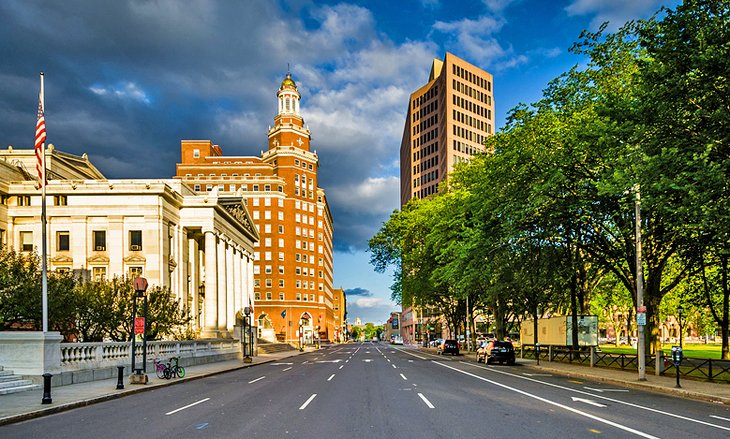 Empty traffic lanes are a rare sight on downtown's busy Elm Street. This one-way thoroughfare lines the eastern edge of New Haven Green and is one of the main routes through the area.
12. East Rock Road Bridge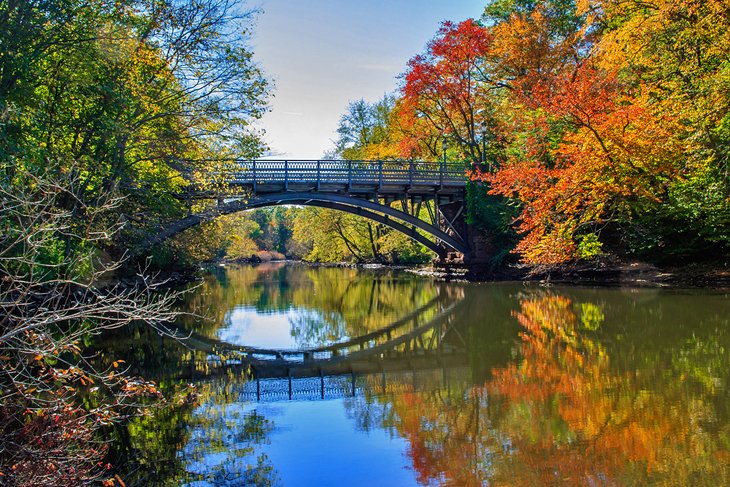 Bright fall foliage drapes the edges of East Rock Road Bridge as it crosses Mill River. The steel arch bridge was built in the late 1800s and most recently revamped in 2015. This picturesque bridge spans 84 feet alongside the beautiful East Rock Park.
13. Street Hall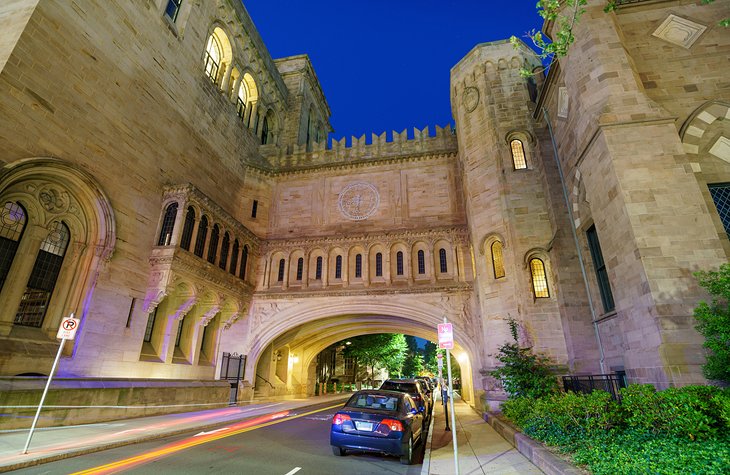 Designed by Peter B. Wight and finished in 1864, Street Hall is one of the most well recognized of Yale University's historic buildings. Originally, Street Hall stood solo on the corner of High and Chapel Streets. In time, the spectacular stone bridge was added across High Street.
14. Pardee Seawall Park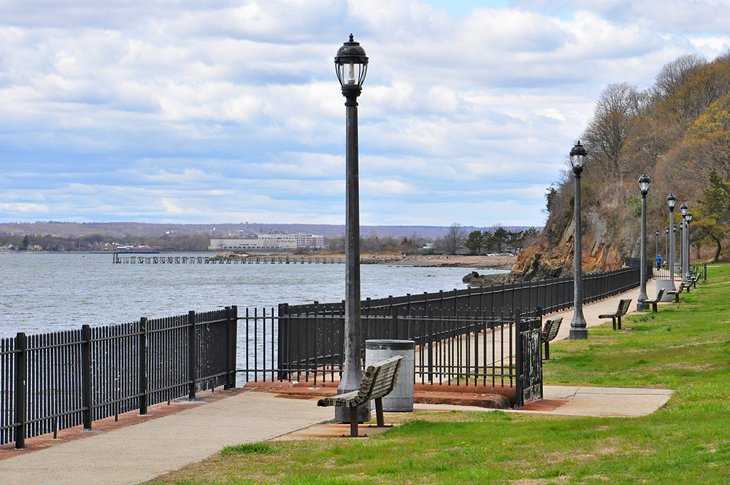 Although small, Pardee Seawall Park presents visitors with a wonderful spot to sit back and enjoy the relaxing water views. Grab a latte and park yourself on a bench at this pretty little promenade off Townsend Avenue. Early birds deem this a perfect place to witness the sunrise.
15. Downtown New Haven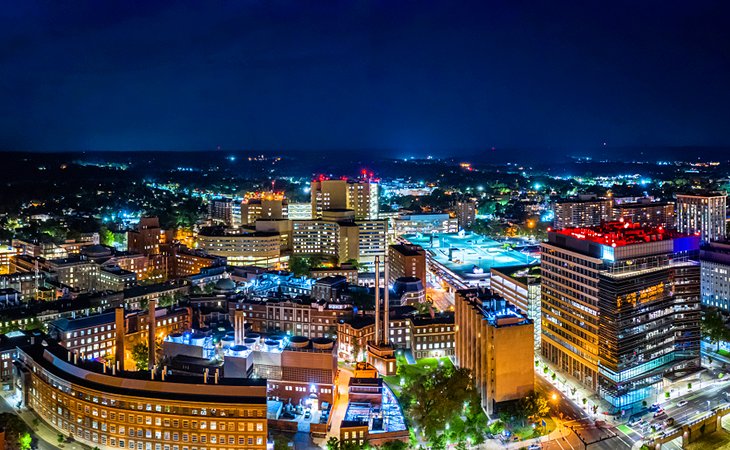 An aerial view of New Haven depicts the bustling area at night. While the city's museums and other popular attractions are closed after dark, the entertainment and restaurant scenes thrive at this time. Book tickets to a concert or grab a bite at one of the numerous restaurants on Chapel or College Streets.
16. West Rock Ridge State Park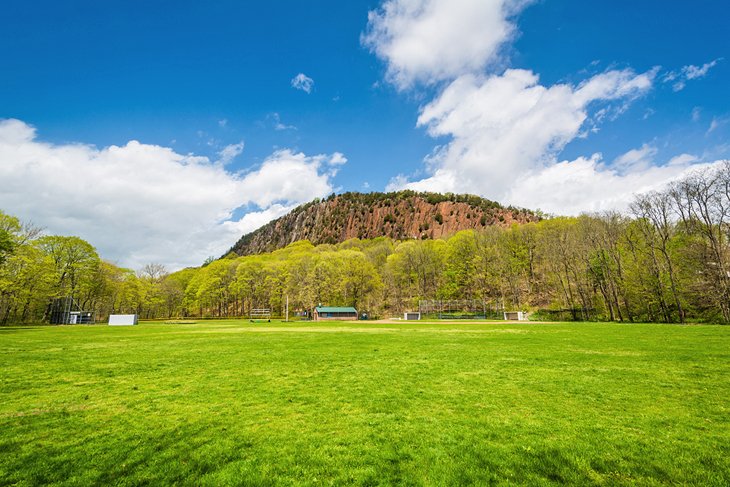 This unimpeded view in West Rock Ridge State Park gives an idea of just how large West Rock actually is-627 feet higher than sea level to be exact. Those who climb to the top are rewarded with sweeping vistas of the lovely New Haven Harbor and sparkling Long Island Sound.
17. Quinnipiac River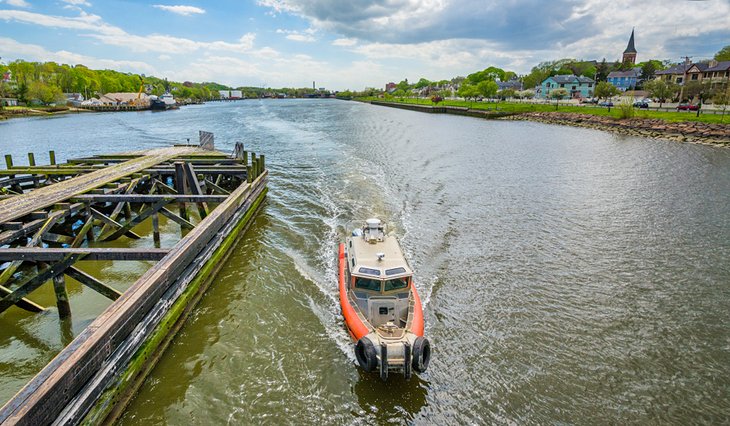 Sailing down the Quinnipiac River is a treat for all who visit New Haven. Flowing 38 miles from Plainville to New Haven, there's plenty to see along its route. Beautiful homes line the shores, and incredible bridges span its width. From enjoying a guided boat cruise to paddling a canoe, there are plenty of ways to explore this peaceful waterway.
18. East Rock Park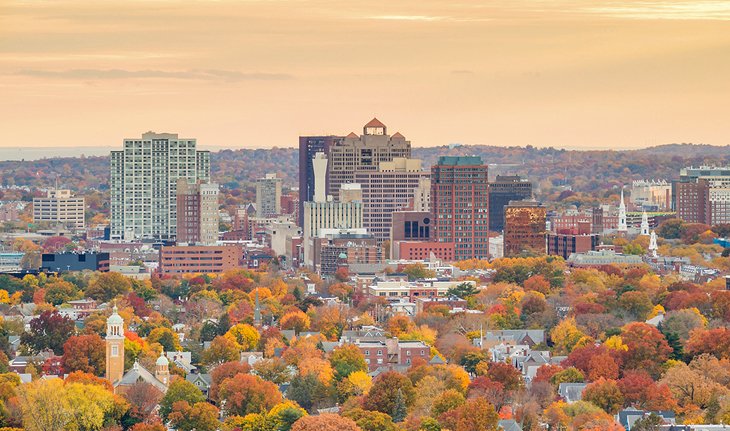 One of the best views of New Haven can be found from the top of East Rock in East Rock Park. This 425-acre park lies on the border of New Haven and Hamden and boasts a giant rock that was formed nearly 200 million years ago. It rises over 350 feet above the Mill River Valley.
19. Lighthouse Point Park Fishing Pier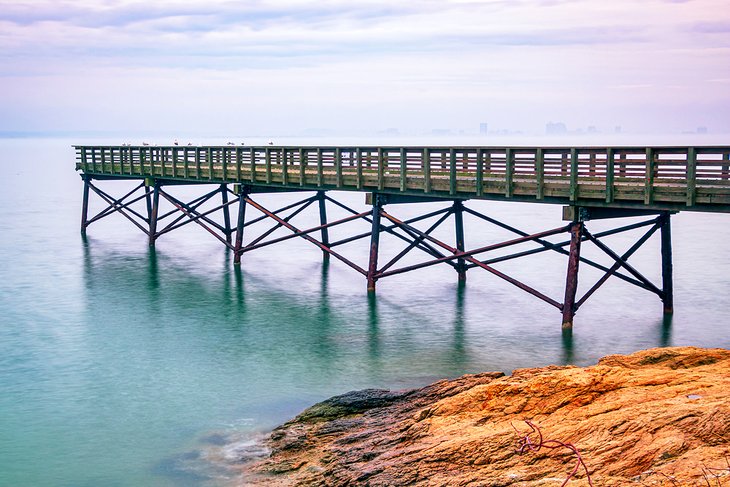 The fishing pier at Lighthouse Point Park is not to be missed. Try your hand at angling, or take your time and walk leisurely to the end of the wooden pier. Look out at the horizon, or turn around to enjoy a stellar view of the lighthouse and surrounding park.
20. Connecticut Hall, Yale University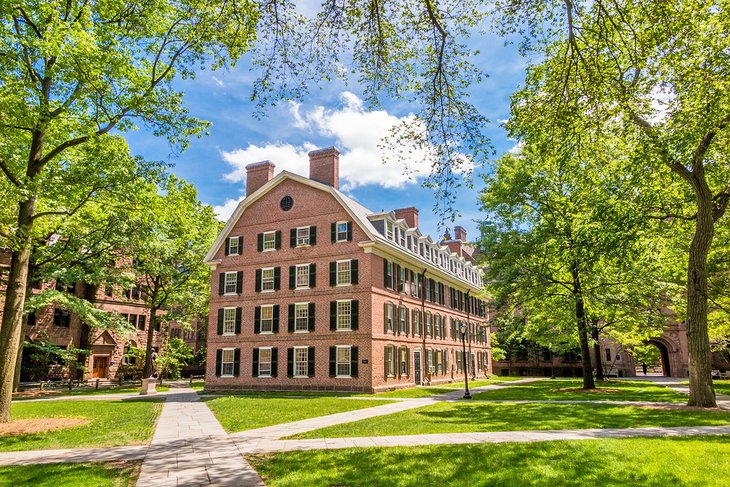 Another stunning Yale University building, the Georgian Connecticut Hall can be found on Chapel Street on Yale's old campus. Listed on the National Register of Historic Places, this masterpiece dates to the 1750s and once served as a dormitory. It is the oldest, and arguably most picturesque, building on the campus.
Map of New Haven in Pictures: Beautiful Places to Photograph