18 Best Waterfalls in Connecticut
Author Shandley McMurray lives in Connecticut and has visited many of the state's best waterfalls.
Connecticut offers travelers a wide variety of impressive natural wonders, with waterfalls topping the list of breathtaking beauties. From raging falls that create rough waters begging to be kayaked to trickling cascades that end in the most delightful swimming holes, there are a ton of visit-worthy falls throughout the Nutmeg State.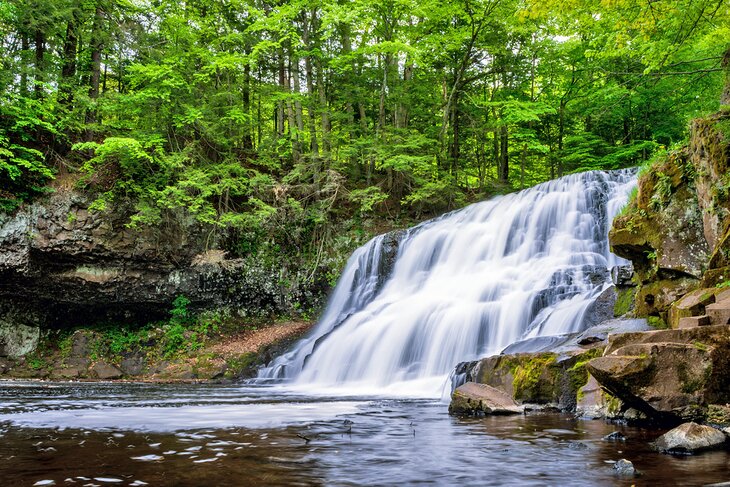 Whether you traipse through one of the best state parks to find one or hike (sometimes for miles uphill) just for a glimpse, you'll be amazed by the beauty of Connecticut's remarkable waterfalls. Keep your eyes peeled and pack an inflatable boat—these beauties often lie near deep, sparkling lakes.
Also, bring walking shoes, a camera, and a picnic because once you spy these gorgeous waterfalls, you won't want to leave. Luckily, many of them have stellar campgrounds nearby.
Not sure where to start? Narrow your search with this list of the best waterfalls in Connecticut.
1. Enders Falls, Granby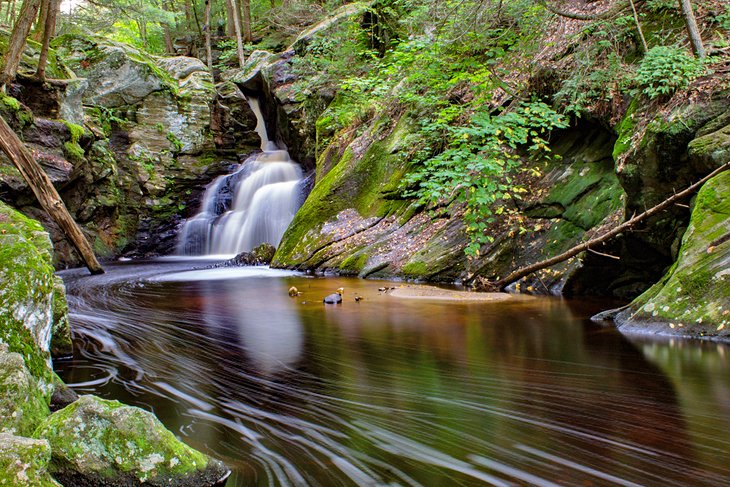 The best way to enjoy Enders Falls is from its summit, which is located in Enders State Forest near Granby, just south of the Massachusetts border. This captivating phenomenon consists of five separate waterfalls, and its beauty is otherworldly and entrancing.
One of the state's best waterfall hikes leads visitors from the first set of falls, a six-foot-tall cascade of whooshing loveliness, and past the next three gentle plunges. It ends at one of the most impressive waterfalls in Connecticut.
This fifth and final Enders falls will beg your camera to start snapping. It consists of two drops that plunge 15 feet to the inviting pool below. Each of these features swimming holes popular with visitors during the summer months. Insider's tip: the swimming hole at the base of the fifth falls is less crowded than the others.
2. Wadsworth Big and Little Falls, Middletown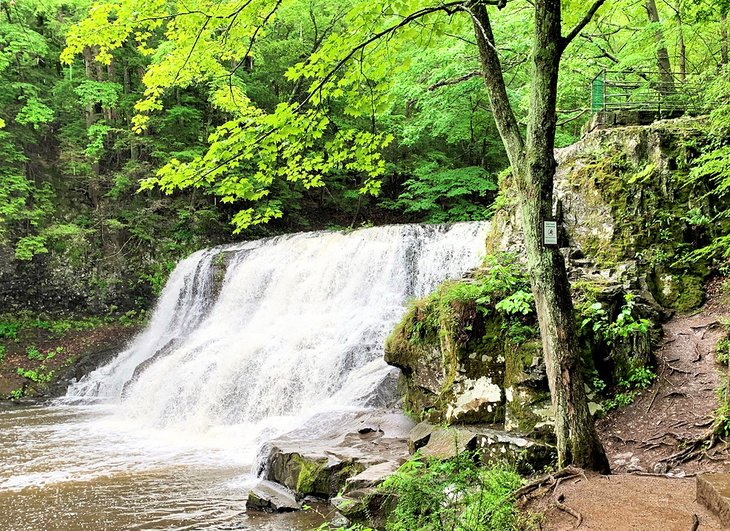 If you're looking for serenity, you'll find it at Wadsworth Falls State Park. Home to two spectacular waterfalls, aptly named Big Falls and Little Falls, this natural wonderland will soothe any soul.
Easy hiking trails lead visitors to Wadsworth Big Falls, which is wider than it is tall and has the highest volume of any undammed waterfall in New England. It's an amazing sight to behold, but visitors are discouraged from spending too long at this waterfall in Middletown.
Swimming and picnicking are prohibited here, so most spend their time at the falls' smaller sibling, Wadsworth Little Falls. About a half mile away, the Little Falls are less powerful but just as enchanting. They're also paired with a natural swimming pool and beach.
The falls lie just over half an hour north of New Haven, which is deemed one of Connecticut's best cities. So, when you're finished cleansing your soul, head there to grab a bite at one of the popular restaurants or visit the stellar tourist attractions. The Yale University Art Gallery is particularly inspiring, and a free place to visit.
3. Buttermilk Falls, Plymouth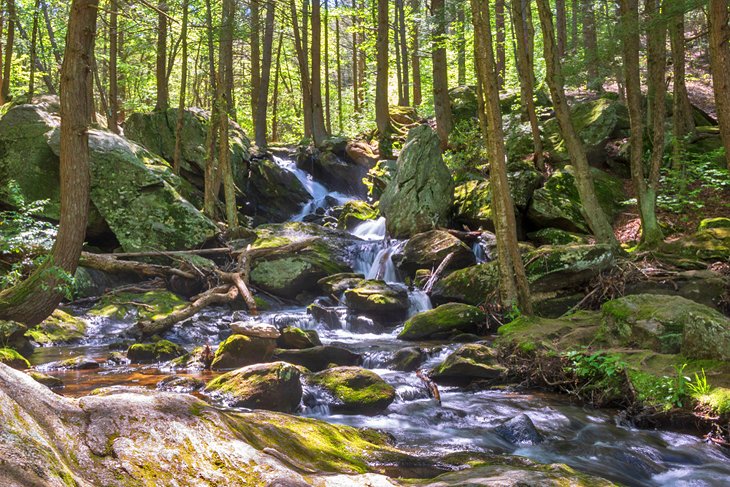 It's hard to beat Buttermilk Falls after heavy rain. It's then that you'll witness the full power of this magnificent force. The best time to visit is in spring, when the snowmelt has caused a real rush to flow powerfully over the cascade.
As is the case with many waterfalls, the most impressive view of Buttermilk Falls in Plymouth can be had from above. In this case, the peak is found along the Mattatuck Trail, at the top of a 55-foot waterfall surrounded by lush hemlock trees and dotted with wildflowers. Summiting here allows waterfall hikers to truly feel the magnitude of this natural wonder.
Once you've experienced the thrill of being up top, climb carefully down (actually, it's more of a scramble) to witness the falls from below. Rocks are strewn about the river, which pools at each visitor's feet.
4. Roaring Brook Falls, Cheshire
The best things in life don't often come easily. The same goes for the best waterfalls in Connecticut. A definite must-see, Roaring Brook Falls in Cheshire is a hidden gem set deep in the heart of the Roaring Brook Falls Preservation. It was well preserved by the Cheshire Land Trust and offers one of the best hiking trails in Connecticut with a waterfall.
You'll want to choose the red-blazed trail (which climbs the Prospect Ridge) to find the best view of the falls. The blue-blazed trail also passes through the area before heading to Cornwall Avenue in Prospect.
Categorized as a "horsetail fall," Roaring Brook is 80 feet high, which makes it one of the tallest waterfalls in Connecticut. Impressive cascades tumble down the rocks below the main drop, which is a breathtaking sight.
5. Great Falls, Canaan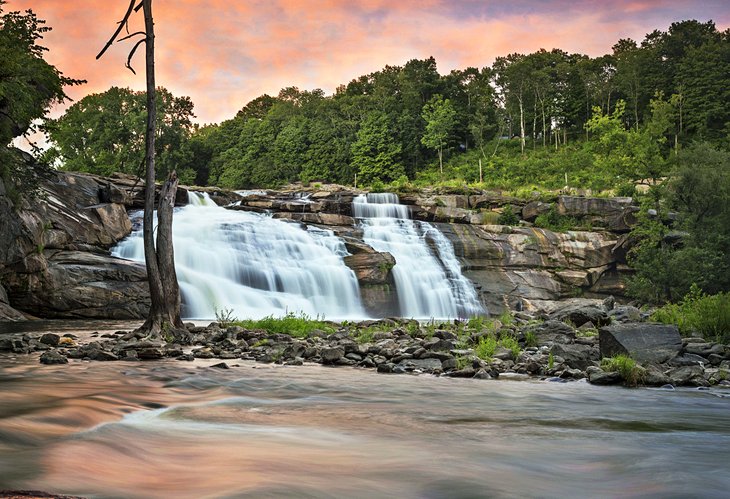 If you ever want to feel small, visit the Great Falls in Canaan. With an insurmountable mass of water crashing over this 50-foot marvel, its name was no mistake. In fact, this Connecticut waterfall is the most powerful in the region.
Sometimes referred to as Canaan Falls or Housatonic Falls, this incredible feature has been dubbed the "Niagara of Connecticut." Like its larger, more famous New York counterpart (which is considered one of the world's most beautiful waterfalls), this, too, attracts thrill seekers, as well as tourists.
White-water kayakers love to fight the strong current during peak waterfall season (between March and May). Great Falls are a short walk from the parking lot, so no need to prepare for a long hike.
Insider's tip: Head into nearby and uber quaint Falls Village for a bite to eat after seeing the falls.
6. Campbell Falls, Norfolk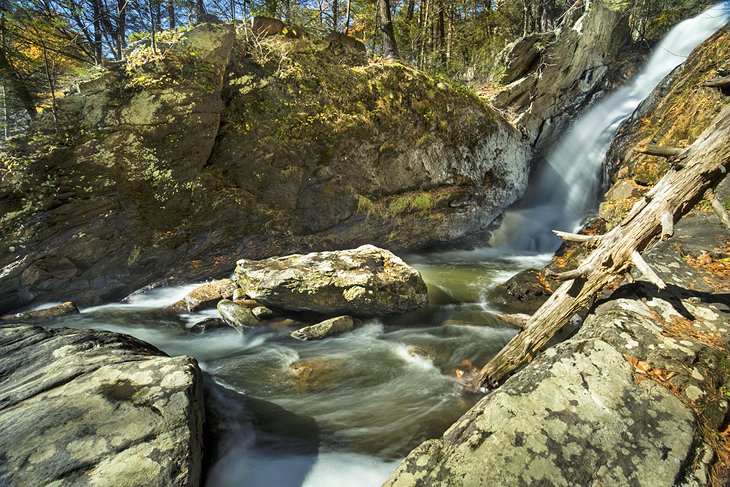 You'll find nature at its best within Campbell Falls State Park Reserve in Norfolk. Visitors won't be bombarded with concession stands or other facilities in this wooded beauty. Instead, they'll discover a hidden gem of a waterfall waiting for them to enjoy its magnificence, making this an excellent place to enjoy a weekend getaway in Connecticut.
Jump in the refreshing swimming hole, enjoy the wooded walking trails, and sit back to take in the unbeatable scenery. Pack a picnic to make the experience last longer. We promise you won't be sorry you came.
Insider's tip: This waterfall hike is short (about five minutes each way) and fairly easy, but it's quite steep near the top. Wear proper footwear and be careful to avoid slipping. It's not very stroller friendly.
7. Kent Falls, Kent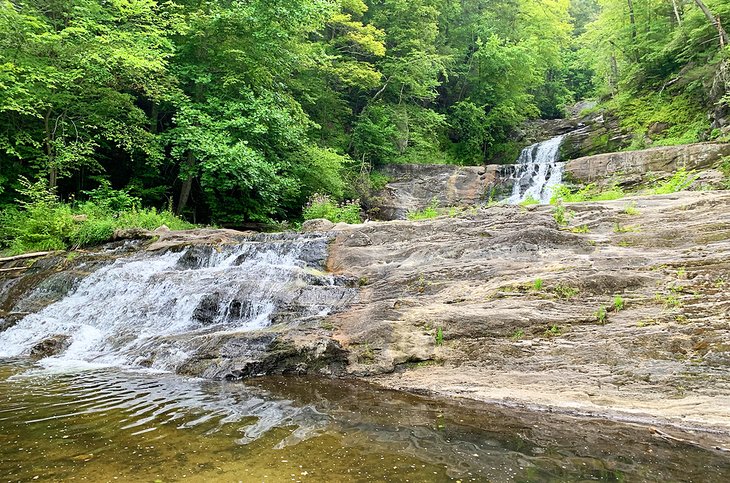 A series of waterfalls make up the enchanting Kent Falls. In all, they plunge over a quarter mile down a rocky traverse. One of the best-known and most highly visited waterfalls in Connecticut, Kent Falls is located in Kent Falls State Park, which is one of the best places to visit in the state. Incredibly well maintained, this park is a hot spot for picnickers and is loved by hikers of every age.
With so many different types of falls to experience, visitors to Kent Falls receive a first-hand lesson in geology. They're introduced to every type of waterfall they'd hope to see–from plunges to punchbowls to horsetails to fans.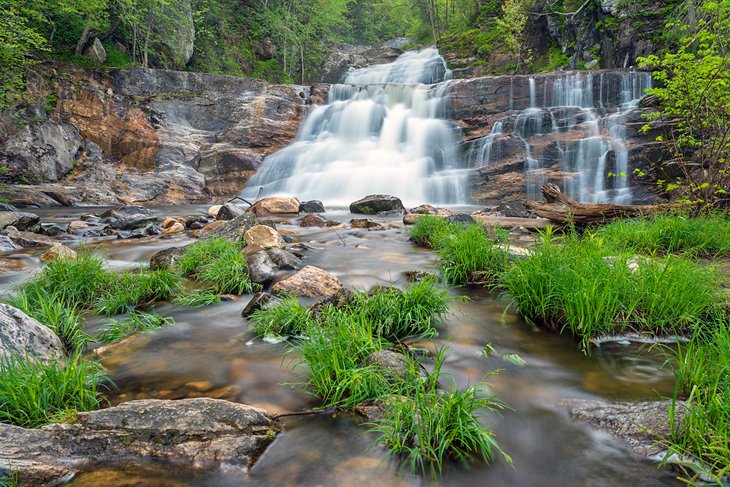 Insider's tip: Pack lunch and plan to stay a while. You'll hike up to see the entire falls if you're able (don't worry, it's not too arduous a trek). Plus, the park boasts a charming covered bridge that makes a perfect backdrop for family photos, especially during fall, when the trees are a kaleidoscope of bright colors.
8. Burr Falls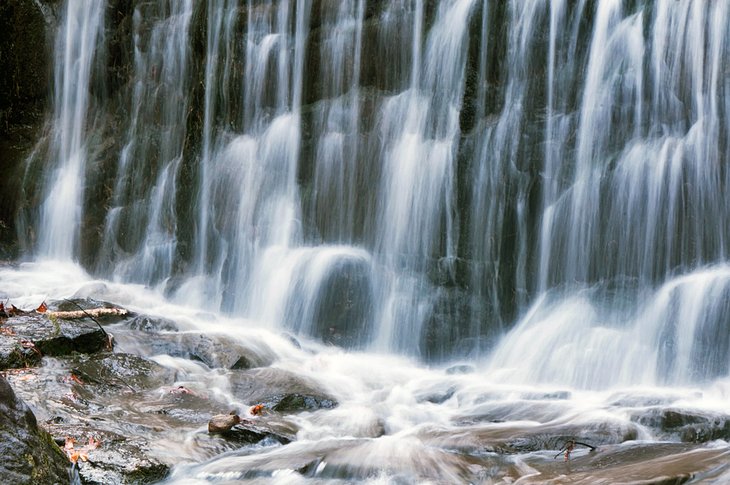 Both picturesque and relaxing, it's hard to look away from the beautiful Burr Falls. Located in Burr Pond State Park, these stairway falls are satisfying to witness as they cascade gently down each bedrock step. Watching the water slowly drop is akin to massaging your overworked body. You'll instantly feel your shoulders relax.
A series of falls that span 45 feet, they truly are one of the best waterfalls in Connecticut. Despite their beauty, though, Burr Falls aren't as well visited as other cascades on this list. The reason: poor parking options. The falls are easily seen from Burr Mountain Road, but there's no official parking area.
Insider's tip: There's a small, unofficial parking area about 0.1 miles above the falls near a state park gate.
9. Chapman Falls, East Haddam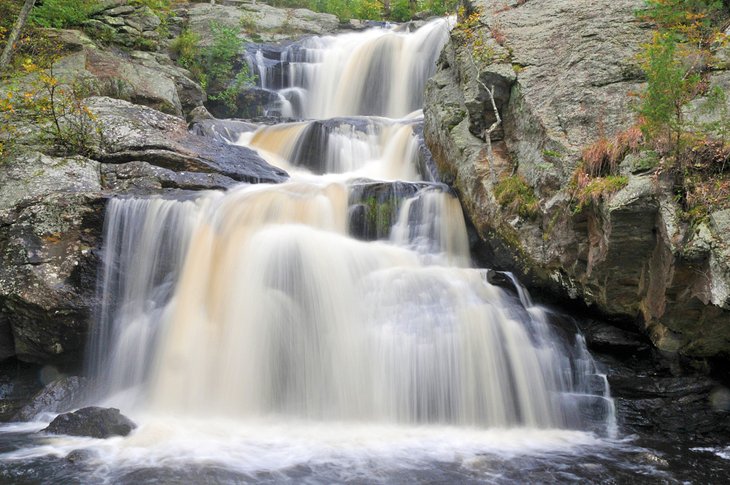 Centuries of water flowing over these falls have created a fascinating feature–circular holes cut into the rocks. While legends claim these were caused by Satan's anger at getting his tail wet, the truth is they were formed by rocks getting caught in the current and rubbing together over time. The legend has been told for so many generations that the area is also known as the Devil's Hopyard State Park.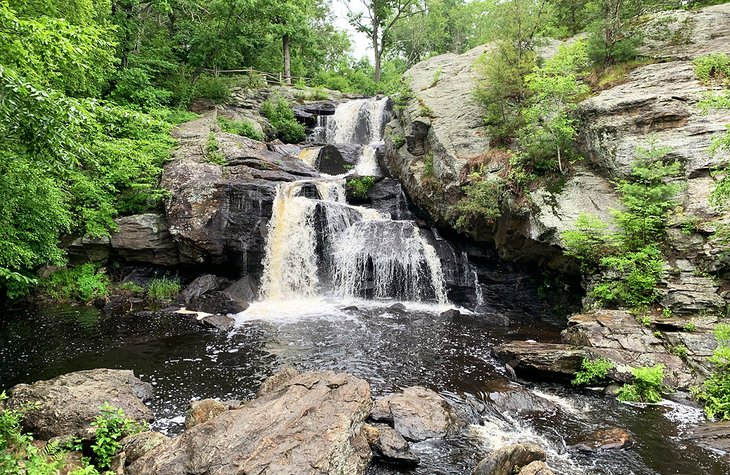 As with each of the waterfalls on this list, Chapman Falls is best viewed during the spring or after a heavy rain, when its trickling stream is transformed into a torrential flow.
10. Dean's Ravine Falls, Canaan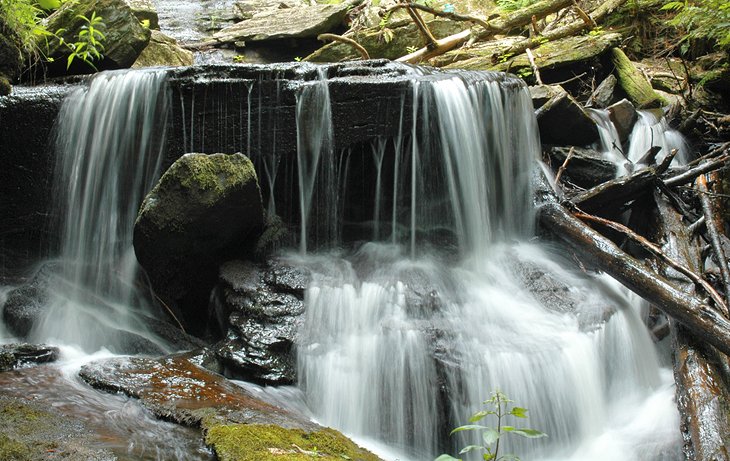 The second impressive waterfall located in Canaan, Dean's Ravine Falls, is easily reached after a 15-minute hike. A wide and lovely attraction, this steeply dropping waterfall begins at Reed Brook and rushes persistently towards the Housatonic River, catapulting over anything that comes in its way. Its largest leap is almost 50 feet, with many smaller falls occurring along its path.
Located in a wild gorge lined with verdant evergreen woods, Dean's Ravine is a marvel to witness in any season. If you're hoping to catch a wildly thundering cascade, though, aim to visit during the spring or after heavy rain.
11. Yantic Falls, Norwich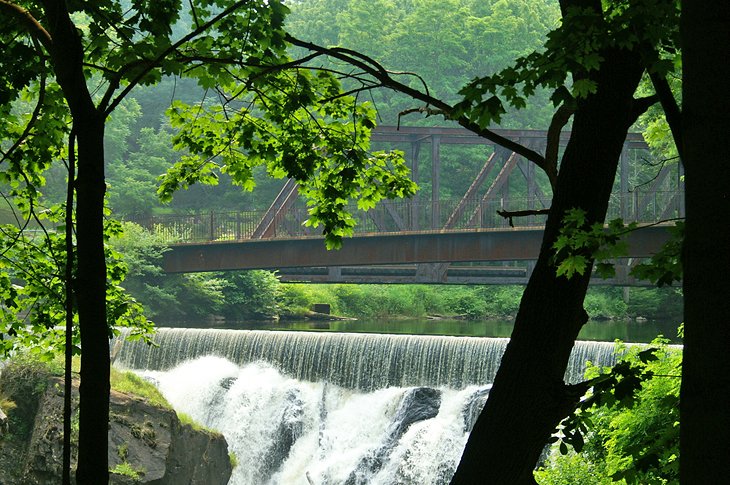 Parking is much easier at Norwich's Yantic Falls than it is at some of the other waterfalls on this list. The fact that visitors can see the beauty from above, on a pedestrian bridge overhanging the falls, makes it even more accessible. Enjoying a road trip on the East Coast? Take time out to explore this intriguing place to visit.
A giant, wide wall of water greets visitors, tumbling loudly in a violent rush through an extraordinary gorge to reach the river below. Partly controlled by a dam, the main part of the falls drops nearly 40 feet with an immense volume of water.
Also known as Uncas Leap Falls, Norwich Falls, and Indian Leap Falls, these were apparently one of the most favored camping spots of the Mohegan Indians during the mid-17th century.
12. Aspetuck Falls, Washington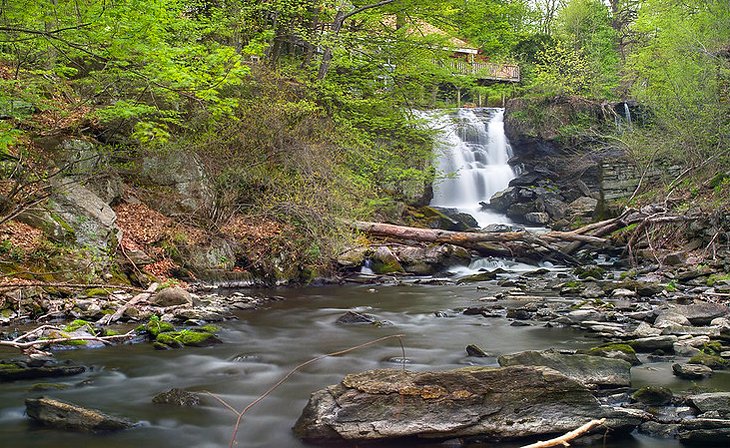 The only thing that could make an already quaint town more charming is a waterfall. No wonder the small village of New Preston is so irresistible. Located in the northwestern edge of the town of Washington, this adorable hamlet boasts one of the state's most delightful falls. It's also home to a few eclectic boutique shops, as well as small and tasty eateries.
Plunging 20 feet through the village center, Aspetuck Falls gently crash their way towards the Aspetuck River and push through a dramatic, darkened gorge below. Along the river's rocky banks lie stone ruins, which up the area's enchantment level.
Insider's Tip: Make your weekend getaway one to remember by adding a stay at the remarkable Mayflower Inn & Spa, which is located a short distance from the falls in the town of Washington. The five-star service, impeccable surroundings, and mouth-wateringly good food are as wondrous as the plush rooms at this elegant Connecticut resort.
13. Knife Shop Falls, Litchfield
You'll be hard-pressed to find a more interesting name for a waterfall. Litchfield's lovely Knife Shop Falls is both beautiful and intriguing. Unofficially named after the Northfield Knife Company, which was one of the main businesses in the area during the mid-19th to early-20th century, the falls are now surrounded by the factory's ruins, a small attraction that's worthy of a visit.
Comprised of three separate plunges, Knife Shop Falls plunge just over 35 feet in their entirety. Each fall is unique, and the brooks that deliver the water from one to the next take dramatic twists and turns. You'll definitely want to see every section.
To get here, you'll have to enter the Humaston Brook State Park and embark on a very easy waterfall hike. Don't worry, it will only take a few minutes along the trail before you reach the falls.
14. Spruce Brook Falls, Beacon Falls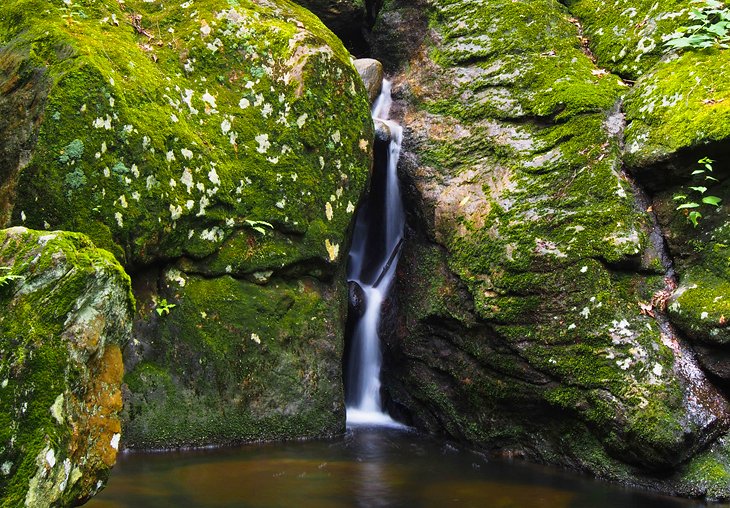 Multiple plunges and cascades carve through the rocky landscape of Naugatuck State Forest. If you count each of the small drops, you may reach six or seven in this wooded wonderland.
The largest, and main, falls of Spruce Brook plunge 15 feet to a foamy pool below. Those who keep following the hiking trails will discover even more cascades downstream, including a small natural waterslide and multiple rock and water pools.
The best views are found from above — a reward for those determined enough to complete the sometimes steep, slippery, and somewhat arduous hike to the upper Spruce Brook Falls.
15. Blackledge Falls, Glastonbury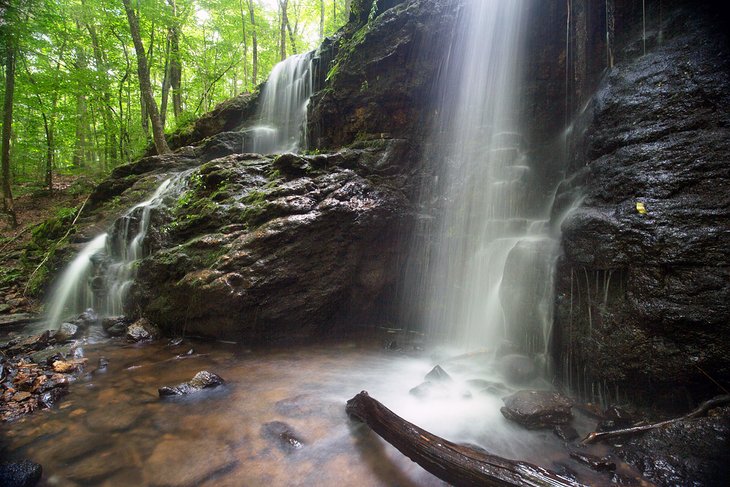 Bet you can't guess the color of the ledge behind this dramatic waterfall. Blackledge Falls is located in Glastonbury, about a 25-minute drive southeast of Hartford. A perfect escape from the bustling city and its busy attractions, these falls offer hikers a resplendent view, as well as the relaxing song conducted by the water itself.
This hidden treasure can be found deep within the thick forests of Glastonbury. It derives from the Blackledge River and rushes over a dramatic cliff towards the shallow rock pool below. While not wide, the 25-foot drop created by this waterfall is both striking and soothing. It may well be the most tranquil waterfall in Connecticut.
16. The Falls at Lake Whitney Dam, Hamden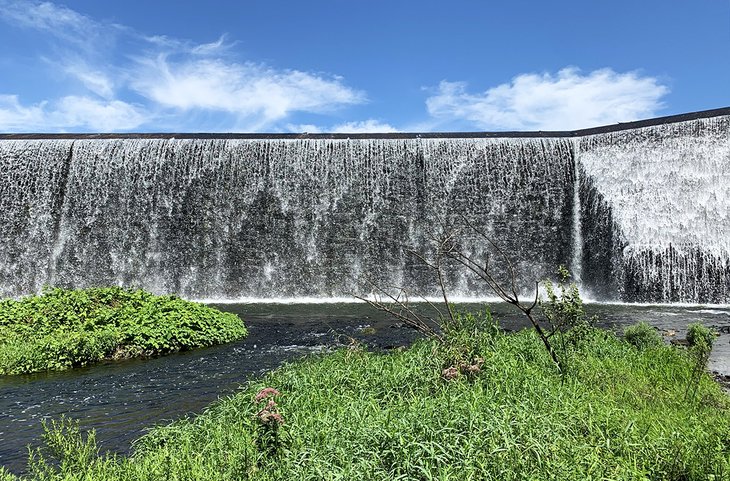 You'll hear the waterfall at Lake Whitney Dam before you see it, especially if you're wandering through East Rock Park near the Eli Whitney Museum in Hampden.
This extremely wide waterfall towers above its visitors, allowing water to flow over the man-made dam from Lake Whitney down to Mill River. Boasting a crashing curtain of elegant cascades that fall serenely to the water below, this unique marvel is something you won't want to miss.
The best way to reach this wonder, which is a bit of a hidden gem, is by walking through the covered bridge by the museum and following the sound of crashing water.
There are multiple easy trails to explore in this area, so pack comfy shoes and snacks if you want to make a day of it.
17. Ayer's Gap Falls, Franklin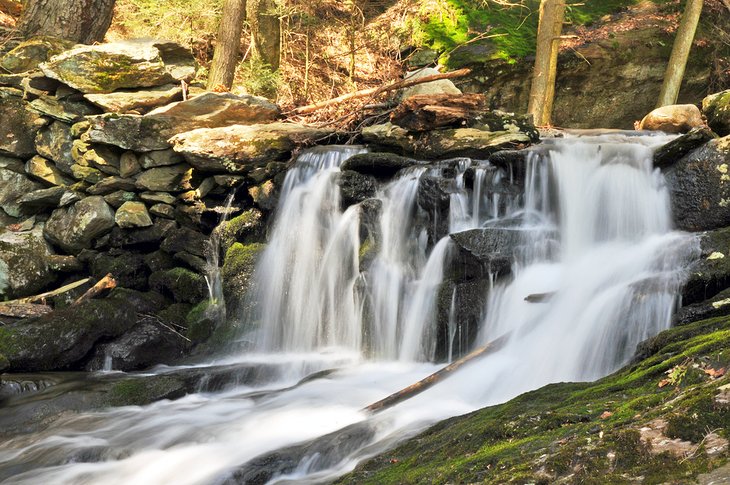 Ayer's Gap is an 80-acre nature preserve that is home to a lush and deep ravine known as Bailey's Ravine. This is where you'll find the sparkling Bailey Brook, which tumbles its way down the rugged rocks that make up the Ayer's Gap Falls.
While these falls are smaller than others on this list, they are a charming series of cascades more than worthy of an afternoon (or morning) hike. The preserve is open from sunrise to sunset, so plan your timing accordingly.
Ayers Gap is located next to the Ayer Mountain Farm, a pastoral setting that doesn't feel as if it's home to a waterfall. Here, you'll find a trail through the woods that loops its way for almost a mile and a half and up about 300 feet toward the falls in Bailey's Ravine.
18. Day Pond Brook Falls, Colchester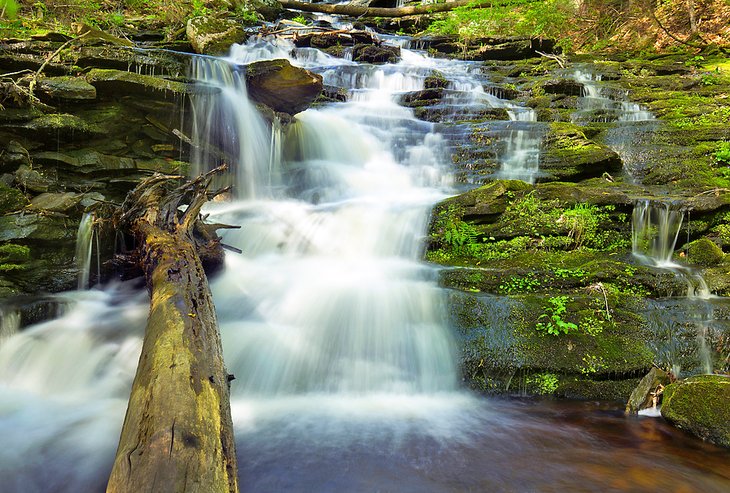 Not many people know about Day Pond Brook Falls. While that may be a shame for them, this lack of notoriety helps keep the falls a tranquil place where visitors can quietly reflect upon their lives. Located in Day Pond State Park in Colchester, these falls are found near Day Pond, which offers plenty of activities to keep visitors entertained. Fishing, swimming, and picnicking are all popular at the pond.
It's so fun at this location that most people remain nearby, not realizing they're missing out on the park's main attraction. That said, getting to the falls requires a bit of a hike from the park's main entrance. Follow the CT Horse Council Recommended Trail to the Day Pond Brook Spur Trail.
You'll hear the falls before you see them. A series of glorious cascades, they drop 40 feet in total. The tallest single plunge is 10 feet.
Map of Waterfalls in Connecticut
More Related Articles on PlanetWare.com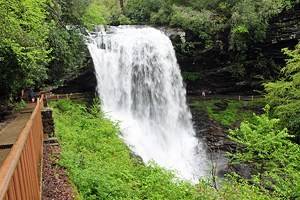 More Waterfalls to See in the US: Head to the Appalachians to see the waterfalls in North Carolina. This is a beautiful area with many small mountain towns to explore or enjoy a weekend getaway. Alternatively, try the West Coast and soothe your inner self with a trip to one (or more) of these top-rated waterfalls in Oregon.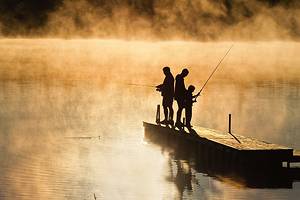 Places to Fish in the US: Waterfalls are lovely, but fishing is awesome. Want to try your rod at angling outside of Connecticut? Head to one of these favorite rivers for trout fishing in North Carolina. Or, you could cast a line in one of these trout fishing lakes and rivers in Oklahoma or Missouri. Don't let the cold stop you. If you really want to get out, these best ice-fishing lakes in Ohio will help keep you angling year-round.