Connecticut in Pictures: 26 Beautiful Places to Photograph
From sandy shores and lush forests to award-winning museums, Connecticut offers a vast array of picturesque locales. In addition to its moneyed towns like Greenwich, the Nutmeg state houses sleepy seaside escapes like charming Mystic. The further you explore, the more rewards you'll reap in the form of adorable villages, winding tributaries, and iconic covered bridges.
Talk about quintessential New England charm–it's available here in heaps. Capture beautiful pictures during the height of fall's colorful foliage. Looking for excitement? Connecticut hosts big cities like Hartford, with vibrant entertainment scenes. Or, there's New Haven, which is brightened by Yale University's impressive faux-Gothic buildings and diverse restaurants.
One thing's for sure, you won't be short on charm or engaging things to do when visiting Connecticut. Explore the state in pictures with these beautiful images.
1. Connecticut State Capitol, Hartford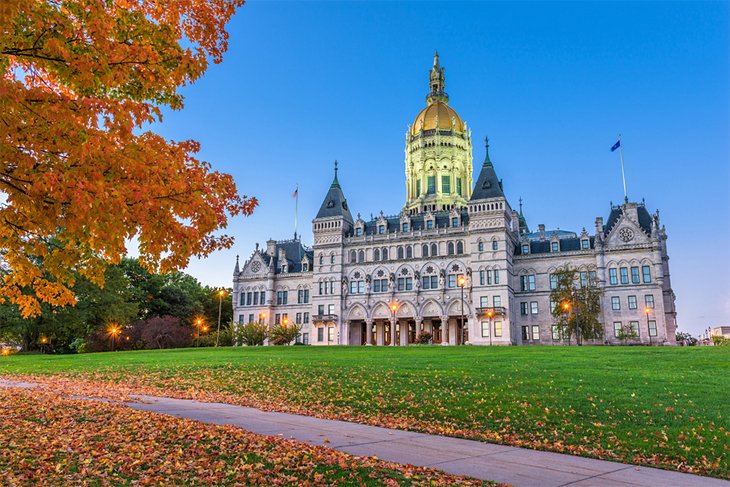 The capital of Connecticut, Hartford is the state's third-largest city behind Bridgeport and New Haven. Its most iconic building is the Connecticut State Capitol, which is topped by a gold-leaf dome. Inside lies an impressive Hall of Flags and multiple politicians (when they're in session). Known for its thriving insurance industry, Hartford is also home to a bevy of historical attractions worthy of a visit.
2. Ruth Steinkraus Cohen Bridge, Westport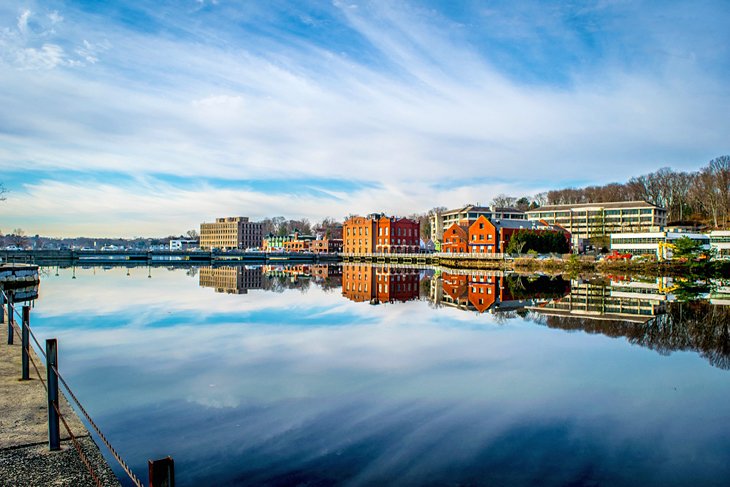 Two rows of waving flags welcome visitors to Westport's idyllic and historic downtown. Lining the Ruth Steinkraus Cohen Bridge, which crosses the Saugatuck River, these more than 40 flags fly from late April to Thanksgiving.
Once the private secretary for Eleanor Roosevelt, Steinkraus Cohen was an avid advocate of the UN, who went on to found the United Nations Association of Southwest Connecticut. This bridge represents the effort both she and other Westport residents made to build relationships between people, towns, and countries.
Read More: Top Things to Do in Westport
3. Downtown Hartford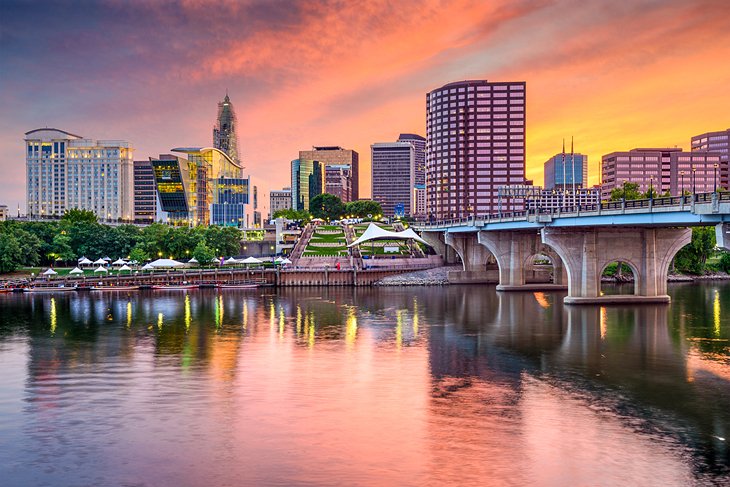 Downtown Hartford is well regarded as a booming arts and entertainment center. With plenty of eclectic restaurants to add to your foodie itinerary, this city is worth visiting, especially if you're looking for a bit of evening fun. Photography subjects here are extensive.
While there, don't miss the famed Mark Twain's home. You can also stop by the place where Harriet Beecher Stowe rested her head. A visit to the Wadsworth Atheneum Museum of Art is another must. Founded in 1842, it's the oldest continuously operating public art museum in the US.
4. Heublein Tower, Talcott Mountain State Park, Simsbury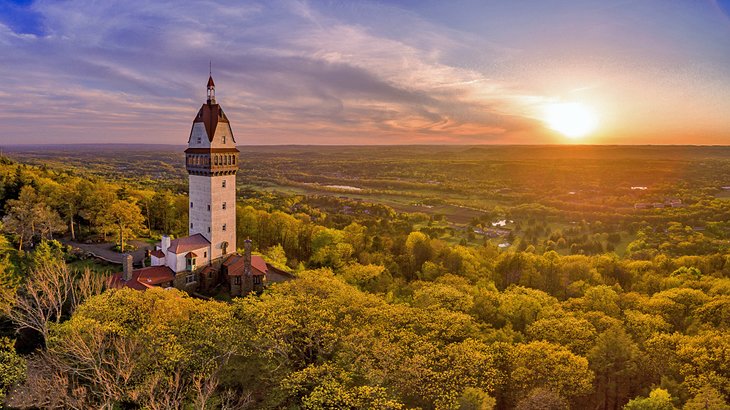 Hikers and photographers who climb the 120 steps to the top of Heublein Tower at Talcott Mountain State Park are never disappointed. The reward for their vigorous climb is an incredible view of the lush Farmington River Valley and Hartford skyline. At 165 feet in height, this extraordinary building is best visited during the peak of the fall season. There are few better places to enjoy the incredible foliage.
5. Essex Steam Train, Essex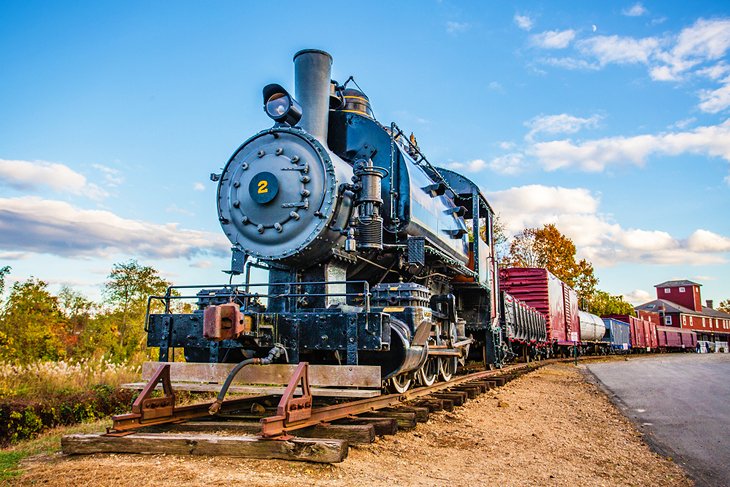 All aboard! Chug your way through the beautiful Connecticut River Valley while soaking up the history in vintage coaches on this antique steam train. Operated by the Valley Railroad Company, tours run from Essex Station beginning in early May to late October. Most packages are coupled with a river cruise along the Connecticut River on the remarkable Becky Thatcher riverboat.
6. Fayerweather Island Lighthouse, Bridgeport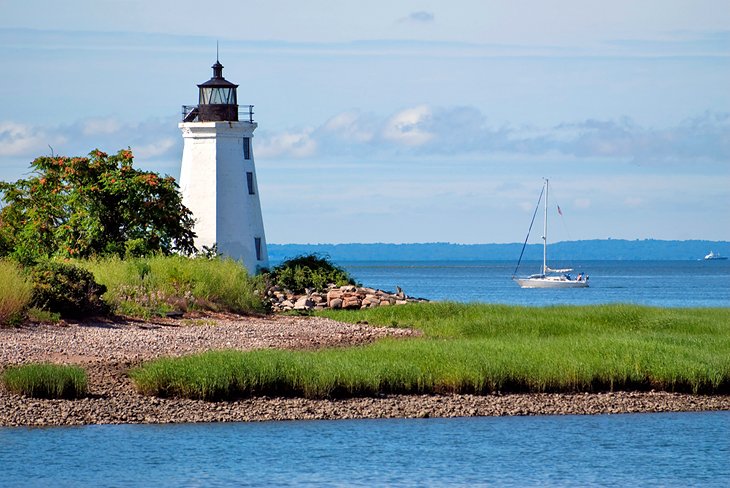 Even on a stormy day, the Fayerweather Island Lighthouse is worth a visit and even more intriguing to photograph. Located in Black Rock Harbor, the structure that stands today is more a reminder of times gone by than a navigational aid. In 1998, the lighthouse was fully restored to its former glory and was recently updated further. It's not open to the public, but visitors still enjoy the view and a rocky, yet tricky, walk along the pier.
7. Kent Falls, Kent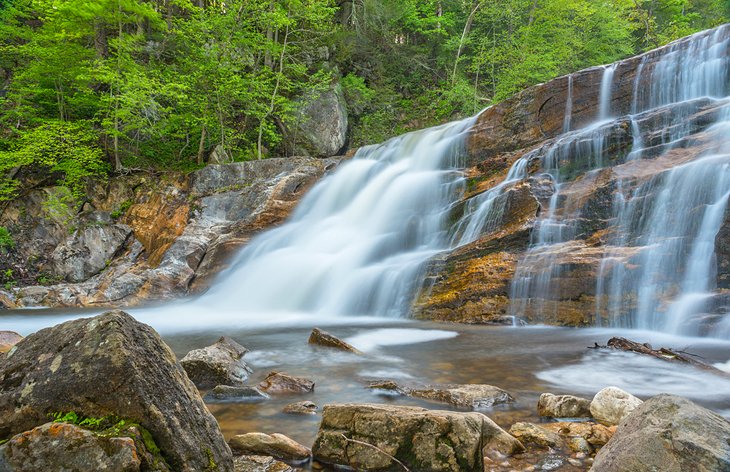 Water crashes down the 250 feet of falls that make up Kent Falls in Kent Falls State Park. This is one of the most beautiful waterfalls in Connecticut. A misty hike to the top presents visitors with an adrenalin fueled rush, especially when looking down to watch the water tumble into Falls Brook, a tributary leading to the Housatonic River. Come on a cloudy day and try some long exposure shots.
The park, which is set serenely among the Litchfield Hills, also houses a picturesque covered bridge.
8. West Cornwall Covered Bridge, West Cornwall
One of the last covered bridges in the state, the West Cornwall Covered Bridge is 172 feet long and 15 feet wide. It's big enough to allow cars to pass through on their journeys across the Housatonic River on Connecticut Route 128. It's believed the bridge was built in 1864.
Due to the bridge's age and the increase in weight and amount of vehicular traffic, it needed a few changes over the years. The most notable: a steel support deck to help strengthen the floor. In 1957, the original grey paint was covered by a rustic red that remains today. The covered bridge became an iconic symbol of New England architecture.
In the fall, the colorful leaves on the banks surrounding the bridge make for beautiful images.
9. Thames River, New London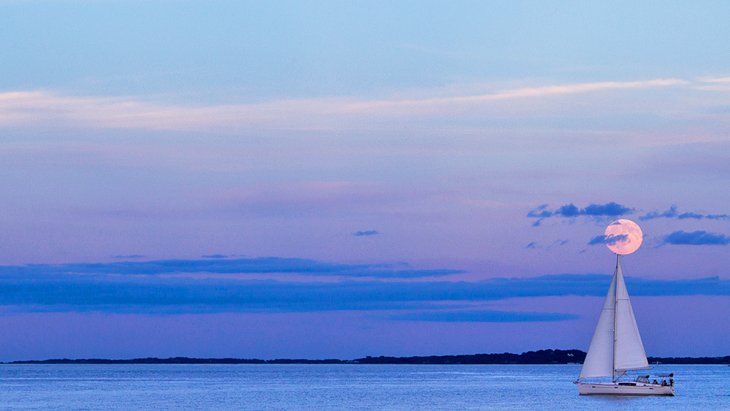 A sailboat soaks up the last of the sun's rays as it sets over the Thames River in New London. Once one of the world's largest whaling ports, New London is now a bustling city featuring multiple fine restaurants, a vibrant arts scene, and a lovely waterfront.
Read More: Best Things to Do in New London
10. Macedonia Brook State Park, Kent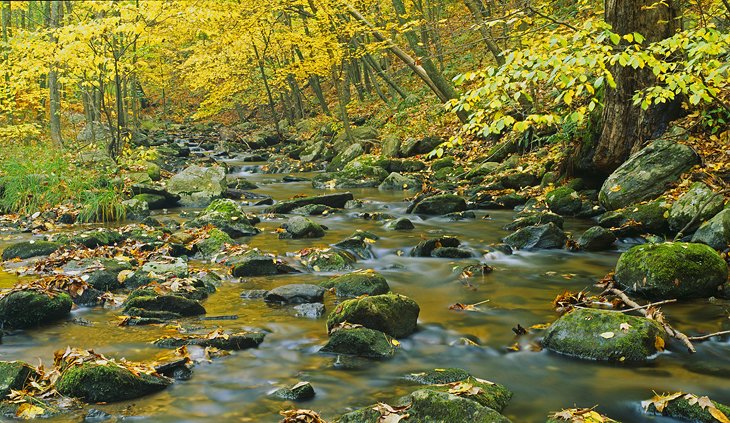 This gorgeous gem of tranquility consists of over 2,300 acres of woodland, hiking trails, and the babbling brook that gave the park its name. A hike across Cobble Mountain and other peaks on the Blue Trail offer spectacular vistas of both the Catskill and Taconic Mountains. With 51 camp sites, Macedonia Brook State Park is an ideal place to spend a relaxing weekend.
11. Mystic Village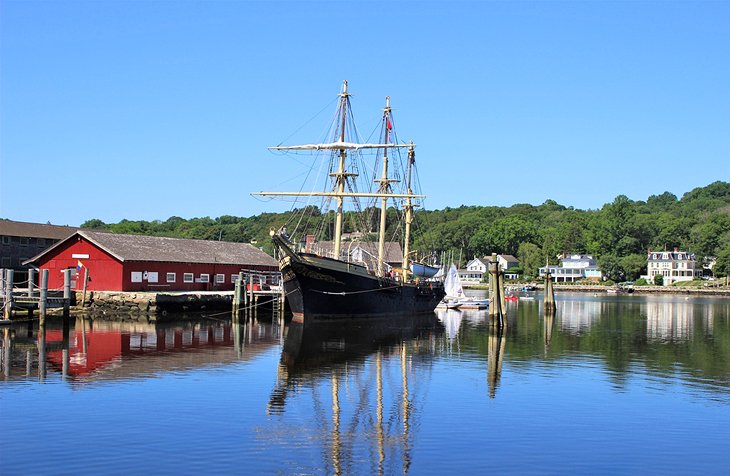 One of Connecticut's most beautiful coastal towns, Mystic is a popular tourist destination. In addition to its quaint and historic downtown, this charming spot is home to two of Connecticut's top-rated attractions: the impressive Mystic Seaport Museum and well-loved Mystic Aquarium. One of the best ways to enjoy Mystic is by boat, which provides an unbeatable view of the magnificent waterfront homes.
12. Downtown New Haven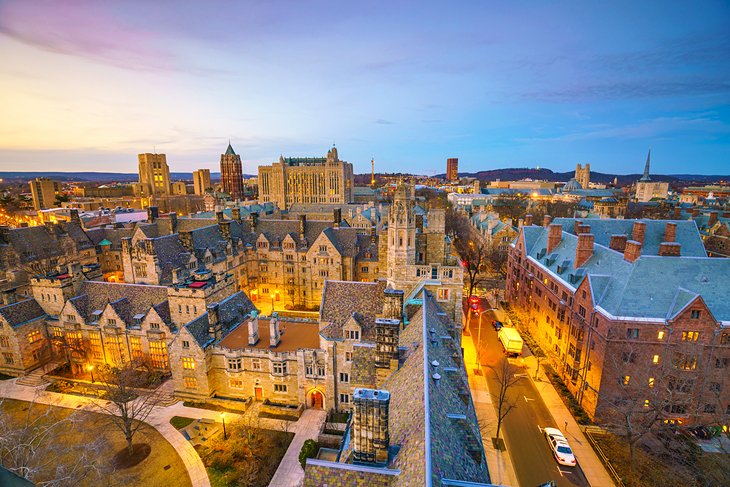 Most know New Haven as home to Yale University and its impeccable Victorian and faux-Gothic buildings. That's a good thing, since it's had a bad reputation in the past. Today, this large city (the second biggest in Connecticut) is hailed for its vibrant arts and entertainment scene and eclectic dining options. Photo opportunities in New Haven abound.
In the center of town, you'll find the city's answer to New York's Central Park–a large, open green space known as New Haven Green. This gem is peppered by beautiful churches, paved walkways, and giant trees.
13. Gillette Castle State Park, East Haddam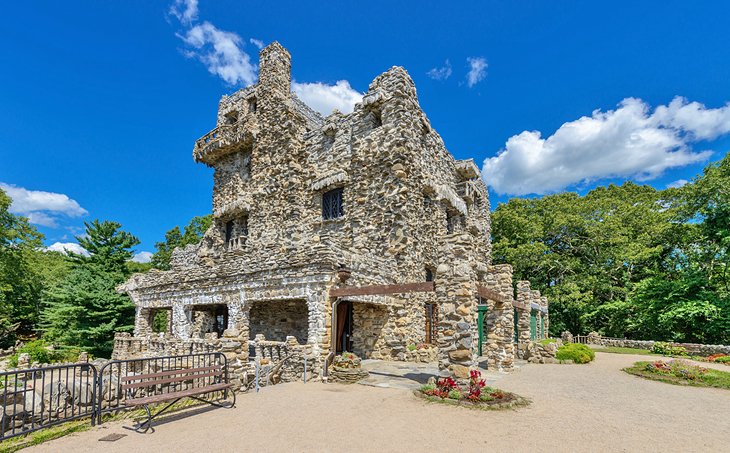 From the outside, Gillette Castle resembles a ruined medieval fortress. Once visitors step foot inside, the true nature of this remarkable building comes to life. Giant wooden doors are locked with the most intricately designed systems, a tribute to the creative genius of the late-19th- and early-20th- century stage actor William Gillette. Search for the built-in couches, secret spy mirrors, and impressive secret drinks cart.
The castle is bordered by an expansive 184 acres of parkland overlooking the Connecticut River.
14. Walnut Beach, Milford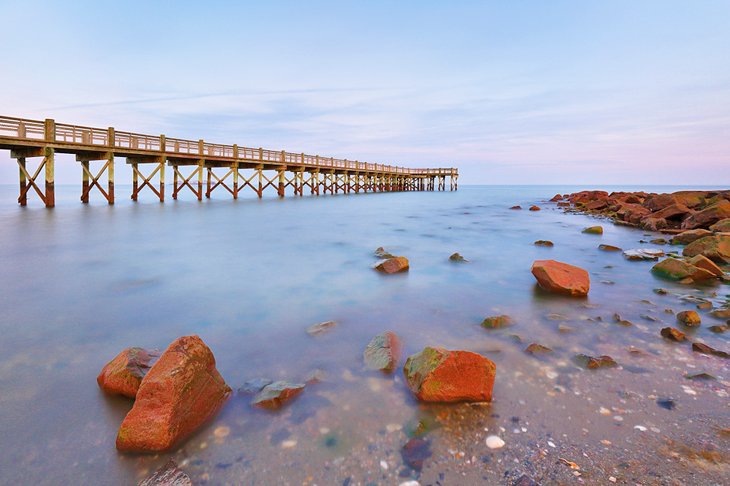 Walnut Beach is an impeccable place to spend the day or enjoy a sunset. Visitors to this Milford beach won't have to fight crowds when they enjoy the boardwalk or search frantically for a spot to picnic on the clean sand. At low tide, the path to Charles Island becomes clear and easy to walk. Just be sure to return before the water gets too high. Or, continue on the boardwalk to reach the gorgeous Silver Sands State Park.
15. Saville Dam, Barkhamsted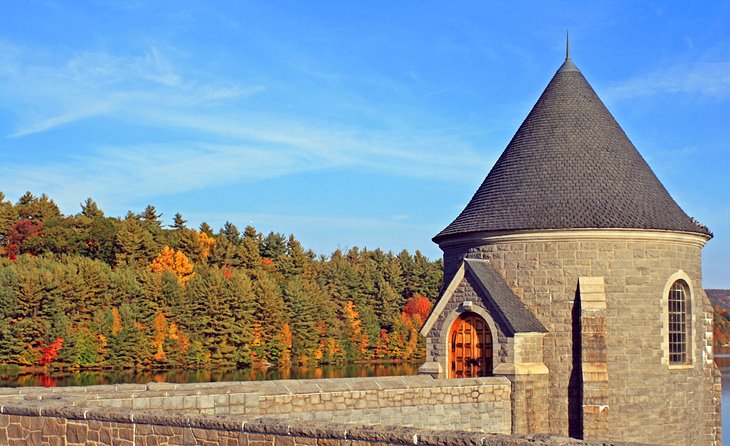 The Saville Dam sits serenely above the Barkhamsted Reservoir in Barkhamsted, a small town an hour northwest of Hartford. The reservoir, which opened in 1940, holds nearly 37 billion gallons of water and acts as the main water source for Hartford residents. It took eight years to fill to capacity. The round, turreted Saville Dam Gatehouse, with its carved wooden doors and scenic water views, is a popular backdrop for photos.
16. Henry David Thoreau Footbridge, Washington Depot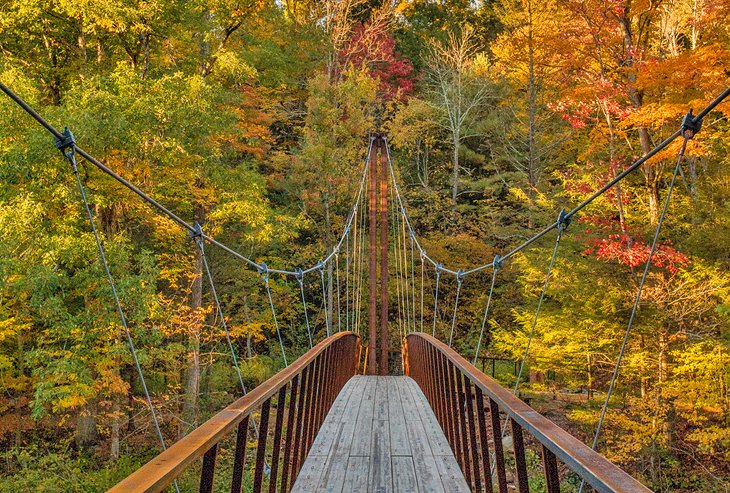 The Henry David Thoreau Footbridge is a spectacular place to escape from reality. Named after the famous 19th-century philosopher, this 120-foot-long swinging suspension bridge is tucked quietly among forested hiking trails in quaint Washington. Look closely, and you'll see a few of Thoreau's most famous quotes carved intricately into its rails.
17. Mill River Trail, New Haven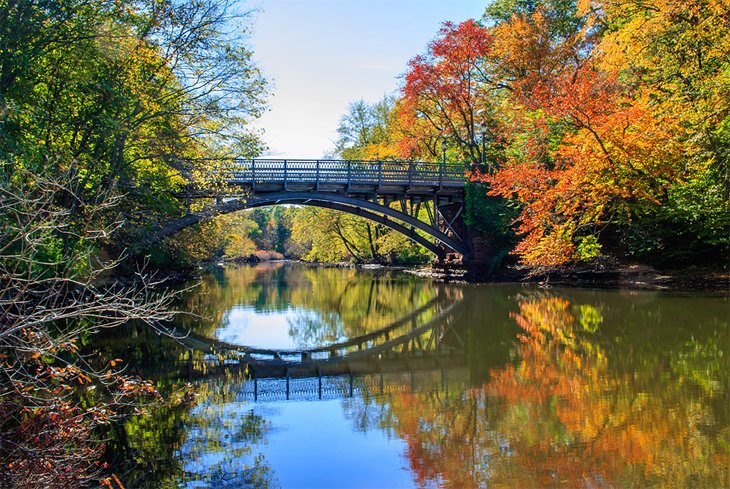 The Mill River Trail connects East Rock Park to Crisculolo Park in New Haven. In addition to making it easier for visitors to access the pristine waterfront, this trail was designed to promote rehabilitation of the area. Bikers, walkers, and joggers are welcome to enjoy the trail, which also boasts numerous canoe launches that make it easier to access the water.
18. Niantic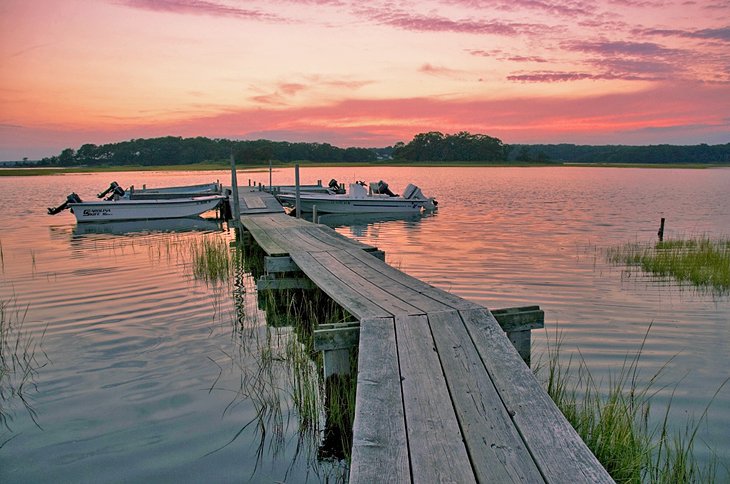 This tiny gem of a village in East Lyme is home to just over 3,000 people. A delightful seaside haven, Niantic is about as quaint as it gets in Connecticut. New sidewalks, tress, streetlights, and flowerpots were added to Main Street in 2010, making it even more charming. The main reason people come here, though, is to enjoy the maritime scenery, which is made even lovelier at sunset.
19. Hammonasset Beach State Park, Madison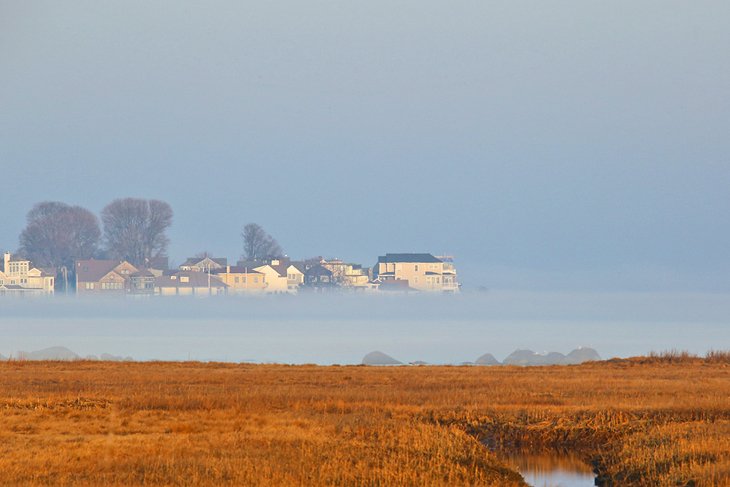 An impressive view of misty Madison can be seen from Hammonasset Beach State Park. This two-mile beach makes up Connecticut's longest shoreline park. It's a popular place to while away the day swimming and strolling along the boardwalk and welcomes almost one million visitors each year. Hammonassett translates to "where we dig holes in the ground."
20. Elizabeth Park, West Hartford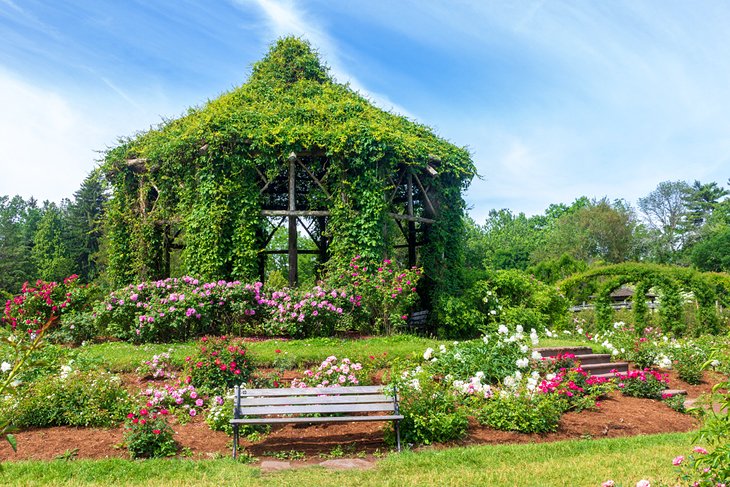 The spectacular gardens at Elizabeth Park help put this West Hartford gem on the map. It's also been added to the national register of historic places. With over one hundred acres of impeccable lawns, dazzling flowers, and enjoyable walking trails, it's a wonder more people don't visit. Don't miss the rose garden, which blooms from June to October.
21. Seaside Park, Bridgeport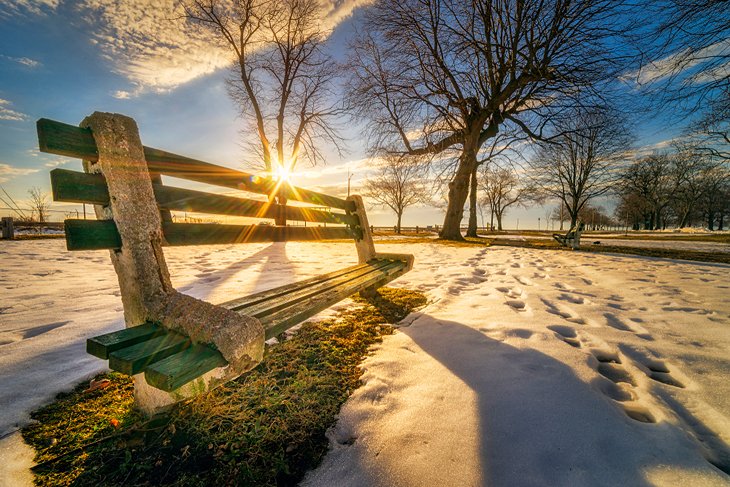 Spanning 2.5 miles, this crescent-shaped park borders Bridgeport Harbor, Black Rock Harbor, and the Long Island Sound. It also boasts 325 acres of vibrant lawn and sports fields, as well as a splash pad, multiple playgrounds, a skate park, grills, a bandshell, and a concession stand.
Read More: Top-Rated Things to Do in Bridgeport
22. Sleeping Giant State Park, Hamden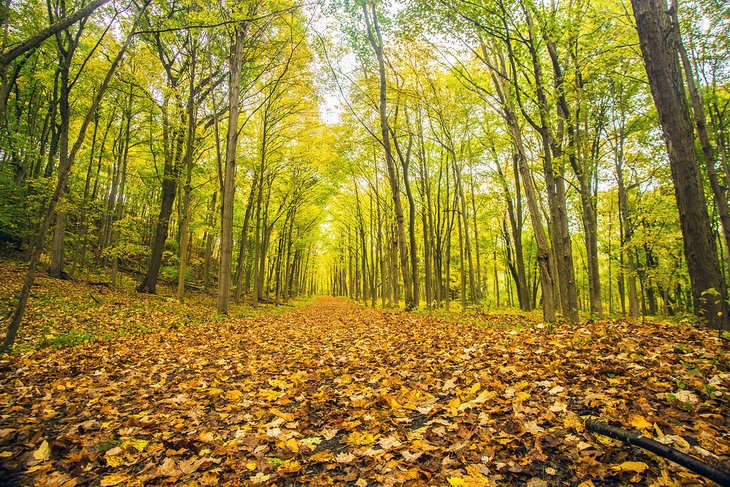 It's easy to see why Sleeping Giant State Park is deemed one of the best state parks in Connecticut. In addition to vast winding trails and thick woodlands, you'll find a remarkable stone observation tower atop the summit of Mount Carmel. This beloved park is a perfect place to spend a day hiking, cross-country skiing, or horseback riding, depending on the weather.
23. Enders Falls, Granby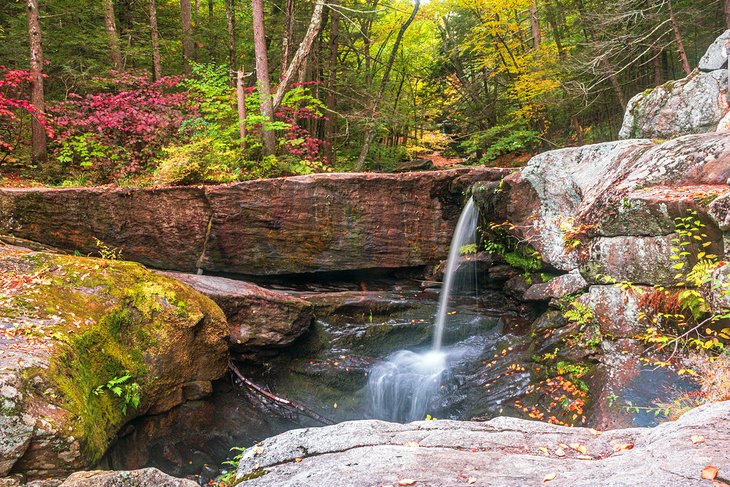 Enders Falls is a captivating cascade set in Enders State Forest, near Granby. Among the best waterfalls in Connecticut, this calming spot is the perfect place to ditch your worries and marvel at the innate beauty surrounding the five sets of waterfalls that make up this lovely local gem. Visit during fall for an even more breathtaking experience.
24. Rocky Neck State Park, Lyme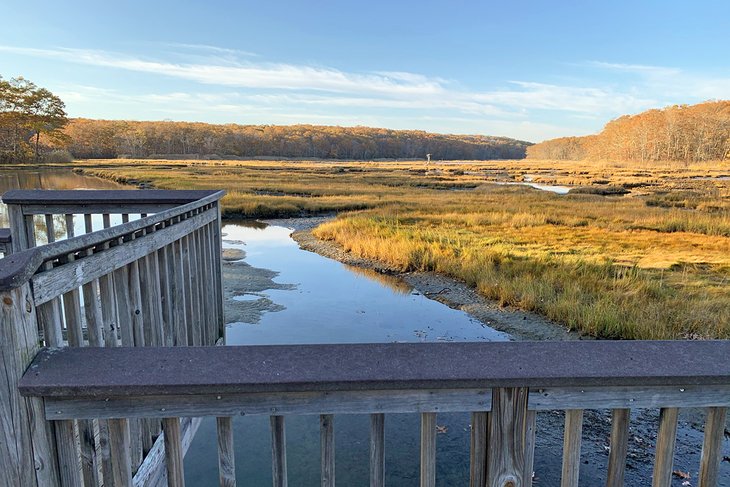 It's impossible to get bored at Rocky Neck State Park in Lyme–there's just too much to do. Whether you're hoping to lounge on the soft, sandy beach, play hide and seek with turtles and crabs, or mountain bike along the trails, this is a fab spot to spend a day; or better yet, stay the night. This is also one of the best places to go camping in Connecticut.
25. Candlewood Lake, Danbury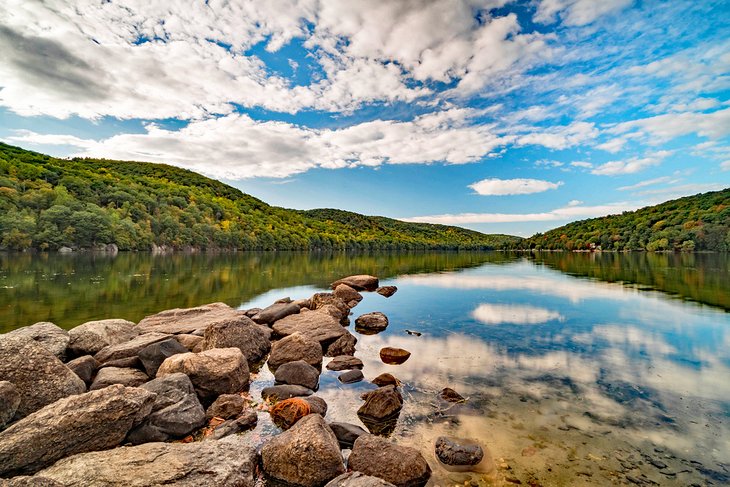 There's a whole lot to love about Candlewood Lake. A 16-mile-long beauty that stretches over eight square miles, this sparkling wonder is home to boat launches, marinas, and plenty of useable shoreline. Feel free to fish, swim, boat, or even scuba dive while you're here. No wonder it's been deemed one of the best lakes in Connecticut.
26. Burr Pond State Park, Torrington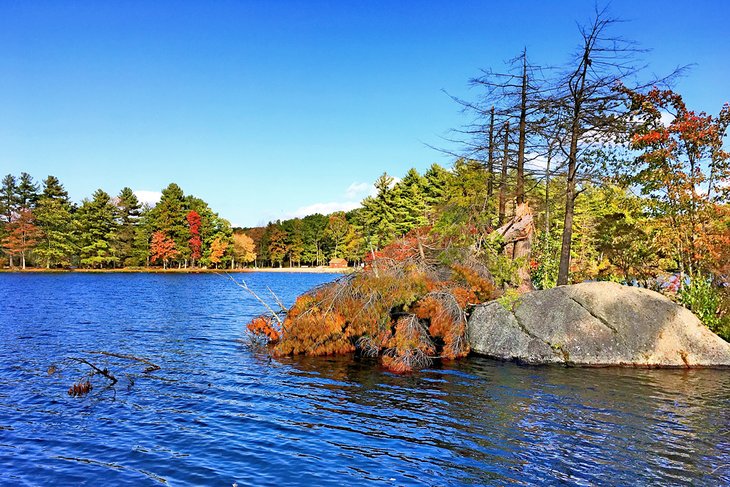 While summer is the best time to visit Burr Pond State Park for water-based fun, it's autumn that will have you gaping in awe at its majestic wonders. Don't forget to look up when wandering along the winding trails–the tree canopies are on fire in a kaleidoscope of fall's most vibrant colors at this time of year.