11 Best Places for Camping in Connecticut
Author Shandley McMurray lives in Connecticut and enjoys spending time in the state's beautiful outdoors.
It's easy to see why so many people enjoy camping in Connecticut. Home to spectacular waterfalls, magnificent lakes, and a multitude of wooded hiking trails, the state offers plenty of places to enjoy the great outdoors.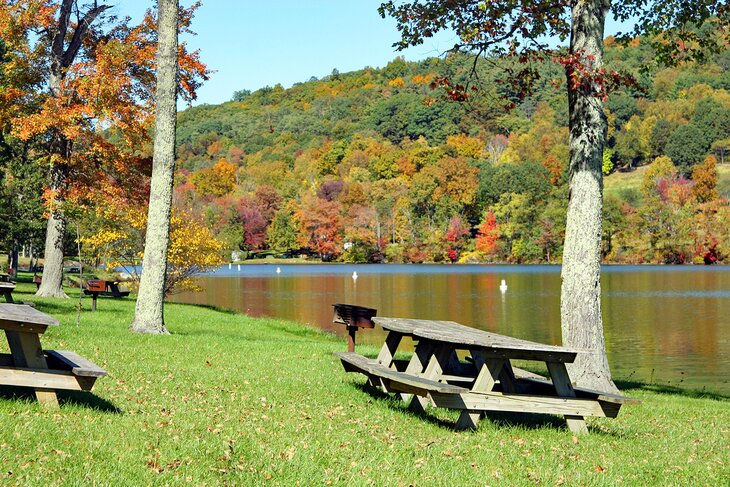 Luckily, there is a multitude of fantastic places to pitch a tent or hook up an RV in these nature-rich regions. The best campsites are usually found in the state parks, where important features like running water, toilets, and showers are on offer.
Whether you're hoping to camp under an open sky; fall asleep to the lull of a crashing waterfall; or roast marshmallows in the deep, dark woods, you're sure to find the perfect place to camp in Connecticut.
Note: Connecticut State Parks don't allow visitors to bring alcohol, pets, or firewood (due to fears over the environmental implications of bringing in foreign insects and diseases). You'll have to buy wood on-site to use for your fires.
Find your ideal campsite with our list of the best places for camping in Connecticut.
1. Hammonasset Beach State Park, Madison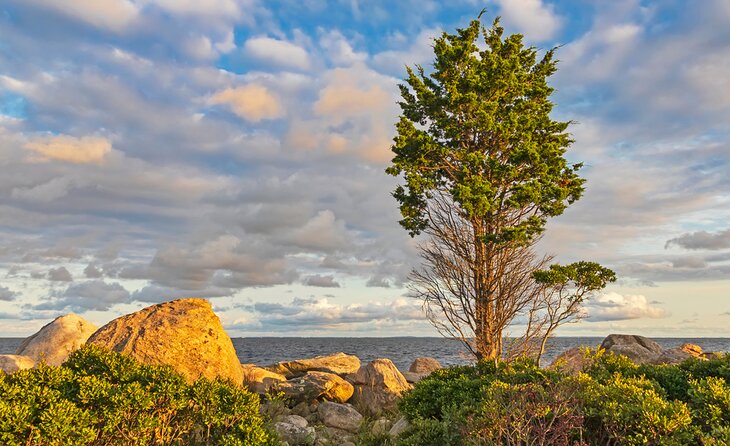 Hammonassett Beach State Park is home to one of Connecticut's best beaches. Spanning two miles along the shores of Long Island Sound, this soft, sandy beach is the place to be on a hot summer's day, especially if you're traveling with kids.
Load up your car with all the beach gear you require: kayaks, swimwear, towels, an SUP, and plenty of water and snacks. Once you arrive, you won't want to budge.
Hoping to stay longer? Who can blame you? The Hammonasset Beach State Park Campground (a.k.a. the William F. Miller Campground) is the perfect place to relax after a long day spent frolicking in the waves.
Open from Memorial Day thorough mid-October, it offers 558 sites, a camp store, trailer water, a playground, a volleyball court, an amphitheater, bathrooms with showers, and a dump station.
Those who prefer to camp in style can rent a rustic cabin. For those who'd rather enjoy a meal they didn't prepare, head to nearby Madison, an adorable town dubbed one of the best beach towns in Connecticut.
2. Rocky Neck State Park, East Lyme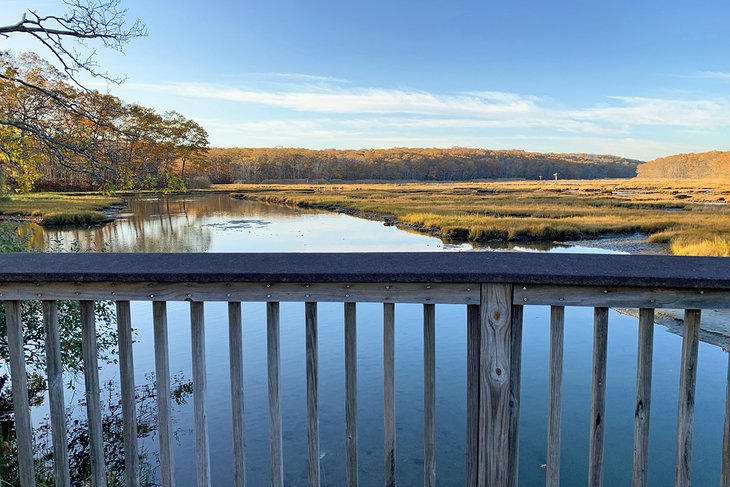 Rocky Neck State Park is by far one of the best State Parks in Connecticut. It is home to a half-mile, crescent-shaped beach and over 700 acres of diverse parkland.
Five miles of hiking and mountain biking trails wind their way around the west edge of the park and salt marshes, and a marine estuary bisects the area, making it a perfect place to visit to fish, look for wildlife, scuba dive, or swim.
Campers can squat at one of 160 sites in the park's large campground between May and September. If you're traveling with a trailer or RV, be warned: there are no hookups at the Rocky Neck State Park Campground.
Drinking water taps can be found throughout the site, and there are central toilet buildings for each camping circle. These include showers, which make it easy to clean off the muck acquired from a full day of exploring.
The area reserved for tent camping also houses pit and composting toilets. Purchase firewood at the camp office for use in your on-site fire ring. A note: the park is not accessible to campers between sunset and 8am.
3. Lake Waramaug State Park, New Preston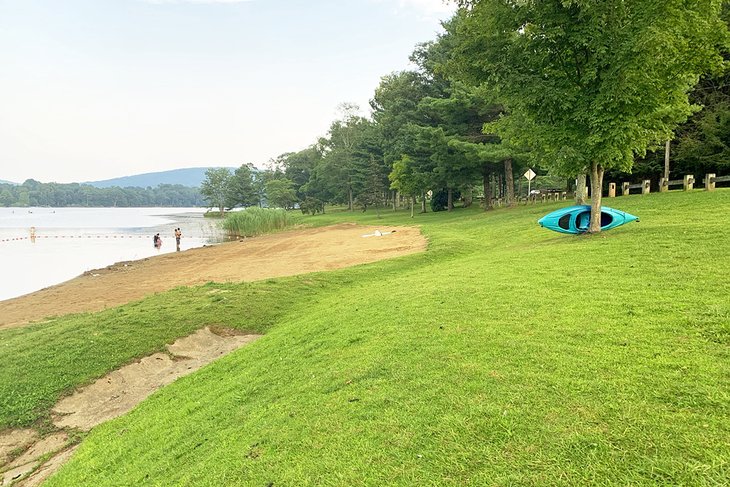 The main attraction in Lake Waramaug State Park is extremely hard to miss. The massive sparkling lake on which this park's name is based can be seen from pretty much every angle. A sprawling 96 acres welcome visitors to this stunning park.
A soft, sandy beach stretches along the shore near the main parking area, welcoming kids of all ages (and their accompanying adults) to frolic in the refreshing water. Canoe, kayak, swim, or paddleboard. The options for water-based fun are seemingly endless.
The Lake Waramaug State Park Campground is one of the best places to camp in Connecticut for families. With 76 open and wooded sites to choose from, all of which offer lake views, it's easy to fall in love with this pretty spot. And there are plenty of places for the kids to run around.
On-site, you'll also find amenities like bathrooms, showers, and a dumping station. Picnic areas and shelters are also available, as are water stations and a canoe rental. If you'd rather rest on a padded bed, rent a cabin.
4. Devil's Hopyard State Park, East Haddam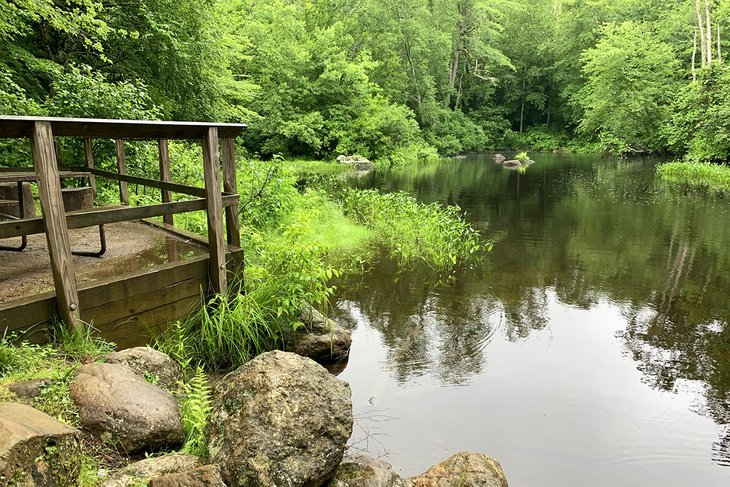 If you're looking for a tranquil spot to camp, you'll find it at Devil's Hopyard State Park. Despite its strange name, this natural nirvana is a sight to behold. Its main feature is a large, cascading waterfall named Chapman Falls, one of the best waterfalls in Connecticut.
You won't want to miss snapping a selfie and dipping your toes in the cool water. The park is traversed by multiple hiking trails and offers plenty of fab bird-watching and fishing spots, perfect for all nature lovers.
Devil's Hopyard State Park is also home to a top campground. Its 21 wooded sites are serenely situated near the waterfall, which means you'll be lulled to sleep by the sound of water crashing nearby.
Note: campers must bring their own drinking water, as the water at this campsite is unsafe to drink. Also, while guests can fish in the streams, swimming isn't allowed here.
Facilities include toilets, trash receptacles, a camp office, and a horseshoe pit. The campground is open from early April through early October.
5. Macedonia Brook State Park, Kent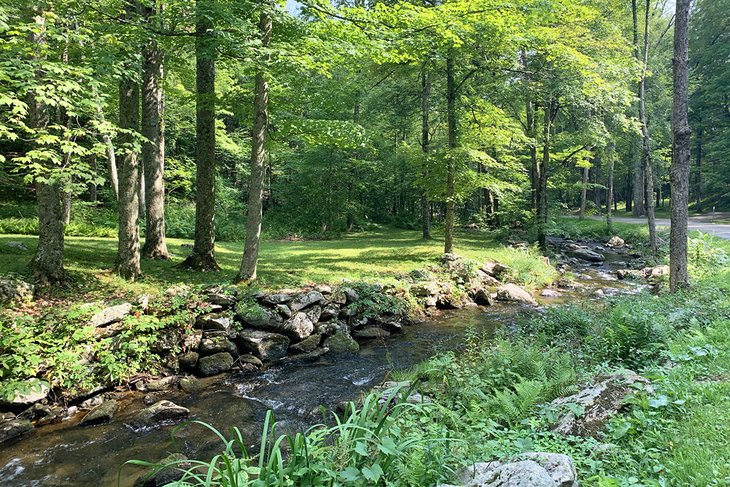 Macedonia Brook State Park is a 2,300-acre wonderland bursting with natural beauty and birdsong. Bubbling streams wind their way through the area, crossed by wooden bridges and lined by ancient rock walls.
Grills, picnic tables, covered pavilions, and unassuming outhouses are peppered throughout the grounds. No wonder it's one of the best places to visit in Connecticut.
Nestled quietly on the Blue Trail, which leads up Cobble Mountain and other area peaks, the park is home to a stellar campground worthy of at least a two-night stay. It's easily one of the best places for camping in Connecticut.
Choose from 51 sites, all set within a peaceful, rustic setting. Some sites lie in the woods, others in a meadow, and still more beside a stream. Choose the spot that's best for you.
While swimming isn't permitted here, campers can fish, hike along, or merely sit beside the peaceful waterways. Pit toilets, picnic tables, and drinking water are available.
Don't feel like cooking your meal over an open flame? Kent is a mere four miles away and offers adorable shops and tasty restaurants.
Also, firewood can be purchased on-site.
6. Black Rock State Park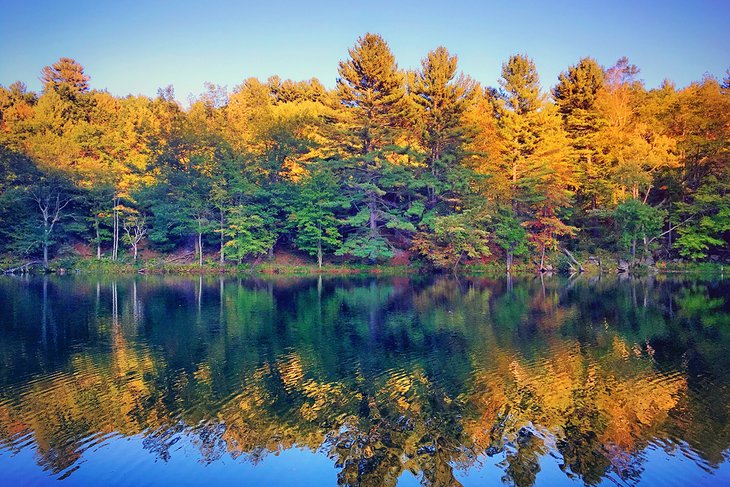 Black Rock State Park has everything you'd look for in a camping vacation. Set among the idyllic hills of the Western Highlands, this vast, 439-acre park is an outdoorsy person's dream destination.
It has steep and dramatic rocky outcroppings topped with verdant trees, dense forest, and the sparkling Black Rock Pond. Whether you're hoping to swim, fish, hike, or run about kicking a soccer ball in an open field, you can do it all right here.
This vast, rocky wonderland is also home to a large campground. Guests can stay at one of 78 sites, some wooded and others set in open clearings. There are bathrooms and showers on-site as well as a dumping station. Picnic areas abound, and a picnic shelter makes it easy to find shelter from the rain. Swimming and fishing are both permitted.
Glampers will enjoy staying in the rustic cabins available for rent. As is the case with most campsites in Connecticut State Parks, no pets are allowed to visit this campground. Note: The campground is open from early April through early September.
7. West Thompson Lake, North Grosvenor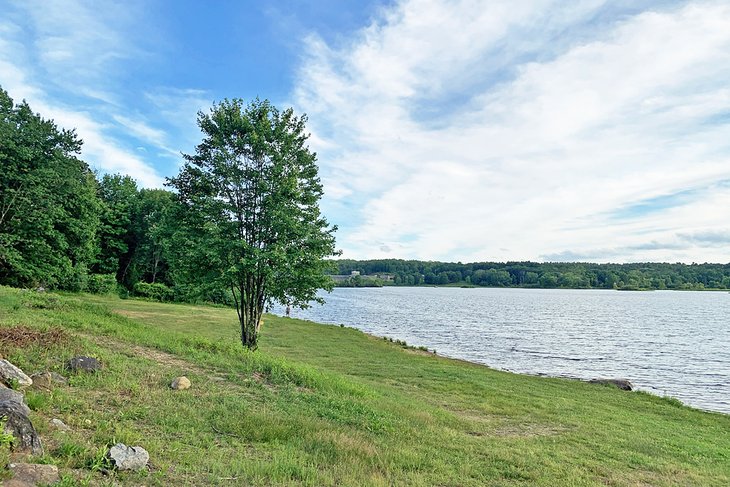 While swimming is prohibited in the 200-acre West Thompson Lake, there are plenty of other ways to enjoy this scenic camping spot. Hop in a kayak or canoe, go fishing for bass, or hike through the multiple trails that wind their way through the dense forest.
Besides roasting marshmallows, the most popular activity at the area's West Thompson Lake Campground is trying your luck on a challenging 18-hole disc golf course. A small deposit will garner access to frisbees your group can borrow for a few hours of fun. Be sure to pack water, as there's little shade on many of the holes.
The campground boasts 11 campsites with water and electricity hookups. Another 11 more basic sites are also available without these amenities. Two additional sites include Adirondack lean-to shelters, which can serve as extra cover for a small tent or picnic table. Speaking of picnic tables, all sites come with one, so you won't have to worry about lugging extra equipment.
The campground is home to clean facilities that include showers and restrooms and multiple walking trails through the forest. A basketball court, amphitheater, playground, and horseshoe pit keep kids happily entertained. Make your way to the dam for the most spectacular vistas.
8. Kettletown State Park, Southbury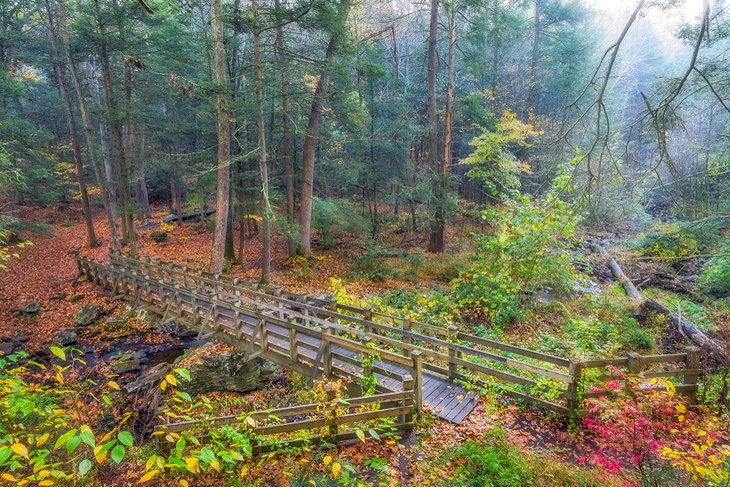 While swimming isn't currently permitted at Kettletown State Park (due to blue/green algae blooms), there are plenty of other ways to enjoy this lovely spot. The man-made Lake Zoar borders the park, offering guests a serene place to fish, boat, and take photographs.
Six miles of hiking trails traverse the area, so you're in luck if you'd like to explore or bike through 605 acres of enchanted woods. The panoramic lake views are particularly spectacular. Have a horse? Bring him (or her) along for a ride through the forest.
The park's campground has 61 campsites on offer, both in partly wooded and open areas. Also on-site are an amphitheater, dumping station, drinking water taps, restrooms, and showers. Six cabins are available to rent if you're not a fan of hauling a tent.
RVs and trailers must be no more than 28 feet long to stay here.
9. Bigelow Hollow State Park and Nipmuck State Forest, Union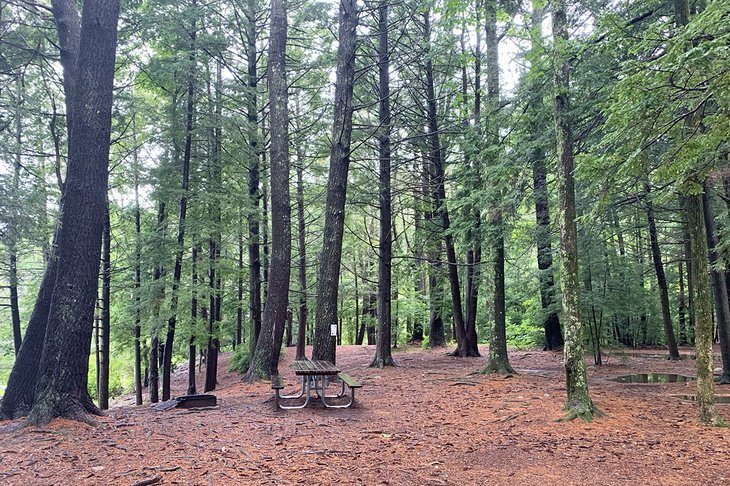 As if Bigelow Hollow State Park wasn't impressive enough on its own, this lush woodland becomes massive when combined with the adjoining Nipmuck State Forest. Between them, the parks offer over 9,000 acres of land to explore, including three large ponds primed for fishing, swimming, and scuba diving.
Expect to find a stunning mix of shimmering water, craggy rocks, and towering evergreen and deciduous trees. Camping here is a must! To do so, though, visitors must apply through the Eastern District Headquarters of DEEP.
The Breakneck Pond Campsite is found at the mid-western edge of Breakneck Pond, far into Nipmuck State Forest. You'll need to hike here with all your gear.
Known as backpack camping, this is a more tranquil camping experience, where visitors can truly become one with the land. A nearby helipad allows interested guests to helicopter in.
10. Harkness Memorial Park, Waterford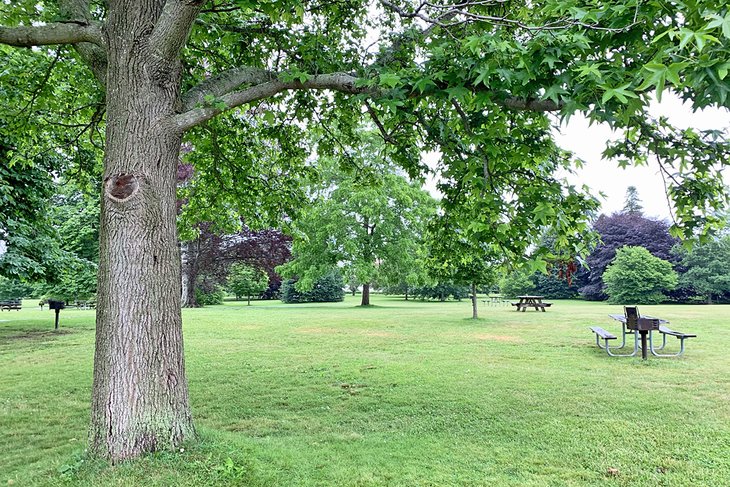 If you're looking for a glimpse into the lives of the upper echelon, you'll find it at Harkness Memorial Park in Waterford.
Set upon 230 acres of land, this spectacular spot is home to Eolia, a grand mansion that once served as the summer escape for the Harkness family. Its lush gardens, perfectly manicured lawns, and towering trees are so inviting, you'll want to set up camp immediately.
Nearby Camp Harkness adjoins the park and offers seasonal cabin rentals and tent sites. Year-round cottages are available for those who enjoy their nature in the off-season. There's only one catch: It is open exclusively for the use of campers with disabilities and their friends and family.
With 102 acres at their disposal, campers with special needs can enjoy a diverse selection of natural wonders—from open meadows to forest to a beach to tidal marsh. The activities are endless and include swimming, fishing, arts and crafts, and campfires, of course. This truly is a special place, and one of the best places to visit for families.
11. Water's Edge Family Campground, Lebanon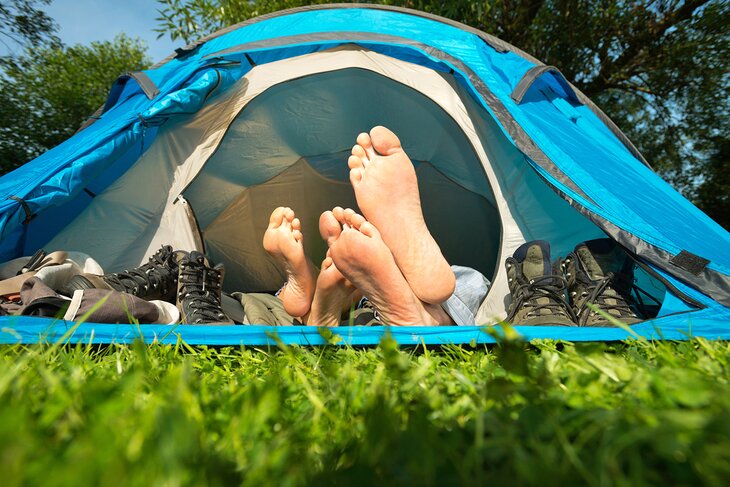 Psst, we want to let you in on a secret. Water's Edge Family Campground is one of the top campsites in Connecticut. The best part? Not a lot of people know it exists, so let's try to keep it that way.
Set on a beautiful, 10-acre spring-fed lake, this is one of the best places for camping with families (if you couldn't tell by its name).
There is a multitude of activities to keep everyone happily engaged at this entertaining campground. From fishing (catch and release only) to swimming to hayrides to treasure hunts to dances, this epic fun zone is much more than just a campsite—it's a community.
Group activities like bingo and movie nights are always on offer, while some activities like cook-offs, raffles, karaoke, and live band performances are on the schedule for certain weekends throughout the season.
Can't bear to leave Fido at home? Bring him along. Water's Edge is a dog-friendly campground and boasts its own Bark Park for your favorite furry friends. The site is open from mid-April through mid-October and boasts sites for tents and RVs as well as cabin rentals.
Address: 271 Leonard Bridge Road, Lebanon, Connecticut