17 Top-Rated Things to Do in Litchfield, CT
A charming village peppered with historic buildings, Litchfield is an easy place to love. Located 50 minutes east of Hartford and 80 minutes northeast of Stamford, this beautiful town is a popular weekend destination that boasts a ton of fun things to do. You won't want to miss it!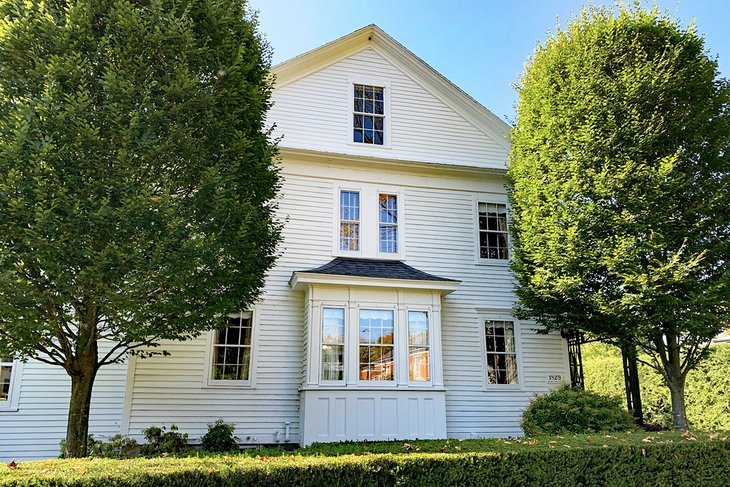 Time slows in this picturesque storybook village, which comes complete with a lush town green, white-spired church, and phenomenally preserved homes that date back to the 18th century. Litchfield also offers a slew of eclectic shops and great restaurants to please even the pickiest of travelers. If you were hoping to slow down and enjoy a quiet day out, this is the place to be.
Upping Litchfield's wow factor are the verdant forests and expansive lakes that lie just outside its borders. Be sure to pack a camera, especially if you're visiting during peak fall foliage season. Hiking, biking, boating, fishing, and skiing are all popular activities in this spectacular Nutmeg State locale. Be sure to dress appropriately, as you'll be tempted to spend a lot of time exploring the elysian countryside.
Before you go, plan your visit with our list of the top things to do in Litchfield, Connecticut.
1. White Memorial Conservation Center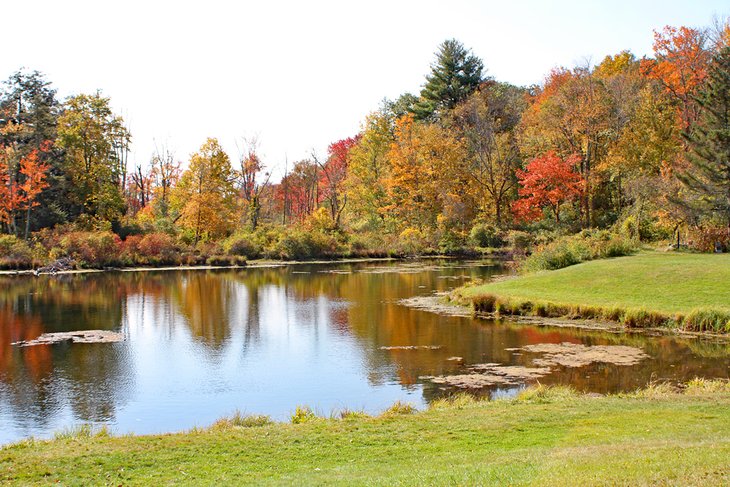 If you're looking for serenity, you'll find it at the White Memorial Conservation Center. Boasting 4,000 luscious acres of forest, wetlands, and fields, this natural wonderland is a lovely place to visit. If you're hoping to take unbeatable photographs, arrive in mid to late October for the most magnificent autumn hues.
The center's sprawling grounds include 10 ponds and 40 miles of trails fit for bikers, hikers, horseback riders, cross-country skiers, and snowshoers. Along them, you'll find signs (some in Braille) to teach you about the area's remarkable trees, shrubs, and wildlife. You can also camp on-site.
The Nature Museum is housed in "Whitehall," which once served as the summer home of original owners Alain and May White. It's in this attraction that tourists are introduced to interesting information about the area's natural history.
Ongley Pond is a perfect place to visit to spot turtles sunning themselves. Near Beaver Pond, you'll find ruins of a Japanese Tea House once used by the Whites. The top of the viewing platform on Apple Hill provides unbeatable views of Bantam Lake.
Address: 80 Whitehall Road, Litchfield, Connecticut
Official site: https://whitememorialcc.org/
2. Topsmead State Forest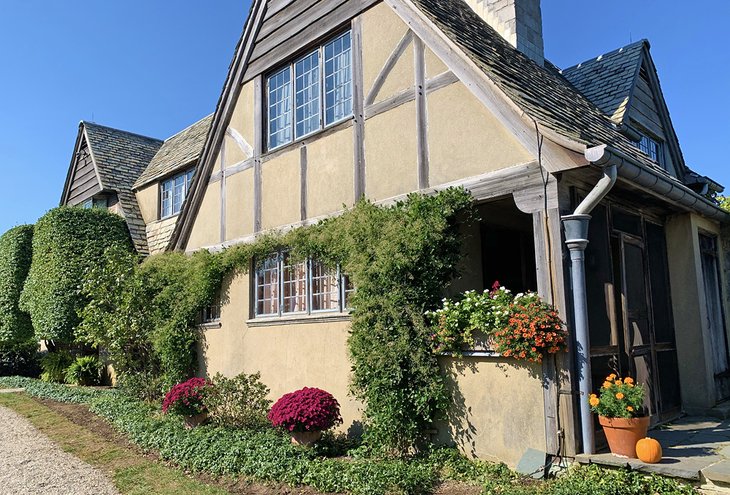 Once a lavish summer estate belonging to businesswoman Edith Morton Chase, this picturesque state park is a popular spot for picnickers, hikers, and families craving fresh air. Open from 8am to sunset, this lovely forest is peppered with stone walls, towering pines, and magnificent views across the Litchfield Hills. You'll be forgiven for thinking you've arrived in the UK.
Miss Chase's sweet cottage is one of the highlights of Topsmead State Forest. An English Tudor-style home designed by architect Richard Henry Dana, Jr. in 1923, this tastefully decorated home transports visitors back in time. Free guided tours are offered on the second and fourth weekends of June through October.
When you're not exploring the 17th- and 18th-century furnishings or the magnificent gardens surrounding the home, take to the trails. The Edith M. Chase Ecology Trail is a great way to learn more about the area's natural wonders, as it's lined with informative signs.
Insider's tip: Walk the Meadow Path from the house, cross the dirt, and head for Bird Blind. Next to it, you'll find the Orintas Family Butterfly Garden, which is particularly pretty in summer.
3. Visit the Village Green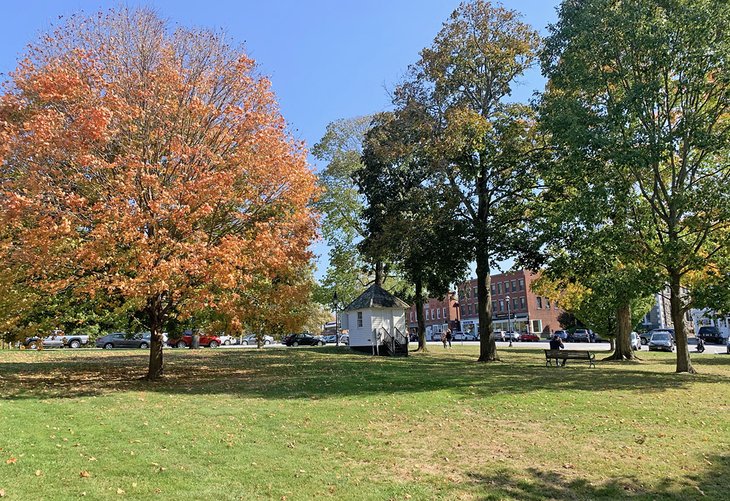 You'll find the bustling heart of Litchfield nestled around the Village Green in what is technically the Litchfield Historic District (more on that below). The Green runs between North, South, East, and West Streets and features a perfectly manicured lawn spotted with benches and giant trees.
You'll find children playing tag or catch while adults lounge in the sun or enjoy takeout from one of the restaurants located across the street. Ollie's Pizza is a perfect place to grab food to go, and the pizza boxes can serve as plates.
If you're hoping for a sit-down meal, be sure to pre-book a reservation, especially during the popular summer and fall months. The Village Restaurant (on West Street) has been a local fave since the 1950s. Hearty fare, including eggplant parmesan and chicken Marsala, grace its menu.
Other tasty spots include @ The Corner (also on West Street) for phenomenal pomegranate truffle Brussels sprouts and The Bakehouse (on North Street) for coffee, tea, and delectable treats.
When you're not mowing down, visit the area's eclectic boutiques. The Silly Sprout is an adorable toy shop while Workshop Inc (hidden in an adorable courtyard behind @ The Corner) sells sophisticated women's clothes and handcrafted jewelry.
4. Litchfield Historic District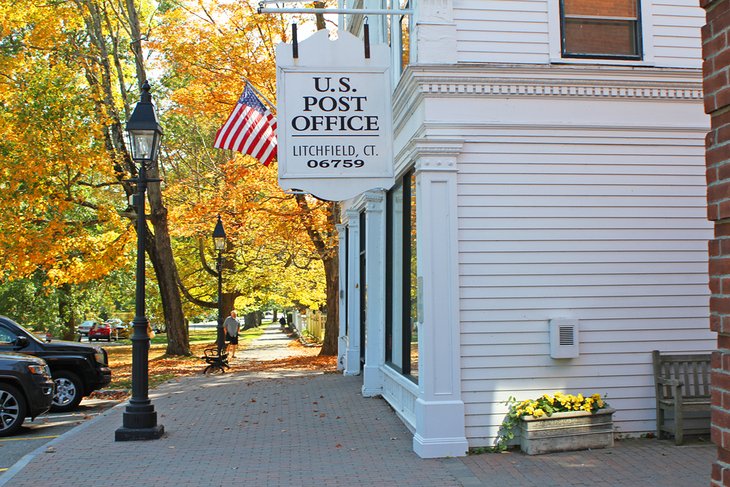 More than 475 buildings are included in the Litchfield Historic District, which is one of the best places to visit in town. Each is listed on the National Register of Historic Places, and in 1959, the entire borough was deemed a state historic district.
The main historic area is bordered by Talmadge Avenue in the north, South Lake Street in the west, Rogers drive in the east, and Camp Dutton Road in the south. It includes an incredibly well-preserved collection of structures that bring 18th-century New England to life.
The most gorgeous, well-preserved buildings line popular North, West, and South streets and feature architectural styles that include Georgian, Victorian, and Greek Revival. The Tapping Reeve House and Law School and Litchfield Historical Society are two of the most visited attractions.
The Village Green, lined by the popular shops and restaurants mentioned above, is one of the area's highlights. It is the impeccable architecture and immaculate lawns and gardens, however, that entice visitors to let the beauty of the area massage their worries away.
5. Litchfield Historical Society and Museum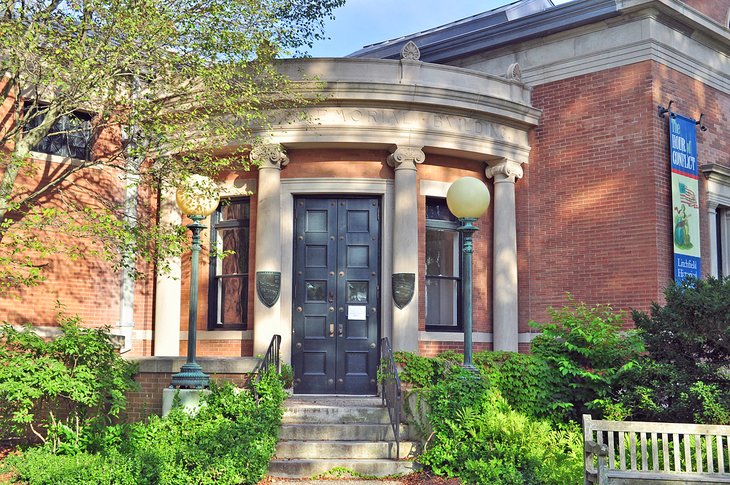 History buffs will love the Litchfield Historical Society and Museum. Inside the Noyes Memorial Building, you'll find the Litchfield History Museum, which features hands-on exhibits and interesting artifacts that highlight the town's storied past. The exhibits, which change periodically, follow Litchfield's history from its settlement in 1719 to today.
Be sure to time your visit right. The museum is only open on Tuesdays through Sundays from mid-April through November.
Below the museum, on the ground floor of the building, you'll find the Helga J. Ingraham Memorial Library. While you can't borrow the historic materials, a librarian can help you uncover interesting papers, photographs, and publications that outline the town's past.
Insider's tip: The historical society provides self-guided walking tour maps for $2. Or you can download and print a free version from their website.
Address: 7 South Street, Litchfield, Connecticut
Official site: https://www.litchfieldhistoricalsociety.org/
6. Tapping Reeve House and Litchfield Law School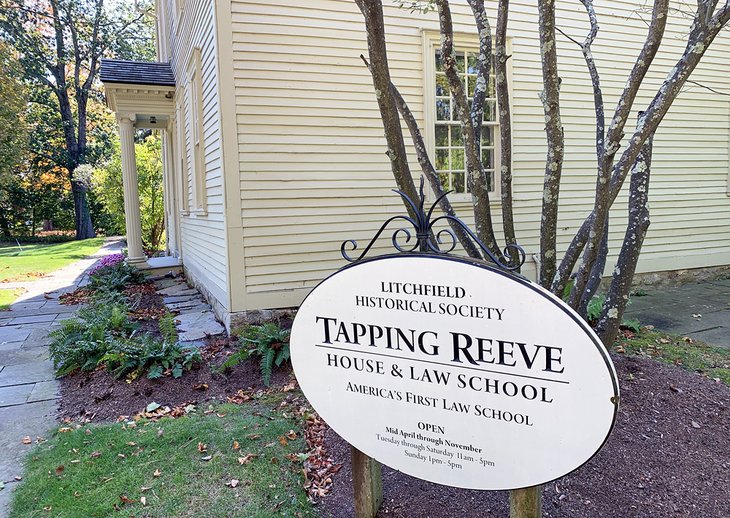 While the Tapping Reeve House and Litchfield Law School (the first law school in the United States) are impressive, it's the grounds (known as Tapping Reeve Meadow) that will have you wishing to move in.
Have kids in tow? Great! This is one of the best attractions for families in Litchfield. The meadow was once a kitchen garden behind the school. Today, it houses a children's garden, educational pavilion, small apple orchard, wet meadow, and a chestnut grove. It is free to wander around and often hosts educational programs and activities.
Inside the house, visitors are taken on a journey back to the 19th century. Through interactive exhibits and role-playing (yes, you can don period costumes), you'll experience what it was like to be a law student at this time.
Insider's tip: Don't skip the introductory video. It will teach you about the influential people (including two vice-presidents and numerous congressmen and senators) who studied here.
7. Ripley Waterfowl Conservancy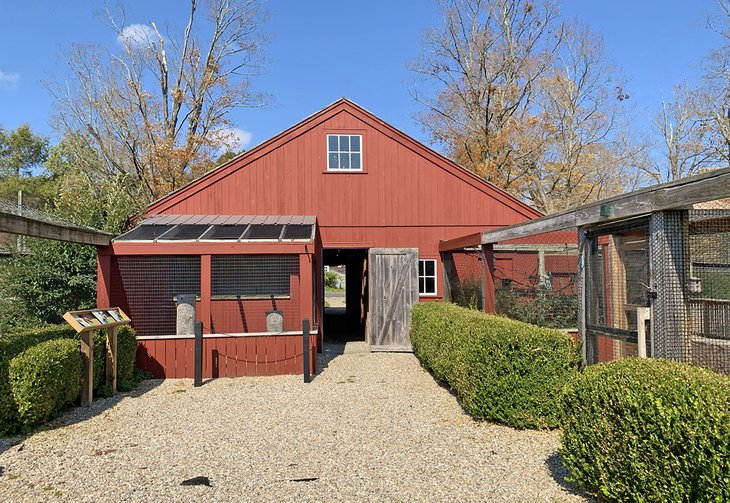 It's easy to lose your worries in the Ripley Waterfowl Conservancy. More than 60 species of waterfowl (including ducks, owls, cranes, and raptors) greet visitors to this 16-acre conservancy, enchanting them with their grace and beauty.
The conservancy's goal is "to mend what is broken and help to provide waterfowl with the best chance of survival." In this vein, rare and endangered birds live among the area's expansive aviaries, open ponds, and fields.
The family-friendly conservancy is open from 10am to 4pm Friday through Sunday from May through November. Take a self-guided walk around the property or we highly recommend booking a 1.5-hour guided sightseeing tour.
Always wanted to get up close to a hawk? Book a falconry experience for your chance to have a bird of prey fly to your hand.
Address: 55 Duck Pond Road, Litchfield, Connecticut
Official site: https://www.ripleyconservancy.org/
8. White Flower Farm Store & Display Gardens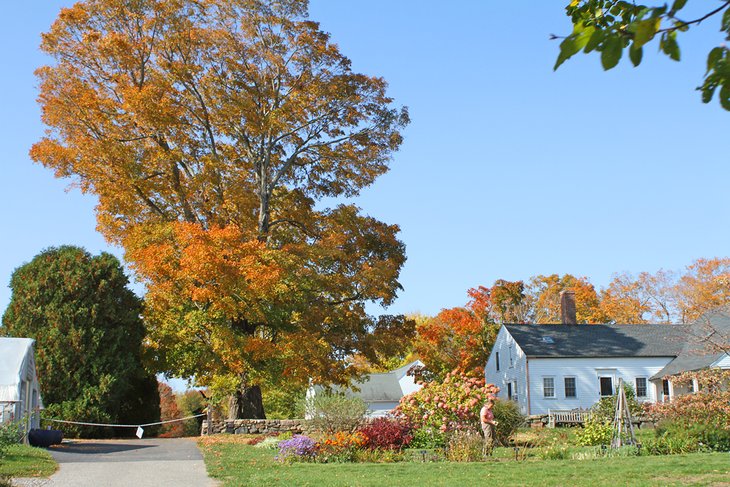 White Flower Farm is a horticulturalist's dream spot, located 3.5 miles south of Litchfield. In addition to a vast array of shrubs, perennials, and trees, the farm boasts extravagant display gardens that will leave your mouth agape. This family-owned nursery has been in business since 1950, and we bet you won't be able to leave empty-handed.
Vibrant blossoms paint the pathways in colors so beautiful, you'll want to bring them all home. The Lloyd Border garden boasts 280 feet to please all manner of green thumbs, while the rose, kitchen, and dahlia trail gardens are phenomenal backdrops for aspiring photographers.
Don't miss the giant Fagus sylvatica (a.k.a. Weeping European Beech) located on a hill just behind the main shop. It's one of the best things to visit at this farm, and kids will love squeezing between the weeping branches to play hide-and-seek. The store and gardens are open Thursdays through Sundays from 9am to 5:30pm.
Address: 167 Litchfield Road, Morris, Connecticut
Official site: https://www.whiteflowerfarm.com/visit-white-flower-farm
9. Mount Tom State Park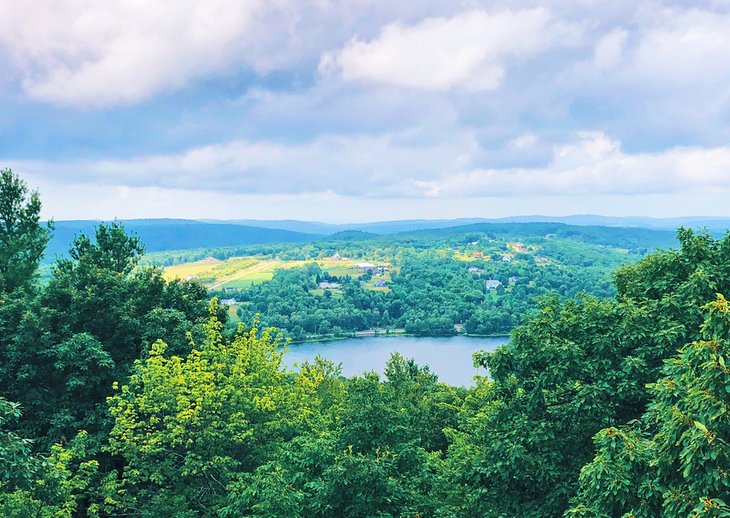 A mere seven miles southwest of Litchfield sits the beautiful Mount Tom State Park. Named for the majestic mountain that lies within its borders, this natural beauty was deemed a state park in 1915, making it one of the oldest in the state park system.
The park's most popular tourist attraction is a stone tower at the mountain's summit. A winning destination for hikers hoping for an impeccable view, the Tower Trail leads you to the top. Although it's less than a mile long, this path climbs nearly 500 feet. Be sure to wear good shoes!
Activities within the park include boating, fishing, scuba diving, hiking, and swimming. Hanging out on the beach is uber popular with families, especially in the summer, so arrive early to ensure you find a parking spot. Once the lot is full, the park closes to further visitors.
Address: Washington Depot, Connecticut
Official site: https://portal.ct.gov/DEEP/State-Parks/Parks/Mount-Tom-State-Park
10. St. Michael's Parish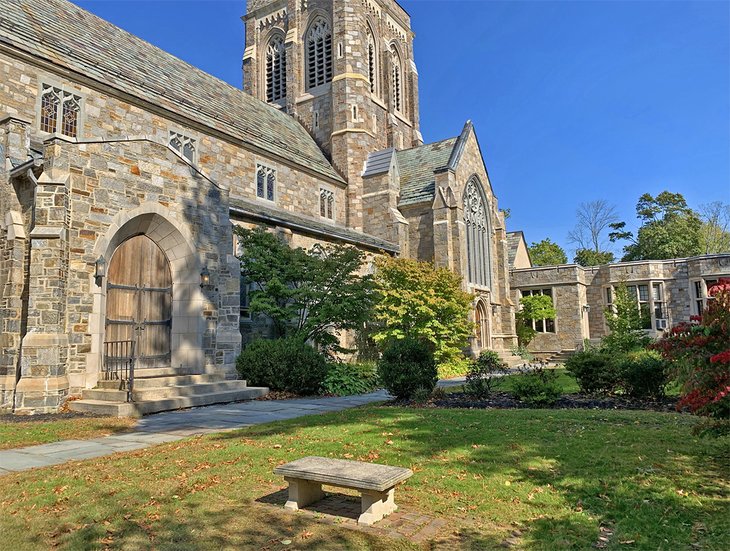 St. Michael's Parish first opened its doors in 1749, about a mile west of its current South Street location. In 1812, a new church was built in its present-day spot. It grew from a parish of 44 families to 100 by 1845.
In 1851, yet another new church (this time a Carpenter Gothic creation) was built on the site. This was replaced in 1920 with what comprises part of the impressive stone Gothic building that stands here today.
A community house (a large, open room that can host 100 people), parish house (which includes a library), and the church (which boasts gorgeous stained glass and wood carvings) cover the largest area of the property.
You'll also find the small Saint Michael's Meditation Labyrinth (which is actually more of a lawn) outside the beautiful wooden entry doors.
Address: 25 South Street, Litchfield, Connecticut
11. Mohawk State Forest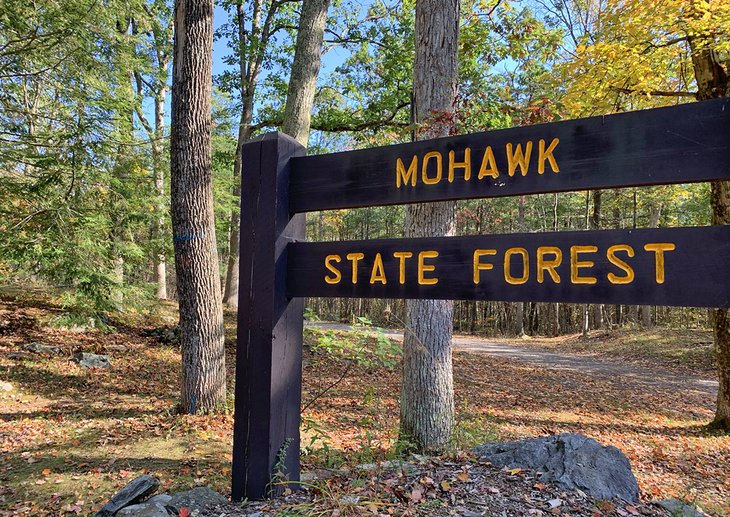 Back in 1921, Alain C. White (the same White of White Mountain Conservation Center) donated 250 acres of land to the citizens of Connecticut. Over the years that followed, his foundation gave close to 2,900 acres to create what is now Mohawk State Forest.
Today, the forest boasts over 3,300 acres of protected land, which includes the large Black Spruce Bog, a unique natural area that exemplifies a late-stage peat bog. This is easily viewed from a boardwalk and trail built to enhance the area's educational reach and protect it from human damage.
Mohawk State Forest is a fantastic place to hike, which is one of the best things to do in the area. It lies just 11 miles north of Litchfield. You'll find a slew of trails winding their way through dense trees and around streams and ponds. Stay quiet, and you may spot a deer, bobcat, or fox. Fishing is permitted on site.
12. Ski Mohawk Mountain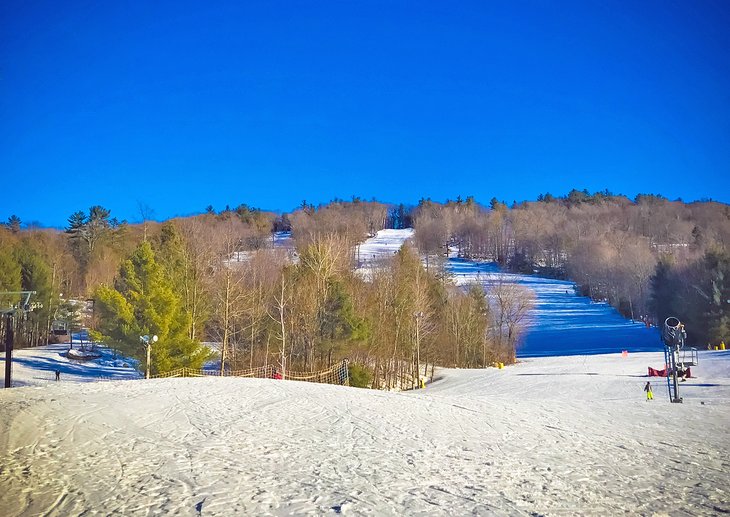 Swish down the 1,683-foot-tall Mohawk Mountain located in the state forest of the same name. You won't get bored spending a day at this pretty spot, which boasts 26 perfectly groomed trails, eight lifts, and 112 skiable acres.
It's a fun place to ski as a family. The highest vertical drop is 650 feet, and there are plenty of beginner and intermediate runs. Looking for a challenge? You'll find enough black diamonds to keep you busy.
The largest and oldest ski area in the state, Mohawk Mountain Ski Area was created by Walter Schoenknect, the brilliant mind behind one of the best ski resorts in Vermont: Mount Snow.
Skiers can use 16 of the trails at night and eat at one of two lodges-the Main Lodge near the entrance, or the ski-in, ski-out Pine Lodge (once home to the Schoenknecht family) located slightly further up the mountain on Pine Trail.
Address: 46 Great Hollow Road, Cornwall, Mohawk State Forest, Connecticut
Official site: https://www.mohawkmtn.com/
13. Action Wildlife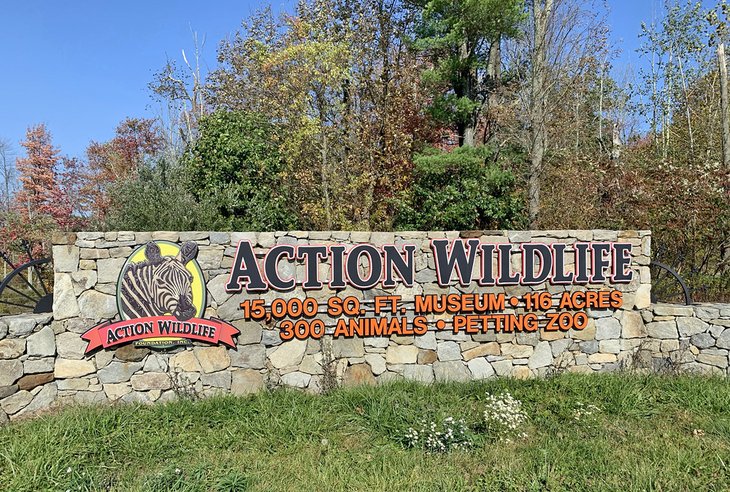 While this is nowhere near a true African safari, Action Wildlife in Goshen (a short 10-minute drive north of Litchfield) provides visitors with an enjoyable way to see wild and exotic animals up close. For only $5 per person, guests can drive and walk through this 115-acre outdoor zoo.
Bison, zebras, Watusi Cattle, goats, lamas, and water buffalo are among the animals that call this wildlife estate home. Stop your car and get out for a better view of the enclosed creatures, then pop back in to drive to the next section.
Action Wildlife is also home to a petting zoo and museum (complete with hands-on exhibits) to help children learn even more about the animals. An extra $1 a cup or $3 a bottle will pay for grain to feed animals in the petting zoo. Your kids will love it.
Insider's tip: Action Wildlife sometimes closes due to rain. It's best to call the day you plan to visit to be sure of their hours.
Address: 337 Torrington Road, Goshen, Connecticut
Official site: https://www.actionwildlifefoundation.com/
14. Step Back in Time at the Hotchkiss-Fyler House Museum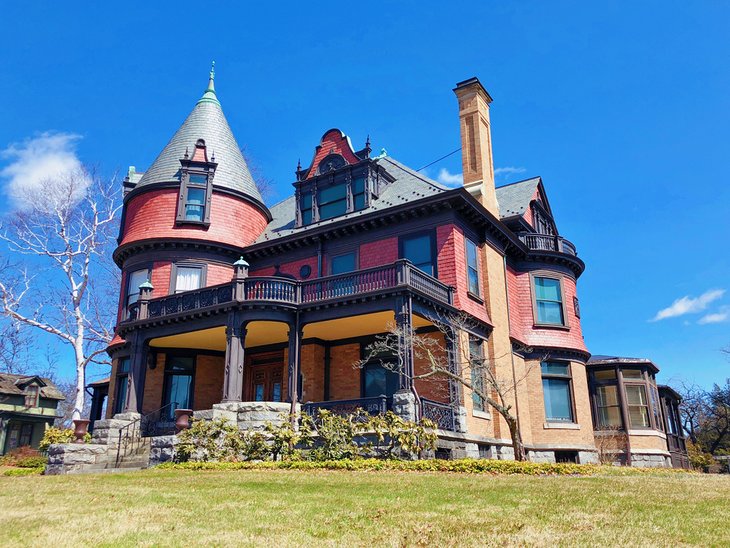 A 15-minute, six-mile drive northwest of Litchfield will transport you to the early-20th century at the Hotchkiss-Fyler House Museum. Also known as the Torrington Historical Society, this picturesque property features two large homes and a carriage house.
The main museum and Torrington Historical Society's headquarters are housed in a burgundy, chateau-style house circa 1897. Built as a home for Torrington politician, Orsamus R. Fyler and his family, the home was bequeathed to the society upon his daughter's death.
A stellar example of a Queen-Anne-style Victorian home, the estate has been listed on the National Register of Historic Places since 1987. The second neighboring home is where you'll find the Torrington History Museum, which follows the area's past from pre-historic times to today.
Address: 192 Main Street, Torrington, Connecticut
Official site: https://www.torringtonhistoricalsociety.org/overview1.html
15. Enjoy a Treat at Peaches 'n Cream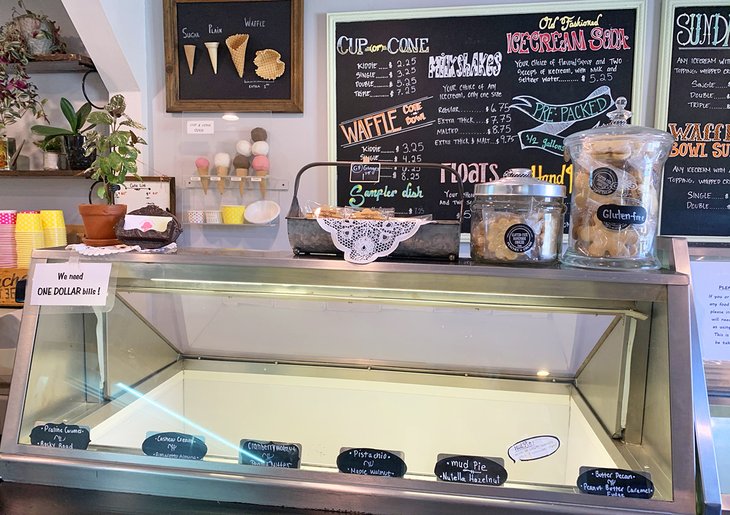 You'll be greeted with a smile and two counters filled with delicious treats at local favorite Peaches 'n Cream. Located on the Torrington/Litchfield line, this gourmet ice-cream parlor has been serving the most delicious homemade ice cream and sorbets for over three decades.
Owner Katerina Karavasili recently took over the business from prior owner Dave Redente. She added gluten-, dairy-, and sugar-free treats to the menu, as well as specialty coffees, teas, and Greek cookies (an homage to her heritage).
It's easy to fly by this sweet little house at the side of busy Torrington Road if you aren't paying attention. Despite its less than ideal locale, Peaches 'n Cream is always busy - a testament to the friendly service and lip-smackingly good fare. It's open Sunday through Thursday from 12pm to 8:30pm and from 12pm to 9pm Friday and Saturday.
Address: 632 Torrington Road, Litchfield, Connecticut
Official site: https://www.peachesncreamct.com/
16. Visit a Covered Bridge in West Cornwall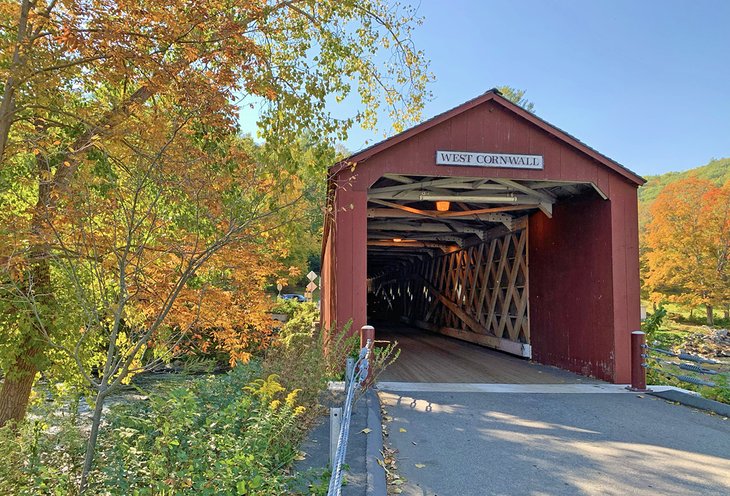 Although not in Litchfield per se, the lovely West Cornwall Covered Bridge lies only 12 miles northwest of the village. Listed on the National Register of Historic Places, this charming red bridge spans the Housatonic River, begging photographers to snap a few pics of its lovely façade.
Visit during the height of autumn for the best photo-ops. The vibrant reds, yellows, and oranges bursting from its neighboring trees enhance the bridge's rustic glory. Be sure to roll down the windows as you drive across. The echo of the wooden boards under your tires is enchanting.
The original bridge was erected at this site in the early 1760s but has been altered since then to keep up with challenging conditions, including fires and flash floods due to hurricanes.
The current bridge is thought to have been built in 1864 but has been updated to ensure the safety of its travelers. It has been raised and had steel supports added to its underside to strengthen the road.
Although it's painted the red of a quintessential New England covered bridge, this structure was originally a weathered grey.
Address: 7 Pine Street, Cornwall, Connecticut
17. Enjoy a Time-Out at Knife Shop Falls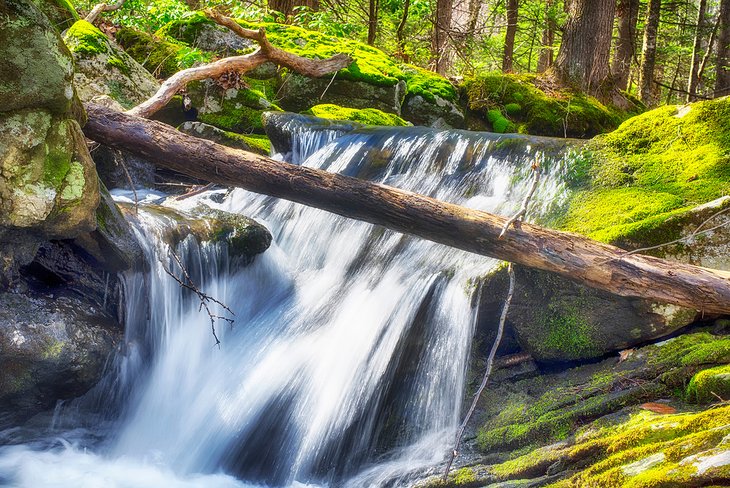 Despite its unique name, you won't find knives at Knife Shop Falls. In fact, the sharpest objects you'll spy in this area are a few broken rocks near the cascade.
One of the best waterfalls in Connecticut, this series of falls (three, to be exact) is tranquil enough to make you forget about your worries. The falls are set within Humaston Brook State Park and can be easily reached via a quick hike.
You'll hear the falls before you see them, so follow your ears. In their entirety, the falls plunge over 35 feet, taking dramatic twists and turns throughout their descent.
Surrounding the falls are ruins of the Northfield Knife Company, one of the area's main businesses from the mid-19th to early 20th-centuries and the namesake of this beautiful place to visit.
Pack a picnic if you're hoping to make a day of it, and be sure to wear hiking shoes, as the rocks near the falls can get slippery.
More Related Articles on PlanetWare.com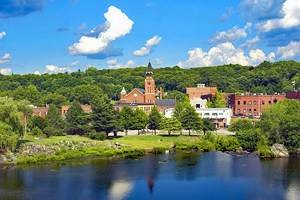 Spend a Weekend in Connecticut: A perfect place to visit for a few days, Connecticut has a ton of fun attractions on offer. Whether you're hoping to hit the beach, visit a charming small town, or ride a rollercoaster, you won't be bored in this lovely state.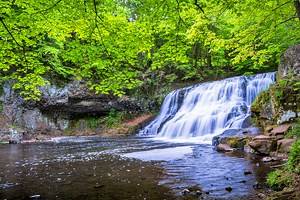 Get Outside in Connecticut: One of Connecticut's most prized features can be found in its natural surroundings. From hiking along thundering waterfalls to swimming in vast, sparkling lakes, you'll love spending time in the great outdoors in the Nutmeg State.