15 Top-Rated Things to Do in Bridgeport, CT
If you happen to be in Connecticut or have extra time during your trip to New York City, you may want to put Bridgeport on your list of places to visit. An hour and 12 minutes east of NYC by Metro-North, this bustling city (the fifth largest in the state) is a fun day-trip destination with a slew of things to do.
Along the waterfront, visitors can hit the beach at Seaside Park or grab a bite of fresh seafood after window shopping along the boardwalk at Captain's Cove Seaport. Further inland, guests can climb and zipline through the trees in the Adventure Park or get up close and personal with a sloth at the state's only zoo.
Unleash your inner scientist at the Discovery Museum and Planetarium, get cultured in the Housatonic Museum of Art, or learn about the eclectic showman P.T. Barnum in a museum dedicated to the circus master. There are plenty of ways to spend a day sightseeing in this lively spot.
Before you visit, map out your day with our list of the best things to do in Bridgeport.
1. Become a Scientist at the Discovery Museum and Planetarium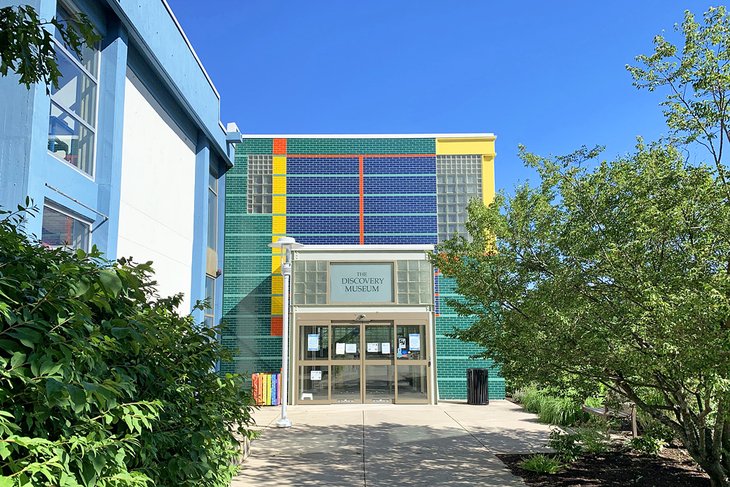 It's easy to see why the Discovery Museum and Planetarium is deemed one of the best attractions in Bridgeport for families. An intriguing and highly interactive museum, this fun spot entertains as it teaches. It's so popular that it often books up, so buy your tickets in advance.
Exciting exhibits include the Science in Flight section, which allows guests to become scientists by participating in interactive experiments. Tourists of all ages can build and launch their own rockets and use a flight simulator.
There's also the Hall of Space, which allows guests to travel through space and learn about the universe with the help of immersive tools. The Sensational Senses area guides visitors on a journey using all of their senses, teaching them to understand how amazing their body actually is.
Most exciting for little ones is the Teddy Bear Triage section. Here, guests who've brought along their favorite stuffed animals can learn teddy bear first aid. They'll be taught to help their fluffy friends by doing everything from performing a checkup to applying bandages to using splints.
Also on-site is the impressive Henry B. duPont III Planetarium, a hit with kids and adults alike. Shows are held in a full-dome theater with a massive 33-foot diameter dome. They last about 30 minutes and transport visitors to a galaxy far, far away.
Address: 4450 Park Avenue, Bridgeport, Connecticut
Official site: http://discoverymuseum.org
2. See a Giant Anteater at Connecticut's Beardsley Zoo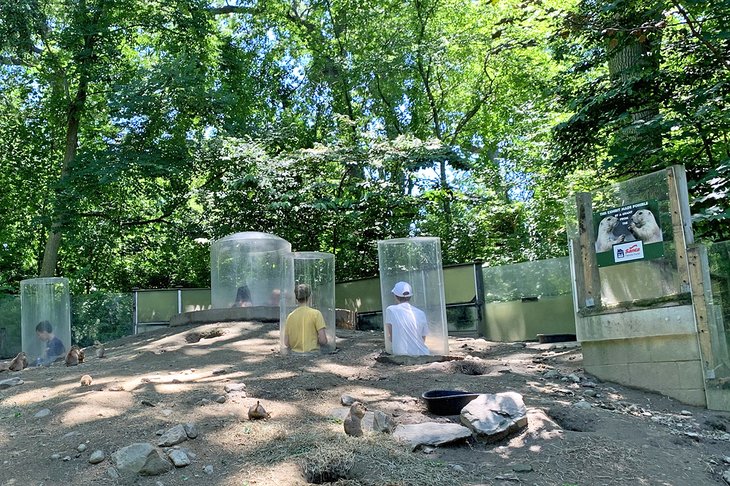 Tigers and sloths and spider monkeys, oh my. You'll see a slew of animals in the adorable Beardsley Zoo. A palatable size for those who'd rather spend a couple of hours instead of a whole day at a zoo, this intimate tourist attraction is packed with fun and over 300 animals.
The only zoo in the state, Beardsley offers visitors an easily walkable experience divided into five main sections: the Walk-Through Aviary, Alligator Alley, Rainforest Building, Pampas Plains, and New England Farmyard.
Guests can get up close and personal with prairie dogs by crawling through tubes that lead into their homestead. They can watch a bald eagle walk through a stream in its open-air enclosure, and giggle while witnessing the friendly play session between the black panther and Amur leopard.
When hunger hits, as it tends to at the zoo, the Peacock Café offers the usual child-friendly attraction fare. A kid-approved bonus: the children's meals include a toy animal to take home. Before you leave, take a ride on the carousel and stop in the Greenhouse to glimpse the giant koi.
Insider's tip: Zoo tickets can only be purchased online, so be sure to order them before you leave home.
Address: 1875 Noble Avenue, Bridgeport, Connecticut
Official site: https://www.beardsleyzoo.org
3. Zip through the Trees in The Adventure Park at the Discovery Museum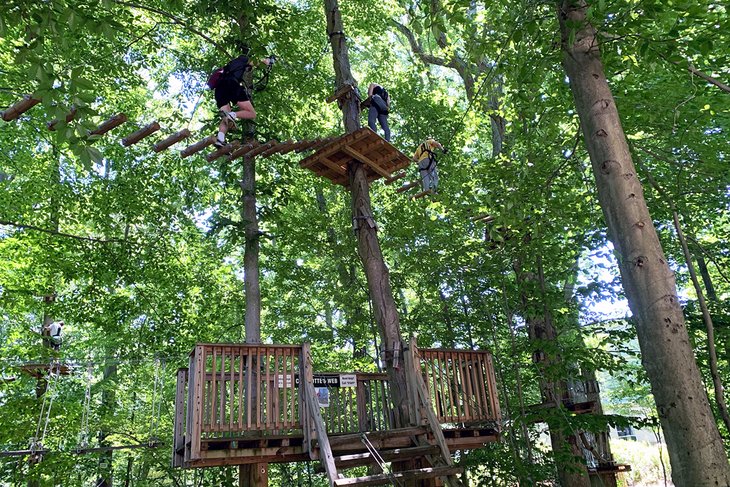 Connecticut's largest aerial adventure park lies just outside the walls of the Discovery Museum and Planetarium. Known, fittingly, as The Adventure Park, this uber exciting attraction is by far one of the best things to do in Bridgeport for families.
Choose from 13 treetop trails and 180 challenges (we're talking ladders, bridges, and moving steps) divided by skill level. All are set within five leafy acres filled with trees. Each course features multiple opportunities to zipline from one section to another, adding even more fun and excitement to the experience.
Never climbed before? No problem. A mandatory instructional video shows you the ropes (get it?) while helpful staff are there to guide you through a practice on the mini course before you head into the trees.
Once you've finished climbing, head over to the outdoor axe throwing area to test your skills. Or up your game by visiting the ropes courses at night to enjoy Glow in the Park. LED lights line the trails and ziplines, and music is pumped through the area to boost your energy level.
Insider's tip: Bring gloves or buy a pair at the on-site shop to protect your hands from blisters.
Address: 4450 Park Avenue, Fairfield, Connecticut
Official site: https://myadventurepark.com
4. Hit the Beach at Seaside Park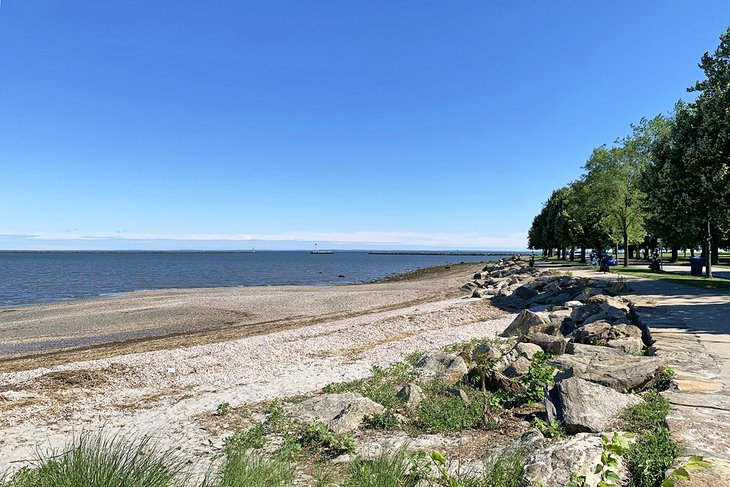 Thousands of Bridgeport residents flock to Seaside Park each summer. The city's best waterfront destination, this is the perfect place to take a dip in the Long Island Sound, play a game of beach volleyball, enjoy a grassy picnic, or try your hand at sailing or kayaking.
This 325-acre park boasts lush lawns, sports fields, walking and biking paths, clean beaches, and plenty of shaded glens in which to enjoy a refreshing sea breeze. Covering nearly three miles of coastline, the park offers plenty of space to stretch out.
At the park's western edge lies Fayerweather Island, a natural wildlife preserve easily reached by walking across the rocks on the breakwater. This is also home to a picturesque lighthouse dating back to the early 1820s. It is situated near the entrance of Black Rock Harbor and is one of the most serene places to visit in Bridgeport.
Insider's tip: You'll need a park sticker to visit if you're traveling by car. These can be purchased by the Seaside Park Arches, Seaside Park West Beach, Beardsley Park, and the Parks and Recreation Department. Biking or walking in is free.
Address: 1 Barnum Dyke, Bridgeport, Connecticut
5. Grab a Bite at Captain's Cove Seaport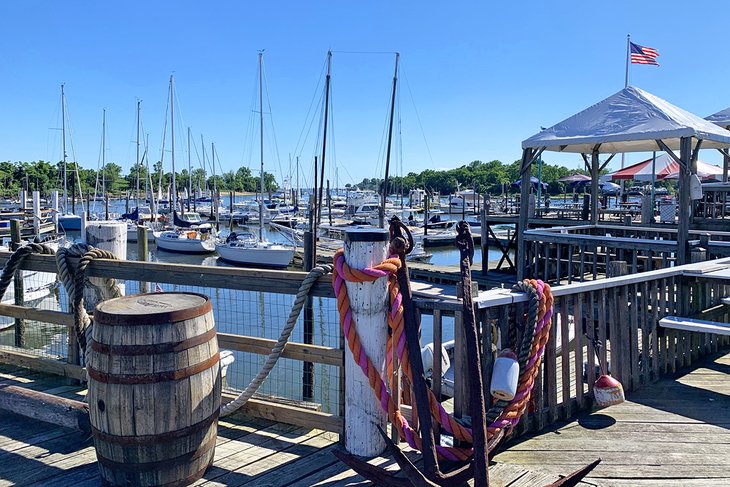 Captain's Cove Seaport is the place to be on a warm, sunny day. A family-owned waterfront destination, this fun spot has it all: a marina, boardwalk, shops, restaurant, and a stellar (and breezy) view of Black Rock Harbor. Not surprisingly, it's one of the best places to visit in Bridgeport in summer.
Whether you're looking to cool off with a refreshing beverage, mow down on some tasty fish and chips, or enjoy an evening of outdoor entertainment, you'll find it all and more at this family-friendly attraction.
Find your pirate name and take photos even Blackbeard would like at Buried Treasures, browse the colorful shops on the Boardwalk, or board a fishing charter for an afternoon of adventure. Looking for more ways to stay entertained? Shore Thing is a perfect place to visit if you're searching for nautical and beach-themed gifts, jewelry, or candies.
Save room for a treat from Tabitha's Ice Cream, a mouthwateringly good place to tempt your sweet tooth. Note: The seaport's restaurant is closed on Mondays, and the Boardwalk shops are closed Monday and Tuesday and open at 1pm Wednesday through Sunday.
Address: 1 Bostwick Avenue, Bridgeport, Connecticut
Official site: https://www.captainscoveseaport.com
6. Get Cultured at the Housatonic Museum of Art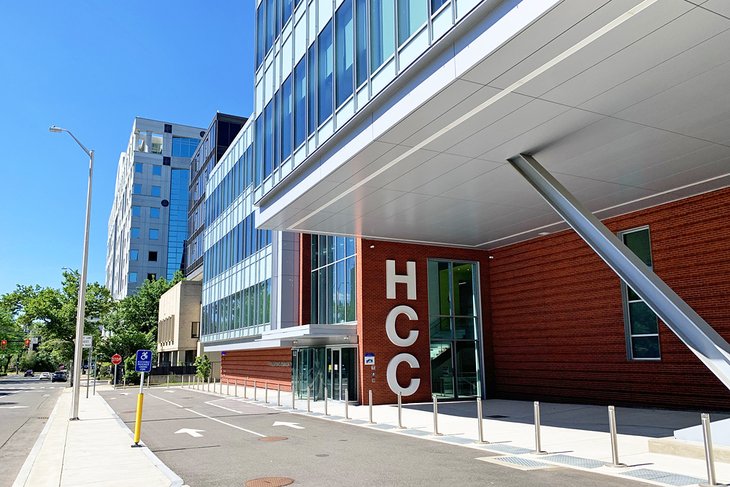 Housatonic Community College is home to the Housatonic Museum of Art, a large, 33,000-square-foot space featuring a diverse selection of international works from the 18th through 21st centuries. Inside, you'll find the bright and airy Burt Chernow Galleries.
Established in 1967 by art professor and Director Emeritus Bert Chernow, its crisp walls are lined with over 6,000 masterpieces. Located on the first floor of Lafayette Hall, the galleries feature multiple exhibits throughout the year. Among the works you'll find in this bright space are paintings created by members of the Connecticut Silvermine Guild and Westport Arts Center, as well as pieces made by Sylvia Stone, Jeff Koons, and Alex Katz.
The museum spans the first, second, and third floors of Beacon Hall. This is where you'll find the student art gallery, as well as the Native American Gallery, Conservation Hall, and multiple areas featuring thematic installations.
Entrance to the museum is free and open to the public year-round. The gallery is closed on weekends during the summer and on Sundays throughout the rest of the year. Also, both the museum and gallery operate on the Housatonic Community College calendar - if the school is closed, so, too, is the gallery. So, check the schedule online before your visit.
Address: 900 Lafayette Boulevard, Bridgeport, Connecticut
Official site: https://museum.housatonic.edu/
7. Catch a Game at Webster Bank Arena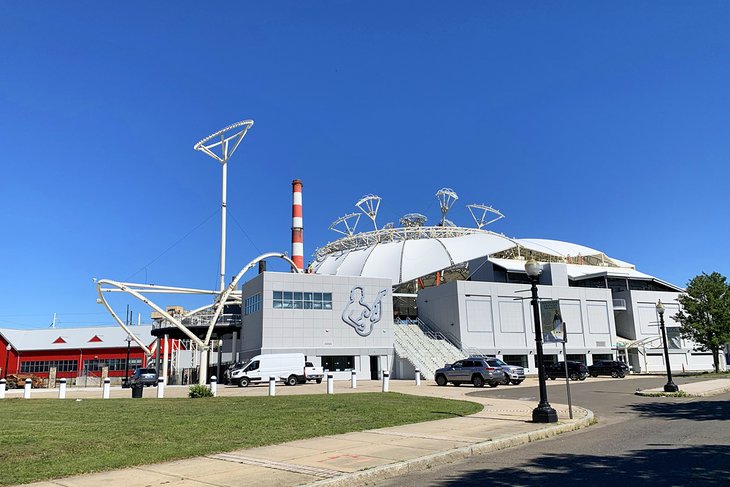 Looking to up the excitement? Head to the Webster Bank Arena. The city's can't-miss sports and entertainment venue, this is the place where locals and visitors gather to watch everything from hockey games to concerts to basketball games to gymnastic events.
The AHL Sound Tigers, Bridgeport Islanders, Sacred Heart Hockey, and Fairfield Stags Basketball teams all use this venue as a home base, while professional athletes like gymnasts Simone Biles and Katelyn Ohashi and the Harlem Globetrotters have graced this court.
Sports not really your thing? You're in luck! Webster Bank Arena hosts concerts of all types, as well as other entertaining shows. Trick shot masters Dude Perfect have been part of the fun lineup.
Address: 600 Main Street, Bridgeport, Connecticut
Official site: https://www.websterbankarena.com
8. Attend a Concert at the Klein Memorial Auditorium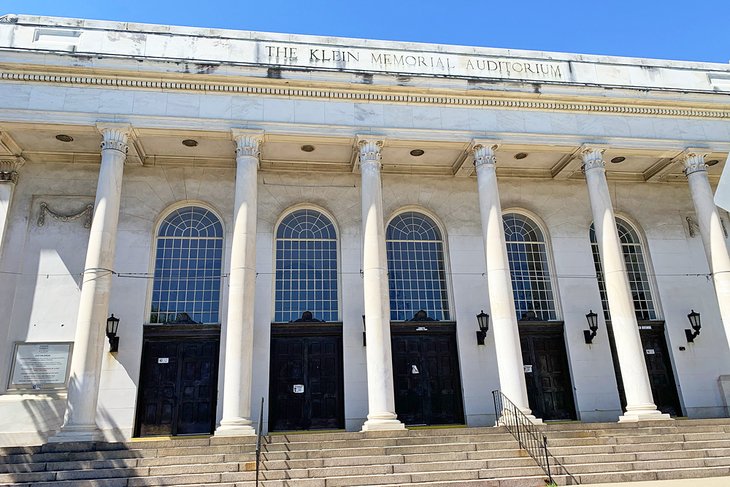 A dramatic, columned entrance and glitzy, marble and wood-infused Art Deco interior welcome guests to this almost 1,500-seat theater.
Built in 1940 with a large, "Broadway-sized" stage, The Klein Memorial Auditorium is Bridgeport's most upscale concert venue and home to the Academy of New England Ballet Company, ConnectUS, Fairfield County Children's Choir, and Greater Connecticut Youth Orchestras. Trust us, performances by these local groups don't disappoint.
In addition to hosting performances by these local talents, other musical masters have delighted Bridgeport concertgoers. Wynton Marsalis and the Lincoln Center Jazz Ensemble, the Vienna Boys Choir, and a Paul-Shaffer-hosted anniversary concert have all graced this stage to a hearty dose of applause. Catching a show here is a fun evening activity in Bridgeport.
Address: 910 Fairfield Avenue, Bridgeport, Connecticut
Official site: https://www.theklein.org
9. Buy Something Unique at the Monger's Market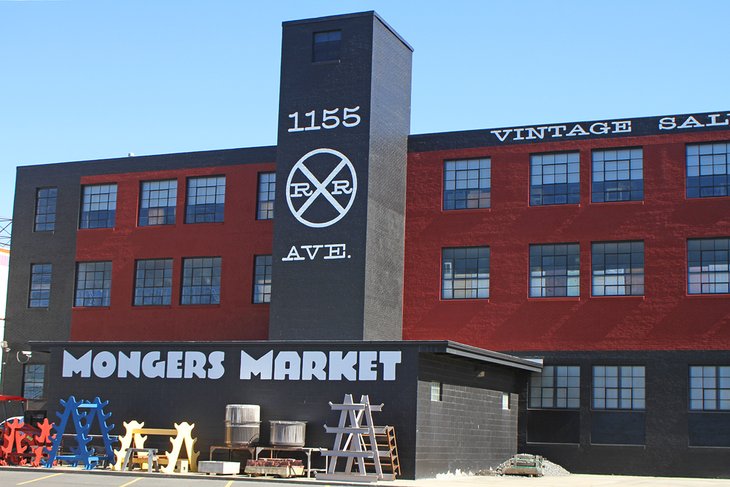 If you like funky things, you'll love the Mongers Market. Set within a large warehouse on Railroad Avenue, this unique spot is like an antiques market on steroids.
In addition to the typical China teacups, ceramic vases, old rugs, and vintage clothes you'd expect to find in an antiques store, this giant venue boasts industrial salvage items - we're talking giant fans, old high school lockers, fresh slabs of wood, and everything you never knew you needed.
An eclectic selection of furniture, jewelry, lighting, kitchenware, records, and books can be found here, as can the strangest, most unique items you never knew existed but will fall in love with immediately.
This is an amazing spot to wander around for its entertainment value alone, but if you're heading here to shop, you won't be disappointed. There are bound to be at least a dozen incredible finds that will inspire you to create something new or add a super cool element to upgrade your home's décor.
You'll be required to pay a minimal fee to enter (around $3), but children are free. Or, visit after 3pm for complimentary admission.
We suggest driving your biggest car there, as you'll likely be tempted to leave with something large.
Address: 1155 Railroad Avenue, Bridgeport, Connecticut
Official site: https://www.mongers-market.com
10. Hit the Open Seas at the Bridgeport & Port Jefferson Steamboat Company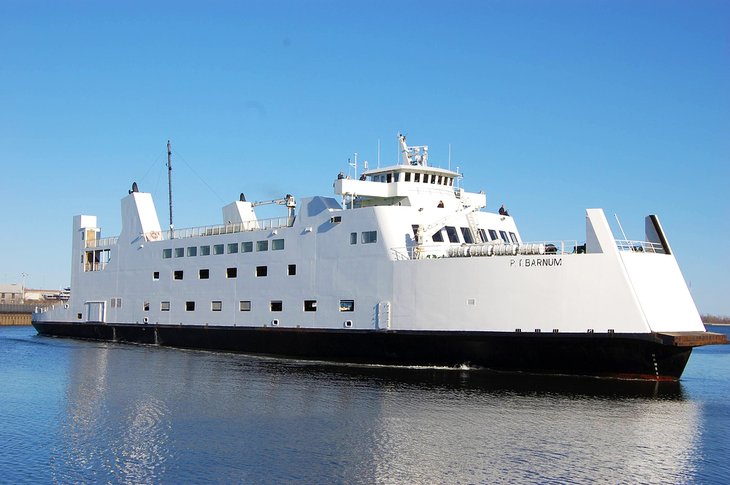 There's no better way to view Bridgeport than from the water, as long as it's a nice warm, sunny day, that is. Head over to the Bridgeport & Port Jefferson Steamboat Company and board their two-level ferry for a picturesque ride across the Long Island Sound.
Whether you're walking on, bringing a bike, or traveling by car, all are welcome to enjoy the ride and beat the stress of traffic. Twilight music cruises add a bit of ambience to the journey, while the Steamboat Lounge makes it easy to stay satiated during your 75-minute-long trip. The upper deck is where you'll find the best views. Cars and other vehicles are parked on the lower level.
We suggest buying your tickets in advance online to be sure you get a spot, especially during the busy summer season. Kids ride free year-round.
Address: 1 Ferry Access Road, Bridgeport, Connecticut
Official site: https://www.88844ferry.com/Home.aspx
11. Take a Moment to Reflect at Saint Margaret Shrine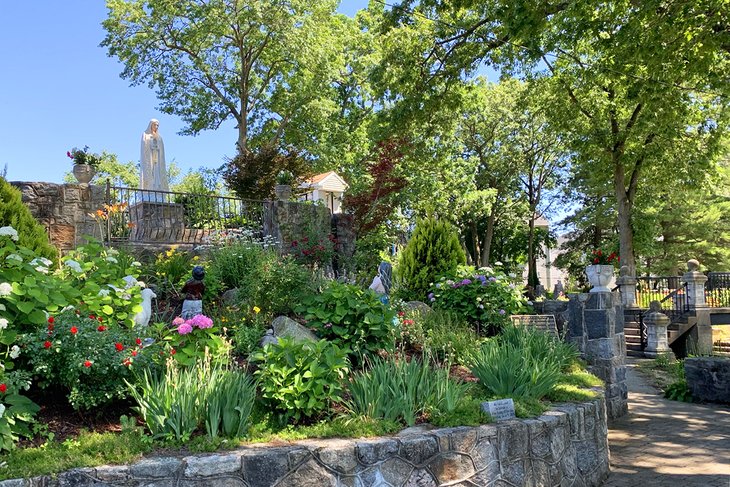 A pretty and tranquil sanctuary lies just off Park Avenue, in the middle of a residential neighborhood. When driving by, it doesn't look like much, but once you park and begin to walk towards the central fountain, you'll notice the immense depth of this unique refuge. Known as the Saint Margaret Shrine, this serene locale is dedicated to St. Margaret of Antioch.
Appropriately dubbed an "oasis of prayer," this pretty spot became home to the colonial-style St. Margaret Chapel in 1942. Later, a grotto was added, a shrine to Our Lady of Lourdes, a nine-foot marble statue of Christ the King, Presepio (a nativity scene carved into a hillside), Our Lady of Fatima, as well as multiple statues and water features. Just outside the chapel lies a life-size replica of Michelangelo's Pietà.
It's easy to spend plenty of time reflecting at this tranquil point of interest, which is why the many benches and easy access to bathrooms is much appreciated. An annual Feast of St. Anthony is held here each June, which transforms the area into a fun amusement park with rides, tasty Italian food, entertainment, and music.
Address: 2523 Park Avenue, Bridgeport, Connecticut
Official site: https://stmargaretshrine.org
12. Have a Laugh at the Stress Factory Comedy Club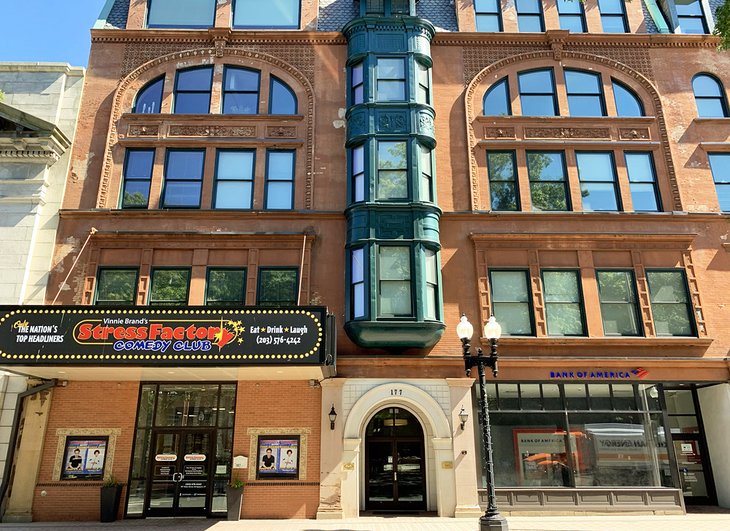 The Stress Factory Comedy Club is sure to cure what ails you, or at least give you a well-deserved break from the stresses of life (get it?). The entertainment you'll find inside this pretty, historic building is self-explanatory.
Audience members will giggle, chuckle, and full on belly laugh at performances by local comedians and well-known funny men - like Saturday Night Live's Kevin Nealon, Racially Motivated's Arnez J, and Atypical's Michael Rapaport.
Good food and good laughs abound at this popular attraction. What more could you ask for from a date night? Table seating is available to those 16 and up, and the food ranges from typical grilled fare to tasty mozzarella sticks, a vegadilla (think quesadilla minus the meat), and brick oven pizzas.
Address: 167 State Street, Bridgeport, Connecticut
Official site: https://bridgeport.stressfactory.com
13. Relax at McLevy Park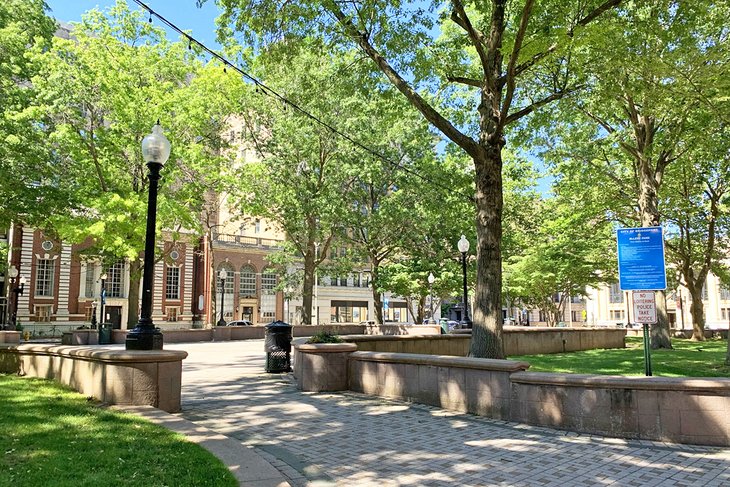 A small, inner city park lies in the downtown core. A hidden gem peppered with stone walls that serve as perfect seats; benches; and tall, shade-giving trees, this is particularly beautiful during the height of fall.
Despite its prime location by Main and State Streets, this tiny enclave offers visitors a quiet spot to take a load off and enjoy a little me-time while they people-watch. So grab some takeout and settle in for a while.
Also known as McLevy Green, this small space was named after the town's former mayor, Jasper McLevy, and it plays host to fun city events like the holiday tree and menorah lighting ceremonies, and Bridgeport Arts Fest.
Nearby, you'll find shops and plenty of restaurants to tempt your tastebuds. Next door stands the historic McLevy Hall, a picturesque municipal building dating back to the early 1850s.
Address: The corner of Main Street and State Street, Bridgeport, Connecticut
14. Take a Moment at the Bridgeport World War II Memorial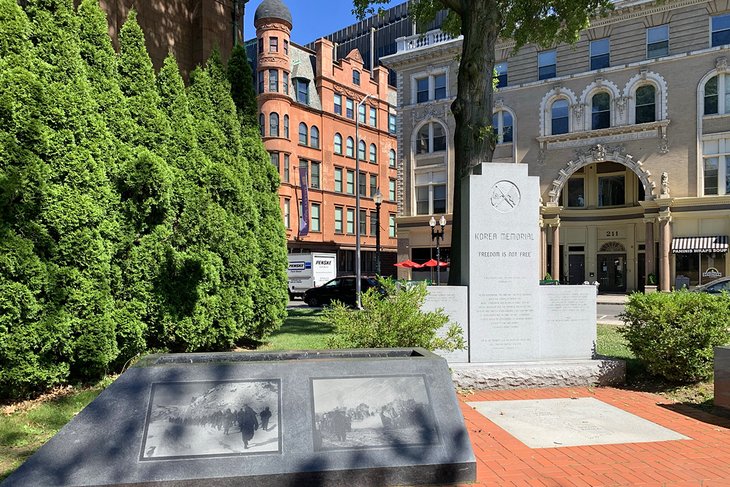 The Bridgeport World War II Memorial sits stoically at the corner of Broad and State streets in the city's downtown core. Unveiled in 2009 to mark the 65th anniversary of the D-Day invasion, this black granite monument honors the 550 Bridgeport residents who were lost in World War II.
A terra cotta-tiled engraved floor is spotted with plaques and monuments. Beside the main World War II monument lies two waterfalls flanked by wartime scenes. Between these lies a panel listing the names of local heroes. This pretty plaza is also home to monuments honoring those lost in the Vietnam and Korean Wars.
It's easy to miss this pretty monument when you're busy sightseeing, so if you happen to be nearby, be sure to stop and appreciate the importance of this tribute.
Address: The corner of Broad Street and State Street, Bridgeport, Connecticut
15. Be Entertained at the Barnum Museum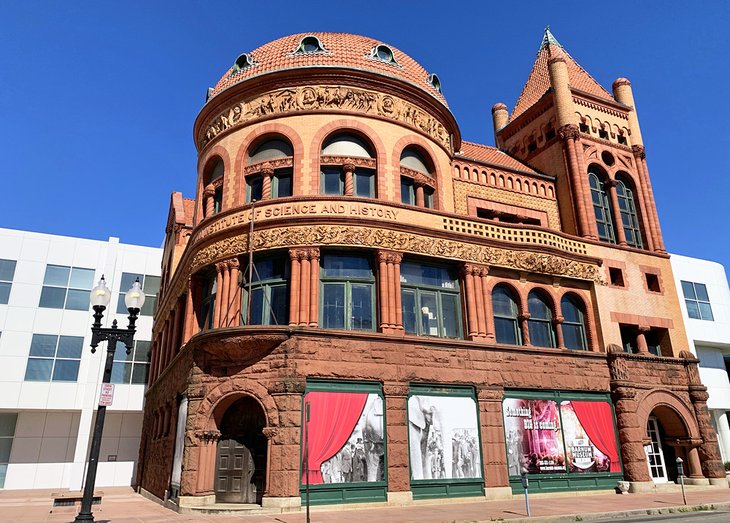 It's impossible to miss the terra cotta façade of P.T. Barnum's self-designed museum set within the heart of downtown Bridgeport. An ornate structure featuring a domed room and rounded front, this spectacular building is worth a visit just to gawk at the outside. Unsurprisingly, it's been listed on the National Register of Historic Places.
Known as the Barnum Museum, this vibrant and funky spot was created to play homage to one of the city's most famous residents, the eclectic showman and founder of Barnum and Bailey Circus. Many of P.T. Barnum's most beloved artifacts are found inside, including his top hat, a preserved elephant, a miniature 1930s circus, General Tom Thumb's miniature furniture, a centaur skeleton, and a replica of the FeJee Mermaid. You won't leave disappointed, we promise!
An important note: the Barnum Museum is currently under construction, which is why it sits so low on our list of the best things to do in Bridgeport. Visitors can expect to find an incredibly bright, creative, and innovative rejuvenation when they reopen, which will hopefully be soon. Once the scaffolding is in place to revive the outside, the museum hopes to be able to host visitors again. Until then, it's worth taking a wander around the outside and snapping a few photos.
Address: 820 Main Street, Bridgeport, Connecticut
Official site: https://barnum-museum.org
Best Time to Visit Bridgeport, CT - Historical Climate Averages
Average minimum and maximum temperatures for Bridgeport, CT in °C
J
F
M
A
M
J
J
A
S
O
N
D

3

-5

4

-4

8

0

14

5

19

11

24

16

28

19

27

18

23

14

17

8

12

3

6

-2

PlanetWare.com
Average monthly precipitation totals for Bridgeport, CT in mm.

95

74

105

101

102

91

96

95

91

90

93

88

Average monthly snowfall totals for Bridgeport, CT in cm.

21

20

10

1

0

0

0

0

0

0

2

12
Average minimum and maximum temperatures for Bridgeport, CT in °F
J
F
M
A
M
J
J
A
S
O
N
D

37

23

39

25

47

32

57

41

67

51

76

60

82

66

81

65

74

58

63

46

53

38

42

28

PlanetWare.com
Average monthly precipitation totals for Bridgeport, CT in inches.

3.7

2.9

4.2

4.0

4.0

3.6

3.8

3.8

3.6

3.5

3.7

3.5

Average monthly snowfall totals for Bridgeport, CT in inches.

8.4

8.0

4.0

0.4

0

0

0

0

0

0

0.6

4.9