15 Top-Rated Things to Do in Westport, CT
We may earn a commission from affiliate links ()
Westport is about as charming as Connecticut towns get. Located in Fairfield County, this affluent commuter hub (New York City lies just over an hour away), offers a refreshing contrast to big-city life and a ton of fun things to do.
Visitors are welcomed by postcard-worthy beaches and quiet streets lined with perfectly manicured lawns and white picket fences. The serene Saugatuck River winds its way through the heart of town, welcoming wildlife in the form of turtles, ibis, and swans. Told you it's picturesque!
The river passes the newly renovated library, which lies just past Main Street, where you'll find plenty of ways to stay busy. High-end shops and award-winning restaurants rub shoulders with a performing arts center and outdoor concert stage in the town's palatable downtown core.
Decide what to do first and plan your sightseeing with our list of the top things to do in Westport, Connecticut.
1. Build a Sandcastle at Compo Beach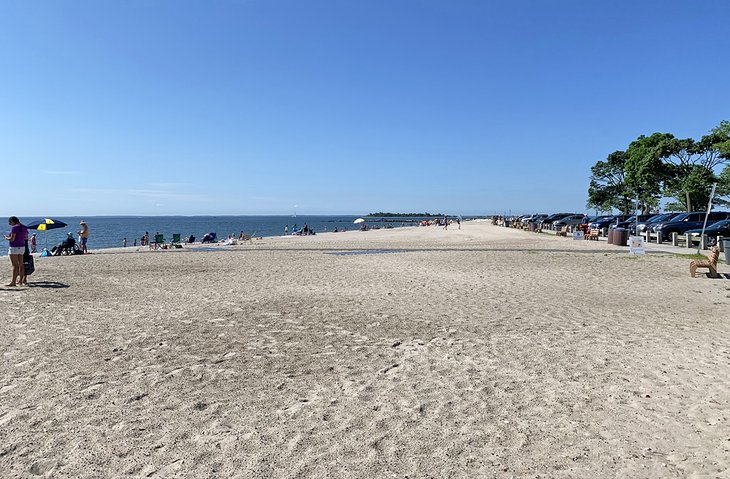 Compo Beach is Westport's main tourist attraction and one of the best beaches in Connecticut. This lush area boasts 29 acres of park, which includes a marina, pickleball courts, a skate park, basketball courts, beach volleyball courts, a baseball diamond, a pavilion, and a children's playground.
The beach itself has a soft, sandy base fronting the Long Island Sound. Build a sandcastle, splash in the calm water, or enjoy an ice cream while wandering the boardwalk. Don't miss the sunset – it's best seen from the beach's western section, which extends past the historic cannon.
The beach is open year-round, but you have to pay to park ($45 during the week and $70 on weekends) from April 1st through September 30th. All other times (i.e. October 1st through March 31st) are free. Another bonus of visiting off-season: dogs are welcome (while leashed).
Address: 60 Compo Beach Road, Westport, Connecticut
2. Watch a Show at the Westport Country Playhouse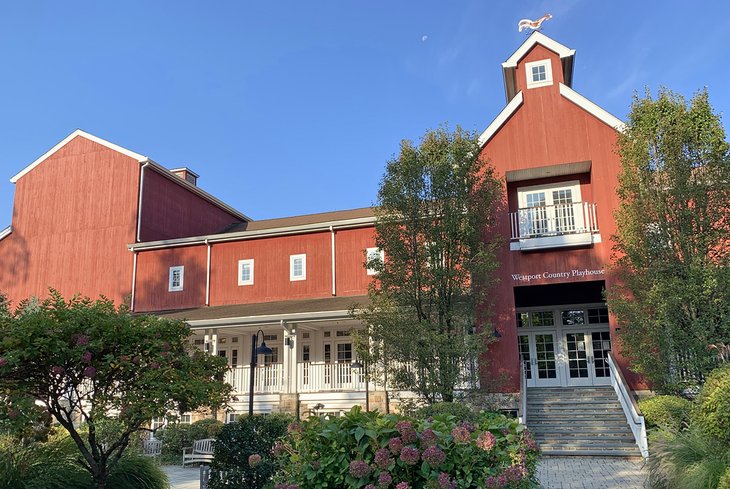 Once home to the late actor Paul Newman and his wife, Joanne Woodward (for nearly 50 years), Westport attracts a pretty artsy bunch. There's so much talent to be found within its borders that you won't be disappointed in any performance you choose to see.
The Westport Country Playhouse was established as a theater in 1931. At that time, its stage featured acts by would-be Broadway stars. In 2005, the theater was renovated into the state-of-the-art establishment it is today.
Stars like Newman, Robert Redford, Liza Minnelli, Eartha Kit, James Earl Jones, and Jane Fonda have graced this storied stage, which offers live performances from April to November. Trust us, they're first rate shows you won't want to miss.
At other times of the year, you'll find educational programs, community events, and play readings on offer at this nationally recognized, not-for-profit theater.
Address: 25 Powers Court, Westport, Connecticut
Official site: https://www.westportplayhouse.org/
3. Become Inspired at MOCA Westport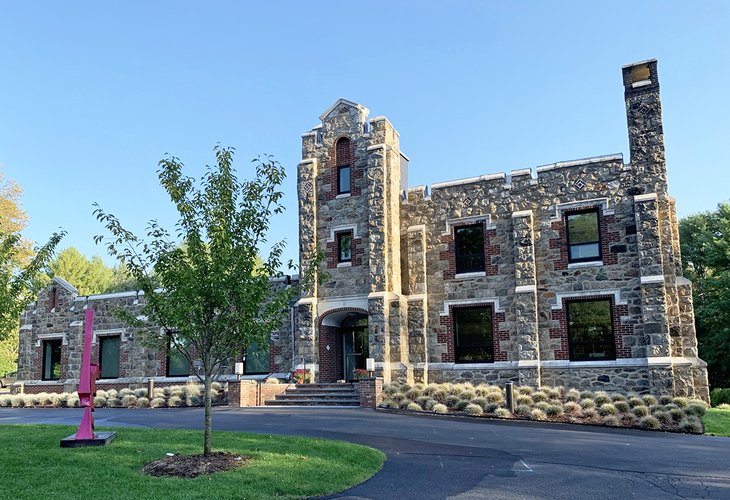 Westport's Museum of Contemporary Art (MOCA) is fantastic. Formerly known as the Westport Arts Center, this local staple moved to its new location on Newtown Turnpike in 2019. An essential part of the Westport community for nearly 50 years, this non-profit visual and performing arts center is fabulous.
In line with the town's love of all things artsy, MOCA features the varied talents of artists, ranging from beginners to seasoned pros. No matter which types of culture you prefer – sculpture, painting, contemporary pieces, chamber music, or films – you'll find yourself well and truly entertained.
Since Westport is extremely family-oriented (it boasts five public elementary schools, three middle schools, and one high school), MOCA caters to parents and children alike. Art classes, lectures, family art days, and artist talks are offered at various times throughout the year.
Address: 19 Newtown Turnpike, Westport, Connecticut
Official site: https://mocawestport.org/
4. See the Stars at the Westport Observatory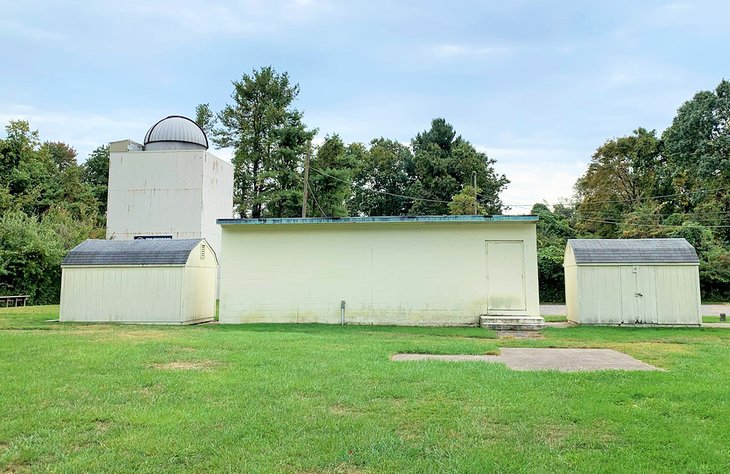 Get a closer look at the solar system at the Westport Observatory, also known as the Rolnick Observatory.
A large telescope was placed inside a dome atop an old NIKE radar tower at this location in 1975. Today, the dome boasts a new Celestron EdgeHD telescope for optimal viewing.
Sitting atop one of the highest points in Westport, this stellar spot is run by volunteer members of the non-profit Westport Astronomical Society. The observatory boasts multiple events throughout the year – from meteor show viewings to talks with top academics to up-close glances at a full moon or solar eclipse.
The observatory is open to the public Wednesday evenings from 8 to 10 pm, depending on weather and other circumstances. During the summer, you'll find a giant, 25-foot Obsession telescope (one of Connecticut's largest) parked on the lawn.
Address: 182 Bayberry Lane, Westport, Connecticut
Official site: https://www.was-ct.org/
5. Flex Your Shopping Muscle Downtown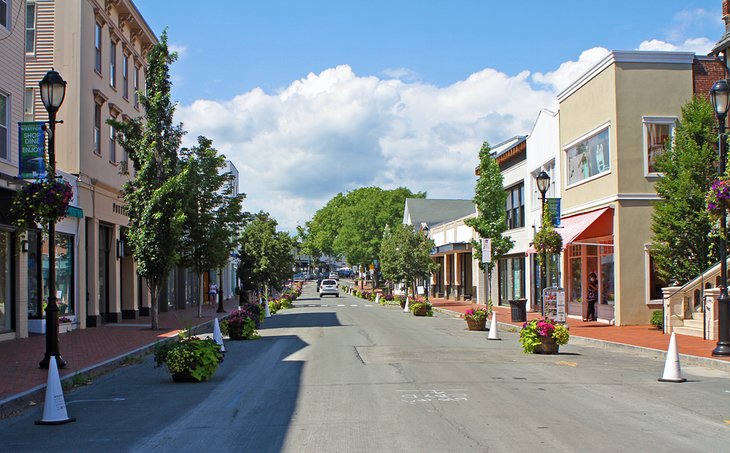 Westport's main shopping district is as adorable as it is efficient. Loaded with quintessential New England charm, the downtown core is small enough to walk around easily.
Lining Main Street's red-bricked sidewalks are sweet two-story buildings fronted by lush hanging baskets. The Victorian building that hosts Anthropologie is a highlight.
You'll find locally owned shops like Savvy + Grace rubbing shoulders with affluent chains like Lululemon, Tiffany & Co, L'Occitane, and Vineyard Vines. Peppered among these are cute cafés like the newly opened GG & Joe in Parker Harding Plaza and Rye Ridge Deli on Main Street.
Just off Main Street, you'll find the fun shops and restaurants of Church Lane and Bedford Square. Manna Toast is a new fave, as well as tasty Amis (sit outside in the courtyard). Don't miss the Savannah Bee Company.
Parking is easily found in Parker Harding Plaza, which boasts an impressive view of the Saugatuck River.
Address: Main Street, Post Road, and Church Lane, Westport, Connecticut
6. Hit the Water with Westport Paddle Club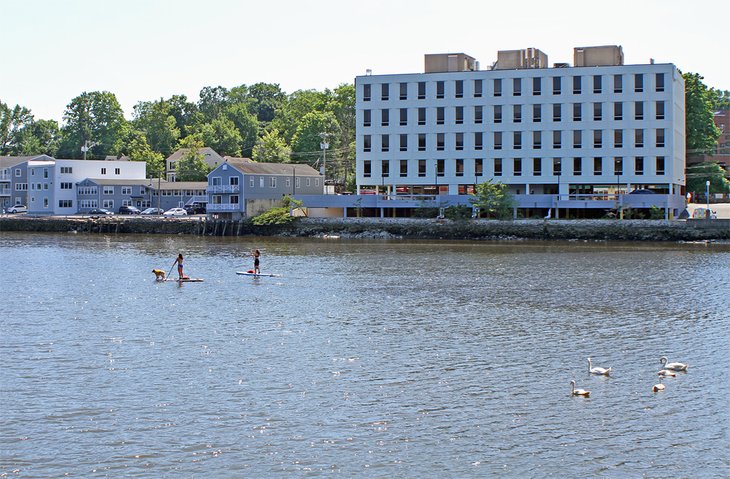 One of Westport's best assets can be found by the shore. Flanked by both the Long Island Sound and Saugatuck River, this quaint town offers plenty of opportunities to get out on the water.
Whether you're hoping to stand up paddleboard or kayak, it's easy to hit the waves in Westport. Those who choose to explore the town by sea will be wowed by the impressive views found along the Saugatuck River's shores.
SUP past the library, under stone bridges, and around the Longshore Club towards Compo Beach and the Long Island Sound. You could spend hours on the water without ever getting bored.
Don't have gear? No worries! The Westport Paddle Club, located at Bridgebrook Marina, rents paddleboards, as well as single and double kayaks by the hour (or two). They even offer guided tours, yoga, and paddle fit classes for those looking for a more organized experience.
Address: 471 Riverside Avenue, Westport, Connecticut
7. Grab a Bite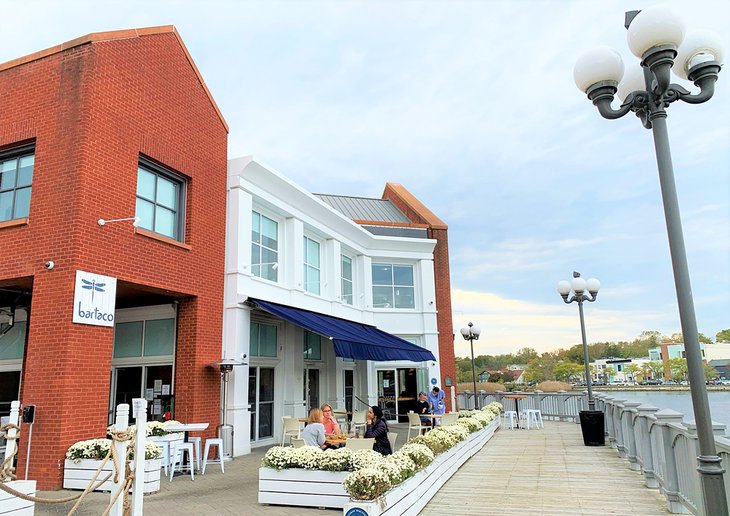 Good, healthy food is easy to find in all corners of this East Coast gem. The town is noted for its healthy and green choices (single-use plastic straws, bags, and styrofoam food packages were banned ages ago), and most eateries mix a ton of organic fare into their often upscale menus.
Bartaco is a Westport staple. Set along the Saugatuck River, the food here is designed to be shared, and you'll likely have to roll yourselves out after overindulging. Arrive early, as it's usually packed.
The Granola Bar makes healthy food both taste delicious and look beautiful. At this breakfast and lunch hot spot founded by two local moms, you'll find avocado toast, divine grilled cheese, and a luxuriously smooth date smoothie on its menu.
For something more substantial, head to Rainbow Thai. Watch kayakers paddle past the historic, swinging Cribari Bridge while you dive into a tasty pho soup or mango curry. Or head to the more upscale, and gorgeous, The Pearl at Longshore for a high-class meal in an unbeatable waterfront setting.
8. Immerse Yourself in Nature at Earthplace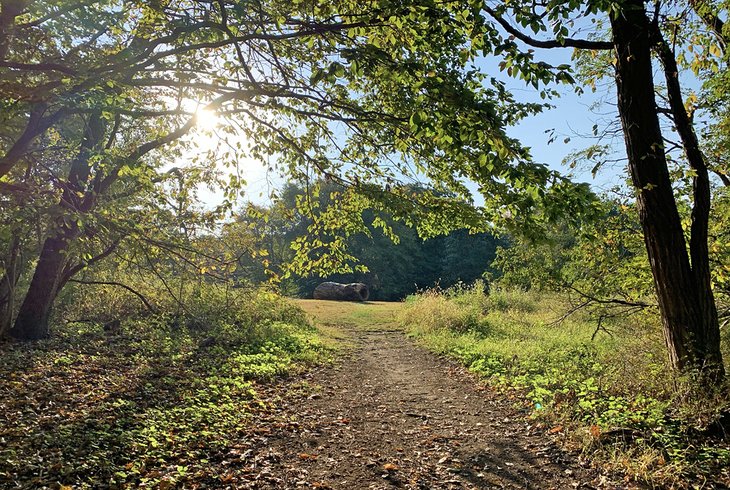 Owls and turtles and turkeys, oh my! There's so much wildlife to see at Earthplace. A natural haven set along the western edge of town, this hidden gem boasts a nature center, 62-acre wildlife sanctuary, and two miles of trees.
Open from dawn until dusk, this is a perfect place to spend at least an hour with kids. Introduce them to the rescued birds in the Birds of Prey Exhibit in Animal Hall. Then, take them to learn more about the wonders of the natural world in Natureplace.
Don't miss the outdoor playground, and be sure to wind along the Swamp Loop Trail for a closer look at the area's freshwater stream, Frog Hollow Pond, and woodlands. Pack water and snacks, as the trail takes a half hour to complete – excluding time spent stopping to admire the scenery.
Address: 10 Woodside Lane, Westport, Connecticut
9. Get Active at Longshore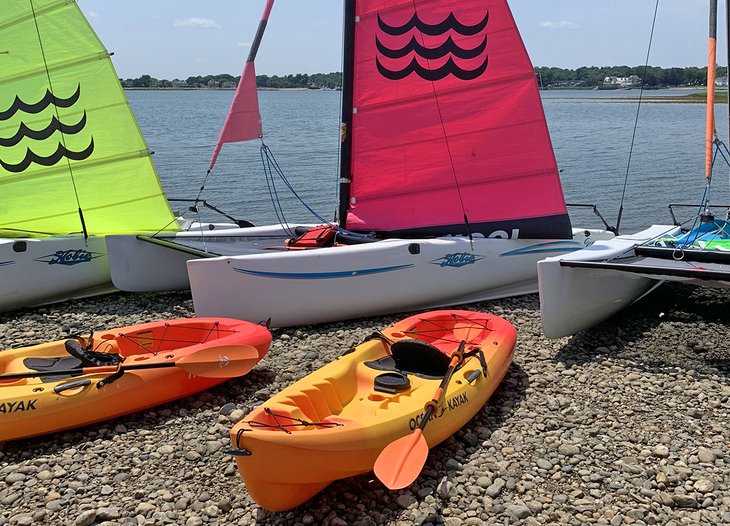 Longshore is one of the most popular places to visit in Westport. Located within walking distance of Compo Beach, this highly active area features tennis courts, an outdoor swimming pool, a skating rink, sailing club, and golf course.
For a fee, you can rent a sailboat, book a tennis court, or play a round of golf at the Longshore Golf Club, all while enjoying the magnificent backdrop of the Saugatuck River. During summer, you'll find all sorts of camps on offer – including sailing, paddleboarding, tennis, and volleyball.
The tennis courts are found at Longshore Club Park, which features nine Har-Tru courts adorned with lights, so you can enjoy a game after sunset. The Pool Complex features three outdoor pools: a 20-yard training pool, 25-yard lap pool, and small wading pool.
If you're looking for a lovely spot to spend the night, nothing beats the perfect mix of country comfort and luxury of the resplendent Inn at Longshore. It's located on the golf course grounds.
Address: 260 Compo Road, Westport, Connecticut
10. Catch a Concert at the Levitt Pavilion for the Performing Arts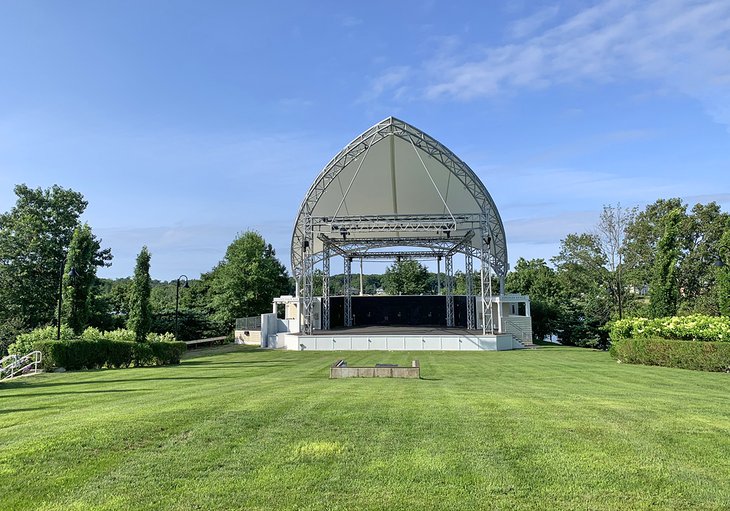 The Levitt Pavilion for the Performing Arts is found at the tip of a small peninsula behind the Westport Library. A town favorite, this uber fun spot hosts concerts (many of which are free) throughout the summer.
Established in 1973, the Levitt, as it's known by locals, has hosted more than 1.5 million guests at its "50 Free Nights under the Stars" concerts, and it's home to one of the country's largest free outdoor festivals.
Bring a picnic blanket, beach chair, and some nibbles. Oh, and don't forget bug spray. Then, sit back and prepare to be fully entertained. You'll find concerts ranging from jazz to folk to pop to rock. Actors and dancers have also been known to take to the stage.
Visiting with kids? Each week, the Melissa & Doug® Children's Series offers exciting (and free) outdoor entertainment, as well as free treats like face-painting.
Address: 40 Jessup Road, Westport, Connecticut
Official site: https://levittpavilion.com/
11. Step Back in Time at the Westport Museum for History and Culture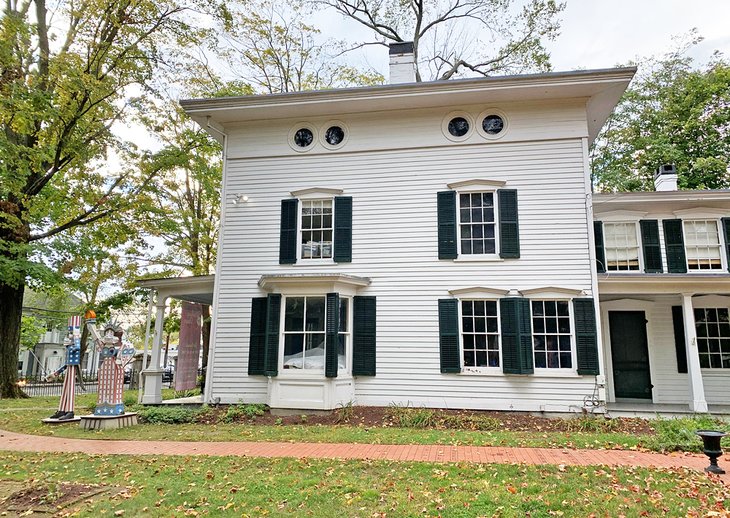 The charming Westport Museum for History and Culture (WM) sits across from Town Hall. It's housed in the Bradley-Wheeler House (circa 1795), and history literally seeps through the walls of this historic landmark. Admission is free, and the museum hosts multiple events and exhibits to showcase the town's storied past.
The museum comes complete with the Cobblestone Barn (from 1865), which boasts an underground cellar. WM has also restored the Adams Academy, a one-room schoolhouse (used from 1837-1867) located in the Greens Farms neighborhood. It's a popular site for field trips, especially for elementary school children.
Past exhibits, such as the award-winning Remembered: The History of African Americans in Westport, can be found in the WM's online archive. Insider's tip: WM also features guided walks, film showings, and author talks. Check their website to find out what's on when you're in town.
Address: 25 Avery Place, Westport, Connecticut
Official site: https://westporthistory.org/
12. Hit the Books at the Westport Library
"Who wants to visit a library while on vacation?" you ask. Trust us, you will! The newly renovated Westport Library is as beautiful as it is innovative. Located at the end of a peninsula that juts into the Saugatuck River, and flanked by the lush Jessup Green, it's hard to beat this locale.
While you won't be able to borrow a book without a resident's library card, visitors are welcome to enjoy the many other resources offered within these gorgeously modern walls. Play a board game in one of the multiple conference rooms, watch a film, or listen to an author or expert speak (past guests include RL Stein and Alan Alda).
The peninsula is lined by a sweet path that often boasts "Storywalk," an outdoor installation featuring pages of a children's book. When you're feeling peckish, head to the cozy café. The lattes are delish, and the river view is unbeatable, especially from the outdoor patio.
Address: 20 Jessup Road, Westport, Connecticut
13. Enjoy a Picnic at Sherwood Island State Park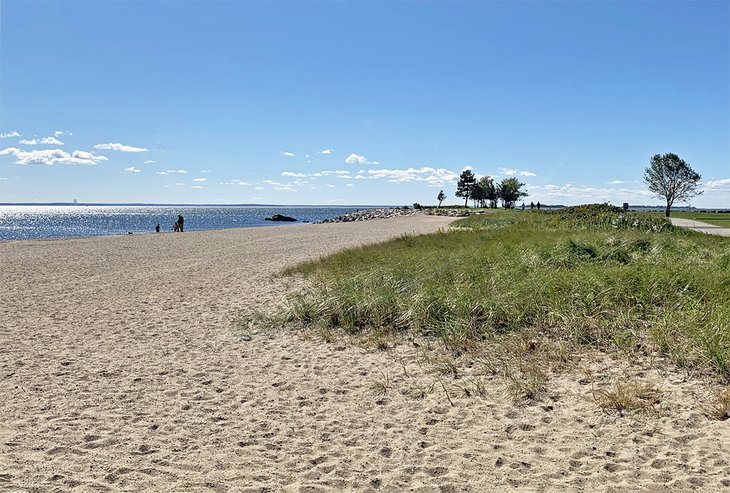 Sherwood Island State Park offers visitors a slew of ways to be active in the great outdoors. Whether you're hoping to fly a kite on the sand, traipse through the forest, or fish off a rocky pier, you'll be fully entertained in this 235-acre natural wonderland.
The tri-colored sand (it turns stripes of red, black, and tan as the tide washes in and out) is soft and vast, encouraging visitors to set up and spend the entire day. You'll find concession stands, restrooms, and outdoor showers, as well as a large, covered picnic area.
The park also boasts a nature center, which includes exhibits about the wildlife found in the Long Island Sound. It's only open seasonally, so plan your trip accordingly if you're hoping to get up close and personal with a local creature at the live animal shows.
14. Munch on Fresh Bread at the Westport Farmers' Market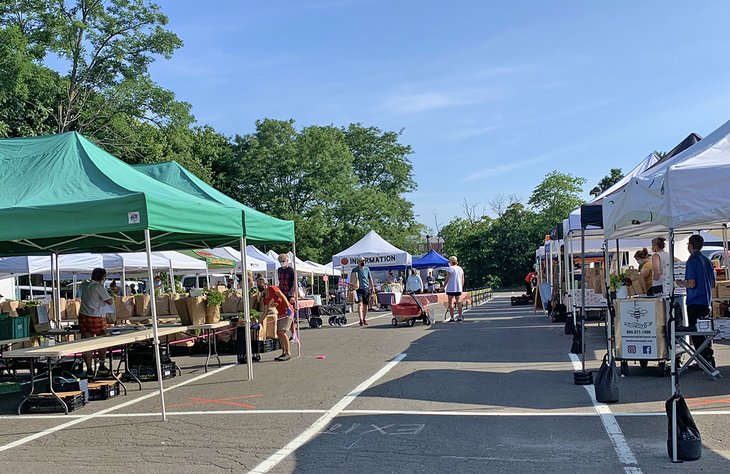 There's nothing like a farmers market to inspire creativity in the kitchen. Fresh goodies range from Wave Hill Bread's rosemary focaccia to mixed Asian eggplants from Riverbank Farm to Izzi B's allergen-free baked goods – there are so many mouthwateringly good treats you'll want to take them all home.
Founded by actor Paul Newman and Michel Nischan in 2006, the market began with 14 vendors. Today, over 45 establishments sell their wares at this weekly market, and thousands enjoy on-site lunches, live music, and neck massages while they shop. Insider's tip: Boxcar Cantina's tacos are hard to beat.
Every Thursday from mid-May through mid-November, the market can be found in a large parking lot on Imperial Avenue (near the library) between 10am and 2pm. Starting mid-November through mid-March, the market moves inside, to Gilbertie's Herbs and Garden Center, same day, same time.
Address: 50 Imperial Avenue (Mid-May through mid-November). 7 Sylvan Lane (mid-November through mid-March)
Official site: https://www.westportfarmersmarket.com/
15. Visit the Seals at the Maritime Aquarium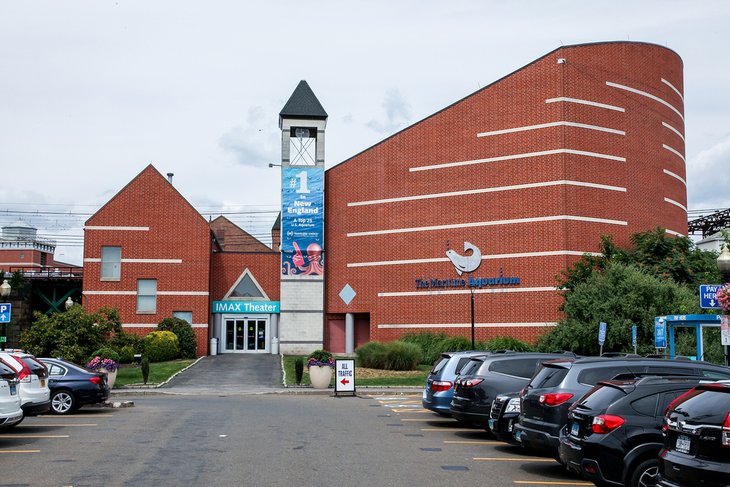 Although technically located in Norwalk, The Maritime Aquarium is a must-see, especially if you're visiting with kids. A quick, five-mile drive from downtown Westport, the aquarium is a cinch to get to. Plus, it lies within walking distance of the quirky shops and tasty restaurants of Norwalk's SoNo neighborhood.
Come face to flipper with a harbor seal, touch a sting ray, jiggle a jelly fish, giggle at river otters, and watch sharks feed, all right here. When the weather's nice, take a boat trip, where marine experts will teach you more about the area's marine life from the water.
This aquarium is different than most in that it focuses primarily on only one body of water – the Long Island Sound, that lies just outside its doors. Their goal is to educate guests about local threats to the area's underwater creatures, like sea turtles, seals, and jellies.
As of January 15, 2021, you can take a break at the new, 179-seat 4D theater featuring educational shows to wow visitors of every age. In April, 2021, the newly revamped, 150,000-gallon seal habitat will open.
Address: 10 North Water Street, Norwalk, Connecticut
Official site: https://www.maritimeaquarium.org/
More Related Articles on PlanetWare.com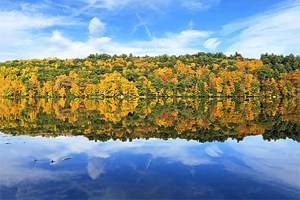 Get Outside in Connecticut: The Nutmeg State is chock-full of natural beauty. If you're looking for majestic, tumbling waterfalls, you'll find them here. Hoping to kayak, fish, or swim in shimmering fresh water? Connecticut offers a slew of gorgeous lakes to choose from.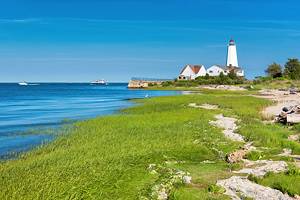 More Places to Explore in Connecticut: From beautiful Kent to enchanting Old Saybrook, there are a ton of wonderful places to visit in Connecticut. Don't miss a trip to one of our faves: Mystic. This lovely town is so charming, it will heal what ails you.