14 Top-Rated Things to Do in Ridgefield, CT
It's easy to fall in love with Ridgefield. Set in the foothills of the Berkshire Mountains, this pretty small town is a perfect place to escape for a weekend. Stately colonial homes, lush green spaces, and an adorable Main Street adorn the town, making it one of Connecticut's most postcard-worthy gems, with a slew of things to do for people of all ages.
A mere 60 miles from the sights of New York City, Ridgefield is a popular summer destination for New Yorkers who are charmed by its quaint historic buildings and towering trees. Despite the town's diminutive size, there are plenty of fun places to visit, making it easy to stay a couple of days.
Boutique shops enchant visitors with their unique wares, while farm-to-table restaurants please people's palates with food so good, they'll swear they are dining in the big city. History buffs will enjoy learning about the area's storied past as they wander along the Museum in the Streets. With so much to offer its visitors, this has been deemed one of the best small towns in Connecticut.
Still looking to be entertained? Catch a show at the Ridgefield Playhouse, check out one of the oldest contemporary art museums in the country, or hike the trails at a late-19th-century farm.
This list will help you find plenty of top things to do in Ridgefield.
1. Travel back in Time at the Keeler Tavern Museum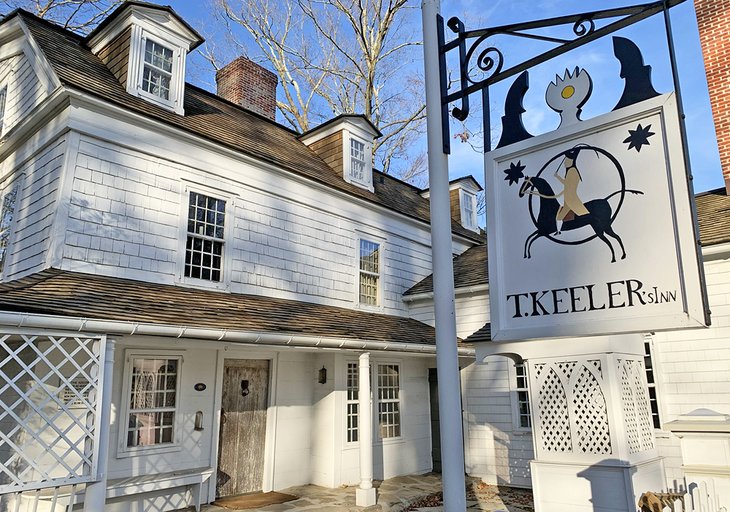 The Keeler Tavern Museum boasts a long, celebrated life. Before becoming a museum, this landmark served as a farmhouse, inn, tavern, post office, and stagecoach stop. During the 1777 Battle of Ridgefield, it was the Patriots' headquarters. Years later (in the early 1900s) it became home to architect Cass Gilbert.
Today, visitors are toured through time–the 18th through 20th centuries to be exact–by dedicated guides dressed in period costumes. These chaperones impart their wisdom of these historic times and show off the impressive artifacts held both within and outside the walls of this iconic home.
Impressive artifacts, clothing, art, portraits, and furnishings hearken back to simpler days. Lovely gardens grace the outdoors, including a dramatic rose arbor and reflecting pool.
Don't miss the cannon ball, fired upon the house during the American Revolution. It's been stuck in the building's outer wall for over 240 years. This, and the story surrounding its interesting placement, is a real kid-pleaser.
Address: 152 Main Street, Ridgefield, Connecticut
Official site: https://keelertavernmuseum.org/
2. Get Inspired at the Aldrich Contemporary Art Museum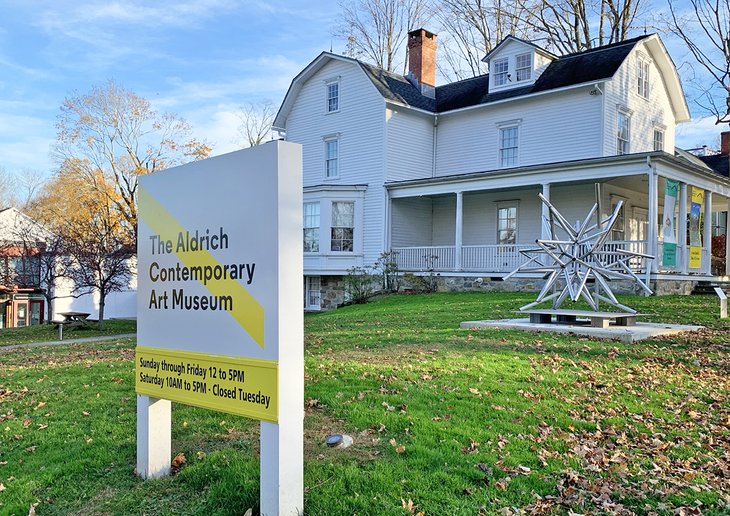 You never know what you're going to see at the Aldrich Contemporary Art Museum. Chock full of intriguing exhibits, this interesting spot is one of America's oldest contemporary art museums. From giant babies to sculptures of grocery bags, it contains a world of unique wonders.
The fascinating displays have been crafted by emerging artists and those who are mid-career yet struggling to find a larger audience. Famous creators who have shown their works here include Frank Stella, Jack Whitten, Cindy Sherman, and Jeffrey Gibson.
The museum was originally housed in the "Old Hundred," a 1783 grocery store turned post office turned home turned church. Today, it is located next door in a state-of-the art architectural masterpiece built in 2004. Behind the museum lies a unique sculpture garden you won't want to miss.
Insider's tip: Be sure to ask the museum guards about the works on display. They have a wealth of in-depth knowledge.
Address: 258 Main Street, Ridgefield, Connecticut
Official site: https://thealdrich.org/
3. Unleash Your Creative Side at Weir Farm National Historic Site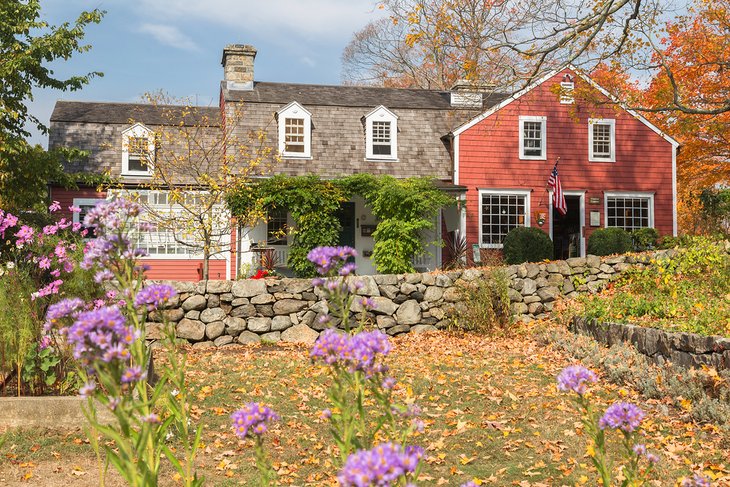 Weir Farm is a spectacular, family-friendly attraction where natural beauty and art collide.
Dubbed the "Great Good Place" by its famed owner, impressionist painter J. Alden Weir, the park lies at the edge of the Ridgefield/Wilton border. Alden used this as a source of inspiration between 1882 and 1919.
Today, guests can tour the artist's former home and studio, wander around the gardens, take an art class, or create their own masterpiece while being inspired on the breathtaking 60-acre property. Dainty gardens and extensive walking trails make a visit even more enjoyable.
Art in the Park is an annual festival held on the grounds of Weir Farm. Attendees enjoy food, music, demonstrations, activities, and free-to-use art supplies to create their own works. While the park grounds are open year-round (and free to use), the buildings are closed from October through April.
Address: 735 Nod Hill Road, Wilton, Connecticut
Official site: https://www.nps.gov/wefa/index.htm
4. Watch a Flick at The Prospector Theater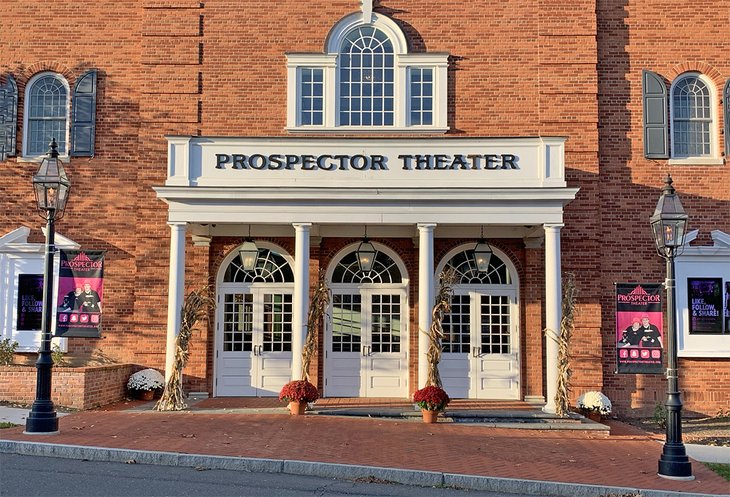 A beloved institution, The Prospector Theater is a movie house with a twist. Run by a non-profit organization, this charming cinema employs people with disabilities. These fabulous employees (and trust us, they really are fabulous) are dubbed "Prospects," and are "encouraged to sparkle, shine, and transform (their) passions into professions."
Since opening its doors in 2014, the theater has employed 250 employees, 75 percent of whom identify as having a disability. Their goal: to help disabled adults find gainful employment that allows their talents to shine.
The Prospector Theater is a wonderful place to watch a movie. Four screens present a wide selection of films ranging from kids' movies to old-time classics to brand new blockbusters. There are even film festivals and film contests to participate in year-round.
The building, which was once home to the original Ridgefield Playhouse, the town's first movie theater, is wheelchair accessible. Service dogs are welcome, and sensory screenings are available, as are descriptive narrative headsets, mobility seats, and closed caption cup holder devices.
Address: 25 Prospect Street, Ridgefield, Connecticut
Official site: https://www.prospectortheater.org/
5. Catch a Show at the Ridgefield Playhouse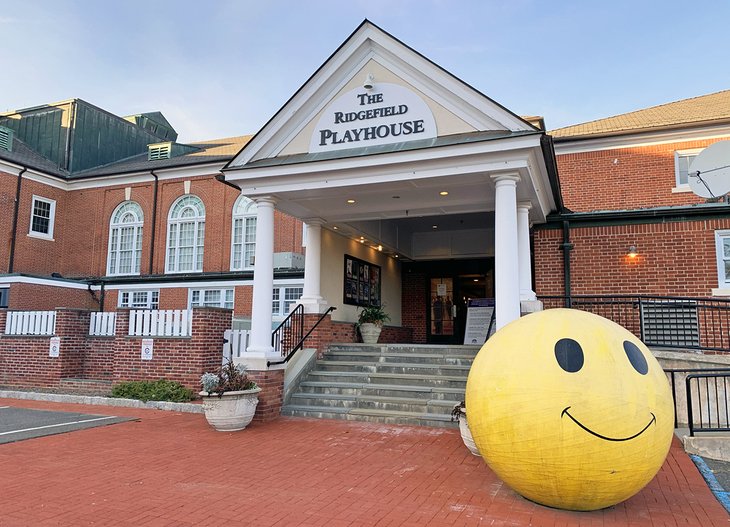 The Ridgefield Playhouse isn't immediately visible when you turn into the parking lot at 80 East Road. Set behind the town's skatepark, this 500-seat theater lies in the old Ridgefield High School, which is now the Richard E. Venus Municipal Center.
In its early years, this iconic theater hosted World War II concerts, school performances, town meetings, and community events. Since being revamped in 2000, it serves as home to a wide variety of shows that constantly result in a packed house. Insider's tip: buy your tickets early.
Dance recitals, comedy shows, concerts, and live theater performances grace the Ridgefield Playhouse stage. Among its most famous performers are Arturo Toscanini and more recently, Diana Krall, The Doobie Brothers, Martin Short, Ron Howard, and David Sedaris.
Address: 80 East Ridge, Ridgefield, Connecticut
Official site: https://ridgefieldplayhouse.org/
6. Picnic in Ballard Park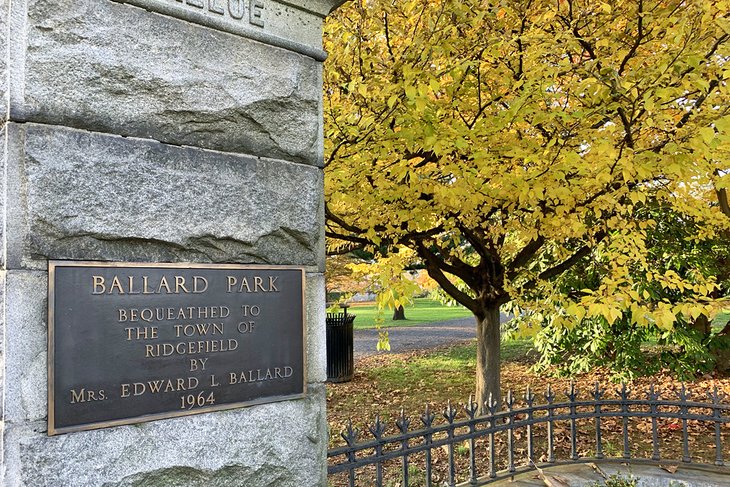 As if Ridgefield wasn't beautiful enough on its own, it was gifted the five acres of verdant green space that make up Ballard Park. Set off Main Street, just across from the Ridgefield Library, this pretty park is a local fave with families, couples, and picnic-lovers of all ages.
Given to the town from Elizabeth Ballard's estate in 1964, Ballard Park boasts everything you'd look for in a community common: a playground; tall, stately trees; perfectly manicured gardens; and colorful flowers bursting onto the scene each spring and summer.
A popular gathering spot, the town uses this natural attraction to host outdoor concerts and other events. The area is rife with picnic tables, and its central location makes it easy for an impromptu lunch al fresco. Grab a pizza and enjoy it while watching kids throw frisbees to their friends.
Address: 485 Main Street, Ridgefield, Connecticut
Official site: https://www.ridgefieldparksandrec.org/ballard-park
7. Flex Your Shopping Muscle on Main Street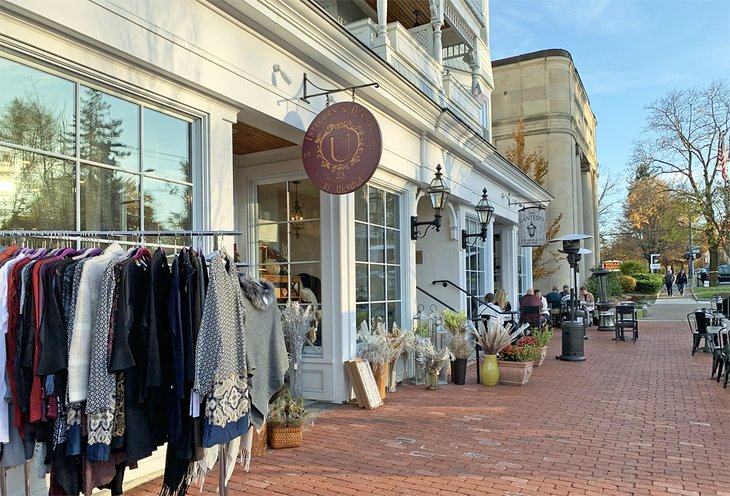 You'll be hard-pressed to leave Ridgefield empty-handed, especially if you spend time walking along Main Street. An overtly charming road peppered with eclectic boutiques, tasty eateries, art galleries, and sweets shops, Main Street offers visitors more than they'd hope for in an idyllic small town.
Interiors & Designs by Ursula is a lifestyle boutique offering elegant and unique jewelry, wraps, trinkets, and other treasures. They also boast interior design services for those looking to spruce up their homes.
Grab a new read at the independent Books on the Common. The staff are uber friendly and share great recommendations. Plus, little ones will love the Kids' Corner.
The RPAC Gallery exhibits works by eclectic resident artists. Paintings of all styles, as well as note cards and other creative gifts are available for purchase.
More into history than shopping? Look for "The Museum in the Streets" signs plonked throughout the area. You'll learn about the buildings that once stood in this area.
8. Grab a Bite on Main Street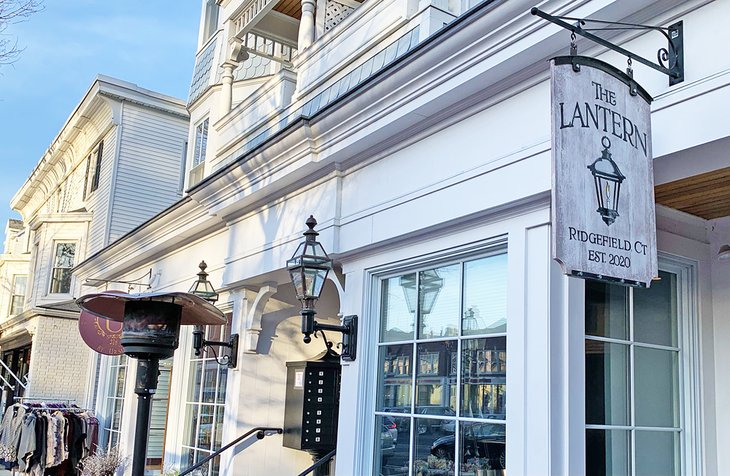 Delicious, healthy fare is easy to find in Ridgefield. Despite its small size, this tiny town bursts with formidable restaurants so good that you'll forget you're not in New York.
One of Ridgefield's top eateries opened in October of 2020. The Lantern boasts a cozy yet stylish feel, and food created by an Italian master chef. Try a rectangular sourdough pan pizza, and you'll never want to go back to a round pie.
Tablao offers a small outdoor patio to charm its customers, but its food is the main reason people return. Fresh paella, homemade pappardelle, and tasty charcuterie make having seconds a must.
Don't have time for a sit-down meal? Grab a bite at Organika Kitchen, one of only two locations (the other is in Southport). You can reward your tastebuds without guilt at this healthy locale. Treat yourself to an avocado chocolate mousse or slurp a berrylicious smoothie while you wander.
9. Attend an Event at Lounsbury House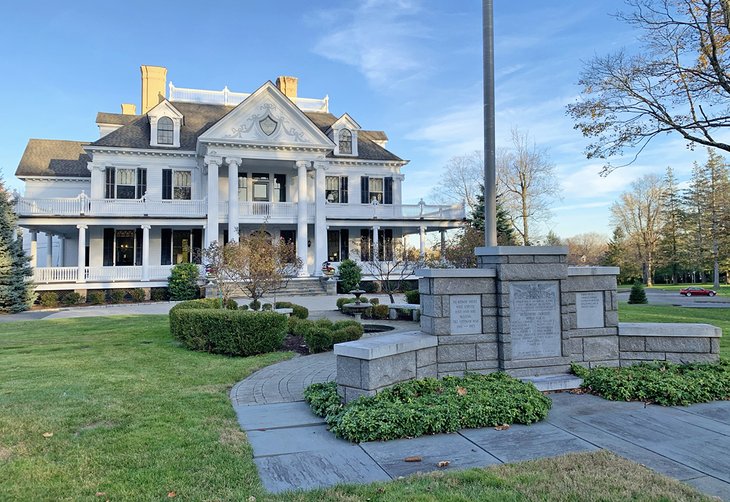 Most who visit Lounsbury House are there for a memorable event, most notably, a wedding. This gorgeous National Historic Site was built by Phineas C. Lounsbury, a former state governor, in 1896. A copy of the Connecticut State Building, it is so elegant you can't help but gawk.
Sweeping staircases, grand columns, and immaculate gardens up the charm factor, while upscale furnishings and fixtures add more than a hint of true luxury. A ballroom, Crystal room, dining room (complete with original crown molding and fancy fireplaces) can be found inside.
If you can't finagle yourself a wedding invite, head online to schedule a tour or attend one of the many community events held in this marvel of an estate. The town's community center for over 60 years, it plays host to everything from Teddy Bear Tea to art shows to food fairs.
Insider's tip: Don't miss the Ridgefield Veterans Memorial. It lies on the lawn in front of the house.
Address: 316 Main Street, Ridgefield, Connecticut
Official site: https://lounsburyhouse.org/
10. Be Entertained at ACT of Connecticut
Watching a show at ACT of Connecticut (short for A Contemporary Theatre of Connecticut), is akin to attending a Broadway performance without the cacophony of New York. A relatively new spot (it opened in 2018), this non-profit professional theater boasts world-class plays, as well as fantastic workshops and classes.
Mamma Mia!, Evita, and Little Shop of Horrors are just some of the raved-about productions that have graced the stage at this local hub. The actors are a mix of Broadway stars and local talent from surrounding Westchester and Fairfield counties. Their shows are so fab that ACT was bestowed 11 Broadway World Connecticut Awards.
Address: 36 Old Quarry Road, Ridgefield, Connecticut
Official site: https://www.actofct.org/
11. Wander around St. Stephen's Episcopal Church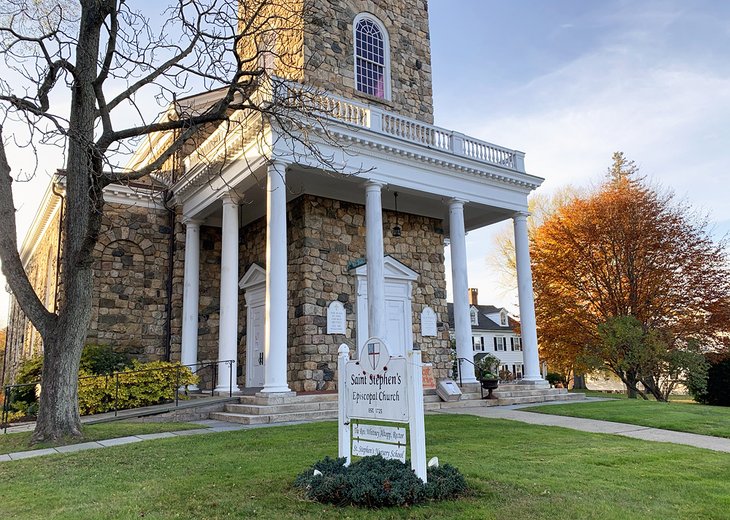 It's impossible to miss St. Stephen's Episcopal Church. Its bright and charming stone façade towers over Main street, enhancing an already picturesque view. Topped by a tall, pointed steeple, which houses a giant bell, this pretty church is worthy of a walk around.
St. Stephen's has rested upon this same spot since 1745, but it didn't always look this way. On April 27, 1777, during the Battle of Ridgefield, the original building was burned by British soldiers. The stone beauty that stands just off Main Street today is the fourth sanctuary built here over 100 years ago.
Walk the grounds, snap a few photos, or step in for some peace. The inside of the church is just as gorgeous as its exterior, so you're in for a treat.
Address: 351 Main Street, Ridgefield, Connecticut
Official site: https://ststephensridgefield.org/
12. Settle in with a Good Book at Ridgefield Library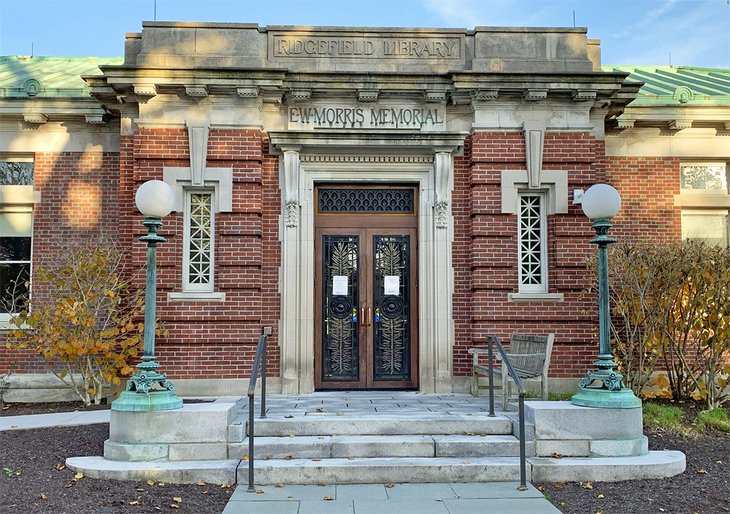 The Ridgefield Library has been offering the community access to fabulous books, talks, films, and other interesting projects for over 100 years. Housed in a historic building on Main Street, the library is much bigger, brighter, and more modern inside than its older façade lets on.
In addition to books galore, the library is home to a small shop called The Store @ Ridgefield Library. It boasts plenty of gifts perfect for book lovers and writers and is open daily.
Are you a local? Why not enjoy your book outside in Ballard Park. It's just across the street and boasts a ton of comfy spots on the grass for a reading sesh.
Address: 472 Main Street, Ridgefield, Connecticut
Official site: https://ridgefieldlibrary.org/
13. Ridgefield Historical Society
The Ridgefield Historical Society consists of two houses–the David Scott House, where you'll find the society's headquarters, and the Peter Parley Schoolhouse, which is open for events and for tours during their Open House days.
The David Scott House itself has a long and exciting history, which you'll learn about inside, along with many other interesting facts about the area's storied past. This house once stood at the corner of Main Street and Catoonah Street, but was moved to its new locale at 4 Sunset Lane in 2001.
The Peter Parley Schoolhouse is located at West Lane and Salem Road. Also known as the West Lane or Little Red Schoolhouse, it dates to 1756 and served as the town's school. It, too, was moved to its current location, having originally sat upon land at the triangular intersection of West Lane, South Salem Road, and Silver Spring Road.
14. Take a Hike at Seth Low Pierrepont State Park Reserve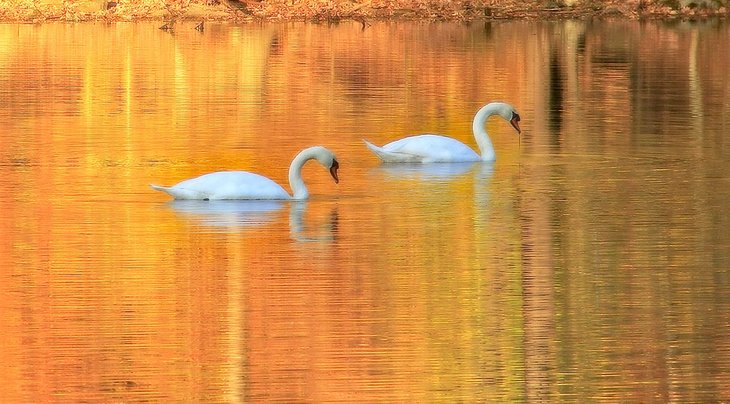 There's little as rejuvenating as a day spent outside. When that day is enjoyed at Seth Low Pierrepont State Park Reserve, you can kiss your stresses goodbye.
A 305-acre natural wonderland, this idyllic spot is a family-friendly attraction you'll want to enjoy for as long as you can.
The park was gifted to the Connecticut State Park and Forest Commission by Seth Low Pierrepont, after his death in 1956. His goal: to bring a beautiful recreation area to the public.
Here, tourists can hike five trails that span over two miles, winding their way through forests thick with oak, birch, tulip, and hickory trees. A large pond, known as Pierrepont Pond, or Lake Naraneka, as Seth Low Pierrepont referred to it, is also on-site.
This vast pond offers visitors a chance to go boating or fishing during their trip. A boat launch makes it easy to bring your own vessel.
More Related Articles on PlanetWare.com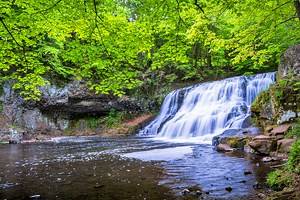 More Places to Visit in Connecticut: The Nutmeg state is filled with fun things to do. From visiting cascading waterfalls to lounging beachside, you'll never get bored. While you're here, be sure to check out Connecticut's best tourist attractions.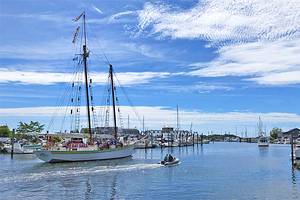 Other Must-See Connecticut Towns: Who doesn't love visiting a quintessential New England town? Enchanting cafés, historic Main Streets, and vast parks cover the Constitution State. If you're looking for charm, head to adorable Westport, or spend a weekend sightseeing at the magical maritime village of Mystic.