Vermont in Pictures: 25 Beautiful Places to Photograph
Let's not beat around the proverbial bush; Vermont is beautiful. In addition to its real, flowering bushes, this gorgeous state boasts snowcapped mountains, deep river gorges, vast sparkling lakes, and expansive state parks. There's nothing your camera (and you) won't love in this New England wonderland.
The best part: every gorgeous natural asset can be appreciated during every season. Whether blanketed in snow, blooming with wildflowers, or lush with vibrant green leaves, this spectacularly beautiful state is one you will want to come back to again and again.
Our list of its most beautiful places to photograph can help you choose the most picturesque places to add to your must-see list.
1. Quechee Gorge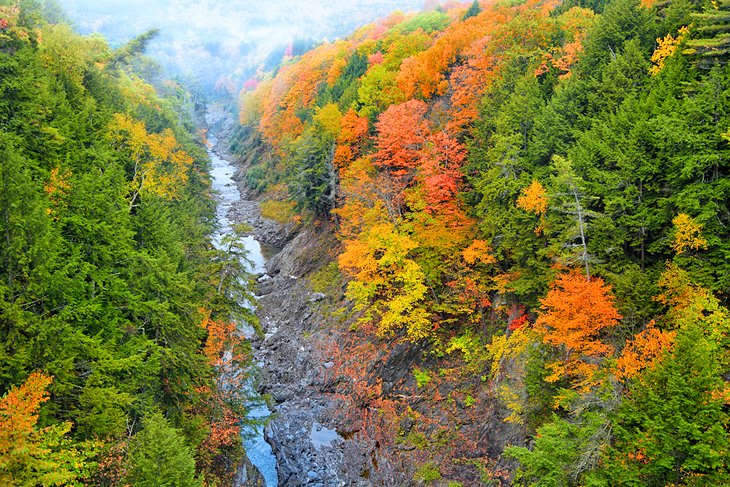 One of Vermont's most popular natural wonders, Quechee Gorge has been dubbed "Vermont's Little Grand Canyon." It's the deepest gorge in the state, and there isn't much that's little about it. The gorge was formed over 13,000 years ago by glaciers, and the river at its base sits 165 feet below Route 4.
2. Mount Mansfield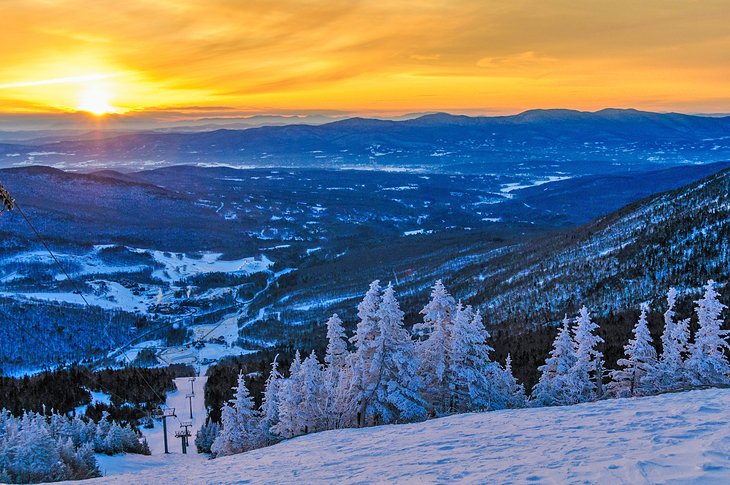 Winter is arguably Vermont's finest season; if you're an avid skier, that is. Whooshing down the state's highest peak makes it even more exciting. One of the Green Mountains, Mount Mansfield is part of the Stowe ski area. It's also a popular spot to climb during the warmer, summer months.
Read More: Things to Do in Winter in Vermont
3. Church Street Marketplace, Burlington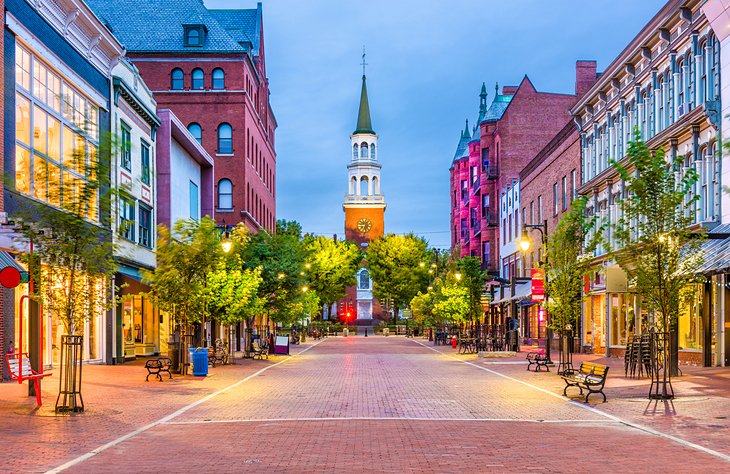 The open-air Church Street Marketplace is a pedestrian-friendly mall in the heart of Vermont's largest city - Burlington. With over 100 shops and restaurants on offer, there's plenty to fuel a shopaholic's addiction while enticing foodies to try a few bites of something new. Set on the tranquil Lake Champlain with a backdrop of New York's Adirondack Mountains, Burlington's beautiful setting is hard to beat.
4. Lake Champlain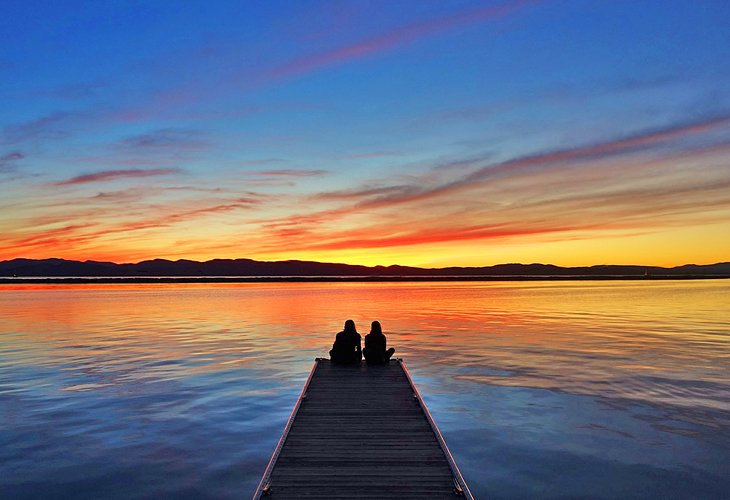 Sunset is a glorious time to experience the famous Lake Champlain, which is situated mostly in two states (New York and Vermont) and partly one province, Canada's Quebec. While this 120-mile-long freshwater lake is a popular spot to fish, swim, kayak, and sail, the area can be fully enjoyed year-round. With nearly 587 miles of shoreline, it offers plenty of places to picnic, hike, and laze about lakeside.
5. Montpelier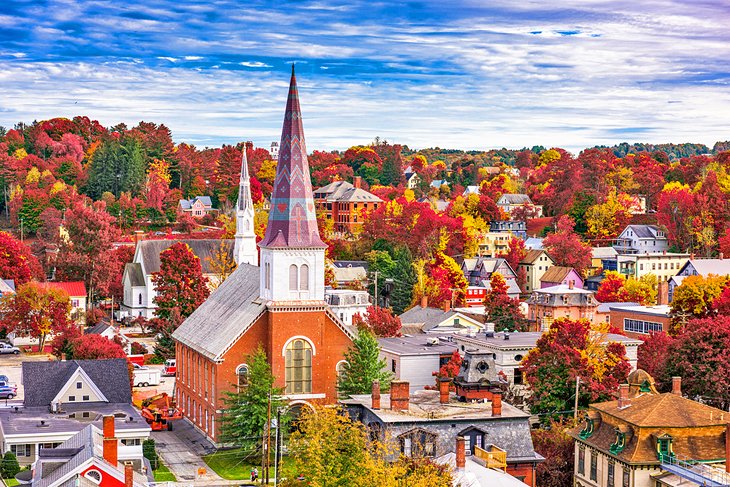 Beautiful Montpelier is the smallest state capital in the US. What it lacks in size and population (only about 8,000 people live here), it makes up for in spades with a bustling arts and entertainment scene, delicious farm-to-table restaurants, and adorable boutique shops. Don't miss the Capital City Farmer's Market, where local vendors gather to sell their tasty, fresh wares every Saturday.
6. Stowe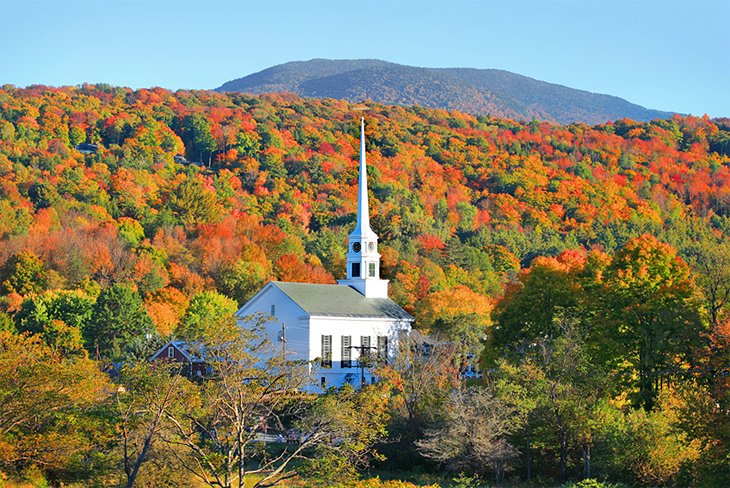 Best known for its unbeatable skiing, Stowe is the quaint village that lies at the foot of Mount Mansfield. Making the most of its wintertime fame, the small village is packed with charm, as well as a number of (pricey) shops, eateries, and accommodations. Take advantage of the area in the summer months for fabulous hiking, gorgeous views, and more reasonable prices.
Accommodation: Top-Rated Resorts in Vermont
7. Camel's Hump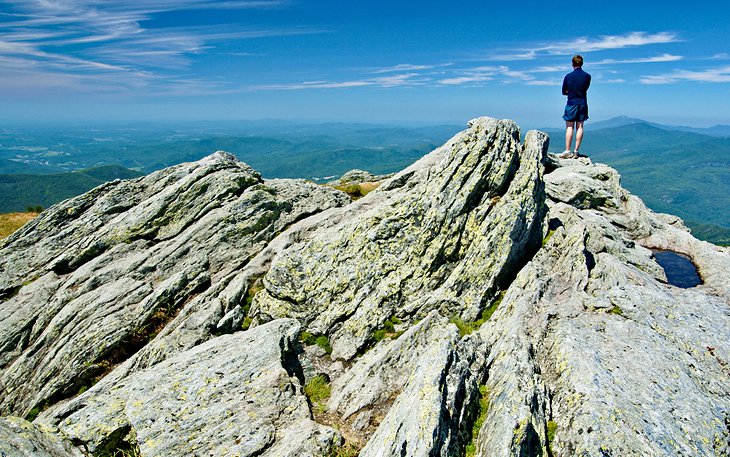 Bet you can't guess how this mountain range got its name. Located in Camel's Hump State Park, this lumpy mountain looks like, you guessed it, a camel's hump. At over 4,000 feet tall, it's the third highest peak in Vermont, and summiting Camel's Hump isn't for the faint of heart. Expect to skirt a few rocks on your adventurous climb. Or, enjoy the view from the ground while enjoying a picnic.
8. Peacham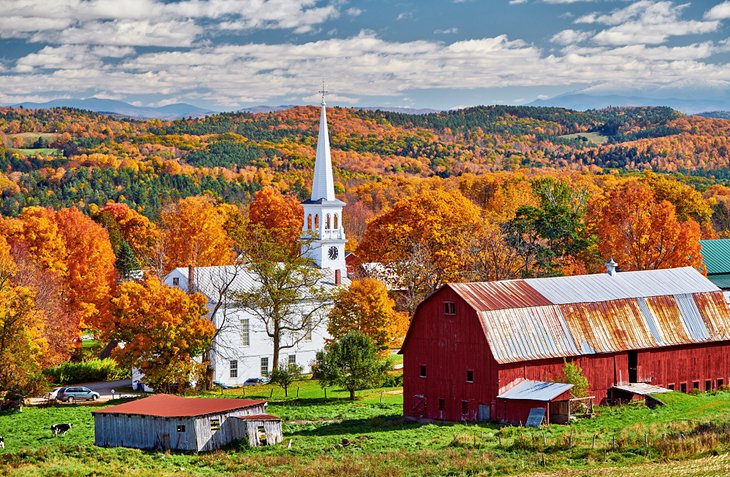 Once deemed "the best village in New England," it's not surprising that pristine Peacham is one of the region's most photographed towns. Boasting a quaint, historic village of fairy-tale proportions, vast farmland, an impressive white-washed church, and surrounding verdant forests, it's not hard to see how it earned the honor.
9. Brattleboro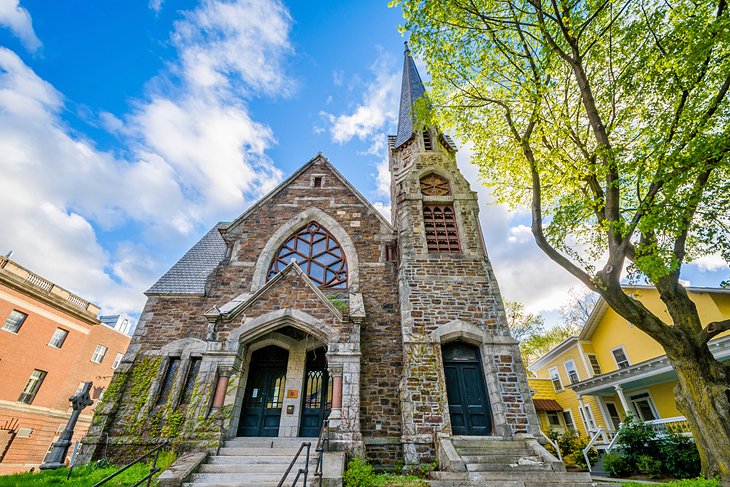 Known for its insanely gorgeous location (think mountain ranges and thick forests), Brattleboro is one of the country's best "art towns." Its lively streets are fringed with art galleries, boutique stores, book shops, and cafés, offering visitors an authentic small-town feel set within a massive natural wonderland in Windham County.
10. Mount Ascutney State Park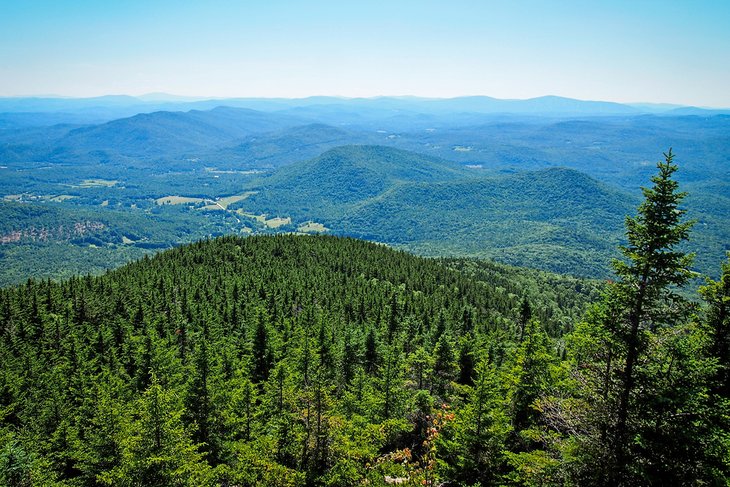 It's hard to find a more beautiful Vermont summit than that of Mount Ascutney. Situated in Mount Ascutney State Park in Windsor, this majestic wonder offers panoramic views from 3,144 feet high. The vistas are so captivating, they make the hike to the top more than worthwhile. If you aren't into a steep climb, no worries, there's a road leading to the summit.
11. Smugglers' Notch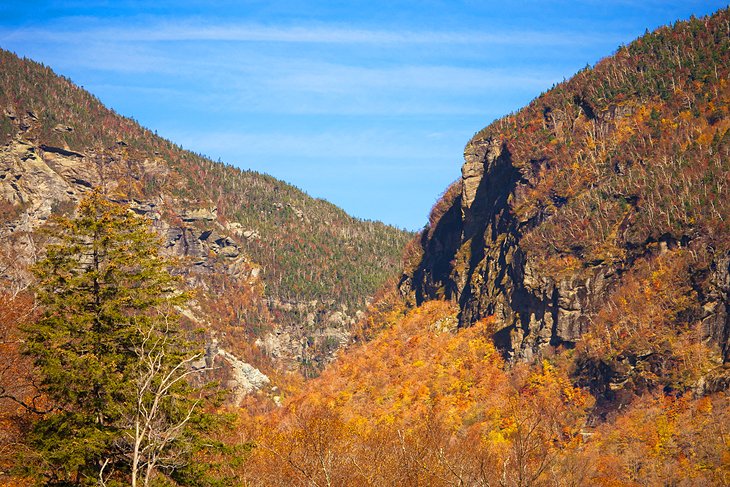 It's impossible not to fall in love with Smugglers' Notch. A narrow pass through the Green Mountains, this spectacular "notch" is surrounded by giant cliffs (we're talking 1,000 feet tall). Located in Smugglers' Notch State Park near Stowe, this beauty is best visited during the spring, summer, or fall. During winter, its winding roads are closed.
12. Woodstock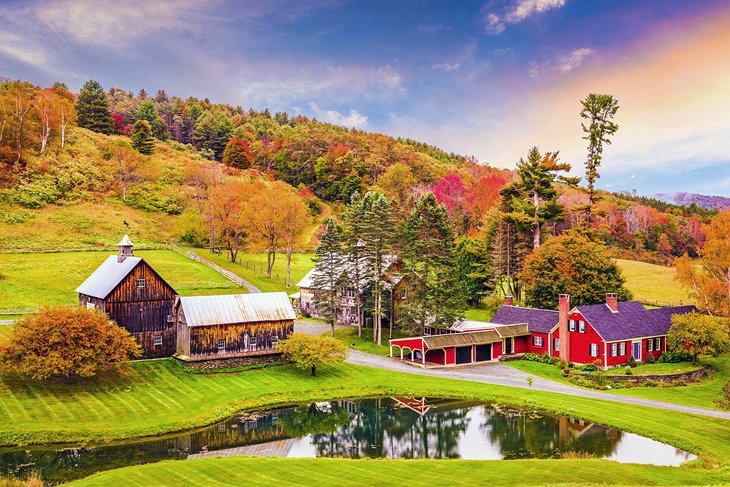 This tiny, wealthy village exudes quintessential New England charm. From three covered bridges to the tranquil Ottauquechee River to a town center filled with historic buildings and multiple churches, this is a photographer's dream location. It's also one of the best small towns in Vermont. Grand homes surround the oval-shaped town green, and the entire village is nestled within bucolic farmland.
13. Weston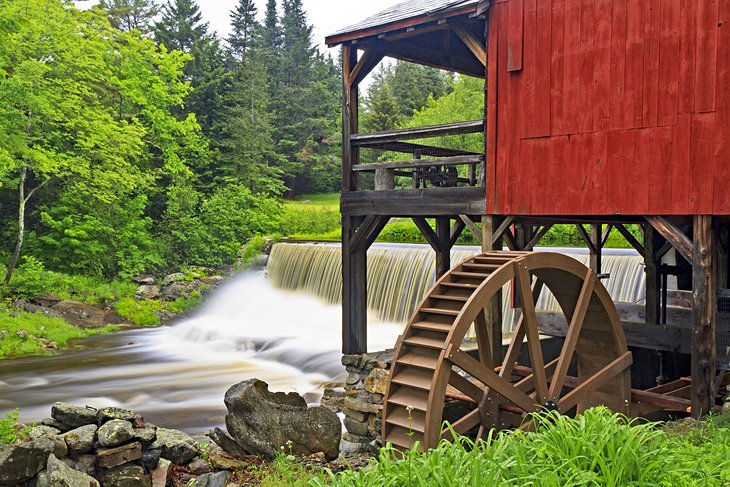 A waterfall cascades to the river below by this photo-worthy mill near the Weston Playhouse in Weston. This twee town is so charming, you'd expect fairies to pop out of the adorable homes. One of the town's biggest draws is the Vermont Country Store, which has been selling an eclectic mix of items (from board games to T-shirts to penny candies) for almost 75 years.
14. Mount Pisgah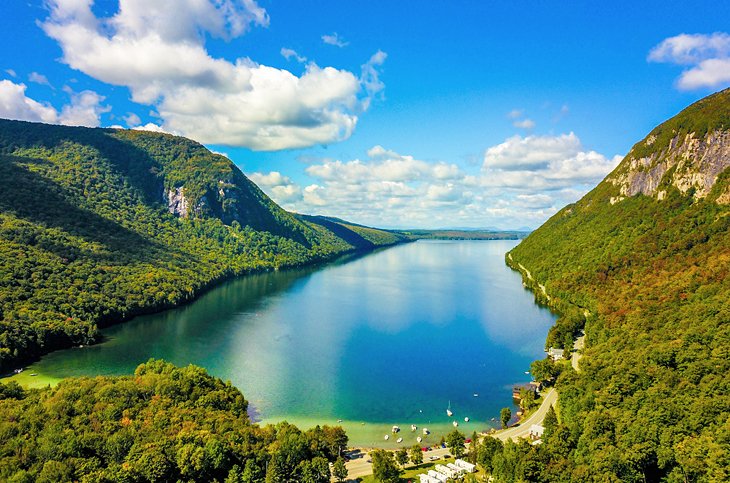 Talk about breathtaking beauty! Mount Pisgah is captivatingly gorgeous, offering views so lovely, you'll immediately reach for your camera. A hike to the mountain's overlooks provides incredible views over glistening Lake Willoughby. It's best to hike these trails between March and October, before they become slick with ice and snow.
15. Ricker Pond State Park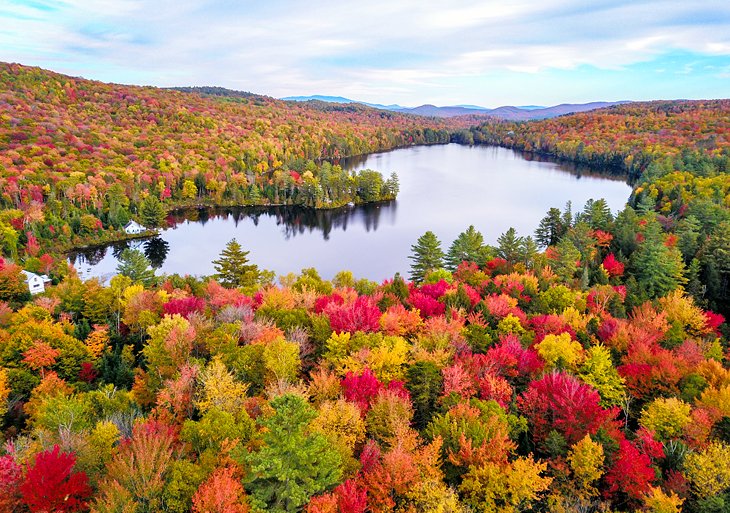 One of seven parks in Groton State Forest, Ricker Pond State Park is as beautiful as its trees are tall. It was established in the 1930s and boasts miles of hiking trails. The clean, sparkling water welcomes swimmers, kayakers, and canoeists, as well as other small watercraft. It's a perfect place to get back to nature and relax.
16. Owl's Head Mountain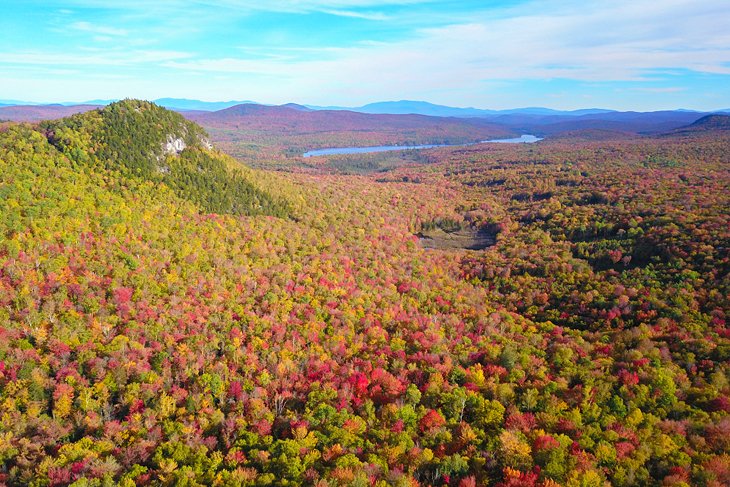 Another Groton State Forest superstar, Owl's Head Mountain invites nature lovers, hikers, and picnic lovers to spend time on its numerous paths. Owl's Head Trail offers a vigorous hike to the mountain's summit (about 540 meters), where climbers are rewarded with spectacular vistas of Lake Memphremagog and the exquisite surrounding countryside.
17. Rock of Ages Quarry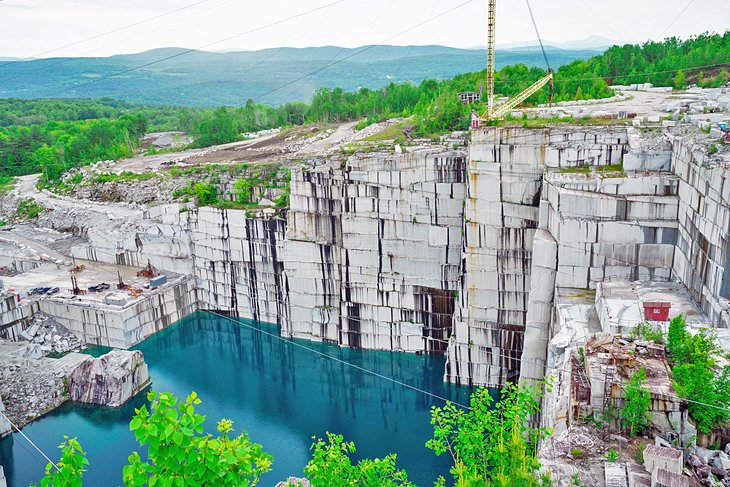 Visiting the Rock of Ages Quarry is like stepping foot on another planet, one where mining for granite is a fine art. The massive granite cliffs are awe-inspiring, and the fact that many of them are over 400 million years old is hard to process. Don't miss out on a guided tour.
18. Hamilton Falls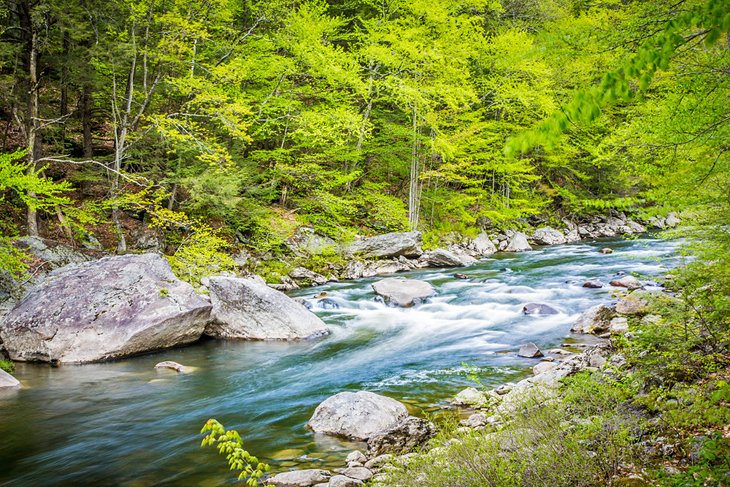 While jumping in the water near Hamilton Falls isn't advisable (the current is massively strong), there's little more relaxing than hearing the sound of water crashing as it thunders over the falls and watching it cascade towards its frothy destination below.
19. The Long Trail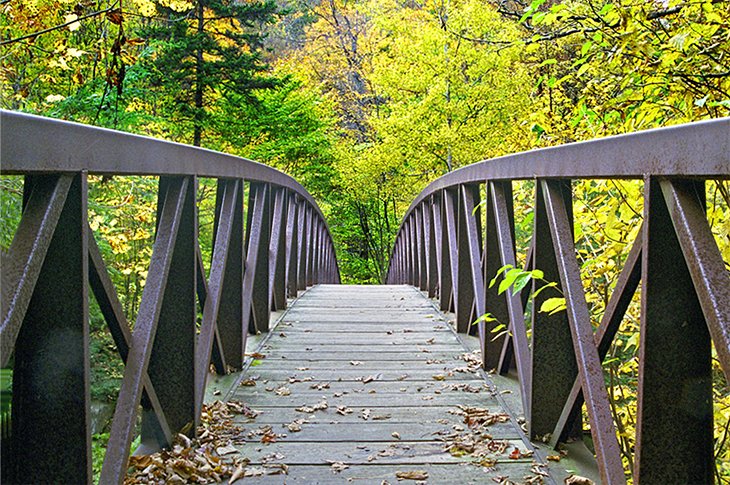 The aptly named Long Trail leads visitors through verdant forests, past bubbling brooks and swift streams, towards the great white north -Canada. This 272-mile-long trail runs the entire length of the state. We told you it was long! Pack good hiking shoes and lots of water to enjoy Vermont's "footpath in the wilderness."
20. Moss Glen Falls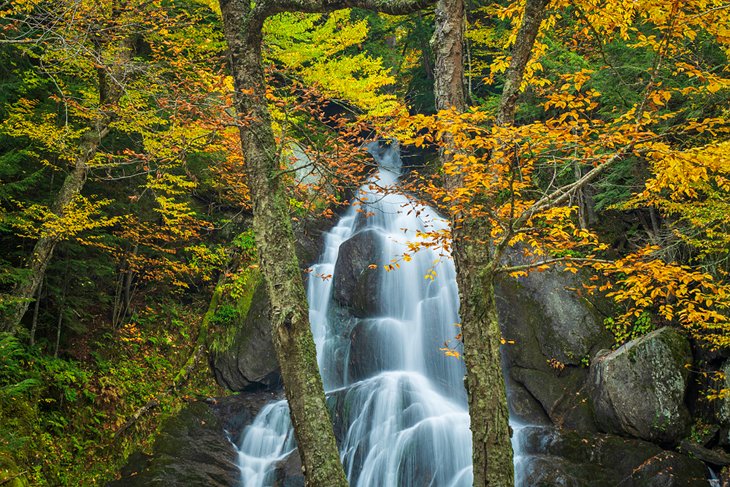 This horsetail falls is an easy one to spot, if you know what you're looking for. While most falls require travelers to hike their way in for a good view, this one can be spotted from the road - on the west side of Route 100 to be exact. Located near the town of Granville, the falls can be reached by crossing a small footbridge.
21. Green Mountain National Forest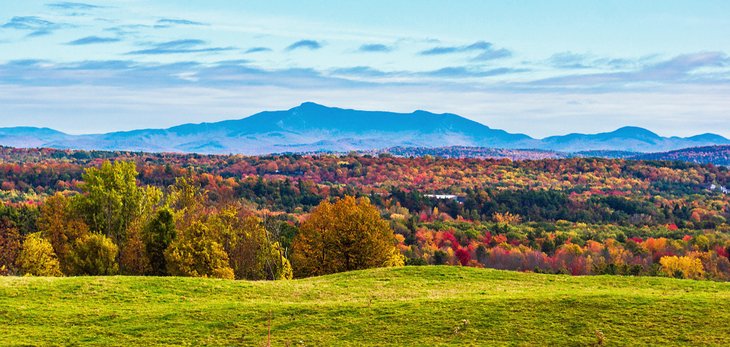 Vermont is a spectacular place to visit even if you don't intend to ski. The Green Mountain National Forest provides guests with picture-perfect vistas, towering mountains, and seemingly endless hiking trails. With 400,000 acres on offer, including over 2,000 historic and archeological sites, it's impossible to get bored. Visit in autumn for the most stunning photo ops.
22. Manchester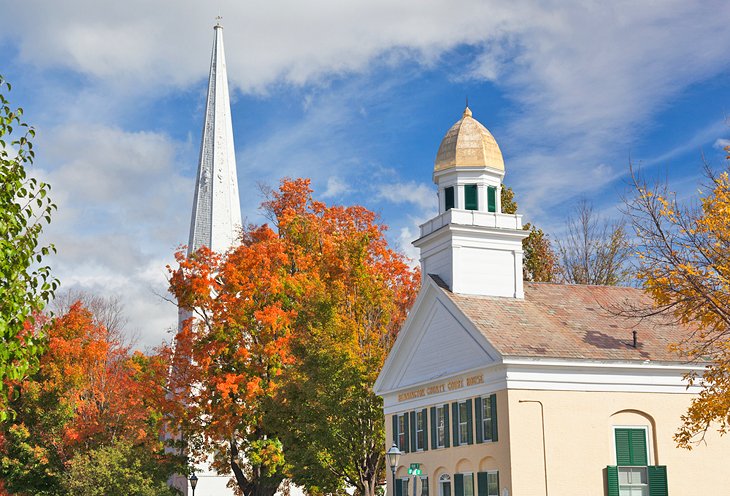 Nestled quietly in the Green Mountains in southwest Vermont, Manchester is a picturesque village with heart. Complete with a quaint, white-steepled church, the town center is as charming as you'd hope it would be. Beautiful Hildene, the historic home of President Lincoln's son, Robert, is one of Manchester's main attractions.
23. Wrightsville Reservoir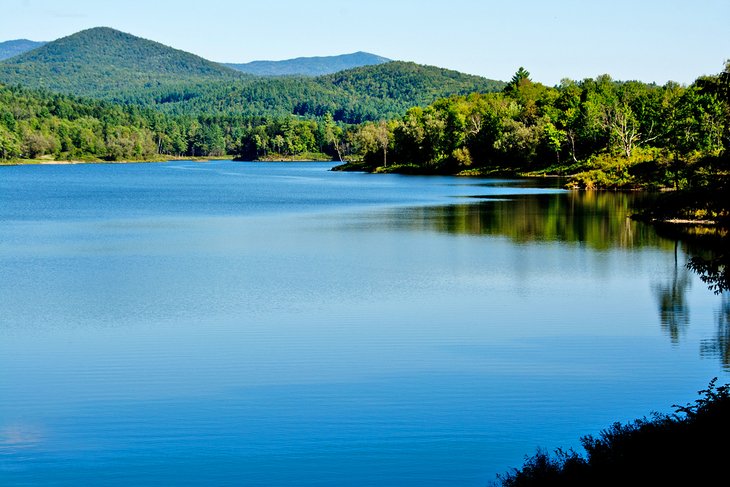 Another gem set in the Green Mountains, the Wrightsville Reservoir is a hot spot for summer fun. Visitors can swim, canoe, fish, boat (at reduced speeds), play on a beach, or hike the trails. There are also recreational facilities that include a playground, showers, and a volleyball net. Wildlife abounds, so be sure to pack a camera.
24. Hildene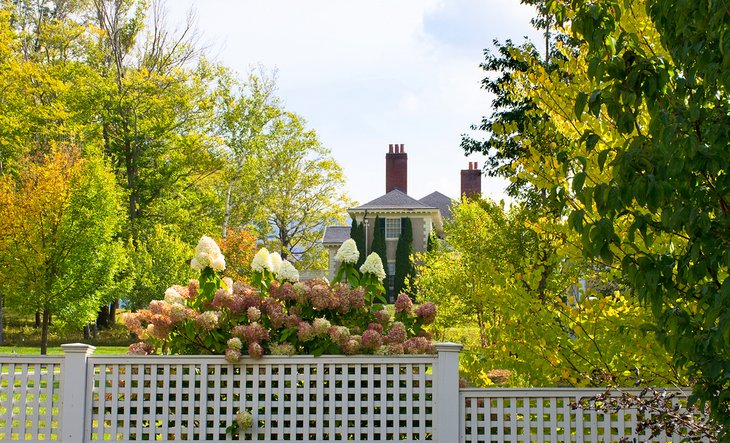 A glamorous Georgian Revival mansion greets visitors to Hildene. Once home to Robert Lincoln, the only surviving son of Abraham Lincoln, this pastoral Manchester estate is a wonderful spot to relax. If you're a fan of mesmerizing gardens, be sure to visit in the spring when these flawlessly manicured grounds are in full bloom.
25. Gold Brook Covered Bridge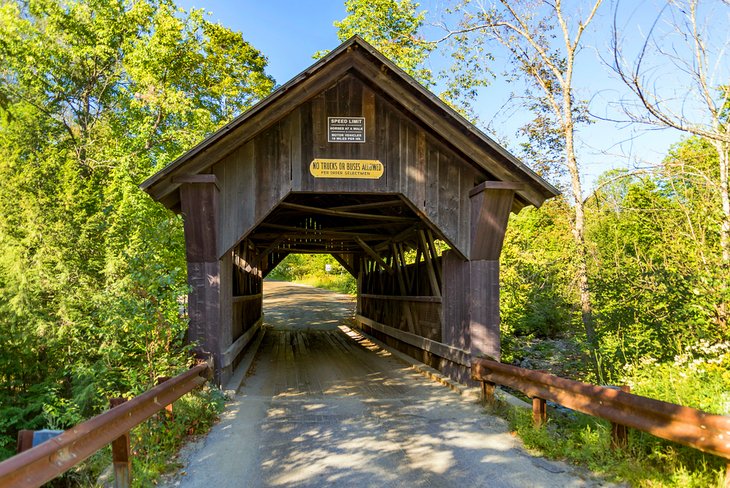 You can't come to Vermont without visiting a covered bridge; that would be like traveling to France and skipping the Eiffel Tower. If you only have time to see one, make it Gold Brook. Located in Stowe, this wooden beauty is better known as Emily's Bridge and spans Gold Brook.