15 Top-Rated Romantic Getaways in Vermont
We may earn a commission from affiliate links ()
Vermont is the ideal romantic getaway destination for couples who want to unplug and relax in a stunning natural setting. From the natural attractions, historic buildings, and galleries of the idyllic small towns to the cultural events, museums, and lively atmosphere in lake-side Burlington, there is a perfect spot for every couple.
Vermont's historic inns, B&Bs, and resorts are all well-practiced at catering to the needs of couples, and many offer romantic extras like horse-drawn carriage and sleigh rides, couples' spa treatments, and in-room fireplaces.
There is no bad time to visit the Green Mountain state, and even springtime "mud season" holds the sweet promise of freshly tapped maple syrup. Whether enjoying the scenic foliage of autumn, taking to the slopes at a ski resort, or simply relaxing on a porch, there is something for every season.
Plan your cozy escape with our list of the best romantic getaways in Vermont.
1. Rabbit Hill Inn, St. Johnsbury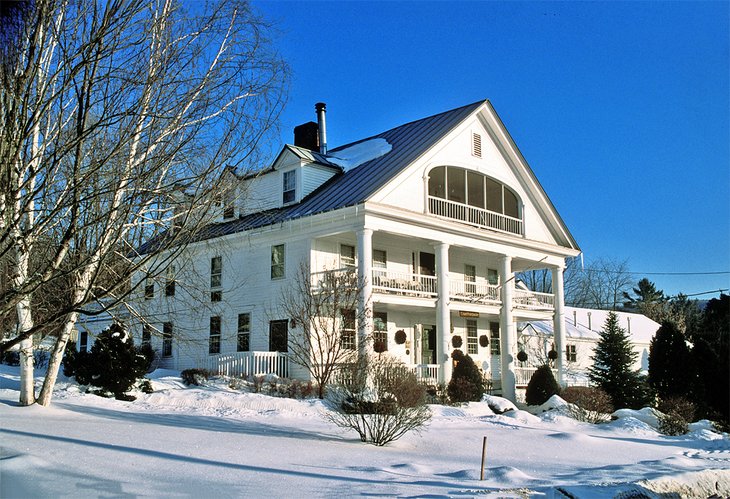 Rabbit Hill Inn in St. Johnsbury is truly one of the most romantic places to stay, not only in Vermont but in all of New England. Originally built in 1795 as a tavern, hotel, and general store, this historic site has been welcoming guests for over two centuries.
Today, it offers luxurious rooms and suites with private balconies and views of the White Mountains, whirlpool baths, and plush bathrobes for cuddling in front of a private gas fireplace.
The inn serves a complimentary full breakfast in B&B-style, and the on-site restaurant specializes in local farm-to-table fare for lunch and supper with special diet menus available.
The Inn's game room is a great place to spend time getting to know other couples over a game of darts or a board game, and there is plenty to do right on the 15-acre property including a stroll to the pond or gazebo, or snowshoeing in the winter.
The inn is adults-only to ensure the most stress-free environment possible, and on-site spa services are available for extra pampering. Guests can also enjoy convenient bicycle rentals, and the concierge is dedicated to making sure that couples get the most out of their special Vermont getaway.
Accommodation: Rabbit Hill Inn
2. The Wilburton Inn, Manchester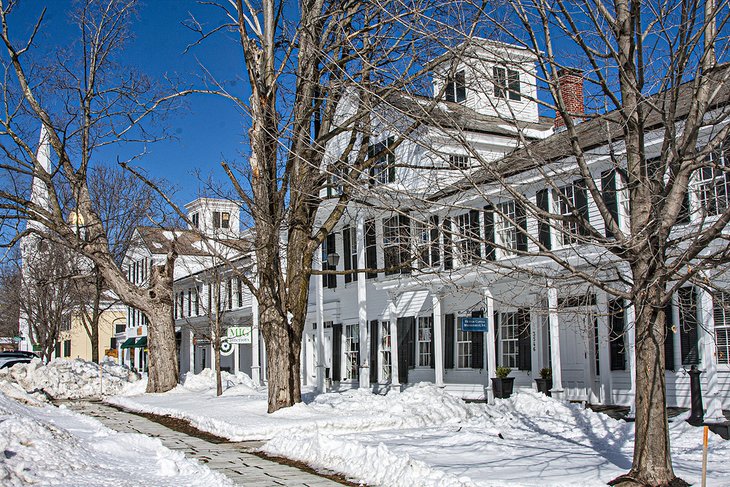 The Wilburton Inn is one of the most elegant of Manchester's old mansions, located near Hildene mansion and complete with beautifully manicured sculpture gardens and recreational facilities like an outdoor pool and tennis court. Couples can begin their day with the complimentary full breakfast, have a relaxing day enjoying spa services, and then retire to a cozy mountain-view suite in front of the fireplace.
Couples interested in history will want to visit the area's star attraction, Hildene, a mansion that was home to Robert Todd Lincoln, Abraham Lincoln's son. Visitors can enjoy a tour of the well-preserved home, as well as the beautiful gardens and working farm. Other local cultural attractions include the Southern Vermont Arts Center and the American Museum of Fly Fishing.
Accommodation: Wilburton Inn
3. Willard Street Inn, Burlington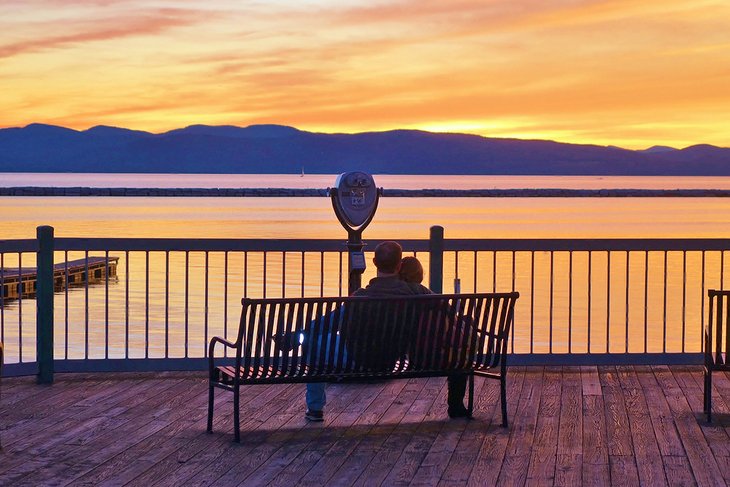 Located on the shores of Lake Champlain, Burlington is home to several of Vermont's top tourist attractions. The Willard Street Inn is one of the city's most lovely properties, a grand stone-and-brick Victorian mansion with beautifully tended grounds and a stunning interior. Listed on the National Register of Historic Places, guests will be in awe of the level of care taken to restore and maintain every room. Guests can enjoy spacious rooms, daily breakfast in the solarium, fresh-baked afternoon cookies, and excellent views of Lake Champlain.
One of the most romantic things to do in Burlington is taking a cruise on Lake Champlain. Most couples love the sunset dinner cruises, while others explore during the day, hoping to catch a sighting of the lake's allusive resident, "Champ." Often compared to Loch Ness's "Nessie," Champ is something of a local mascot.
Accommodation: Willard Street Inn - Bed & Breakfast Mansion
4. Ludlow's Okemo Resort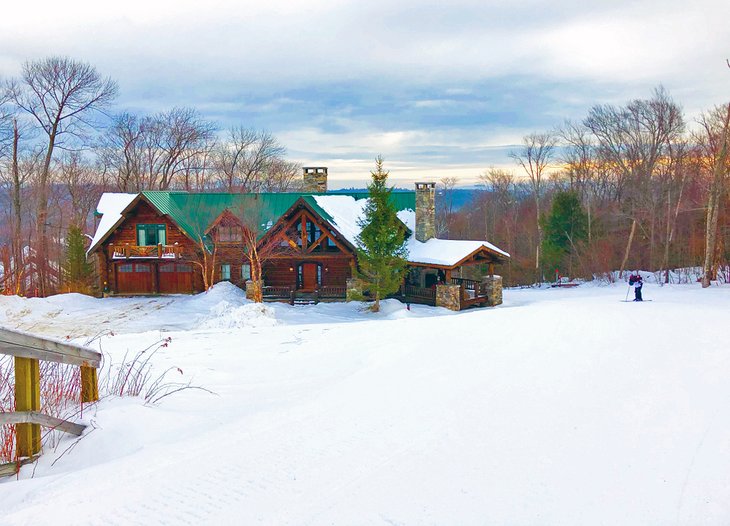 For a romantic winter getaway, Okemo Resort in Ludlow provides everything you need to have a cozy ski weekend. Skiers and snowboarders will appreciate the 98 percent snowmaking coverage, 121 downhill trails, and 20 lifts, one of which features heated seats.
After a day on the mountain, couples can relax with a swim in the heated pool, book a spa treatment, or go ice-skating on the private rink.
There are several lodging options here, including slope-side ski-in-and-out rooms and condo rentals for extended stays.
Jackson Gore Inn is located at the base of the mountain, and offers easy access to the slopes, as well as a variety of property amenities, including babysitting to allow parents to sneak away for a romantic dinner at one of Okemo's fine restaurants.
This four-season resort can be just as much fun in the off-season, and there are a variety of services and activities planned year-round to provide guests with the full resort experience.
5. Grunberg Haus Inn & Cabins, Waterbury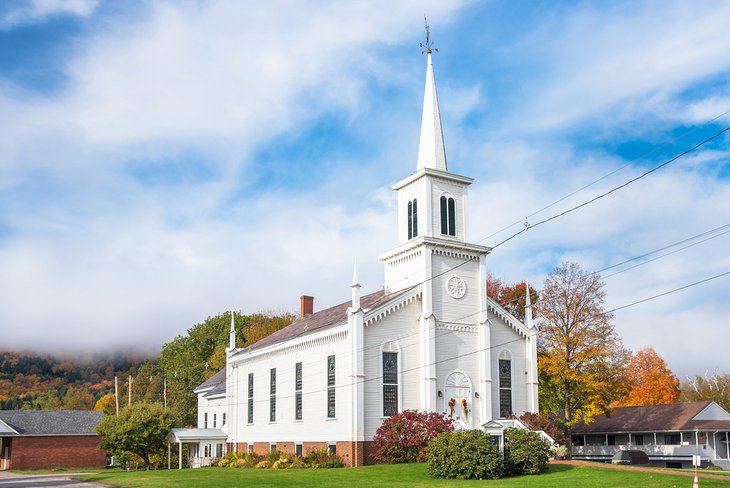 The Grunberg Haus Inn & Cabins in Waterbury takes kitsch to the next level, creating a unique and oddly charming lodging experience. A mix of Austrian Alpine, traditional New England, and Americana décor is found throughout the inn, and no two guest rooms are the same. Set just outside the center of town on a hillside, you are close to the local attractions but feel like you are a world away from everyday life.
Couples who appreciate a good cup of java and the art of frozen confections will find that Waterbury is the place to go. This busy little town is best known as the home of the Ben & Jerry's Factory, where tourists can watch the process in action and sample flavors, as well as mourn departed, discontinued recipes in the Flavor Graveyard.
Coffee aficionados can find a plethora of cafés and local roasters here, but the star of the show is the Green Mountain Coffee Visitor Center where you can learn everything you ever wanted to know about coffee.
Waterbury also has an excellent selection of local dining establishments to choose from, as well as many local shops and galleries to peruse. Tourists can also take a walking tour of the town's central historic buildings, or extend the tour in a vehicle to include the Mill Village Historic District, once home to an early 19th-century grist mill.
Accommodation: Grunberg Haus Inn & Cabins
6. Woodstock Inn & Resort, Woodstock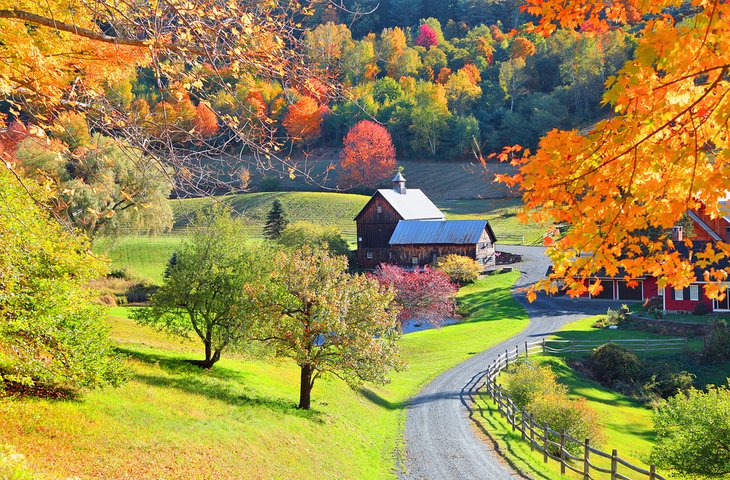 The idyllic little town of Woodstock and the surrounding countryside is the perfect place to visit for a relaxing couples' retreat. The Woodstock Inn & Resort is the centerpiece of this lovely town, located overlooking The Green.
Resort amenities include indoor and outdoor pools, a hot tub, fitness center, tennis court, and a full range of on-site spa services including couples' packages. Hotel shuttle service brings guests to local attractions including golf and skiing, and bicycle rentals are available for leisurely touring of the town.
The Inn is within a few minutes' walk to the Woodstock History Center, as well as numerous local galleries, posh boutiques, and restaurants along Woodstock's central streets. Billings Park and Trails sits adjacent to the inn, and the Middle Covered Bridge is just opposite The Green.
Accommodation: Woodstock Inn & Resort
7. Trapp Family Lodge, Stowe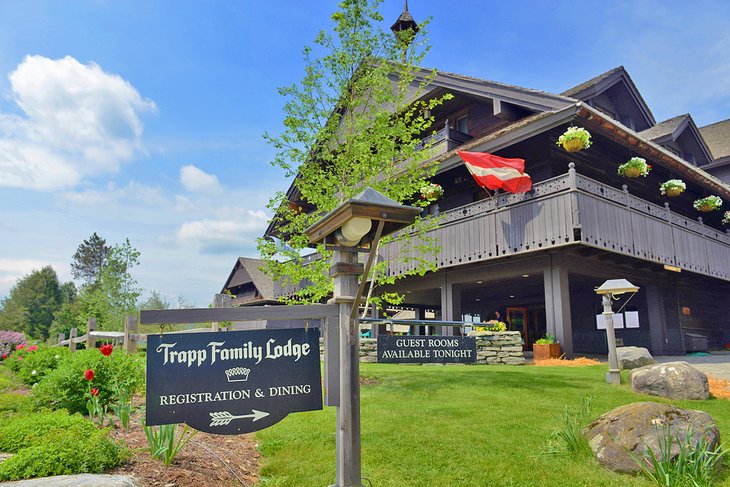 This romantic resort was once the home of the Von Trapp family whose story was immortalized in The Sound of Music. Guests will certainly feel like they are stepping into another world when approaching the Alpine chalet, and throughout the historic home there are reminders of the family's Austrian culture.
Guest rooms are spacious and updated, including private balconies and romantic fireplaces.
In the summer, guests can enjoy mountain views while relaxing in the pool or 20-person hot tub, and there is also an indoor pool and sauna. In addition to a well-equipped fitness center, there are also fitness classes and a yoga room; the resort has a full-service spa on site as well.
On site recreation includes tennis courts, a rock-climbing wall, disc golf, and hiking trails, as well as bicycle and ski rentals for cross-country skiing.
This 2,500-acre resort offers a variety of tours of the property, including tours of the gardens, nature walks, and history tours. There are three restaurants to choose from, and there is nightly entertainment. The resort hosts special events year-round.
The nearby town of Stowe sits at the feet of Vermont's tallest peak, Mt. Mansfield, where downhill skiing made its debut in the state. The picturesque town has several local art galleries and craftsman shops, and is also home to the Vermont Ski Museum.
Just a few miles from the center of town, Stowe Mountain Resort offers a full range of year-round activities in addition to excellent skiing and snowboarding.
Accommodation: Trapp Family Lodge
8. Castle Hill Resort and Spa, Cavendish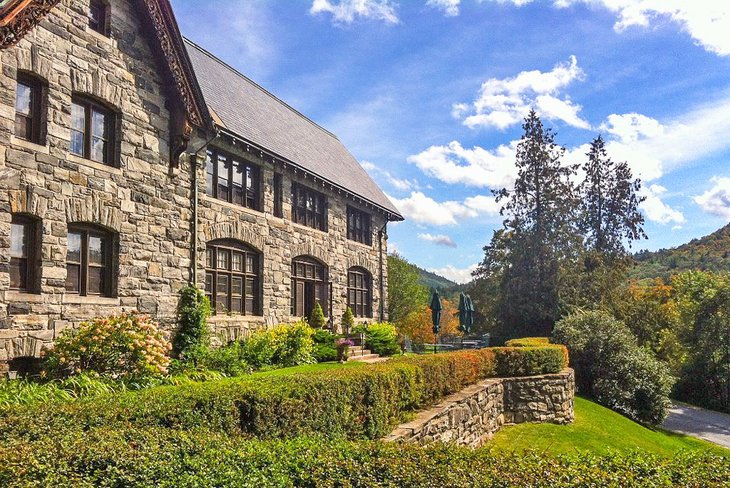 This lovely property offers the privacy and elegance of a cozy Vermont B&B but has the privacy and the amenities of a resort. They specialize in creating the perfect atmosphere for a romantic getaway, and in addition to being a popular wedding venue, Castle Hill offers honeymoon and anniversary packages, as well as themed getaways like a gourmet food lover's retreat.
Guests can choose between two types of lodging, but the most popular choice for couples are the castle rooms.
The resort's stunning centerpiece building is listed in the National Register of Historic Places, with a balance of historic charm and modern updates for comfort. These sumptuously decorated guest rooms include period furnishings, hardwood floors, and private baths with plush robes and Aveda toiletries.
Alternately, condo-style rooms with full kitchens, living areas with fireplaces, and up to three bedrooms are available as well.
Resort amenities include a large fitness center, indoor and outdoor pools, a hot tub, and a full-service spa on site that offers couples' spa treatments. There is also a tennis court, and skiing is close by at Okemo Mountain and Jackson Gore.
Accommodation: Castle Hill Resort And Spa
9. The Grafton Inn, Grafton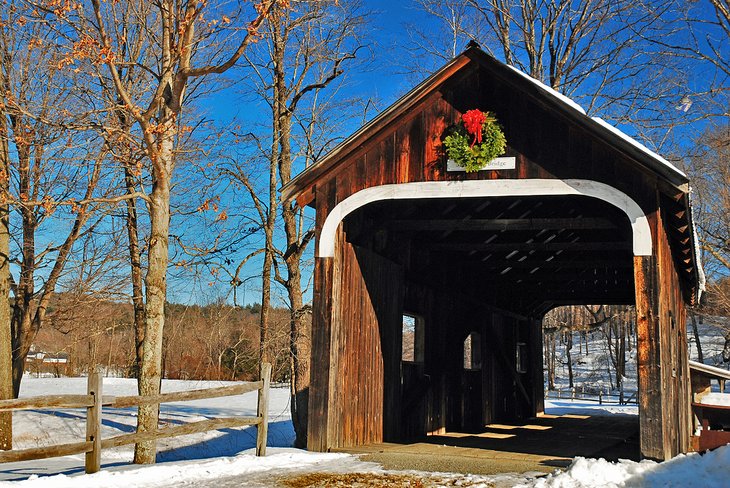 Grafton is an idyllic small town that was restored to its original beauty thanks to the generous efforts of the Windham Foundation. The centerpiece is the historic Grafton Inn, which has been in operation since 1801.
Next door, the Turner Interpretive Center offers insight into the lives of an escaped slave and his family, and other nearby museums include the History Museum, the Nature Museum, and the Vermont Museum of Mining and Minerals. There are also several galleries in and near the town center, as well as a traditional general store with an upscale twist that offers specialty foods, including the famous Grafton Cheese.
Nearby outdoor activities include the Grafton Trails & Outdoor Center, which has 2,000 acres of trails and recreational areas. The center rents mountain bikes for use at its terrain park and paddleboats for use on the pond, and there is also a disc golf course and various lawn games. Guided tours are also available, and there are sleigh rides in the winter. For those who just want a pretty place to picnic in town, Village Park is located just off Main Street.
10. The Blue Horse Inn, Woodstock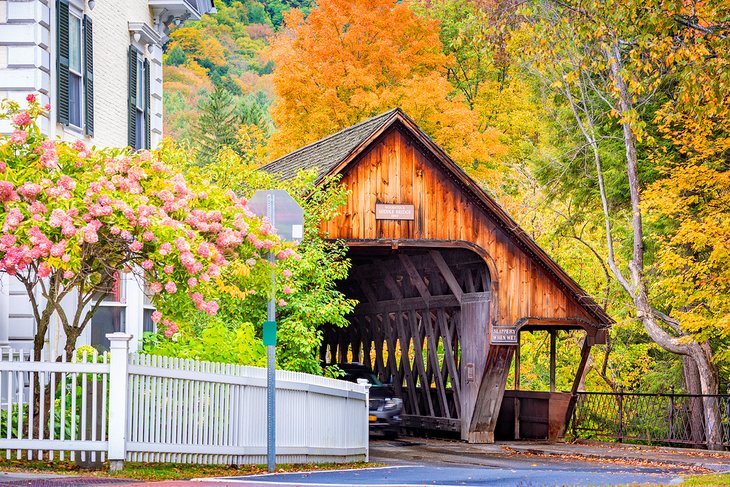 The Blue Horse Inn is a stunning property year-round, situated right in town overlooking the Ottauquechee River and Woodstock's classic covered bridge. Guests can enjoy extensive gardens, a patio, and a heated pool among many on-site amenities. Guest rooms and common areas have fireplaces, and couples are spoiled each morning by a home-cooked three-course breakfast.
Inn staff will help visitors coordinate many local outdoor activities, including golf, water sports, and fishing in the Ottauquechee River, and horseback riding. The area is also especially popular with hiking enthusiasts, with the Billings Park and Trails on Mt. Peg nearby.
The Billings Farm and Museum is one of the top tourist attractions in Woodstock, an open-air history museum and working farm that explores farm life and the influence that Frederick Billings had on dairy farming and the local economy.
At Sugarbush Farm, visitors can learn about how cheese and maple syrup are made (and sample them as well).
Accommodation: The Blue Horse Inn
11. Cold Moon Farm Bed & Breakfast, Jamaica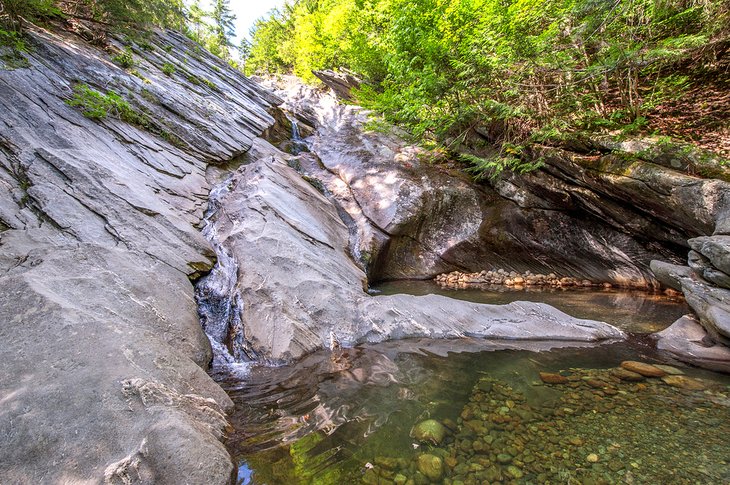 This lovely country B&B is the perfect getaway for couples who want to experience life on an authentic working farm. Guests have the option to help out as much or as little as they like, gathering eggs from the chicken coop for breakfast, feeding the goats, or picking veggies from the garden. For those who just want to relax, there is plentiful outdoor furniture for admiring the mountains, and a great game area with billiards, foosball, table tennis, and even skee-ball.
Guests will find plenty of things to do in the surrounding area, with Stratton Mountain Resort just three miles away and Bromley Ski Mountain only 10 miles away. When there isn't snow on the ground, these resorts offer golfing, hiking, waterslides, ziplines, and more.
Accommodation: Cold Moon Farm Bed & Breakfast
12. Made INN Vermont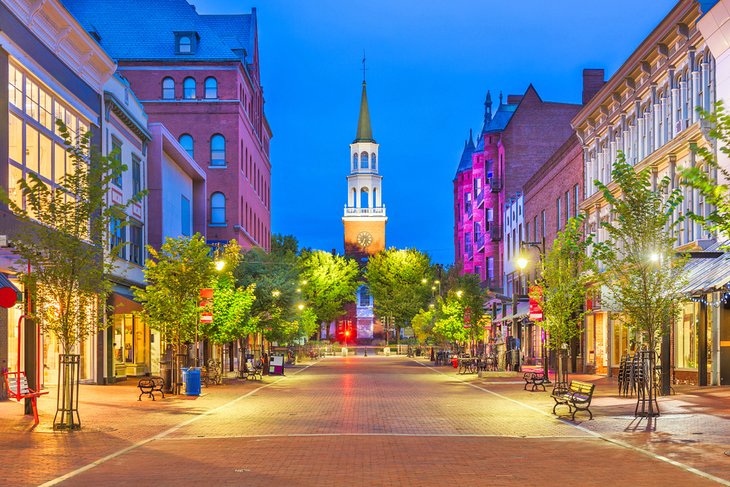 Housed in an 1881 Victorian mansion, this unique inn puts a hipster spin on the classic New England B&B. The inn's style is eclectic yet tasteful, skillfully combining the best elements of the property's history with modern amenities and the handiwork of local craftsmen. Amenities include on-site spa services, complimentary Green Mountain Coffee, a game room with billiards, bicycle rentals, and a rooftop terrace.
Couples will find the atmosphere in the nearby four-block Church Street Marketplace festive nearly any time of year, with plenty of shops, cafés, vendors, and performers, and this brick-paved, pedestrian-only thoroughfare is the perfect place to visit for people-watching.
Visitors can also find plenty of things to do on and around the nearby University of Vermont campus, an area that is known for its lively atmosphere. It is also known for its cultural attractions, and the Robert Hull Fleming Museum of Art is one of the finest, housing over 20,000 artifacts and pieces of artwork from around the world. Students are also very involved in local productions at the Flynn Center for Performing Arts and on-campus musical and theatrical productions.
Accommodation: Made INN Vermont
13. Haven Guest House Bed & Breakfast, Fair Haven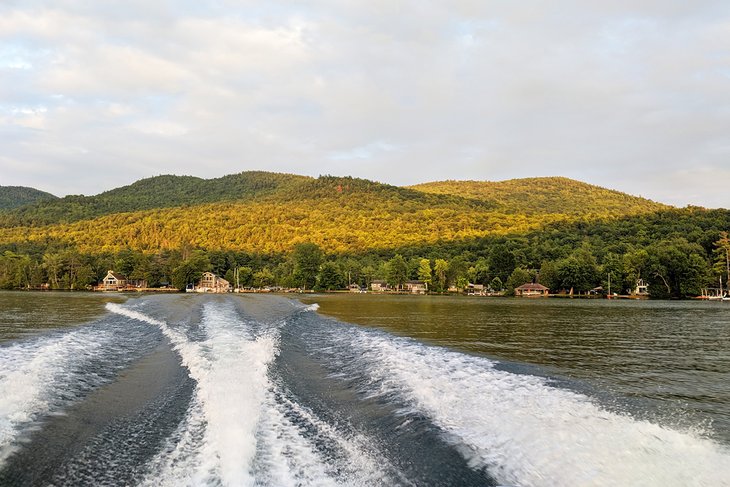 This beautiful Victorian mansion is tucked away in Fair Haven, a small Vermont town on the border of New York. Couples will find spacious guest rooms with modern amenities and private baths with walk-in showers. They will feel at home in the common areas, including a wide wraparound porch and the dining area where breakfast is served, fresh-cooked with locally sourced ingredients. The grounds feature gardens and a koi pond, as well as an outdoor fireplace with comfortable furniture.
Nearby, guests will find an extensive network of trails for hiking in the warmer weather and snowmobiling in the winter. Local shops and restaurants are also within walking distance, as well as the Village Green and Castleton University. Fair Haven is only 20 minutes from Rutland, and within a 25-minute drive of Huletts Landing on Lake George in upstate New York.
Accommodation: Haven Guest House Bed & Breakfast
14. The Norwich Inn, Norwich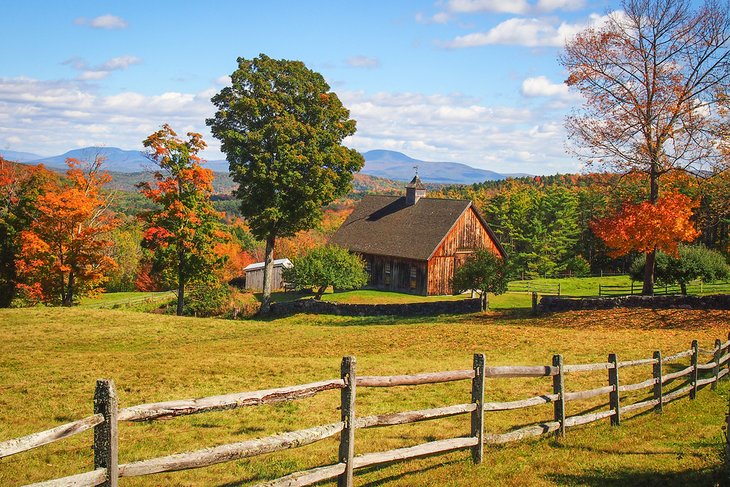 The Norwich Inn is a historic property featuring an 1890 Victorian mansion and several newer guest buildings on impeccably kept grounds. Guest rooms are spacious, furnished in period pieces like four-poster beds and featuring fireplaces and other romantic accents. Guests can enjoy breakfast in the sun room or on the patio, and the on-site restaurant is a favorite with tourists and locals alike.
Foodies will want to spend some time at King Arthur Flour, conveniently located just down the street from the Inn. Visitors can sample and buy goodies from the bakery, take baking classes from the pros, and take home all the ingredients and equipment you need to make it all at home. Other local attractions include the Montshire Museum of Science and Dartmouth College, just over the river in Hanover, New Hampshire.
Accommodation: The Norwich Inn
15. The Equinox, Manchester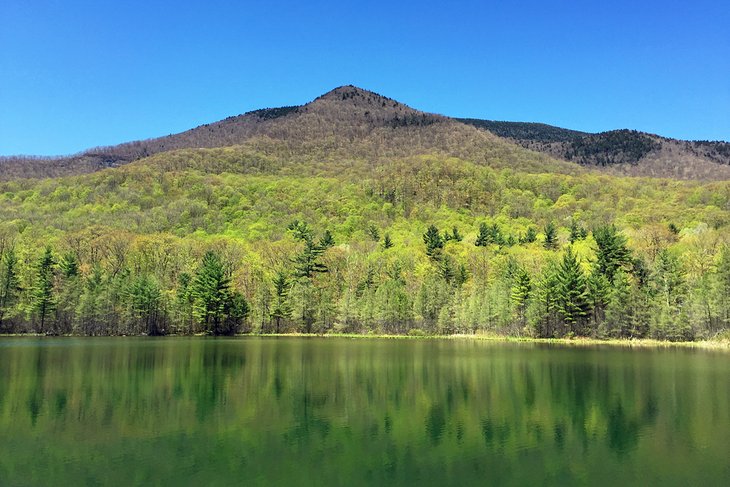 A stroll down the marble sidewalks of the picture-perfect Manchester Village Historic District is just one of the many romantic things to do in this lovely Vermont town. One of Manchester's most lovely aspects is its plethora of fine old mansions that line Main Street, many of which have been turned into inns and B&Bs.
The center of town is marked by a historic four-star resort, The Equinox, also home to an excellent spa and golf course and considered to be one of Vermont's top resorts. Property amenities also include tennis courts, an indoor pool, lawn games, hiking trails, gardens, and a large but cozy outdoor fire pit.
For great shopping, visitors can head just down the road into Manchester Center, where you can find numerous factory outlet stores featuring upscale brands, as well as local specialty shops. There is also a good selection of restaurants and cafés.