14 Best Things to Do in Vermont
Tourists visiting New England are often surprised to find so many things to do in Vermont. Although it is known for its mountains, forests, and farms, Vermont is a lot more than that.
There are places to visit in Vermont for travelers who like gardens, antiques, history, shopping, and the arts. Idyllic country villages lie among its hills, and Burlington, its largest city, is known for its lively cultural scene.
Vermont's acres of wilderness, its mountains, lakes, and rural landscapes make the state a paradise for outdoor and nature enthusiasts. Opportunities for fishing, kayaking, canoeing, hiking, climbing, skiing, snowmobiling, birding, bicycling, camping, and other outdoor pursuits are at every turn in the winding country roads.
You'll find plenty of ideas for places to go in this handy list of the best things to do in Vermont.
1. Climb, Drive, or Ride to the Summit of Mt. Mansfield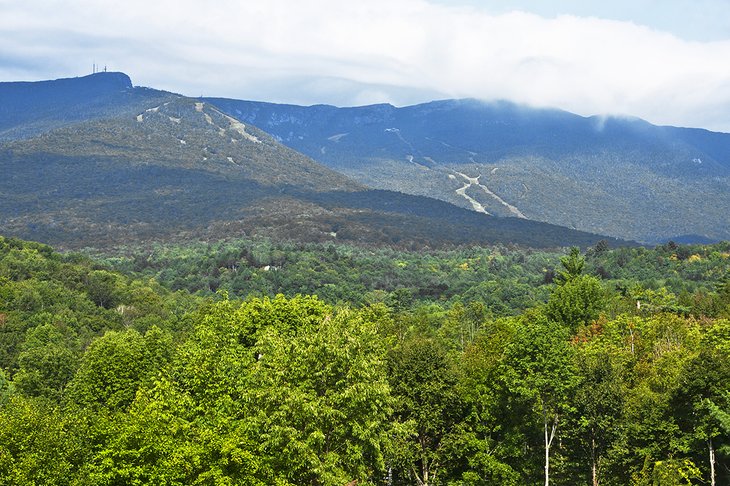 Stand at the top of Vermont, with 360-degree views of the Green Mountains, Lake Champlain, and the Adirondacks. At 4,395 feet in altitude, this is Vermont's highest mountain, but one of the easiest to ascend.
Choose from the 4.5-mile toll road that climbs in switchbacks to within 500 feet of the summit, or ride the gondola from the base of the ski area.
You can also climb Mt. Mansfield on the Long Trail, which crosses Mountain Rd. (Route 108) at the base of Smugglers' Notch. The trail climbs about 2.3 miles to reach the ridgeline. There are several other trails to the top of the ridge, which offer more than two miles of hiking above tree line. This is one of only two places in Vermont where rare arctic-alpine tundra plants grow.
2. Take a Cruise on Lake Champlain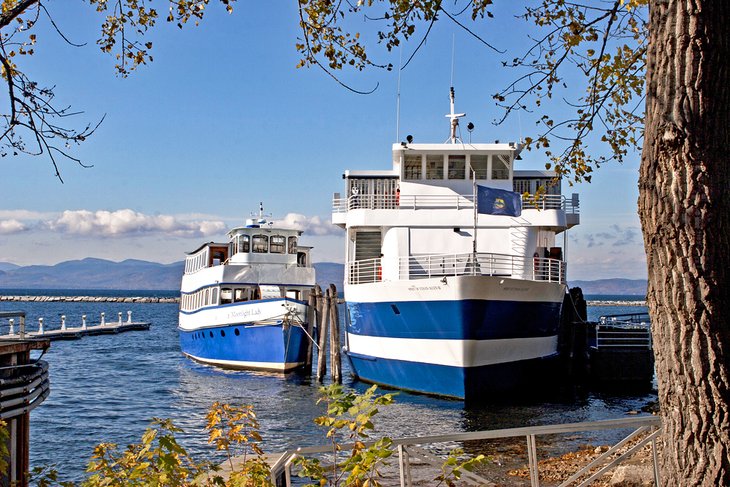 The 120-mile-long Lake Champlain separates Vermont from New York and provides a popular playground for both states. The best way to see the lake and get a sense of its size and history is on a cruise.
Spirit of Ethan Allen III sails from downtown Burlington for sightseeing cruises, as well as lunch and dinner cruises on the lake. Narration includes pointing out landmarks and background on the lake's role in the Revolution and War of 1812. You'll also hear about the lake's 20-foot sea serpent, called Champ, which has reportedly been spotted from the ship.
Sailing cruises also begin in Burlington, aboard the 12-passenger Friend Ship and the six-passenger Wild Rose.
Official site: https://soea.com/cruise/
3. Spend a Day in Manchester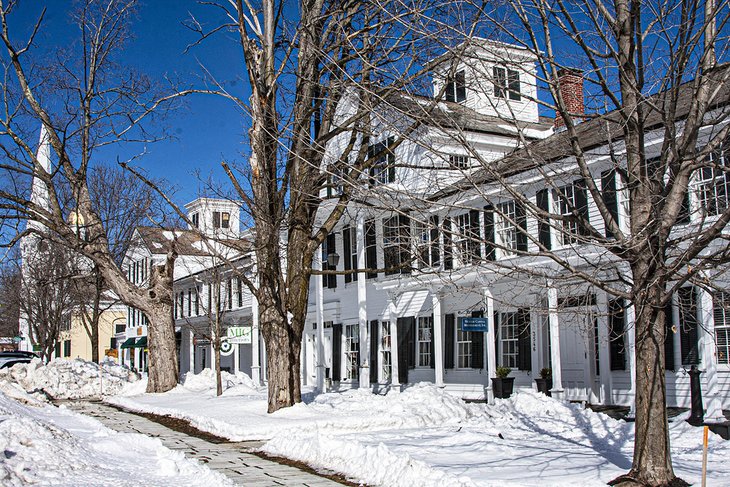 Manchester has a split personality, with its business district in Manchester Center and its historic center in Manchester Village, a mile to the south along Vermont Route 7-A.
Manchester Center is known for outlet shopping, and Manchester Village is a historic ensemble clustered around the columned façade of The Equinox, Golf Resort & Spa.
Forming a backdrop to the village is Mount Equinox, which you can climb for a 360-degree panorama, or you can drive to the summit on the Mount Equinox Skyline Drive.
Fly fishing enthusiasts will want to stop at Orvis and at the neighboring American Museum of Fly Fishing.
Robert Todd Lincoln, son of the president, built his summer home in Manchester, as did many other wealthy city people in the late 1800s. Hildene is restored and still furnished with family pieces; in June thousands of peonies bloom in the formal gardens.
Before leaving Manchester, stop to admire the sculptures on the grounds of the Southern Vermont Arts Center.
Read More: Best Things to Do in Manchester, VT
4. A Family Winter Ski Getaway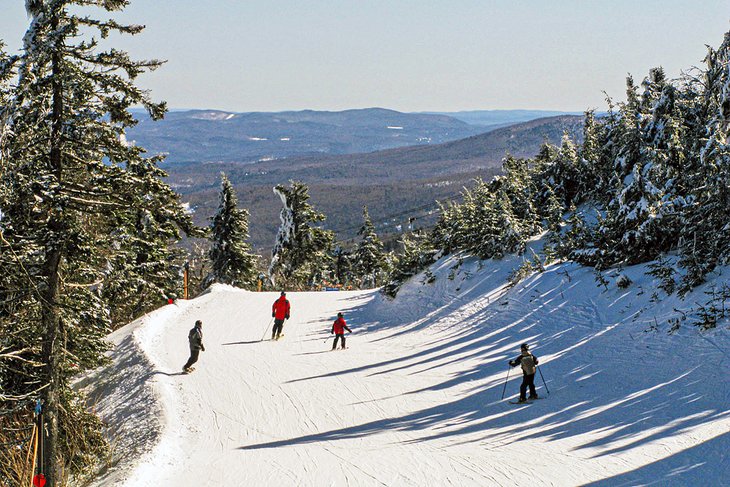 As soon as snow flies, Vermont is all about skiing and winter sports. Ski resorts and local ski hills are all over the state, several of them especially suited to family ski vacations. These offer convenient slope-side or base lodging, learning programs for all ages, child-care, and plenty of things to do for non-skiing family members.
Okemo Mountain Resort, in south-central Vermont, is known for its on- and off-slope facilities, family programs, and the full-service hotel at the base of the lifts. Skiers love the 669 acres of beautifully groomed trails and challenging glades; boarders love the East's longest superpipe, and kids love the Timber Ripper Mountain Coaster. For non-skiers there's a covered ice-skating rink, a spa, indoor and outdoor pools, a tubing hill, and fine dining.
Farther north, Stowe was one of the country's earliest ski resort towns, with slopes and trails on Mt. Mansfield and Spruce Peak. Handy for families, hotels and services are right at the base and on the mountain, and Kids Adventure Zones have gentle slopes and freestyle terrain that was purpose-built for learning. Miles of cross-country and snowshoe trails lead into the village, and you can take dogsled tours, sleigh rides, and snowmobile tours.
Okemo Mountain Resort
Stowe
Read More: Best Things to Do in Vermont in Winter
5. Tour a Historic Mansion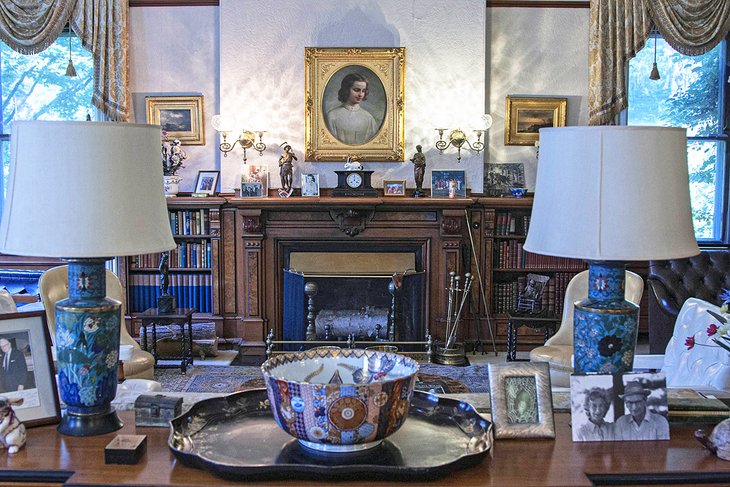 Wealthy city families often chose the green hills of Vermont for their summer homes and many of these estates still exist today, some as historic sites open to visitors. The Georgian Revival Hildene, in Manchester, was the summer estate of Abraham Lincoln's son, Robert Todd Lincoln, head of the Pullman Company.
The Marsh-Billings-Rockefeller Mansion in Woodstock was built in 1805, but remodeled in 1869 and again in 1884, each time in the currently popular style. The interior demonstrates the height of Victorian decorative art, with Tiffany stained-glass windows and embossed wallpapers. The house exhibits the Rockefellers' collection of Hudson River School paintings.
In Bennington, the Park-McCullough Historic Governor's Mansion is among New England's best examples of Victorian architecture and interior. Meticulously preserved, the 35-room mansion is in the Second Empire style of the 1860s, with the construction details and artistic features typical of fine homes of the period. It is furnished in fine antiques. All three mansions have outstanding gardens.
Hildene
Park-McCullough Historic Governor's Mansion
6. Take a Hike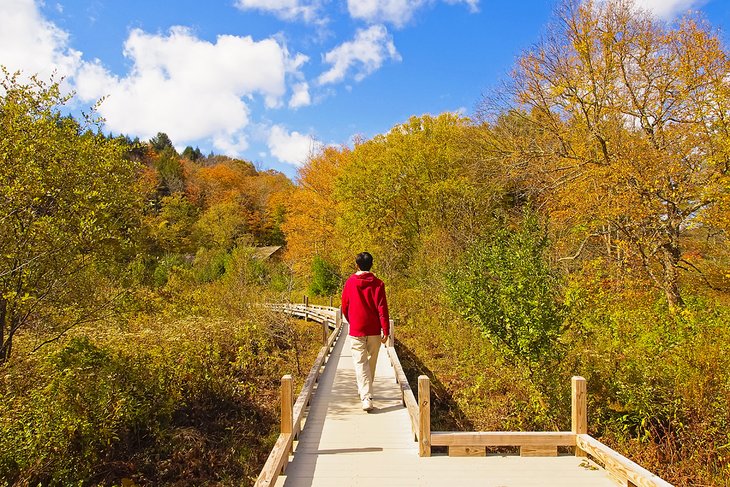 The possibilities for hiking in Vermont are almost endless, from short trails to waterfalls to the famous Long Trail that follows the Green Mountains from the Canadian border to the Massachusetts state line.
If that's not enough, the Appalachian Trail crosses Vermont on its way from Maine to Georgia.
If you don't want to take on Mt. Mansfield, Camel's Hump, or another of the state's tallest peaks, pick up a copy of the Green Mountain Club's Day Hiker's Guide to Vermont to find trails in places like Groton State Forest or the Lake Dunbar/Moosalamoo area near Middlebury.
State parks and town forests are good places to look for less demanding trails, often surrounding lakes. The Merck Forest and Farmland Center in Rupert includes 28 miles of hiking trails across its 2,800 acres, which includes a small mountain.
Official site: https://www.greenmountainclub.org
7. Browse the Art Galleries in Woodstock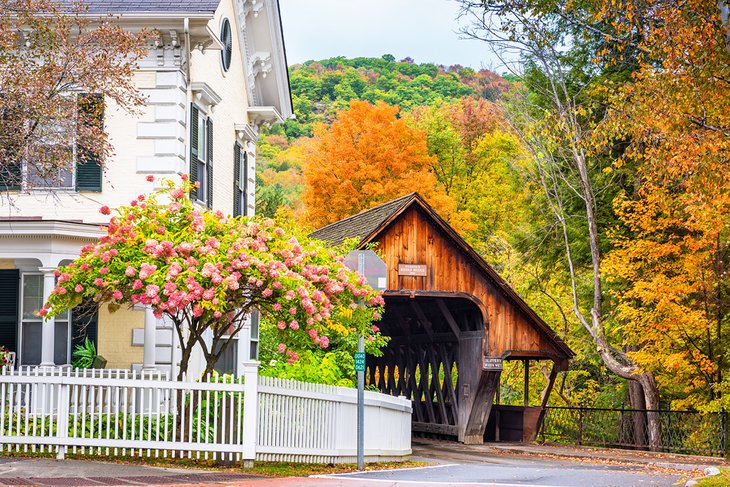 More than a half dozen art galleries and a craft co-operative display sell the works of local and other artists amid the smart shops and boutiques in downtown Woodstock. It's easy to see why this Vermont small town inspires artists, with its tree-lined streets of historic homes and attractive village green. There's even a covered bridge crossing the river in the center of town.
Even if you're not in the market for a painting or original print, the galleries welcome browsers, and you'll come away with an appreciation for the talents of artists who have been drawn to the town.
8. Taste Vermont Maple Syrup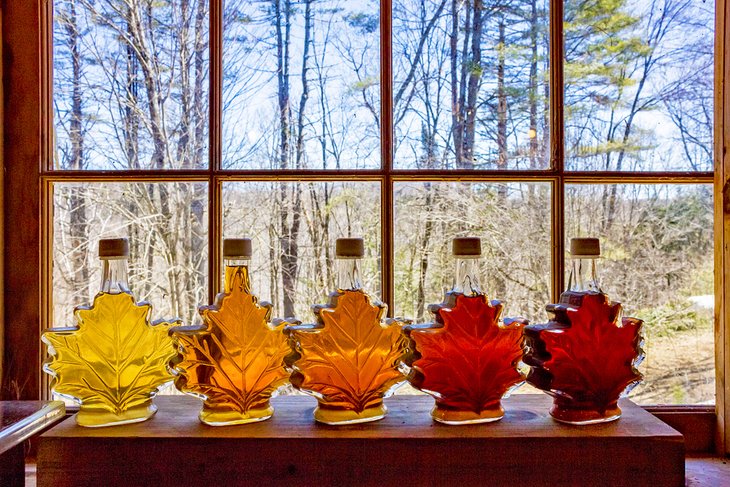 From mid-February until early April, you may see strange cords tying the trees together along Vermont's roadsides. Those are the modern replacements for the traditional galvanized maple sap buckets that you will also see on roadside trees. Although not as picturesque, the tubing has relieved sugarbush owners from hours and hours of back-breaking work.
The sight of those tubes and buckets is the sign that it's the season to look for a sugarhouse. Inside you'll enter a world of sweet steam emerging from pans of bubbling sap. Many sugarhouses welcome visitors to watch the process, and most give samples in little paper cups. You can buy syrup here, and often other maple treats as well.
If you're traveling in Vermont outside of sugaring season, you can learn all about the process and taste the results at the year-round Morse Farm Maple Sugarworks in Montpelier, an 8th-generation family-owned farm.
9. Kayak on a Quiet Lake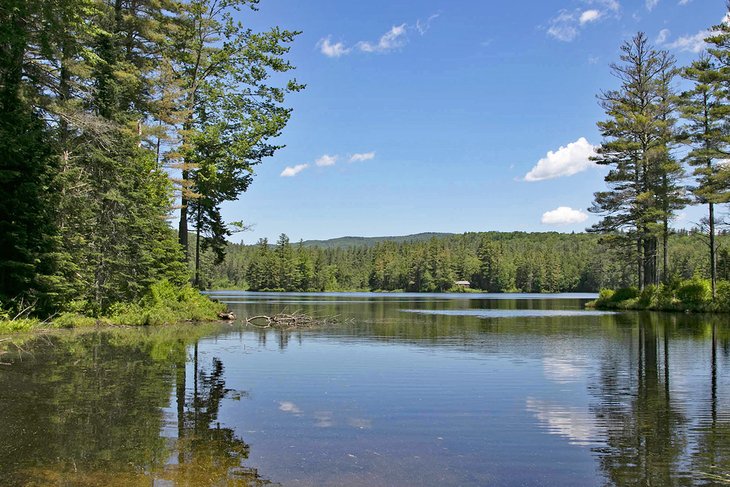 With more than 800 lakes in Vermont to choose from, finding a place to put in a kayak or canoe is easy. But for quiet waters without the wakes and noise of powerboats to disturb your paddling or the wildlife, look to smaller lakes.
You'll find several of these quiet lakes in state parks, many of which also offer kayak rentals. In southern Vermont, both Emerald Lake in Dorset (near Manchester) and Lowell Lake in Londonderry are in state parks, although you'll need to get to Lowell Lake early on weekends because parking is limited.
Near Middlebury, Lake Dunmore is long and narrow, bordered by Branbury State Park, where you can rent canoes and kayaks. Its shape means there's lots of space and shorelines to explore, so you're sure to find a quiet place to paddle even though it's a large lake.
Not far from Stowe, Lake Elmore is also in a state park with boat rentals.
Official site: https://vtstateparks-visit.com
10. Photograph Covered Bridges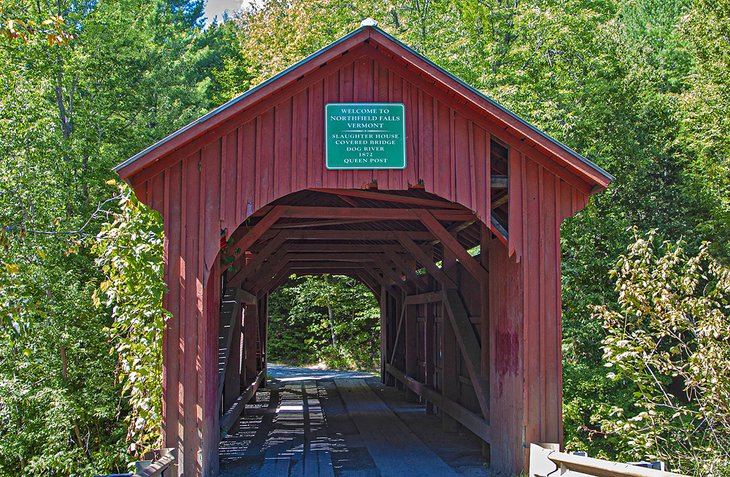 One of the favorite things to do for tourists in New England is photographing the covered bridges that span its rivers and streams. Vermont has more than 100, the most of any state in New England, and more covered bridges per square mile than any other state.
Built by hand and hauled into place by oxen, covered bridges have survived floods, ice jams, hurricanes, and more than a century of traffic.
Vermont's covered bridges are all over the state, but some towns have especially high concentrations of them, so you can capture shots of several within a few miles. Northfield and Montgomery, in the far north, each have six, while Lyndon, near St. Johnsbury, has four.
11. Stop at a Farmers Market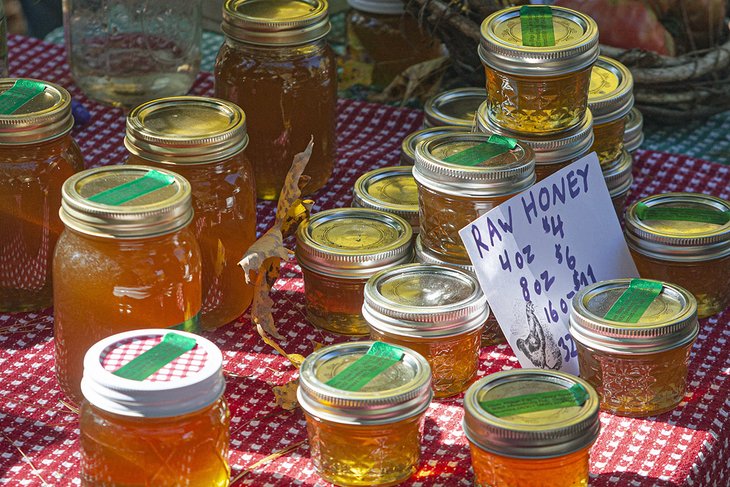 Vermont is known for its small farms and agriculture, so it's not surprising that farmers markets are a common sight. Some, like Brattleboro's and Montpelier's, began as far back as the 1970s and have dozens of vendors; some only a few. Among the largest and longest running are in Burlington, Norwich, West River, Dorset, and Rutland.
More than a place to buy fresh-picked produce from local farmers, these also feature fresh-baked breads and pastries, honey and preserves, farm cheeses, prepared foods, and the work of craftspeople. Most are on weekends and double as a social event and meeting place, often with live music and entertainment.
You may be shopping next to some of Vermont's best-known chefs, who rely on these markets for their farm-to-table menus.
12. Watch the Sunset over Lake Champlain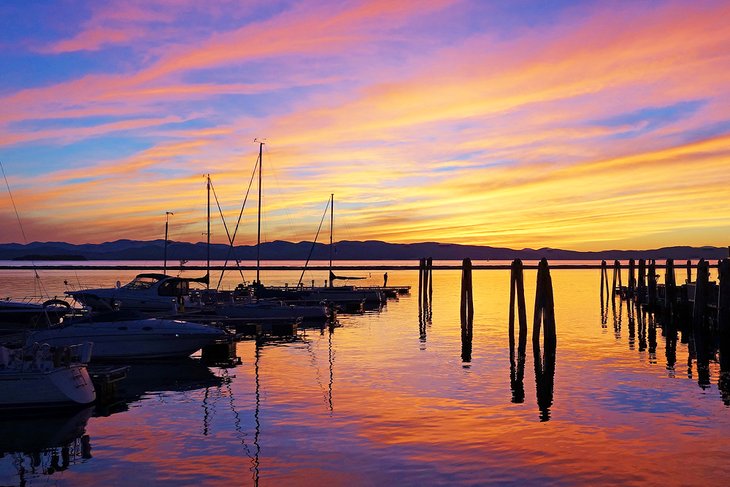 Burlington's eight miles of shoreline on Lake Champlain is lined by parks, with a bike path extending its entire length. These west-facing parks offer the best views of the lake's spectacular sunsets. As the sun drops behind the Adirondack mountains on the opposite side and the sky turns to shades of orange, the entire scene becomes a double image, reflected in the water.
Picnic tables and grassy parks invite a sunset picnic, or you can view the sunset from a kayak on the lake, or on a sunset cruise on the Spirit of Ethan Allen III.
13. Explore the Boulders at Smugglers' Notch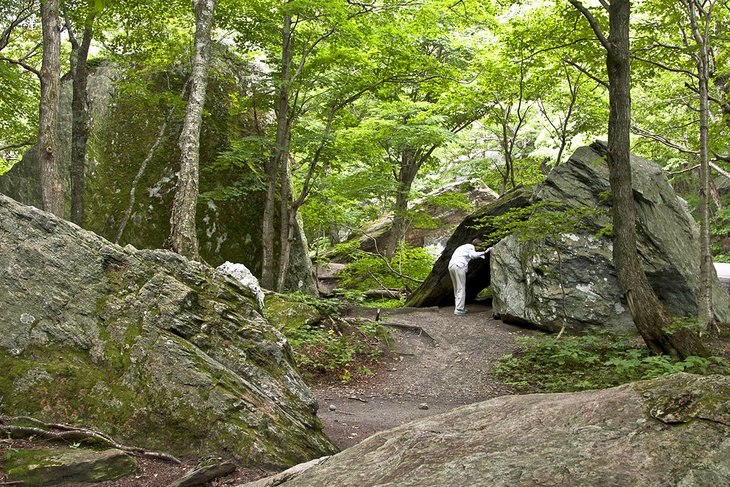 Mountain Road climbs out of Stowe onto the shoulder of Mount Mansfield, continuing upward to Smugglers' Notch. This pass between Mt. Mansfield and Spruce Peak is so narrow and strewn with giant boulders that the road is closed in winter – the snowplows are too big to get through it.
The road is open the rest of the year, when you can park and walk among these towering rocks that the glaciers tore from the ledges overhead. Subsequent movement of the glaciers ground the slabs of stone into their current rounded shapes.
You can see the caves under the boulders where smugglers once sheltered; signs describe the geology and history.
14. Visit a Farm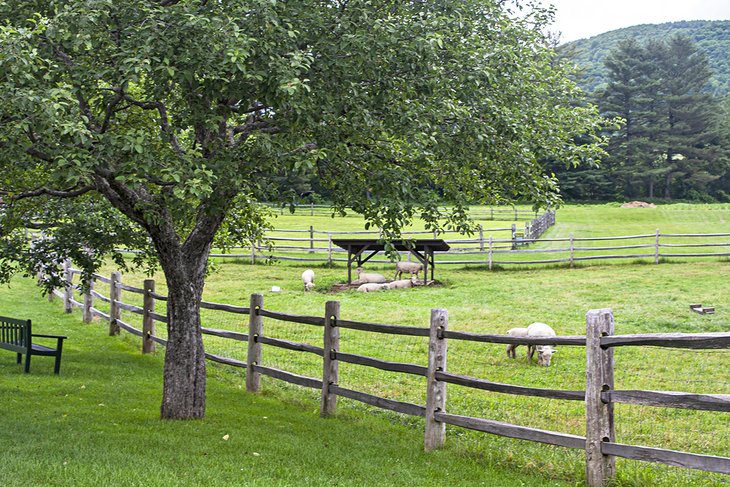 Vermont's agricultural landscape of green pastures and fields of corn dotted with farmhouses, barns, and silos is an integral ingredient of its mystique. But all this is more than postcard views; it is an important part of its rural economy and culture.
As you travel, you can learn about and experience some of this by visiting historic 19th-century "gentleman's farms" and working farms owned by families that are preserving this rural heritage today. Examples of the former are Shelburne Farms in Shelburne and Billings Farm in Woodstock, both of which are museums showcasing sustainable agriculture practices.
For an inside look at the realities of family farming today, visit North Meadow Farm in Manchester, which raises grass-fed cows for the various cheeses sold at the farm store. You can visit goats, alpacas, sheep, cows, and other farm animals.
Or spend a few days with your family at Liberty Hill Farm in Rochester, Vermont's first Green Agritourism farm. A stay includes home-cooked farm-fresh meals, a chance to take part in farm activities (very popular with children), and access to the farmlands for walks and cross-country skiing.
You can download a map of the Vermont Cheese Trail to visit dairy farms that make cheese.
Map of Things to Do in Vermont