12 Best Lakes in Vermont
More than 800 lakes scatter across the map of Vermont, 220 of them exceeding 20 acres. So tourists looking for swimming beaches or places to kayak or fish have plenty of options. Given this abundance, it's not easy to rate the best lakes in Vermont.
In choosing the best lakes to include, access, location, scenery, and activities were more important than size. The lakes that follow are ones where tourists and locals looking for water sports and outdoor recreation would find the most options.
Like the lakes in neighboring New Hampshire, many of Vermont's lakes have state parks along their shores, providing scenic picnic areas and campgrounds, as well as facilities and services such as kayak rentals. Most of these charge a nominal admission for day use, and, of course, have fees for camping. For full information about the camping facilities and for camping reservations consult the Vermont State Parks website.
Vermonters and visitors use the lakes year-round: in the summer for swimming; in the fall for viewing the double image of colored foliage reflected in their waters, in the early spring for the exceptional bass fishing and for canoeing and kayaking whenever the lakes are free of ice, and in the winter for skating and ice fishing.
Whether you and your family are looking for places to canoe, kayak, sail, water-ski, swim, go fishing, take a scenic cruise, rent a lakeside cottage, or have a picnic overlooking the water, you'll find it with this handy list of the best lakes in Vermont.
1. Lake Champlain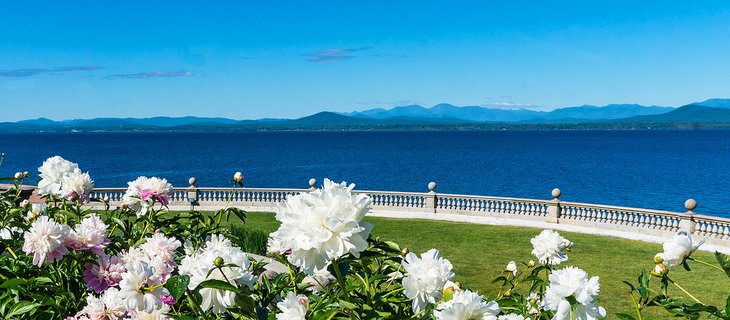 Named modestly by the French explorer Samuel de Champlain in 1609, Lake Champlain is shared with New York (those mountains you see from Burlington are the Adirondacks) and the Canadian province of Quebec. At 120 miles long, 12 miles at its widest, and with 435 square miles of surface water, it is the largest lake in the northeast.
Champlain also offers the widest range of things to do of any lake in the state. You can walk or cycle along eight miles of Burlington's shoreline on a bike path. You can board a cruise in Burlington or take a ferry across to New York from Burlington, Grand Isle, or Charlotte. You can explore on your own by kayak, or by a boat rented at any of several state parks along the shore.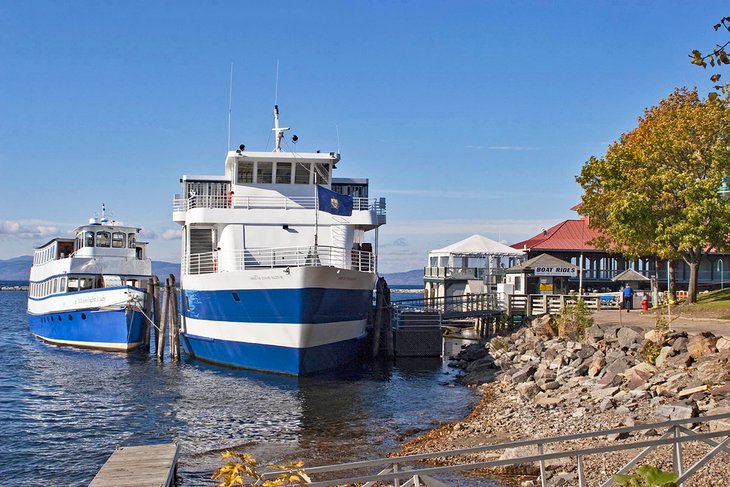 You can visit historic sites – the lake played an important role in the Revolution and again in the War of 1812, when ships were built at Vergennes – or go bird-watching; more than 300 species of birds live on or depend on Lake Champlain. If fishing is your sport, you'll find more than 90 species here, and it is among the best lakes in the entire northeast for bass fishing. Just be careful not to hook the lake's legendary 20-foot sea monster, Champy.
Close to Burlington is Sand Bar State Park, whose 2,000 feet of sandy beach remains shallow for some distance, a good choice with children. You can rent boats and sailboards here. Kamp Kill Kare State Park in St. Albans has a sandy swimming area and good shore fishing.
On the Champlain Islands, Grand Isle State Park offers swimming, shore fishing, a boat launch, and rowboats to rent. Knight Point State Park on North Hero has a sandy swimming beach and boat rentals.
2. Lake Willoughby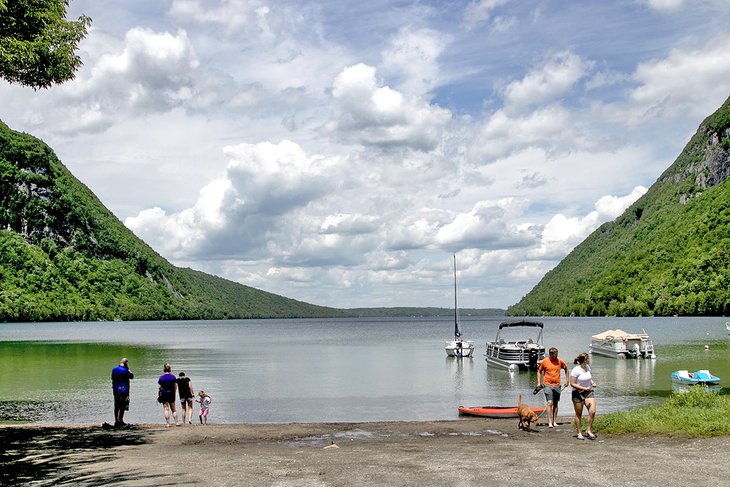 Often compared to a fjord because of its almost vertical walls and long narrow shape, Willoughby's dramatic silhouette is the most impressive when approached from the north. But the lake is beautiful from any viewpoint, with mountains rising abruptly on either side.
Willoughby is a classic example of a gouged basin lake, beginning as the bed of an ancient river between Mt. Pisgah on the east and Mt. Hor on the west. Ground out and enlarged by glaciers, which then blocked both ends with a deposit of glacial till, the lake filled to its current depth of as much as 300 feet in places.
The visual result is one of New England's most scenic lakes, a long, narrow body of water between two steep mountainsides, a profile recognizable on the skyline from miles away.
There are sand beaches at either end. The larger is at the north end in Wetmore, with ample parking; smaller and more intimate is the sandy bottomed beach on the southern end, where you can also rent kayaks, paddleboards, and canoes from the White Caps Campground.
Only one road connects the two ends of the lake: a narrow, winding shelf carved into the nearly vertical cliffs of Mt. Pisgah. Lake Willoughby is an easy diversion from Interstate 91 as it sweeps north through Vermont's "Northeast Kingdom."
3. Lake St. Catherine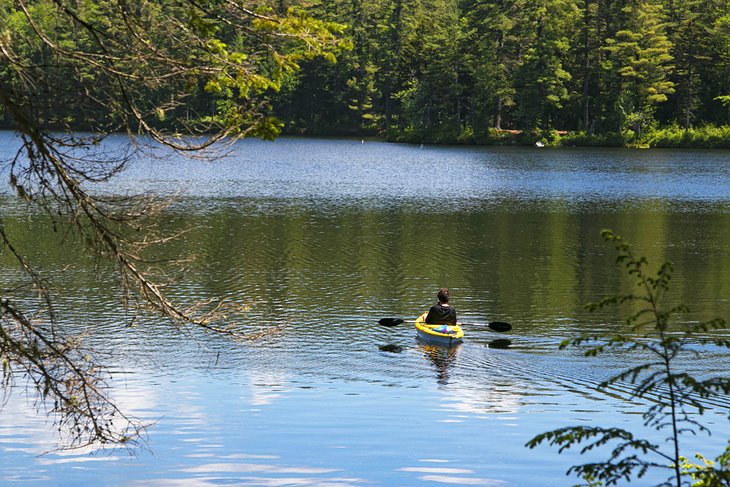 Southwest of Rutland and only three miles from the New York state line, Lake St. Catherine covers more than 850 acres. Composed of three different bodies of water, the main lake is connected by channels to Lily Pond in the north and Little Lake on the south.
This makes the lake a favorite for kayaking; you can rent kayaks, canoes and paddleboards at Lake St. Catherine State Park, where there's also a beach and campground. The cold waters mean good fishing here, with largemouth and smallmouth bass, rainbow and brown trout, yellow perch and northern pike all in residence. At the northern end of Little Lake is Wells Lakeside Park with a boat launch and picnic area.
4. Lake Bomoseen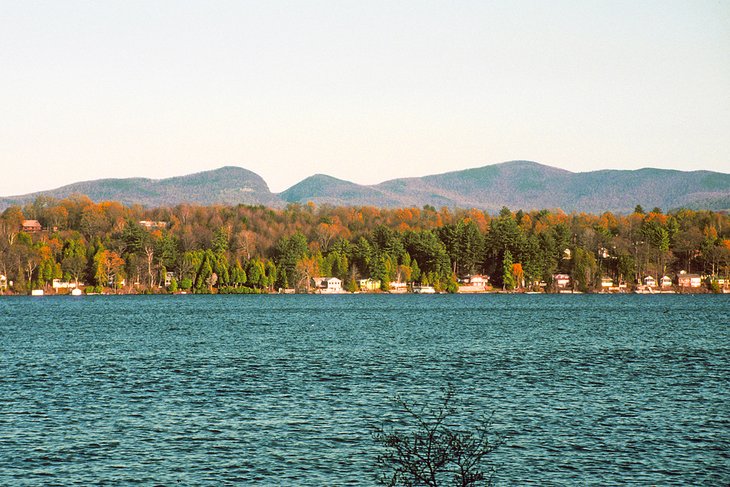 The largest lake entirely within Vermont's borders, Lake Bomoseen is west of Rutland, in the former slate producing district of the Taconic Mountains.
You'll see evidence of this industrial history in Lake Bomoseen State Park, where several quarry holes and slate slag piles remain (if you are traveling with children, be sure to bring some chalk, so they can write on the slate pieces they discover there). You can follow a self-guided Slate History Trail to learn more.
In addition to the shore of Lake Bomoseen, the park's lands surround the nearby smaller Glen Lake. Along with a large swimming beach and boating, the park has a campground and a children's playground, and you can rent canoes, kayaks, and stand up paddleboards.
Fishing is excellent here, and it is a favorite for ice fishing in the winter.
5. Maidstone Lake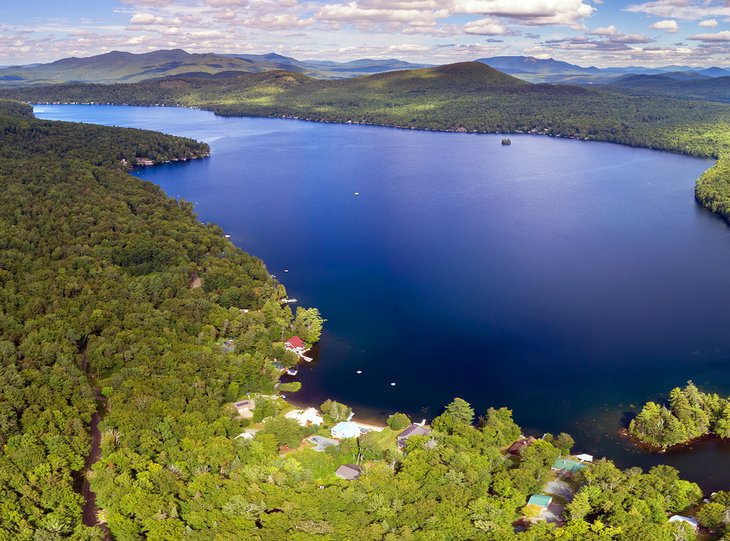 In a remote and largely wilderness area of Vermont's "Northeast Kingdom," Maidstone Lake was carved out of an existing valley by glaciers, which filled it as they melted. Surrounded by northern woodlands of spruce and fir, Maidstone is a place for those who love solitude, fishing for lake trout and salmon (the lake has seen some record catches), and the haunting cry of loons.
Maidstone State Park includes two campgrounds, with tent and RV sites and lean-to shelters. The park also has three swimming beaches and boat rentals; hiking trails lead through the woodlands around the lake.
6. Caspian Lake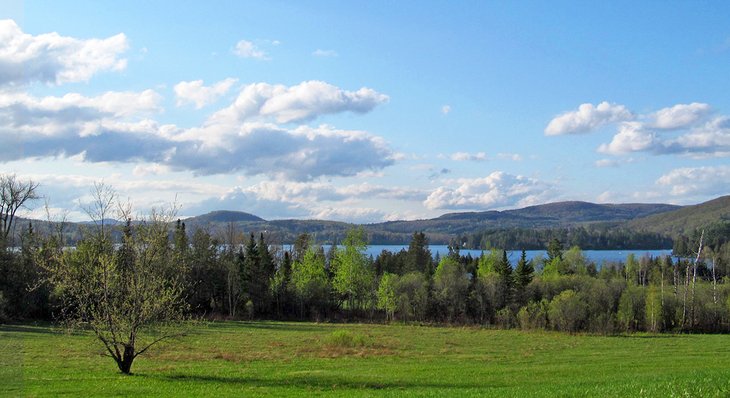 Northwest of St. Johnsbury, Caspian Lake has been a popular getaway for artists and writers for at least half a century. The peacefully scenic environment is filled with year-round outdoor activities that include cross-country skiing on the trails of the Craftsbury Outdoor Center.
Along with the public swimming beach, Caspian Lake is a good place for kayaking, canoeing, and sailing, as well as fishing for lake trout, brook trout, rainbow trout, and landlocked salmon. Loons are a common sight in the quieter regions of the lake.
There's no state park nearby, but the village of Greensboro lies along one side, and the wraparound front porch of the Highland Lodge overlooks the lake and offers guests free use of kayaks at its private beach.
Greensboro offers other lakeside attractions, including Sunday evening outdoor concerts and year-round performances and exhibitions at the Highland Center for the Arts.
7. Lake Elmore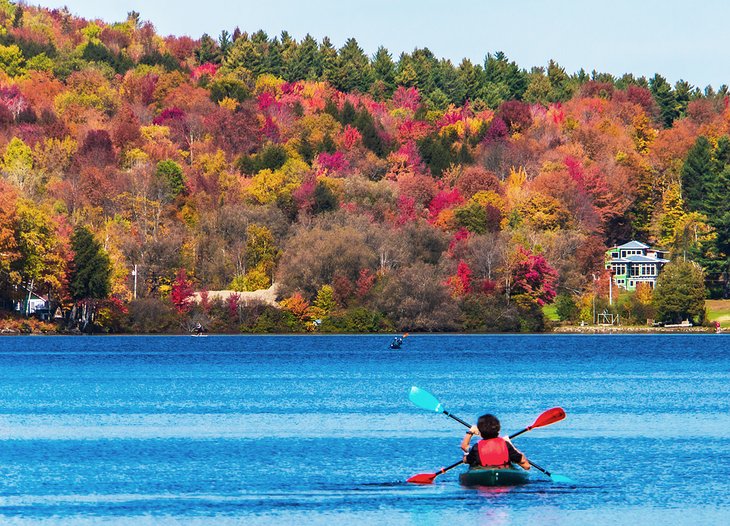 Northwest of Stowe, Lake Elmore was formed by glacial till that dammed the outflow of a river at the foot of 2,600-foot Elmore Mountain. On its shore is the 700-acre Elmore State Park, with a large sandy beach for swimming, boat rentals, and a campground.
The bathhouse and refreshment stand are in a building constructed during the Depression by the Civilian Conservation Corps (CCC). Hiking trails in the park lead to the top of Elmore Mountain, where there is a fire tower and spectacular views of the lake and the Green Mountains.
8. Lake Memphremagog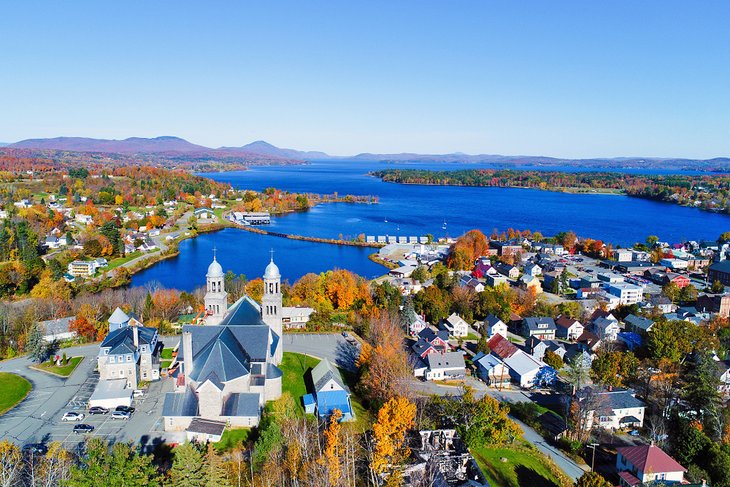 One of the two major lakes that Vermont shares with the Canadian Province of Quebec, Memphremagog is 31 miles long; nearly three-quarters of the lake is in Quebec. Five of its 21 islands are in Vermont, and one is international.
The town of Newport sits at the southern shore, and here you'll find Prouty Beach for swimming, a quarter-mile length of sand with lifeguards and a bathhouse. Walkways along the shore include signs with historic information about the lake and town.
Northern Star Lake Cruises explore the lake on a retro-designed cruiser, offering day, dinner, and sunset excursions.
Lake Memphremagog's cold, clear, and well-oxygenated waters make it a good habitat for landlocked Atlantic salmon and other species.
9. Lake Dunmore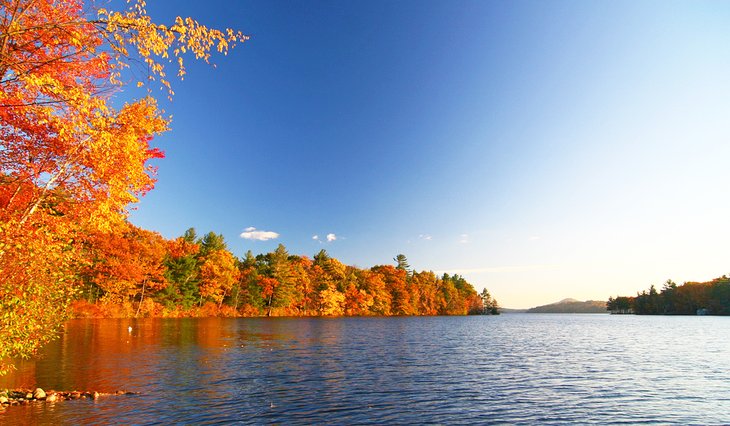 Not far from the college town of Middlebury, Lake Dunmore is more than three miles long and as much as one mile wide at the northern end. It lies at the foot of Mt. Moosalamoo, part of the Green Mountain National Forest, which borders the lake's eastern shore.
On the west is Branbury State Park, with a 1,000-foot natural sandy beach and broad grassy areas for sunning and picnics. Two camping areas allow the choice of wooded sites or those at the edge of a grassy field close to the beach.
New for the 2022 season is a farmers market, held at the park on Thursday afternoons, where campers and beachgoers can shop for local fruit, vegetables, flowers, prepared foods, and crafts.
10. Emerald Lake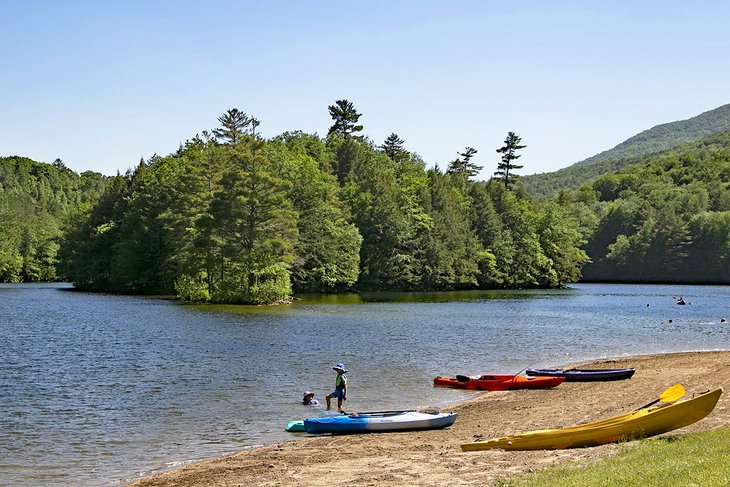 Formed when glacial debris dammed the outflow of a stream, Emerald Lake is in the town of Dorset, a former marble quarrying town north of Manchester. Apart from the sand beach and grassy hillside at Emerald Lake State Park, at the lake's northern end, the shoreline is undeveloped and surrounded by forests.
The park includes a campground on the hill above the beach, and boat rentals are available (no motorized boats are allowed). Be aware that if you bring your own kayak, you will have to portage a distance from the parking area to the beach.
An interesting feature for kayakers to look for is the former marble quarry visible at the southern end of the lake.
11. Lowell Lake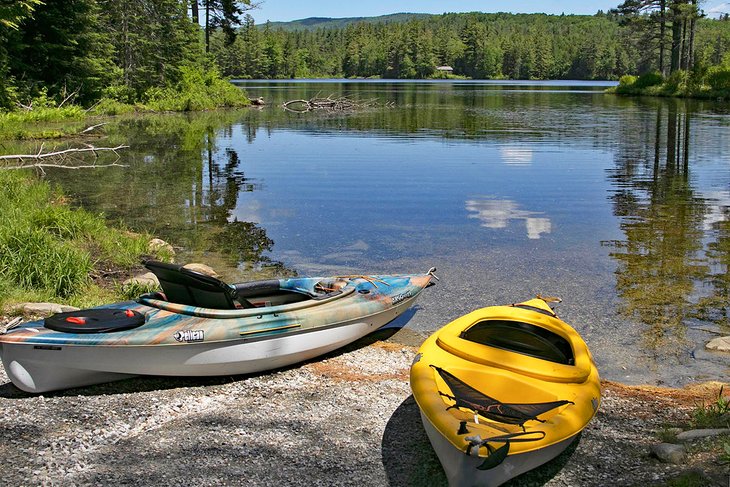 Lowell Lake, in Londonderry, is central Vermont's secret getaway for kayakers. Nothing but trees line the shore, and the only sound is the breeze stirring the leaves – and perhaps the call of a loon.
Surrounded by white pines and mixed hardwoods, the lake has several small tree-clad islands, and if you get there first, you can have an entire island to yourself for a picnic.
The undeveloped Lowell Lake State Park is small, with no beach, no facilities, and very limited parking, so in-the-know kayakers arrive early; when the parking area is full, the park is closed to visitors. Period. Parking is not allowed anywhere on the adjacent town road.
The shoreline is encircled by a 3.5-mile hiking trail through the forest.
12. Crystal Lake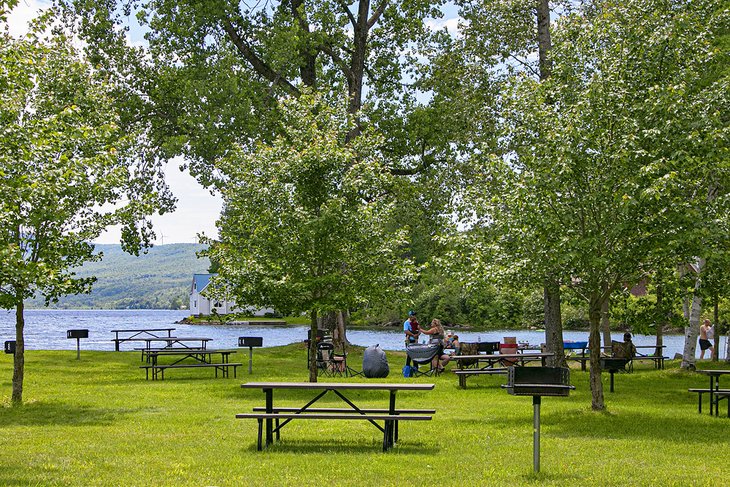 Like nearby Lake Willoughby, Crystal Lake is a basin gouged out by glaciers, but the ledges on its eastern shore are not nearly as dramatic as those of Lake Willoughby. Crystal Lake has the advantage, however, of a large beach area, away from the road and featuring a grassy picnic grove along the shore, shaded by tall trees.
This mile-long beach area is in Crystal Lake State Park, where there are kayak rentals, a bathhouse, and refreshments. Also on the northern shore is Pageant Park, quieter and more secluded than the state park. Owned by the town of Barton, its beach and campground are open to the public. The park has a boat launch for non-motorized boats.
Map of Lakes in Vermont