9 Top-Rated Small Towns in Vermont
No state carries with it more images of idyllic villages clustered around their white church with its tall spire. We envision them with the maple trees that shade the village green, ablaze in fall reds and oranges, or looking like a Christmas card scene blanketed in snow.
And indeed Vermont does have a number of these small towns, some of which you'll find described here. But it also has towns that, although they look different, are just as fascinating, with stories of their own and interesting things to see and do. Although maybe not as postcard pretty, these towns are just as typical of the state and its diversity. All are worth a visit.
Plan your adventures with our list of the best small towns in Vermont.
1. Stowe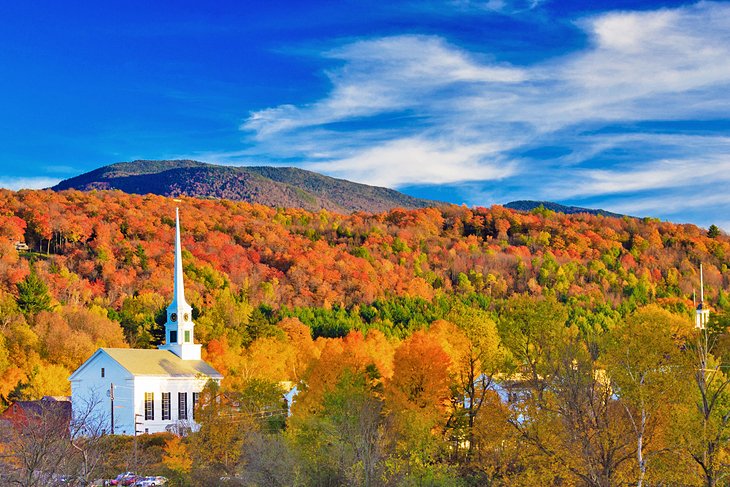 Name a Vermont icon and Stowe probably has it: a white-spired church, a mountain laced with ski trails, bucolic farms, a covered bridge. With the combination of beautiful mountain scenery, year-round outdoor sports, and a lively arts and dining scene, there's something for everyone in this pretty town.
Vermont's highest mountain, Mt. Mansfield, overlooks the town. Its slopes marked the beginning of serious recreational skiing in Vermont, a history you can explore in the Vermont Ski Museum, in the center of town. Around it are shops and galleries, many showing the works of the skilled artists and craftspeople who are drawn to the region for its scenery and strong arts community.
More of their work is shown at the Helen Day Art Center and in galleries that line Mountain Road on the way to the mountain. Beside that road is the 5.3-mile Stowe Recreation Path, a paved multi-use route from the village center to Stowe Mountain Resort. This well-used path is designed for cycling, walking, snowshoeing, and cross-country skiing.
Climbing higher on Mountain Road to the shoulder of Mt. Mansfield, you'll enter Smugglers Notch, where the road narrows to wind among giant boulders that glaciers scraped from the high cliffs above. On another hillside above Stowe, the Trapp Family Lodge was the home of the Von Trapps, whose lives were made famous in The Sound of Music. Along with the inn, their farm is now an outdoor center with beautiful cross-country ski trails.
2. Brattleboro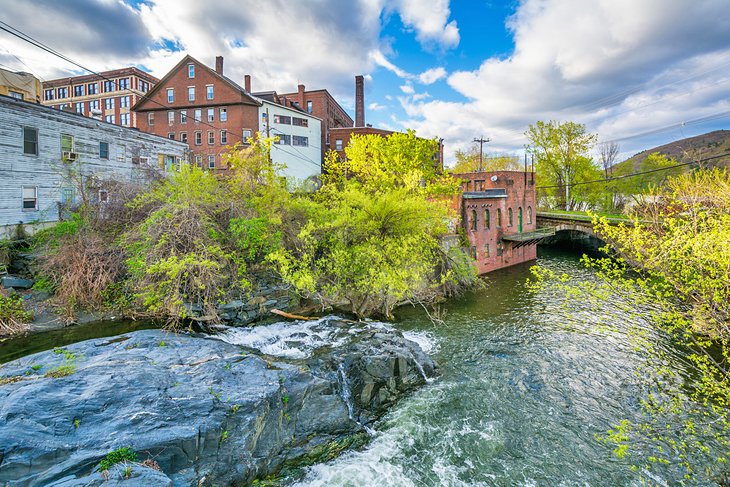 With its several blocks of Main Street buildings and shops, and a population of about 12,000, Brattleboro may seem a city by Vermont standards. But it isn't-it has a town form of government, complete with an annual town meeting. More important, it has a small-town ethic.
It's also one of the state's few places where industry was a major factor in its history. By the mid-19th-century there were textile, paper, and machinery mills, and several manufacturers. Contrasting with this blue-collar heritage were the idealistic (and liberal) back-to-the-landers who settled here in the 1960s and '70s; the two have blended over the years to give Brattleboro a vibe unlike anyplace else in the state.
The arts flourish here, with a high number of working craftspeople, artists, and musicians, along with small working farms, some now run by third-generation back-to-the landers. In its lively downtown, you'll find small shops, galleries, book stores, coffee houses, little ethnic cafes, and a resale consignment center that fills a former department store. Bulletin boards are covered with notices of performances, concerts, classes, social action meetings, and community events (which include the annual Strolling of the Heifers, when local kids parade their livestock down Main Street).
To find a microcosm of all this, spend Saturday morning at the Brattleboro Farmers' Market, where locals and tourists mingle, shopping for fresh produce, handmade soaps, pottery, maple syrup, garden plants, handspun yarns, woodenware, farm cheese, fine chocolates, breads baked in wood-fired ovens, and an international mix of lunch foods that represent five continents. Local musicians perform, kids play in the sandbox, picnic tables fill by 11am; it's the social event of the week from May through October, when it moves into a space on Main Street for the winter. If you want to know Brattleboro, this is the place to go.
Tourists who want a truly authentic Brattleboro experience will want to stay at the Latchis Hotel, a historic Art Deco hotel located right on Main Street. In addition to being within a short walk to the majority of local attractions, it sits above the Latchis Theater, where guests can enjoy a film at the end of a day of sightseeing. The hotel offers bicycle rentals and car service; a snack bar; and a variety of room options, from budget to huge suites.
3. Manchester Village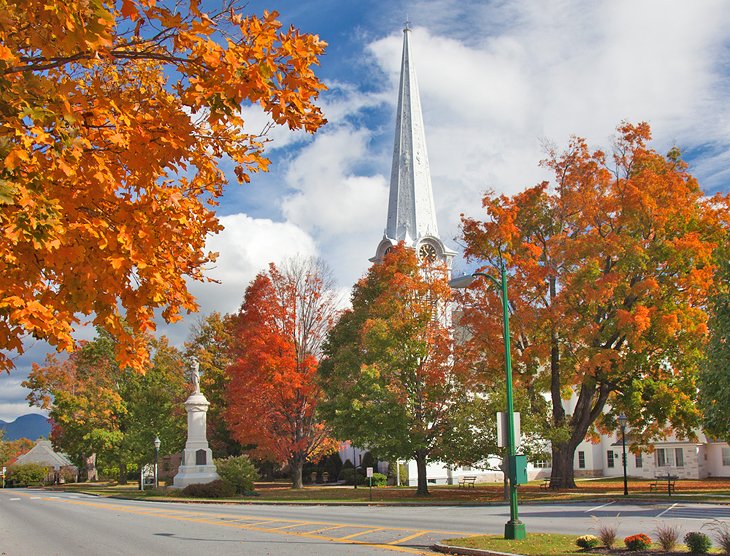 Manchester has a split personality: Manchester Village and Manchester Center. The former is the gracious village with marble sidewalks and beautifully-maintained homes-many of which are closer to mansions-lining the main square and Route 7. The Equinox hotel is the centerpiece. Manchester Village Historic District is on the National Register.
Just a short way north, Manchester Center is more commercial, known for its mostly high-end factory outlets, where you can buy everything from designer clothes to kitchenware.
Robert Todd Lincoln, son of Abraham Lincoln and president of Pullman Company, built a county home overlooking the Battenkill Valley at the edge of Manchester Village, the Georgian Revival Hildene. Both the mansion and its beautifully restored gardens are open for tours, and also on the estate is a working farm, a goat cheese dairy, and a resplendent Pullman car. The mansion is fully furnished and because the home was still in Lincoln's family until the 1970s, many of the pieces are from Mary Todd Lincoln's family. Large windows overlook the restored formal gardens.
Although larger and grander than most, Hildene is not alone in Manchester, a popular place for wealthy families to retreat in the summer. At least two of these elegant Manchester mansions, Wilburton Inn and The Inn at Ormsby Hill, both near Hildene, are now elegant bed-and-breakfast inns.
In Manchester Village, the American Museum of Fly Fishing contains vintage angling equipment, fishing flies, and art. The vast grounds of the Southern Vermont Arts Center are studded with large sculptures, and its galleries house changing exhibits. For views of the town and surrounding mountains, climb Mount Equinox, either by trail or the Skyline Drive toll road.
4. Woodstock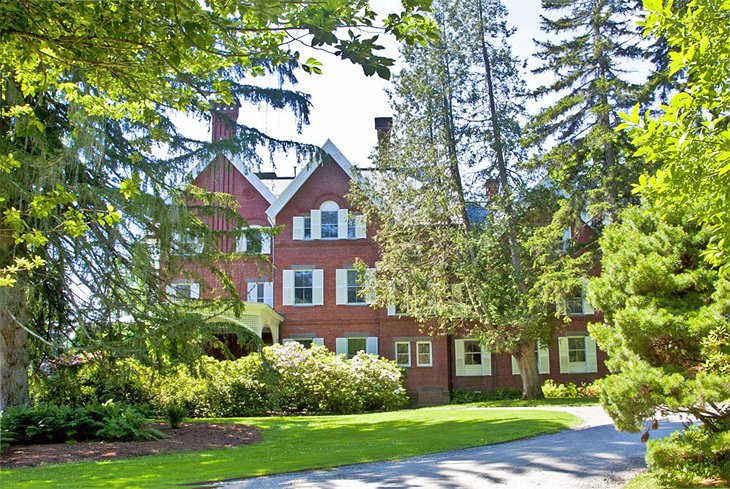 In Vermont, any discussion of Woodstock is likely to bring up the question of what is "real" Vermont. Woodstock, many would claim, is not a typical Vermont town but one created by wealthy city people playing at being country gentry. That may be true, but the same has been said of a number of other places in Vermont-enough to make these wealth-infused towns part of Vermont's culture, too. And Woodstock can lay claim to two of Vermont's most cherished ideals: land conservation and sustainable farming.
In the early 1800s, Woodstock native George Perkins Marsh, alarmed at the deforestation and erosion he saw around his farm and throughout Vermont, began the work that would later make him hailed as America's first environmentalist; his book Man and Nature changed the way people around the world thought about the land.
In 1869 Frederick Billings bought the Marsh estate and planted thousands of trees to reforest Mount Tom and demonstrate progressive forest management. Their stewardship and commitment continued under Mary and Laurance Rockefeller, and today the Marsh-Billings-Rockefeller National Historic Park is the only national park to concentrate on land stewardship.
Along with a museum filled with lively exhibits on farm and rural life, you can tour the farm manager's home, visit cows in the barn, and tour the Rockefeller home and gardens.
From the late 1700s Woodstock was a shire town, and as the base for the county's courts and government, it drew professionals and merchants who settled here. Many of their fine homes still line its streets and surround its long village green. An 1807 Federal-style house on Elm Street holds a museum of local history, with collections that are used in annually changing exhibits. Form its perennial gardens, you get the best view of Woodstock's covered bridge.
Woodstock's attractive downtown includes a couple of brick mercantile blocks with smart boutiques, galleries displaying Vermont-made crafts, and fine art. There are walking and cross-country ski trails on Mt. Tom, and a small but aptly named ski area, Suicide Six. Climb the winding back roads above the village to see classic scenes of bucolic hill farms.
The Woodstock Inn & Resort is the ideal place to stay for those who want luxury combined with an authentic New England atmosphere. It's centrally located near The Green, and close to Billings Park and Trails. Guests can enjoy a wide range of amenities, including fine dining on-site, spa services, bike rentals, kids activities, and free shuttle service to local attractions. Guest rooms are spacious and tastefully decorated with period furnishings and traditional décor.
5. Greensboro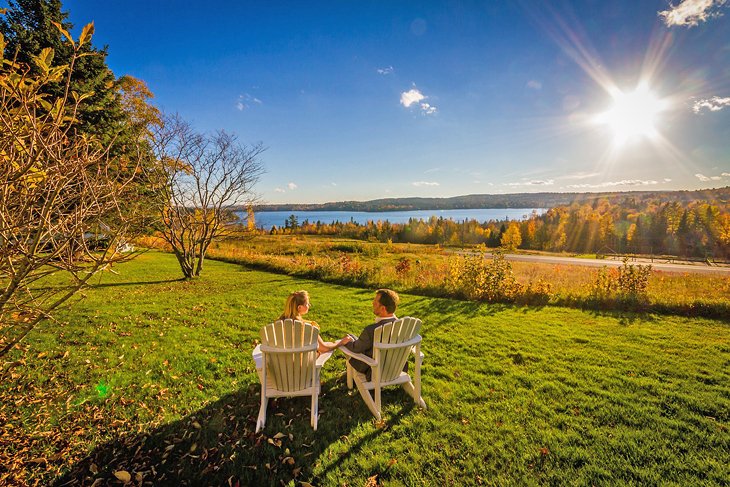 Vermont's northern corner, bounded on the east by New Hampshire and to the north by Canada, seems like a world of its own, so much so that a former US Senator called it the Northeast Kingdom. The name stuck, and it's one that local residents use proudly. You'll sense this away-from-it-all atmosphere in Greensboro, on the shores of crystal-clear Caspian Lake. The lake has been a getaway spot for generations-Margaret Mead worked here, and Pulitzer-Prize winner Wallace Stegner used it as a setting for a novel.
Fewer than 1,000 people live here year-round, but the number more than doubles as lakeside cottages fill in the summer. But Greensboro's performing arts scene would make any small city proud. Highland Center for the Arts presents a year-round schedule of performances, exhibitions, and events in a facility that features a 250-seat state-of-the-art theater, a smaller performance space, an art gallery, and a summer café. Programs include music, theater, dance, cinema workshops, and lectures.
The nationally known Mirror Theater has had its summer center here since 2005, mixing professional actors with local talent for its summer productions. And each summer brings the youth circus arts program at Circus Smirkus, which is headquartered in Greensboro.
Greensboro's central gathering place is Willey's Store, whose motto could very well be "if we don't have it, you don't need it." From groceries to hardware, you can buy a broom, birdseed, a garden hoe, jar of olives, fishing rod, Christmas tree lights, or a new pair of running shoes. Across the street, The Miller's Thumb Gallery fills a converted grist mill with works by Vermont and New England craftspeople and artists. To sample award-winning cheeses and to see how they are made, mosey on to Jasper Hill Farm for a tour.
The highest point in Greensboro is Barr Hill, where The Nature Conservancy of Vermont maintains the Barr Hill Nature Preserve. From its trails, you can see a panorama of northern Vermont that extends as far as Mt. Mansfield. To enjoy all that Greensboro has to offer, you may want to stop over at the local inn, Highland Lodge. In the winter, the inn's network of groomed ski trails through their forest connects with the Craftsbury Outdoor Center trail system.
6. Weston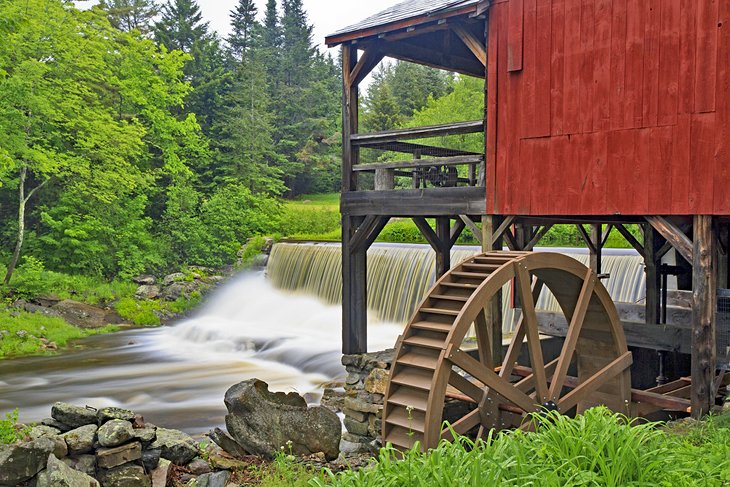 It's hard to picture a more idyllic New England townscape than Weston's, circling its village green with a bandstand at the center. Double-decker porches of the Vermont Country Store overlook the short main street, and at the opposite side of the common is a red mill with a water wheel.
It's the country store that brings many visitors to Weston. The original store, with its pot-bellied stove, wooden display cabinets, jars of penny candy, and antique merchandise hanging from the beams, has grown since it was re-opened in the 1940s by a descendant of the original owner. But it retains the spirit and a lot of old-fashioned products that aren't available elsewhere. It's a combination museum and store; the Vermont Scale Museum at the store displays measuring devises of the 19th century.
This is only one of several museums in history-rich Weston. The grist mill is one of a handful of functioning New England water mills, demonstrating the intricate system of gears and belts that powered the grindstones. Elsewhere in the mill are antique tools, and a tinsmith is usually at work in his shop.
The Farrar-Mansur House, completed in 1797, retains the furnishings and decorative details of the mid-19th-century, with collections that include quilts, samplers, costumes, toys, and musical instruments. A separate building houses a Concord Coach that was the band wagon for a local brass band.
Also facing the green is the imposing Weston Playhouse Theatre Company, Vermont's oldest professional theater group, with a summer schedule of plays and musicals and a year-round program of concerts, opera, and juried arts and crafts shows the rest of the year.
7. Grafton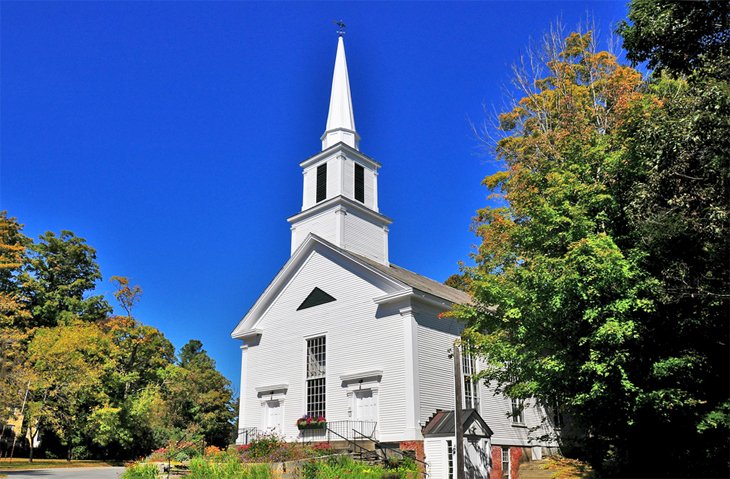 Often heralded as one of New England's prettiest villages, Grafton is the image of everyone's idea of a Vermont town. At its center stands the historic Grafton Inn, one of America's oldest operating inns, that since its opening in 1801 has hosted presidents, statesmen, and philosophers.
Around the inn spread well-kept homes, a general store, a white church, an 1864 brick meetinghouse, a small post office, and the public library. Many of the buildings, including the inn, have been restored by the Windham Foundation, established by a New Jersey philanthropist in 1963 to bring the town back from a long decline that began with the demise of farming and a devastating flood a century earlier. But, as they say, the bones were there, and today's Grafton probably looks better than it did originally.
The active Historical Society maintains a small museum, and the Turner Hill Interpretive Center opposite the inn tells the story of escaped slave Alec Turner and his family.
The Nature Museum is filled with interactive exhibits and hand-painted dioramas on natural environments and local wildlife. It's very child-friendly, with Outdoor Adventure Backpacks that encourage kids to explore its pollinator garden and woodland Fairy House Trail. At the Vermont Museum of Mining and Minerals, you can see examples of Vermont building stones, such as marble, granite, and slate, along with fossils-a two-foot fossilized shell and others from Lake Champlain-and gemstones from around the world.
A little way from the center, Grafton Trails & Outdoor Center offers cross-country ski and snowshoe trails and rental equipment, as well as snow tubing, fat biking, and sleigh rides in the winter. In the summer there's swimming, canoeing, and hiking.
8. Ludlow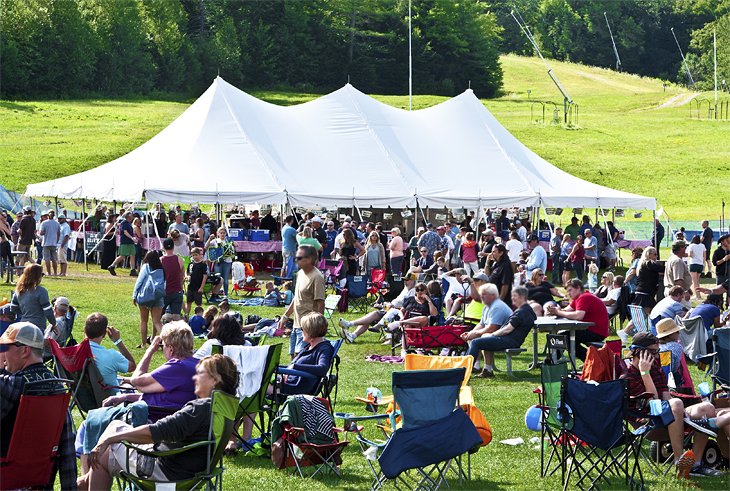 In contrast to nearby Weston, Ludlow is not a postcard village around a common, although it does have a number of distinguished old homes and the imposing brick Black River Academy, where a young Calvin Coolidge studied.
Ludlow's charm lies in the astonishing abundance of things to do here. Behind the town rises Okemo Mountain, its 655 acres of slopes crisscrossed by 121 ski trails and seven of the East's most innovative terrain parks, including its longest super-pipe. Those who are visiting Ludlow for a ski vacation will want to stay at the Jackson Gore Inn, and excellent condo-style lodging with on-site dining and direct access to the slopes.
Off slope, Okemo Mountain Resort's two base areas offer a covered skating rink with an NHL-grade cooling system, indoor and outdoor swimming pools, cross-country skiing, snowshoeing, a tubing hill, and the Timber Ripper Mountain Coaster. And that's just in the winter; in the summer there's a golf course, mountain biking, chairlift rides, and a full schedule of festivals and concerts.
Along with the expected sports shops, the compact downtown has craft galleries, a great bookstore, two bakeries, a wool shop, a farmers market, and lots of places to eat. On hot summer days, you'll find locals at Buttermilk Falls, on a side road above town. It's a classic country swimming hole; a series of three waterfalls drop into pools, two of them deep enough for swimming.
North of Ludlow, Calvin Coolidge State Historic Site preserves almost exactly the hamlet of Plymouth Notch, where the 30th US President grew up on his father's farm. It was his father who administered the oath of office when news arrived that President Harding had died. You can see the parlor where it happened, as well as the little second-floor dance hall that became Coolidge's "summer white house" and various farm buildings in the little village. Stop in the farm store to sample cheese that's still made in the dairy.
9. Shelburne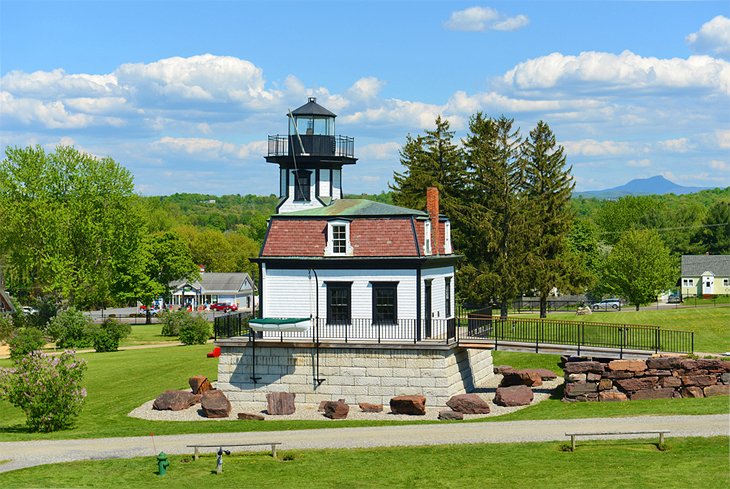 On the shores of Lake Champlain just south of Burlington, Shelburne couldn't be more of a contrast to Burlington's busy downtown streets. Gracious old homes are surrounded by well-tended lawns and gardens, and two of Vermont's top tourist attractions sit on the lakeshore.
The open-air Shelburne Museum has collected buildings and artifacts reflecting American arts, skills, and history, ranging from historic structures to handmade quilts. The centerpiece is the lake steamer SS Ticonderoga, restored and on dry land, but there's an 1845 covered bridge, the Colchester Reef Lighthouse, a barn full of carriages, a working blacksmith shop, and dozens of historic homes and buildings furnished in fine and country antiques and examples of American folk arts.
Nearby Shelburne Farms opens a window on an entirely different kind of farming from the working dairy farms you'll see along Vermont roads today. It preserves a 19th-century "gentleman's farm" that is still in operation. The immense farm barn houses exhibits on dairy and other farming, as well as the cheese-making operation and a bakery. Various tours include different activities of this 1400-acre farm, now an education center for sustainability.
While in Shelburne, you can take a tour of the Vermont Teddy Bear Factory to watch bears as they are crafted by hand, and even design your own custom-made bear.
Map of Small Towns in Vermont
More Related Articles on PlanetWare.com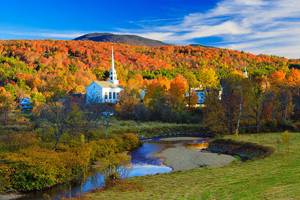 What to Do in Vermont: While you're touring its small towns, don't overlook the attractions of Burlington, the state's largest city, or the many other interesting places to visit in Vermont. The Green Mountains are a year-round outdoor playground, as our pages on the top-rated ski resorts and best hiking trails in Vermont will show.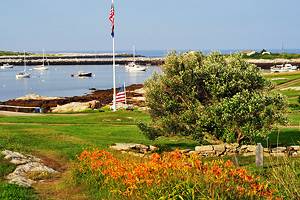 Where to Go from Vermont: Postcard-perfect small towns like Walpole, just across the river from Vermont, are among the tourist attractions of New Hampshire, where you'll also find historic Portsmouth on the state's short seacoast. You'll find plenty more attractions in Massachusetts, south of Vermont.