17 Top-Rated Things to Do in Stowe, VT
Long before ski trails webbed mountainsides throughout New England, skiers headed to Stowe. Along with North Conway in New Hampshire and a few western mountains, Stowe was one of the leaders in establishing recreational skiing in America. And in turn, skiing made Stowe one of the best places to visit in Vermont.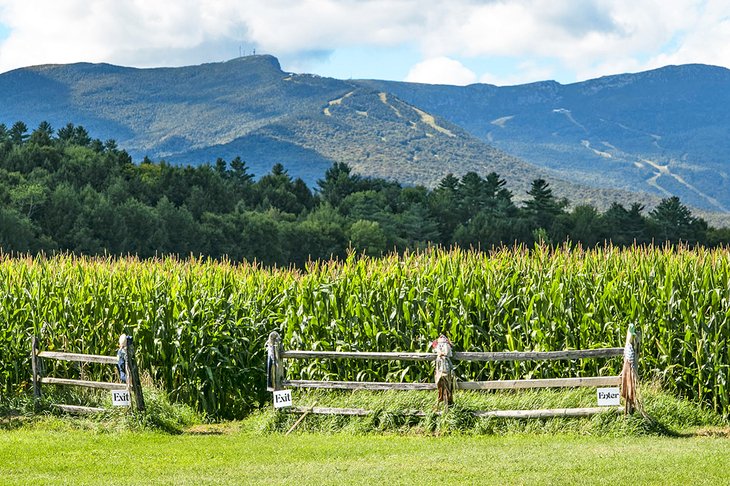 But winter sports aren't the only things to do in Stowe. You'll find an active cultural community, with art and craft galleries, theater, and music. Natural attractions abound, and outdoor sports are a year-round passion in Stowe, with miles of walking and hiking trails and Vermont's highest mountain to climb.
Couples can take a romantic moonlit sleigh ride, stroll through one of Vermont's prettiest towns, and dine in Stowe's many fine restaurants. Families will find exciting terrain parks for teens, the Kids Adventure Zone at Spruce Peak for beginning skiers, and more than five miles of level bicycle paths.
Whether you're a skier, outdoor enthusiast, or casual tourist, you'll be able to plan a perfect Vermont vacation with this list of the best things to do in Stowe.
1. Walk or Bike the Stowe Recreation Path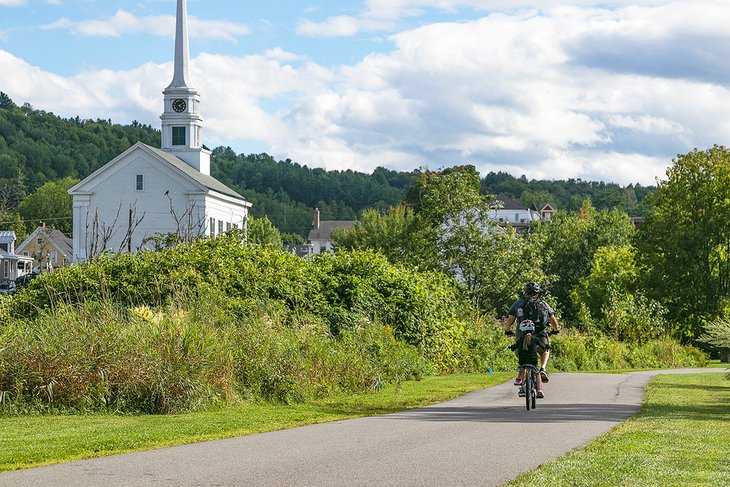 The poster child for public multi-use trails everywhere, Stowe's Recreation Path is a paved 5.3-mile trail leading from the center of the village to a point below the base of Mt. Mansfield. Level and wide enough to accommodate walkers, joggers, and cyclists, it is open all year and groomed in the winter for Nordic skiers.
The path traverses meadows, runs alongside farmlands, through parks, and crosses the West Branch of Little River several times before ending at a picturesque covered bridge. Along the way are benches, picnic tables, and sweeping views of Mt. Mansfield. In the summer and fall, a field beside the trail near Thompson Park becomes the Percy Farm Corn Maze.
Restaurants, inns, and shops along Mountain Road are easy to access from the path. There's parking at the beginning; behind the Community Church; at Thompson Park just off Route 108 (Mountain Rd.); at Chase Park; and at the end, near Top Notch Resort.
Bike maintenance stations behind the church and at Chase Park include repair tools.
The Quiet Path is a low-impact extension of the trail for walkers and joggers, a 1.8-mile unpaved path along the river with interpretive signs. Unlike the main trail, the Quiet Path allows free-running dogs. You can access the Quiet Path from parking areas on Cemetery, Weeks Hill, or Mayo Farm roads.
2. Ski at Stowe Mountain Resort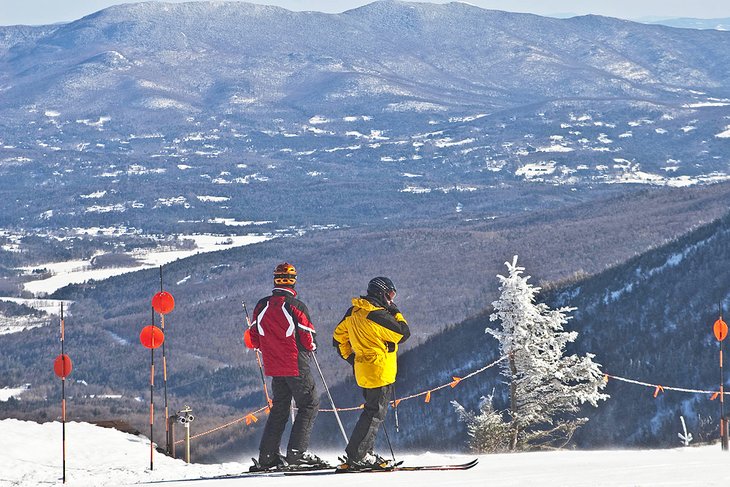 Mount Mansfield is the highest peak in Vermont and, combined with the adjacent Spruce Peak, it offers some of the finest skiing in the East. At the heart of Vermont's snowbelt, Stowe Mountain Resort can usually depend on good ski conditions from December through early April.
Its trails have some of the state's greatest vertical, and along with the superlative skiing, Stowe gives skiers a sense of skiing with history. One of the country's earliest ski resorts, Stowe installed one of the world's first chairlifts in 1937, when recreational skiing was in its infancy.
The resort has grown along with the industry, and now carries skiers to the slopes on two gondolas and 11 chairlifts, including three high-speed quads and three conventional quads.
The 116 trails are designed all skill levels, with more than half for intermediates, 29 for experts, and 19 for beginners. Boarders and freestylers have three terrain parks, and the Kids Adventure Zones feature gentle slopes and terrain designed for learning skiers.
At the base of the mountain, the resort's Cross Country Ski Center offers 45 kilometers of groomed trails and 30 kilometers of backcountry terrain.
Trails in the Mount Mansfield State Forest connect to the Stowe Recreation Path, which leads into downtown Stowe. The rental shop at the center carries ski equipment and snowshoes for children as young as three, as well as pull-sleds for young children.
Address: 5781 Mountain Road, Stowe, Vermont
Official site: https://www.stowe.com
3. Smugglers' Notch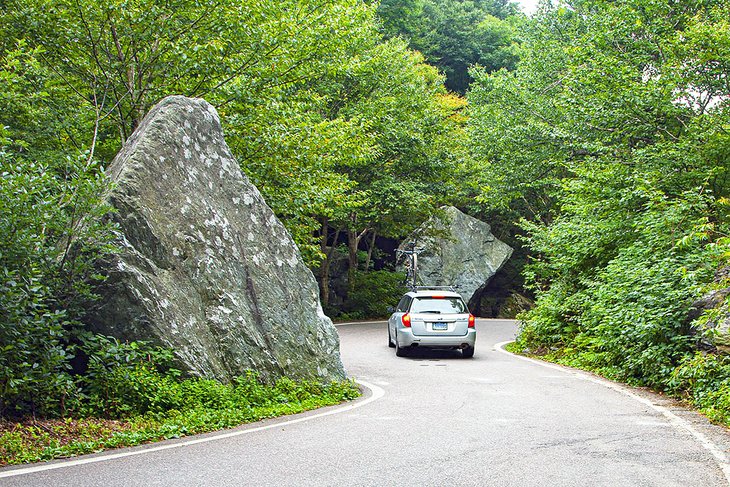 As it climbs past Stowe Mountain Resort, Route 108 snakes its way up into Smugglers' Notch, a narrow mountain pass where the 1000-foot cliffs of Mount Mansfield and Spruce Peak close in on each side.
The road zigzags between huge boulders that have dropped from overhead. Some of the curves are too narrow for two cars to pass.
So narrow and curving that snowplows can't maneuver through it, the road is closed in the winter, but when it's open, you can pull into one of the parking areas between the massive boulders and explore paths through this strange world of rock, twisted trees, and caves. These caves gave the notch its name, for smugglers hid in them as they carried on illegal trade with Canada; sign boards tell the fascinating story.
The caves and gigantic boulders were formed by the glacier during the last ice age, as it smashed and scraped the ledges, dropping chunks of them into the notch. There, the glaciers continued to jostle and move them, grinding them into the jumble of boulders you see today.
Before the notch, stop at the Green Mountain Club building to walk on the Barnes Camp Loop, a newly created 1.5-mile trail following a former portion of the Long Trail, which crosses Route 108 in Smugglers' Notch. The trail features a boardwalk and is ADA-accessible.
Just past the picnic area is a small pull-out on the left, where you can get a dramatic view of the deep cut of the notch and the cliffs overhanging each side – the source of the boulders that are strewn in the woods and beside the road ahead.
Smugglers' Notch State Park, below the notch itself, has well-spaced wooded tent sites.
4. Take the Gondola SkyRide at Stowe Mountain Resort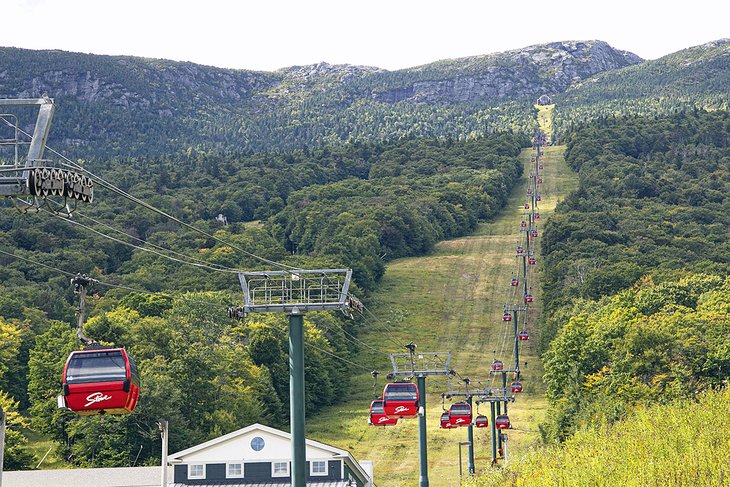 The distinctive profile of Mt. Mansfield rises like a backdrop to Stowe, it's ridgeline of several peaks said to resemble a man's face. As you look at the mountain from the valley, you'll recognize the brow, nose, and chin.
Covered in winter snow, green trees in the summer, or ablaze with red and yellow foliage in the fall, Mt. Mansfield is a magnet for tourists.
While the Gondola SkyRide was built to take skiers to the trails, it is a summer and fall attraction for sightseeing as well, carrying visitors to views of Lake Champlain, New Hampshire's White Mountains, and the Adirondack Mountains in New York.
It's also a way to reach the upper hiking trails of Mt. Mansfield without the long, hard climb. The gondola takes you to just below the Long Trail, so you can hike just the summit part for the best views. A restaurant and a snack-bar are at the summit gondola station.
Address: 7416 Mountain Road, Stowe, Vermont
Official site: https://www.stowe.com
5. Drive the Toll Road to Mansfield's Summit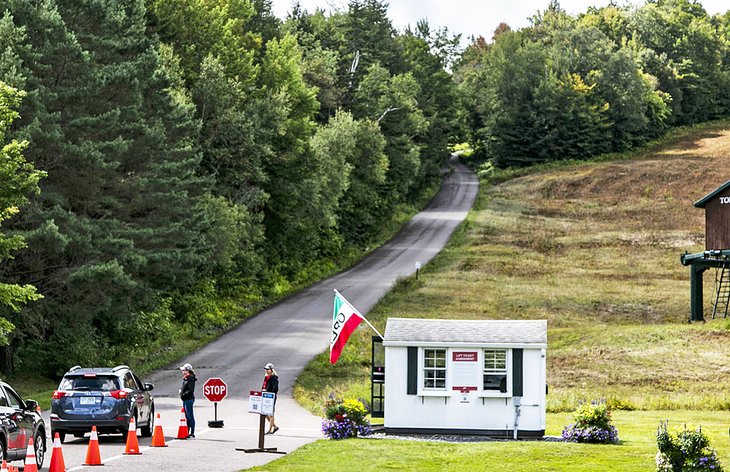 Alternatively, you can drive the Auto Toll Road to an altitude of 3,850 feet, within 500 feet of the summit. Opened in 1870 for carriages to reach the hotel at the summit (long gone), the current road was opened to automobiles in 1932.
In the winter, the historic 4.5-mile road doubles as a ski trail.
The drive takes about 20 minutes, in a series of switchbacks that reveal ever-better views through breaks in the trees. At the top, you can access trails to the summit ridgeline, or take a picnic and just enjoy the views from the clearing above the parking lot.
Both the Gondola SkyRide and Auto Toll Road are open through foliage season in the fall.
Address: 78 Toll Road, Stowe, Vermont
6. Climb Mt. Mansfield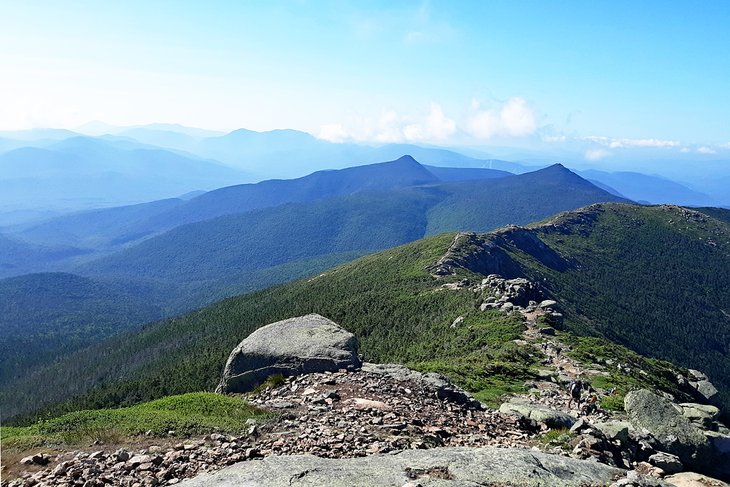 While an arduous climb isn't for everyone, hiking along Mt. Mansfield's two-mile open ridge line with views of three states is the best hike in Vermont. This hike above the tree line climbs all four peaks, known as the Adam's Apple, Chin (the highest point in Vermont, at 4,393 feet), Nose, and Forehead.
The sweeping views in every direction are not the only draw of this lofty mountaintop. Mt. Mansfield supports 200 acres of rare tundra plants that normally inhabit only high Alpine or Arctic regions. This is all that's left of the fragile ecosystem that was lost as the glacier receded and the climate warmed. If you hike here, stay on the trail so as not to destroy these rare plants.
You can choose from several trails to reach the summit, including the Long Trail, which crosses Mountain Rd. (Route 108) at the base of Smugglers' Notch. The trail climbs about 2.3 miles to reach the ridgeline.
Address: Route 108, Stowe, Vermont
7. Go Cross-Country Skiing at the Trapp Family Lodge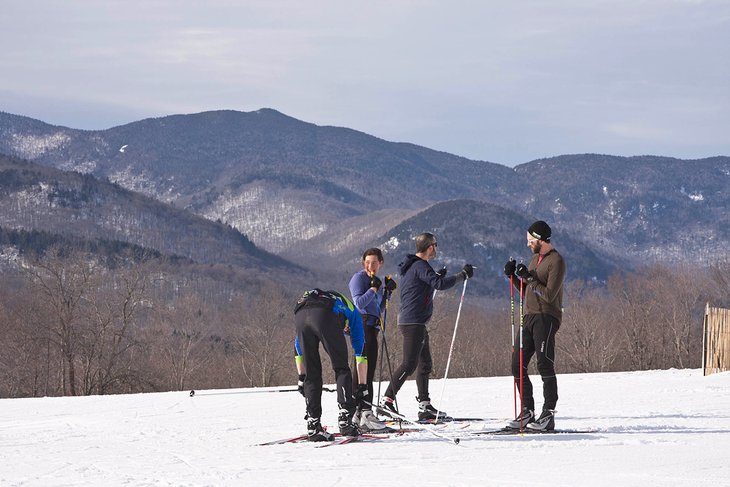 The nation's first commercial cross-country ski facility, the Trapp Family Lodge Outdoor Center is still one of the country's best, with 100 kilometers of cross-country trails, plus snowshoe and backcountry ski trails on over 2,500 acres.
More than 60 kilometers are groomed and machine-tracked for both classic and skate skiing. Trails wind through the woods and across high meadows with views of the Green Mountains.
This complete outdoor center includes rental ski equipment and snowshoes, a shop that carries outdoor clothing and equipment, and a full program of Nordic and snowshoe instruction.
Families love the Mountain Kids Club, where children learn to cross-country ski and enjoy indoor activities and movies while parents spend more time on the trails.
As one of the top cross-country ski centers in Vermont, the Trapp Family Lodge hosts the NCAA Ski Championships and other national Nordic ski competitions.
Address: 700 Trapp Hill Road, Stowe, Vermont
Official site: www.trappfamily.com
8. Take a Sleigh or Carriage Ride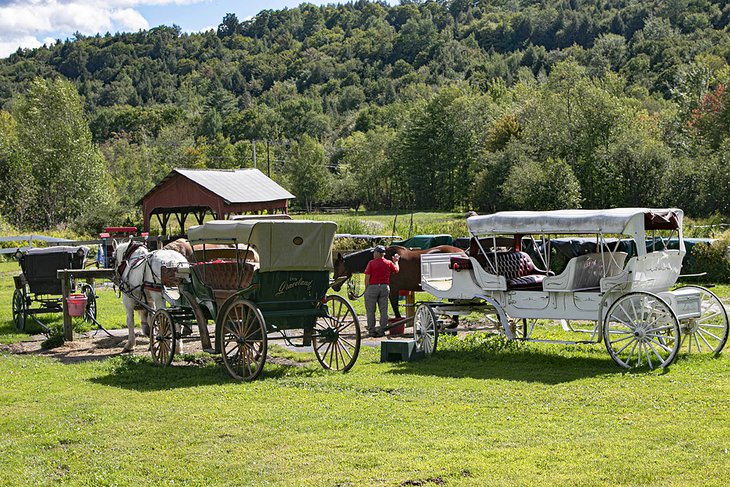 One of the most romantic things to do in Stowe is to glide over the moonlit snow in a cherry-red horse-drawn sleigh. At Gentle Giants, on Mountain Road, you can ride through the woods and through a covered bridge at night, as lights twinkle in the trees. Daytime rides bring magnificent views of Mt. Mansfield.
On a summer day or evening you can choose between a Victorian or a Surrey carriage for two, or join another couple in a Vis-A-Vis carriage for four. Small groups or families can take a wagon ride in a bright red open wagon pulled by horses.
Address: 3985 Mountain Road, Stowe, Vermont
9. Go Gallery Hopping and Shopping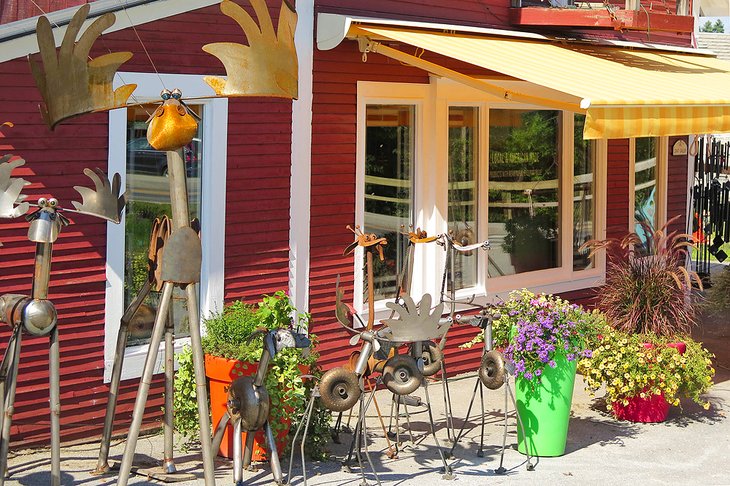 The compact center of Stowe clusters around the welcoming presence of the beautifully restored Green Mountain Inn, a Stowe fixture since 1833. Around it, shops feature everything from fashionable sportswear to maple candy, and galleries spotlight the talents of local craftspeople and Vermont artists.
For a stunning collection of fine crafts, you'll find Remarkable Things at Stowe Craft a few steps down Mountain Road, by the bridge. Exquisite handcrafted jewelry, blown glassware, clothing and accessories in dreamy hand-dyed and woven fabrics, fine art, and more fill every corner of this gallery.
Continue along Mountain Road, where Robert Paul Galleries are devoted entirely to fine art. Farther on, look for the West Branch Gallery & Sculpture Park, with its outdoor sculpture garden.
At Stowe Mercantile, next to the Green Mountain Inn, you'll find a variety that ranges from kitchenware and Vermont-made jams and preserves to woodsman-plaid flannel pajamas.
10. Gold Brook Covered Bridge (Emily's Bridge)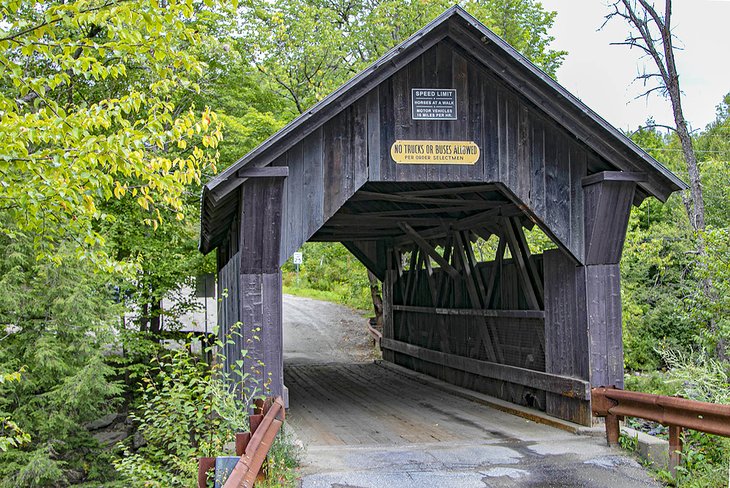 The 1844 covered bridge over Gold Brook is best known for its legend, which accounts for its local name of "Emily's Bridge." The story goes that Emily and a young man were supposed to meet at the bridge and when he didn't show up, she hanged herself from the rafters of the bridge.
There soon arose tales of her haunting the bridge, of howling noises emanating from its interior, and scratches on cars passing through the 50-foot span. The dark interior of the single-lane bridge probably enhanced the ghostly legends. Sign boards beside the road elaborate on the story.
Address: Covered Bridge Road, Stowe, Vermont
11. Sterling Falls Gorge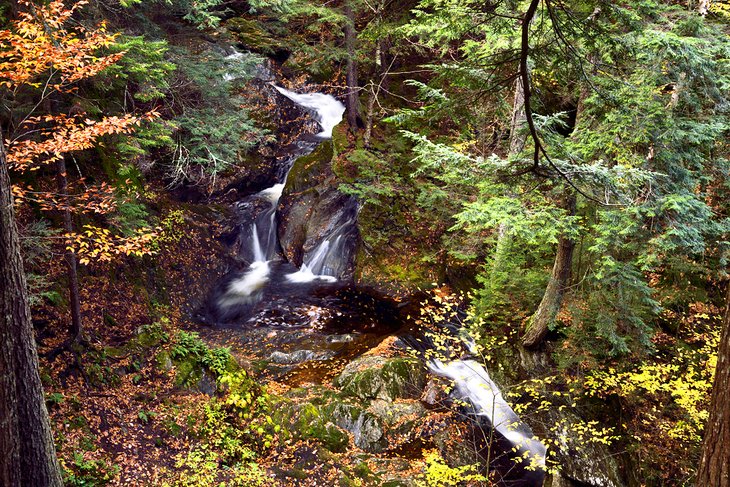 The dramatic gorge with a series of waterfalls and cascades is hidden deep in the forest above Stowe. Because of its steep and unstable sides, getting close for photographs is almost impossible and dangerous, so a circular interpretive trail has been built around the outer perimeter.
Through the trees, you can enjoy vignettes of water breaking into white foam against the rocks as it tumbles over three falls and six cascades, each separated by a pool. The gorge is deep and precipitous, another proof of the power and persistence of water attacking schist, so respect the barriers that are put there for your safety. Signboards give information on the history and geology of the gorge.
Address: Sterling Gorge Road, Stowe, Vermont
12. Vermont Ski and Snowboard Museum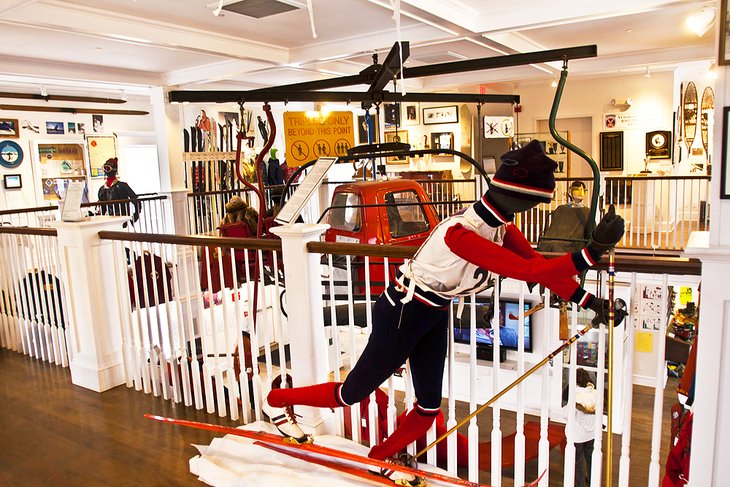 In a former church at the center of the village, the Vermont Ski and Snowboard Museum is a fascinating place to spend an hour or more.
Gondola cars and chairlift seats fly overhead, and examples from each stage in the sport's history, from hickory boards to modern parabolic skis line the walls. Displays are devoted to Vermont's role in Olympic competition and there's a section on the founding and history of the famous World War II 10th Mountain Division.
Changing special exhibits highlight related subjects, such as the artistry of ski and snowboard graphics and their creators. The monthly Red Bench Speaker's Series from September through April features speakers or ski-related films, and the museum honors important ski figures in its annual Hall of Fame awards.
Address: 1 South Main Street, Stowe, Vermont
Official site: https://www.vtssm.org
13. Weissner Woods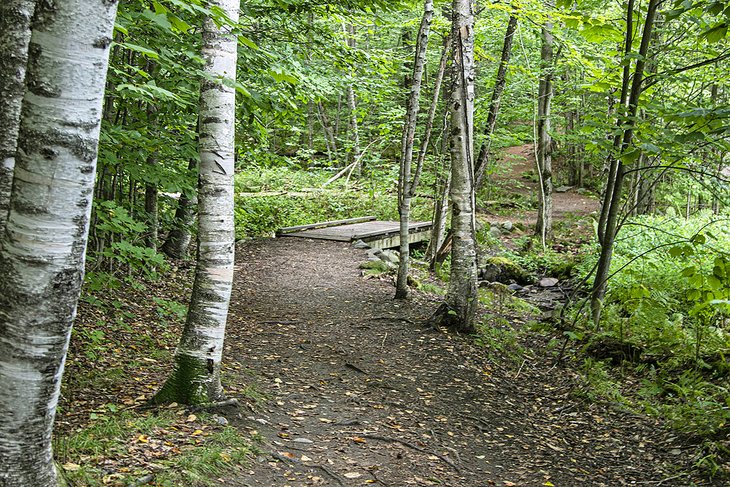 The relatively level terrain of this Stowe Land Trust property makes it perfect for family hikes and quiet walks to enjoy nature. Well-marked trails explore three habitats, including a vernal pool that's the spring home to frogs and salamanders, and a mixed forest of century-old conifers and hardwoods.
A meadow with views of Mt. Mansfield has old stone walls from the property's past as a farm.
Pick up a map at the trailhead, which is across a small wildflower meadow from Edson Hill Road. The parking area is almost hidden to the left just before the road branches into two private drives. Trails may be wet in the spring or after rainy weather, so waterproof shoes are a good idea.
The Wiessner Woods property was donated to the Stowe Land Trust in memory of mountaineer and conservationist Fritz Wiessner.
Address: Edson Hill Road, Stowe, Vermont
Official site: https://www.stowelandtrust.org
14. Take in a Show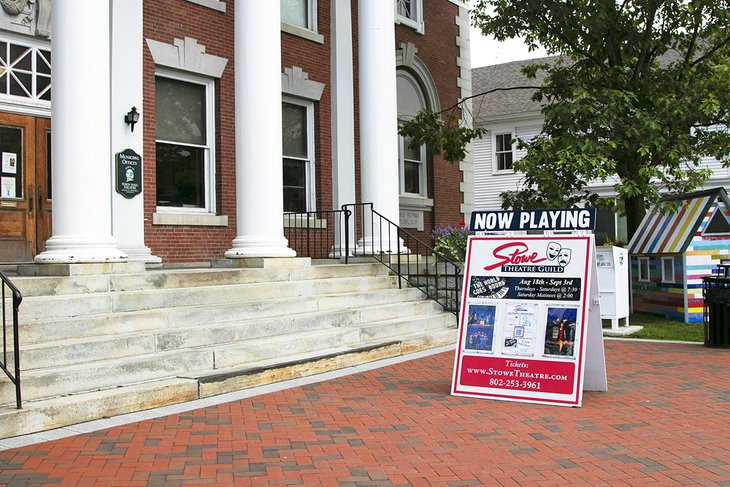 Two venues offer performing arts in Stowe: one in a modern facility at the base of the mountain and the other downtown in the historic Town Hall. The beautiful 1903 Town Hall Theater is on the second floor of the Akeley Soldiers Memorial Building and features a historic stage with a painted proscenium.
The Stowe Theater Guild presents four shows here per season (June through October) including musicals and straight stage plays. Recent shows include Our Town, Tru, and A Little Night Music.
The Spruce Peak Performing Arts Center is a modern 420-seat multi-use theater and concert hall with a year-round program that may include chamber orchestras, comedy shows, jazz musicians, gospel choirs, magicians, and other performers.
Stowe Theater Guild
Address: 67 Vermont Rte. 100, Stowe, Vermont
Spruce Peak Performing Arts Center
Address: 122 Hourglass Drive, Stowe, Vermont
15. Be Arty at The Current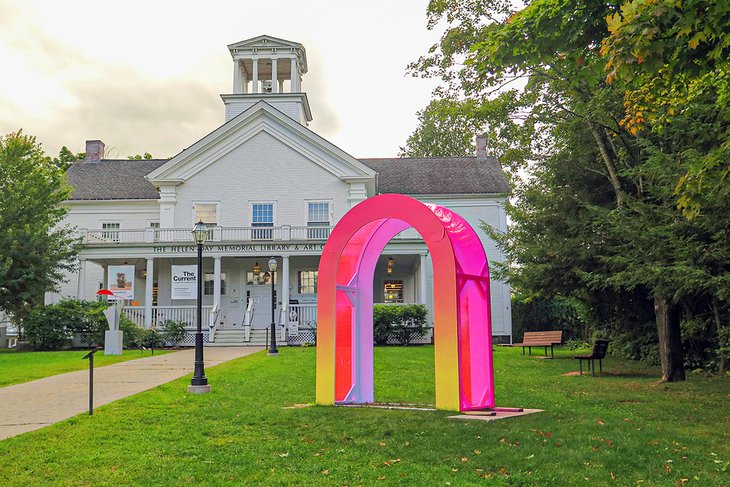 The 1863 Helen Day Memorial Library, formerly the Helen Day Art Center, is now the home of The Current, a contemporary arts and education organization. Art exhibits fill the galleries year-round, and classes for youth and adults include subjects such as graphic novel illustration, puppet making, digital photography, watercolor painting, stained glass, and block printing.
The Art Lounge is a public space for research and relaxation, with a coffee bar, work stations, free Wi-Fi, a gift shop, and an art library. In the summer and fall, you can see the annual exhibition of outdoor sculpture on the library grounds and displayed throughout the downtown streets.
Address: 90 Pond Street, Stowe, Vermont
Official site: https://www.thecurrentnow.org
16. Stop at Ben & Jerry's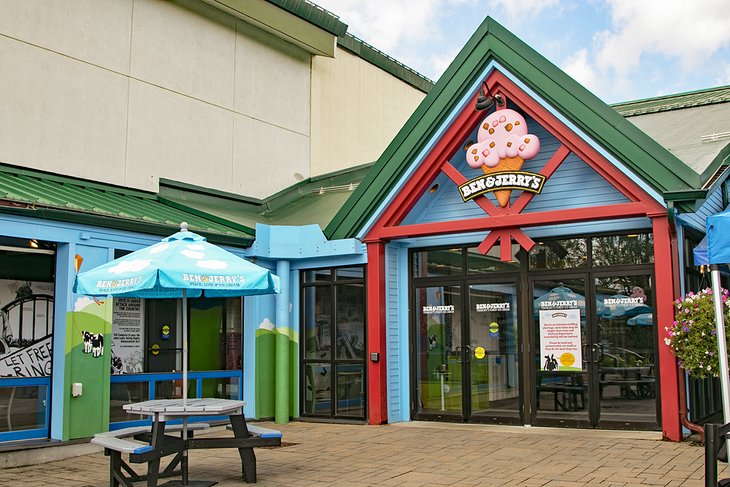 Approaching Stowe from I-89 along Route 100, you're sure to spot the signs for Ben & Jerry's. A stop at this Vermont icon is hard to resist in any season (Vermonters eat ice cream all yearlong), but especially in the summer, when you can enjoy the latest flavors under a bright parasol on the terrace.
You can watch ice cream being made and packaged on a factory tour when it's operating, and see a movie when it isn't; a free ice-cream cone is part of the tour. Or you can just enjoy the grounds, smile at the B&J bus painted with happy black and white cows, and pay your respects to departed favorites in the Flavor Graveyard.
"Headstones" for more than 30 discontinued flavors include epitaphs with the life history of each. Occasionally one gets resurrected, but you can expect to find long-forgotten names like Wavy Gravy™ and Vermonty Python™.
Address: 1281 3600 Waterbury-Stowe Rd. (Route 100), Waterbury Center, Vermont
Official site: https://www.benjerry.com/waterbury
17. Quench Your Thirst at Cold Hollow Cider Mill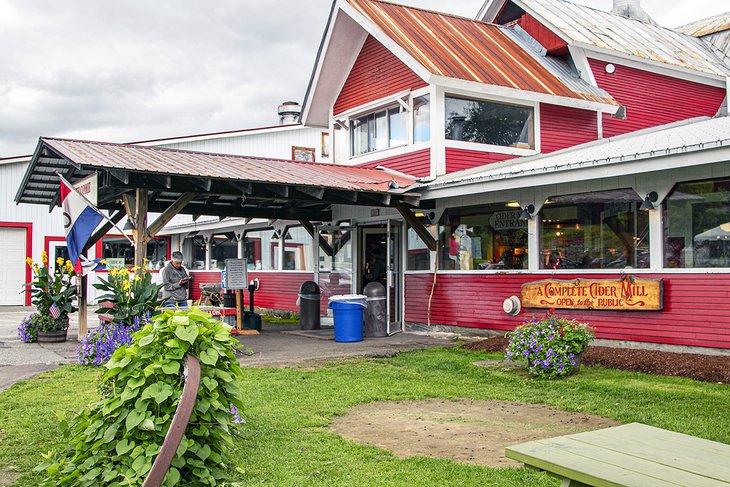 While you're heading north on Route 100, your next stop should be for a refreshing glass of fresh-pressed apple cider, accompanied by a traditional cider doughnut cooked as you watch.
After shopping for all things made in Vermont in the shop that fills the former barn, watch barrels of apples bring pressed into the sweet taste of autumn. You can watch the process, which uses a traditional 1920s rack-and-cloth press, and buy jugs of sweet cider all year-round. In the winter, warm your hands around a cup of hot spiced cider, a New England holiday favorite.
3600 Waterbury-Stowe Road (Route 100), Waterbury Center, Vermont
Official site: https://coldhollow.com/pages/visit
Map of Things to Do in Stowe, VT
Stowe, VT - Climate Chart
Average minimum and maximum temperatures for Stowe, VT in °C
J
F
M
A
M
J
J
A
S
O
N
D

-4

-17

-2

-16

3

-9

11

-2

19

4

24

9

26

12

25

11

20

6

13

0

6

-4

-1

-12

PlanetWare.com
Average monthly precipitation totals for Stowe, VT in mm.

73

53

74

83

90

94

108

121

97

90

87

81