15 Top-Rated Tourist Attractions in Tanzania
Tanzania is home to some of Africa's most famous national parks and natural attractions, including majestic Mount Kilimanjaro. Consequently, the most popular things to do in Tanzania and the reason many people visit the country, are safaris and wildlife-related adventures.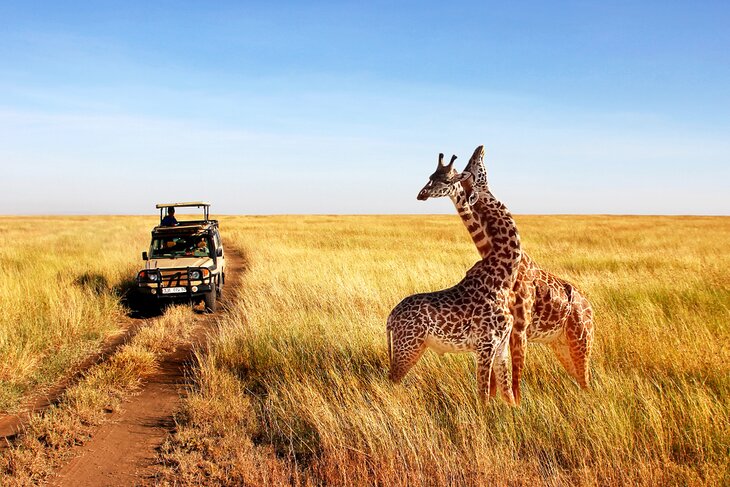 Most visitors will find themselves passing through Dar es Salaam and heading out to the wilderness areas and other destinations. For those who want to spend some time soaking up the sun, the beautiful beaches of Zanzibar beckon.
Off Pemba and Mafia islands is another kind of natural wonder, appreciated by scuba divers and snorkelers who come here from around the world to experience the coral gardens, colorful fish, and crystal clear waters.
Explore your options and discover the best places to visit with our list of the top attractions in Tanzania.
1. Mount Kilimanjaro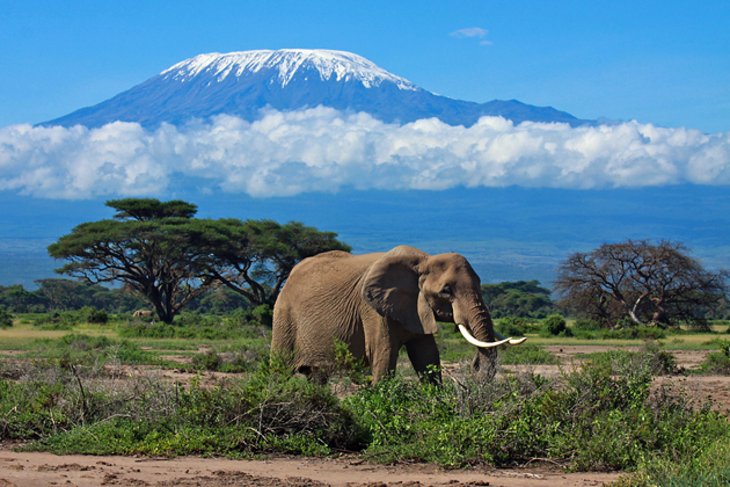 Highlights: A snowcapped mountain in the tropics, six-day hiking trips to the top
Mount Kilimanjaro is Africa's highest peak (5,895 m) and Tanzania's most iconic image.
Mount Kilimanjaro National Park, unlike other parks in northern Tanzania, is not visited for the wildlife but for the chance to stand in awe of this beautiful snow-capped mountain and, for many, to climb to the summit. Mount Kilimanjaro can be climbed at any time, although the best period is from late June to October, during the dry season.
Kilimanjaro, a World Heritage Site, was formed over 1 million years ago by volcanic movement along the Rift Valley. Three volcanic cones — Shira, Kibo, and Mawenzi — came to be about 750,000 years ago. The highest point is Uhuru Peak on Kibo, which is one of the Seven Summits of the world.
The mountain rises from farmland on the lower level to rainforest and alpine meadow, and then barren lunar landscape at the peaks. The slopes of rainforest are home to buffaloes, leopards, monkeys, elephants, and eland. The alpine zone is where bird watchers will find an abundance of birds of prey.
Although no immediate project is in the works, in late 2020 the government approved a plan to build a cable car on Mt. Kilimanjaro. If constructed, it would take visitors to 3,700 meters above sea level.
2. Serengeti National Park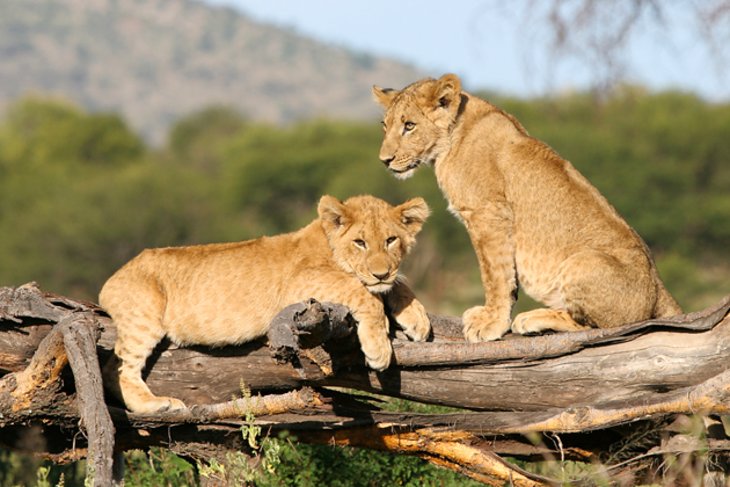 Highlights: Big Five wildlife spotting, wildebeest migration, 500 species of birds, UNESCO World Heritage Site
The world-famous Serengeti National Park is a vast treeless plain with millions of animals living here or passing through in search of fresh grasslands. It's most famous for the annual wildebeest migration but you can also see the Big Five here, and nearly 500 species of birds have been recorded on the Serengeti.
As the second largest national park in Tanzania, the Serengeti attracts tens of thousands of tourists each year. The best months for wildlife viewing in Serengeti National Park are between June and September. The wet season is from March to May, with the coldest period from June to October.
The annual migration of over 1.5 million wildebeest and hundreds of thousands of zebra and gazelle takes place in May or early June. This migration is one of the most impressive natural events and the primary draw for many tourists.
Read More: Best Game Reserves in Africa
3. Zanzibar Beaches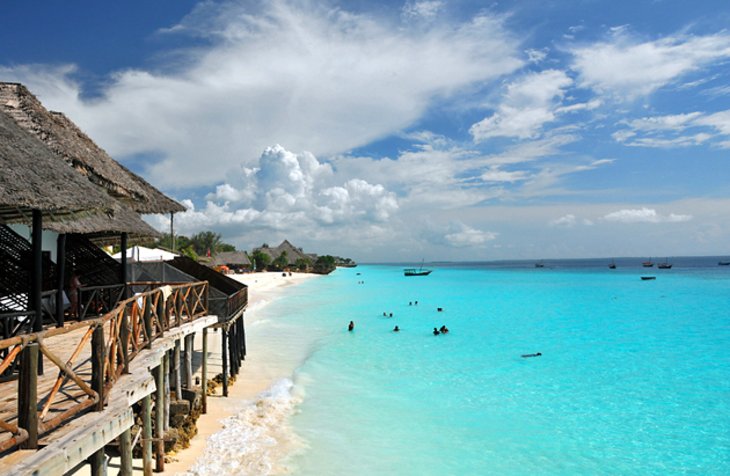 Highlights: Stunning white-sand beaches, warm water, historic Stone Town
The island of Zanzibar, also called Unguja, is a major holiday destination in Tanzania and is known for its beautiful beaches.
Part of the Zanzibar archipelago, which consists of the islands of Zanzibar and Pemba, this island has some of the best beaches in the world. The surf varies depending on what side of the island you are on, but visitors will find soft white sand and clear shallow water, along with traditional boats lining the shore.
The island has some spectacular accommodation options, with pools, luxury suites, and fine dining. One of the best is the new Emerald Zanzibar Resort & Spa on Muyuni Beach in Matemwe with 250 suites, four restaurants, its own beach, protected reef, and spectacular pool area.
The historic city of Stone Town, known for old Arabian townhouses, narrow alleyways, and a busy port, is located in the heart of Zanzibar.
Read More: Best Beaches in Africa
4. Ngorongoro Conservation Area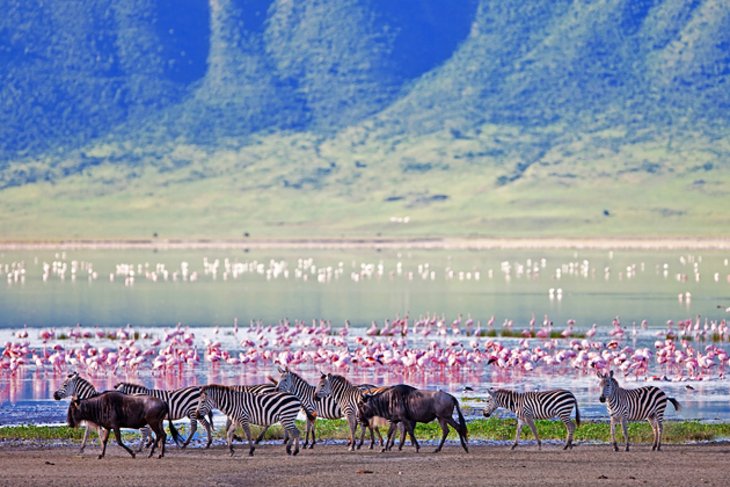 Highlights: Incredible numbers of animals in a stunning natural environment, Olduvai Gorge
Located between the Serengeti and Lake Manyara, the Ngorongoro Conservation Area is home to the famous volcanic Ngorongoro Crater and is one of Tanzania's most popular wildlife viewing areas. This huge volcanic crater has a permanent supply of water, which draws thousands of animals who stay in this area rather than migrating.
Visitors come here primarily for viewing large animals and bird watching. Thousands of animals can be seen on the crater floor, including lions, elephants, rhinos, Thomson's gazelles, and buffaloes, but wildebeests and zebras account for over half of the animals that call the Ngorongoro Crater home.
Bird watching is superb, especially around Lake Migadi, which attracts flocks of flamingoes to the shallows. Hippos are content to submerge themselves during the day and then graze in the nearby grass in the evening.
The Ngorongoro Crater is the largest intact ancient caldera in the world, nearly three million years old. The Ngorongoro volcano was one of the world's tallest mountains before it exploded and collapsed.
Olduvai Gorge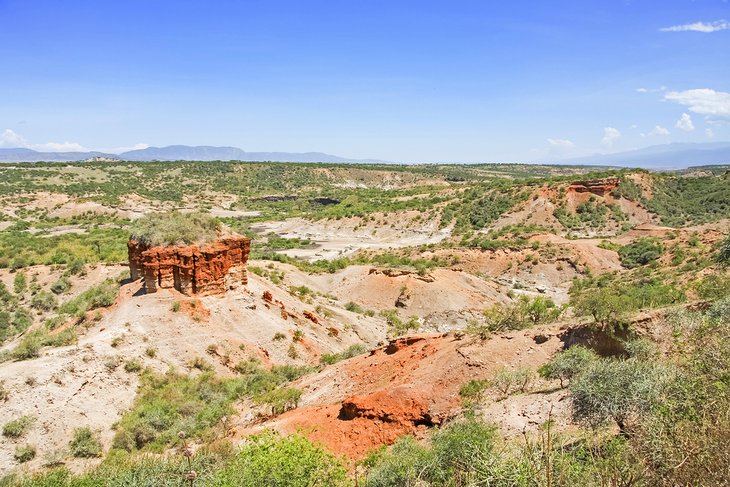 Also of interest in the conservation area is the Olduvai Gorge. This important archeological site has revealed ancient skull and bone fragments that have delivered critical information about early mankind.
The Olduvai Gorge is an archeological site situated on a series of fault lines, where centuries of erosion have revealed fossils and remnants of early mankind. As early as 1911, a German professor found some fossil bones while looking for butterflies in Olduvai Gorge.
In a later expedition, the Leakeys collected skull fragments, a skull, and bones determined to be approximately 2 million years old. Tools and hunting weapons from 1 to 1.5 million years ago were also discovered in Olduvai Gorge.
Another exciting find were the famous footprints of a man, woman, and child at Laetoli, near Olduvai. These and other discoveries provide more evidence to the theory that at least three hominid species were in this region over two million years ago.
5. Lake Manyara National Park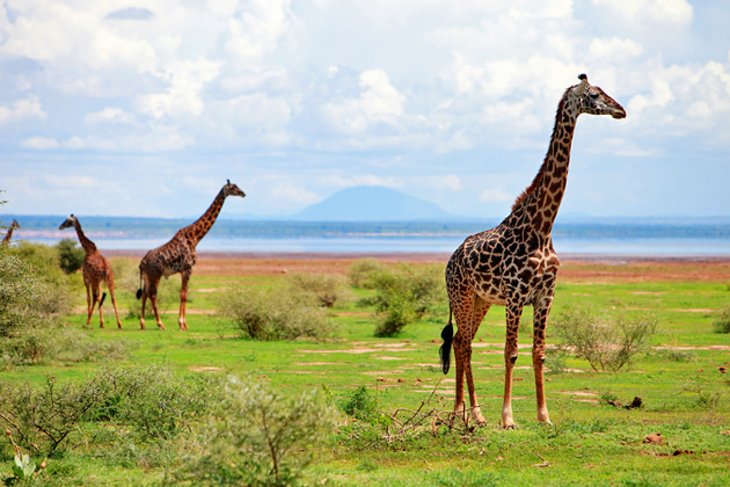 Highlights: Thousands of flamingos, baboons, elephants, giraffes, canoeing
The spectacular Lake Manyara National Park is comprised of forest, woodland, grasslands, and swamps. Two-thirds of the park is covered by water and Lake Manyara is host to thousands of flamingoes, at certain times of year, as well as other diverse bird life.
The highlight of Lake Manyara Park is the large population of elephants, tree-climbing lions, and hippos, which can be observed at a much closer range than in other parks. This park is also home to the largest concentration of baboons in the world.
Wildlife drives, canoeing (when water levels are high enough), mountain bike tours and bird watching are the most popular things to do in Lake Manyara National Park.
6. Mafia Island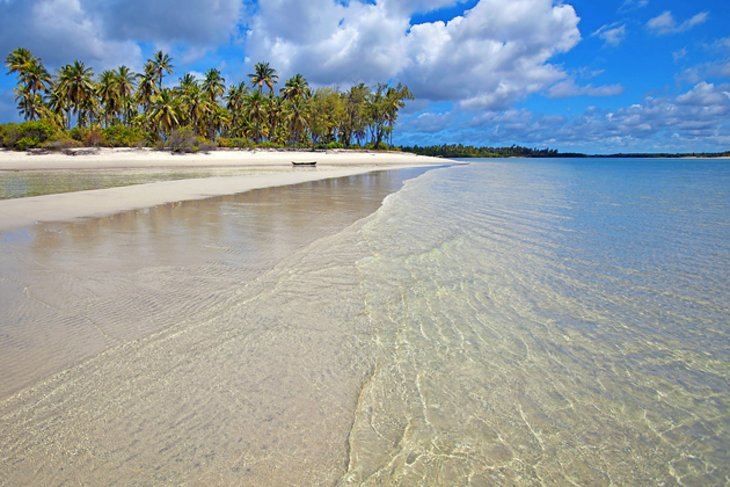 Highlights: Incredible reefs, 400 species of fish, offshore fishing for gamefish
Mafia Island draws divers and snorkelers from around the world to the undersea world protected by the Mafia Island Marine Park. The best months for diving are October to March but the best weather on Mafia Island is May to October. March and April are months of heavy rain.
The gorgeous Mafia Island Marine Park has coral gardens, an abundant variety of fish, and a relaxed diving atmosphere. Countless birds and over 400 species of fish can be seen in the area. Mafia Island is also a traditional breeding site for the green turtle, which is unfortunately endangered.
Mafia is also a desirable location for deep-sea fishing, especially tuna, marlin, sailfish and other big-game fish.
This island paradise first saw settlers in the 8th or 9th C, but Mafia became a more important settlement during the 12th to 14th C when it held a key position in the East African trading routes.
7. Tarangire National Park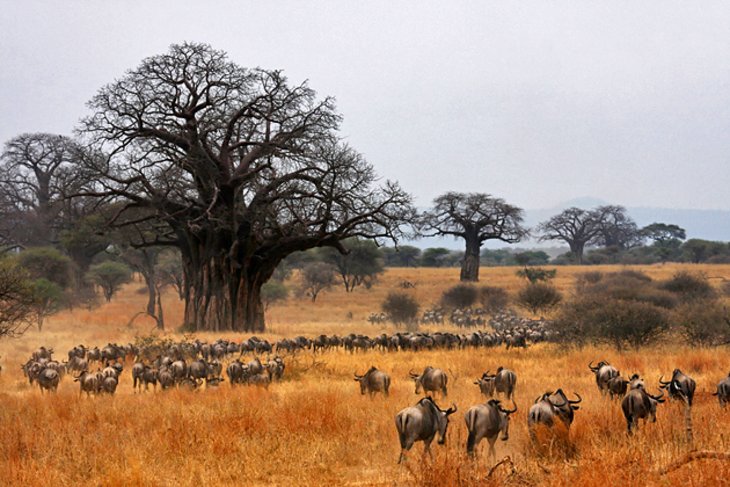 Highlights: Giant baobab trees, rivers, large elephant population, 300 species of birds
Tarangire National Park, established in 1970, is a fantastic area for wildlife viewing. It is best visited in the dry season from July to September when the animals gather along the river.
During the dry season, Tarangire National Park has one of the highest concentrations of migratory wildlife. Wildebeest, zebra, buffalo, impala, gazelle, hartebeest and eland crowd the lagoons. The park is also known for its large population of elephants, and the baobab trees that dot the grassy landscape.
The park is excellent for birdwatching, with more than 300 species recorded in Tarangire. These species include buzzards, vultures, herons, storks, kites, falcons and eagles.
8. Pemba Island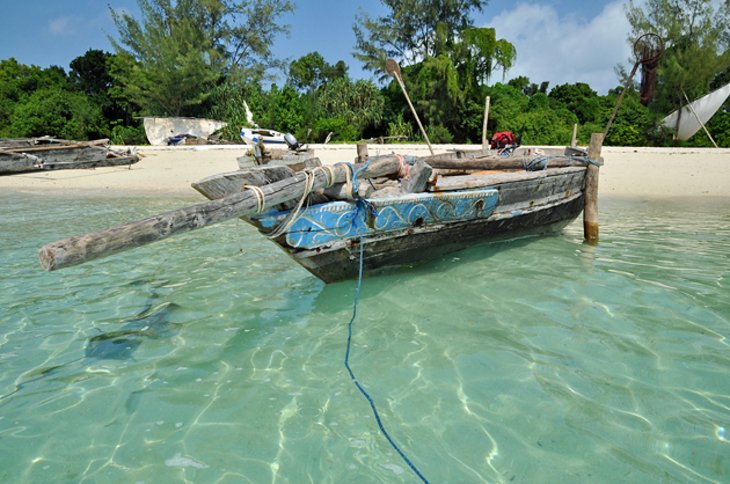 Highlights: Amazing scuba diving, mountain biking, white sand beaches, warm shallow water
Pemba Island is the northernmost island in the Zanzibar archipelago. Around Pemba are many desert islands and some of the best scuba diving in the Indian Ocean, with visibility that is unparalleled. Coral gardens, colorful sponges and sea fans are all found in the underwater haven. The city of Chake Chake, the main population center of Pemba, is a popular base for scuba divers.
Pemba is less visited than Zanzibar and as a result has a more laidback atmosphere. The island is hilly with deep valleys and it has become popular with mountain bikers who are drawn to the 1,000-meter peaks. Just offshore, one spot not to miss is Misali Island Beach. This incredible white-sand beach is on an uninhabited tropical island.
Pemba is a major world clove producer and is also well known for the juju traditions of medicine and magic. People come from throughout East Africa to learn from the voodoo and traditional healers or seek a cure.
9. Stone Town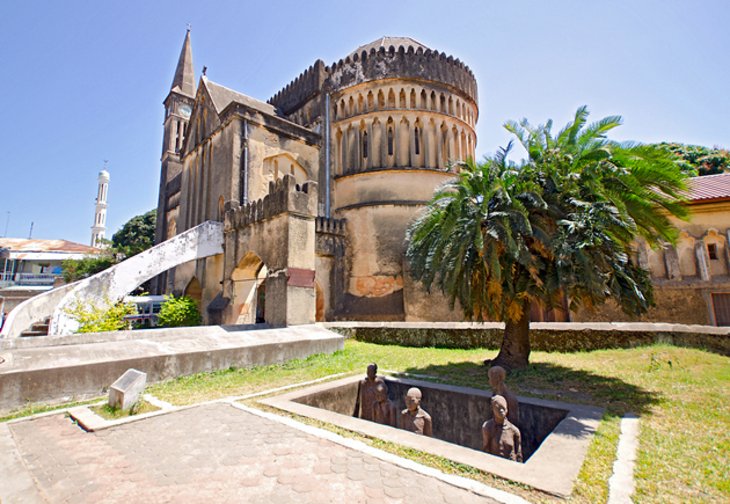 Highlights: Historical 19th-century homes and buildings, winding alleys, ornate doors, UNESCO World Heritage site
Stone Town is the cultural heart of Zanzibar and little has changed in the last 200 years. The grand old Arabian homes lining the narrow streets and winding alleys give the city its own unique charm.
The majority of homes in Stone Town were built in the 19th C when Zanzibar was one of the most important Swahili trading towns in the Indian Ocean. Visitors will notice the bras-studded, intricately carved wooden doors on many of the houses.
As the world's oldest functioning Swahili city, many of the landmarks in Stone Town have been restored to their original glory. Some of the historic buildings are now museums and tourist attractions. The town also has a couple of interesting old churches of historical significance.
A walk along Creek Road takes visitors to the original Stone Town area and the location of the Darajani Market, Beit el-Amani, City Hall, and the Anglican Cathedral.
Some of the other key highlights include the Forodhani Gardens, the Old Dispensary with its carved wooden balconies, the former home of the sultans known as Beit el-Sahel or the People's Palace, the Hamamni Persian Baths built in 1888, and the oldest structure in Stone Town, the Old Fort.
10. Selous Game Reserve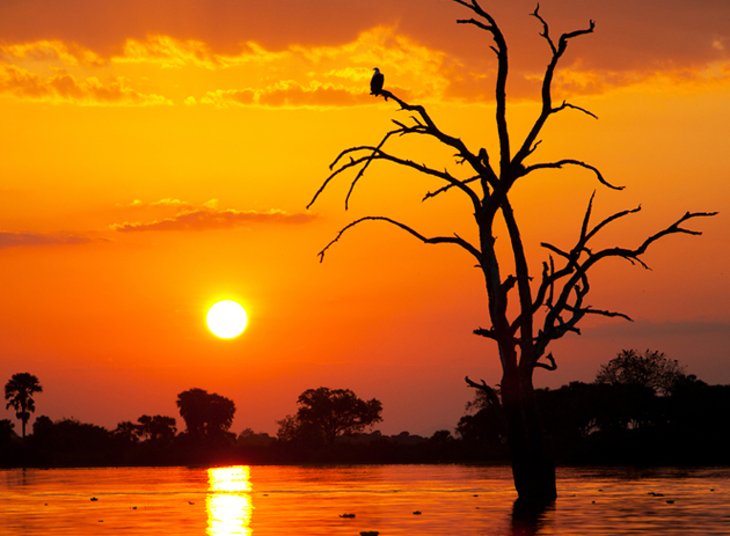 Highlights: Rufiji River, 350 species of birds, impressive numbers of hippos
Selous is the largest game reserve in Africa. Established in 1922, it covers 5% of Tanzania's total area. The southern area is a forbidden zone that is undeveloped, heavily forested, and contains a series of steep cliffs.
Travelers are limited to the area north of the Rufiji River. This area of the Selous Game Reserve has large open grassland, woodlands, rivers, hills and plains. The best time to visit is July through October.
The Rufiji River bisects the Selous Game Reserve and has the largest catchment area of any river in East Africa. The river is an important feature of the reserve providing the opportunity to watch the diverse water-based wildlife.
A broad range of wildlife can be found including elephants, hippos, and rhinos as well as buffalo, antelope, giraffe, warthog, wildebeest, lion, leopard, and cheetah. The diversity of bird life in Selous includes over 350 recorded species.
11. Arusha National Park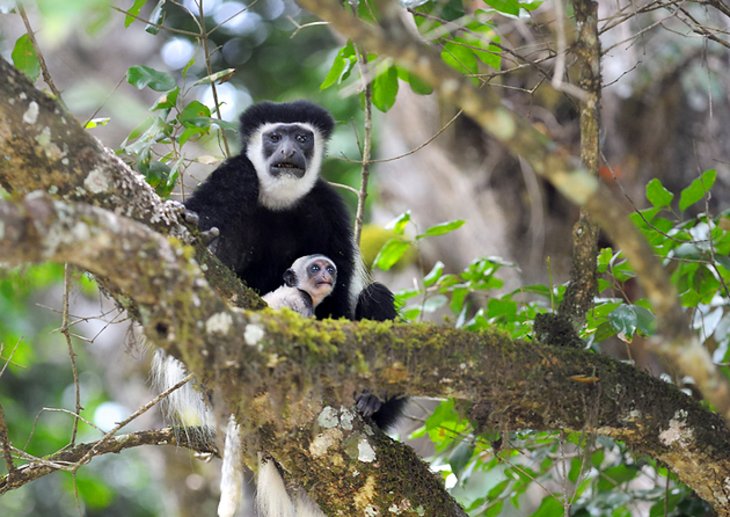 Highlights: Multiple climatic zones, climbing opportunities on Mount Meru, Colobus monkeys
Arusha National Park, although smaller than most in Tanzania, has a range of habitats that consist of the forest of Mount Meru, Ngurdoto Crater in the southeast section of the park, and Momella Lakes, a series of seven crater lakes.
Black and white Colobus monkeys are easily spotted in the forested area while the marshy floor of the crater is dotted with herds of buffalo, zebra, and warthog. Momella Lakes is home to a large selection of resident and migrant waterbirds. People come here to see wildlife and also to climb Mount Meru.
Mount Meru is one of the most beautiful volcanoes in Africa and the second-highest mountain in Tanzania. The summit is reached by a narrow ridge, which provides stunning views of the volcanic cone lying several thousand feet below in the crater. The ascent is steep but the route passes through parkland, forest, a giant heather zone and moorland.
12. Ruaha National Park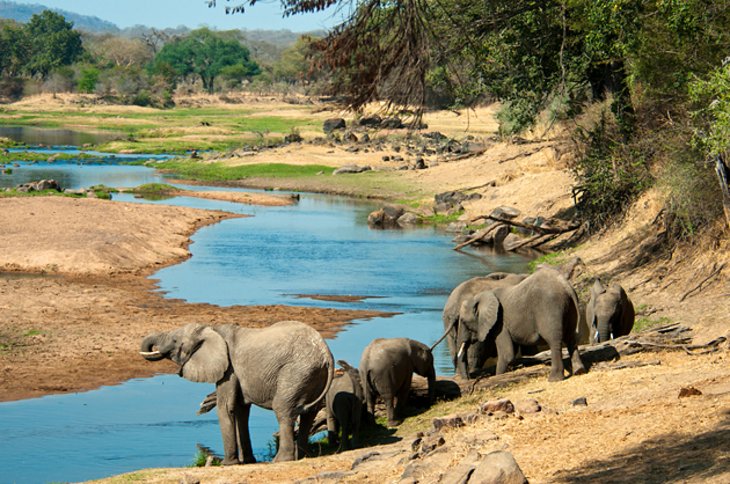 Highlights: Remote and pristine, high concentration of elephants, the Great Ruaha River
Ruaha National Park is Tanzania's largest park, home to large herds of buffalo and gazelle, and has one of the largest concentrations of elephants in Tanzania.
The Great Ruaha River is the main feature of Ruaha National Park, providing magnificent wildlife viewing on the banks. The river also provides much of the electricity to Tanzania through a hydroelectric dam at Kidatu.
Ruaha National Park is the least accessible park in Tanzania and as a result, the landscape remains relatively untouched. Birdwatchers can enjoy over 400 species of birds that are not found in northern Tanzania, and the river, spectacular gorges, and majestic trees are especially appealing to photographers.
13. Gombe Stream National Park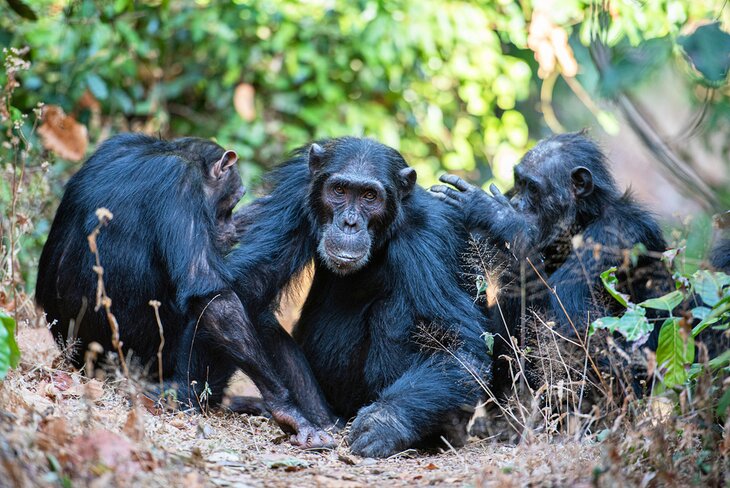 Highlights: The best place to see chimpanzees in Tanzania, hiking, waterfalls
Gombe National Park, also sometimes called Gombe Stream National Park, is primarily for those who want to get a little off the beaten track and see chimpanzees.
This is one of the smallest national parks in Tanzania and is famous for the work of Jane Goodall. This British researcher arrived in 1960 to study wild chimpanzees and her work turned into what would become the longest-running behavioral research program of its kind in the world.
Guided walks take visitors into the forest to observe chimps in the wild. Many species of primates and mammals live in the park. Over 200 bird species have been recorded in the tropical forest, including barbets, starlings, sunbirds, crowned eagles, kingfishers and the palm-nut vulture.
Hiking and swimming are other popular activities; a trail leads into the forest to a waterfall in the valley.
14. Katavi National Park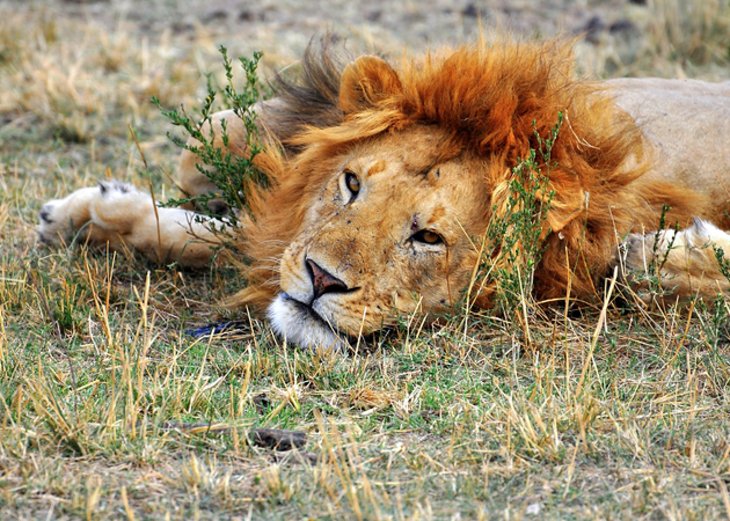 Highlights: High concentration of hippos, crocodiles, and wading birds; Katuma River
Katavi National Park is located in a remote region offering unspoiled wilderness. A predominant feature in Katavi is the enormous flood plain, split by the Katuma River and several seasonal lakes.
The lakes support enormous groups of hippos, crocodiles, and over 400 species of birds. One of the spectacles in Katavi is the hippos at the end of the dry season, when as many as 200 try to squeeze into a pool of water. The male rivalry heats up causing territorial fights.
The dry season brings Katavi National Park to life, herds of impala, reedbuck, lions, zebras and giraffes can be seen at the remaining pools and streams. Thousands of elephants and buffaloes also converge on the park when the flood waters retreat.
15. Lake Victoria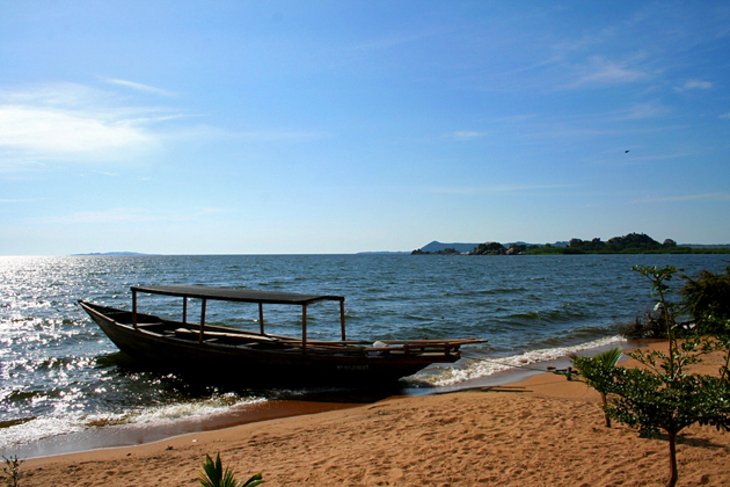 Highlights: Offshore islands are wildlife sanctuaries
Lake Victoria is the largest freshwater lake in Africa and is bordered by Kenya, Tanzania and Uganda.
This lake is the source of the White Nile and provides an income for millions of residents along its shores. The Tanzanian section of Lake Victoria is one of the least visited regions in the country, however the towns of Bukoba, Musoma and Mwanza have a number of tourist attractions.
Near Mwanza and Musoma are many islands, some have become wildlife sanctuaries. Bird watching and fishing trips are popular excursions, and boat trips or hikes can be arranged around Lake Victoria.
Rubondo Island National Park, which includes several other smaller islands, is on the southwest shores of Lake Victoria.
Read More: Best Lakes in Africa
Frequently Asked Questions
When is the best time to take a safari in Tanzania?
The best time to take a safari in Tanzania depends on the park you are visiting. For Tarangire National Park and the Selous Game Reserve, July through October is the best time to visit. If you are heading to Katavi National Park, plan for August through October. Serengeti National Park sees most of its visitors from June through September, although the high concentration of animals year-round makes any time good. That said, most people don't visit in the rainy season of March and April.
Where are the best beaches in Tanzania?
The best beaches in Tanzania are located on the island of Zanzibar, where you'll find impossibly white sands lapped by turquoise waters. Some of the top beaches include Nungwi Beach; Kendwa Beach; and Paje Beach, one of the top kiteboarding beaches on the island. Other notable runners-up are located on Pemba Island (Misali Island beach), and on Mafia Island (Utende Beach).
More Related Articles on PlanetWare.com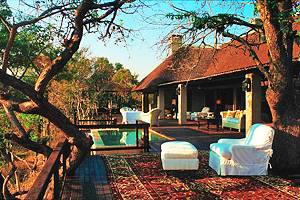 Games Reserves and Safari Lodges: Africa has a large number of game reserves to choose from, which can make planning your trip a little daunting. To narrow your search, see our list of the Best Game Reserves in Africa. If South Africa is a destination you are considering visiting, have a read through article: Top-Rated Luxury Safari Lodges in South Africa.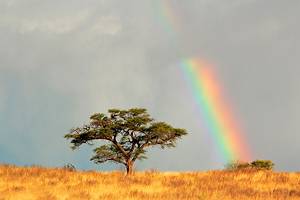 Exploring Africa: While Tanzania is one of the top places to visit in Africa, you can find wonderful sites, attractions, and more wildlife experiences in neighboring Kenya. Similarly, South Africa is a country you'll want to make a return trip to before you even leave.