12 Top-Rated Things to Do in Saratoga, NY
We may earn a commission from affiliate links ()
Saratoga Springs' story is positively effervescent – literally and figuratively. Not only is it a vibrant and bubbly destination, the natural spring waters that give Saratoga Springs its name have been considered a top tourist attraction in Saratoga for centuries. These mystical waters still call visitors to their healing powers today, and the village that has blossomed around them has grown into one of the cultural capitals of upstate New York.
The land was first inhabited by the Mahican Native American tribes, followed shortly after by Europeans who settled in the 18th century. It was around this time that the bubbly waters began to attract tourists. By the 1800s, Saratoga Springs was a vibrant vacation destination, known not only for the mineral waters, but also for its now-legendary racetrack.
The best part? These attractions still exist today and are among the top things to do in Saratoga. Not only that, Saratoga Springs is renowned for its world-famous performing arts, quaint downtown district, historic architecture, and miles of nature trails. Saratoga Lake is a popular place to visit in the warmer months for water sports and swimming.
When it comes to finding the perfect upstate New York town that has a little bit of everything for everyone, you can't find much better than Saratoga Springs. Plan your sightseeing with our list of the top attractions in Saratoga.
Note: Some businesses may be temporarily closed due to recent global health and safety issues.
1. Embrace Horse Culture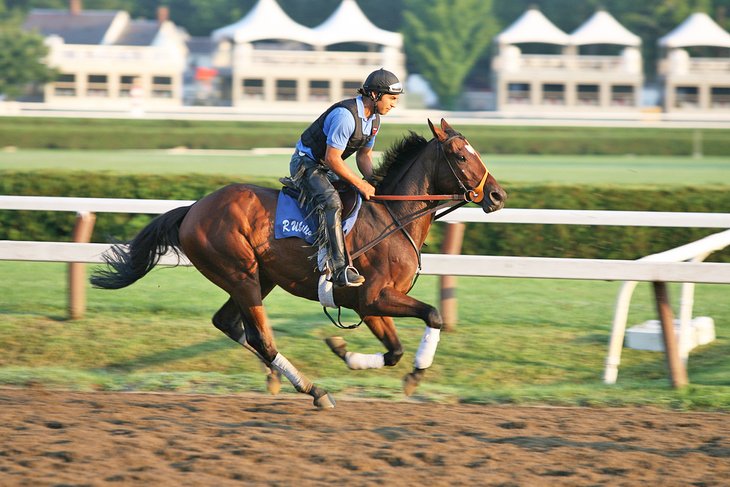 The heart and soul of Saratoga Springs is the Saratoga Race Course. In operation since 1863, it hosts six weeks of racing every summer. Most visitors descend on Saratoga for the world-famous Travers Stakes.
One of the best things to do in Saratoga is to experience the race track over breakfast. Every morning that the track is open, the Clubhouse Porch offers breakfast, which puts diners almost directly on the track. The decadent buffet is impressive, and it's one of the quintessential ways to wake up in Saratoga.
Horse culture is part of the backbone of Saratoga, and even if a visit to the race course isn't on your agenda, you can still pay homage to this haven for horses. For example, Saratoga Springs is home to the National Museum of Racing and Hall of Fame, where visitors can walk through 300 years of racing history.
Address: 267 Union Ave, Saratoga Springs, New York
2. Drive through Saratoga's Automobile History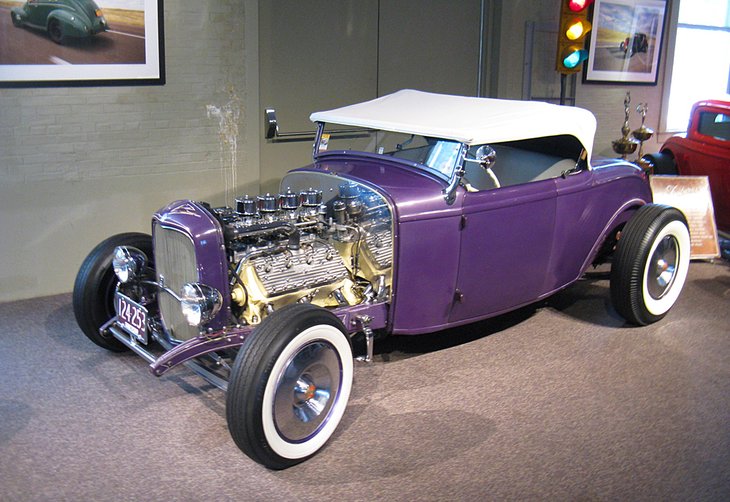 Detroit may have the reputation for being the automotive capital of the United States, but for a time, upstate New York was a major player, as well. New York State was once home to more than 100 different automobile manufacturers, like Pierce-Arrow in Buffalo and Franklin in Syracuse.
Saratoga Springs pays homage to the auto industry of New York with the Saratoga Automobile Museum. The museum was developed to exhibit automobiles and artifacts that help tell the story of New York State and the development of motor vehicles. The museum even organizes the Saratoga Motorcar Auction, which is a vintage and collector auction held every year in September.
Visitors can find the museum within the 2,500-acre Saratoga Spa State Park. The actual museum building is the renovated New York State Bottling Plant, which dates back to 1935.
Address: 110 Avenue of the Pines, Saratoga Springs, New York
3. Take a Soak in the Mineral Baths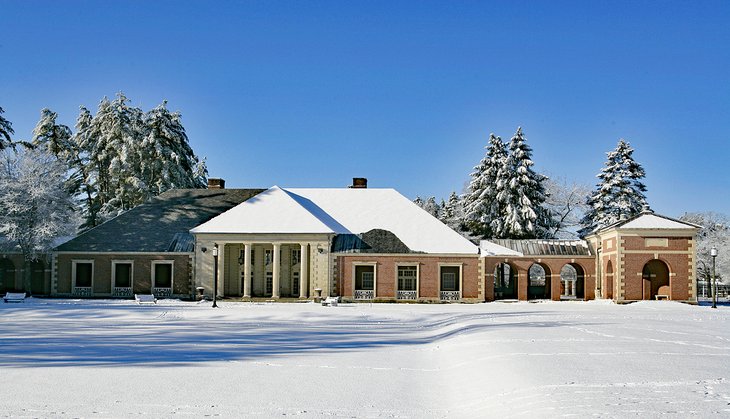 Colloquially called Saratoga, the full name of the city is actually Saratoga Springs, and it is named for the naturally carbonated springs that bubble beneath the earth's surface in this part of New York State.
The springs in Saratoga come from a geological fault that allows water to spring to the surface. In fact, Mohawk and Iroquois tribes within the region used to honor the leaping springs, which were said to have healing properties.
Travelers to Saratoga in the 18th, 19th, and 20th centuries heard of the restorative qualities of the springs. Doctors would recommend "taking the waters" as a way to cure kidney and liver issues, rheumatism, heartburn, cancer, malaria, and many other maladies. While none of the science of this can actually be proven, the bubbling springs still exist today, and "taking the waters" is still a popular thing to do in Saratoga.
Today only two locations remain for mineral baths in Saratoga: The Roosevelt Baths and Spa at the Gideon Putnam Resort (which we'll explain later), and the Crystal Spa in downtown, which has its own individual rooms with bathtubs that offer private soaks.
4. Take a Walk through American History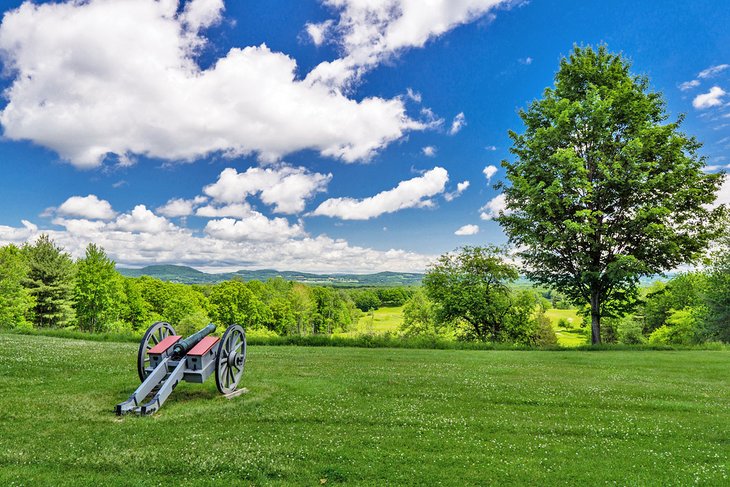 American history buffs know all about The Battle of Saratoga from the American Revolution. But for those who need a refresher, the battle occurred in September and October, 1777. It consisted of two battles, fought 18 days apart and was a victory for the Continental Army.
You can still visit the battlefield, now known as the Saratoga National Historical Park, which is where the British Army surrendered for the first time during the war. The Saratoga Monument sits north of the park to memorialize the victory.
Take your historical knowledge a step (or two) further by walking the path of the retreating British Army, which leads through Victory Woods. The 22-acre wood marks the final encampment for the British Army. A half-mile pathway marks a self-guided tour following the failed footsteps of Red Coats.
Address: 648 NY-32, Stillwater, New York
5. Get Back to Nature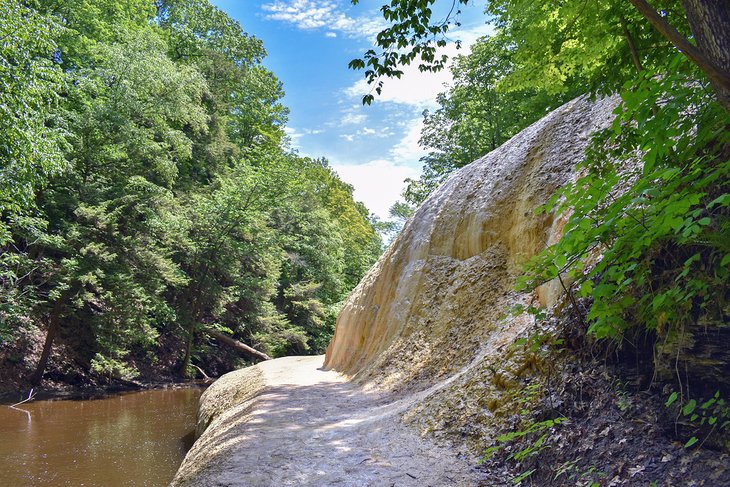 The city of Saratoga Springs and Saratoga County have more than 70 mountains in the area. As such, outdoor activites are some of the most popular things to do in Saratoga. In Saratoga Springs proper, visitors will find Saratoga Spa State Park, which offers more than 2,000 acres to explore.
The Saratoga Spa State Park is much more than an outdoor space. It is a National Historic Landmark known for its classical architecture, historic outdoor pools, a golf course, running courses, and tracks for cross-country skiing.
Saratoga Springs is home to Yaddo Gardens, as well. Once the country estate of a wealthy financier and his wife, a writer, Yaddo has been transformed into a 400-acre retreat for artists. The design was inspired by French and Italian gardens, bursting with vibrant blossoms and peppered with fountains and stone statues.
Address: 19 Roosevelt Drive, Saratoga Springs, New York
6. See a Show at the Saratoga Performing Arts Center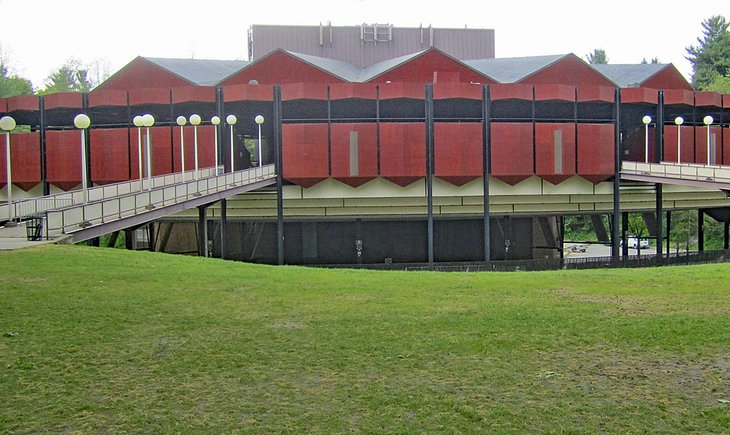 Saratoga Springs is a vibrant cultural destination just outside New York's state capital, Albany. Thanks to the Saratoga Performing Arts Center, the destination transforms into one of upstate New York's most prestigious cultural areas all summer long.
The SPAC center is perched within the 2,400-acre Saratoga Spa State Park, surrounded by hiking trails and mineral springs. But the SPAC center itself offers a summer-long calendar of events with performances by resident companies New York City Ballet, The Philadelphia Orchestra, Opera Saratoga, and more.
SPAC has four venues. The main stage features capacity for 25,000, with sheltered seats for more than 5,000 people. A sloping lawn is the perfect place to pack a picnic and enjoy the entertainment. This is where the New York City ballet and Philadelphia Orchestra host their performances.
The Spa Little Theatre is much more intimate, with just 500 seats. This is where the Chamber Music Society of Lincoln Center and Opera Saratoga perform. The Freihofer's Saratoga Jazz Festival is held at the Charles R. Wood Gazebo Stage.
Address: 108 Avenue of the Pines, Saratoga Springs, New York
7. Hop the Museums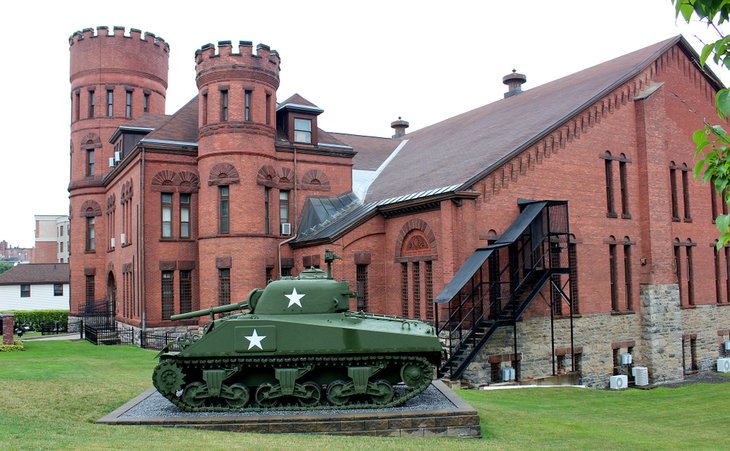 Saratoga Springs doesn't limit culture to live performances. The city is peppered with museums for an additional dose of the arts. Start at the National Museum of Racing and Hall of Fame, which pays homage to the American Thoroughbred race courses, jockeys, and trainers.
From here head over to the National Museum of Dance, or the New York State Military Museum and the Saratoga Springs History Museum. Of course, there are smaller art galleries in town, from the Frances Young Tang Teaching Museum and Art Gallery at Skidmore College to the Spa Fine Art gallery that specializes in equine art.
National Museum of Racing and Hall of Fame
Address: 191 Union Ave, Saratoga Springs, New York
National Museum of Dance
Address: 99 S Broadway, Saratoga Springs, New York
New York State Military Museum
Address: 61 Lake Ave, Saratoga Springs, New York
Saratoga Springs History Museum
Address: 1 E Congress Street, Saratoga Springs, New York
Frances Young Tang Teaching Museum and Art Gallery
Address: 815 N Broadway #1632, Saratoga Springs, New York
8. Explore Downtown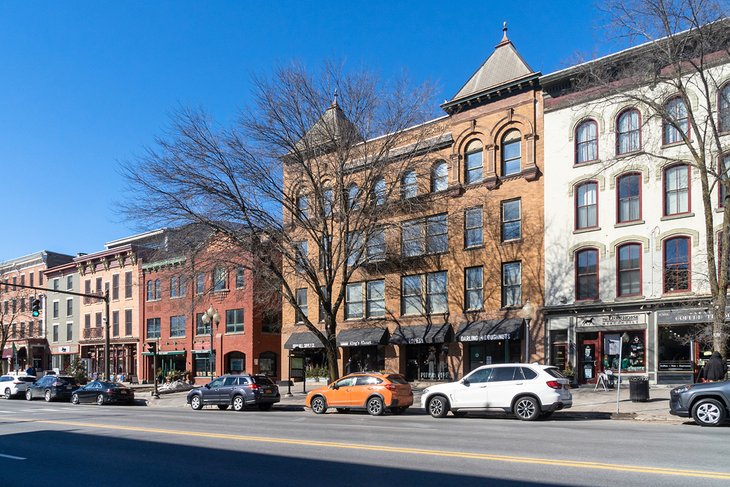 Saratoga Springs' main thoroughfare is Broadway, which is practically bubbling with small-town energy and charm. From bookstores and boutiques to antique stores, restaurants, and cafés, the mile-long Broadway and its surrounding offshoots give a great snapshot into everyday life in Saratoga.
Visitors could spend at least half a day browsing the dozens of shop windows along Broadway. But don't forget about the many spas, art galleries, and spots to hear live music – both indoors and on street corners. You may even catch a glimpse of a horse and rider – this is Saratoga Springs, after all.
9. Take a Soak at Roosevelt Spa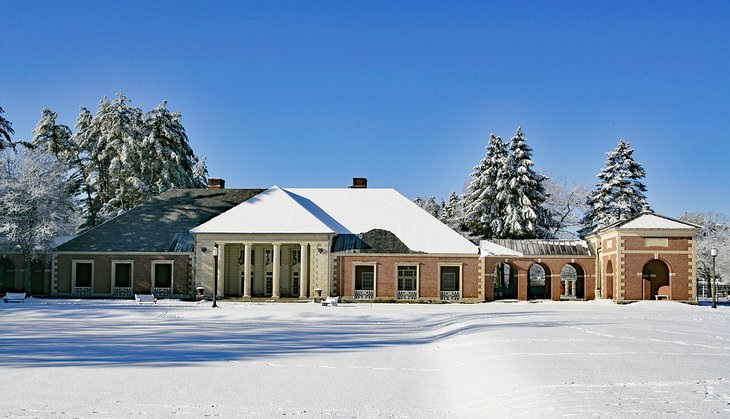 For decades, Saratoga Springs has been lauded for its natural mineral springs that can be found all around the area. To immerse yourself in the spring experience in the most luxurious way, book a treatment at Roosevelt Baths and Spa, part of The Gideon Putnam hotel.
The Roosevelt Baths & Spa opened in 1935, thanks to President Franklin Roosevelt's work to preserve the entire area. The experience at the spa begins with a private soak in the naturally bubbly water. It's the perfect introduction to the entire mineral springs experience.
From here, guests can move on to one of the 42 treatment rooms to indulge in a menu of services, from massages and facials to body wraps and scrubs. Guests staying at The Gideon Putnam have complimentary use of the spa's steam room and locker facilities.
Address: 39 Roosevelt Drive, Saratoga Springs, New York
10. Marvel at the Colorful Architecture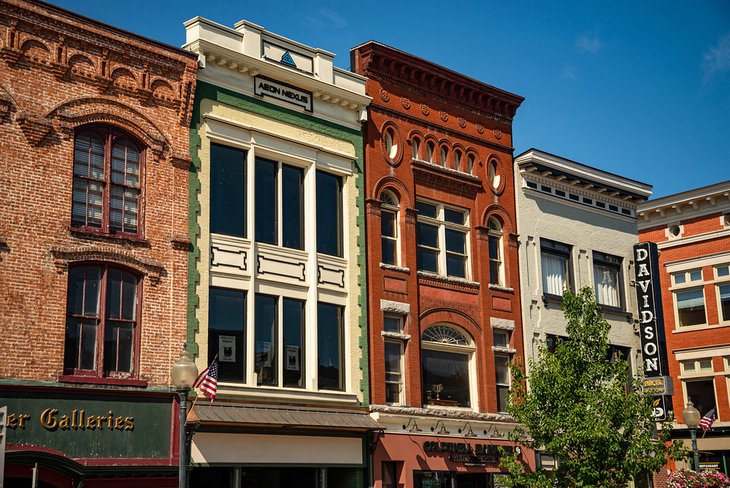 Saratoga Springs is one of the most historic towns in upstate New York. As such, it is blessed with some truly impressive architecture. In fact, several beautiful neighborhoods and the main drag, Broadway, have been collected into what is now known as the historic districts.
The town of Saratoga is a mishmash of architectural styles, from gorgeous Victorian mansions to Colonial Revivals, Greek Revivals, and more.
The historic district was created in 1977 to preserve buildings and neighborhoods of historic character. Areas include sections of Union Avenue, about 400 buildings on the east side of the city, several alleyways, Franklin Square, and many other areas in the city.
11. Explore Saratoga Lake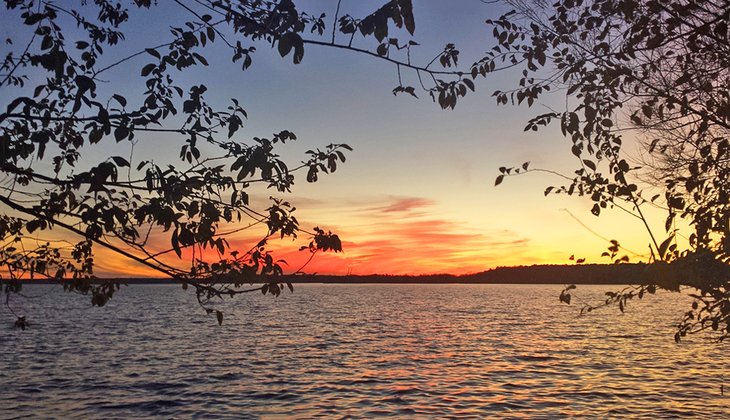 Located in eastern Saratoga County, Saratoga Lake is one of the premiere tourist attractions in Saratoga Springs. In summer in particular, Saratoga Lake becomes the heart and soul of the destination.
The lake spans six square miles and is a haven for boaters, water skiing, wakeboarding, jet skiing, and tubing. One of the lake's most popular places to visit is Brown's Beach, which is packed with swimmers and kayakers on the warm summer days. The lake is stocked with largemouth bass, smallmouth bass, northern pike, and walleye – a dream for anglers.
Another popular perch is Waterfront Park, which opened in 2015. It spans four acres and has a launch for kayaks, benches, and picnic tables. The seasonal amphitheater overlooks the lake, as well.
12. Catch a Flick at the Drive-In
Just south of Saratoga Springs is the town of Malta, home to one of Saratoga's most beloved attractions: the Malta Drive-In Theatre. Locals and visitors come from all over the county for a taste of this vintage throwback.
The drive-in has been in operation since 1949 and is open from April through October. You'll notice it by its amazingly retro flashing marquee. A concession stand sells everything from pizza and chicken to candy and popcorn.
The movie sound is broadcast over FM radio, or boom boxes can be rented in the concession stand.
Address: 2785 U.S. 9, Malta, New York