12 Top-Rated Romantic Getaways from Montreal
While Montreal is well-known for its hospitality, expanding culinary attractions, festivals, and fun ambience – especially for romantics – lesser known are the numerous other options for couples within easy reach of this island city. In every direction, you can find ideal areas to bed down, enjoy outdoor activities, bask in relaxing spa experiences together, discover cultural highlights, or savor new gastronomic delights.
Find the best places for couples to visit near the city with our list of the top romantic getaways from Montreal.
1. Quebec City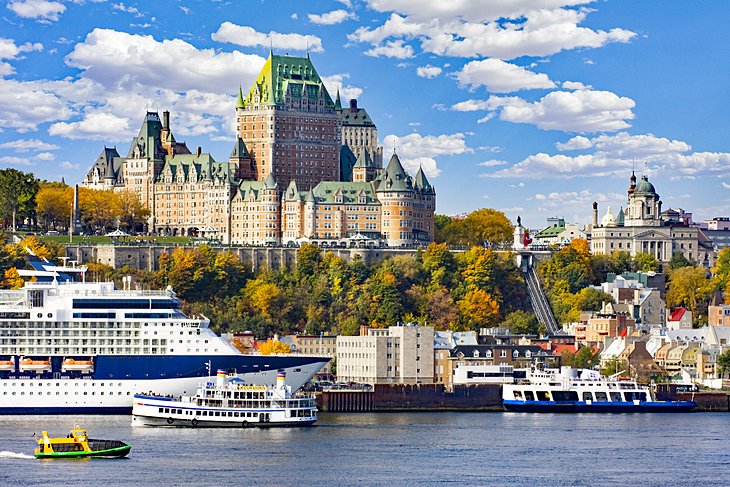 Start your romantic outing from downtown Montreal's Gare Centrale train station by hopping aboard one of several daily departures for charming Quebec City. A little over three hours later, after a cozy nap and some refreshments, you will arrive at Gare du Palais feeling calm and ready for one of the most romantic areas on the continent: Vieux-Québec or Old Town.
The city offers plenty of things to do and antiquities of every stripe, including ancient buildings, cobblestoned streets and alleys, art galleries and museums, and a healthy sprinkling of eateries covering all tastes and pocketbooks. Take a day trip to Ile d'Orleans to discover why they call this agricultural island the "bread basket of Quebec City." For the ultimate luxury experience, check into the Fairmont Le Chateau Frontenac to be properly spoiled and enjoy the best view of this seductive city.
Accommodation: Where to Stay in Quebec City: Best Areas & Hotels
2. Toronto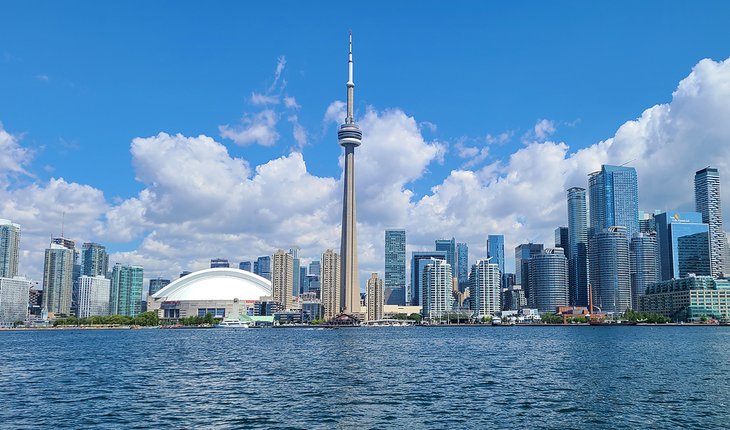 Board the VIA Rail Canada train bound for Toronto to taste the essence of a romantic interlude. After all, it's less than a five-hour ride. First Class serves delicious cuisine, and the scenery along Lake Ontario and through the Northumberland Hills is spectacular during any season.
Book your seats at Princess of Wales Theatre, after a trip to the top of the CN Tower, then perhaps take in a concert at Massey Hall, but don't forget to laugh at Second City, then back to the hotel for a spa treatment and some room service gastronomy.
Stay at The Omni King Edward Hotel to truly appreciate and savor the most alluring setting for romance one might imagine outside of Montreal.
3. Montebello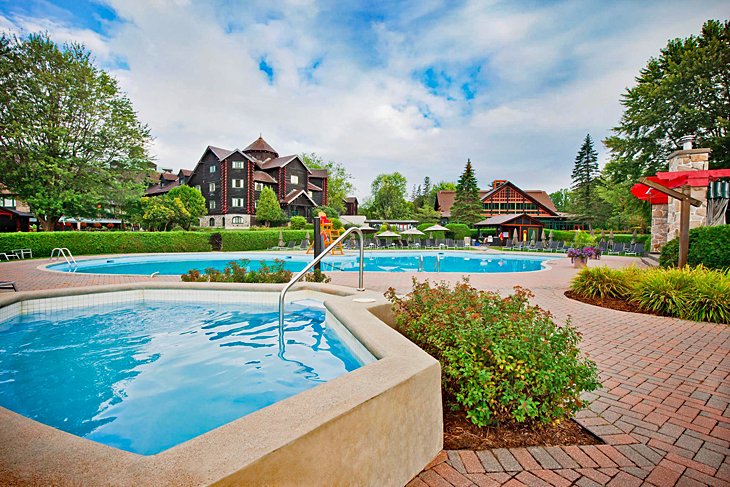 About 90 minutes west of the city, on the road to the nation's capital city of Ottawa, travelers will find the quaint Quebec village of Montebello. Known primarily for its luxurious Fairmont Chateau Montebello resort, the largest log hotel in the world, this riverside destination not only offers the amazing assets of the palatial resort but also numerous unique and fun options in the surrounding village and beyond.
Omega Park is a wildlife nature reserve, where you can view hundreds of animals from five different environments and even stay overnight in a log cabin. Camp Explora attracts the outdoorsy types for ziplining, 4x4 backroad excursions, and more, while Fromagerie Montebello is an award-winning cheese production farm open daily and a great place to purchase tasty mementos.
4. Mont-Tremblant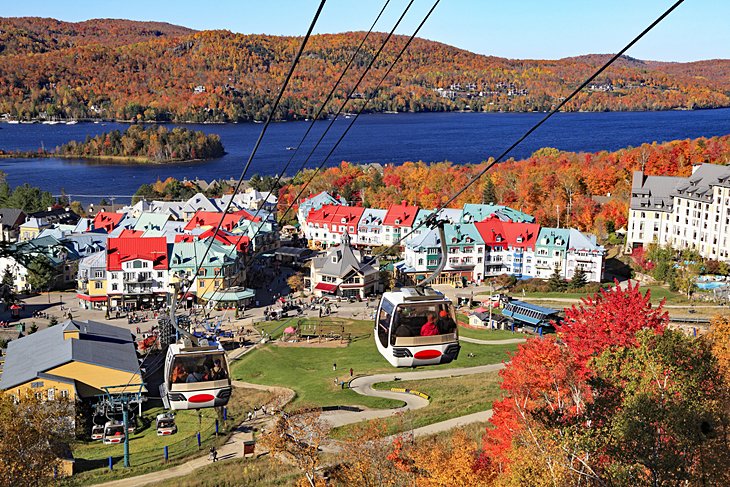 A 90-minute drive northwest up the Laurentian Autoroute #15 finds visitors at the romantic ski resort Village de Mont-Tremblant, on the shores of Lake Mont-Tremblant and site of a Formula One Grand-Prix race annually. Home to numerous boutique hotels, charming inns, spa resorts, and timeshare condos, the village also features unique designer shops and top-tier eateries serving the ski community.
This dreamy mountain area is also known for its championship golf courses and Mont-Tremblant Park, the largest of all provincial parks and a mecca for canoeing, swimming, cross-country skiing, and snowshoeing. For romance guaranteed, stay at Hotel Quintessence and ask about their romantic luxury refuge called Clagett's Cabin.
5. Ottawa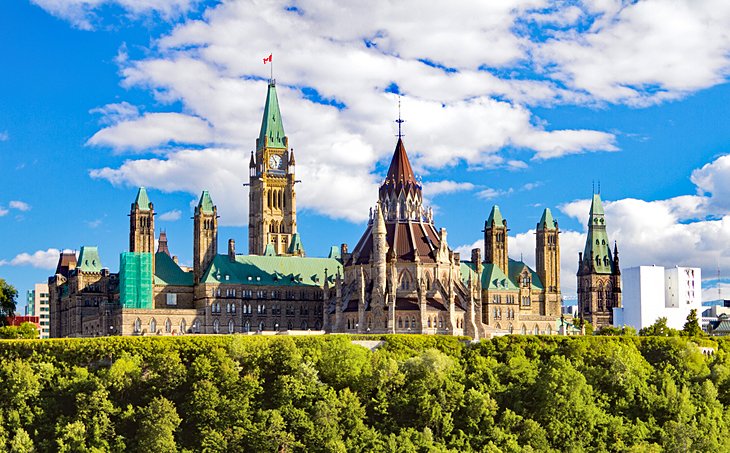 The nation's capital city is only a two-hour VIA Rail train trip from downtown Montreal, so let someone else do the driving while you cozy up to your love and take in the scenery. The Parliament Buildings attract the most visitors of any sight in this pedestrian-friendly riverside city, but Rideau Canal is a close second during the springtime Tulip Festival, or during winter as the longest skating rink in the world.
The city's vast circuit of museums and art galleries is also fun for couples, and don't miss wandering through the Bytown Market, where farmers offer their fresh produce, and local eateries compete for your taste buds. Stay at the Fairmont Chateau Laurier for the ultimate in elegant comforts, delicious gourmet dining, and on-site health club rejuvenation.
6. Hudson and Rigaud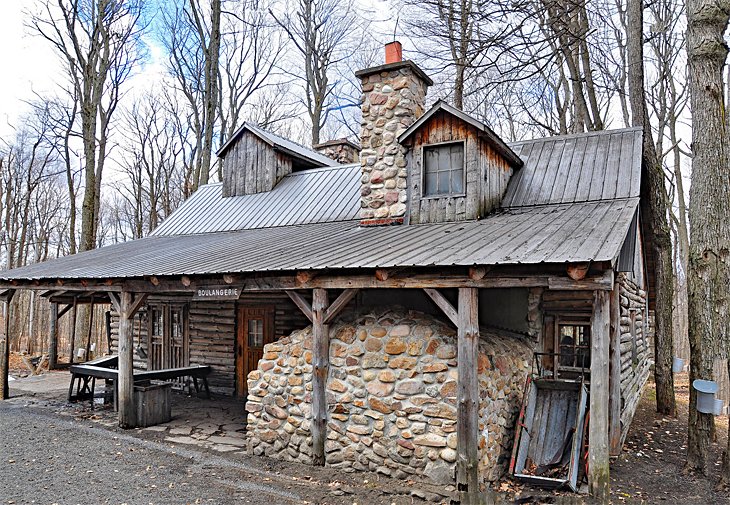 An easy forty-five minute drive west of Montreal finds you at the waterside bedroom communities of Hudson & Rigaud. Offering visitors an eclectic mix of lush natural surroundings, charming shops, and countrified ambiance, these are also perfect English/French Canadian village destinations for your romantic tryst.
While in Hudson, enjoy a waterside lunch or dinner at the Willow Inn, or consider taking the new ferry across the Ottawa River to the village of Oka, home to an idyllic provincial park, for an intimate picnic or swim at the beach.
Or head farther into the rolling hills beyond the Village of Hudson, where you will find Sucrerie de la Montagne, Canada's most famous maple sugar shack, a typical French Canadian eatery, general store, and rustic overnight log cabin. Stay at Auberge des Gallants nearby for a top-tier spa and gourmet dining retreat while watching the deer coming out of the forest.
7. Burlingon, Vermont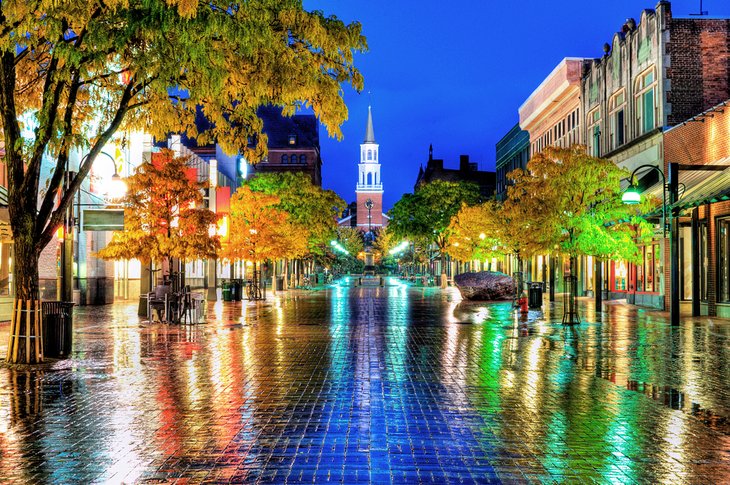 Add a bit of international flair to your romantic escape by crossing the border into neighboring Vermont. Enjoy the short two-hour dive south to Burlington, one of the most romantic cites in the state. As you drive along through a pastoral landscape, be sure to keep an eye out for beautiful Baie Missisquoi along the way.
Once you've arrived in Burlington, stretch your legs and hold hands with your partner as you stroll through the Church Street Marketplace, perhaps stopping for a coffee or a bite to eat. Check into the Hotel Vermont, and be sure to book a room with a view of Lake Champlain. Get dressed up and head out to dinner at one of the fine dining establishments within walking distance of the hotel.
Get up late (or early), and spend the morning soaking up a bit of culture and marveling at the creativity of the artists' work at the Robert Hull Fleming Museum of Art. Take the afternoon off, lay out on the sun terrace at the hotel, and rest up for your sunset cruise on beautiful Lake Champlain. If you are lucky, Nessie might make an appearance!
8. Orford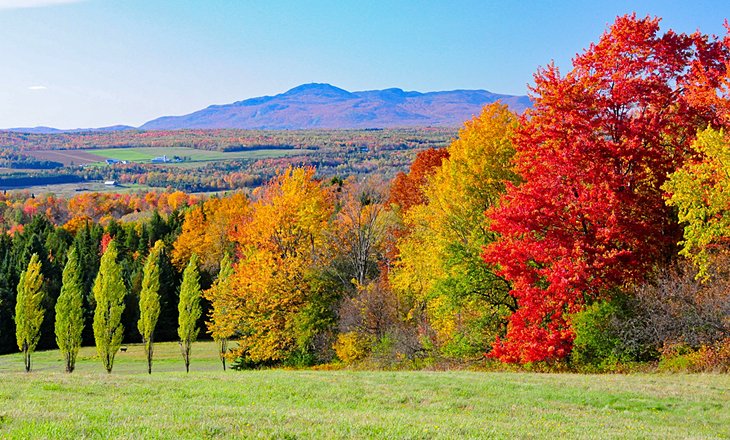 Head east about 90 minutes from Montreal along Highway #10 to the Eastern Townships Village of Orford, famous for its Mont-Orford Ski Resort and Parc National Mont-Orford. The romance of nature is on full display here via the many rivers, valleys, and lakes to explore and share during the year.
Mountain cycling, trail hiking, birdwatching, swimming, skating, or snowshoeing are all available for lovers of the great outdoors. SEPAQ, the provincial park group, offers overnight visits in outfitted cabins, comfy huts, and large platform tents at reasonable rates. For those seeking more luxurious accommodations, go directly to Estrimont Suites & Spa for an unforgettable romantic interlude.
9. Bromont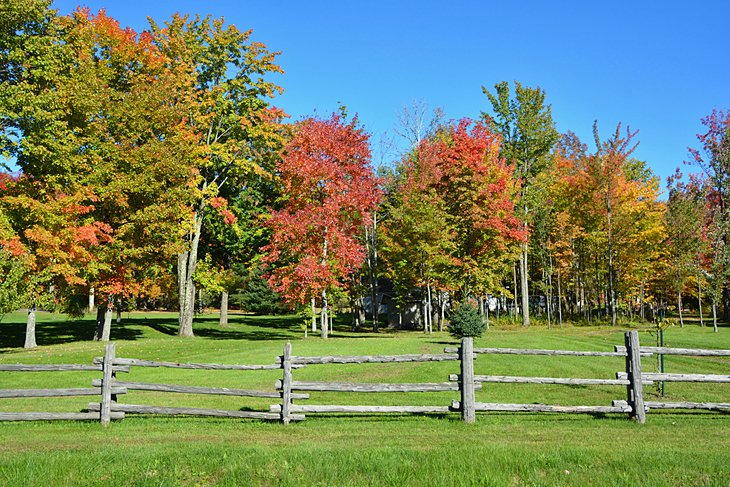 One hour east outside Montreal, along Highway #10, not far beyond the popular Granby Zoo exit, comes Exit #78 to the vacation zone called Bromont. Centered around the ski mountain of the same name, this beautiful area beside the Yamaska River attracts outdoor enthusiasts, agritourists, and even shoppers to the unique Factoreries Tanger Bromont, a combo of boutiques, eateries, and outdoor fun against the stunning backdrop of mountains.
Explore the local backroads to discover museums, art galleries, cabarets, artisan shops, and surprises that make the Eastern Townships so much fun. Stay at Domaine Chateau Bromont for a delicious overnight recipe of spa treatments, gourmet dining, plush amenities, and a festival of fun activities.
10. Saint-Sauveur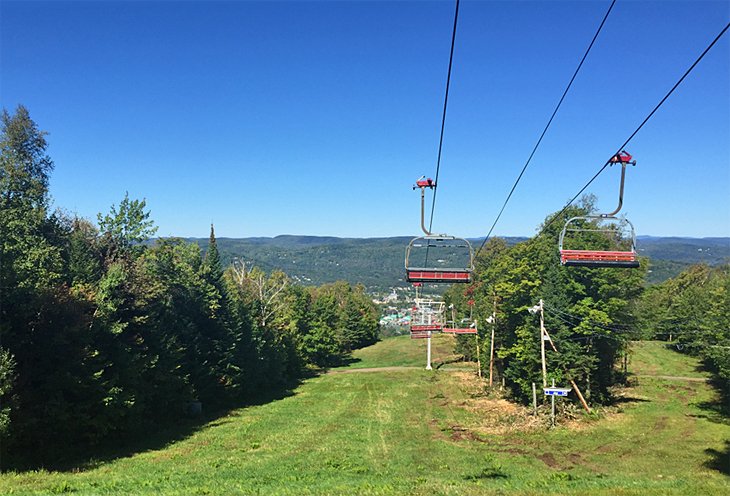 Less than one hour north of the city on Highway #15 lies Montreal's closest major Laurentian Mountain playground and popular downhill ski center called Mont Saint-Sauveur. Famous for its miles of slalom challenges, cross-country trails, and discount warehouse shops, this colorful mountain village is also a fun destination for romantics.
Live music concerts; annual cultural festivals; giant outdoor movies screenings; and a wide spectrum of dining options, from quaint to hip and beyond, combine to attract traveling couples and locals alike. Manoir Saint-Sauveur is the best address to stay for lovers in search of sensory nurturing by professionals.
11. Magog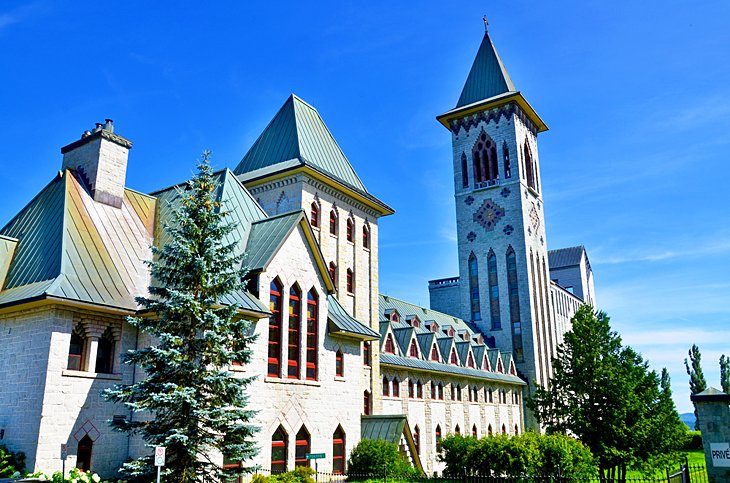 Drive two hours east along Highway #10 to Exit #115 and drive south to the town of Magog. Enjoy the breathtaking spectacle of 50-kilometer-long Lake Memphremagog, where scenic boat cruises spy upon nearby Mont-Orford, Owl's Head, and Sugar Loaf mountains. Motoring around this narrow lake creates a magic of its own, as lush hills give way to pastoral farmlands edged in lavender.
Saint-Benoit-du-Lac Abbey is where Benedictine monks sing Gregorian chants, and visitors may buy maple sugar, cider, and cheese made on-site. Stay overlooking the abbey, the lake, and the mountains and enjoy close access to nearby theater, cycling paths, tennis courts, horseback riding, golf, and museum tours from a romantic and cozy room at Auberge Les Pignons Verts.
12. Laval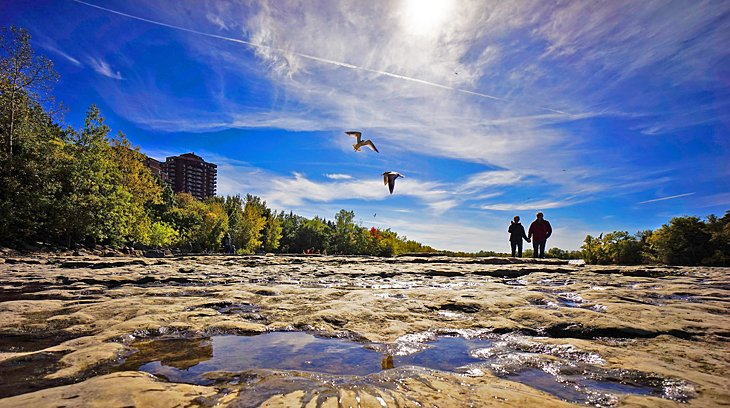 Just north of the big city lies the fastest growing metropolis in Canada: Laval. A few minutes on Highway #15 allows visitors to sample what all the fuss is about. From the charming heritage villages, such as Old Mirabel and Rosemere, to the new professional hockey area for the Laval Rockets to its most popular tourist attraction, Cosmodome Space Science Center, it's easy to see why Montrealers flock here to set down family roots.
Once prime farmland, Laval is now the center of contemporary development featuring idyllic mansions, sprawling golf courses like Fontainebleau, private schools, cultural centers, outdoor trails, mega-shopping centers, and a burgeoning fine-dining scene to be envied. Stay at Spa & Hotel Le Finlandais to experience this expanding community's evolving ambiance, personality, and hospitality savoir-faire.