15 Top-Rated Attractions & Things to Do in Old Montréal
Authors Michael and Lana Law love Old Montréal and visit annually.
One of North America's most remarkable concentrations of 17th-, 18th-, and 19th-century buildings, Old Montréal is the delightful Parisian-style quarter between the harbor and the banking district.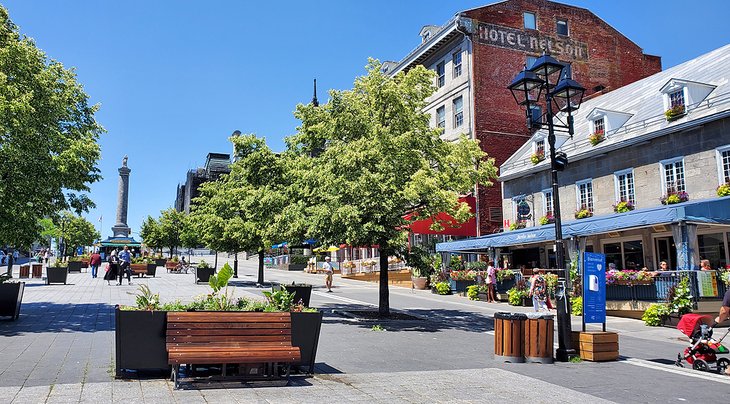 Lovingly restored in recent decades, the area is very popular with tourists and locals alike. Simply wandering the curving cobblestone streets, with 19th-century buildings as your historical backdrop, is the most popular thing to do here. The whole area is a maze of narrow streets and alleyways, with interesting shops and restaurants tucked in hidden areas.
Old Montréal is best explored on foot, starting from the Champ de Mars Metro Station. City Hall and Place Jacques-Cartier are just south of the station, with Rue St. Paul and Rue Notre-Dame leading to more historic sites, high-end restaurants, and luxury shops.
Montreal is an easy weekend getaway from Toronto. Flights leave every hour for the short one-hour hop.
Plan to spend at least a day in this area, and discover the best places to visit with our list of the top attractions in Old Montréal.
1. Explore the Old Port of Montreal (Vieux-Port de Montréal)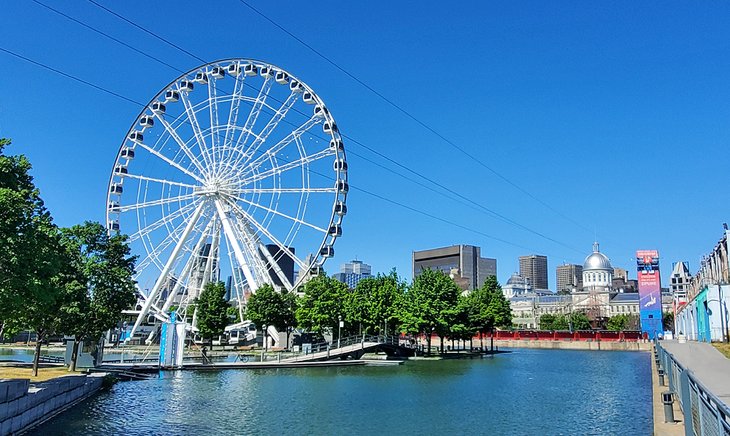 Extending along the river, close to Marché Bonsecours, is the site of the old port (vieux-port). It was restored at great cost and now enjoys a role as an entertainment and leisure center. Special attractions include an IMAX cinema, a Clock Tower reminiscent of Big Ben, a giant Ferris wheel, and the Montréal Science Centre.
This area is a pleasant place to wander about and as you stroll, be sure to check out the 10 different works of public art. If you've packed lunch or want to grab a bite to go at the local cafes, picnic tables are available.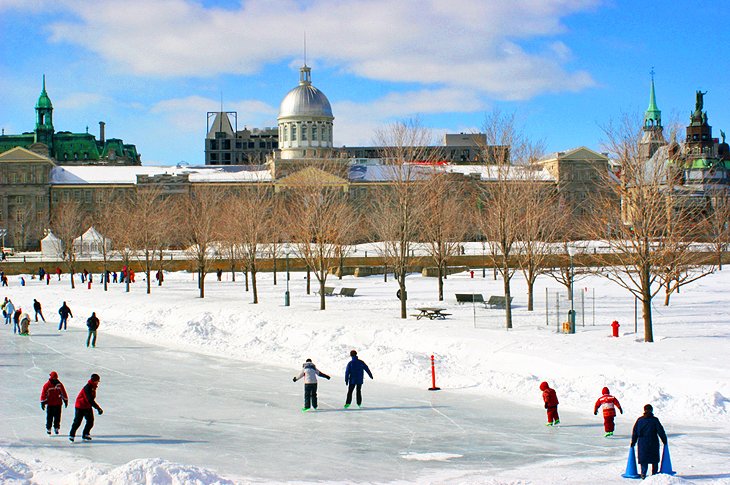 If you are traveling with small children, an excellent playground is located on Clock Tower Quay near Hanger 16.
In winter, skaters take to an open-air rink. From the old port, a magnificent view is obtained of the impressive Montréal skyline. Boat tours, including the short but fun 1.5-hour Montreal Historic Discoverers Cruise run from the quays.
2. Notre-Dame Basilica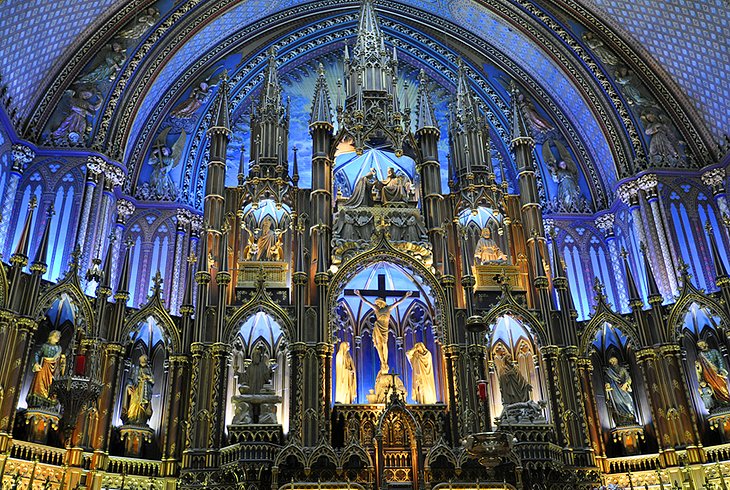 One of the most impressive sights in Old Montréal is the spectacular interior of the Notre-Dame Basilica. Located on Place d'Armes, this is Montréal's oldest Catholic parish church, founded in 1656. Its twin towers (69 meters) are impressive, but the amazing interior of the 1829 building is the true highlight. Resplendent woodcarving is the work of Victor Bourgeau, and stained glass illustrates the history of Montréal.
The Sacré Coeur altar (1982), in the chapel of the same name, consists of 32 bronze panels by Charles Daudelin. The great organ is a Casavant, and recitals held in the church throughout the year are very popular.
A Walking Tour of Old Montreal, which covers all of the major highlights in the area, includes free admission to the basilica. These tours, offered from spring until fall, are a great way to see the sights and learn the history. Options include 1.5 or three-hour tours.
Address: 110 Rue Notre-Dame Ouest, Montréal, Quebec
3. Stroll along Rue Saint-Paul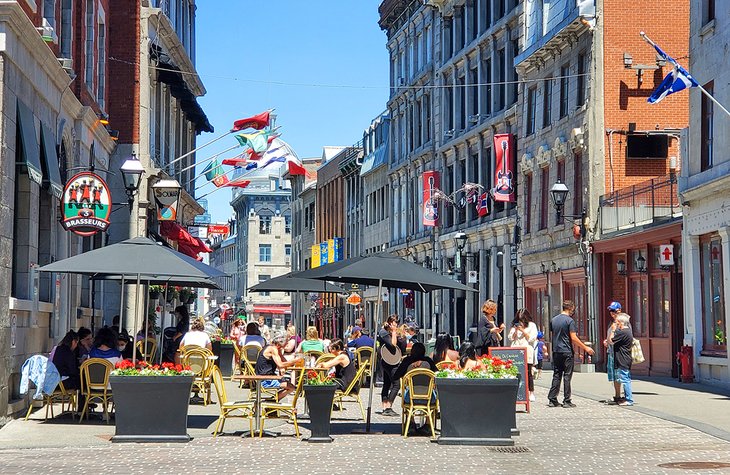 Rue Saint-Paul is Montréal's oldest street, originally completed in March 1672 as the road between the fort and the Hôtel Dieu, the old hospital. Nowadays it is lined with all kinds of shops and restaurants.
In recent years, the city has made substantial improvements to this street and several others. Sections of Rue Saint-Paul are pedestrian-only areas and during the day, this area is packed with tourists.
If you want to stay in Old Montreal, this is the best place to find a hotel. Set in a historic building, the Hotel Nelligan, with one of the most popular rooftop terraces for dining in summer, is a great option along this street. Excellent dining options can also be found all along this street.
Rue Saint-Paul gets its name as much from Paul de Chomedey, the city's devout founder, as from St. Paul the Apostle.
4. Take a Break in Place Jacques-Cartier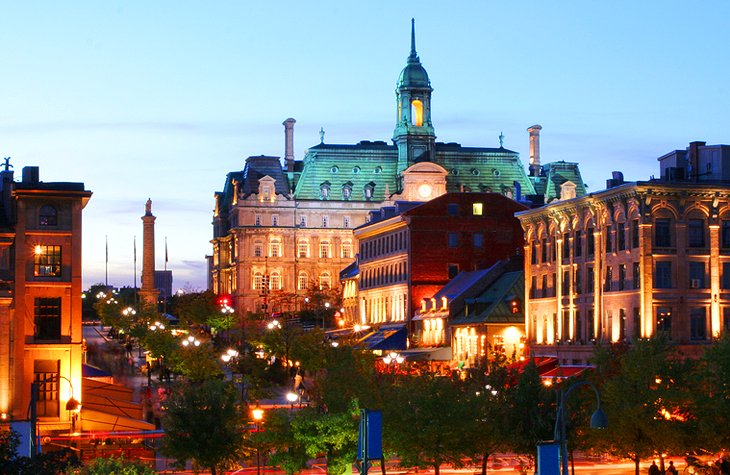 In the heart of Old Montreal, running from the Old Port to Rue Notre-Dame, Place Jacques-Cartier is a welcoming, open space with benches for resting and leafy trees for a bit of shade in the summer. Restaurants and retail outlets in 19th-century townhouses and mansions line both sides of the square, and at the top is Nelson's Column.
This is a pleasant place to take a break from sightseeing and soak up the atmosphere. The square is busy during the day and into the evening.
Many of Montréal's historic tourist attractions and things to do are nearby, including City Hall, the Old Palace of Justice, and the elegant 1705 mansion Chateau Ramezay Museum. Bonsecours Market is just beyond here, along Rue Saint-Paul.
5. Rue Bonsecours and Bonsecours Market (Marché Bonsecours)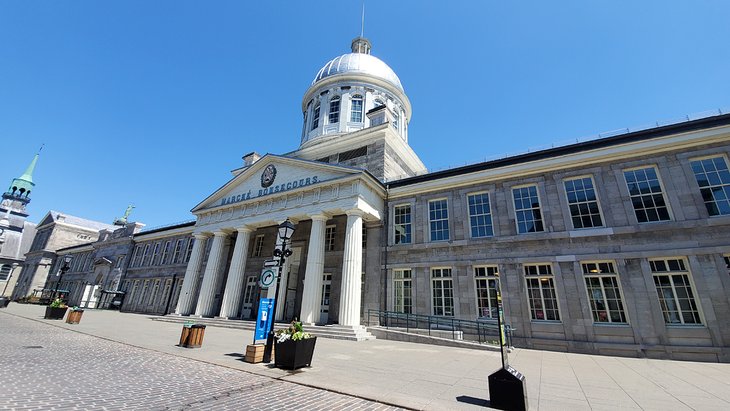 The delightful Rue Bonsecours, off Rue Notre-Dame, is one of Vieux-Montréal's oldest streets. It exhibits a whole range of the French architectural styles featured in the 17th- to the 19th-century townscape of New France.
Bonsecours Market (Marché Bonsecours) served as the town hall before becoming Montréal's vegetable market from 1878 to 1963. It's an important heritage building and one of the most eye-catching structures in Montreal.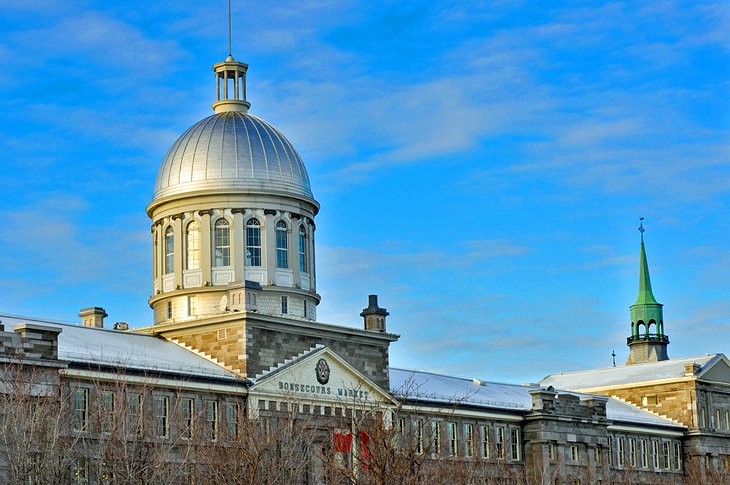 Today, the building houses a number of interesting shops and boutiques and is a popular spot with tourists. Montréal's oldest church, the Chapel of Our Lady de Bonsecours, is at the end of the street.
Nearby, Sir George-Étienne Cartier National Historic Site was the home of the first Canadian Prime Minister from 1841 to 1871.
6. Pointe-à-Callière, Musée d'archéologie et d'histoire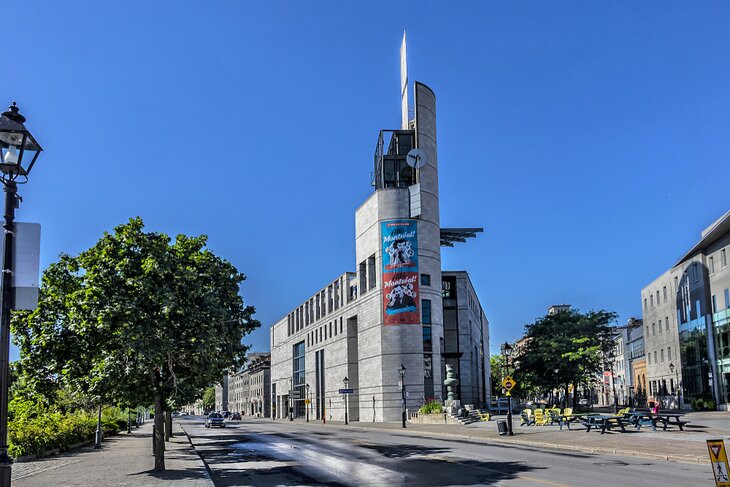 At the southeast corner of Place Royale in Montréal lies the Pointe-à-Callière, the "cradle of Montréal city." Place Royale was the heart of French colonial life, its market, and its parade ground until transformed in the 19th century with various government buildings.
The Musée d'archéologie et d'histoire documents the city's beginnings by taking visitors underground to the see remains of the first foundations. Two plaques and an obelisk, the work of Québécois artists, unveiled in 1894, commemorate the 1642 founding of the French settlement.
Address: 350 Place Royale, Montréal, Quebec
7. Place d'Armes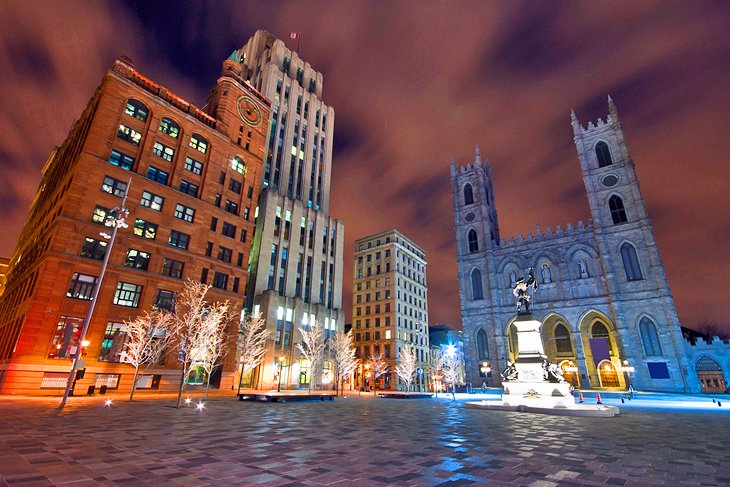 The busy square of Place d'Armes is very much in the city center. The twin towers of Notre-Dame Basilica front the public space, as does the historic Bank of Montreal and its small museum. The Old Seminary of Saint Sulpice, adjoining the Basilica, dates from 1685.
It is the oldest stone dwelling in a city where originally most buildings were constructed more cheaply and simply in timber. Just west of Place d'Armes, the Palais des Congrès is Montréal's futuristic conference center. It was built in 1983 over the Ville-Marie expressway and is best known for its colorful glass walls.
8. Dining In Old Montréal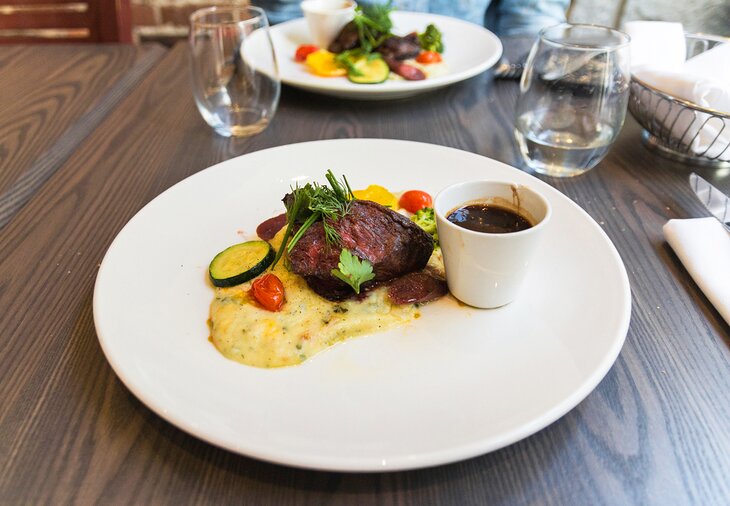 One of the great pleasures of a trip to Montreal is dining. In fact, many people plan their entire trips around where they are going to eat. The city has some of Canada's best restaurants, and new ones are popping up on a regular basis. You'll find a restaurant to suit every taste and occasion.
Is it a warm summer night? In this case, make a reservation on a patio in the Old City, ideally on Rue Saint-Paul. Settle in for a lovely dinner underneath the floodlit lights of 200-year-old buildings. If you find yourself here in the winter, scoot up the stairs into a warm and cozy restaurant and relax over comfort food as the snow falls softly outside the windows.
Lunch can be a quick baguette and a coffee at a small café or a multi-hour affair on a rooftop patio — the choice is yours.
Some say breakfast is the most important meal of the day, and in Montreal, you'll be spoiled for choice, from café au lait and a flaky croissant to fresh-baked bagels and cream cheese or custom-made omelets and crepes.
9. La Grande Roue de Montreal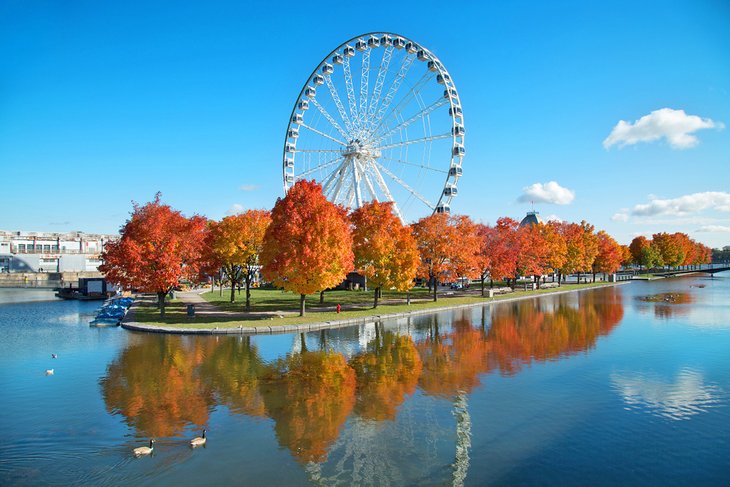 Rivaling Ferris wheels in other world-class cities, La Grande Roue de Montreal (Montreal Observation Wheel) towers over the old city. From a climate-controlled gondola, you and seven of your friends will be able to see the St. Lawrence River, Mount Royal Park, and the Olympic Stadium. Be sure to look towards Old Montreal, and the warren of streets you've been wandering in Old Montreal will suddenly make sense.
La Grande Roue de Montreal is located in the Old Port area, just down the hill from Old Montreal.
10. Montreal Science Centre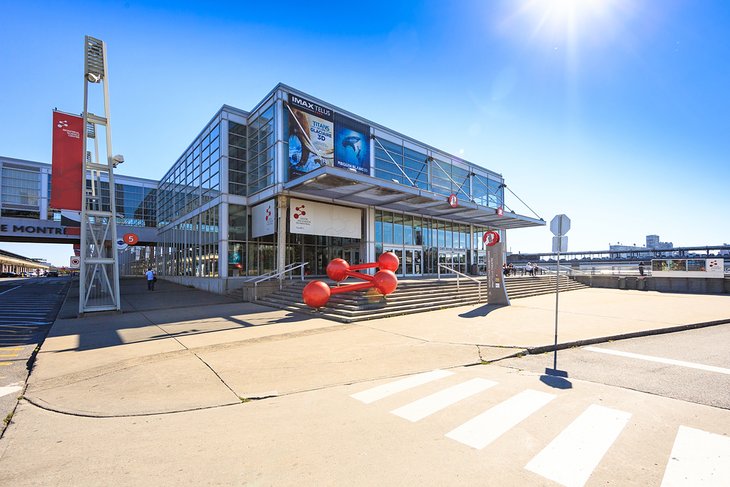 Located right on the waterfront, Montreal's Science Centre is a perfect family destination. Inside, you'll find seven permanent exhibitions covering topics ranging from organic waste right through to windmills.
One of the most interactive exhibitions is called Fabrik. Here, children eight years and older can use various implements to create innovative items. For those seven years and under, the Clic! exhibition allows children to build things using all kinds of odd-shaped items that snap together.
Address: 2 rue de la Commune Ouest, Montréal, Quebec
11. Clock Tower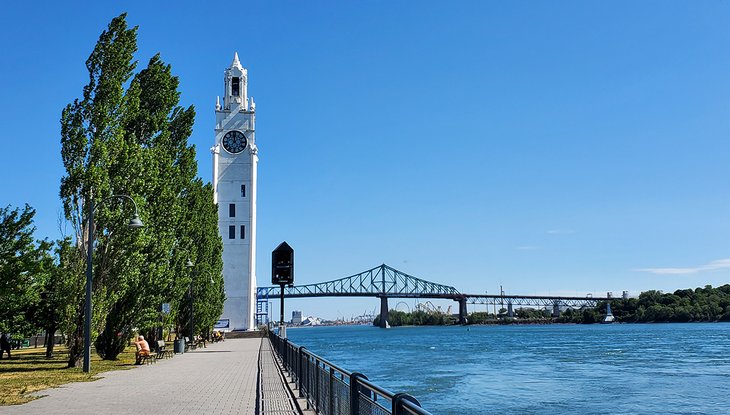 Those looking for views should visit the historic Clock Tower. Dating from 1919, this iconic structure is 45 meters high and performs double duty as a lighthouse.
Step inside and climb the 192 steps to the top, and you'll be rewarded with great views of the St. Lawrence River, Old Montreal, and the Jacques Cartier Bridge off in the distance. Admission is free.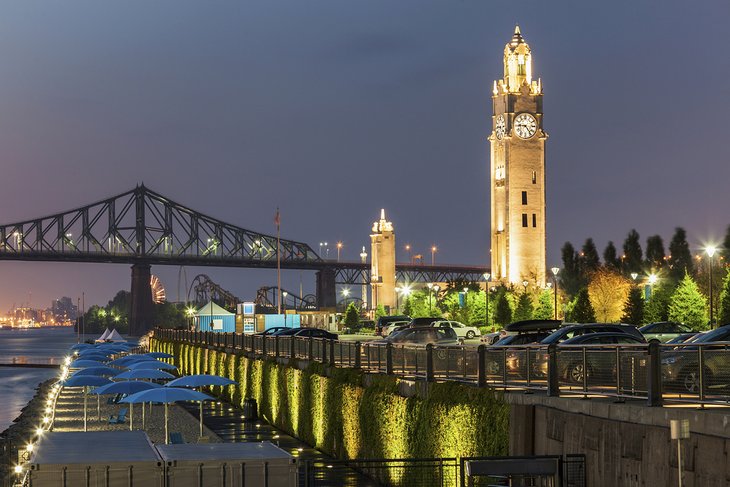 At the base of the Clock Tower is a park and a man-made beach. In summer, umbrellas and chairs provide a comfortable place to enjoy the waterfront.
At night, the tower is illuminated.
12. MTL Zipline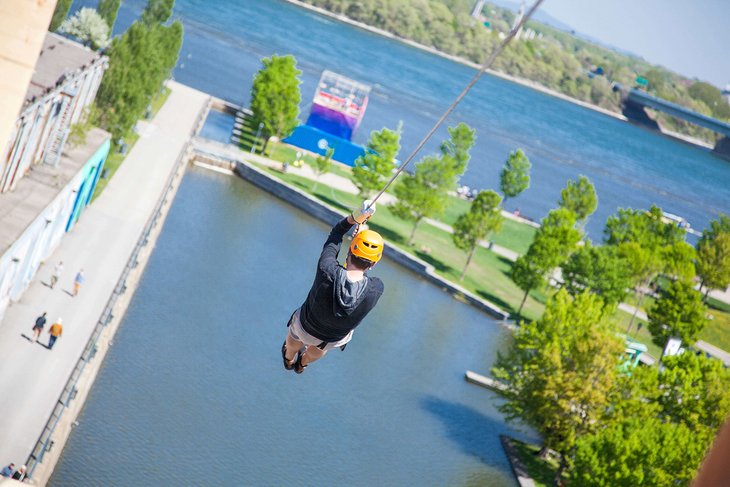 If strolling the old streets and lingering by the river are too sedate for you, and you need an adrenaline hit, riding a zipline might be just the thing to do. Two ziplines are strung out over the Old Port area, and riders can literally fly from a giant tower to the landing place near the river.
MTL Zipline is open to all ages; the only limit is weight. You must be between 22 to 113 kilograms (50 to 250 pounds).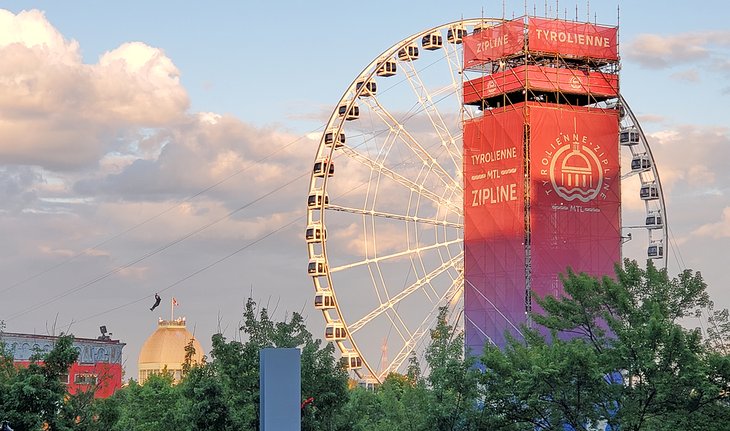 If you would rather simply observe this activity, or have a look before you try it yourself, you can catch good views of it from the Clock Tower quay, or from Rue Bonsecours beside Bonsecour Market.
13. City Hall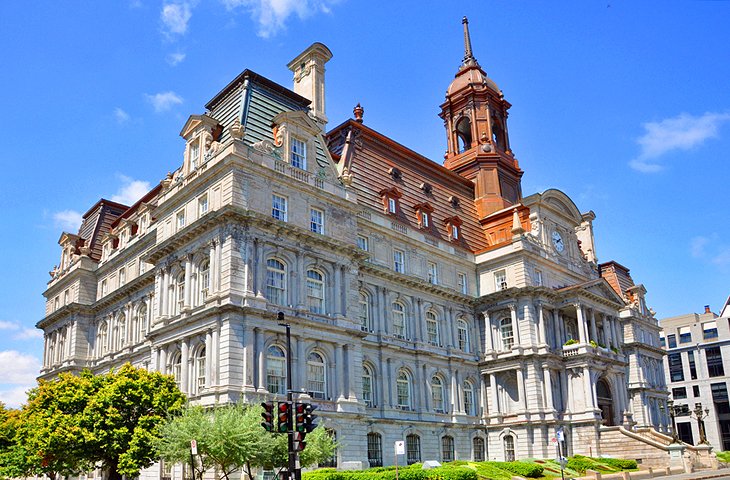 Montréal's City Hall was designed by Perrault with an eye to the French Empire style of Napoleon III. Built between 1872 and 1878, it had to be restored following a fire in 1922.
Its hall of honor is resplendent with marble and bronze, and has a bust of Jacques Viger, Montréal's first mayor in 1833. It was from the balcony of City Hall that, during his visit to Canada in the summer of 1967, French President Charles de Gaulle uttered his clarion call "vive le Québec libre!" — long live free Québec. The statement drew an enthusiastic response from the crowds on Place Cartier below, but upset Canada's Federal Government.
Address: 275 Rue Notre-Dame Est, Montréal, Quebec
14. Go Shopping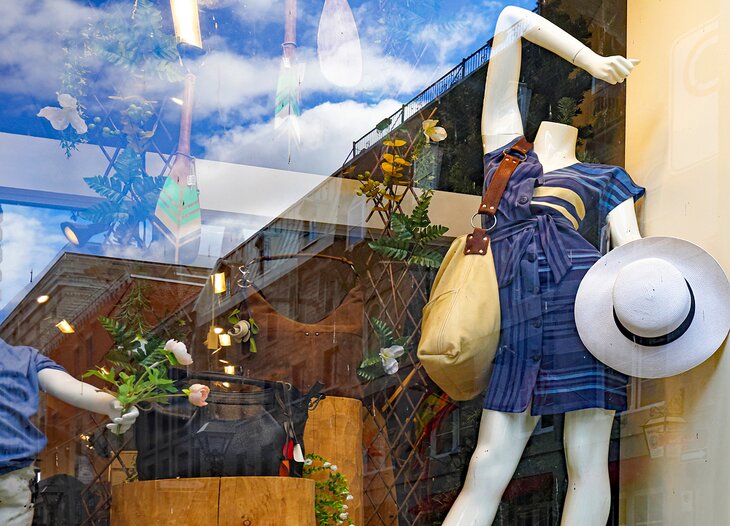 Old Montréal is one of the best places to visit for shopping, particularly if you're looking for unique items. This area offers a full range of shopping possibilities, with everything from souvenirs to art and designer clothes. Montréal has long been one of Canada's most important cities when it comes to the fashion industry, with many top designers calling the city home.
And while high-end boutiques can be found throughout the city, in Old Montréal, small boutiques are tucked away in beautiful historic buildings, making the shopping experience seem that much more glamorous. Art galleries, many of which feature the works of Canadian artists, are one of the highlights of this district.
Souvenir and one-of-a-kind shops are also scattered throughout the area, and artists and street vendors line narrow pedestrian alleys and squares.
15. Place d'Youville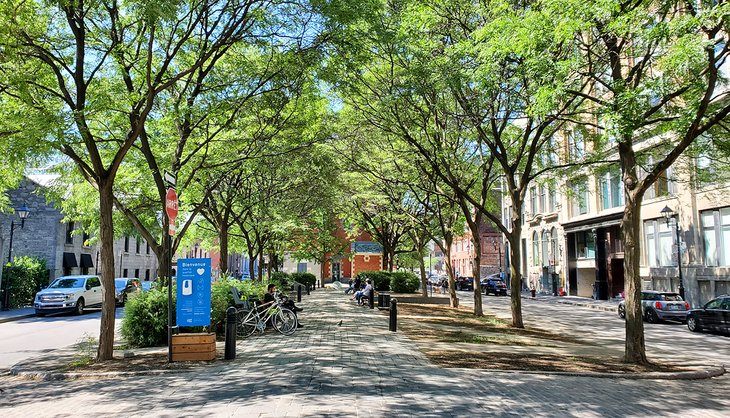 Place d'Youville is another popular public space in Montréal and a departure point for exploring historical sites. In summer, large leafy trees provide shade for park benches.
On the park, the Centre d'Histoire de Montréal is housed in the old red brick fire station (1903), and recounts Montréal's four centuries of history.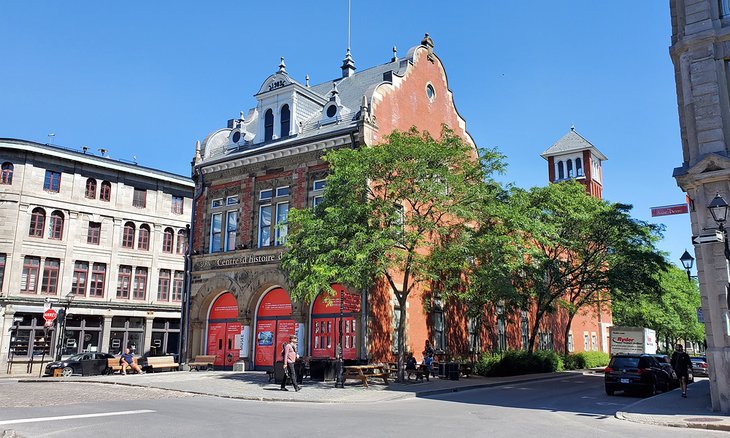 The Maison de Mere d'Youville (Hopital général de Montréal) is a short distance from Place d'Youville, down Rue Saint-Pierre. Montréal's second hospital dating from 1694, it is where Marguerite d'Youville founded the Congrégation des Soeurs Grises in 1753, the charitable order of the Grey Sisters.
Map of Attractions & Things to Do in Old Montréal