11 Best Parks in Montreal
Montreal is lucky to have a wonderful assortment of easily accessible parks chock-full of fun things to do. Each park is different in its own way. Some are more natural; some more urban; some have attractions within them, such as botanical gardens; some are wide-open; and others have extensive forests.
The parks are four-season destinations. In the summer, the outdoor pools and splash pads spring to life, the beaches throng with sun worshippers, and the hiking trails and biking trails are full of users. In the fall, the leaves change color. Winter brings on cross-country ski trails and ice-skating. Come spring, the beautifully planted gardens burst forth in a kaleidoscope of colorful blooms, and migrating birds sing in the trees.
You don't need a car to enjoy many of these green spaces. Access via the Metro is excellent and, in some cases, shuttle buses will take you from the underground to the parks. Read through our list to discover the best parks in Montreal.
Note: Some businesses may be temporarily closed due to recent global health and safety issues.
1. Parc Jean-Drapeau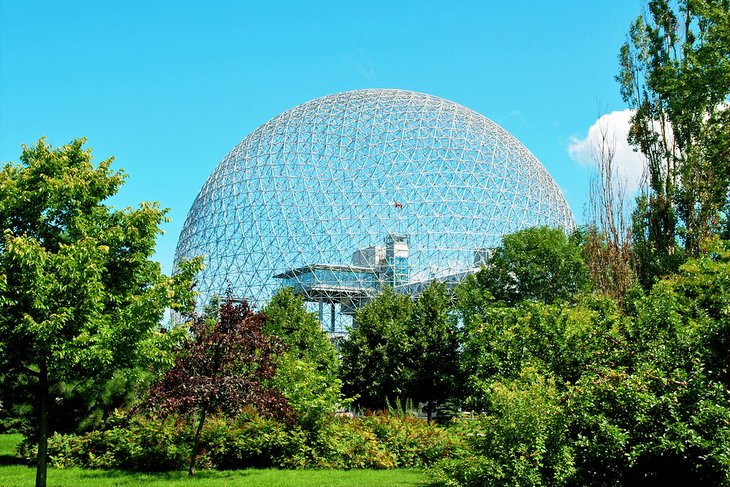 Parc Jean-Drapeau, located on both St. Helen's Island and Ile Notre Dame, has long been one of Montreal's favorite parks. Originally the home of Expo '67 and more recently the route for the Montreal Grand Prix, this wonderfully manicured park is home to a wide variety of things to see and do.
Parc Jean-Drapeau makes for an excellent family outing. Activities abound for everyone, from young to old. If the summer weather is fine, go for a hike or bike or just stroll along over 25 kilometers of pathways past lovely gardens while keeping an eye out for unique public art installations.
If it's really hot, grab your bathing suit and towel and go for a swim at Jean-Dore beach, or head to the aquatic park. Both these family-friendly places are ideal for children of all ages. For an added level of excitement, try out the floating Aquazilla obstacle course moored offshore at Jean-Dore beach.
Bring your own kayak or canoe, or take a tour with the local operator and explore the park's waterways. For something a bit more sedate, grab your binoculars and find a quiet spot to do a bit of bird-watching. Owing to its extensive tree cover and location on the St. Lawrence River, the park is a bird-watching hot spot in Montreal.
If you work up an appetite while wandering the park or just want to soak up some gorgeous views of the river and downtown Montreal, swing by the La Guinguatte outdoor area. A restaurant serves up unique vegan fare, or bring your own food and claim a perfectly positioned table. At night, the area is softly lit, and if you time it right, you might be lucky enough to catch a live performance on the main stage.
Access to the park is easy via the Jean-Drapeau Metro stop. On the island, a shuttle bus operates continuously, stopping at all the key attractions.
2. Parc National d'Oka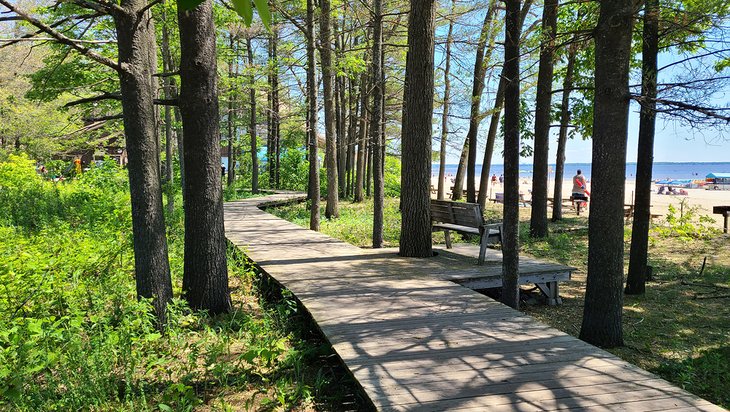 Although technically not in Montreal, Parc National d'Oka (Oka National Park) still makes the list because it is such a favorite of the residents of Montreal. Located about 50 minutes away from downtown, this large provincial park is one of the very best in the region.
Set on the hills running along the Ottawa River, the park is a huge forested area full of biking, hiking, and walking trails that run for miles and miles. Bring your own bikes or rent one from the concession stand.
The hiking trails are a great way to get out and enjoy nature in the park. Two of the most popular trails are the La Sauvagine or La Grande Baie trails. As you stroll along, you'll have a good chance of spotting one or more of the numerous deer that inhabit the park. A brand new footbridge is being constructed on the Grande Baie trail, which will enhance the user experience.
The park also has a large campground with sites that have water, electricity, and sewer services. If you've always wanted to try camping but don't have the gear, sites with all the equipment are available to rent as well.
Parc National d'Oka has, what many people say, the best beach in the entire Montreal region. A huge swath of sand runs along the shoreline of the Ottawa River, and finding a perfect patch of sand is never an issue. Just offshore is anchored a fun and slightly crazy floating obstacle course. All kinds of water toys are available to rent, including kayaks, pedal boats, canoes, stand up paddleboards, windsurfers, and even small sailboats.
In the winter, the park transforms into a snowy playground and is a hot spot for cross-country skiing, kick sledding, tobogganing, and snowshoeing.
Two fees are charged to enter the park: one for admission; another for parking.
3. Mount Royal Park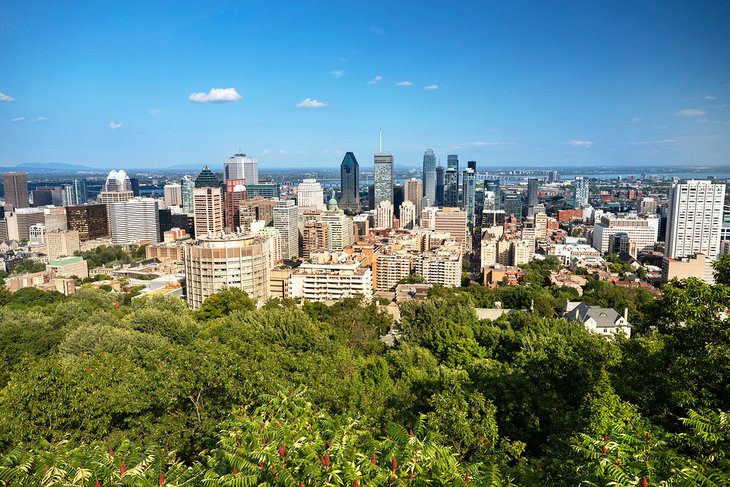 Mount Royal is arguably Montreal's most famous park. Spread over 200 hectares and occupying a large hill in the center of the city, the park first opened in 1876.
A variety of attractions are located in the park. The most popular of them is the incredible Kondiaronk scenic lookout at the Mount Royal Chalet. Be sure to wander inside the building to see the wonderful architecture and historical photographs. Another popular spot for great views is at the giant cross. Both locations are accessible only by following the well-marked footpaths.
A good place to begin your exploration of Mount Royal is at the Smith House. You can collect maps to plan your adventure, and check out the permanent display showcasing the development of the park.
Beaver Lake (Castor Park) is a great spot to set up for a delightful picnic lunch, or if you are visiting in the winter, a great place to go ice-skating. The nearby Salamander playground is a favorite with young children.
One thing to note about Mount Royal Park is that you'll need some time to fully explore the park. The reason for this is that none of the key attractions are drivable, you'll need to park your car and walk, so plan and pack accordingly.
4. RécréoParc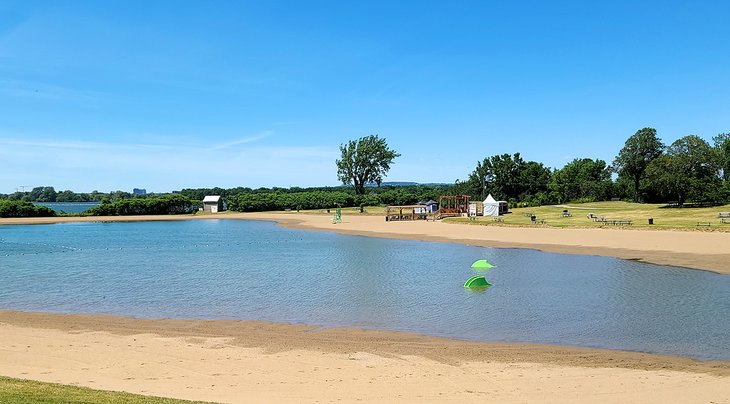 Just across the St. Lawrence River from downtown Montreal is RécréoPark. This incredible urban park is located in the town of Saint-Catharine and offers excellent access to the river. Once you drive over the lift bridge and onto Ile de Seigneur, your adventure begins.
Looking for some sun and sand? Take the first right off River Way and head to the beach. This manmade lake has a sandy bottom and is surrounded on all sides by beach. A swim platform anchored in the center is an ideal place to swim to, and in the shallow sections, small green water slides are designed for children.
The park is home to a modern pavilion with stunning views of the Lachine Rapids, Devil's Island, and Heron Island. A restaurant located inside serves up gourmet sandwiches, salads, poke bowls, cold drinks, and excellent coffee.
If you've ever wanted to try camping and don't feel like driving for hours into the wilderness, RécréoPark has a wonderful walk-in urban campground. Sites are private, with wooden platforms and benches. The park has thoughtfully provided small wagons to haul your gear from the parking lot to the site.
Near the campground is a large field for kicking a soccer ball around. Just back from the field is a rope course.
Entry to the park is free, although a fee is charged to access the beach.
5. Maisonneuve Park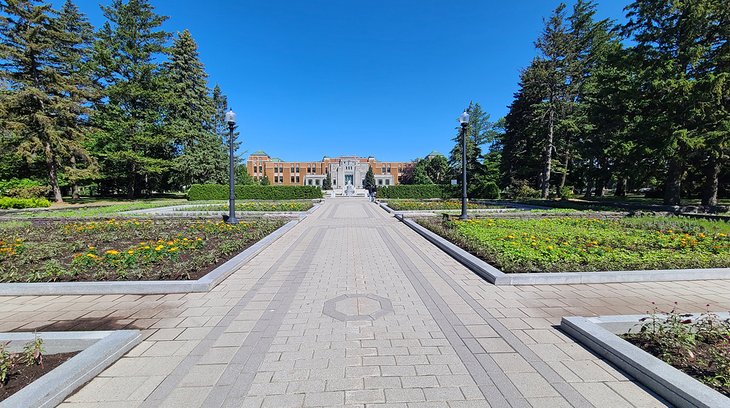 This massive 63-hectare park is located just to the east of downtown Montreal in an area known as Hochelaga-Maisonneuve. The park has extensive playing fields, biking and walking trails, and even a nine-hole municipal golf course. At the southern end, you will find the Montreal Botanical Gardens and the Insectarium.
During your visit, do not be surprised to see sheep wandering around – the city has hired these natural lawn care professionals to keep the grass mowed. Across Sherbrooke Street to the south is the famous Montreal Tower and Olympic Stadium, the Biodome, and the Rio Tinto Planetarium.
6. Arthur-Therrien Park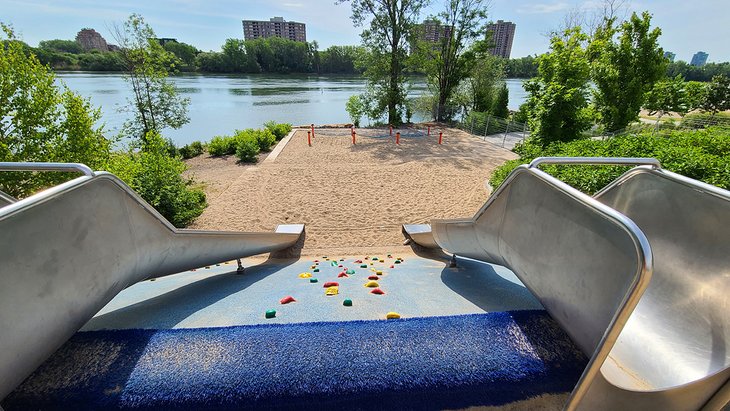 Arthur-Therrien Park is one of only two truly metro parks in Montreal that have a beach where you can go swimming. Located in the south end of the park, Verdun Beach is a sandy stretch of shoreline on one of the calm arms of the mighty St. Lawrence River. Located near the beach are slides and a children's climbing wall.
If you prefer to swim in a more controlled environment, a wonderful pool and accompanying wading pool is located a short walk away. The park is full of great things to do, including a skateboard park, six lit tennis courts, a football field, a baseball diamond, and a basketball court. Paved walking and biking trails follow the river and join up with Champion Park in the north and Parc J. Albert-Gariepy in the south.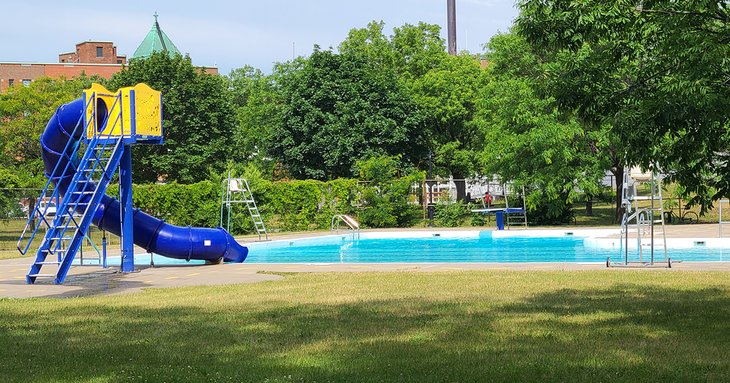 Should you work up an appetite, just wander up Rue de l'Eglise to the pleasant neighborhood and grab a pastry at Sweet Lee's Rustic Bakery. Arthur-Therrien park has extensive pay parking lots, and if you take the metro, get off at the De l'Église stop.
7. Jarry Park
Lovely Jarry Park is located in the Villeray area, home to the city's Little Italy neighborhood. Drive your car, or take the metro to De Castelnau or Gare Parc stops, and wander into this large green space. In the park, you'll find beautiful flowering trees surrounding a small lake, home to various (and friendly) waterfowl.
On the extensive playing fields within the park, Montrealer's like to play soccer, cricket, and football, and fly kites. Near the Uniprix Stadium, a large outdoor pool draws families and youth throughout the summer months. In the north end of the park, skateboarders try to perfect their latest jumps and spins, while basketball players shoot hoops nearby.
If you have a dog, take any one of the many trails that wind their way throughout the park and eventually end up at the off-leash dog park near Rue Gary-Carter.
8. Westmount Park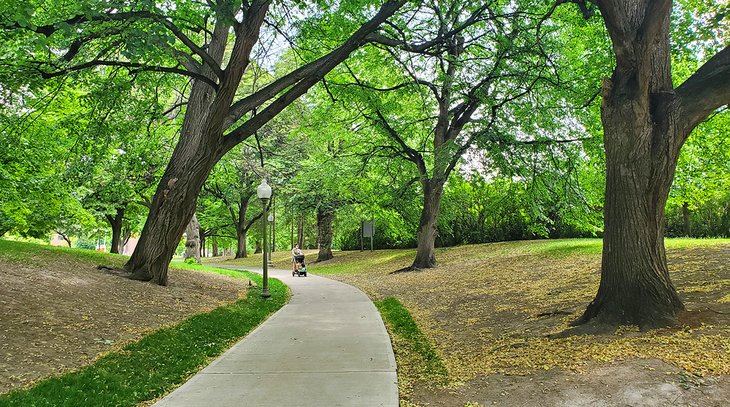 At 26 acres, Westmount is a smaller version of some of Montreal's larger parks but still has many of the features of places like Jarry Park and Arthur-Therrien Park. These include tennis courts, natural water features, playgrounds, a wading pool, baseball diamonds, and large green spaces. Also on-site is the Westmount Recreation Centre.
One of the highlights of Westmount are the wonderful flowering trees. Every spring and through early summer, a variety of trees put out wonderful flowers. Some of the highlights of these are the fragrant Japanese lilacs and catalpa trees.
9. Angrignon Park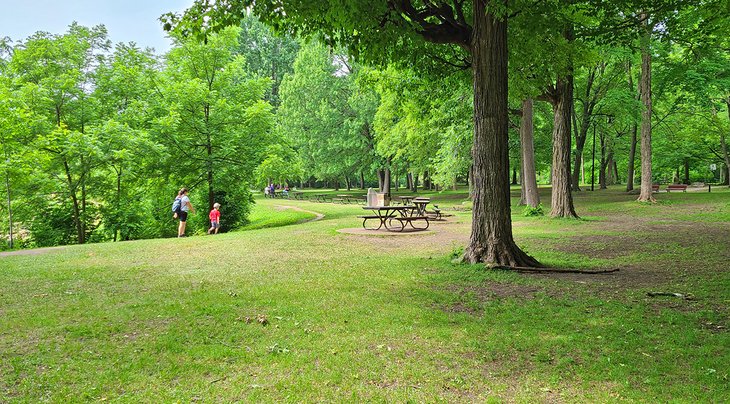 Featuring a large urban forest and a long, narrow natural water feature, Angrignon is a delightful place to go for a jog, or walk the dog. At one time, traffic used to flow through the park, but those days are gone, and now large boulevards are home to fitness groups practicing Tai Chi and other forms of group fitness.
Underneath the trees and near the lake are picnic tables, an ideal place to set up for a fun family outing. Washroom facilities are nearby as is a children's playground.
If you don't have your own transport, the park is easily accessible by bus or the metro at the Angrignon stop (both utilize the Terminus Angrignon).
10. Cap-Saint-Jacques Nature Park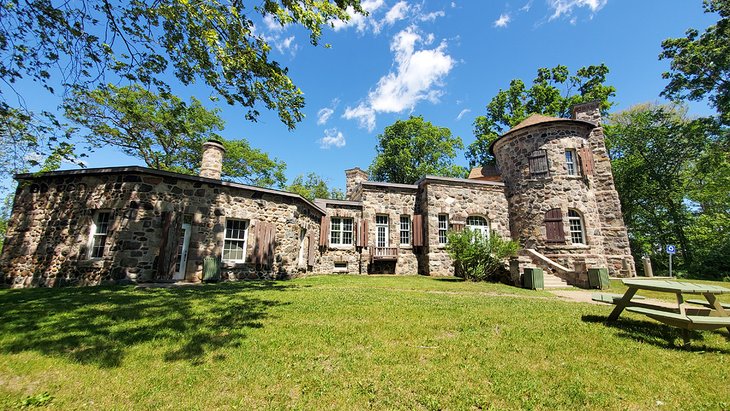 Located at the far eastern end of the island in Pierrefonds, Cap-Saint-Jacques Nature Park is an oasis of green. Spread out over 330 hectares, the park is primarily a forested area, with 12 kilometers of walking trails and 6.5 kilometers of mountain biking routes winding their way through the trees. In the winter, 14 kilometers of cross-country ski trails complete with two heated chalets are available.
Cap-Saint-Jacques has one of Montreal's best beaches. It's a nice arc of sand located in a large cove off the Lake of Two Mountains. Shallow water, volleyball nets, and picnic tables make this a summer destination for those looking to escape the city. On the point near the beach is the famous Chateau Gohier, a sight well worth visiting.
Also located in the park and reached via a separate entrance from the beach is an eco-farm. The farm is open all year, and the animals are always keen for a visit. An on-site store sells fresh fruit and vegetables and other preserves.
A fee is charged to enter the park, and an additional fee is charged to park your car.
11. Parc La Fontaine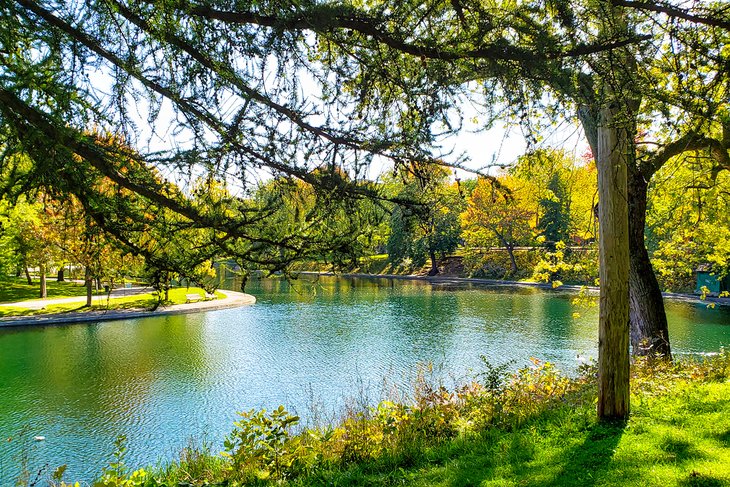 Parc La Fontaine is a pleasant 40-hectare park in Plateau Mont Royal. The park is a good place to linger on a shady bench or perhaps stroll about in quiet contemplation. A large lake with a fountain at one end is the centerpiece of the park and is also home to colorful waterfowl. Walking trails circle the lake and also pass near the impressive Dollard statue.
If you've brought your four-legged furry friend, and they have some energy to burn off, head to the off-leash dog park in the northeast corner of the park. La Fontaine park is a hive of activity in the summer, with tennis players on the courts and the nearby baseball and soccer fields busy throughout the summer with league play. Families with young children will be happy to know that two wading pools are also in the park near Rue Rachel East.
In the winter, you'll find cross-country ski trails and a skating pond. Access is via the Sherbrooke Metro stop and then a walk of about 500 meters.