15 Best Weekend Getaways in Pennsylvania
While Pennsylvania is home to popular tourist stops like Independence Hall and the Liberty Bell, its diverse regions open up a range of not-so-obvious weekend getaways. You will find waterways ideal for kayaking, forests prime for backpacking, and skies that are perfect for hot air balloon rides during the day and stargazing at night.
Pennsylvania's natural beauty lets you intimately enjoy the outdoors or just soak it up from the window of a posh resort. Whether you want to enjoy small towns or working farms in the summer or spend a weekend at one of the state's many ski resorts, Pennsylvania has an array of weekend experiences waiting.
Whatever your style for exploring Pennsylvania, your weekend getaway will be a memorable one. Plan your next short break with our list of the best weekend getaways in Pennsylvania.
1. Pittsburgh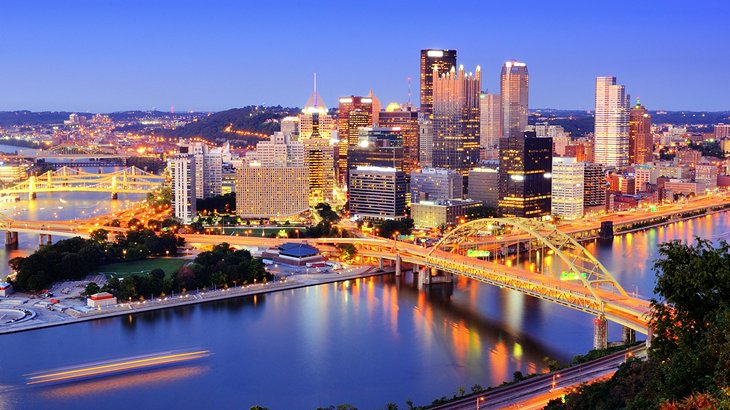 Pittsburgh offers so many things to do that it's nearly impossible to tackle them all in a weekend. But if you only have a few days to spare, you can explore Pittsburgh through a creative tour like the Pittsburgh Art in Public Places Downtown Tour, 'Burgh Bits and Bites Food Tour, Architectural Walking Tour, River of Steel Heritage Tour, or Bike the Burgh Tour.
In Pittsburgh, it's easy to theme your weekend around sports. You can take in an NFL Pittsburgh Steelers game, hit the ballpark to see the Pittsburgh Pirates, or enjoy an ice hockey game with the Pittsburgh Penguins. When you are not at a game, the Heinz History Center-Western Pennsylvania Sports Museum and Engine House No. 25 each showcase sports memorabilia collections.
Art fanatics can fill a weekend with unique pop-culture. The Andy Warhol Museum houses countless originals from this popular American painter who was born in Pittsburgh, and the Mattress Factory has a one-of-a-kind art experience that will get you in touch with your creative side. Watch as artists-in-residency create and execute new contemporary artwork installations in front of the public.
For the best view of Pittsburgh, visit the Duquesne Incline that takes you by cable car to the top of Mount Washington. The most picturesque time to go is at sunset, when the city lights are reflecting off Pittsburgh's three rivers.
Accommodation: Where to Stay in Pittsburgh: Best Areas & Hotels
2. Philadelphia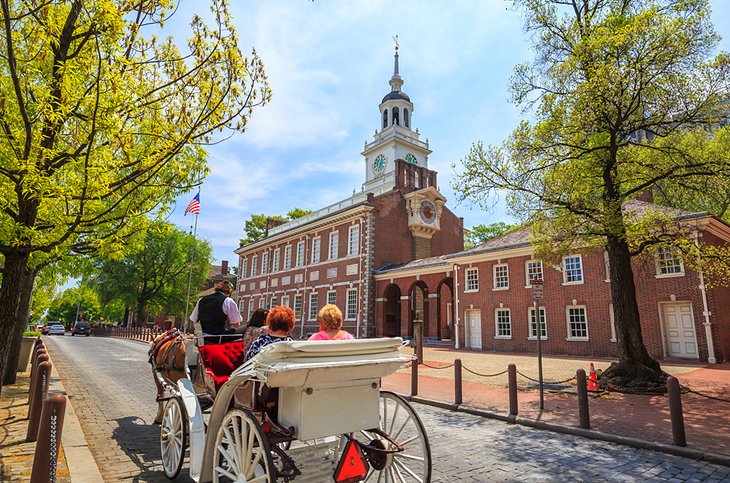 A weekend in the birthplace of America requires some pre-planning to make the most of your time. If this is your first visit to Philadelphia, it is worth exploring the historic parts of the city.
You will want to fit in a visit to the Independence National Historical Park, the Liberty Bell Center, National Constitution Center, and the Betsy Ross House. Elfreth's Alley is also worth your time. It is America's oldest residential street, with brick walkways and structures that date back to 1720 and 1830.
The Philadelphia Zoo, considered America's first zoo, is a fun detour from the historic scene surrounding the city. The zoo has unique animal viewing exhibits like Zoo360, which is the world's first natural habitat system, with mesh trails that completely surround you.
The best view of Philly is without a doubt from the One Liberty Observation Deck, which lets you view the city from 57 floors above the ground. The deck is open 365 days a year, so it's easy to include this stop in your visit.
Accommodation: Where to Stay in Philadelphia: Best Areas & Hotels
3. Allegheny National Forest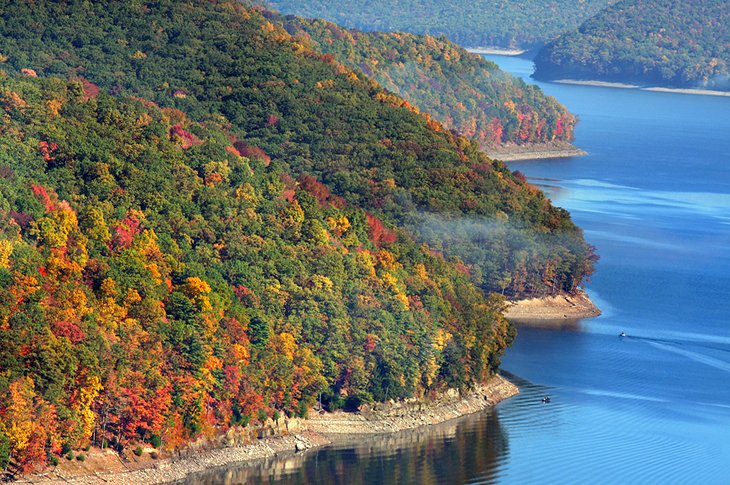 Fill your weekend with outdoor recreation in the Pennsylvania Wilds region in the Allegheny National Forest. Hiking trails in the forest range from less than a mile to 201 miles. The forest is an outdoor enthusiast's haven with options for cycling, ATV adventures, boating, fishing, cross-country skiing, snowmobiling, golf, horseback riding, and even skydiving.
The Allegheny River is where you can enjoy days of canoeing and kayaking. Guide services are available and recommended if you are new to navigating the river. Allegheny Outfitters offers watercraft rentals as well as guided adventure trips with experts who grew up in the region. There are trips suitable for every skill level.
Rent a cabin on-site or set up camp at one of the 15 campgrounds in the forest. Each campsite has a picnic table and parking for two vehicles. With more than 1,000 campsites available, reservations are easy. For a truly different kind of camping experience, reserve a spot in one of the five remote campgrounds that are only accessible by boat or hiking trails.
Address: 131 Smokey Lane, Marienville, Pennsylvania
4. Hershey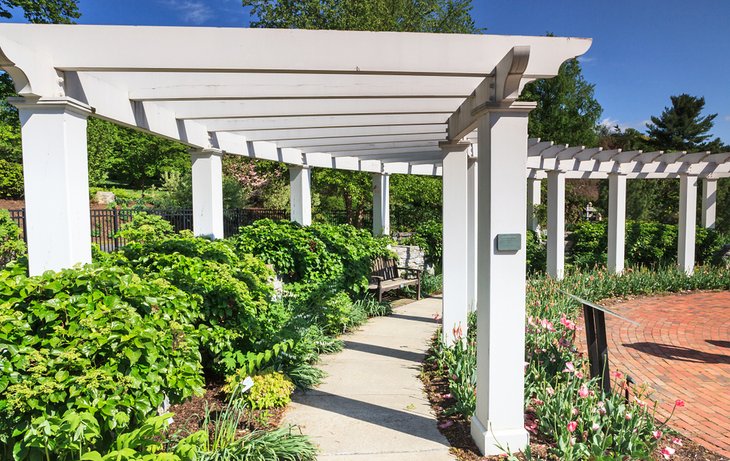 There's a reason that Hershey, Pennsylvania is billed as the sweetest place on earth. That's because you can fill your sweet craving at every turn, as the city pays homage to the chocolate empire, right down to the Hershey-Kiss-shaped street lamps.
One of the top things to do in Hershey is visit Hersheypark, which has more than 70 rides and live entertainment. The best time to visit is in the summer, when all the attractions are open, including the Boardwalk at Hersheypark.
Perched high on a hill overlooking Hersheypark are the 23-acre Hershey Gardens. Chocolate magnate Milton S. Hershey created these as a gift to the community, and you can explore five themed gardens filled with botanical beauty.
Next to Hersheypark is Hershey's Chocolate World, which will fill several hours as you learn about the history of Hershey's candy with interactive exhibits and rides. Take advantage of the free tours that end with samples of chocolate. Be sure to get a photo to take home as you pose with a larger-than-life Hershey's candy bar.
If the weather cooperates, hop on the Hershey Trolley Works to get a guided ride and tour through Chocolate Town, USA. This is a fun excursion led by entertaining conductors who are informed about the rich history of this unique place.
The star of Hershey is The Spa at Hotel Hershey® where you can spend several days basking in chocolate wraps and scrubs to relax. This is an ideal place to visit for a romantic getaway or a solo retreat.
Accommodation: Top-Rated Resorts in Pennsylvania
5. Ski Weekend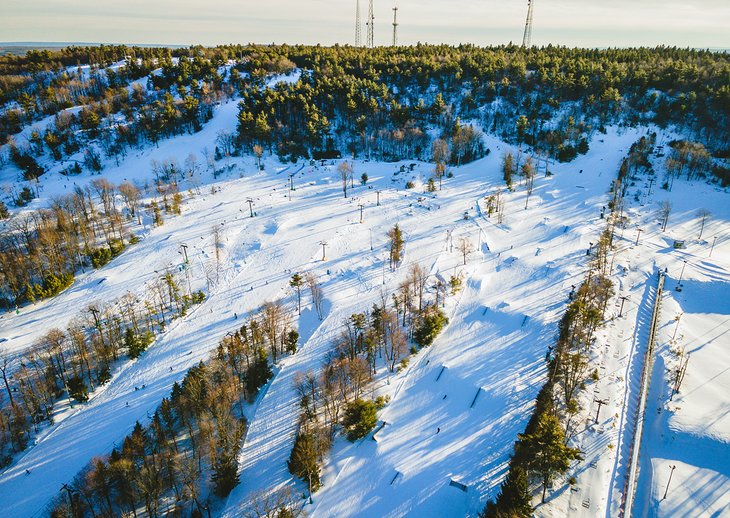 There are quite a few options for a ski weekend getaway in Pennsylvania. With more than 20 ski resorts throughout the state, you can take in the great mountaintop views and find on-site lodging all in one place. Each of Pennsylvania's ski resorts have something different to offer.
Blue Mountain Resort in the Poconos region has 40 ski runs and the state's largest vertical drop. Camelback Mountain Resort, also in the Poconos, is a full-service resort with convenient lodging right at the bottom of the ski hill and an indoor waterpark that is popular for families.
In the Allegheny region, Blue Knob resort has 34 runs, a terrain park, and tubing. Seven Springs resort is only about an hour from Pittsburgh and has six terrain parks and 41 ski slopes and several types of lodging options.
Elk Mountain Ski Resort is ideal for a weekend getaway if you want to be more remote. It is located beyond the Pocono Mountains with a lot of natural snow on the slopes covering a wide area in the wilderness.
6. Gettysburg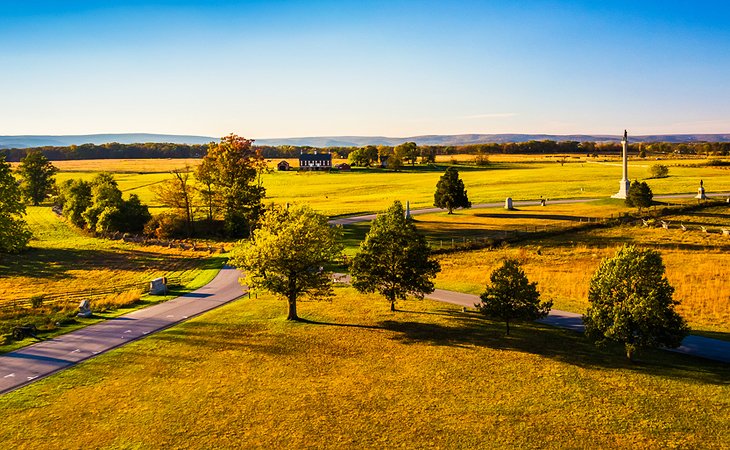 Historic Gettysburg is known for its Civil War battlefield tours and reenactments, but there are now more active ways of touring the sites. You can explore the town on a guided tour or pick up a map and head out on your own.
Pack your bike for a tour of the battlefield with an organized trip through GettysBike Tours or get a taste of Pennsylvania's Dutch Country Roads with a bike ride along part of 26-miles of roads in the Gettysburg National Military Park. You can choose to travel with a National Park Service Ranger on a tour through the battlefield and Cemetery Ridge for an in-depth look at this piece of American history. Programs change seasonally.
For an unconventional way to see the town, take a nighttime ghost tour with a stop at the Jennie Wade House, the home of the only civilian casualty of Gettysburg. To truly get into the historic mood of the destination, be sure to enjoy the growing culinary scene by having lunch or dinner at a restaurant that features farm-to-table dishes or period and historic fare.
7. Lancaster County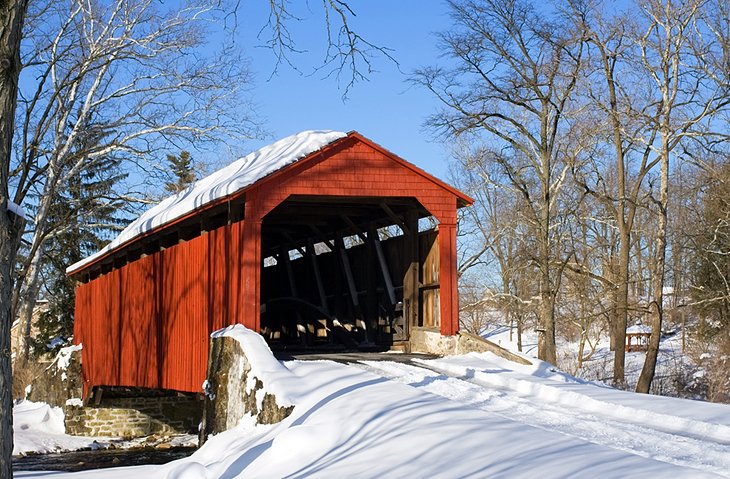 The Lancaster County, Pennsylvania region is one of the most scenic for driving tours. You can plot your weekend getaway out of one home base, or meander your way through the Dutch Country Roads region and stay at different B&Bs along the way. This is located in Pennsylvania's Amish countryside, so it is picturesque and serene. It's also perfect for capturing beautiful photos of Pennsylvania.
One of the best ways to enjoy the area is with a hot air balloon ride over the rolling farms with the U.S. Hot Air Balloon Team. For a more hands-on experience in the region, take part in the Pennsylvania Dutch culture by shopping for antiques, stopping at a roadside stand for fresh produce, and trying authentic cuisine from restaurants in the area.
A must-visit stop on your trip to Lancaster County is at the Lancaster Central Market, the world's oldest continuously operating farmers market. This is the best spot to pick up fresh meats and veggies or try some Pennsylvania Dutch specialties like scrapple and whoopie pies.
8. Altoona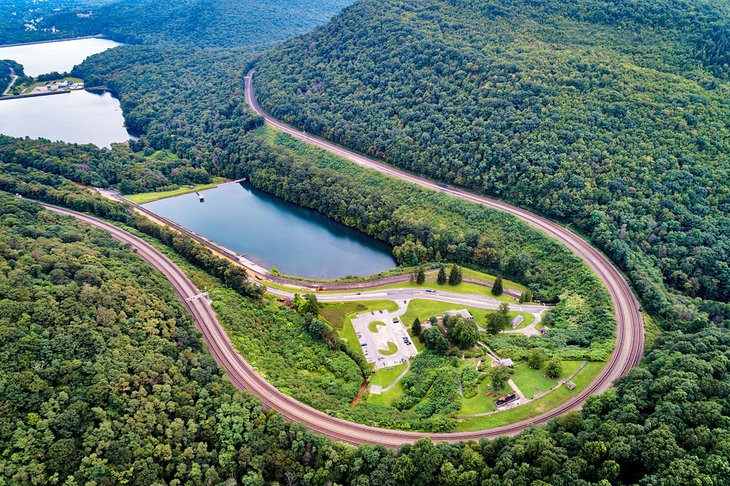 Railroad enthusiasts will enjoy a Pennsylvania weekend in Altoona, which encompasses a large part of the state's railroading history.
A must-see and probably the highlight of railroading in Altoona is Horseshoe Curve. The dramatic curve is considered an engineering feat that was designed in the mid-1800s to get trains more directly from Pennsylvania to New York and more efficiently around the mountains.
You can plan some time to visit the Railroaders Memorial Museum for more history about the railroad industry in this small town. The museum is located inside the Master Mechanics Building of the Pennsylvania Railroad and has three floors of railroad history exhibits suitable for both adults and children.
In nearby Gallitzin are the Gallitzin Tunnels Park and Museum, where you can watch trains pass through part of the historic engineering system that enabled trains passage around the Allegheny Mountains and still does today.
Another stop on your Altoona railroad weekend should be the Allegheny Portage Railroad National Historic Site.
9. Farmington and the Laurel Highlands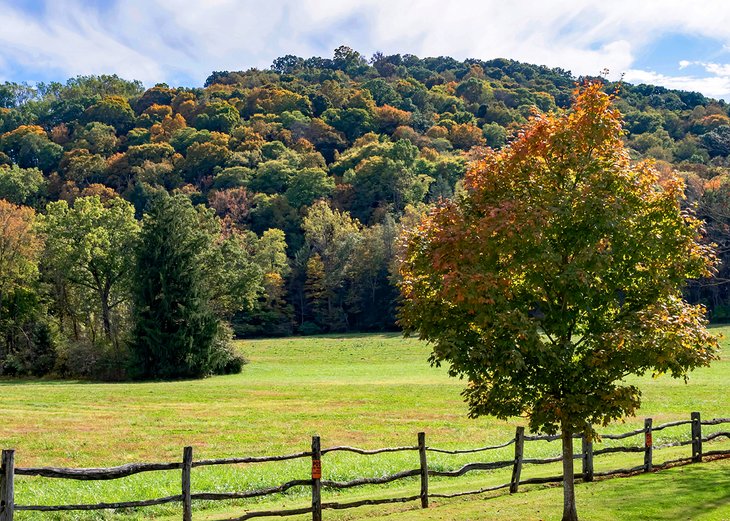 Spend your weekend getaway in the picturesque Laurel Highlands region in Farmington, Pennsylvania, which is at once both rustic and elegant. Nemacolin Woodlands Resort is the ideal romantic getaway. On-site activities include dog sledding in the winter with the resort's dog sled team; a safari tour with zebra, buffalo, and bears; a championship golf course; and world-class spa.
The Seven Springs Resort is an appealing year-round couples' getaway because of the activity options. In the summer, you can try the double-hydrobike and paddleboat or go horseback riding. In the winter, you can hit the slopes, snuggle up by the fire, or try the unique snowcat rides offered through the resort.
If you are up for a caving or spelunking adventure, the Laurel Caverns is where you want to spend some time. Explore the natural caves or rappel your way down through the rock formations on guided tours.
Just 20 minutes from Farmington, and worth the drive, is the stunning Frank Lloyd Wright home of Fallingwater. Tours are popular, so plan ahead and get tickets online to ensure a spot.
10. Presque Isle State Park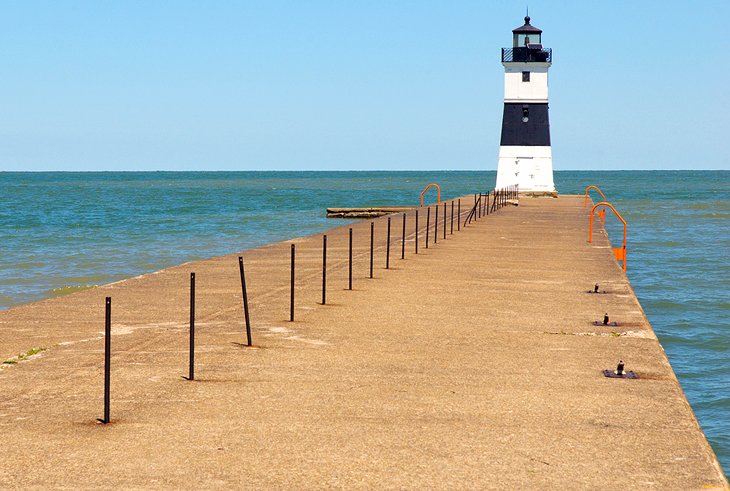 Presque Isle State Park is Pennsylvania's only seashore, and it has things to do year-round. In addition to spending a day at the beach, you can hike trails and enjoy boating, kayaking, biking, and rollerblading. Bird watching is also popular here. Break up the day with a walk to the Presque Isle Lighthouse and the North Pier.
Winter means cold weather adventure at the park, with excursions that include ice boating, wind skating, and ice fishing. Winter walks are popular along the multipurpose and inland trails.
Address: 1 Peninsula Drive, Erie, Pennsylvania
11. Pocono Mountains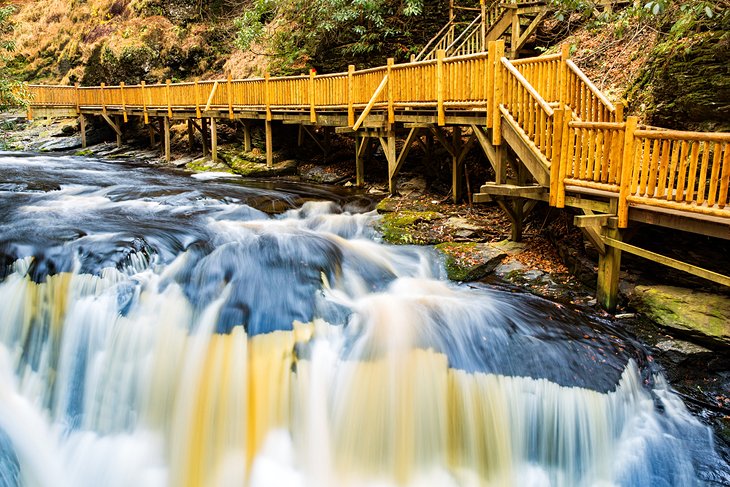 One of the most scenic weekend getaways in Pennsylvania is in the Pocono Mountains, which cover four counties in the state. You can fill your time with outdoor adventure in every season of the year.
Warmer temperatures mean hiking, whitewater rafting, all-terrain treks, bird watching, horseback riding, and skydiving. With 150 lakes, water activities are popular. Land-based activities range from hiking to bird watching and golf. Camelback Mountain Adventures is a park that offers zip-lining, a roller coaster, and bicycle and Segway adventures.
In the winter, you can simply hunker down in a comfortable cabin and watch the snow fall or enjoy the region's skiing, snow tubing, dog sledding, ice skating, snowmobiling, and cross-country skiing.
Couples looking for a quieter getaway can book one of the many spas or bed and breakfasts that are tucked deep into the mountains. Families can enjoy a resort environment at Camelback Lodge and Kalahari Resort. Both offer lodges and indoor waterparks for year-round getaways.
Accommodation: Top-Rated Resorts in the Poconos
12. Farm Getaway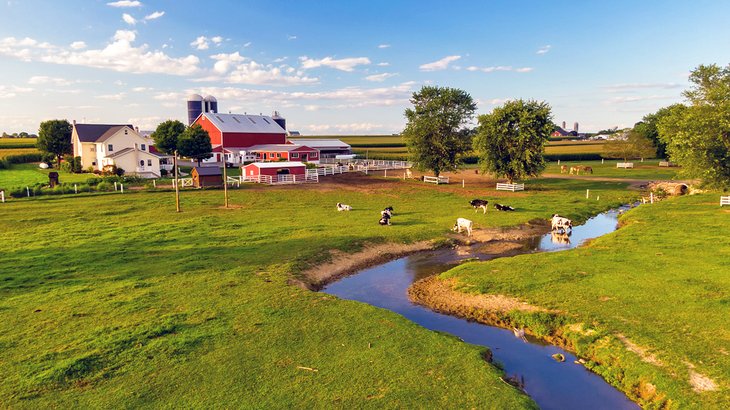 If you are looking for more of a hands-on getaway or one that entails first-time experiences, you might consider a farm weekend in Pennsylvania. Roll up your sleeves and take part in an authentic farming experience at one of the state's farm getaways.
Enjoy a farm weekend getaway at the family-owned Mountdale Farm in central Pennsylvania. Stay on the working farm and learn how to tend to the resident pigs, chickens, and goats, or just go for a wander in the rural countryside.
The Old Summer House bed and breakfast in the heart of Pennsylvania's Amish country is another working farm that welcomes guests. Enjoy the peacefulness on the 150-acre farm, and enjoy a slower pace of life in comfortable lodging.
One of the oldest farm stays in Pennsylvania is Verdant View Farm also in Pennsylvania's Susquehanna Valley. Learn how to milk a cow, interact with other farm animals, and soak in the country life while enjoying home-cooked meals and country scenery.
13. Williamsport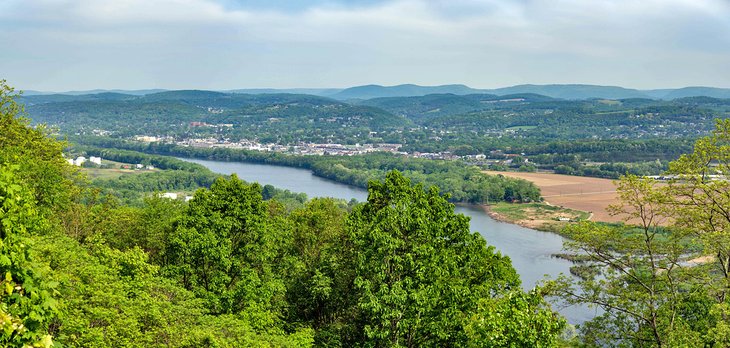 The city of Williamsport in central Pennsylvania does not get the tourist attention of other major cities but it is a perfect weekend getaway spot – especially for sports fans. Williamsport is where Little League Baseball originated and where the league is currently headquartered.
You can plan a visit to the World of Little League Museum, where you can see hundreds of artifacts and memorabilia dedicated to this iconic American youth sport. Then you can make your way to the Original Little League Field on West Fourth Street, which is now preserved on the National Register of Historic Places.
Also during your time in Williamsport carve out an afternoon to walk Millionaire's Row, which has some of the most stunning old mansion architecture.
If you want to find out more about the local history, the Thomas T. Taber Museum has many artifacts from the Lycoming County Historical Society, including an art gallery with early American period pieces and an extensive toy train exhibit.
Wrap up your Williamsport weekend at the Susquehanna State Park or Susquehanna Riverwalk, which has trails for walking and biking along the river.
Accommodation: Where to Stay in Williamsport
14. New Hope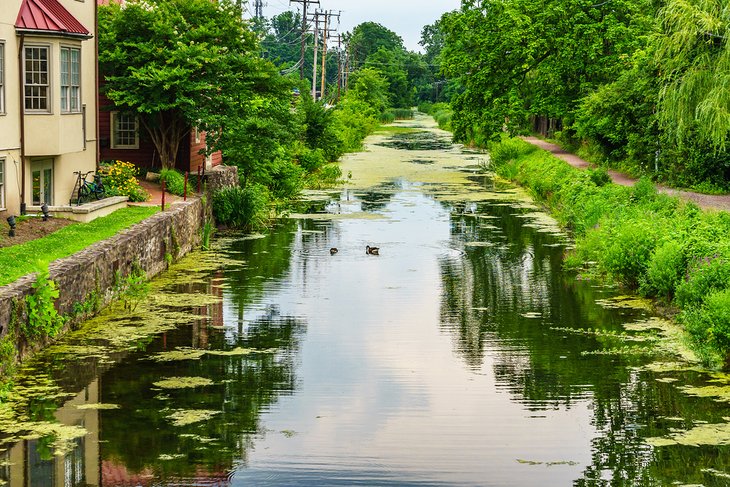 A weekend to New Hope, Pennsylvania is perfect if you are looking for a small-town getaway. New Hope sits along the Delaware River and is a picturesque town defined by an impressive arts scene, local food establishments, quaint bed and breakfasts, and boutique stores.
This town is for a weekend getaway with no agenda that allows you time to stroll down Main Street to find unique hand-crafted items and soak in some of the area's 200 years of history. Plan one evening to take in a performance at the historic Bucks County Playhouse.
15. World's End Weekend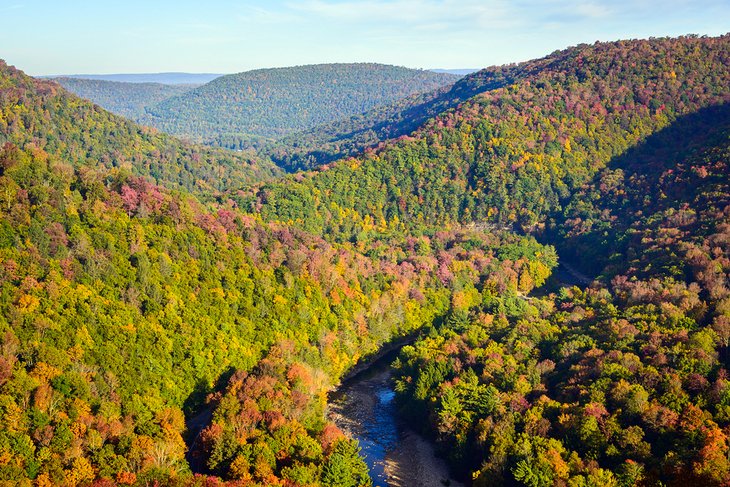 While the name sounds dramatic, you can bet you will make great memories at Pennsylvania's World's End State Park in Forksville. The state park is surrounded by Loyalsock State Forest, and it is a gateway for outdoor enthusiasts who want to go on to explore the state's Endless Mountains region.
The state park has more than 20 miles of hiking trails that cater to a range of skill levels. Just spend a day on the trails to enjoy some of the scenic outlooks and waterfalls. You can spend the weekend in some of Pennsylvania's more rugged and natural scenery with activities like swimming, fishing, and wildlife observation with more than 200 species of birds that have been recorded in the area.
If you are visiting in the winter, the park offers many trails for cross-country skiing. There are 70 campsites available and 19 rustic cabins if you want to spend the weekend inside the park.
More Related Articles on PlanetWare.com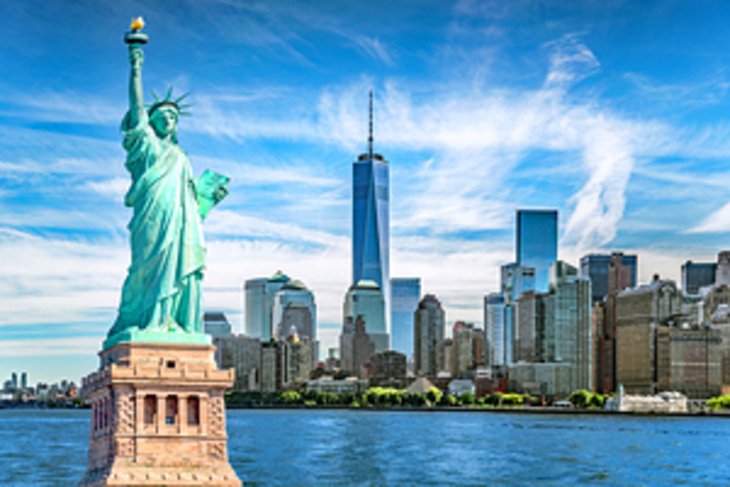 More Places to Visit: If quick trips suit your style, then you will be interested in some of the top weekend getaways from Philadelphia to places like New York City and Ocean City, New Jersey. The neighboring state of Ohio has weekend getaways that range from the capital city of Columbus to the forested Hocking Hills region, which is a popular midwestern spot to see colorful fall foliage.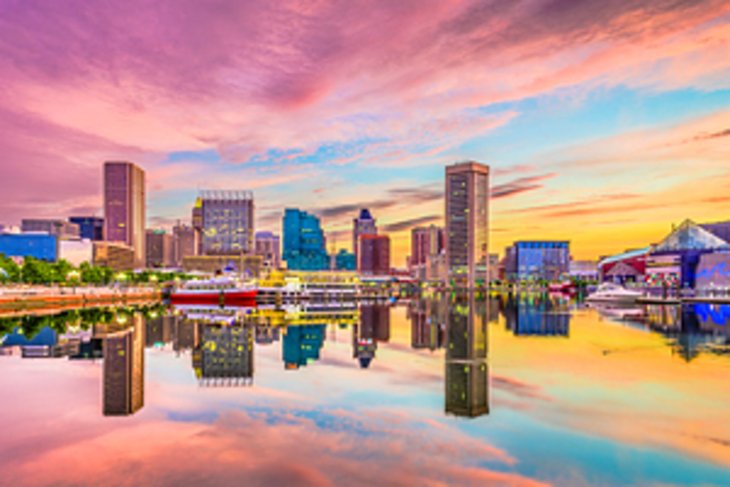 Explore Maryland and Beyond: A weekend getaway in Maryland is also nice. It is easy to plan a quiet vacation along the waterfront of Tilghman Island or an excursion to see the wild horses on Assateague Island National Seashore. For an active Maryland getaway, you can plan a themed weekend in Boston or Annapolis.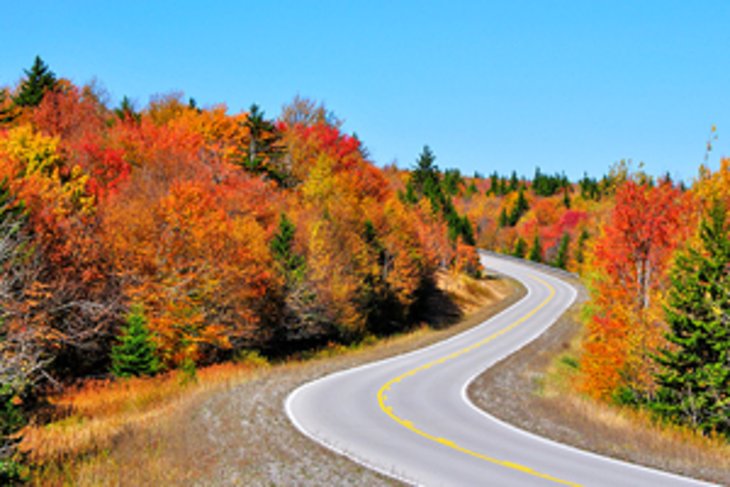 Escape to Nature: If nature is calling to you then a weekend getaway to West Virginia can soothe your soul. From white water rafting on the New River Gorge to hiking a section of the Appalachian Trail you can fill several days outdoors and relax in the evening in a quiet cabin.