14 Top-Rated Attractions & Things to Do in Annapolis, MD
Located on Chesapeake Bay, Annapolis is a picturesque community with lovely historic buildings and scenic views out over the ocean. As the state capital, Annapolis is also home to some of the best museums and historic sites in Maryland.
Among Maryland's highlights are the U.S. Naval Academy and the associated Academy Naval Museum, the Old Senate Chamber in the State House, the Annapolis Maritime Museum, and the William Paca House and Gardens.
The city also has a vibrant theater scene; some lovely parks; and a lively arts district, which hosts regular festivals and events during the summer months, including the romantic Dinner Under the Stars. Annapolis is also known to many as "America's Sailing Capital," and for good reason.
Annapolis hosts a variety of boat shows each year, and the bay is always alive with sailboats and yachts. Find the best places to visit in the city with our list of the top attractions and things to do in Annapolis.
1. Tour the Annapolis Historic District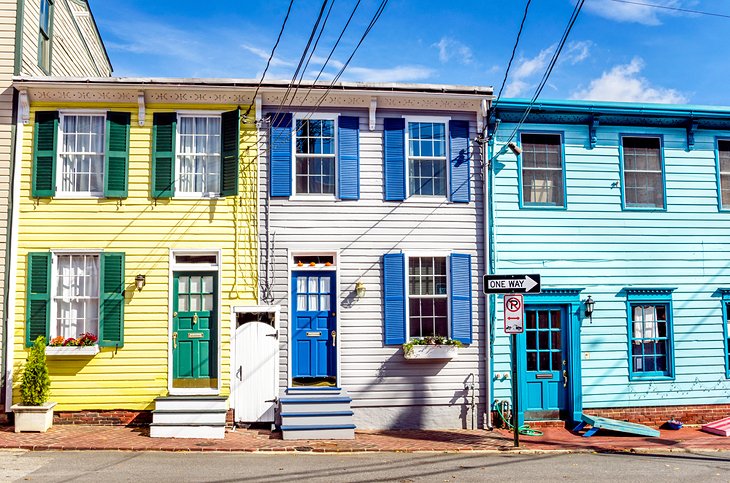 Annapolis is one of the oldest cities in the United States and served as the nation's capitol before it was moved to the District of Columbia, and as a result, it is brimming with historically significant buildings and landmarks. Annapolis was one of the first cities to be designated a National Historic Landmark District, an area that includes top historic attractions like the William Paca House, St. Anne's Church, and the Maryland State House.
There are several guided and self-guided tours available, which focus on various aspects of the district, including architecture, the founding of the nation, and African-American history.
Tourists who want to explore the heart of the Historic District on their own via foot should start at the Museum of Historic Annapolis at 99 Main Street to get an overview of the district's history. From here, head up Prince George Street to admire Sands House, built as early as 1681. Next, explore Pinkney Street, passing the 18th-century Waterfront Warehouse; Shiplap House (built around 1715); and Hogshead, a small residential building typical of the era (open weekends April-November).
After admiring the impressive James Brice House at the junction of East Street, proceed on Prince George Street to visit the neighboring William Paca House and Garden. Continue west past the Judge John Brice House, then take a right onto Maryland Avenue for a stroll past the Chase-Lloyd House and a tour of the Hammond-Harwood House.
To visit the Maryland State House, head back down Maryland Avenue and continue to the State Circle, where you will pass the Old Treasury Building before heading up East Street to reach your starting point on Prince George Street.
2. U.S. Naval Academy Museum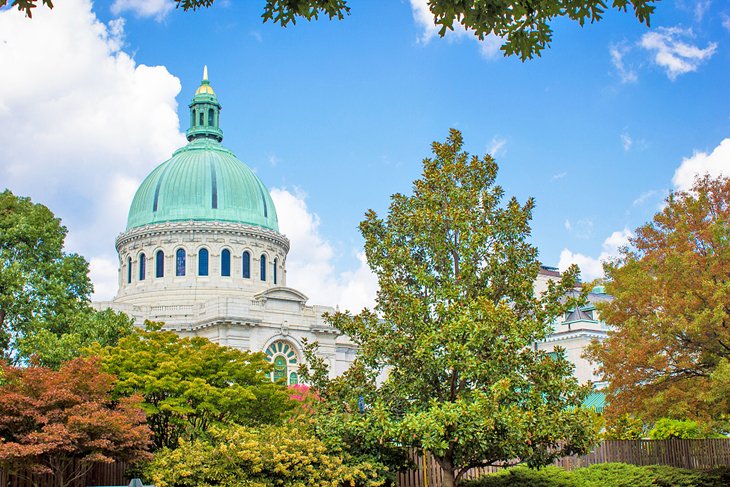 The U.S. Naval Academy Museum was established in 1845 to commemorate the longstanding traditions of the U.S. Navy and Marines. Its mission is to preserve various artifacts and memorabilia related to engagements, significant achievements, training at the Academy, and naval figures.
Among its collections, the museum's most impressive is its room full of model ships. These models are remarkable for several reasons, most notably for the fact that each model was made at the same time that its full-sized counterpart was being constructed. The models date back as early as 1650, each an extremely detailed reproduction, several of which provide the only record of the ship's construction.
Additional exhibits include a look at the history of naval operations, personal artifacts, medals, and uniforms of varying ranks of seamen, and an impressive collection of ship instruments. Families will appreciate that this is a free Annapolis attraction, and find that the museum does a great job at engaging kids.
Address: 118 Maryland Avenue, Annapolis, Maryland
3. Relax at Quiet Waters Park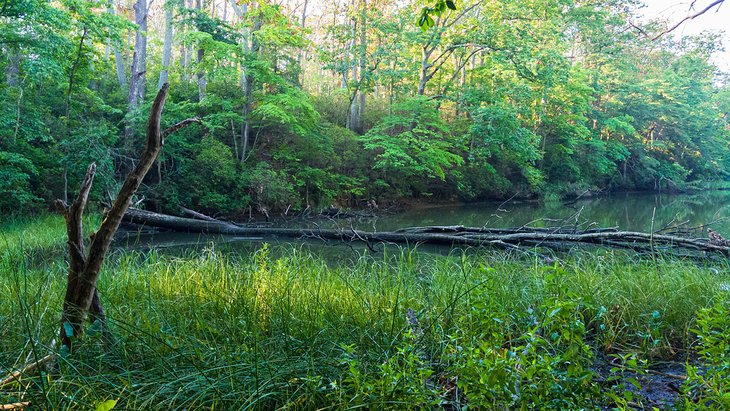 Quiet Waters Park has a wide range of things to do within a beautiful setting between Harness Creek and South River. Covering 340 acres, it has extensive hiking trails and six miles of paved trails for bicycles, running, or walking, many of which lead to breathtaking scenic overlooks.
Those who are traveling with four-legged kids will appreciate its two fenced dog parks, as well as the dedicated dog beach, and human kids will love the large playground. The park's mini-marina rents kayaks, canoes, rowboats, and paddleboats, as well as bicycles.
The park is also home to beautiful formal gardens and adjacent event facilities, a popular spot for weddings and romantic photos, as well as host to summer concerts. The visitor center displays the work of local artists in its galleries, and there is a great café at the park, which serves locally sourced fare.
Address: 600 Quiet Waters Park Road, Annapolis, Maryland
4. Maryland State House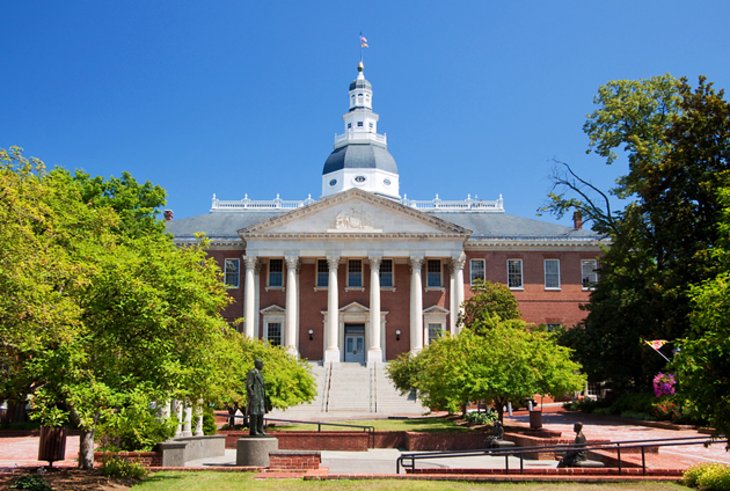 The Maryland State House is loaded with history, having once served as the capital of the fledgling United States of America. Completed in 1779, it is the oldest state house still in continuous use by legislature, and its wooden dome was completed in 1794, making it the oldest and largest wooden dome of its kind in the United States.
This building was the meeting place of the Continental Congress form November of 1783 to August of 1784, during which time the ratification of the Treaty of Paris was signed, and George Washington resigned as General of the Continental Army, officially ending the Revolutionary War.
In the lobby, tourists can clearly see where the old wood-and-plaster construction meets the updated section, which was added between 1902 and 1906, featuring stately marble columns and walls.
Address: 100 State Circle, Annapolis, Maryland
Official site: http://msa.maryland.gov/msa/mdstatehouse/html/home.html
5. Hammond-Harwood House
Built in 1774 and designed by William Buckland, this historic home is Maryland's finest example of late colonial architecture. Perhaps the most striking feature you will notice upon entering is the Rococo-style carvings and moldings found throughout the first floor, elegant and exquisitely detailed.
The home is presented almost exactly as it was originally, and those interested in its construction will be fascinated by the horizontal floor pegs, which have been revealed to show how the parlor floor was made. Among the original furniture on display are several sets made by John Shaw, and notable artwork includes paintings by Charles Wilson Peale and Rembrandt Peal's portrait of George Washington.
Visitors will particularly enjoy seeing the portrait of his daughter Ann holding her doll, with the very same doll on display below. The Hammond-Harwood House is also known for its lovely gardens, as is the historic Charles Carroll House on Duke of Gloucester Street and the Chase-Lloyd House, which features a remarkable rose garden.
Address: 19 Maryland Ave., Annapolis, Maryland
Official site: hammondharwoodhouse.org
6. William Paca House and Garden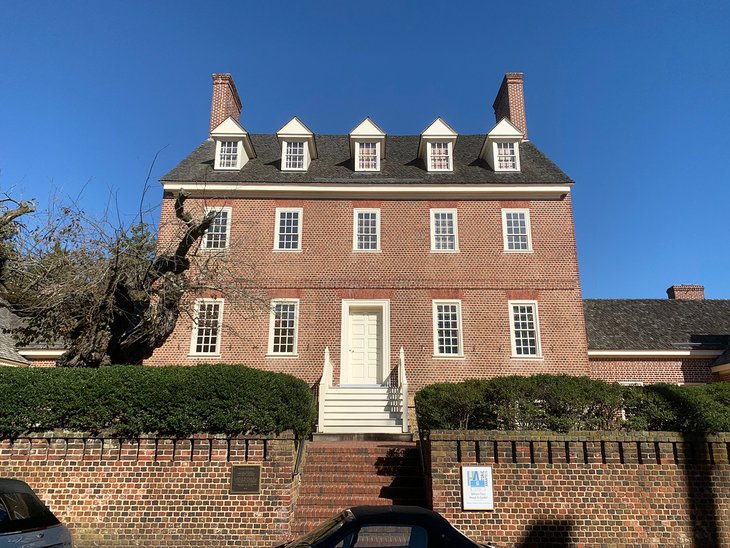 This grand colonial-era home was completed in 1765 for William Paca, a wealthy young planter who was a signer of the Declaration of Independence and Governor of Maryland. The home spent several years as the lobby of a hotel that covered its former gardens.
After painstaking repairs to the home and a detailed reconstruction of the gardens from old photographs, today the William Paca House has one of the loveliest gardens in Annapolis. Covering two acres, the garden features five terraces, which have been planted with flora authentic to the original, including a variety of topiaries, a medicinal herb garden, and water gardens. The garden also houses a lovely pool and a domed summer house, as well as plentiful shaded benches for taking in the view.
In the home, more than a dozen rooms have been fully restored and furnished with period pieces and decorative arts. The visitor center provides insights into the history of William Paca, the home, and the gardens.
Address: 186 Prince George Street, Annapolis, Maryland
7. Kunta Kinte - Alex Haley Memorial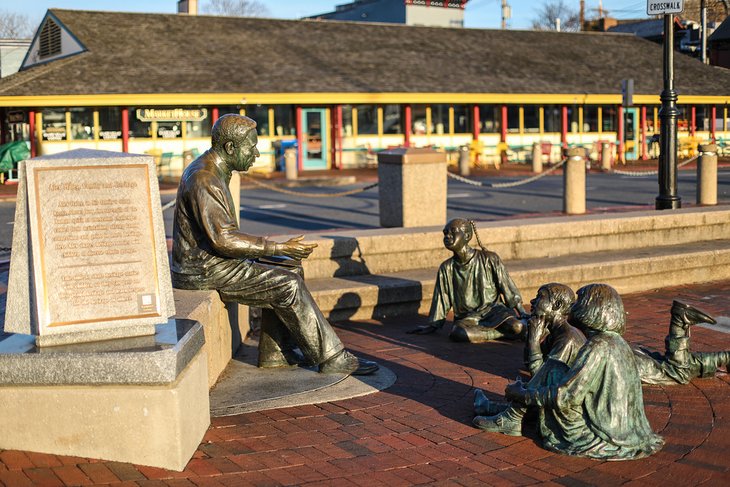 This memorial includes the Kunta Kinte storytelling sculptures, the Story Wall, and the Compass Rose. Located near the City Dock, this is the nation's only site that recognizes and names an individual slave's arrival. Alex Haley's iconic character from his novel Roots was based on his real-life ancestor who was born in 1750 in Gambia.
The sculpture collection shows Alex Haley reading a book to a group of three children, emphasizing the importance of both the oral storytelling tradition and the power of the written word. The Compass Rose sits nearby, next to the Market House, a granite and bronze map of the world, which features Annapolis at the center.
The Story Wall consists of several bronze plaques, which are set along the seawall. Their inscriptions are focused on the healing and growth that is still needed to overcome the lasting cultural trauma created by slavery and oppression. Themes include forgiveness, heritage, family, love, and faith.
Official site: https://kintehaley.org
8. Learn about African-American History at the Banneker-Douglass Museum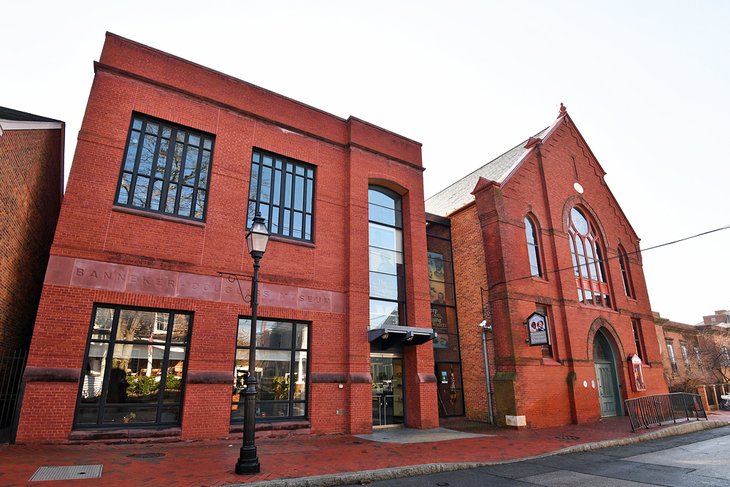 history, dedicated to education and preservation. The museum's permanent exhibit explores the history of African Americans in Maryland from the first slave's arrival in 1633.
Visitors are able to listen to a speech made by Frederick Douglass, learn about Thurgood Marshall's efforts in changing the education system, and see artifacts like Harriet Tubman's reward poster. The museum also features multiple changing exhibits, which look at various topics, from the art and culture of African tribes to the work of African-American artists.
The museum also offers special events on a regular basis that introduce temporary exhibits and give visitors the opportunity to learn more about local and national research, projects, and initiatives related to African-American history and the myriad of social, political, and economic issues that have shaped the past and influence the future.
Address: 84 Franklin Street, Annapolis, Maryland
Official site: www.bdmuseum.maryland.gov
9. Sandy Point State Park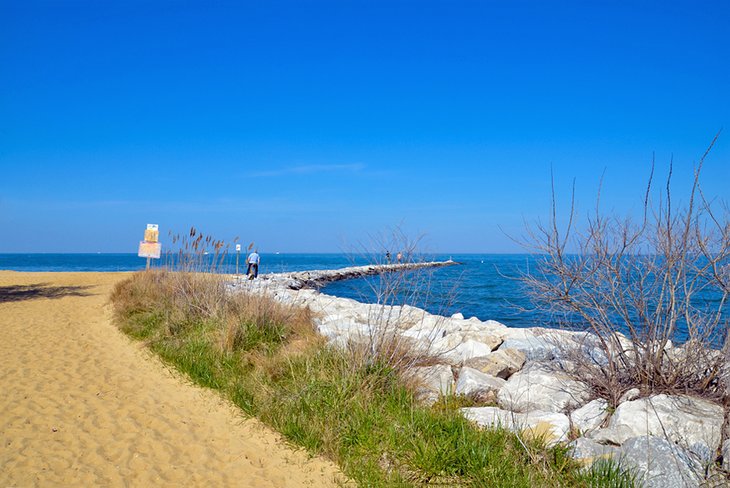 Located on the shores of Chesapeake Bay, this beautiful state park offers a range of activities for visitors. Many flock here for the mile of sandy beach, a good place for families, with lifeguard stations, a bathhouse, food concessions, and beach supplies. There is also a playground near the beach, as well as picnic areas and a pavilion for larger groups. Park facilities also include a marina with boat rentals.
The park is also on the "Eastern Flyway," a flight path for many species of migratory birds, making this a great spot for bird-watching. There is a nature center and interpretive center for those who want to learn more about the local flora and fauna, and a junior ranger program each summer.
Address: 1100 East College Parkway, Annapolis, Maryland
10. St. Anne's Church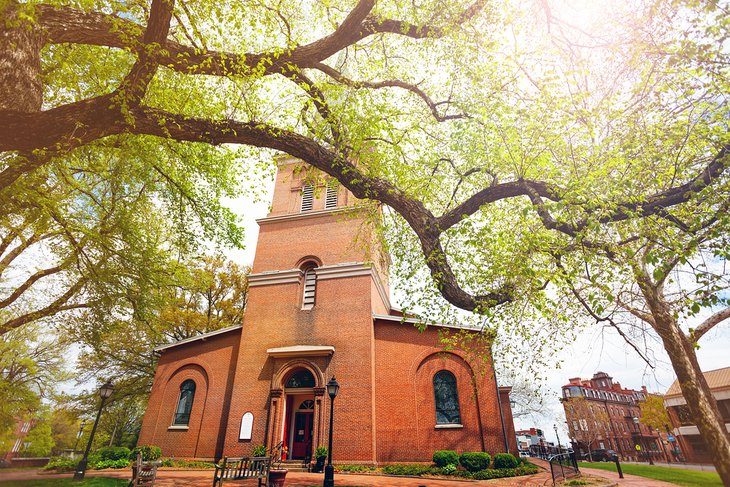 St. Anne's Episcopal Church is the centerpiece of Church Circle, perched on a hill at the convergence of the city's main streets. The current building is the church's third incarnation, first built in 1704, replaced in 1772 to fit a growing congregation, and rebuilt in Romanesque Revival style in 1858 after a major fire.
Highlights of this Annapolis landmark include a Tiffany stained-glass window; hand-sewn needlepoint kneelers; and the original silver communion service, which was a gift from King William when the first church was just breaking ground in 1696. Another fine Annapolis church is the Gothic St. Mary's Church, which features ribbed vaulting and detailed carvings.
Address: Church Circle, Annapolis, Maryland
Official site: https://stannes-annapolis.org
11. Annapolis Maritime Museum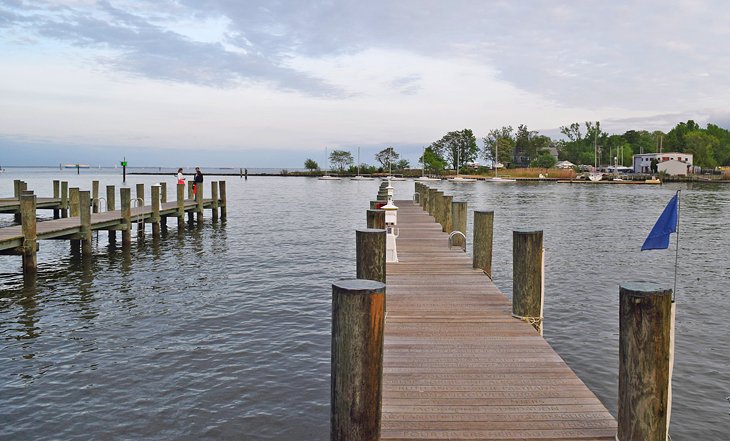 The Annapolis Maritime Museum is located on the shores of Back Creek in the last oyster packing plant to operate in Annapolis. It highlights the history of boat building and the local oyster industry through a collection of artifacts and documents, and also teaches visitors about the ecosystem of an oyster reef in its 850-gallon aquarium.
Additional exhibits look at local maritime history and how it influenced the area culturally and economically. Tourists can also take a look at actual oyster boats, including the Miss Lonesome, which features cutaway sections to reveal its construction, and the 1940 Wilma Lee, which can be toured with a guide.
One of the more unusual things to see here is the 1868 Oyster Wars Cannon, once used by the Maryland State Oyster Police during the Oyster Wars, when pirates threatened this valuable resource. The museum is also home to one of the city's only public beaches.
Address: 723 Second Street, Annapolis, Maryland
Official site: www.amaritime.org
12. Chesapeake Bay Sailing Excursions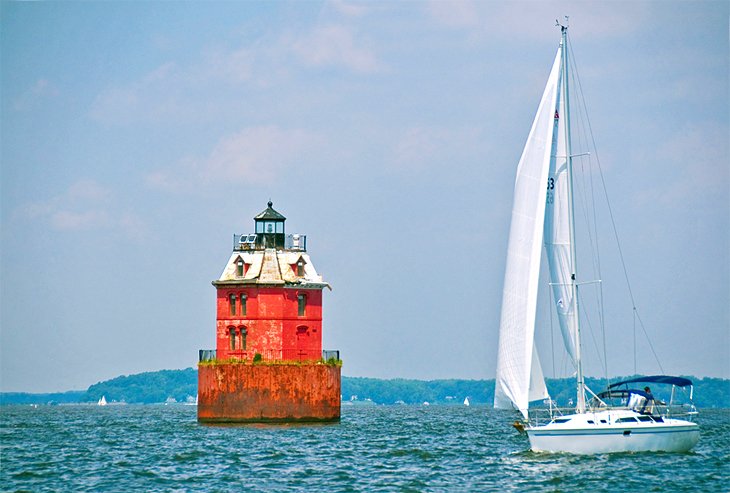 A boat tour in Chesapeake Bay is a must for anyone who enjoys being on the water. With most cruises and charters departing right from Annapolis Harbor in downtown, it is easy for tourists to pick from the many vessels that await. A range of tour themes are available, from narrated historic tours by catamaran to romantic sunset cruises on a sailboat, perfect for couples. You can also find fully-equipped fishing excursions, as well as charters, which are available for an array of craft and destinations.
This is also one of the premiere places for those learning to sail, from kids and beginners to experienced sailors who want to hone their skill or learn racing techniques. Annapolis is also host to several major boat shows, including sailboat shows in April and October, as well as regular regattas and races during the summer. Each Wednesday evening from April through the end of August, Annapolis Harbor hosts a sailboat race with more than 130 participants.
You can also visit the National Sailing Hall of Fame while down at the city dock, which presents a variety of exhibits, events, and programs. Water sports enthusiasts can also find an abundance of rental shops in the area to gear up for kayaking, windsurfing, and other activities.
13. Fort Meade NSA Cryptologic Museum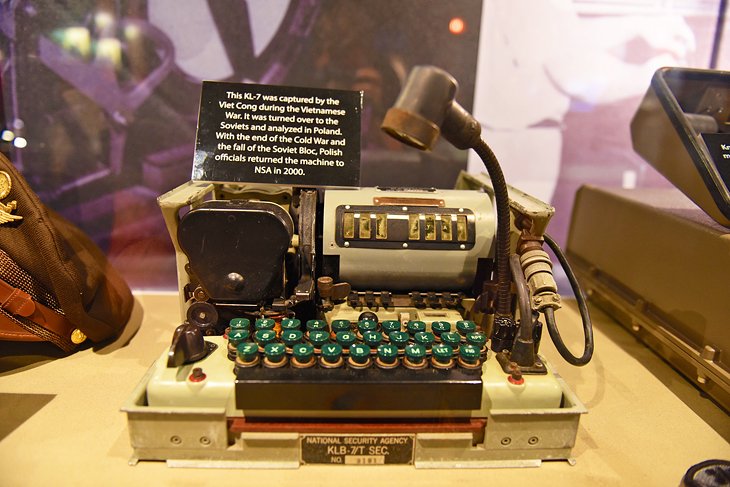 About 20 minutes from the center of Annapolis, tourists can find an unusual attraction that is the only of its kind in the world. The Fort Meade NSA Cryptologic Museum opened in 1993 and houses a wide variety of documents, artifacts, and equipment related to the world of code-making and code-breaking.
Among the museum's most interesting artifacts are various devices used by cryptologists, including the famous Enigma machine used by Germans during WWII. Exhibits explain various aspects of the science, and tours provide a deeper explanation of cryptology's role in history and national security.
For those who really want to dive in to the mystery, visitors can explore the museum's research library, which includes declassified documents from intelligence agencies.
Address: 8290 Colony Seven Road, Annapolis Junction, Maryland
Official site: www.nsa.gov/about/cryptologic-heritage/museum
14. Historic London Town and Gardens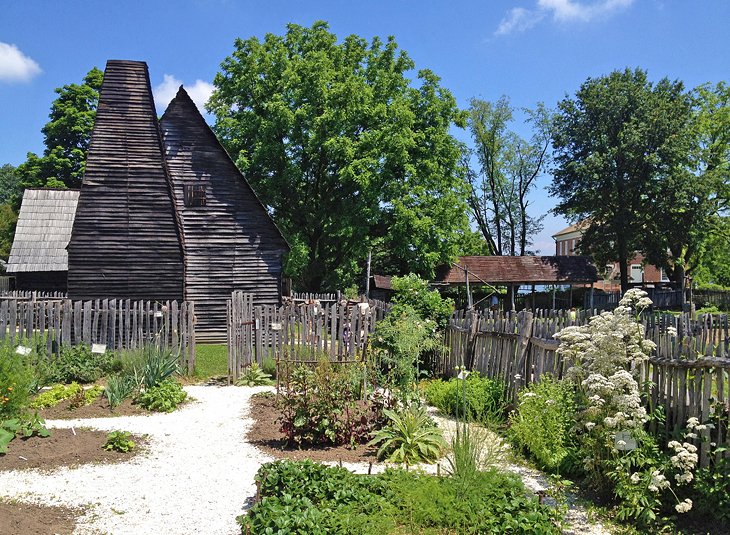 Another short drive from the city in Edgewater, Historic London Town and Gardens is about 15 minutes by car. The original settlement was established in the mid-17th century at the most convenient crossing point in the South River. It quickly became an important trade junction, and within a hundred years had grown to rival Annapolis in size and importance.
Today, the town is depicted as it was during its 18th-century heyday, with costumed interpreters and a variety of original and reconstructed buildings. Tourists will get an overview of the area's history at the exhibits in the visitor center, and the grounds can be explored independently or via guided tour.
The central building in the historic area is the William Brown House, built in approximately 1760 as a tavern and later converted into an almshouse. Other highlights include Lord Mayor's Tenement and the Carpenter's Shop, both of which were reconstructed on the buildings' original footprint using historical accounts to make them as authentic as possible.
The gardens at London Town are among some of Maryland's nicest, featuring various areas like an ornamental garden; woodland garden; and the "Sound and Sensory Garden," designed to encourage children to interact with nature.
Address: 839 Londontown Road, Edgewater, Maryland
Official site: www.historiclondontown.org
Map of Attractions & Things to Do in Annapolis, MD
Annapolis, MD - Climate Chart
Average minimum and maximum temperatures for Annapolis, MD in °C
J
F
M
A
M
J
J
A
S
O
N
D

6

-4

7

-4

12

1

18

6

24

11

28

17

31

19

29

19

26

15

19

8

13

2

8

-2

PlanetWare.com
Average monthly precipitation totals for Annapolis, MD in mm.

89

75

106

85

112

90

101

103

108

90

85

94
More Related Articles on PlanetWare.com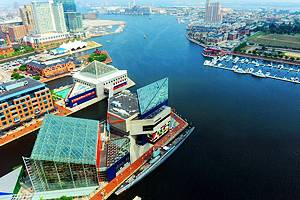 In and around Maryland: The beautiful coastal state of Maryland encompasses Chesapeake Bay and earned its place in American history as an early colonial city and revolutionary hub. Like Annapolis, Baltimore gained its importance as a major port. Baltimore's top attractions include a wide selection of museums, including historic ships that can be explored, as well as the popular Harborplace, which has a wide variety of shopping and dining choices. While in the area, plan on at least a few days to check out Washington D.C.'s top attractions, or at the very least take a tour of the city to view some of the top landmarks.