Maryland in Pictures: 17 Beautiful Places to Photograph
Dubbed "America in Miniature," Maryland offers some of the country's most beautiful scenery, all in one small state. From the towering Appalachian Mountains to sparkling Chesapeake Bay to luxuriously sandy beaches, there's a bevy of postcard-worthy scenes awaiting your mad photography skills.
While famed for its incredible and widely varied topography, the region is also appreciated for its historic buildings, modern architecture, and Atlantic City-like resort towns (that's you, Ocean City). No matter what you're looking for - rural or urban, mountain or sea - you'll find it in this East Coast marvel. We told you it had everything!
Note: Some businesses may be temporarily closed due to recent global health and safety issues.
1. Chesapeake Bay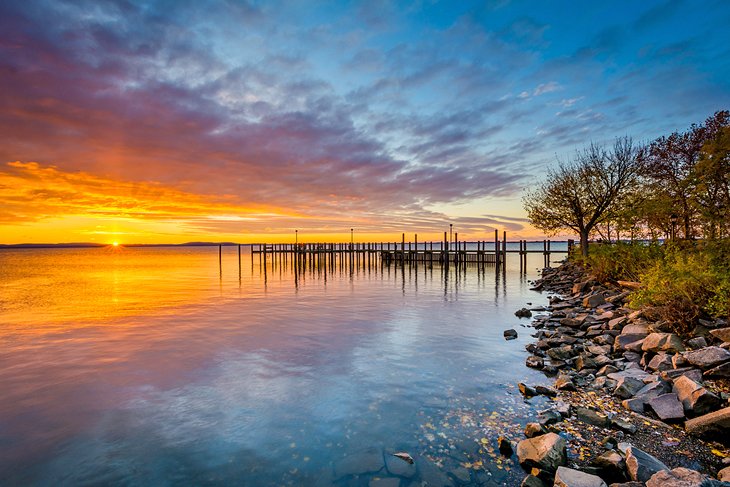 The resplendent Chesapeake Bay is a massive estuary with arms in both Maryland and Virginia. At 200 miles long, it's the largest estuary in the United States. It's also a true beauty. Lined by verdant forests, this natural wonderland is home to a variety of incredible creatures. From blue crabs to finfish to 87 species of water birds, and 29 species of waterfowl, there are plenty of worthy subjects waiting to be filmed.
2. Baltimore Inner Harbor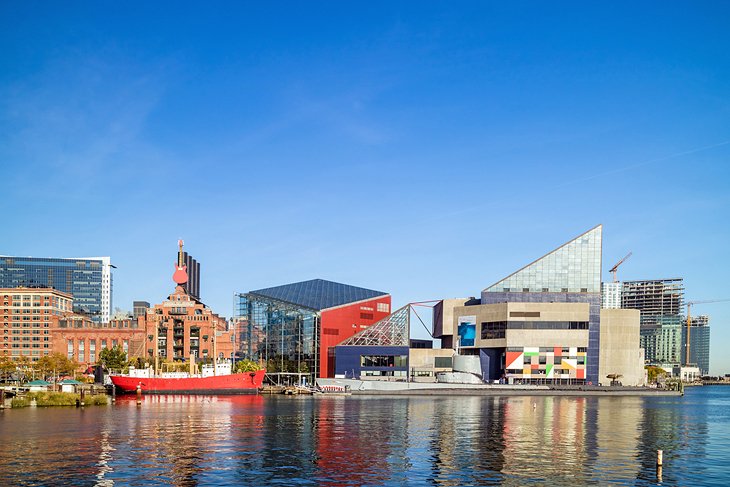 Baltimore's inner harbor is where it's at. From street performers to concerts to parades to fireworks, the city knows a good location when they see it. From here, you'll capture award-winning views of the Baltimore skyline before heading into town to partake in some great eating and a little retail therapy.
Accommodation: Where to Stay in Baltimore: Best Areas & Hotels
3. Annapolis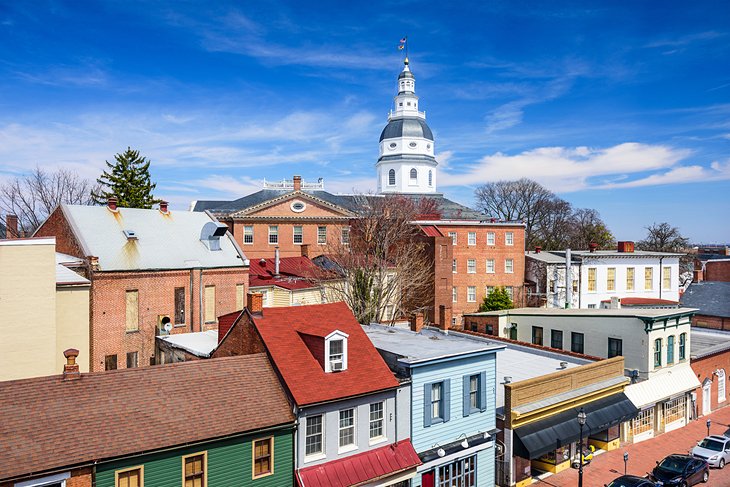 Annapolis is by far one of America's most beautiful cities. Impressively preserved, the area has retained its 18th-century charm while adding a few delightful dollops of modern life. Adorable colonial homes grace the ancient streets, which are lined by old-fashioned lamps and cobblestone. Water taxis up the charm level immensely, as do the super nice locals.
4. Frederick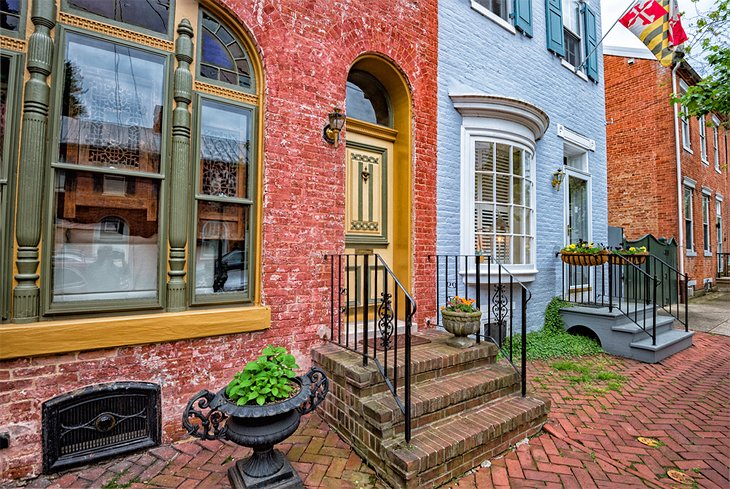 Step foot in Frederick, and you'll swear you've jumped into a storybook. Flanked by luscious mountains and bucolic orchards, the adorable town center is a wonderful sight. Tranquil Carroll Creek passes through the middle, picturesque stone bridges traversing its width. On either side lie charming historic brick houses featuring ornate doors and windows, each clamoring for a spot on your camera roll. Did we mention the red covered bridge? You won't want to miss it.
5. Tilghman Island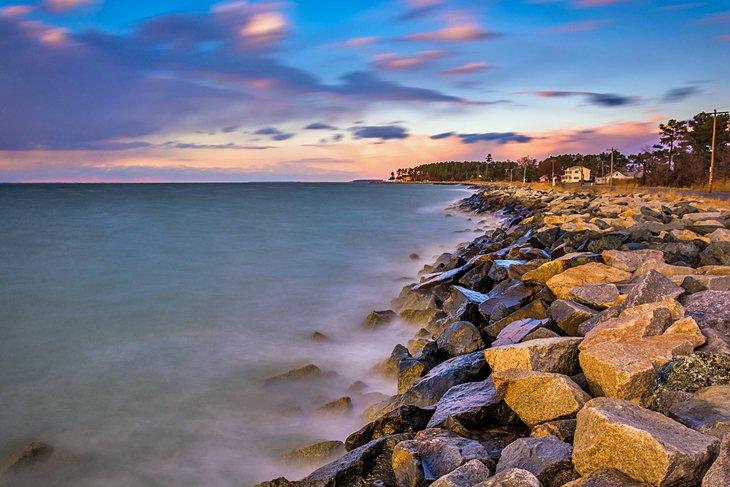 Best explored by foot, bike, or kayak, quiet Tilghman Island consists of three miles of rustic beauty located 11 miles west of St. Michaels on Chesapeake Bay. Summer is its best season, as the most popular activities on this isle include sailing, fishing, and window-shopping along the lovely tree-lined streets.
6. The Choptank River Lighthouse, Cambridge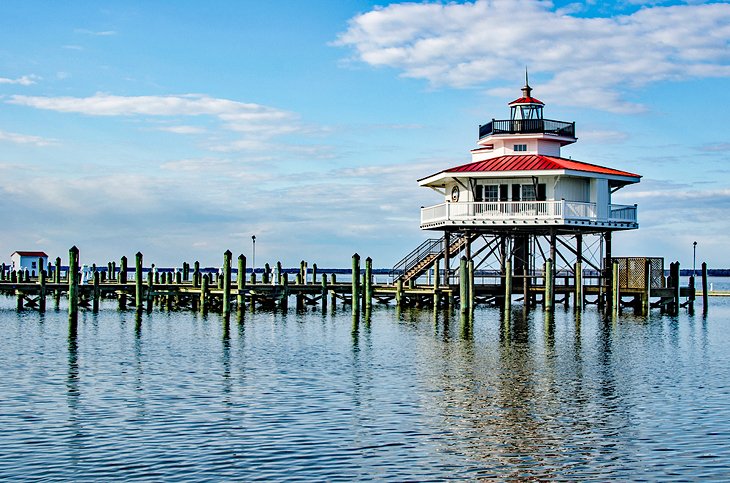 The unique Choptank River Lighthouse will literally light up your lens. Set on a platform above the Choptank River, this resplendent building is a replica of the Cherrystone Lighthouse, which once stood in this spot. The hexagonal beacon was designed in the traditional "screwpoint" style (i.e. it's set on "legs").
7. Guilford Avenue, Baltimore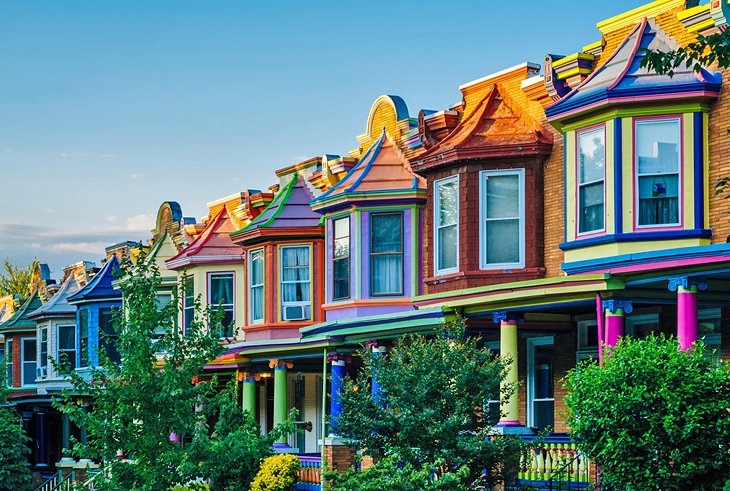 Colorful row houses brighten Guilford Avenue in Baltimore's Charles Village. Deemed the "painted ladies" by locals, the funky colors of these effervescent homes came on the scene in 1998. They were inspired by a neighborhood contest designed to encourage locals to beautify and revitalize the area.
8. Easton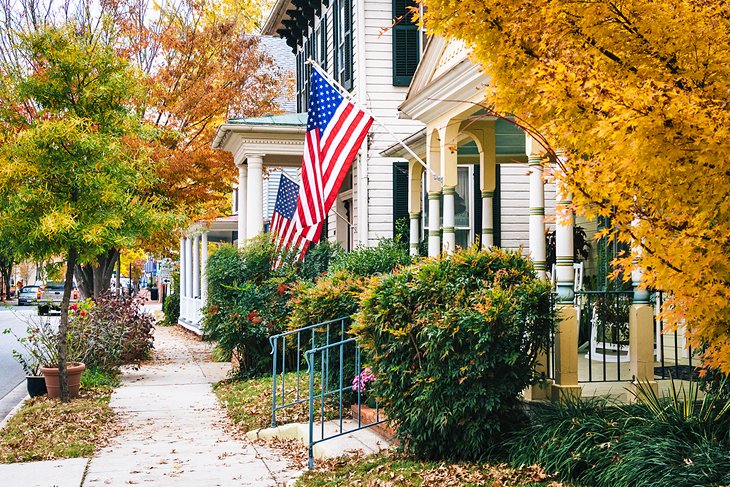 It's not surprising that Easton has been named one of America's best small towns. It offers visitors an authentic, old-time feel with adorable historic buildings (i.e. the Third Haven Friends Meeting House, circa 1682) and colonial architecture. Patriotic flare can be found pretty much everywhere in this sweet, walkable town.
9. Sandy Point State Park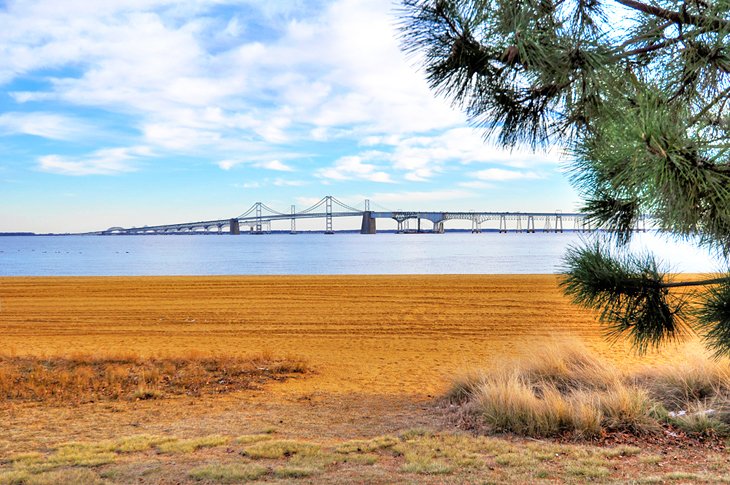 Sandy Point State Park certainly lives up to its name. A 786-acre park, there's a ton of golden sand to be had at this popular seaside escape. Lapped by the Chesapeake Bay, this park offers impressive waterfront vistas of everything from birds to boats to bridges. When you're not busy snapping pics, take a minute to enjoy beachin' or jump in for a swim.
10. Oakland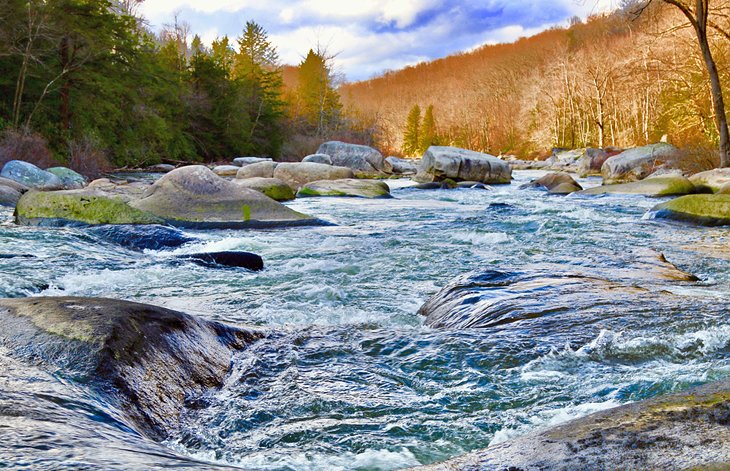 Oakland is a tiny mountain town bursting with charm. While the quaint center is as pretty as a picture, featuring colorful shops and restaurants, the town's most impressive asset can be found a bit further afield. Rushing rapids; crashing waterfalls; and a vast, enticing river are primed for the role of perfect vacation backdrop.
11. Shadow Falls State Park, Oakland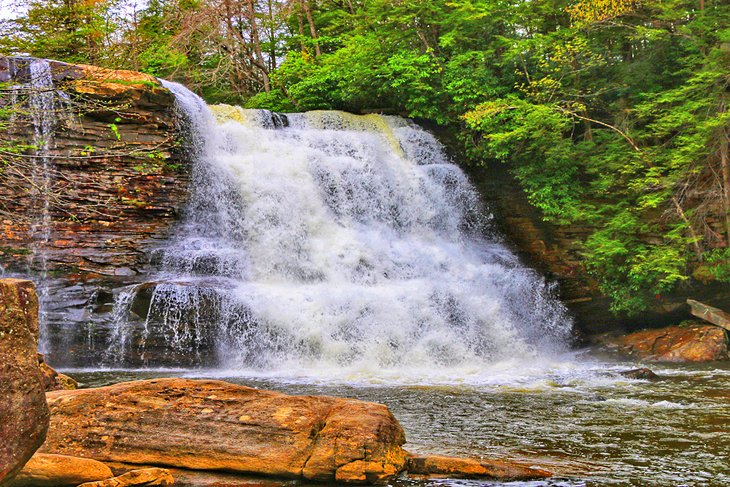 A mere nine miles north of beautiful Oakland, Shadow Falls State Park will literally take your breath away. Blanketed by the fast-flowing Youghiogheny River, peppered with dramatic rocky gorges, and topped by a 53-foot-tall thundering waterfall, it will put your shutter into overdrive. The best bits can be seen along the park's 1.25-mile hike.
12. Deep Creek Lake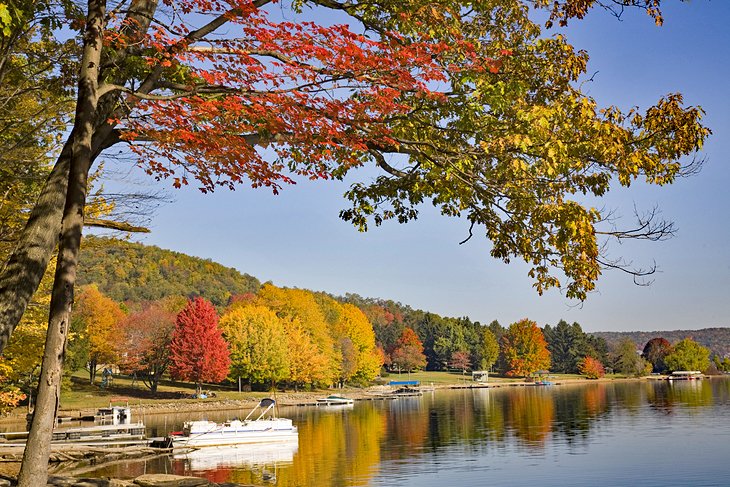 Tranquility found! If you're looking for an idyllic place to while away a day, visit Deep Creek Lake. A popular weekend destination for overworked city folk, this peaceful spot offers a true respite from all things hustle and bustle. Revel in the lake's impressive mirrored surface, enjoy a serene hike through verdant woods, or exercise your wallet at the antique stores.
13. Assateague Island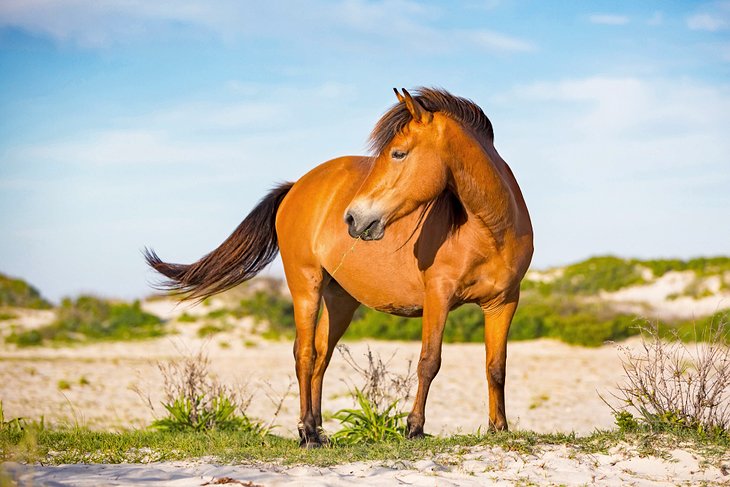 Be honest now, what photo isn't made better by a pony or two? Assateague Island, home to a throng of wild horses, can be accessed from Chincoteague, Virginia, and Ocean City, Maryland. A popular vacation destination, this natural wonderland features beautiful beaches (shared with ponies, of course), rugged dunes, wetlands, marsh areas, and a wide assortment of wildlife.
14. Ocean City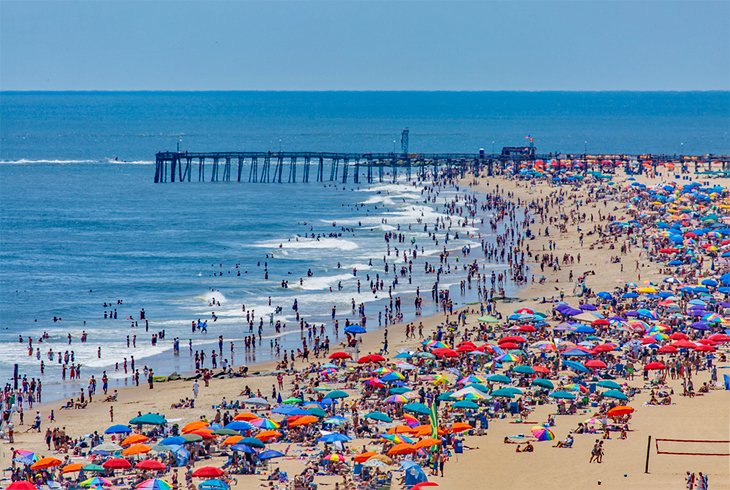 If you're looking for a quiet, secluded beach vacation, you won't find it in Ocean City. Maryland's answer to lively Coney Island, this Atlantic resort town tempts visitors to stay up until the wee hours of the morning. Here, you'll find a vibrant scene that literally doesn't sleep, a boardwalk packed with scantily clad beachgoers, and rides to thrill even the toughest of guests.
Accommodation: Top-Rated Resorts in Maryland
15. Blackwater National Wildlife Refuge, Cambridge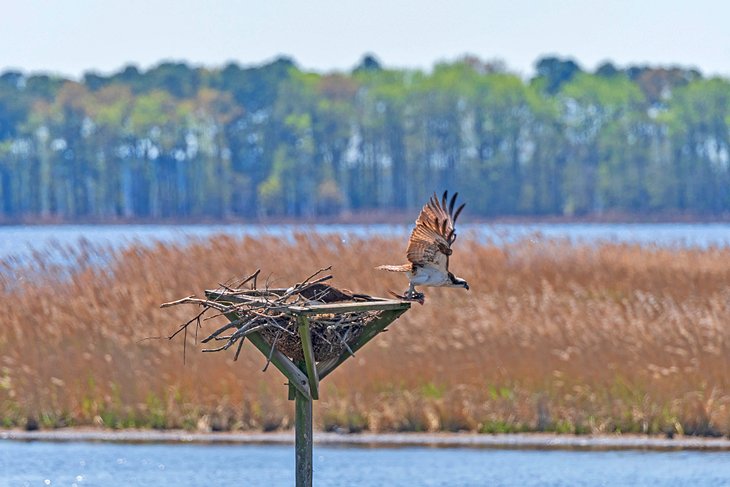 Bird-watchers will revel in the variety of waterfowl on display at Blackwater National Wildlife Refuge. Boasting three main habitats (marsh, forest, and shallow water), the refuge is home to one third of the state's tidal wetlands. Deemed the "Everglades of the North," this wild utopia is a nature photographer's dream.
16. St. Mary's City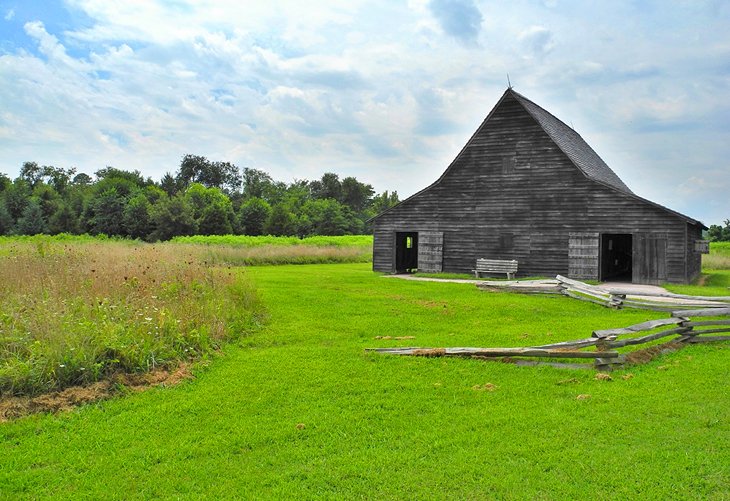 Maryland's capital from 1634-1694, St. Mary's City was also the first place to encourage Americans of differing faiths to live in "peace and goodwill." Today, this impeccably preserved English colonial archeological site is primed for visitors. Essentially a living museum, this vast, 800-acre site is set within the most picturesque setting (we're talking tranquil waterways and pastoral fields).
17. Fort McHenry National Monument, Baltimore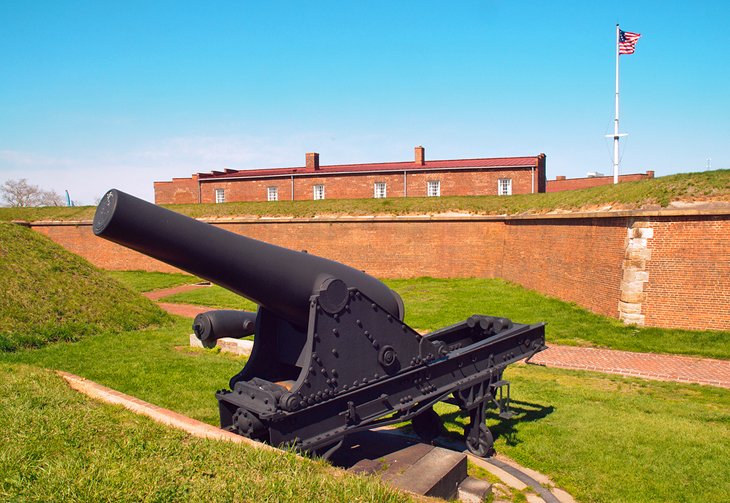 If you could see Fort McHenry from the air, you'd be incredibly impressed. This pentagonal-shaped stronghold played an important role during the war of 1812. The courageous defense shown during this time inspired Francis Scott Key to pen the words to The Star-Spangled Banner. A mastery of architecture, it's definitely worth a visit