20 Best East Coast Vacation Spots
We may earn a commission from affiliate links ()
No matter what you're into, you'll find it in the East Coast's best vacation spots. A wonderland of enticing vacation destinations, this fabulous slice of the United States offers a slew of varied experiences – from skiing down Vermont's Green Mountains to lying on one of Florida's pristine beaches.
Dreaming of riding horses on the beach with your kids? Head to the Outer Banks in North Carolina. Craving an opportunity to better your golf game? Practice your skills on Hilton Head Island in South Carolina. Want to show off your mad shopping skills? New York City is where it's at.
If you have trouble narrowing your vacation destinations to just one, consider taking one of the top East Coast road trips. No matter what type of escape you're dreaming of, plan it with this list of the best East Coast vacation spots.
1. New York City, NY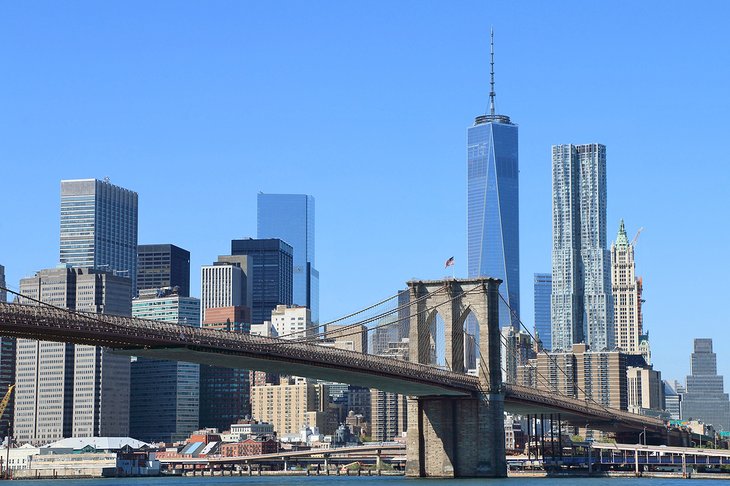 No East Coast vacation would be complete without a trip to its most vibrant metropolis - New York City. There's so much to do here that you'll never get bored, no matter your interests. From designer shops to spy museums to modern art galleries to some of the world's best restaurants, New York has it all.
Take a stroll through Central Park, have lunch at Tavern on the Green, cross Brooklyn Bridge, climb the Statue of Liberty, catch a Broadway show, or board a ferry to Staten Island. The possibilities are literally endless.
2. Block Island, RI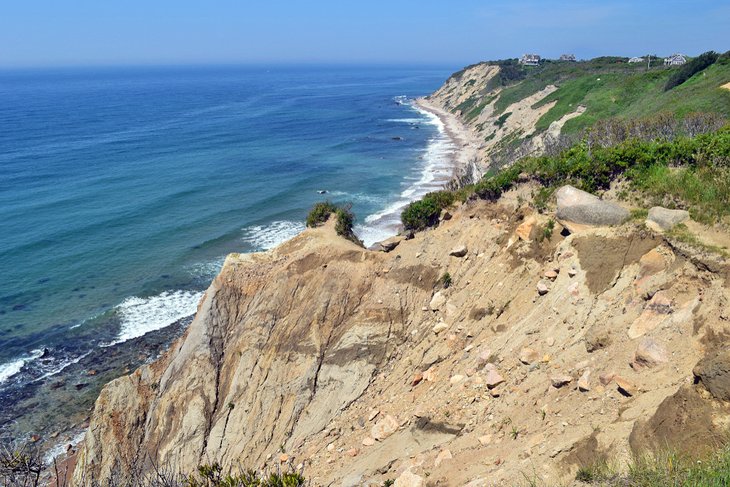 Looking for somewhere to kick back, relax, and soak up the scenery? Block Island will fit the proverbial bill. A laid-back isle nearly 12 miles off the southern coast of Rhode Island, this idyllic spot is revered by those who like to take things slow, which makes this one of the best East Coast vacations.
Most people flock here for its summertime fun. Home to some of the best beaches on the East Coast (over 17 miles of them), the island also features over 350 freshwater ponds that attract incredible species of birds and other animals.
Trapped in the past, this picturesque island boasts an adorable main town, which serves as a port for the ferry you'll need to board to get here. Old Harbor is peppered with quaint historic homes and the most charming Inns. The 1661 Inn is one of our faves.
Insider's tip: The Island's few inns and hotels book up quickly, especially during summer. Book your stay at least six months in advance.
3. Ski Resorts in Vermont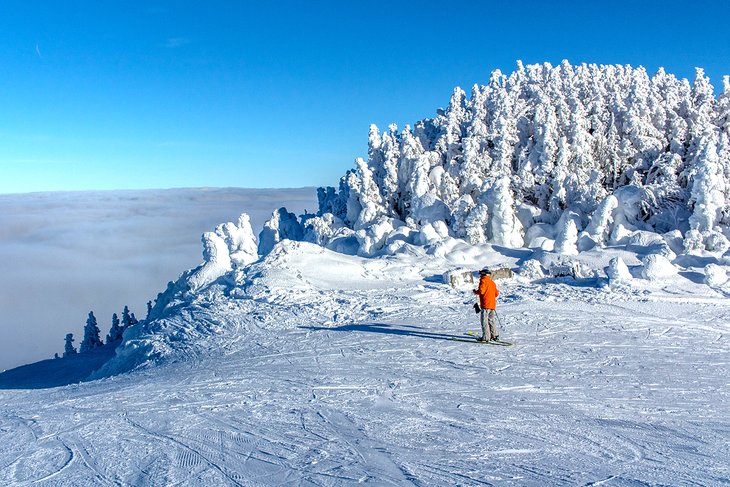 Vermont and skiing go hand in hand, or should we say boot in binding? Home to many of the best ski resorts on the East Coast, this luscious state is where you'll find winter wonderlands like Okemo Mountain Resort, Stratton, Jay Peak, and Stowe Mountain Resort.
While these four areas comprise some of the best ski resorts in Vermont, there is a slew of other ski-worthy mountains rising above magnificent valleys throughout the state. Vermont's impressive Green Mountains create a spectacular backdrop and an even better terrain for tackling fresh powder and moguls.
Its slopes are well manicured and diverse. Whether you're a beginner searching for a smooth bunny hill with a view or an expert skier hoping to find an extreme challenge, you'll find it in Vermont.
4. Myrtle Beach, SC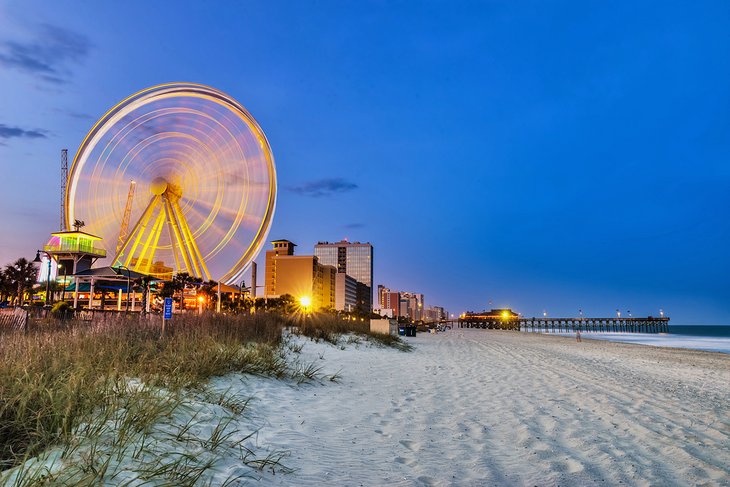 Oh, what fun you will have at Myrtle Beach, one of the best places to visit for an East Coast vacation. From 60 miles of soft sand to caress your feet to fun fair rides to thrill the kids, there's no shortage of things to do at this exciting South Carolina hot spot.
Home to one of the best East Coast beaches for families, a vacation to Myrtle Beach won't disappoint. Dubbed the Grand Strand by locals, this Atlantic Ocean beach is the perfect place to swim, SUP, or walk the boardwalk (you'll find live entertainment here on warm summer evenings).
Plus, there are a ton of funky restaurants and shops to keep you busy, all within walking distance of the beach. When you're all sick of the sun, head to the area's best attractions, including Ripley's Aquarium, the Hollywood Wax Museum, and Myrtle Beach SkyWheel.
Not sure where to spend the night? Check out these amazing resorts in Myrtle Beach for families.
5. Boston, MA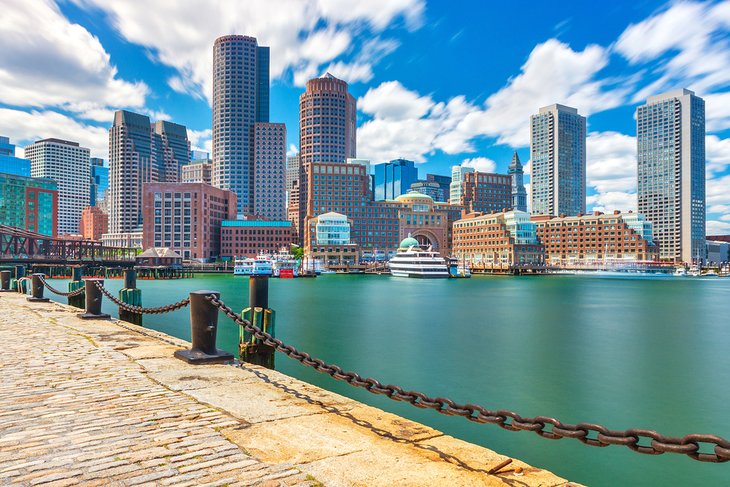 It's hard to avoid falling in love with Boston, especially if you visit when the weather is favorable. Perhaps the most historic city in the United States, this coastal hub is a must-see for all types of travelers.
Walk the Freedom Trail to see Boston's most important historic attractions, grab a bite in Quincy Market, catch a ball game at Fenway Park, or climb aboard a boat for a sightseeing cruise around the harbor (pronounced "hah-bah").
Art galleries, theaters, and museums pepper the city's storied streets, enticing East Coast visitors to step inside and enjoy their eclectic offerings. While you're in town, be sure to take time out to explore Boston's best parks.
6. Florida's Best Beaches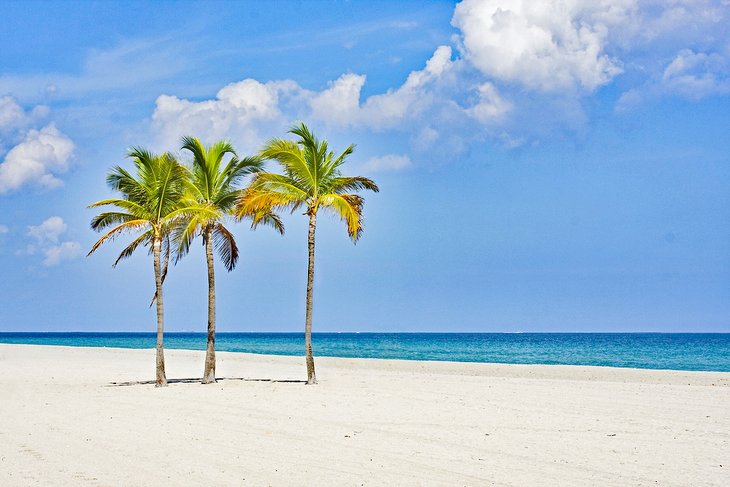 The Sunshine State is a haven for beach lovers. Home to many of the nation's best beaches (we're talking about you, Miami Beach, Fort Lauderdale Beach, and Cocoa Beach), the area boasts an average of 237 days of sunshine a year. Whoo hoo! Pop over to the Gulf Coast and check out the beaches around Naples or Fort Myers.
Whether you're looking to relax with a good book on the soft white sand or ride the waves at a more active beach, Florida has a perfect beach for you and your family.
7. Newport, RI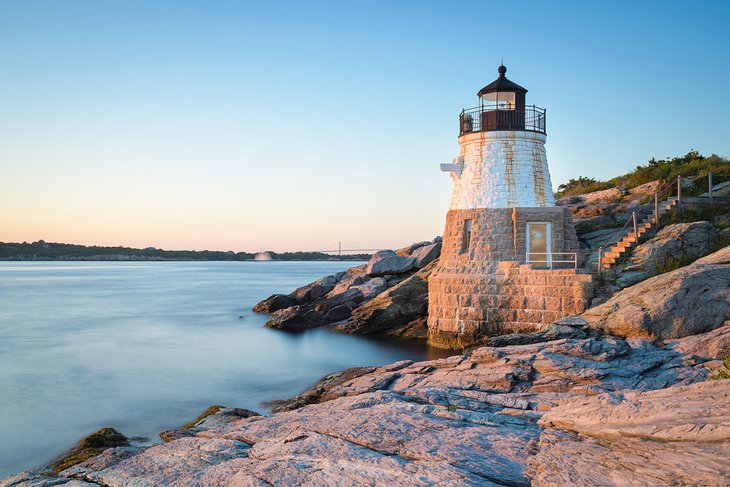 Many tourists visit this Rhode Island beauty in an effort to lap up the life of luxury, or at least to witness what life is like for those at the higher end of the pay scale. A wander along the 3.5-mile Cliff Walk, one of Newport's top tourist attractions, rewards visitors with incredible sea (and mansion) vistas.
The walk is lined by some of New England's most impressive stately homes (i.e. The Breakers and Marble House) owned by families we know you've heard of (think: the Vanderbilts). Most are open to visitors, for a fee.
When the weather is warm, people flock here for a beach vacation. Easton's Beach is the area's largest and features a boardwalk, snack bar, and beach rentals.
When they're not sunning themselves, shopping along Newport's main street, or shoveling delicious morsels in their mouths, you'll find tourists boarding boat cruises or lapping ice-cream while walking past the town's historic sites.
8. Outer Banks, NC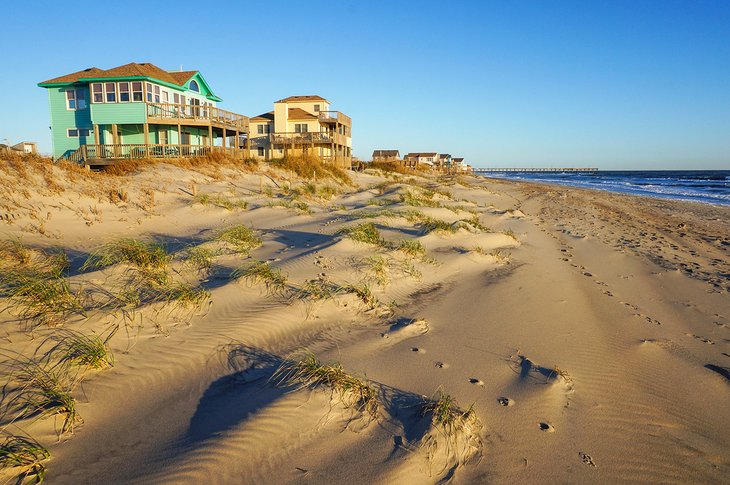 The Outer Banks consists of over 100 miles of barrier islands that follow the majority of North Carolina's Coast. The islands are connected by a series of bridges and small coastal towns offering a wide range of options for everything from cheap vacations to luxurious beach getaways.
The east side of the islands is where you'll find the soft, white sandy beaches you've heard so much about. These are arguably the best beaches in North Carolina, hugging the sparkling Atlantic Ocean, ensuring a romantic backdrop. No wonder this has become a top East Coast vacation for couples.
On the west side, the islands jut out to the Croatan and Pamlico Sounds, which are generally warmer and calmer. This is a better option for those traveling with kids.
From photographing lighthouses to fishing off a wooden pier to horseback riding on the beach, or even camping, there are a ton of things to do in the Outer Banks.
9. Virginia Beach, VA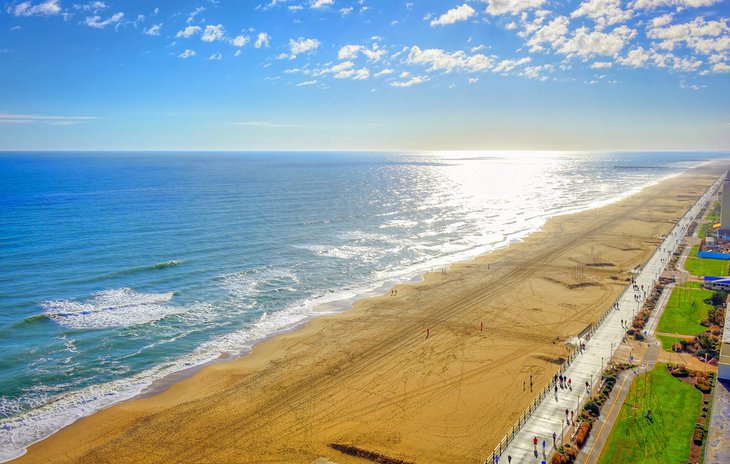 Virginia Beach is another big contender for the title of best East Coast beach for families. Sandwiched between Chesapeake Bay and the Atlantic Ocean, this beautiful beach offers a diverse experience for visitors of all ages.
Hoping to surf massive waves? Head to the Atlantic side. Want to paddle through calmer water with your little ones? Chesapeake Bay offers a much quieter experience.
Virginia Beach actually consists of multiple sandy beaches, each of which offers something different. Resort Beach (fittingly lined with a multitude of beach resorts) is best known for its water sports and other fun activities. Sandbridge, which lies just south of the area's impressive Boardwalk, is a tranquil and secluded utopia dotted with sand dunes.
10. Cape Cod, MA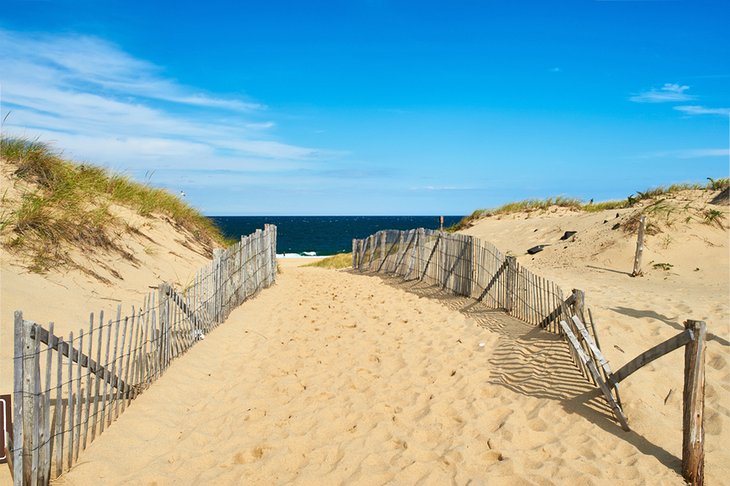 Cape Cod is by no means a well-kept secret. Overwhelmed by immense natural beauty, Cape Cod is the place to be if you're looking for a fabulous summer beach vacation. A virtual "hop, skip, and a jump" from both Boston and New York, Cape Cod is popular with big city folk looking for some peace and quiet, hence why it's on our list of the best East Coast Vacations.
This New England gem boasts everything you'd hope for in a vacation spot: miles of beautiful beaches; calm, sparkling water; and the most adorable homes, shops, and restaurants that line the shore.
Charming towns like Provincetown, Chatham, and Hyannis entice visitors with eateries serving up fresh, local food. These sweet villages are also home to some of the area's best art galleries, museums, and eclectic shops. It's also a base for ferries bound for nearby Nantucket and Martha's Vineyard.
11. Savannah, GA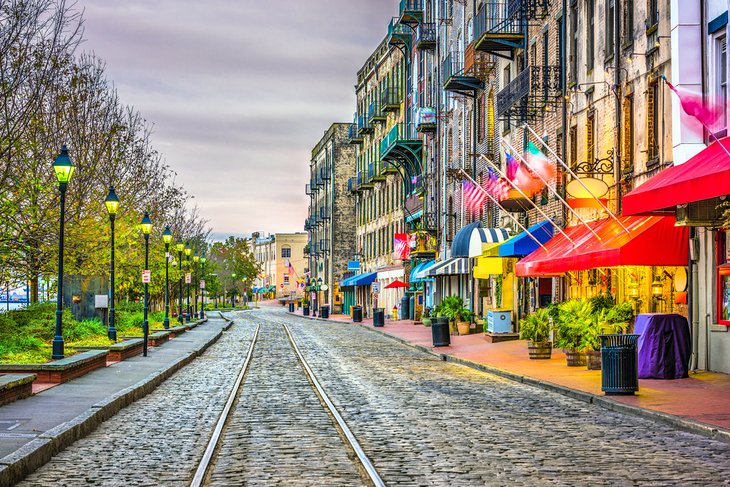 Welcome to the South! Savannah is here to please your senses, including your palate, and its residents are so very happy to have you.
The original capital city of Georgia, Savannah is bursting with Southern Charm, and plenty of fun things to do. It's here that you'll find resplendent mansions dating back to pre-American Civil War. Plus, its streets are lined with giant moss-draped oaks, tempting you to sit in their shade.
Vast parks (the largest is called Forsyth Park) are peppered throughout town, many featuring large and intricate iron fountains. They offer a lovely backdrop for an afternoon walk, as well as an ideal place to enjoy a picnic.
Savannah is famous for its multiple public squares, many of which feature water fountains along with magnificent old trees. These provide beautiful rest stops within the bustling city. Their exquisite loveliness is so addictive you'll want to wander through town looking for the next square.
12. Martha's Vineyard, MA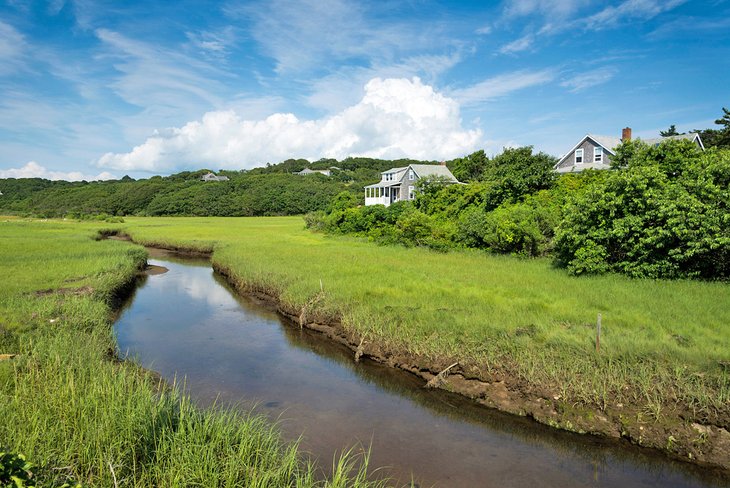 Once you step foot on Martha's Vineyard, you'll understand what all the hype is about. Brightly painted beach homes line the sandy shores, farmers markets sell the most deliciously fresh foods, and the clay Aquinnah Cliffs make a fabulous backdrop for a selfie. Charm runs rampant here.
Once a playground for the rich and famous, Martha's Vineyard has become a bit more accessible of late, especially if you're planning to visit during its cheaper off season.
If the Vineyard's hotels are a bit too much for your pocketbook, spend the day on one of the island's incredible beaches and dine at the delectable restaurants before heading back to the mainland to more reasonably priced accommodation. To get to the island, you'll have to hop on a ferry from nearby Cape Cod.
Read More: From Boston to Martha's Vineyard: Best Ways to Get There
13. Hilton Head, SC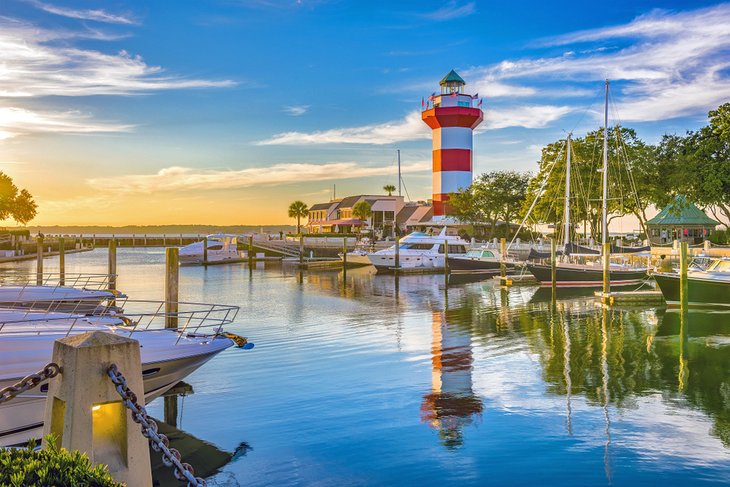 The most enjoyable way to get around Hilton Head (an island off the southernmost tip of South Carolina) isn't by car. Instead, visitors favor cycling, walking, and horseback riding along the island's numerous paved trails.
Known for its beauty, this barrier island is home to some of the country's best golf courses; vast nature preserves; and over 12 miles of pristine, white sandy beaches, much of which are lined by rolling, grassy dunes. Now do you see why it's one of the best spots to vacation on the East Coast?
The iconic Harbour Town Lighthouse (set within the Sea Pines Resort) adds a pop of color to the waterfront, as do the immaculate and brightly painted buildings nearby. This is just one of many attractions and things to do on the island.
Each "resort" section boasts a town (i.e. the adorable Harbour Town), which is home to unique eateries, shops, and museums. These towns are the perfect places to visit after a day spent playing 18 holes on the golf course or frolicking in the waves at the shore.
14. Washington, D.C.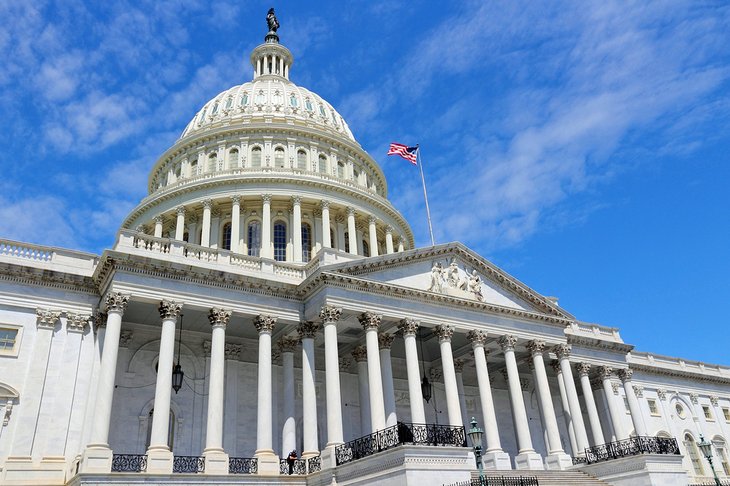 The nation's capital is one of the best places to visit for an East Coast vacation, especially when the famous cherry blossoms are in full bloom (between March and April).
Museum lovers, gallery goers, and history buffs can while away hours (or days, actually) in the city's many award-winning museums (think: the Smithsonian Institution's National Air and Space Museum, National Museum of African American History and Culture, and National Museum of Natural History). Bonus: Most of the museums offer free entry.
Can't-miss attractions include The White House (obviously), United States Capitol, Capitol Hill, and The Lincoln Memorial.
15. Bar Harbor, ME
Bar Harbor is a sweet seaside village bursting with New England charm. It's set within the outstanding Acadia National Park and is often used as a base for those exploring this natural beauty.
Those who stay here quickly fall in love with Bar Harbor's many unique attributes (from eclectic shops to the Abbe Museum), which is why the area becomes inundated with tourists during the summer months. Luckily, there are plenty of interesting things to do in Bar Harbor to keep everyone busy.
Among Bar Harbor's many tourist draws are, multiple eateries, souvenir shops, and companies that rent outdoor equipment like kayaks and stand up paddleboards. Organized sailing trips, scenic hikes, whale-watching tours, and rock-climbing adventures can also be arranged.
16. Rehoboth Beach, DE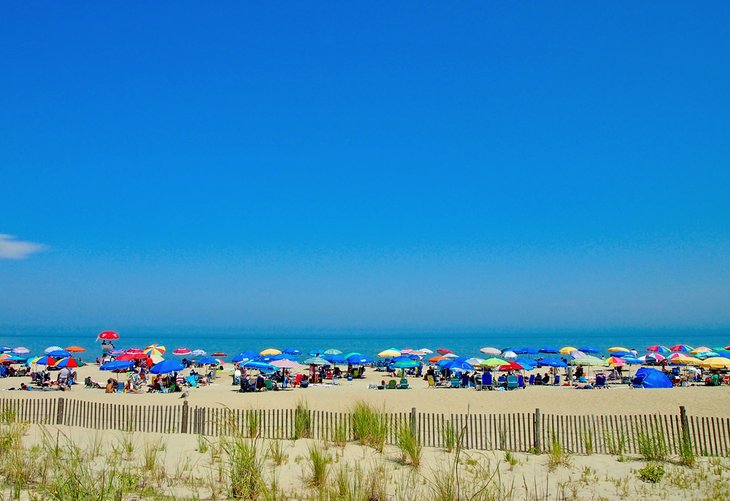 An adorable beach town, Rehoboth Beach lies in Delaware's delightful Cape Region (along with the nearby town of Lewes). Just over two and a half hours southeast of Washington, D.C., this is a popular weekend getaway on the East Coast.
Rehoboth Beach occupies a mere square mile, but what it lacks in size, this lovely resort town more than makes up for in charm. With a winning mix of historic and modern elements, including candy shops, an amusement park, and a boardwalk, this is the perfect spot for a family vacation.
Tax-free outlets attract shoppers, while the pristine sandy beach is a must-visit for those who love the feeling of sand between their toes.
17. Chincoteague Island, VA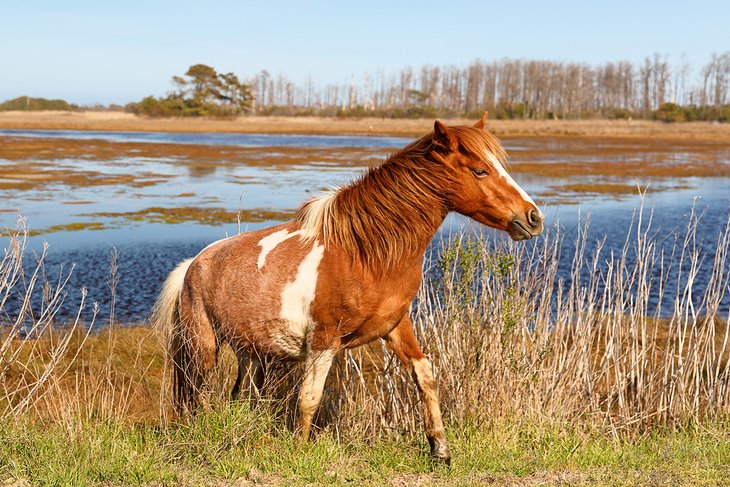 Chincoteague Island is the perfect spot to destress. The only resort island in Virginia, this serene isle is missing the high rises and traffic found in other beachy locales (ahem, Miami Beach). Instead, visitors to this East Coast Vacation spot can luxuriate in the calm waters, and wind their way through charming streets devoid of noise and mayhem.
Visitors relish the clean sandy beaches on this unspoiled barrier island jutting into Chincoteauge Bay, but leave with a newfound love for the wild ponies that roam free in the area. It's easy to see why this is one of the top weekend getaways in Virginia.
The majority of guests to Chincoteague Island spend their time outdoors, hiking and biking the numerous trails; fishing and boating in the bay; or exploring the vast Chincoteague National Wildlife Refuge (Tip: this is where you'll find the most ponies).
The island's oyster beds and clam shoals are other attractions you won't want to miss.
18. Portsmouth, NH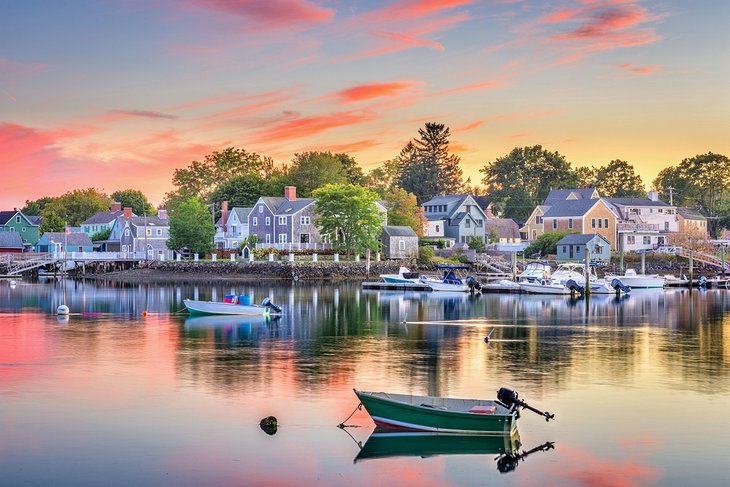 Step back in time in Portsmouth, New Hampshire. Set on the banks of the Piscataqua River, this pretty city has everything you'd want in a picturesque port. Tree-lined streets, quaint shops, enticing restaurants, 18th-century colonial buildings, and a historic town center blend together to make this one of the best East Coast vacation spots.
Visit the 10-acre Strawbery Banke Museum to find a whole neighborhood of preserved colonial and Federal homes and businesses. Other top attractions and things to do in Portsmouth include Market Square, Prescott Park, and the Moffat-Ladd House & Garden.
Close enough to Boston to make this a perfect day trip destination, Portsmouth's many fun things to do also make this a worthy place to spend a weekend or longer.
19. Mystic, CT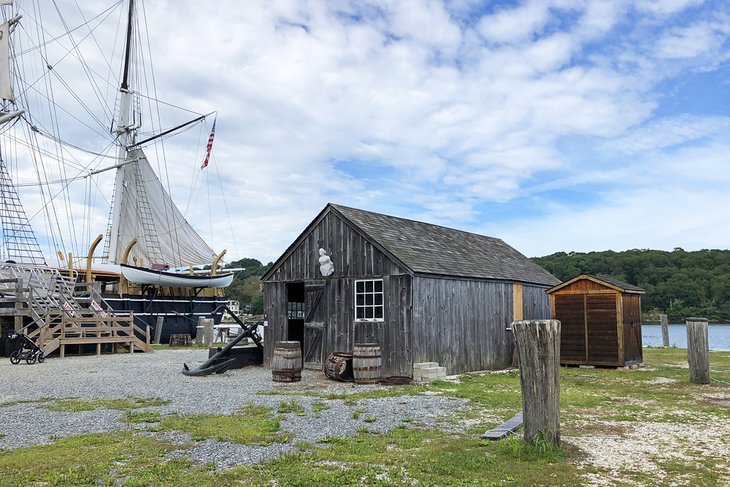 Spending a day in Mystic is one of the best things to do in Connecticut. Dotted with bobbing sailboats, quaint boutiques, world class attractions, a drawbridge, and top-notch restaurants, this small and charming coastal town is so compelling, you'll want to stay longer. No wonder it tops the list of the best weekend getaways in Connecticut.
Highlights of a visit to Mystic include a trip to the Mystic Seaport Museum and at least a few hours spent at the endearing Mystic Aquarium. Visiting the Olde Mistick Village is another fun thing to do in Mystic. It's here that you can sample everything from flavored popcorn to avocado honey. Don't forget the fudge!
These kid-friendly attractions help to make this the perfect East Coast vacation spot for families. If you visit during spring or summer, be sure to pack a towel or two. Mystic has only one beach that technically lies within its borders, but sits close to a bunch of visit-worthy beaches you won't want to miss.
20. Asheville, NC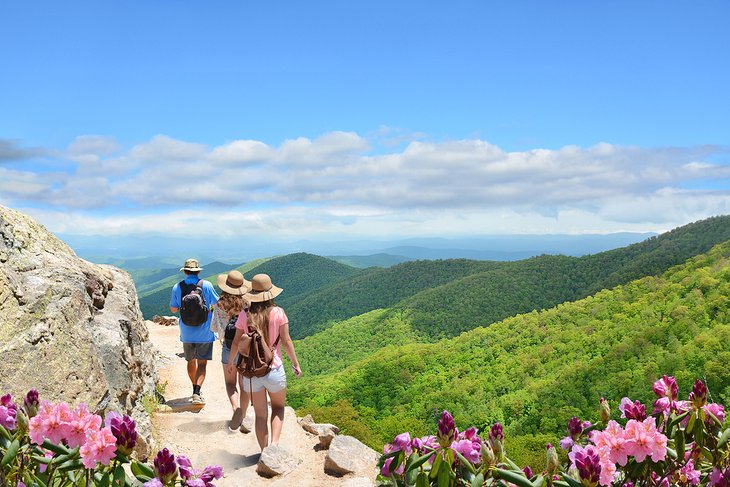 Asheville rewards its visitors with a variety of beautiful and interesting things to do within its borders. A vibrant city filled with folks so friendly, they'll charm their way into your heart, this North Carolina hub is one of the best places to visit on an East Coast vacation.
Downtown offers visitors a chance to unleash their artsy sides, with a River Arts District and numerous Art Deco buildings, theaters, galleries, and the Asheville Lyric Opera.
This is also where you'll find chic restaurants, cafés, and shops. Don't miss a chance to tour the lavish Biltmore Estate, the Vanderbilt Mansion so large and opulent, you'll gasp with awe.